"I opened my eyes and listened to tap, splat, tap against our bedroom window. 'Monday and raining,' I thought, as I slid my hand across the bed to find an empty pillow and the covers still pulled up. Michael had slept downstairs… again.
As I lay there, my thoughts reached back to memories of a sun-drenched September afternoon long ago, when Michael and I met in an AOL chat room. We only chatted for about 10 minutes, but he stuck in my mind. We talked online the following day, and the day after. About everything and nothing. Even now, I can't explain the connection. Though I lived in Iowa and Michael in Ohio, we were drawn to one another.
It took three months for us to move the relationship from online chatting to phone conversations, and six months before we exchanged photos. We also sent each other old-fashioned, pen-on-paper, placed-in-a-stamped-envelope, letters. I signed each one the same way, 'Always, All Ways, A.'
Valentine's week of that first year, I stood in the card aisle — flipping through greetings filled with hearts and flowery words of true love — without a clue. I mean, what was this? Friendship? More? If I wasn't able to define our relationship, how could I expect Hallmark to?
Unable to decide on one that fit, I bought three cards. I drove straight to the post office and signed them in the car before I lost my nerve. As I dropped them into the mailbox, I remember thinking, 'Who sends three Valentines?'
On Valentine's Day, I opened my mailbox, and what did I find? Three Valentine's from Michael! Somehow, even from a distance, even though we'd never even laid eyes on each other, he'd seen my heart. And he'd decided to take a chance and show me his.
After a full year, we decided it was time to meet in person. The morning of our meeting, I tried on five different outfits, while my mind went back and forth between thinking I was on the verge of heaven on earth, and wondering what on earth I'd been thinking. My hands were shaking as I buttoned the blouse I'd decided on. 'I'm just meeting a friend,' I told myself. But when he entered the room and our eyes met for the first time, I knew God had given me a divine appointment that September day. Michael was the one I'd been waiting for my entire life — my soulmate.
Four years later, on the anniversary of the date we met, we took vows, promising to love each other always.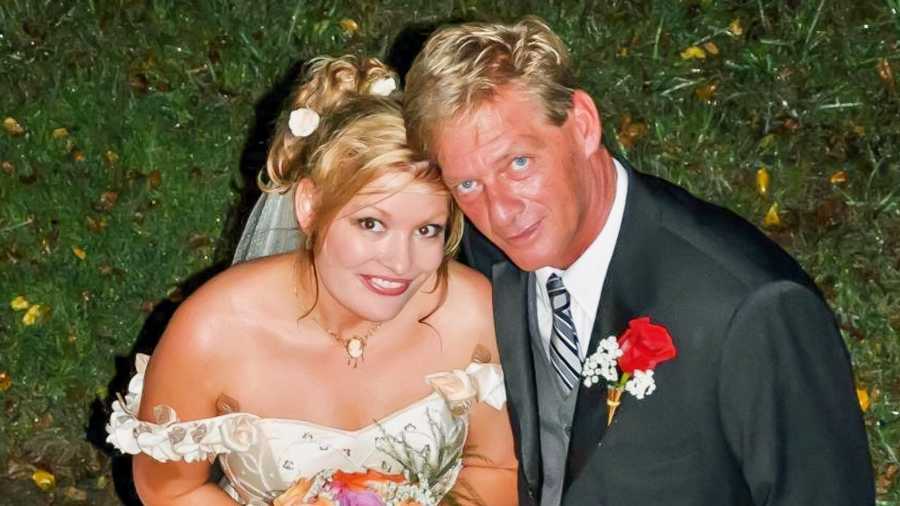 But in 2014, Michael's son, Ryan, was killed. We were devastated. Our strong foundation began to crumble. I had no idea if our marriage could be saved. Most mornings, I'd wake up to find Michael slept on the couch. Deep grief had shattered the connection that once drew us together, even across 700 miles.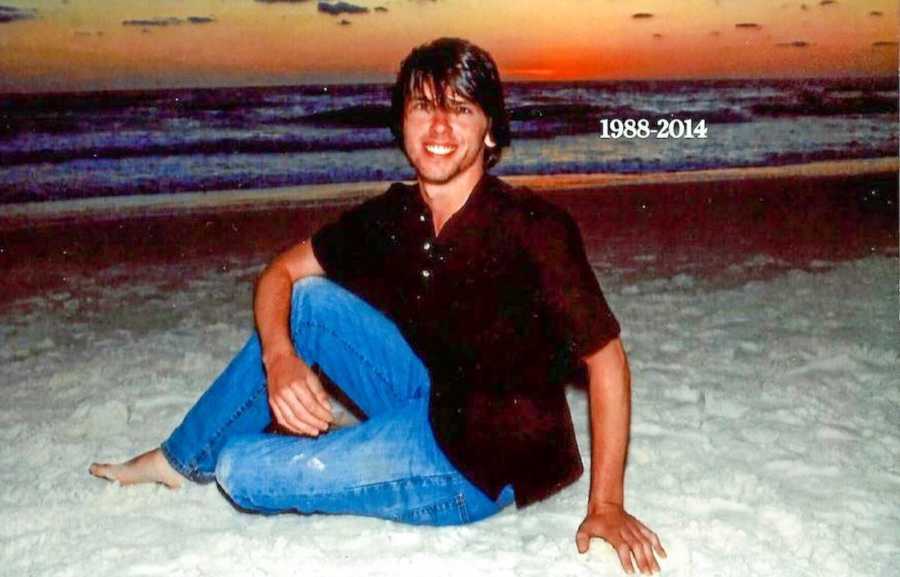 One afternoon, in November of 2016, my phone rang. It was Michael. 'I just left the Doctor's office.' This was the third doctor he'd seen about the lump above his eye, which made his eyelid dip and forced him to wear his glasses full time. 'He scheduled surgery for December 30th. And, Amy, he said it could be cancer.'
'What?' My heart stopped beating for a moment. He repeated the words, but all I heard was cancer. When we hung up, I paced the floor in a panic, then set about begging everyone I knew to pray; family, friends, my small group, my critique partner. 'We need to storm the heavens,' I told them, 'please, this is my husband.'
The morning of the surgery, Michael was settled into the hospital bed as they asked him a series of health questions. Then they told him to give me his phone, keys, and wedding ring. After they wheeled him back, I held his white-gold band in my hands. When I turned it over, I glimpsed the inscription. My breath caught as I squinted to read it, then smiled at the words I'd almost forgotten were there. I closed my eyes and added a prayer to the ones already flooding heaven on Michael's behalf, and a promise to honor the words etched on that band and in my heart.
The surgery went great and we arrived home safely. The next night was New Year's Eve. We'd planned to attend the black and white ball, but since Michael was recovering from surgery we compromised — we'd dress up and have a feast at home. New Year's is one of the few times out of the year Michael cooks. His specialty is beef tenderloin with balsamic glazed Brussels sprouts, and a little surgery wouldn't keep him from cooking. 'It's our tradition,' he said. So, I left him in the kitchen and headed to get dressed.
I took my time getting ready. As the tantalizing smells of rosemary and basil floated upstairs, I slipped the floor-length, one-shouldered gown I'd intended to wear to the ball over my head. I could feel my stomach flip flop as I looked in the mirror. As I affixed the rhinestone broach to the shoulder of my dress, I noticed my hands were shaking. What would the night bring? 'Please Lord,' I prayed, 'help Michael and I find our way back to each other tonight.'
I made my way down the steps. It was a few moments before Michael noticed me standing in the kitchen doorway. 'Honey…' he gasped when he turned, then stopped and just stood there looking at me like he hadn't seen me in a really long time. Then he walked over and grabbed me in a hug. At that moment I knew, the new year would be a new beginning for us.
At the follow-up visit with the surgeon, we got the news the labs showed no cancer.
In early February, Michael, a hobby photographer, took a picture of what looks like a heart, melted into the shattered ice of the pond at the park. With one snapshot he encapsulated what it's taken me hundreds of words to portray. His photographs have a way of doing that. Amidst the frozen debris of our two grief splintered souls, God melted our hearts. Now, that picture graces the wall of our bedroom. Each day when we wake up together, we're reminded to love each other the way we were destined too, just as I signed those letters all those years ago, and like the words engraved inside of Michael's wedding band: 'Always, all ways.'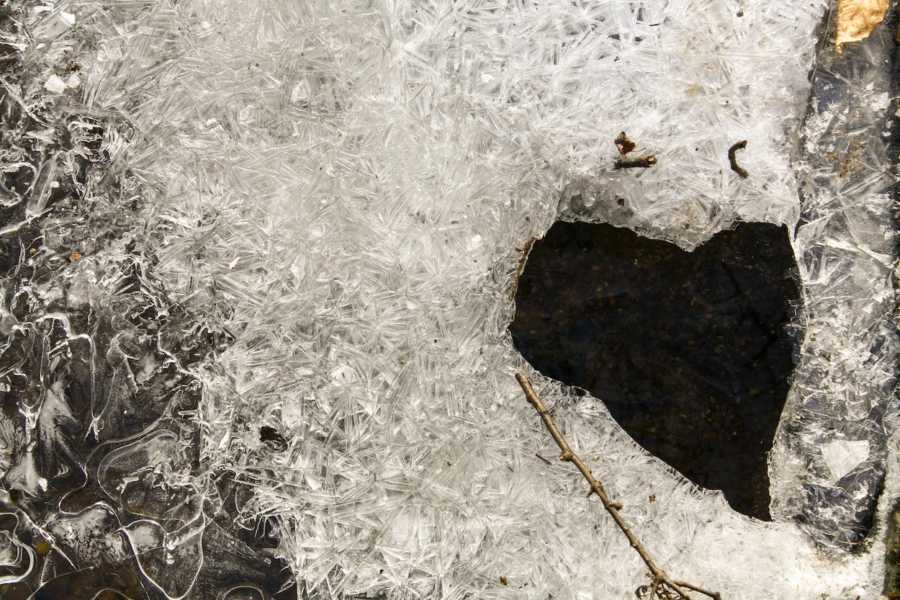 In 2019 we celebrated our tenth wedding anniversary — and I am so excited to share every year to come."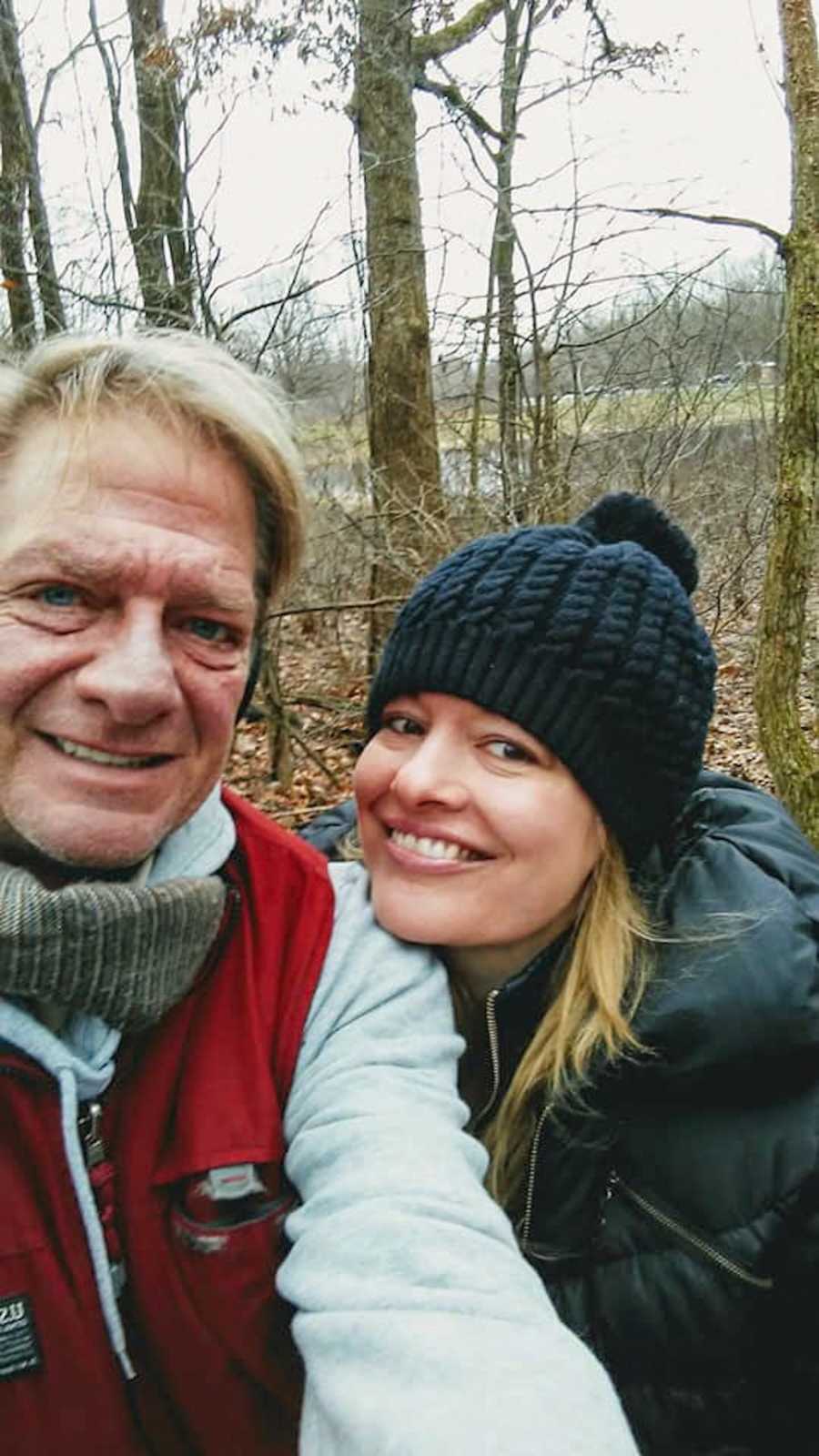 This story was submitted to Love What Matters by Amy Catlin. Do you have a similar experience? We'd like to hear your important journey. Submit your own story here. Be sure to subscribe to our free email newsletter for our best stories, and YouTube for our best videos.
Read more stories like this:
'Our marriage isn't 50/50. We don't keep scoreboards. We love as much as you can, whenever we can. The rest will fall into place.': Woman reminds us relationships are all about 'recognizing needs'
'He doesn't buy flowers or cook romantic meals, but he always pushes the grocery cart.': Woman claims 'love is found' in small gestures, learns to accept husband as is
Do you know someone who could benefit from reading this? SHARE this story on Facebook with family and friends.