"Becoming paralyzed is certainly a traumatic experience, especially when you're just a kid. The feeling of uncertainty, low-self esteem, embarrassment, and not knowing what you're life is going to be like just adds to the already awkward times of adolescence. Being stared at, being asked personal questions and people assuming things about you have become the new normal. Here's a little bit of my story.
My name is Doug Galica. I was injured in a hunting accident at the age of 13, and have been a T11/12 Complete paraplegic for over 23 years. I currently work as a Patent Classification Specialist under a contract for the United States Patent and Trademark Office (USPTO). I enjoy traveling with my wife, playing basketball, hunting, fishing, snow skiing, and numerous other hobbies.
December 20, 1997, was the first day of muzzleloader season in Maryland, and my dad and I were up early to go join a group of friends for the day. Typically for this late season hunt, we performed deer drives, where a group of hunters walks through the woods to get the deer up and moving, hopefully in the direction of the 'standers,' who are lined up in positions where the deer will most likely travel. I was one of the standers during the second drive of the day when a group of deer appeared ahead of me but at a distance to my left, half way or even further between me and the next stander. All of a sudden, I was caught off guard, falling to the ground as I heard a gunshot.
Without hesitation, I unzipped my coveralls and lifted my shirt to see a hole in the left side of my chest. I started yelling for help and my buddy came running from the distance. Upon reaching me and finding out what happened, he began yelling for help as well. We saw the other group of guys come running to find out what had happened, including my dad. I knew I couldn't feel my legs or move them. They just felt like a bunch of weight hanging from me. When one of my legs fell off the log I was laying beside, they hoped it was from me trying, but it wasn't. My friend had to run to the nearest house to call 911, while another friend held me, propped up in his lap as we all tried to remain calm, keeping me alert until EMTs, firemen and other first responders showed up to assess the situation.
Seeing the urgency of the injury when they arrived and not being able to lower a basket from the helicopter through the trees, they carried me out on a firemen's jacket. Then loaded me into the bed of a pickup and drove me to the top of the mountain where the helicopter was able to land. They put me under for the short flight to the first hospital, where they were able to stabilize me and wake me up to see my parents before loading me back into the helicopter for the trip to Johns Hopkins Hospital in Baltimore, MD. My mom, who's scared of heights, jumped at the opportunity to ride along with me.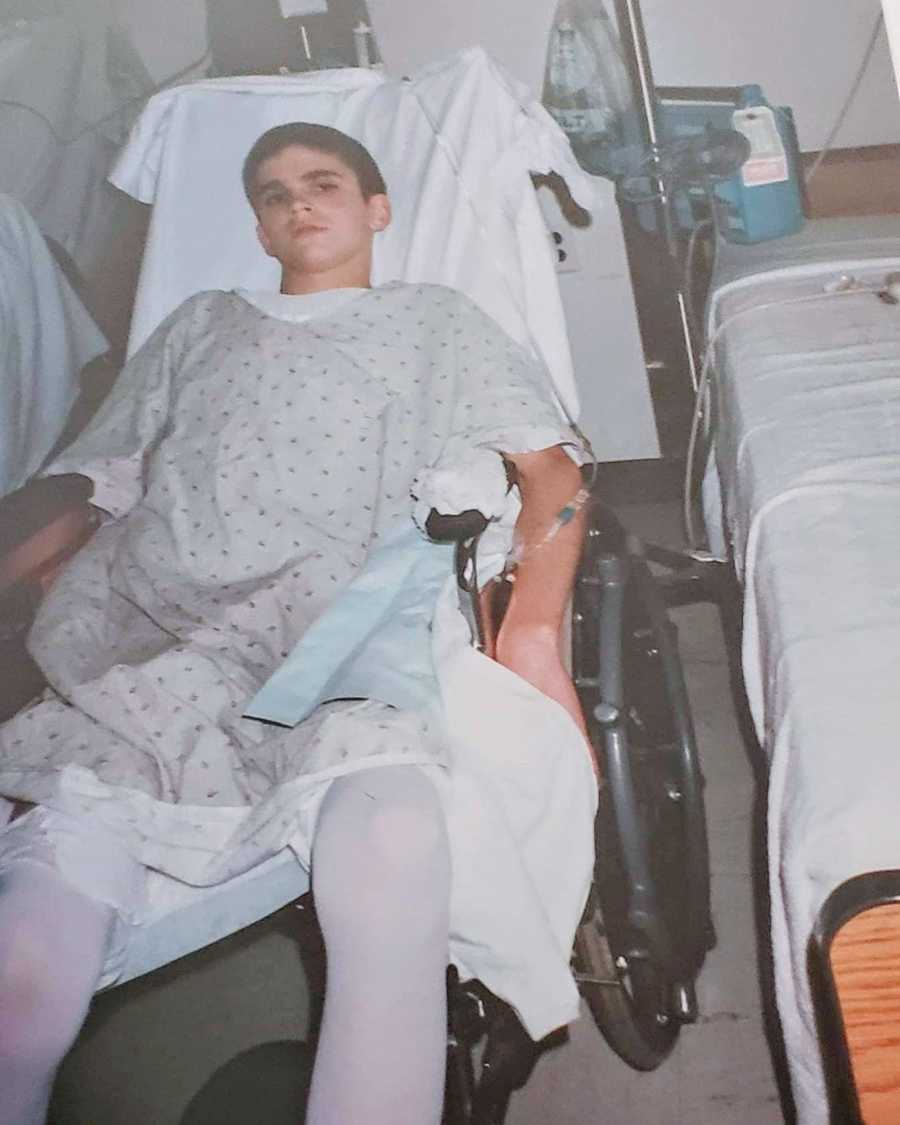 After arriving and going through surgery, we found out the bullet had struck T11/12 vertebrae and bone fragments severed and destroyed the spinal cord, leaving me paralyzed from the waist down. My fight wasn't over though. 5 days later, on Christmas night, my lung decided to collapse again, my temperature went to over 104, and they spent hours upon hours trying to get it to re-inflate. This included pounding on my right side, the same one that had a broken rib, chest tube, and incision. Even through all of this, what I thought was the worst procedure, was having a suction tube shoved up my nose and into my lungs to remove mucous every 15 to 30 minutes. Finally, it worked, but I still wasn't out of the woods yet. The passing of the bullet through my body caused bacterial meningitis, so I needed a blood transfusion and more care. Things were starting to look a little better for me to bring in the New Year and after my short but long 11-day stay, I was transferred to HealthSouth Rehabilitation Center in Morgantown, WV on January 1.
Therapy started day one regardless of the broken rib, internal injuries, broken vertebrae, and spinal cord injury. It was back to square one. Having lost all muscle mass (I was skinny to start) and having no feeling or movement below the waist, I had to learn to sit up, roll over in bed, get dressed, etc. The one single aggravating moment I remember well was trying to put on my socks, which felt like an impossible feat. It literally took over an hour or at least, it seemed like it. I was in inpatient rehabilitation for over a month and a half. Simple tasks such as playing cards sitting on the edge of the mat helped me practice my balance without thinking about it as PT. I began getting some strength back, walking with KAFOs, swimming, and doing all the normal PT and OT. I was able to start back to school on February 14, continuing outpatient therapy 3 days a week after school for a year. My family, friends, and entire support system were a key driving force in helping me through the biggest hurdle of my life.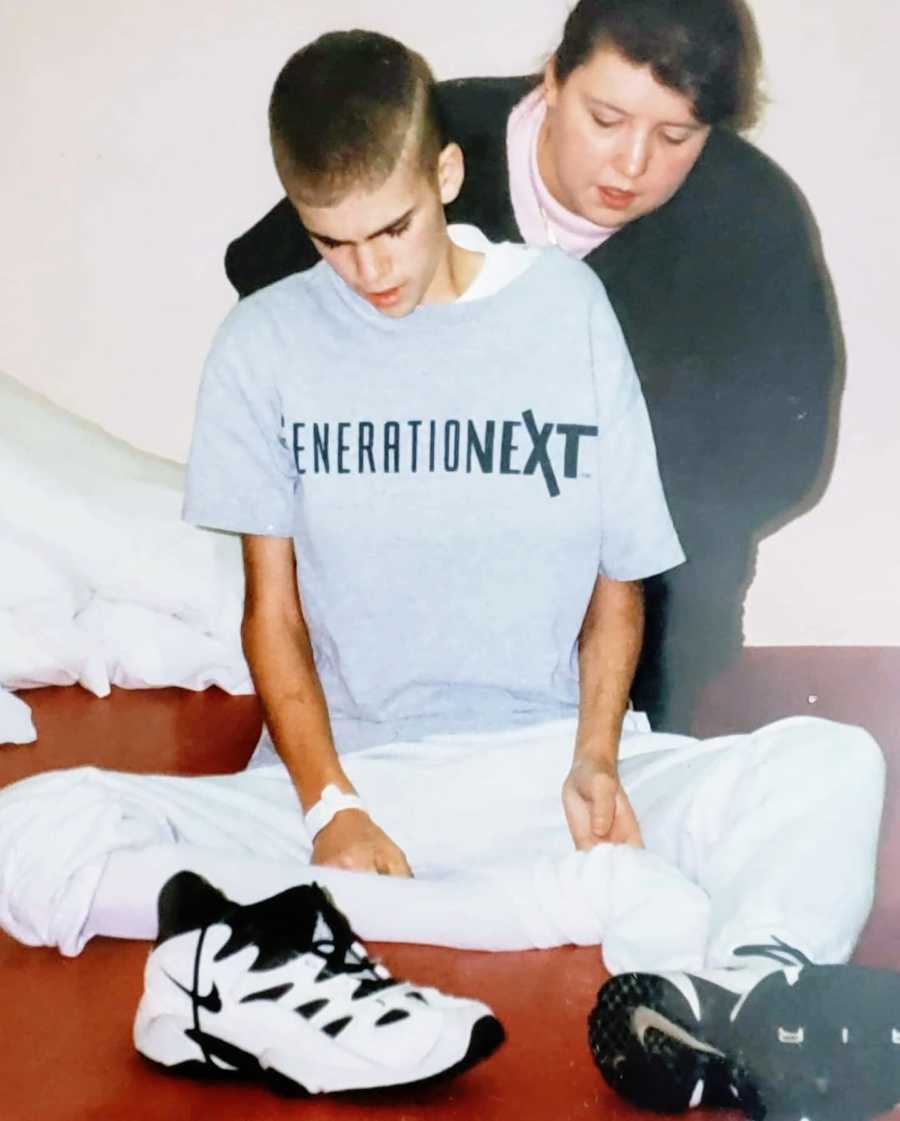 I've always attributed my mindset and positive attitude about my injury to my uncle, who became a quadriplegic at 16 years old. At the age of 13, understanding a little about his situation made me realize how much worse it could've been and gave me a sense of gratitude. However, it was never easy and I had my moments of, 'Why me?' I had days that were so difficult I thought it would've been easier to not have made it or to end it. I think anybody in that difficult of a situation will at least have some doubt, worry, or grievance, but it's important to not stay in this mindset. I was always willing to put in the work and was too hardheaded to give up if there was something I wanted to do. I would challenge myself just to prove it was possible to do anything.
Unfortunately, the internet wasn't anywhere near what it is now. There were no social media platforms, so I learned everything by trial and error and determination. Adaptive sports were never promoted or heard of and there weren't any local programs for basketball, skiing, etc. Living in a very rural area though, I was outdoors more than inside, whether it was riding four-wheelers, hunting, fishing, plowing snow, or just enjoying nature. This kept me extremely active and made me improve my chair skills and physical strength.
Fast forward through college and getting a job, I found myself living in Virginia and after years of living near a 4-season resort, realized they had an adaptive snow skiing program. I signed up and was quick to fall in love with the adrenaline rush of going down the mountain. I was even taken off tethers and tackling our resort's black diamond trails the first day. It was incredible but heart-wrenching at the same time, finding out what I had missed out on the first 15 years of my injury.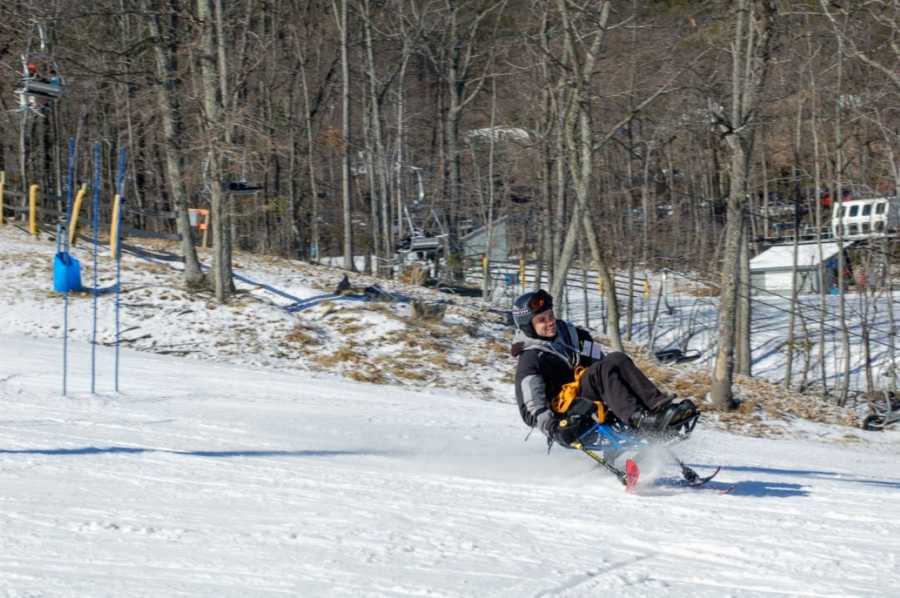 Through Therapeutic Adventures, I also was able to do a sled hockey clinic, which was a cool experience as well. Then coming into 2017, I found a local wheelchair basketball team that held practices not far from my work, which Kari (my wife) encouraged me to go try. The first night they had me practice, I thought I was in decent shape from pushing a wheelchair for 20 years, but I was wrong. I have a tendency to give it my all, but after the adrenaline wore off, I couldn't even straighten my arms. Our team, the Harrisonburg Cardinals, went on to the National Championship the following year and placed second in our division.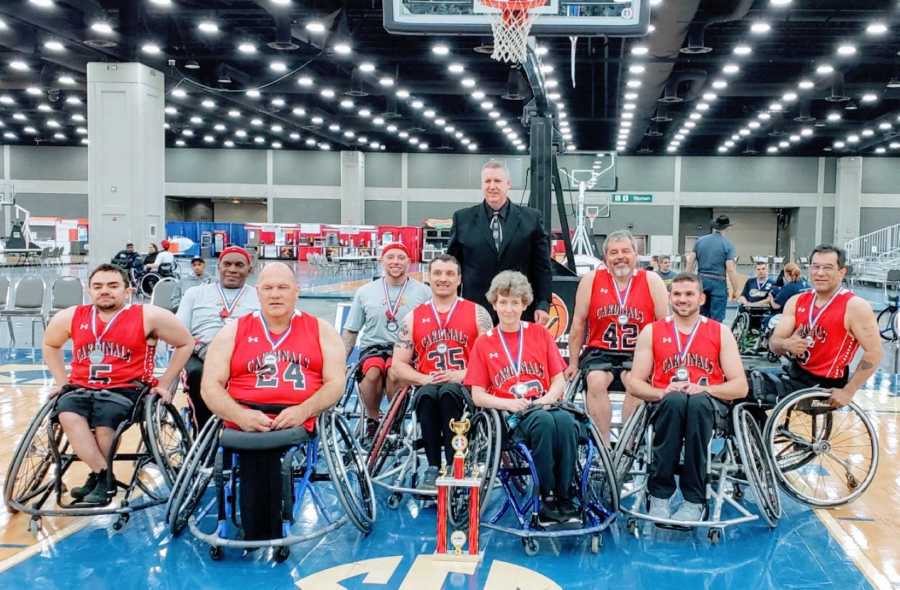 The very same passion that resulted in my accident was never any less of a passion because of it. It was truly just an extremely freak accident. I was back in the woods the year after I was injured and hunted faithfully throughout college, but after moving to Virginia, I was unable to find many easily accessible areas and it became something I did less and less. Through a team member, I found a non-profit that helps individuals get back into the outdoors, hunting and fishing. So naturally, I joined and we began volunteering as much as possible. Within the first year or so, I was voted to become Vice President of our chapter and I'm excited to see where things will lead for the chapter and am surprised at the number of others we're able to help through the Virginia Wheelin' Sportsmen.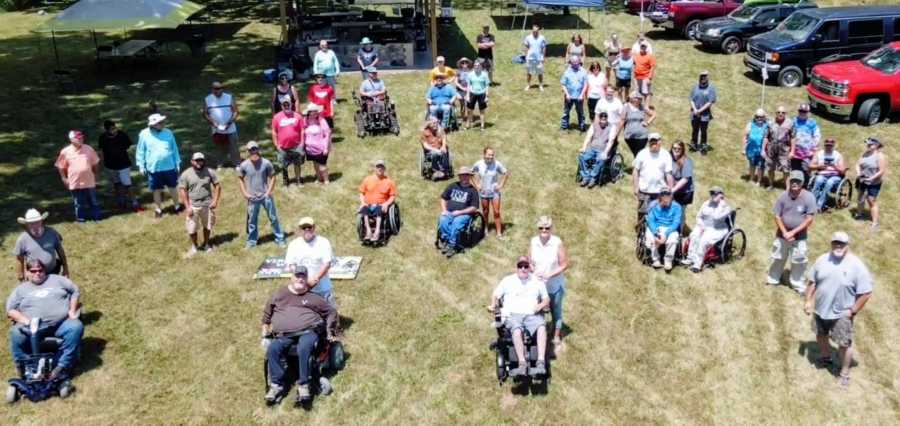 In 2017, since I'm extremely shy, I was asked out on a date by my remarkably beautiful neighbor. I did say yes! She quickly learned what she would be in for within a few days since I had already scheduled surgery for a bladder stone removal, which I tried playing off as just having an errand to run that day. I told her what I was doing and she was at the hospital making sure things were okay and was willing to help with anything I needed. Come to find out, she never takes time off of work but has made the exception for me a few times already.
Ever since, besides working, we have been trying to travel as much as possible and just enjoy life. I was able to propose during a photoshoot on our vacation in Barbados and she said yes! That fall we traveled to Albuquerque, New Mexico, and Bar Harbor, Maine, which led to planning our wedding in Bar Harbor, ME for 2020. Sadly, since 2020 was quite the year, we ended up postponing the actual celebration with family and friends until 2021, but like always, we made the most of it and eloped with a gorgeous ceremony in the Blue Ridge Mountains. We're both still excited for Bar Harbor in October of 2021 though and until then, we've started our fertility journey in hopes of starting our own family.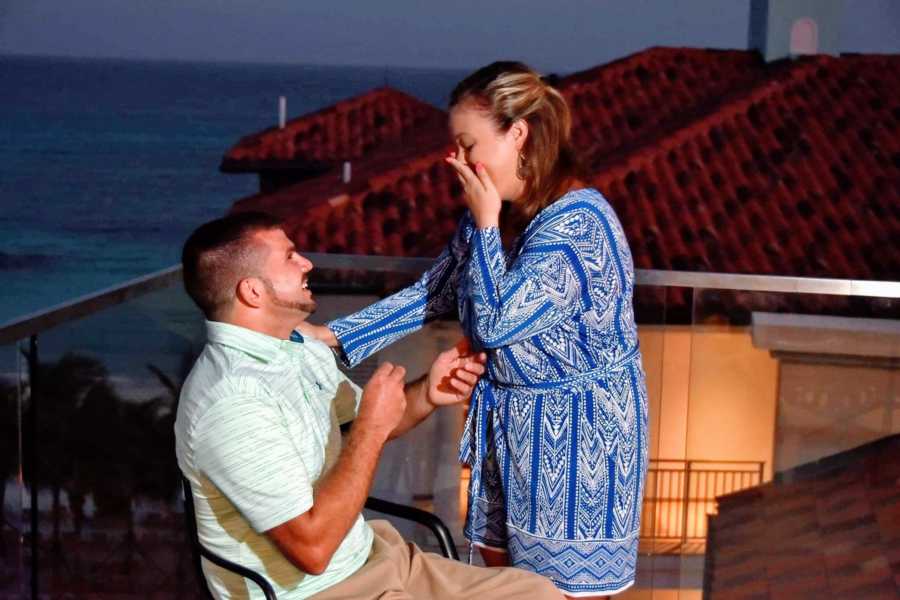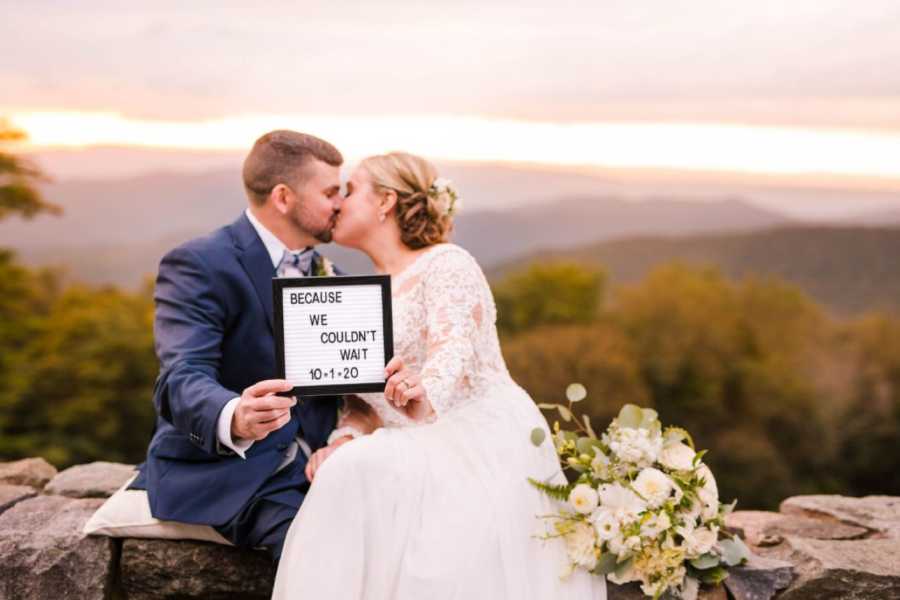 So after all these years, I'm really hoping to start bringing more awareness to adaptive sports, travel, and other opportunities to others who have found themselves in a similar situation as myself 23 years ago. It's hard to find time with work and life in general, but my wife and I have been able to travel a good bit and found a need for providing more information about accessible vacation spots, etc. I believe there are a lot of people who are unable to travel because of the lack of accessibility, but even the ones who are able to are afraid to attempt it for lack of information, not to mention the intimidation of getting somewhere and things not working for them. We've found ourselves in some interesting situations, but we always make the best of it and try to bring awareness to the hotels, resorts, and Airbnb owners so they can better accommodate others.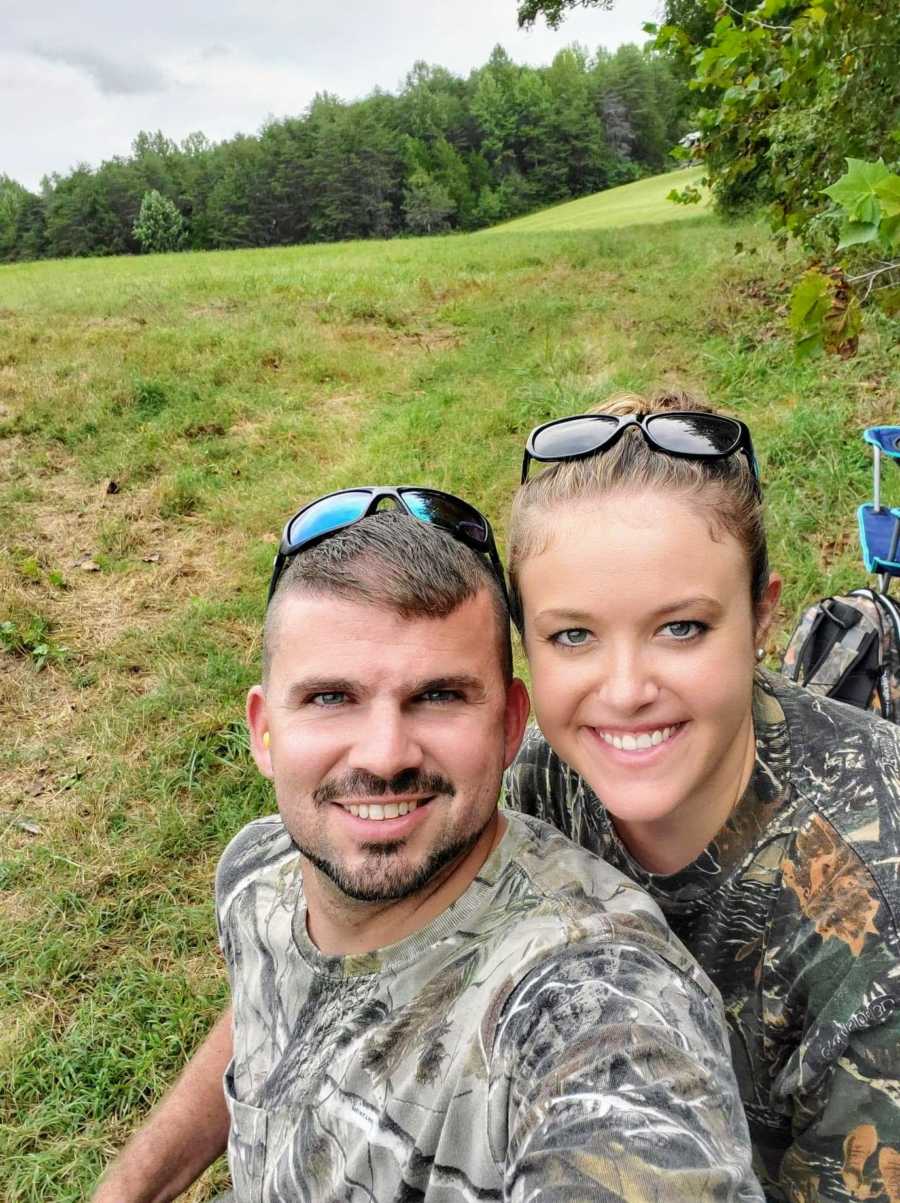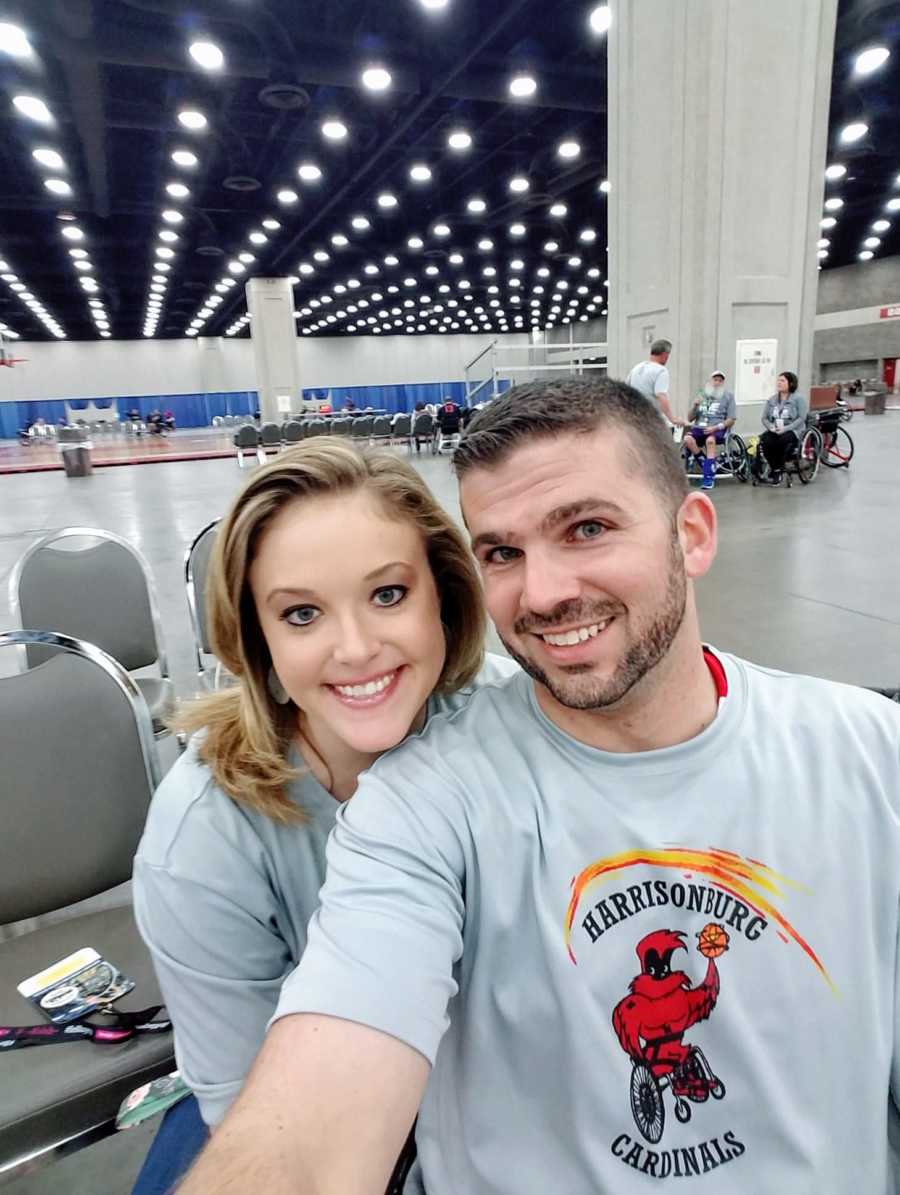 Even though it has been tough and embarrassing at times, it's made me who I am and has made me prove that most assumptions about people in wheelchairs are wrong. It was never an easy journey, but it has most certainly been worth the work and effort. Let's see what a difference we can make in the next 23 years."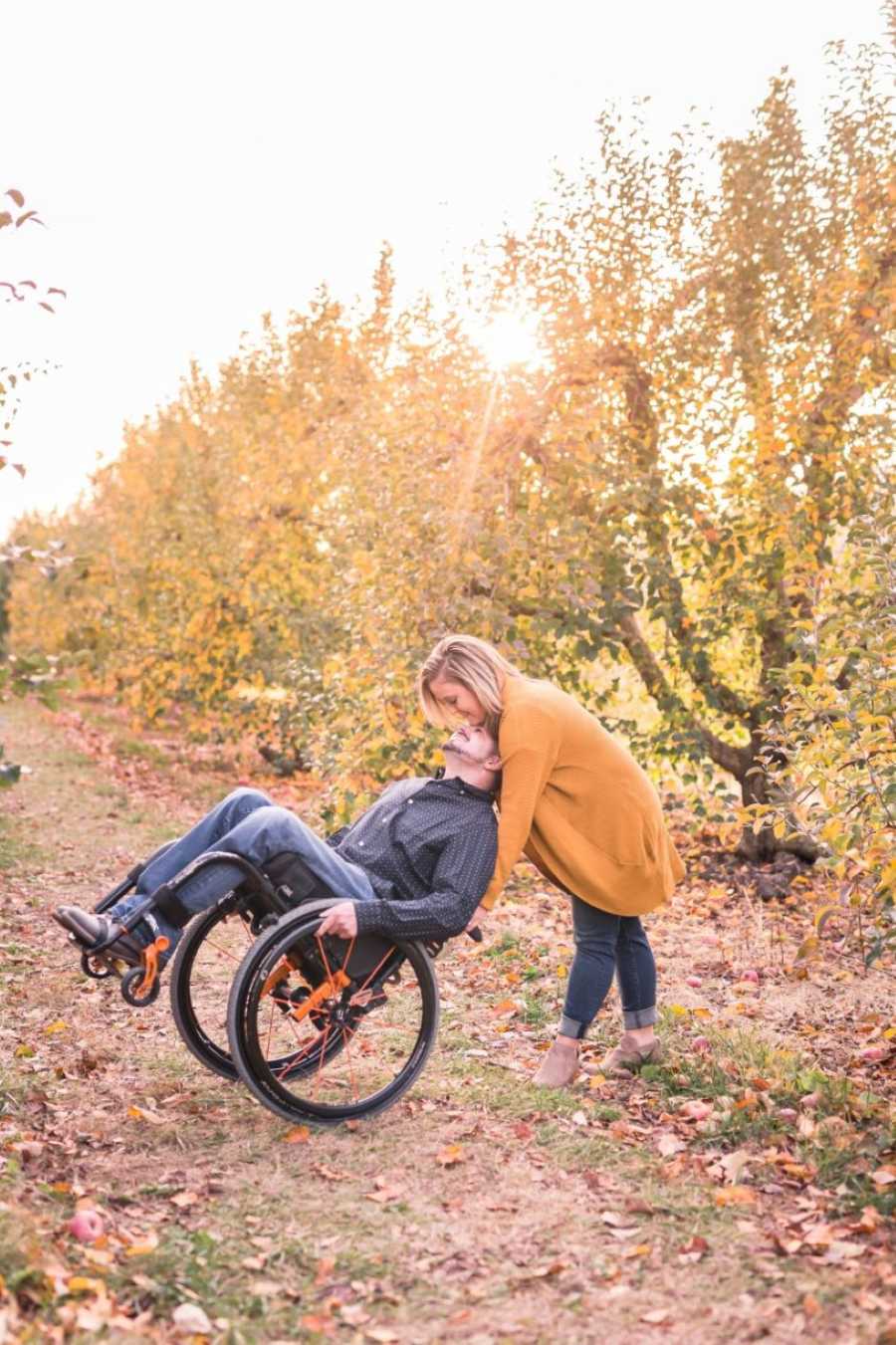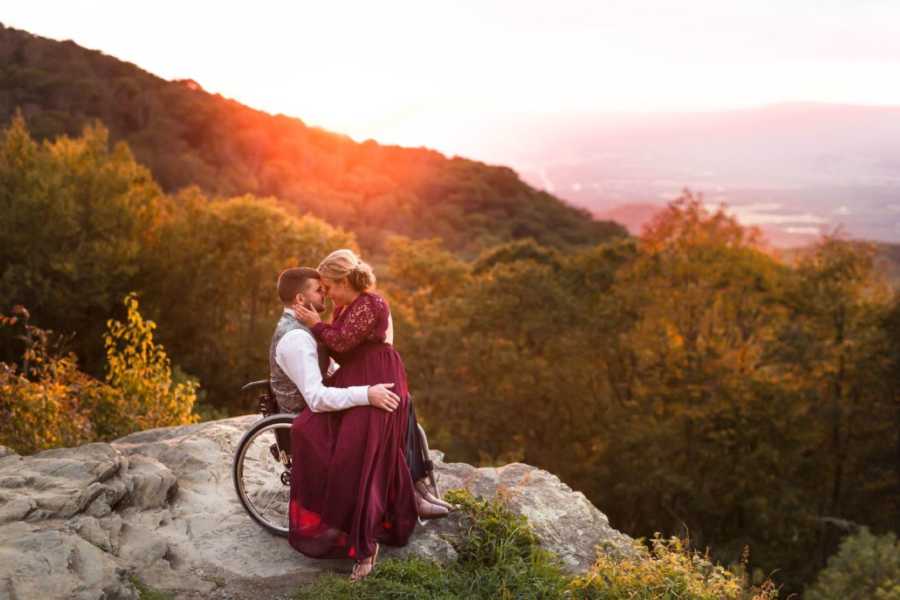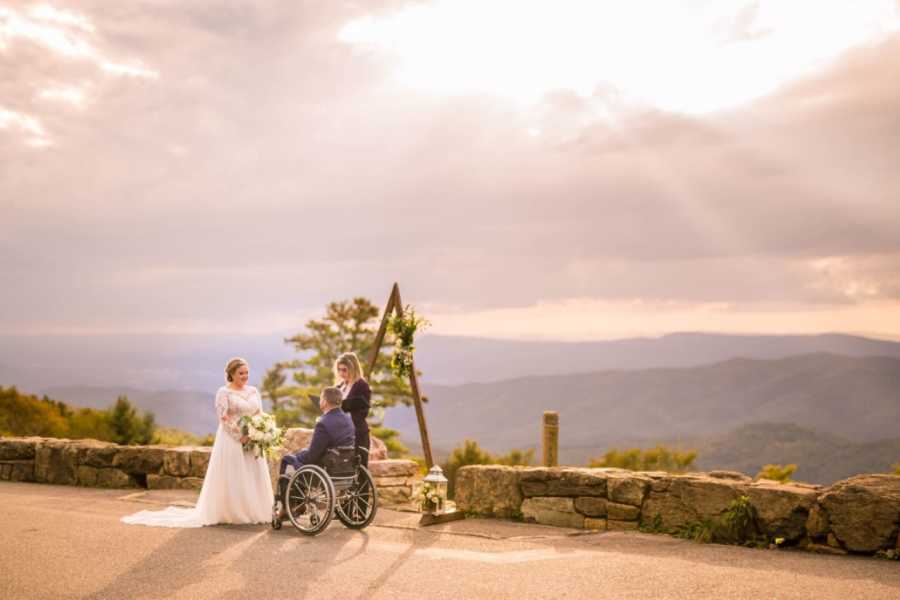 This story was submitted to Love What Matters by Doug Galica of Harrisonburg, VA. You can follow his journey on Facebook, Instagram, and YouTube. Submit your own story here, and be sure to subscribe to our free email newsletter for our best stories, and YouTube for our best videos.
Read more stories like this:
'You can tell me to screw off BUT it's pouring, my daughter was supposed to have senior pictures outside. She's in a wheelchair; can we come inside and take some pics?': Family blown away by Starbucks employee's act of kindness
'I didn't want my heart broken again': Wheelchair user finds her 'true, unconditional love' after trying to 'self-sabotage' the relationship
'Drag me to the kitchen!' I did what any self-respecting millennial would. I Googled 'gunshot wound first aid.': Man survives home invasion attack, 'I'd choose a wheelchair over a hearse any day'
'I awkwardly unloaded 2 wheelchairs because a minivan of laughing teens pulled into the only available handicap spot.': Special needs mom pens PSA on handicap parking
Do you know someone who could benefit from reading this? SHARE this story on Facebook with family and friends.