Classroom Introductions
"…Both my parents are deaf." "…I have autism." "…Both my dad and my brother were murdered." "…I was adopted from Ukraine and I never want to go back." "…I was born without a hand." "…I won State last year." "…I will finish college to honor the memory of my mom." "…I caught my kitchen on fire by microwaving a Chik-Fil-a wrapper." "I am a first generation immigrant and the first to be accepted into college!"  "…I hiked the Georgia portion of the Appalachian Trail…" "I speak four languages fluently."
Almost every year, I have asked each of my new students to choose one of four sentences to complete as they introduced themselves to our class, and these were some of their responses. Inspired by our school's motto, "Stronger Together," I also tasked them with tracing their own hand, adding art that represents their story in a literal or abstract way, and contributing it to my bulletin board project.  Isn't their work fantastic?! So colorful, so unique and individual, and sometimes so heartbreaking and inspiring, all at the same time.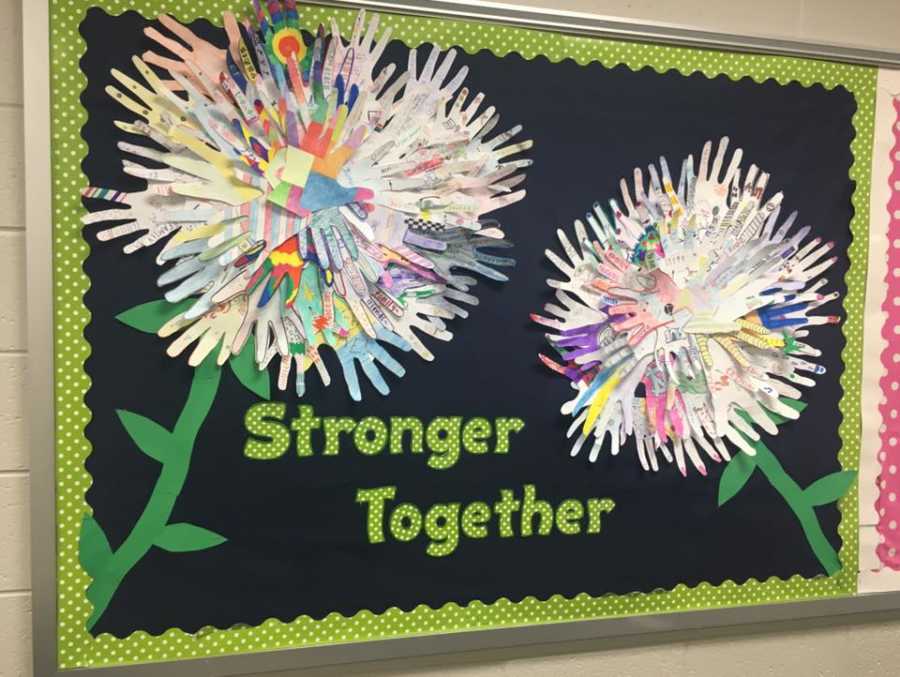 These incredible stories, 95 of them – hard ones and easy ones, adventurous and local ones, painful ones and hopeful ones – are the stories they are just beginning to write on their own… I'm humbled that for the next nine months, at least, I get to play a small part in each of these beautiful stories.
High school students are a funny bunch. Ice breaker activities are a dreaded expectation for them during the first week of school each year, and while I sincerely want to hear about who they are and what makes them tick, generally speaking, 12th graders are not the most forthcoming group. With starters like these, though, it's hard for most of them to resist.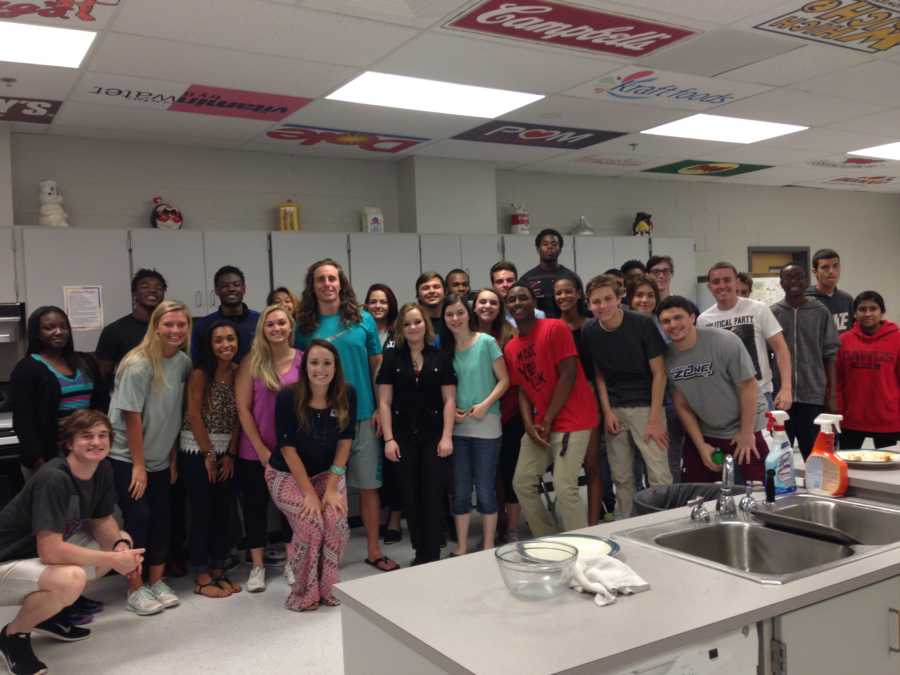 No one would ever guess by looking at me that I….
The biggest mistake I ever made in the kitchen was…
My proudest accomplishment to date is…
Two things I'd like to check off my bucket list are…
Throw in an elementary school-style art project while I circle the room digging a little deeper with each student and awkward introductions turn into a true conversation! Conversations turn into relationships and relationships turn into respect and respect develops into a learning environment in which students are heard, understood, eager, and engaged – the Holy Grail for high school classrooms.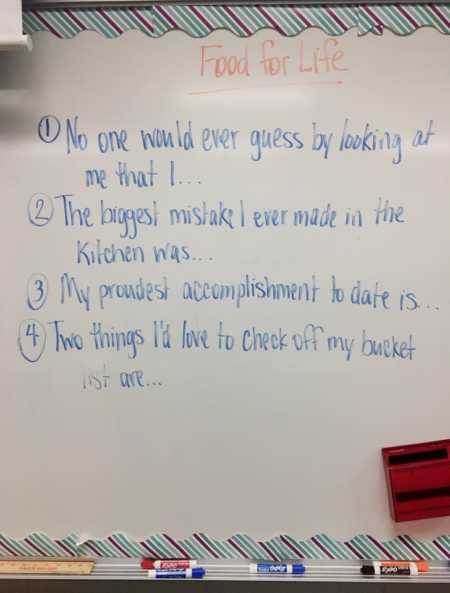 Stronger Together
Teaching is endlessly more than just content. Sure, I want students in my Food for Life nutrition class to understand why protein is essential, to know how to properly cook poultry, and to learn to hold their chef's knives correctly. But even more than that, I want to them to grow into people who do more listening than speaking. I long for them to find a passion for helping their neighbors – locally or abroad. I hope they see the commitment I give to my job and desire to find a career they love as much, even if they never get rich doing it. We learn to laugh at our mistakes together and find solutions that make sense to problems that we encounter. The content is important, absolutely, but in my classroom, the science also serves as a vehicle to help us find a deeper appreciation for the incredible "well-oiled machine" that is the human body.
Our students' stories weave themselves into our own so much that their vulnerability often becomes a heavy load to bear. However, it is with great honor that good teachers do so. In 10 years, I have grown to love somewhere in the neighborhood of 1,000 students, and although most I will never get to see again beyond graduation, the hopes, struggles, talents, creativity, humor, and memories they shared with me have enhanced my life and inspired me to view the world with great compassion. Even when their hand prints no longer hang on my wall, I am better for having learned from each of these wonderful young men and women over the years. We truly are stronger together.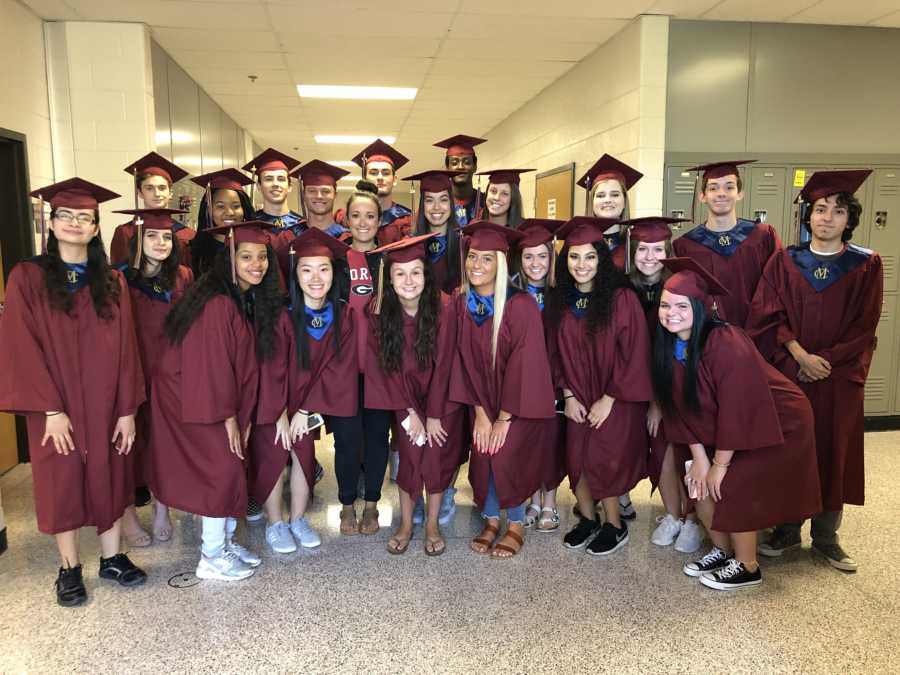 This story was submitted to Love What Matters by April Mashburn of Georgia. Do you have a compelling back to school story? We'd love to hear from you. Submit your story here, and subscribe to our best stories in our free newsletter here.
Please SHARE this story on Facebook to encourage others to cherish every moment and love what matters most.