Babysitting Nightmare
"A mother never forgets. April 18th, 2019, marks thirteen years since I received one of the worst phone calls of my life. I remember as if it was yesterday. My mom had watched my son since he was maybe 6 weeks old, when I went back into the workforce after maternity leave. I needed to find a babysitter. I looked around and interviewed a few people in my town. I felt pretty good about the sitter I found for my then 5 ½-month-old son, Caleb. She had a baby of her own around the same age whom she stayed at home with. I met her boyfriend (father of her baby). For two weeks I went over on every lunch to check on him and make sure everything was going great. It was the first time leaving my baby with a sitter and it was hard for me to let go.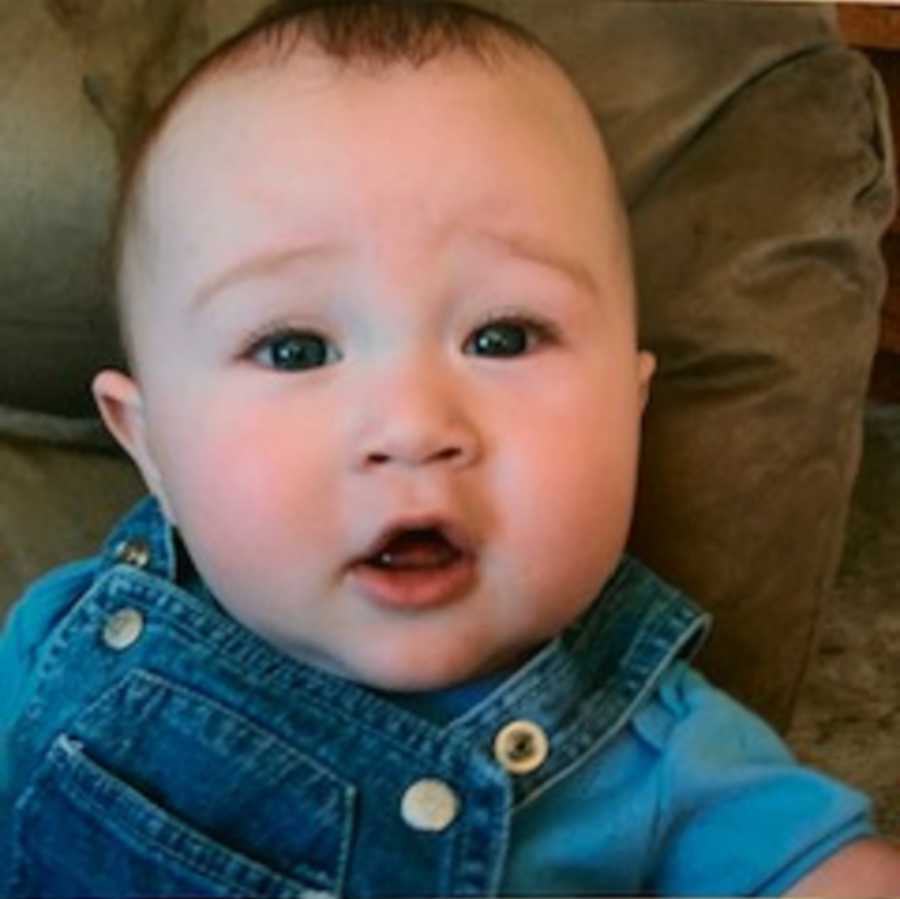 Two weeks in, I get the phone call that would forever change my life. I was at work and I answered. The sitter's boyfriend said Caleb had fallen off the couch and that something was wrong, they were concerned. My heart stopped! What is he telling me? I don't think I comprehended his words, but I was in shock and said, 'I'll be right there.' I sped so fast to get across town. What should have taken me 15 minutes – I was there in 5. I went inside and both the babysitter and her boyfriend were there. She was holding my son who was NOT crying. He was whimpering, I guess you could say. His eyes were closed and I kept saying his name.
'What happened?,' I asked her. She just kept saying he rolled off the couch onto the floor. He was only 5 1/2 months old. He could not sit up by himself without some help, and had only just started to roll himself over from his tummy to his back and back to tummy. I was still in disbelief. I put him in his car seat and immediately started driving to the hospital. He was just limp. I called his dad and my mom. My mom met me as I pulled up to the hospital. The next thing I know, Caleb is on a gurney and surrounded by many medical professionals. My baby was put in a drug-induced coma. I had a lady from child protective services asking me questions. 'He was injured at the sitter's,' I told her. 'All they told me was he fell off the couch.' Caleb's other grandma and dad had showed up very quickly. Within a small amount of time we were told he would be transported to St. Mary's Hospital about an hour away. I had yet to cry. I do not know why. I was in shock. I was being strong. I was told we could not ride with him in the ambulance, so his dad and I drove up to the hospital. I still remember a certain song that was playing on the radio, Garth Brooks' 'Standing Outside the Fire.'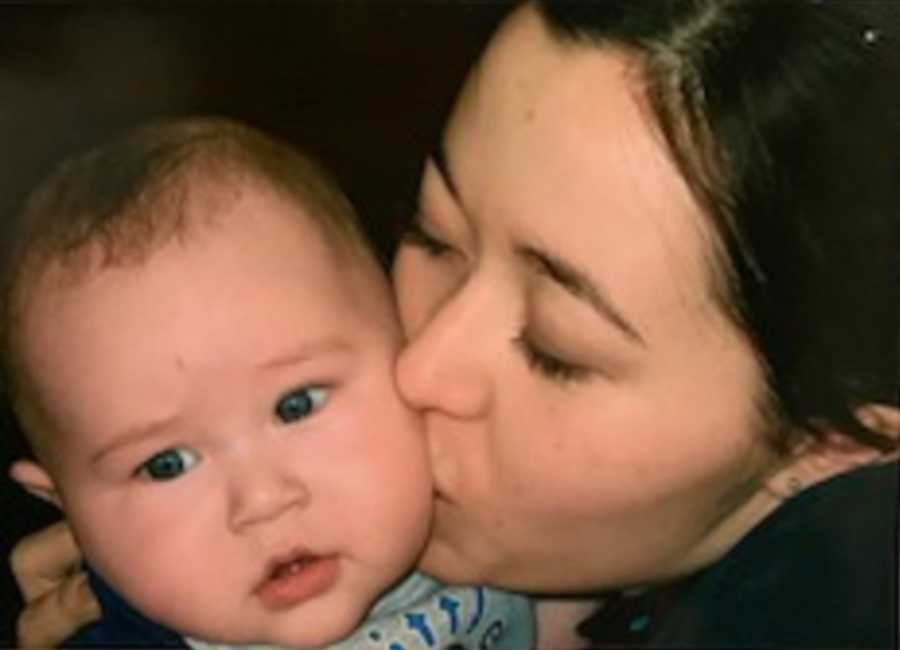 Fall Damage
Caleb, myself, and his dad stayed in Grand Junction for two weeks while he remained in the ICU. Caleb had hemorrhaging to both eyes and to the back of his head. I'll never forget the first time I got to see my son since he was transferred to the bigger hospital. I walked into the ICU where he laid in a hospital bed. He was looking up at me, but it's like he could not see me. I was talking to him and he was looking toward me. With the hemorrhaging in both eyes being such a fresh injury, he was having a hard time seeing me. It was devastating. The first time I saw him having a seizure, his right arm went stiff and straight. They asked me to leave the room. Thank God it was due to fluid build-up and no surgery was needed. I slept next to his crib/bed when he was moved to another room. I always kept an eye on him and listened for him. After tying a few seizure medications, my son was finally leaving the hospital and was placed on daily meds for years to come. Caleb has seen an eye specialist, a neurologist and brain specialist that took the best care him.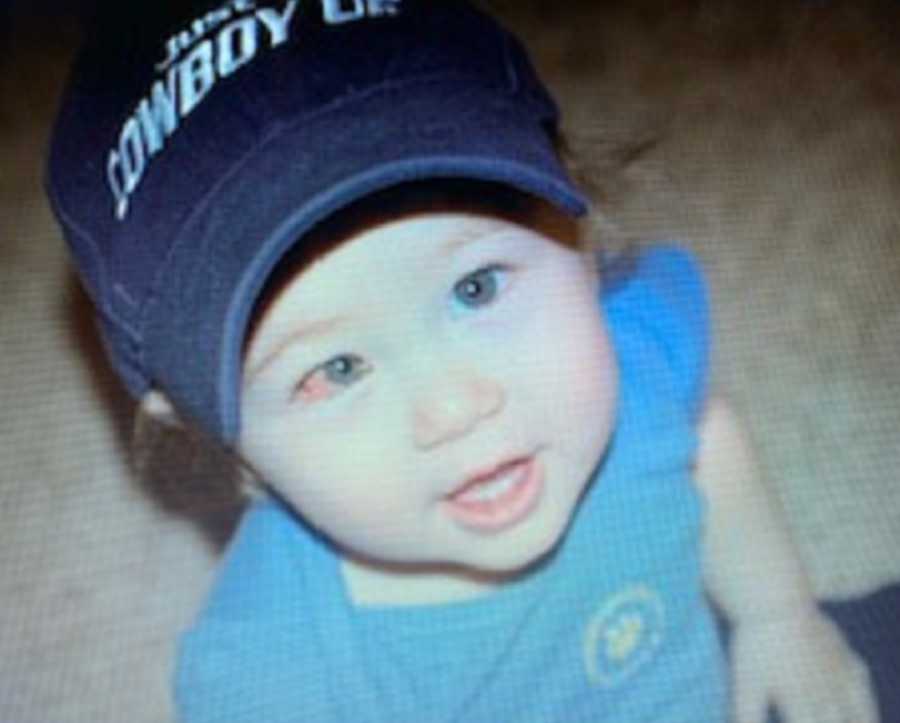 For the next three years, my son's case would be investigated until it reached the statute of limitations. They were investigating the people who had care of him at the time of the injury. I remember noticing very small bruises, a bit smaller than the size of a pencil eraser. One in his ear, one by his eyebrow. I had asked the sitter on the phone (she had called me in the ICU) what caused this. She said he fell onto a toy. I have stacks of medical records stating it was a non-accidental trauma to the head and shaken baby. A fall from the couch could not have caused his injuries. I was told by the investigator the day before the statute of limitations was up that the boyfriend of the sitter would be charged with 17 counts. The very next day I get a phone call and am told that because of one doctor (who could not testify 100 percent that the injuries were non-accidental) they could not charge him. I was upset and devastated.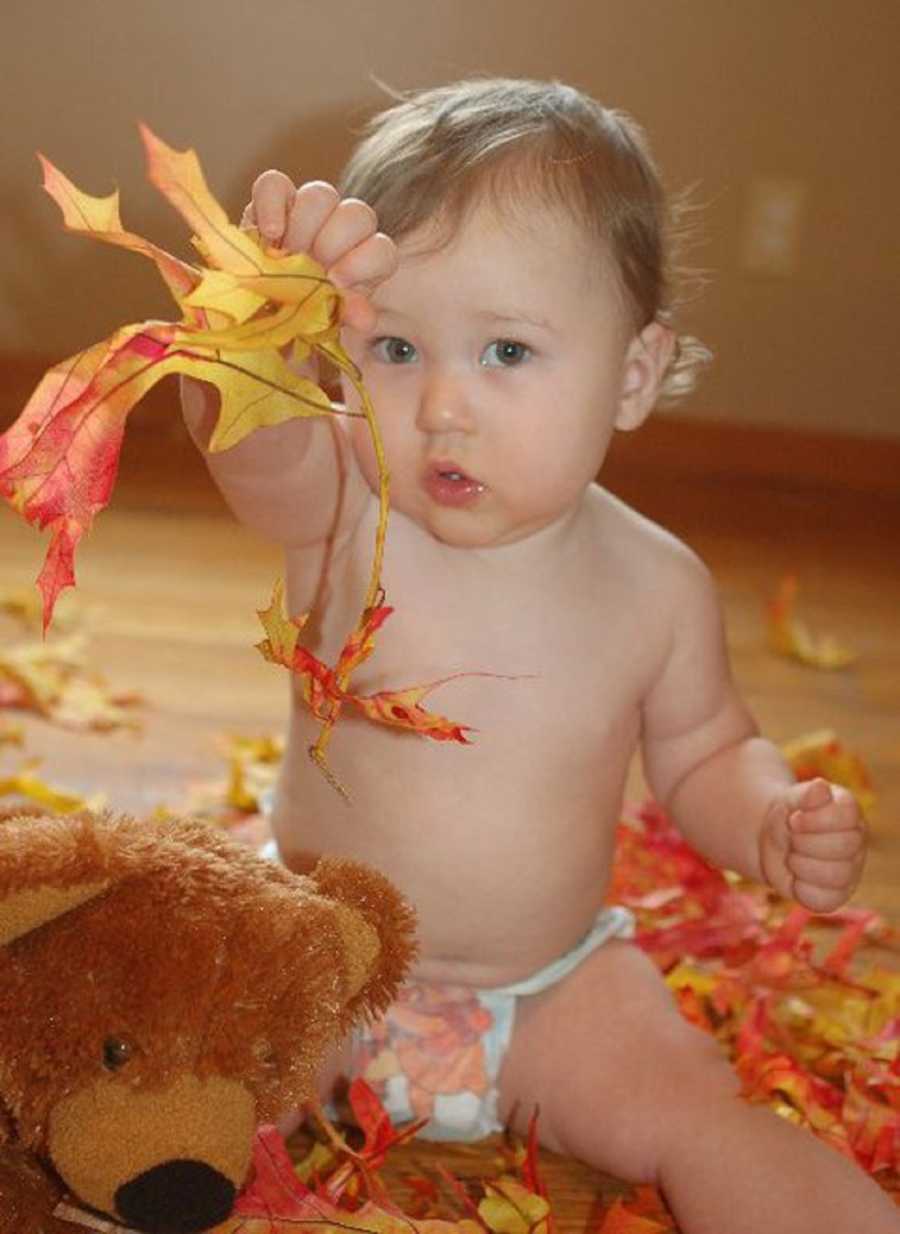 Caleb had eye surgery when he was about one and a half. He had strabismus in his right eye and needed help aligning it to help correct his vision. He was prescribed glasses and constant patching to strengthen that eye. All he wanted to do was rip off the patch. Man, it is not easy keeping an eye patch on a toddler. Once when he was little, Caleb's cousin was being a good sport since Caleb did not want to wear the patch. I suggested they play pirates, so his sweet cousin wore one too.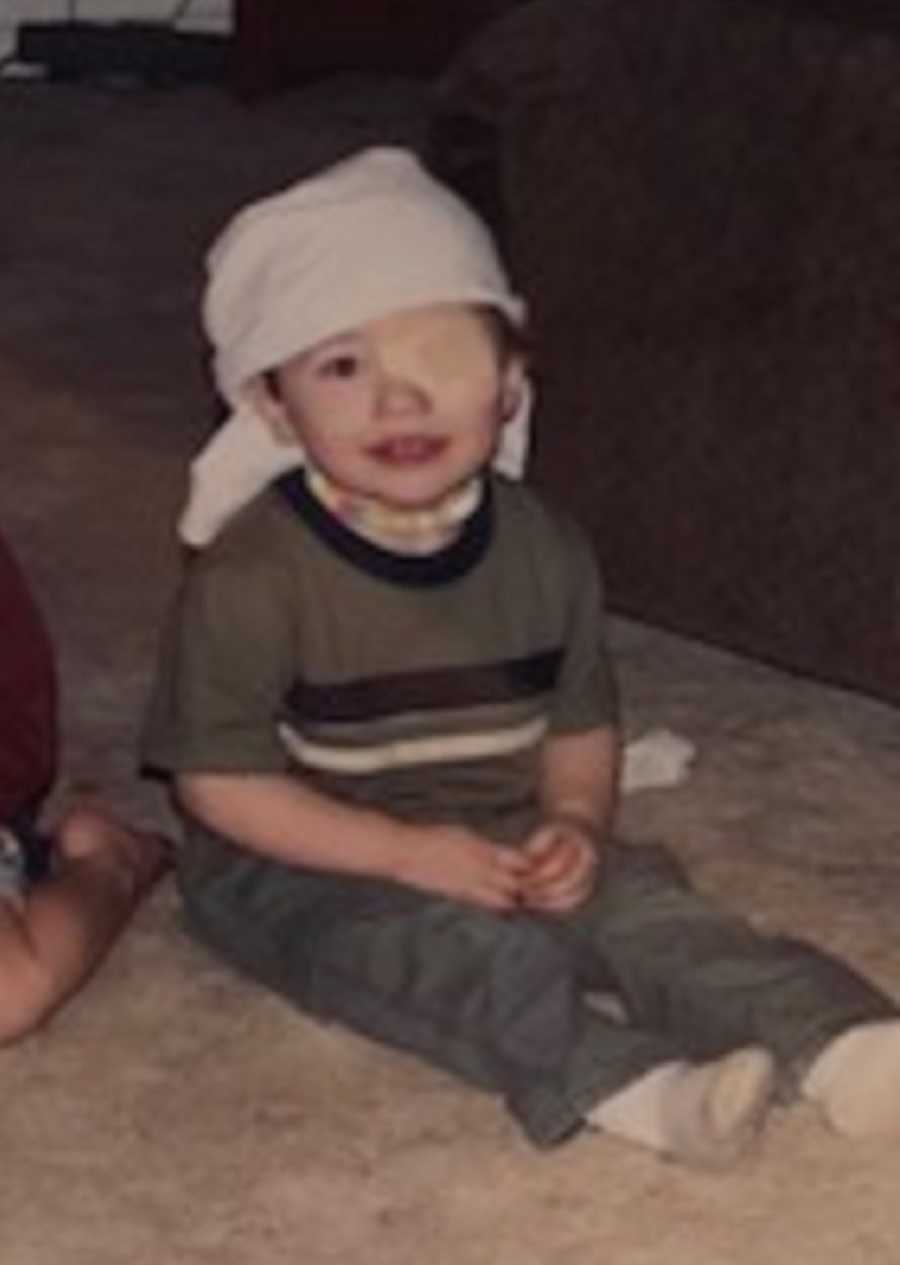 Lasting Damage
Daily seizure meds were exhausting when he was younger. He was too young to swallow pills so I would crush it up and put it in chocolate milk. I would have to tell my baby to 'Shake Shake' so the medicine would not settle at the bottom. Caleb's seizure episodes start out with him waking from sleep in bed, then he throws up. Episodes last from 13-18 hours. I have to wipe his mouth because there is nothing left in his stomach. He his lethargic and cannot sit up. This would occur around four times a year. We endured physical and occupational therapy until he was three. Balance was an issue and they were not sure if it was due to his injury or his eye sight. He also for years (while on daily meds) would sleep walk and talk, and wet the bed. When Caleb started kindergarten, I started noticing behavior issues. I have done my own research constantly about brain injuries but I do not know how it will affect him year to year. When Caleb was old enough to really start talking, his doctor classified his seizure episodes as migraines/seizures. He started to tell me how the light and sound hurt his head.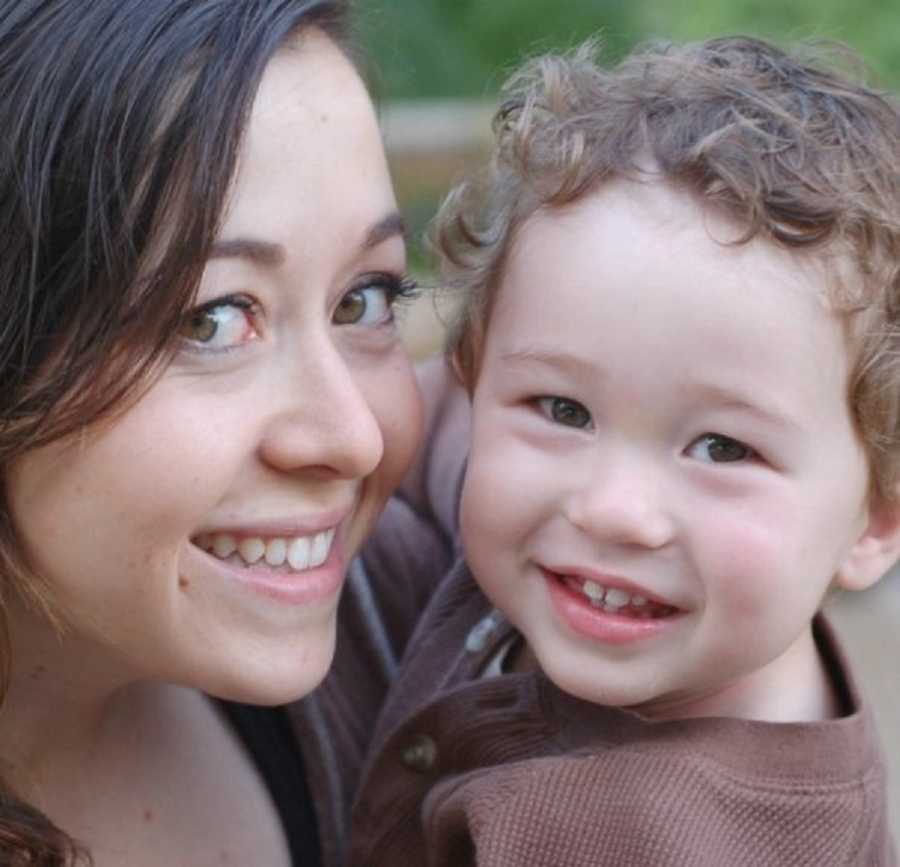 Being in a small town, I have crossed paths with his abusers, who still today will say Caleb fell off a couch. Being in a small town, people also talk. I have heard many stories of what happened. I still do not know the truth and probably never will. The babysitters continued to have children. Continue to deny. I wonder what they think when they see myself or Caleb. Do they have remorse? Their oldest goes to my son's school right now. My son just turned 13! He has come such a long way. When you look at Caleb you would think nothing ever happened to him. He wears glasses and only takes meds when he feels an episode coming on. As of now, we have been off his daily meds for about 4 years, and it's been a little more than 1 year of no seizure episodes!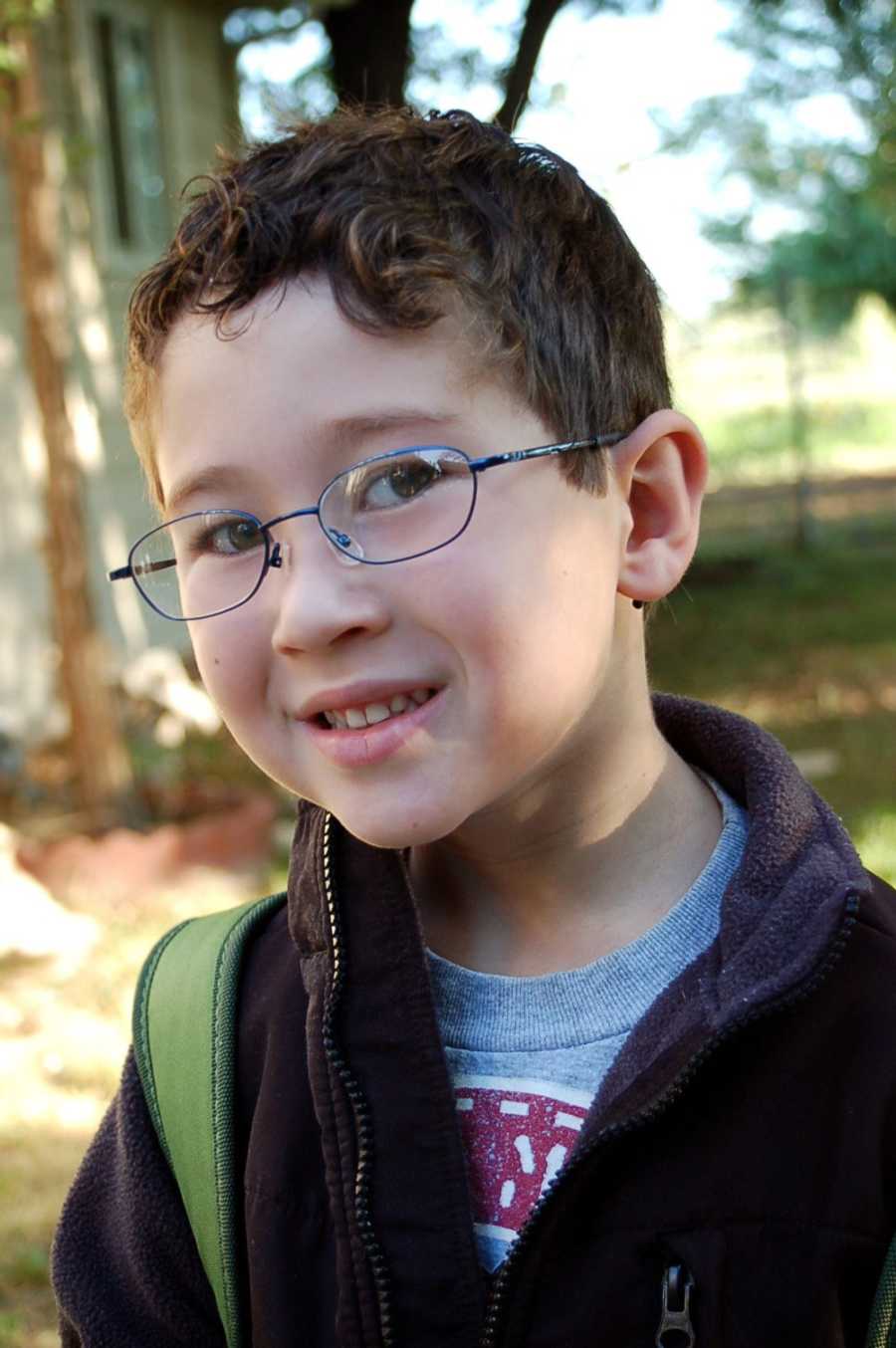 Every year there seems to be something new to deal with. Right now it's his behavior, his mindset and how he processes things. He is doing fantastic considering what could have been a much more drastic outcome! We are blessed and thankful. If you are going through something similar, I hope me sharing Caleb's story is enough to give you some comfort that shaken baby survivors can thrive. I was told that because he was injured so young, he could possibly outgrow a lot of what we were dealing with. He is still getting stronger with each passing year.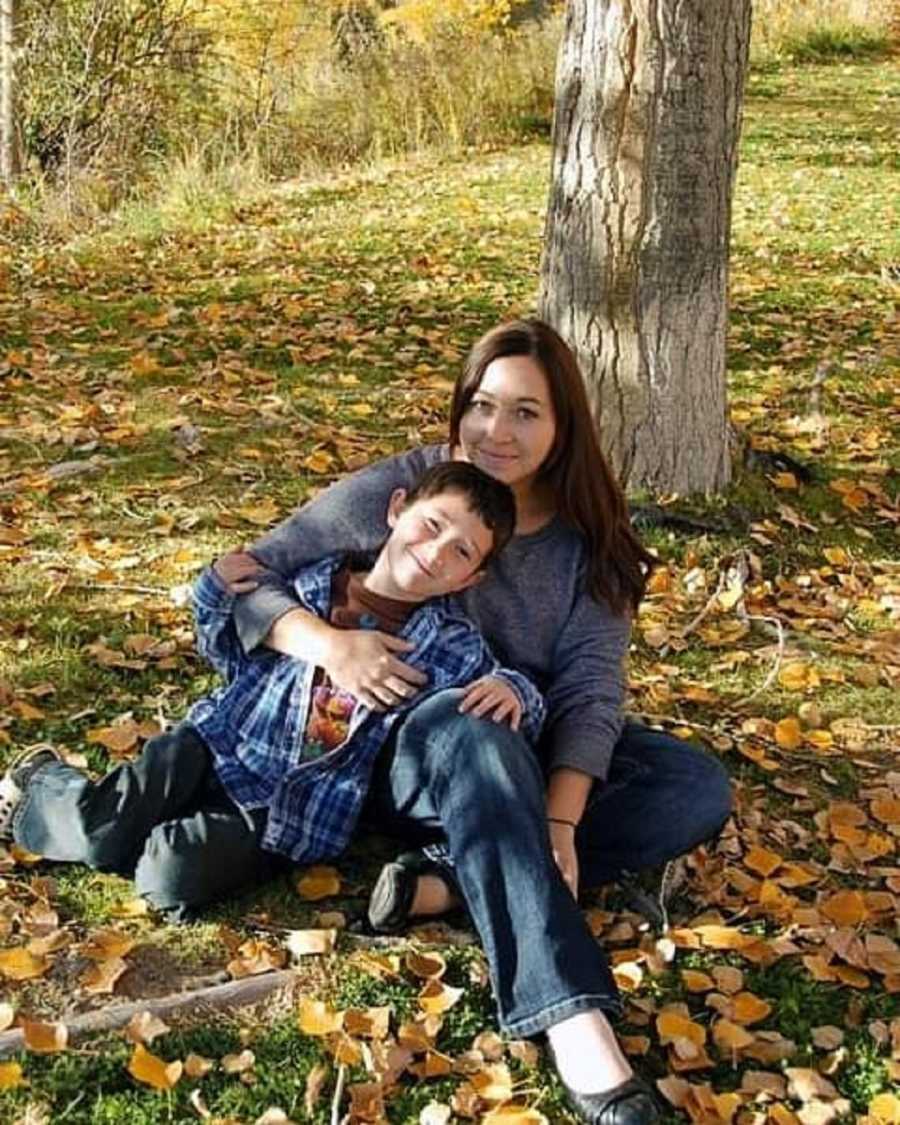 You never know what might happen. I was over there every day checking on him, and I did all I could do. Again I do not know the truth as to what happened that day. Only the two individuals who were there. Please never shake a baby. Never be violent toward a child. Keep calm and walk away if you need to. Call someone to help you if you are overwhelmed and stressed. My heart goes out to any parent who is going through a similar situation. This should never happen."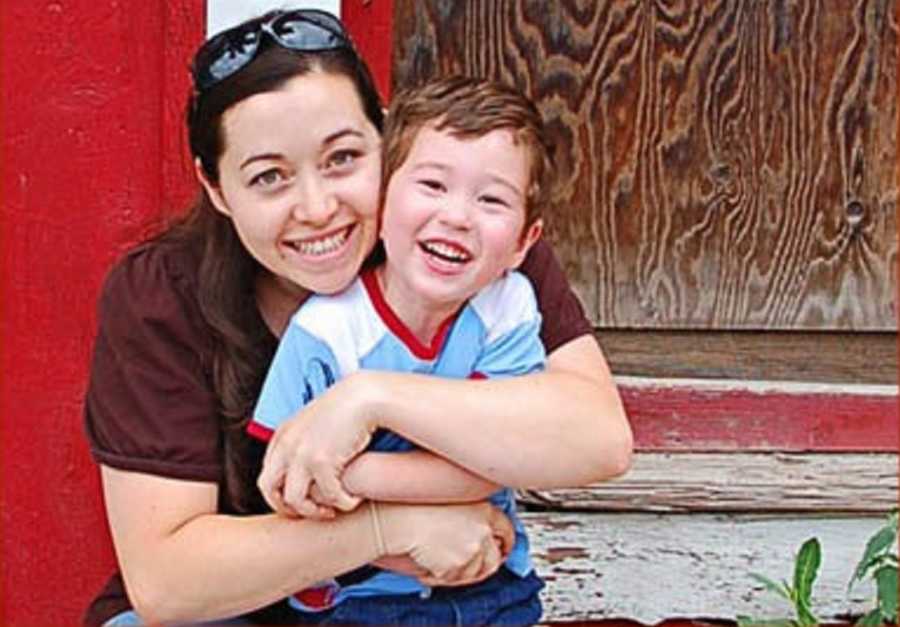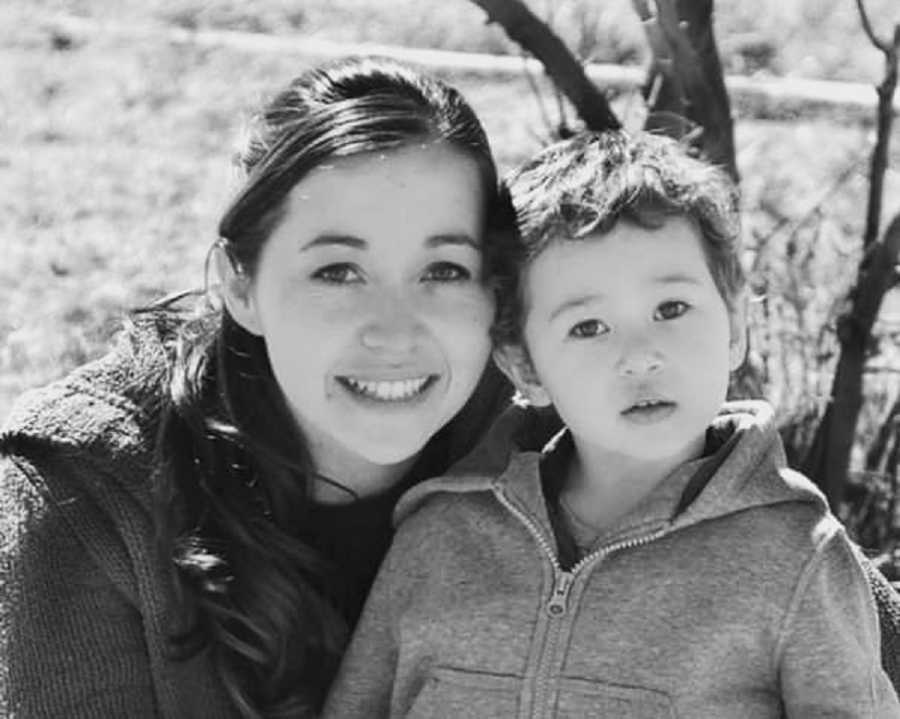 This story was submitted to Love What Matters by Caleb's mom, Angela. You can follow her journey on Instagram. Do you have a similar experience? We'd like to hear your important journey. Submit your own story here, and be sure to subscribe to our free email newsletter for our best stories.
Read more inspiring stories of shaken baby survivors:
'I got a call from Wyatt's father. He was rushed to the ER because he was 'breathing funny.' My first thought was, 'Who the heck was Wyatt left alone with?!' My heart dropped into my stomach.'
'I realized I had missed 20 calls from my mom. The night before, her father picked her up and took her home with him. I arrived at the ER very confused. All I remember was her yelling and crying.'
Do you know someone who could benefit from this story? Please SHARE on Facebook to let them know a community of support is available.