"2020 has been hard on everyone. Many of us have suffered anxiety, loss, disappointment, and heartbreak. Our lives have been turned upside down in a million different ways. For many of us, Christmas isn't going to be the same. But through everything 2020 has thrown at us, we can remember kindness has not been canceled. Love and generosity still surround us. We get to decide every day what we can do to change the world around us for the better.
Every year my family creates a '12 Days of Christmas Kindness' advent. This year, despite the challenges, has been no different. In March 2020, an MRI revealed a tumor in my foot. This was an incredibly scary time, including emergency surgery, a hospital stay during the spring lockdown, and months of rehab to get walking again. I will never forget how friends reached out, sent meals to my family, delivered treats, and sent encouraging virtual notes as I recovered. The smallest gestures meant so much as I felt so alone during this dark time.
As we awaited biopsy results of the tumor, I felt loved from the simplest acts of kindness. From letters from close friends to beautiful messages from strangers on Instagram. A little kindness can change everything. I was eventually diagnosed with a Giant Cell Tumor in my foot, a locally aggressive tumor with the capacity to metastasize, but it was benign. I was so grateful and didn't want to forget how I had been supported through my hardest days.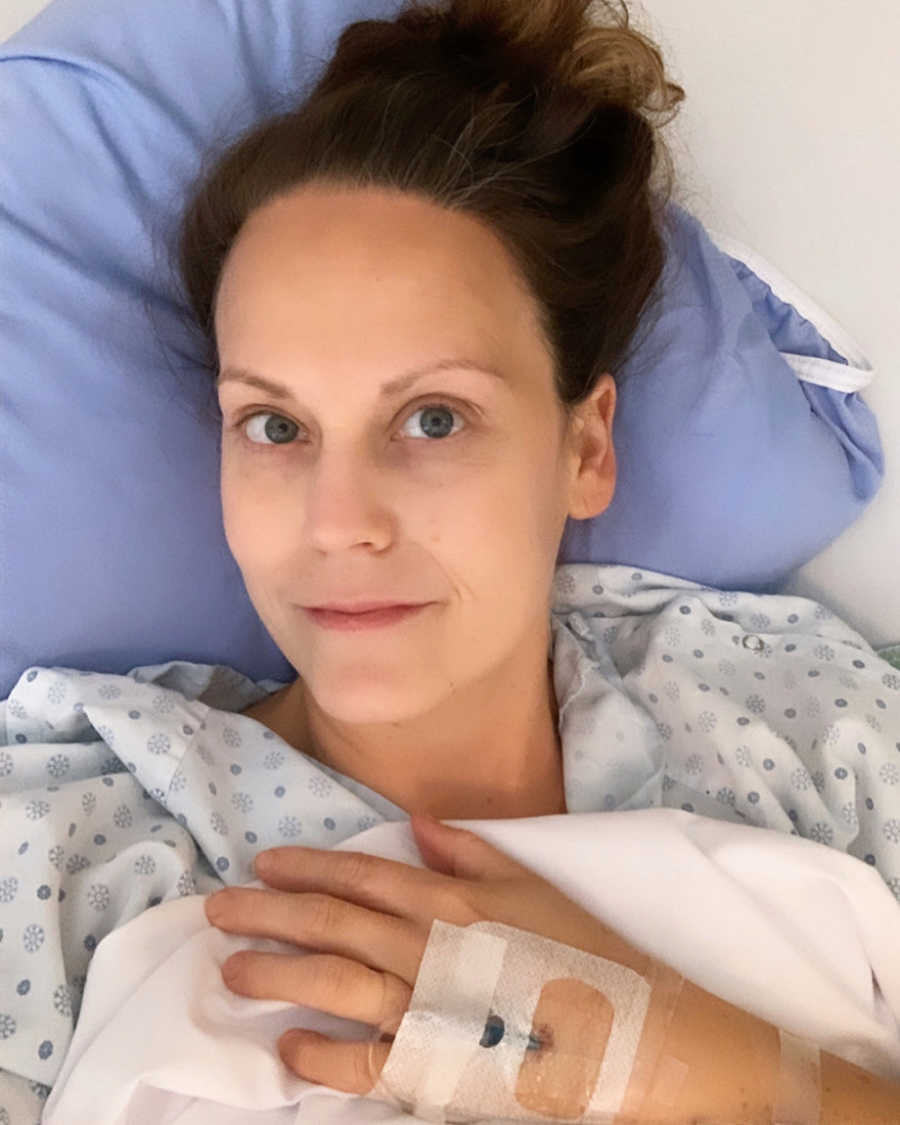 Leading up to Christmas 2020, we brainstormed how we could give back as much as possible this holiday season. We planned and built activities every day to serve our vulnerable populations and to bring joy to those around us. We created the hashtag #joychasing to help us find happiness in every circumstance. There's so much magic out there, if you remember to look for it. And if you can't find it, it's time to create it.
My daughters are 8 and 10 years old and were able to help design and participate in each daily advent. Through giving back, we were able to think less about our own 'lockdown sadness' and more about bringing happiness to others in small and simple ways. This was the goal of #joychasing in 2020.
Each of the first 12 days of December brought a new act of kindness. One of my favorite moments was hiding $5 bills at our local dollar store. We wrote encouraging messages on post-it notes and stuck them on $5 bills. We hid the money throughout the store. My daughter placed the bills between the Macaroni and Cheese, and behind the mugs. She stuck one on a children's game and hid another inside a little pink sparkly unicorn purse. She zipped up that purse and said, 'I hope this little girl is so excited to find some special money just for her. I hope she knows she's special.' I held back some tears in the dollar store that day, proud my daughters were 'getting it.'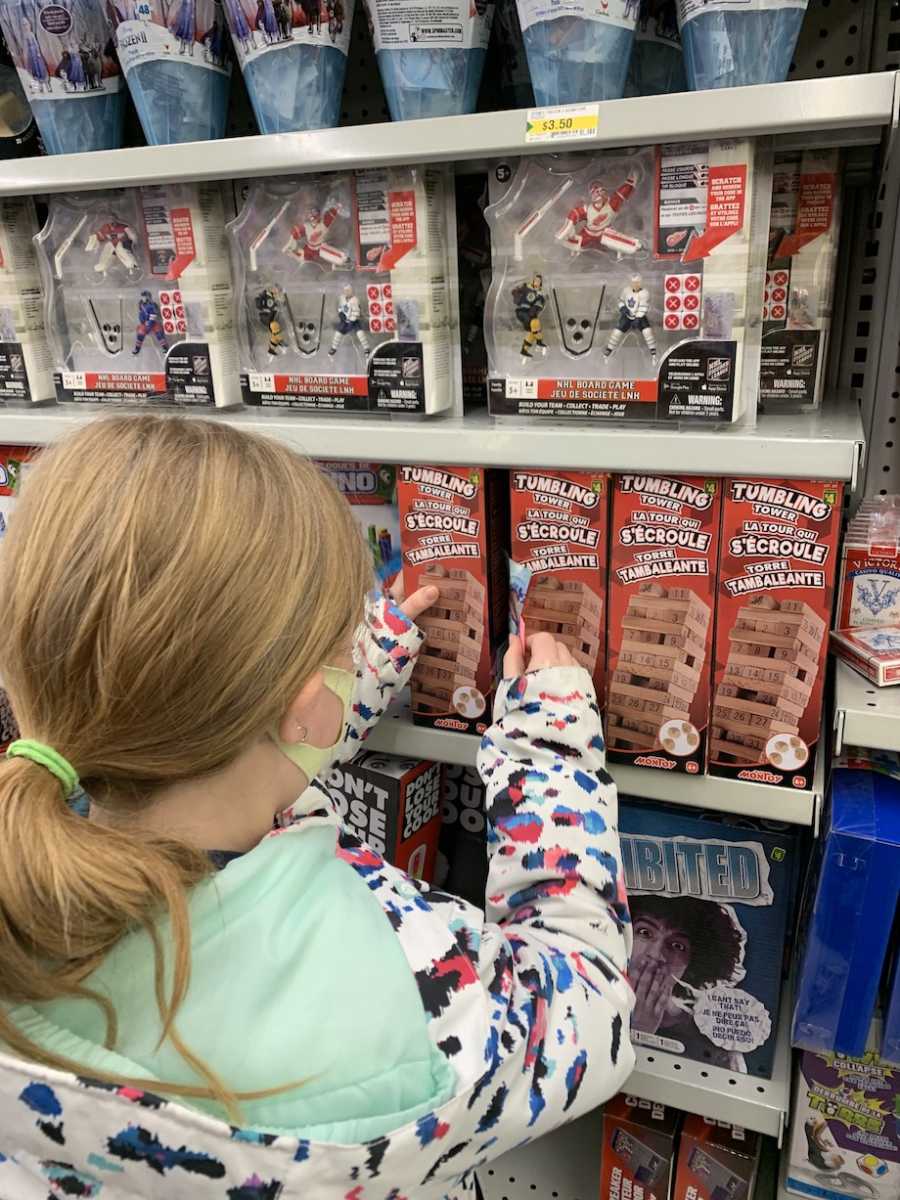 On another day, we bought toys for underprivileged children (who doesn't love buying toys for kids?!) and on another day, we gathered much-needed items for a women's shelter. But some of our activities didn't cost a thing. We dedicated a day to leaving positive reviews on small businesses' websites and letting them know why we loved them. Businesses are struggling and giving them a shout out can make all the difference in getting more clients to their door. As a small business owner, I know the power of Instagram shout-out or a Facebook post share. Little gestures that cost nothing but can truly help a business succeed.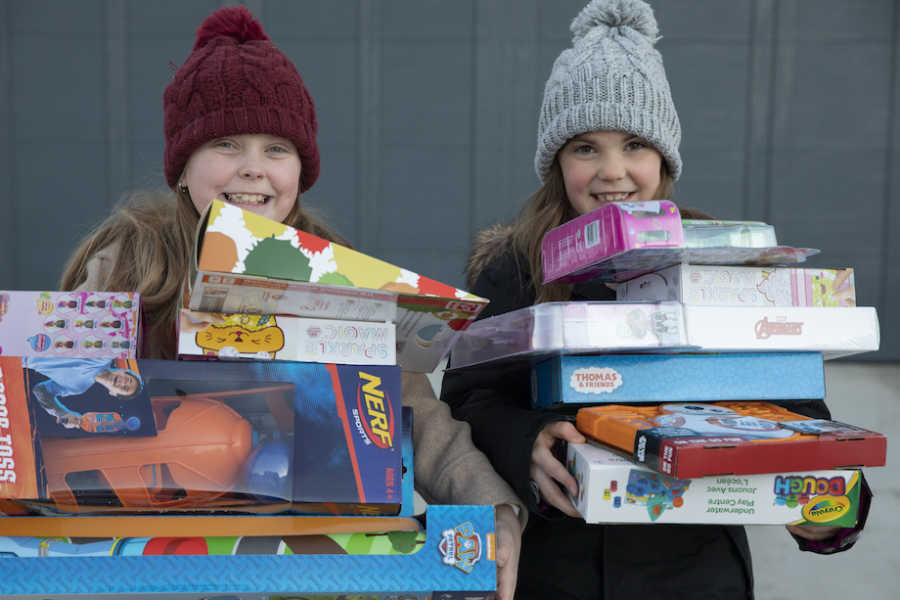 We spent one evening writing Christmas cards to seniors in long term care facilities. Whenever I think of seniors alone during the holidays, it makes me teary. Especially in 2020 when lockdowns prohibit any visitors, we hope our holiday cards, simple gifts, and children's drawings bring them a little bit of joy despite the loneliness.
On day five of our countdown, we played 'ding dong ditch' on the doorsteps of our neighbors, leaving hot chocolate bombs in our place as we hid behind bushes and cars. We laughed and laughed, trying to be sneaky through the snow. We heard voices call out 'thank you!' into the darkness and giggled from our hiding spots as we felt the joy of doing something special in secret.
One evening during our advent, we took time writing letters to people we love. We sent encouraging messages to our friends and family, letting them know why they're so important to us. Giving up our time to let others know we care is one of the easiest things we can do to make the world just a bit brighter. I know from my experience in the hospital that an encouraging word can change everything, and it doesn't cost us a thing.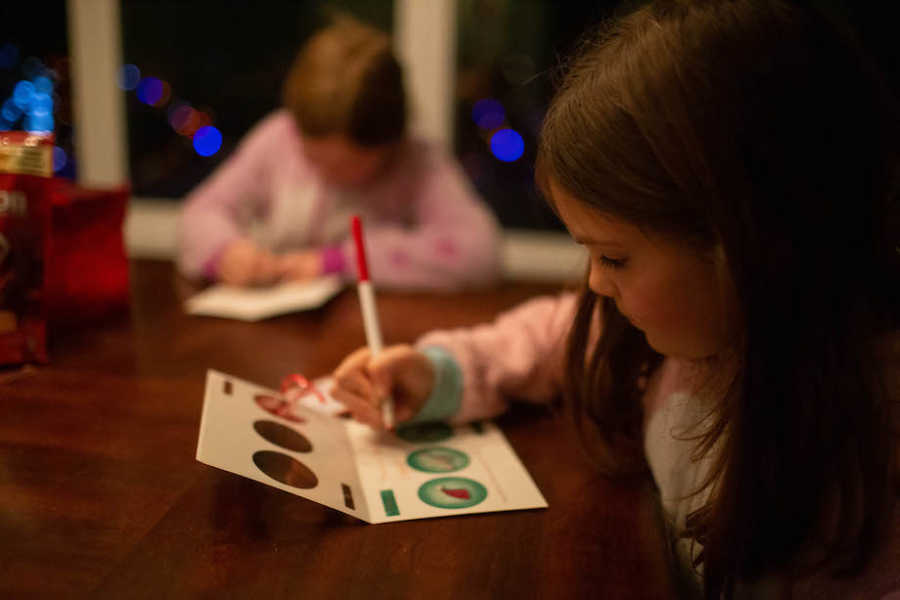 On day nine of Christmas Kindness, an emergency struck. My 8-year-old daughter fell while at school, breaking her arm. I was devastated, all of her outdoor winter fun was instantly taken from her. No more tobogganing or skiing for at least a month. It could have been enough for us to stop our advent for that day, but one of our planned activities was to honor nurses and their big hearts. And as luck would have it, we had our gift for nurses already in the car as we made our way to the ER. After my daughter was fitted with her full arm cast, we were able to give our nurse some packaged treats. We were grateful to be able to leave a little gift in the ER that evening, it was a strange little bit of fate. Even in her pain, my little girl was happy to help the nurse that helped her.
Nurses, especially in 2020, are true heroes. Nothing we could do would be enough to say thank you for everything they've done this year and what they've given up in 2020.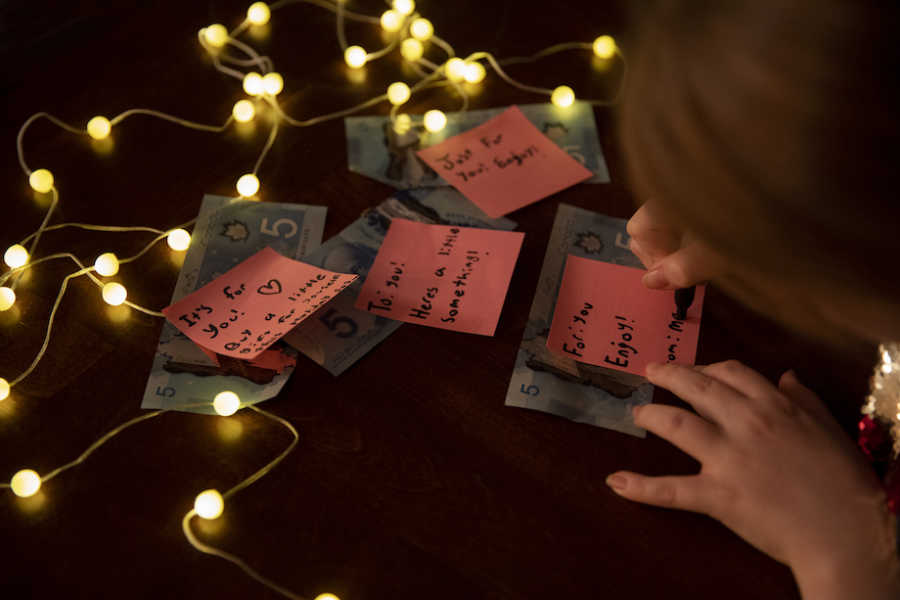 We also supported local businesses by buying gift cards to give away. My daughters made a monetary donation to our local animal shelter to honor our very own 'covid kitten' with their very own money. They saved up all year and chose their own charity to support. It wasn't a lot of money, but it came straight from their hearts. We shared cookies with strangers. We even left an extra-large tip on our dinner one night, hoping to share our blessings with someone who needs it. Little things like this were not only fun to do but brought a lot of happiness to our family by giving back.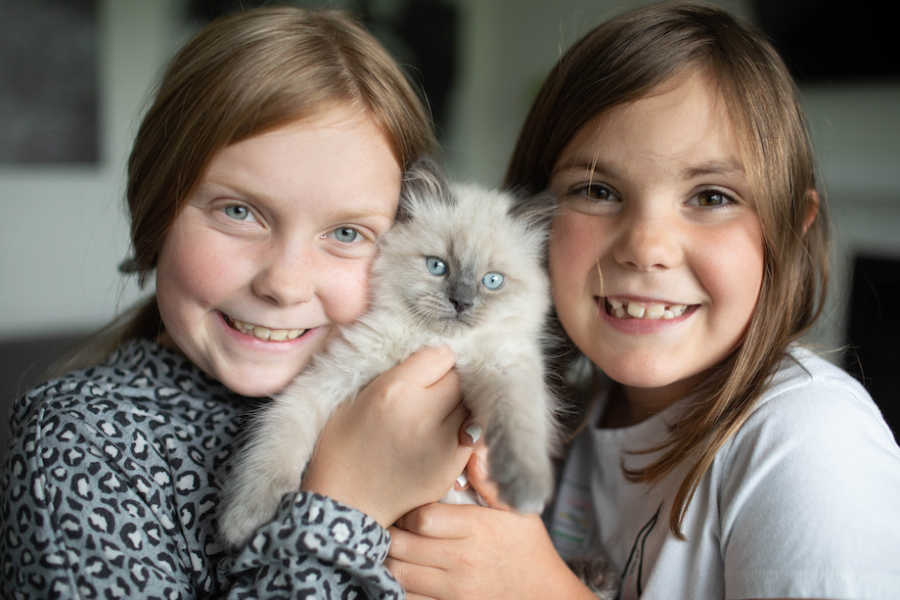 One evening in our advent, we bought extra groceries to donate to hampers for the food insecure. It's easy to add on a few items each during our weekly shop to donate to families who need it most. Buying groceries for the foodbank always brings up a good conversation with my children, helping them understand the sad reality not everyone has a full fridge of fresh food they can get as they please. My hope will always be my girls will understand their privilege in this world and will always be willing to help.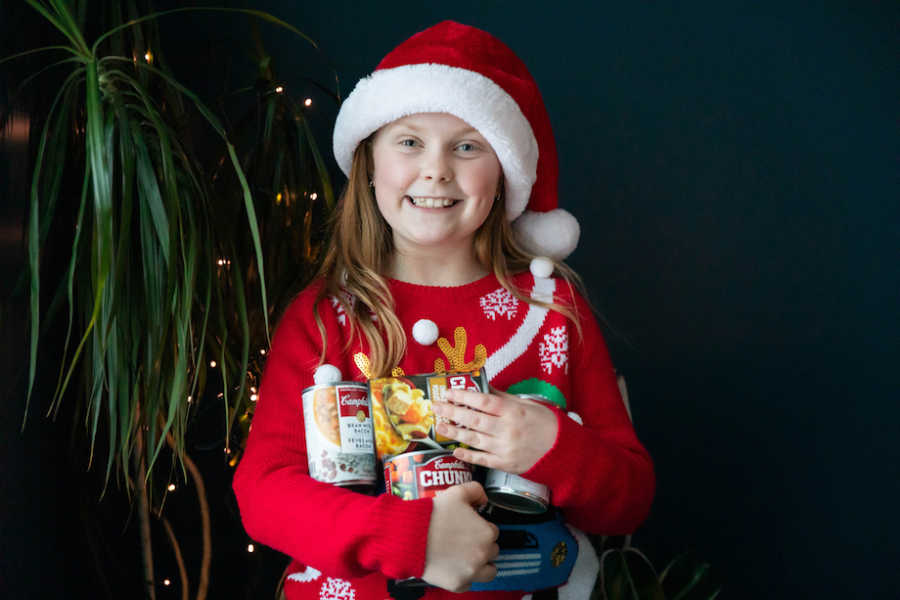 I hope they remember these days of Christmas Kindness and continue this tradition as they start their own families someday. My daughters have grown to love these 12 days. While it takes some time away from their own playing, they eagerly check the calendar each morning to see what activity we have planned for the day. At first, I was hesitant in sharing our advent on Instagram. But now I see the enormous ripple effect it has on others. I love being tagged in posts of people who were inspired to create their own advent or those who are piggybacking on our ideas with their own families.
Anytime we have the opportunity to uplift another and chase joy, I hope we can take it. We all need more hope and love this year. If we can be anything in 2020, let's be kind."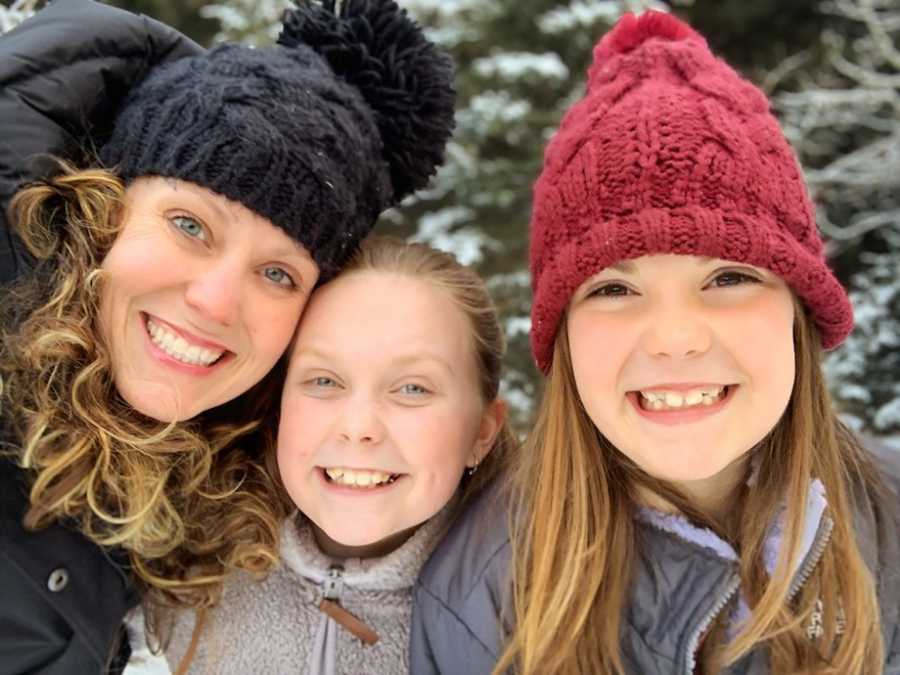 This story was submitted to Love What Matters by Kelsy Nielson from Edmonton, Alberta CA. You can follow their journey on Instagram and their website. Do you have a similar experience? We'd like to hear your important journey. Submit your own story here. Be sure to subscribe to our free email newsletter for our best stories, and YouTube for our best videos.
Read more touching stories like this:
'This year has left us numb. We're searching for just a little bit of Christmas magic. That's when I had the idea.': Mom creates Drive-Thru Santa for neighborhood, 'We need joy now more than ever'
'I put my Christmas tree up early this year. F─k it. Let's face it, this year has been hard. Like, really hard.': Woman urges 'do what makes YOU feel good
'There I stood, bawling in a Christmas aisle at Hobby Lobby. 2020 has brought us nothing but hurt and I'm ready for my favorite time of year.' Woman says 'once we choose hope, anything is possible'
Help us show compassion is contagious. SHARE this beautiful story on Facebook with friends and family.