"During the unprecedented events of COVID-19 we're all experiencing this year that leave us numb, emotionless, and facing a dark winter, I find myself constantly reminding my two boys to, 'Put on your mask,' and, 'Mask over your nose,' and, 'Clean your hands with hand sanitizer.' As if that would make everything normal.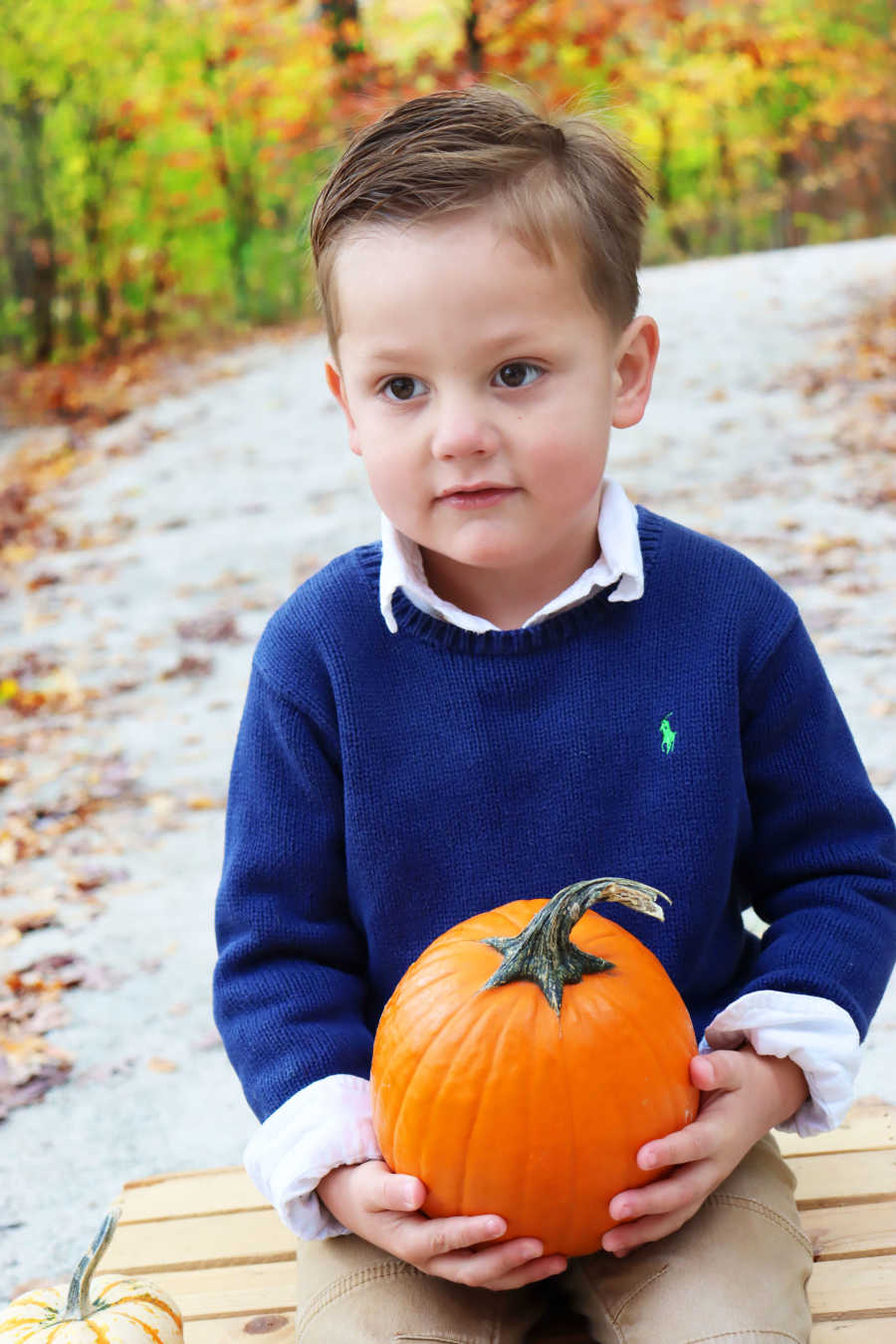 But this is the Christmas season, and we're searching for something, anything, to bring just a little Christmas magic to my small subdivision. An idea came to me after a few neighbors and mom friends posted on social media, inquiring about where they could find a Santa who wasn't in a mall setting. I thought, 'What if we did a socially-distanced Santa event outside, in front of our neighborhood church, where we have had our summer food truck events?'
Right now, more than ever, our community needed some Christmas joy and a little happiness to counter the negativity in our world. That led me to post on our subdivision Facebook page, 'Does anyone own a Santa costume?' Quickly replies came back. One neighbor offered a Santa costume, another a connection to a professional Santa with an authentic beard and the works. I passed on the professional Santa for lack of budget and not really keeping in the spirit.
Another offer came from the neighborhood Christ Church Butterfield, allowing use of their parking lot to bring the community together for planning a small Santa event. Then, the season spirit really came through when a neighbor volunteered his close friend to perform as Santa for a late Saturday afternoon event.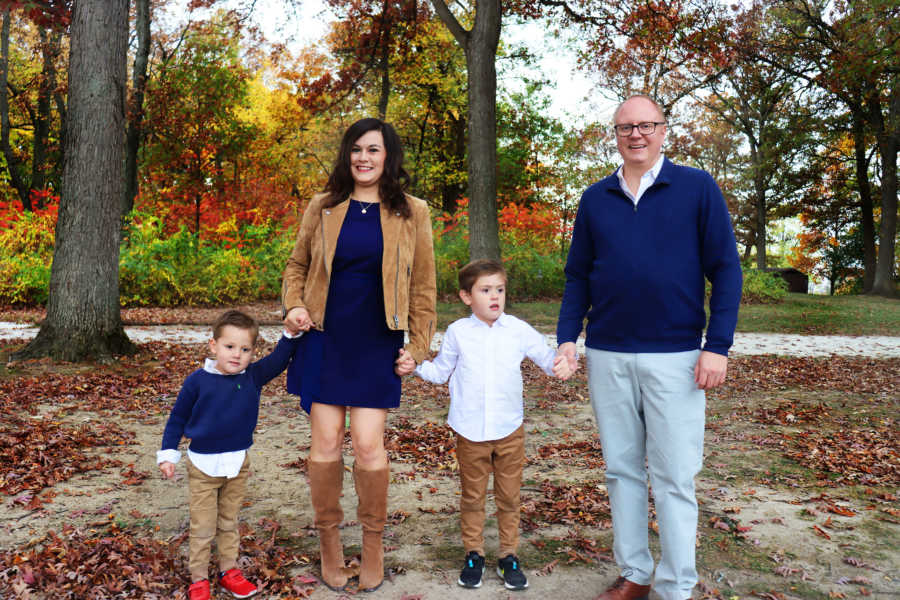 With a place and a Santa, we started planning a socially-distanced Santa Drive-Thru Event with no budget, neighborhood volunteers, and the season spirit to guide us. To ensure every family had an opportunity, we scheduled 5-minute slots for each vehicle. This would give everyone the opportunity to deliver their Santa letter, sit on a bench 6 feet from Santa, and give them the opportunity to take a few professional pictures. And to give back to others less fortunate by donating non-perishable goods to the church food pantry.
This year will be different from other years for Santa, as the children can't approach him, touch his white beard, feel the texture of his velvet suit, or sit on his lap. Yet, our neighborhood came together to keep the Christmas magic alive through this pandemic, and though it may not have the super bright lights and experience of a mall Santa, the spirit is the same.
On the day of the event, my husband, Ken, woke up at 8 a.m., which is rare, and headed to the church to get the Christmas lights set up, and rented a generator for the lights. They spent about 7 hours between him and his dad stringing the lights, running the electrical, setting up the tables for the sanitation station for people with wipes, and getting the hand sanitizers for attendees and volunteers to wipe the Santa bench after every use. Then he situated the bench a lovely neighbor let us borrow and wrapped a Christmas tablecloth around it.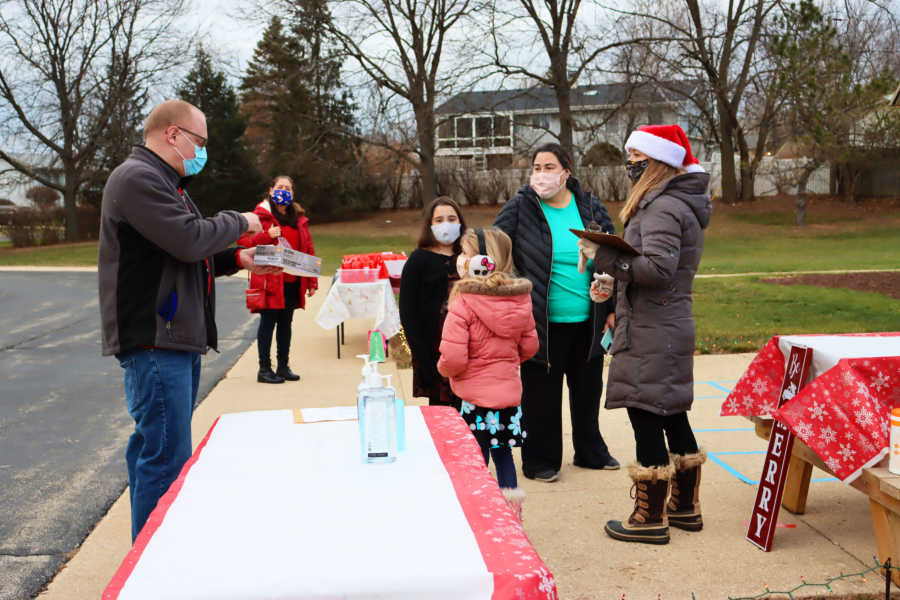 This was the perfect COVID-19 friendly décor, as it was easy to wipe down in between each family Santa visit. Lastly, he set up a table for kids to write their Santa letters and the decorations that look like presents next to the bench to put the final touches on the decorations.
Finally, 4 p.m. arrived and Santa appeared with Mrs. Claus and an elf helper for a final touch. Santa was the real deal, with a real beard, face shield, and a luxurious Tartan plaid suit with a red fur jacket lined with red silk panels and gold embellishments on the sleeves. And Mrs. Claus dressed in a gorgeous white pashmina sweater with a matching scarf, mittens, and a white Tartan dress underneath.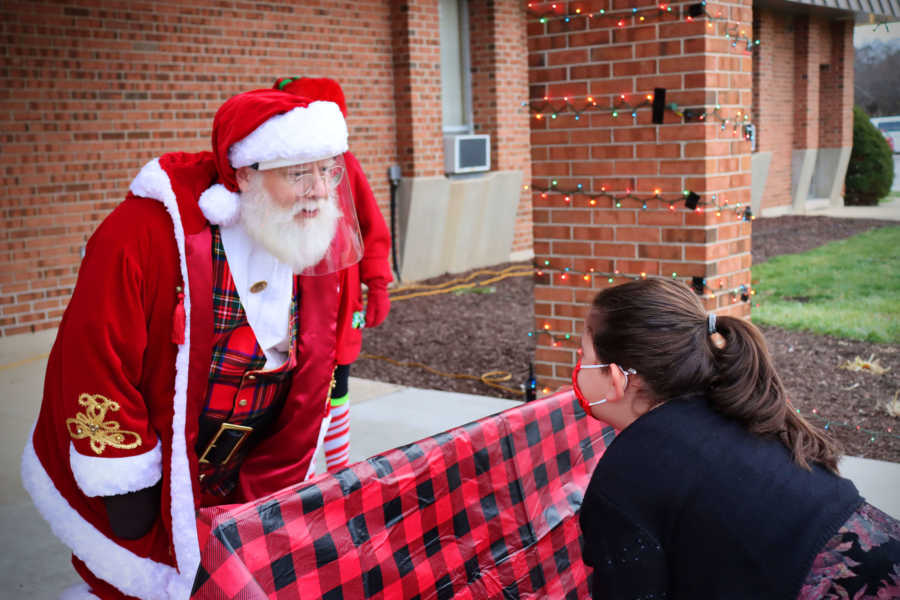 The volunteers showed up to pass out goody bags, wipe down the benches, markdown families as they showed up for their 5-minute time slots, and to direct traffic as each family arrived. One of the volunteers showed up with an orange parking attendant vest, a traffic baton to direct traffic, and Christmas lights over his vest. He exhibited such energy and enthusiasm, you would think he had done this before. And it turns out, he had at concert venues and events before and loved volunteering for them.
The atmosphere was small, intimate, with gleamy rainbow-colored Christmas lights strung to the two poles in front of the church, a slight winter breeze, and a mild 35 degrees. Certainly, a mild December evening in Chicagoland for this time of year. Then families started arriving, dressed in matching Christmas pajama sets, masks, and even winter hats. And some showed up in red tutu dresses, red sweaters, and even accompanied by their dog for a family photo. There were toddlers, newborns, and lots of families each with three boys.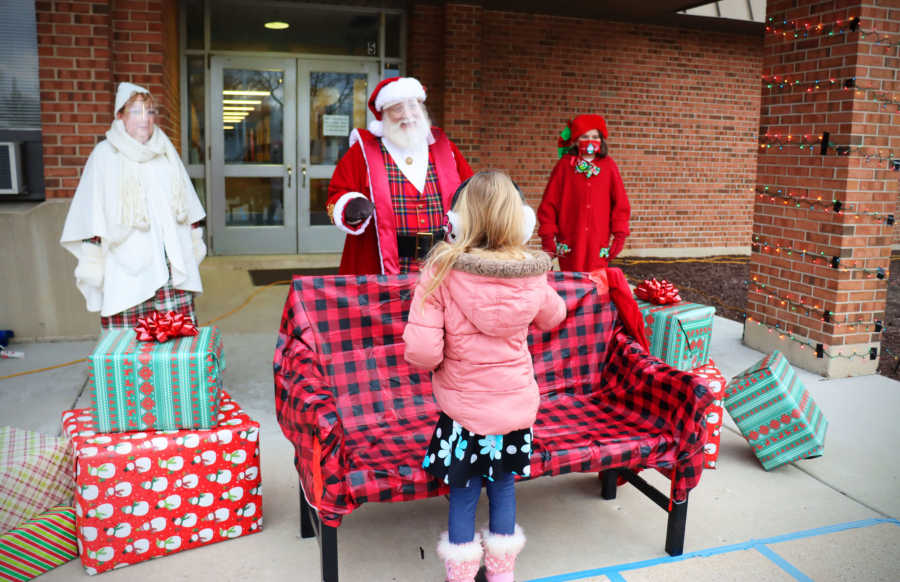 A family of four walked to the event with a light-up wagon and two toddler-aged blonde boys dressed in matching red sweaters and brown dress shoes. As they approached Santa with their masks on, Santa asked, 'What do you want for Christmas?' The 6-year-old boy replied, 'I would like dinosaurs with dino poop too, please.'
Santa then asked both of them, 'Are you on the good boy list or naughty list?' As they both sat down on the bench, the little boy, age 3, didn't reply and couldn't look Santa in the eye. His mom started cracking up as she said, 'Yes, because he knows the truth,' with the volunteers and photographer also joining in the laughter.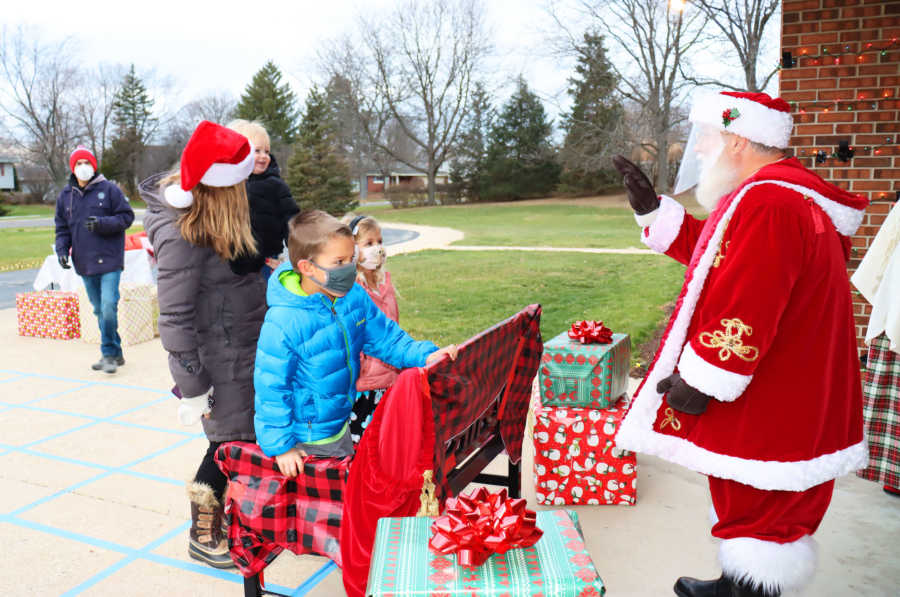 A few other families mentioned their kids could not get over how Mrs. Claus had also made an appearance with Mr. Claus, as they had never had an opportunity to meet her in person. Lastly, my neighbor's son, who is 7, mentioned he loved the goody bags.  He told me, 'I love these goody bags.' 'Did you see the reindeer paddle ball toy?'
For kids like my sons, who don't love the loud mall Santa, this really is the most ideal experience and set-up, because it was quiet, less intimidating, and there wasn't pressure to sit on Santa's lap. My 3-year-old, Eric, finally got into Santa this year as I really talked him up. As we approached Santa from afar, he said, 'Hi Santa,' but nothing more. He took a photo, got his goody bag, and then told me, 'That was fun, Mom!' And that right there pulled at my heartstrings and made this all worth it!"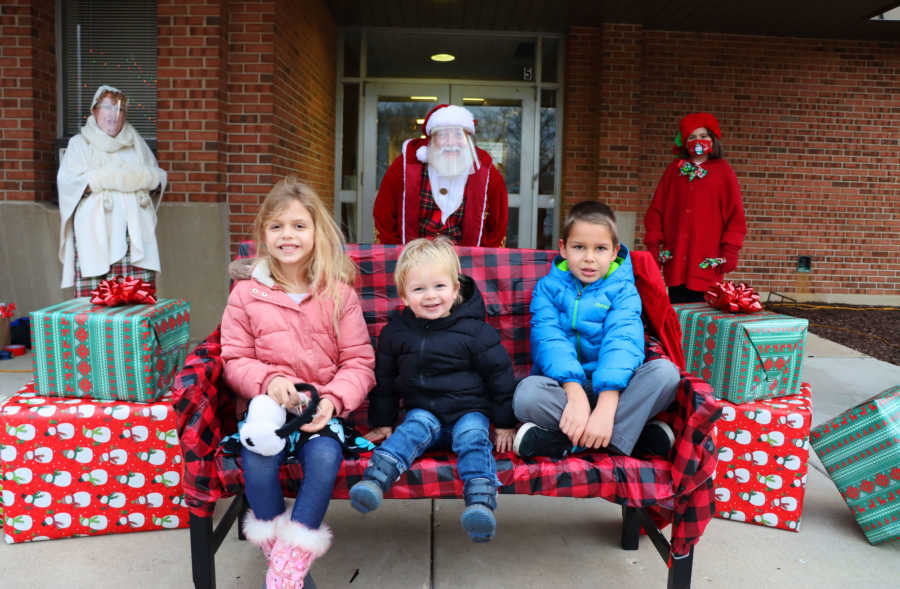 This story was submitted to  Love What Matters  by Melissa Stachorek of Lombard, Illinois.  Submit your own story  here and be sure to  subscribe to our free email newsletter for our best stories, and  YouTube for our best videos.
Read more stories like this:
'It's been hard to place my feelings lately. But as I sat in my car, tears streaming down to Faith Hill's 'Where Are You Christmas' on the radio, I finally understood.': Woman shares magical reminder 'not even 2020 can take away the love in our hearts'
'I put my Christmas tree up early this year. F─k it. Let's face it, this year has been hard. Like, really hard.': Woman urges 'do what makes YOU feel good
'There I stood, bawling in a Christmas aisle at Hobby Lobby. 2020 has brought us nothing but hurt and I'm ready for my favorite time of year.' Woman says 'once we choose hope, anything is possible'
'I need a favor.' We had nothing under our Christmas tree. 'The only thing I was able to purchase was a nail polish. I need you to be OK with that.': Woman pays it forward after stranger's act of kindness on Christmas day
Help us show compassion is contagious. SHARE this beautiful story on Facebook with friends and family.