"It's been hard to place my feelings lately.
Until today, I didn't know what to call it. This odd mix of rage, grief, hope, nostalgia, and disappointment swirling around inside my head. But as I sat in my car this morning, and Faith Hill's 'Where Are You Christmas' came on the radio and tears started streaming down my cheeks, I finally understood.
I've been mourning. Mourning what the holidays were supposed to look like this year. Mourning the traditions I've been looking forward to and the experiences I was planning to share with the people I love.
Mourning the incredible brokenness of our country and its people. Mourning how divided we are and how far apart we have grown, both literally and figuratively.
Mourning the ease and convenience with which we used to be able to come together. The control and certainty over our own plans and schedules we took for granted. The predictable, safe, and consistent parts of our lives which have been flipped completely upside down.
'Where are you Christmas
Why can't I find you
Why have you gone away
Where is the laughter
You used to bring me
Why can't I hear music play
My world is changing
I'm rearranging
Does that mean Christmas changes too'
I'm mourning the loss of the person I was just one short year ago. She feels like a stranger to me now. I'm mourning her confidence and assuredness. I'm mourning her faith and unwavering conviction things always work out for the best.
'Where are you Christmas
Do you remember
The one you used to know
I'm not the same one
See what the time's done
Is that why you have let me go'
We have lost so much this year—it has seemed insurmountable at times. It's so difficult not to feel cheated, robbed. It takes everything in me to keep my heart from hardening to stone and bitter resentment from spilling over.
But, every once in a while, often when I least expect it, I'm reminded the most important things can't be taken away from us, no matter how the world feels like it's crumbling around us or people continue to let us down.
'Christmas is here
Everywhere, oh
Christmas is here
If you care, oh
If there is love in your heart and your mind
You will feel like Christmas all the time'
There she is. Right when I need her. Stubborn, relentless, incorrigible, and downright painful, but I'll be d*mned if she doesn't always show up, even if it's at the most inconvenient time. Even if I happen to be gulping back big, ugly, racking sobs in the parking lot of the local library—hope.
'Oh, I feel you Christmas
I know I've found you
You never fade away, oh
The joy of Christmas
Stays here inside us
Fills each and every heart with love'
So, if you need a moment to ugly cry in your car this season while you blast Faith Hill and mourn everything 2020 has taken from you, to mourn the holidays you had envisioned for your family, to mourn the expectations, desires, and visions you have only just started to let go… I hope you take it.
But then, I hope you listen to the faint, gentle voice in the back of your mind—the one that's gotten smaller and softer, but refused to leave you completely alone this whole year.
The one finding a way to be heard, even at the moments you aren't prepared to welcome it.
The voice telling you what matters most will always be the love we hold in our hearts, and the love we pour into the people who matter.
And nothing—not even 2020—can take it away."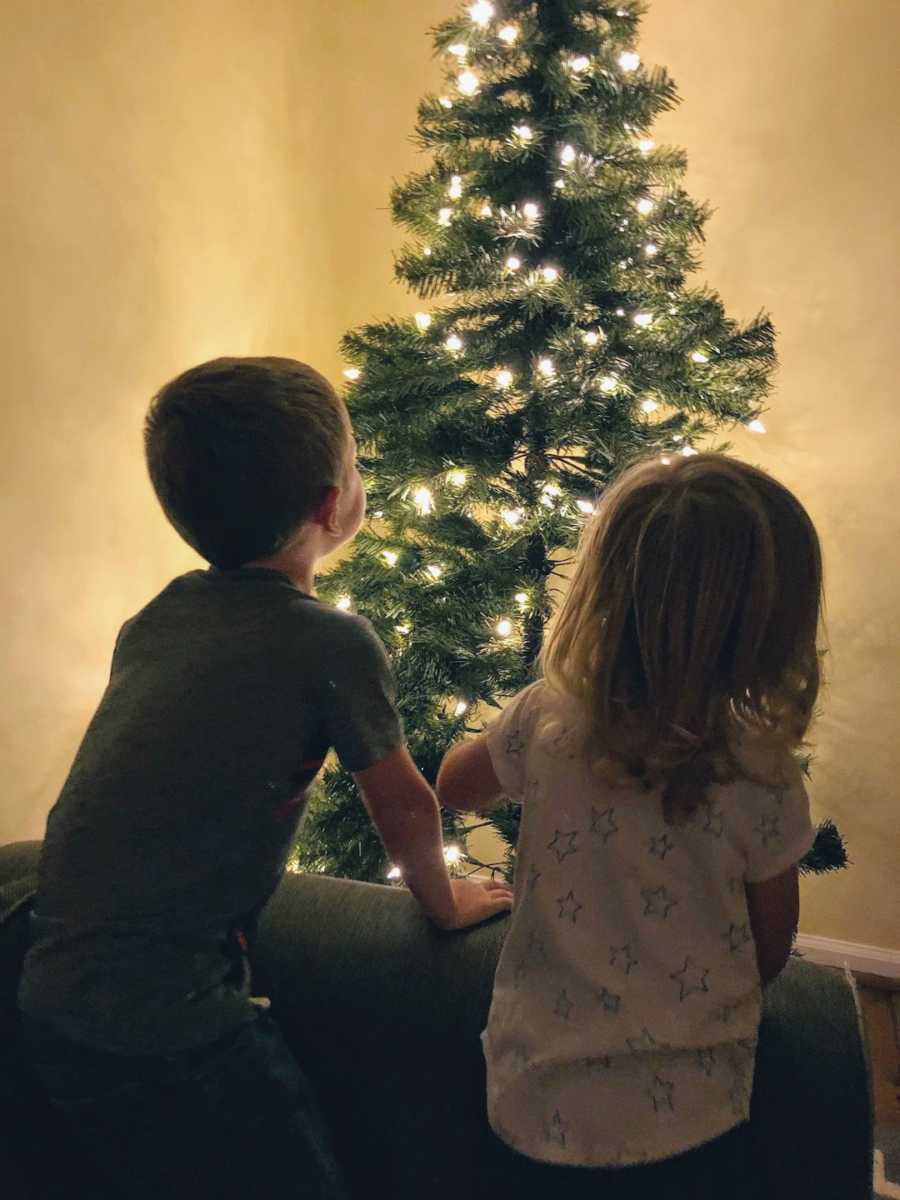 This story was submitted to Love What Matters by Emily Solberg of Shower Arguments. Follow Emily on Instagram and Facebook. Submit your own story here and be sure to subscribe to our free email newsletter for our best stories, and YouTube for our best videos.
Read more from Emily here:
'We are sick and tired of this and sick and tired of each other. And yet, I'm nowhere near ready to leave my cocoon.': Woman urges 'hold onto hope' during pandemic
'Nineteen years ago, a mama kissed her babies goodnight for the last time. She got on a plane or walked into a building, and never came back.': Mom reminds us 'we never know what tomorrow will bring'
Please SHARE this story on Facebook to encourage others to cherish every moment and love what matters most.