"In January of 2018, I decided to get rid of a childhood dollhouse that had belonged to my daughters. They were grown, and hadn't touched it in a few years. It had never been filled with very expensive furniture or accessories, only things appropriate for young children. I made the decision to dust and clean the house, and repair the bits of broken furniture before donating it. This process took quite a few hours, and once the house was restored, I found myself asking, 'Why are you getting rid of this?'
I made the decision to keep it for myself, and sink some real money into it, like serious miniature collectors do. I liked the new look, but it still didn't look like the detailed miniatures I had seen in museums and dollhouse shops over the years. It was lacking the smallest of details, the kind that blow the mind.
I was given a Lundy dollhouse one Christmas when I was a child. Each year on my birthday and on Christmas, I was gifted furniture. Since I was only getting dollhouse things twice a year, as a young child (with no money), I often tried to make things for my little house. Having had a lot of practice over the years, I was no stranger to making tiny things.
In February of 2018, I had been shopping on the internet for little food items to dress up my dollhouse kitchen and dining room. I was taken aback at how much the prices seemed to have risen over the years. I was showing the little food items to my mom, and she confidently said, 'Why would you buy that? You could make it!' That's where it all began.
I started to practice, making a few simpler things like donuts, cakes, and fruit. I would make about 10 before I got the absolute perfect one. The other nine were pretty good, but number 10 was the only one I needed. You can well imagine how the extras built up by the hundreds in no time. I decided food was the thing to concentrate on, because I am extremely familiar with food, and it is among the tiniest of miniatures, making it inexpensive to create.
It was my eldest daughter who encouraged me to sell off my extras. At first, I didn't share her confidence my little foods would sell. In my entire life, I had only met one other adult who had a dollhouse. My daughter told me Instagram was a good place to find groups of people with similar hobbies, and Etsy was a good place to move products. I knew absolutely nothing of either one of these things. With all the combined help of the young people in my family, I was able to set up an IG gallery. I got to know my followers, their dollhouses, and tastes. In one year's time, I felt I had located enough miniature collectors to have someone to market to.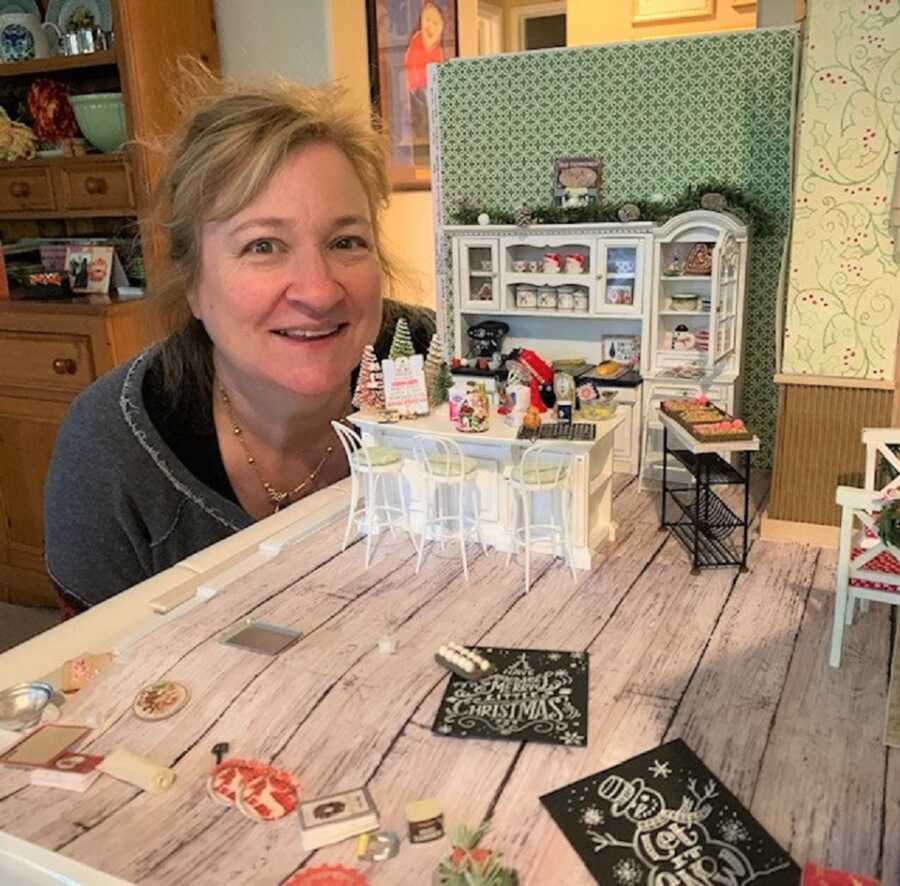 In mid-April of 2019, I had enough product to open my store. It went live, and I sat waiting to hear the cash register jingle of that first sale. And wait I did… I waited so long in fact, I'd forgotten I even had a store the first time I got an e-mail notice telling me I'd made my first sale. I was out of town when it happened, away from my inventory, and not expected back home for two weeks, long past the promised shipping time! I ended up having to contact that very first buyer with my excuses, and she was very kind. (We're still friends today! Hi Jen!)
I now work full-time (and then some!), averaging 12 hours a day, 6 days a week, specializing in 1:12 scale clay food miniatures. At this point, I am still doing all the food production, social media, photography, advertising, and shipping! I recently read the farewell post of someone closing her Etsy shop. She said, 'Running an Etsy shop is no side-hustle.' I couldn't agree more! I am busier than I could ever have imagined. It's not as easy as squeezing a few roasts out of brown clay. I have to plate those roasts, add garnish, build a beautiful setting for them to be photographed in, take those photos, post those photos, list those roasts, field every question that comes in regarding those roasts (ie. 'Can I get mine with yams instead of potatoes?'), and finally, CAREFULLY package and ship those roasts!
People always want to know where I draw my food inspirations from. Let me tell you, I am no stranger to food. I have been eating it all my life (haha) and cooking it most of my life. I am a self-taught, skilled baker and cake/cookie decorator. And I am a very good, well-practiced cook. I still put a real dinner on the table every night. I love food served at the holidays (from all cultures). I find people are very sentimental about these foods, as these figure heavily into our childhood memories.
My favorite part of my job is not making the food, but photographing it. I am a self-taught photographer, with a world of practice. Other than the Kennedys, no one (before the age of digital photography) has as many photos of themselves growing up as my children do! I love taking photos. Once a piece has been photographed, it's fairly easy for me to part with. Often, as long as I have a good photo to remember it by, I don't feel the need to own the actual piece any longer."
Here are some of Dianne's amazing creations: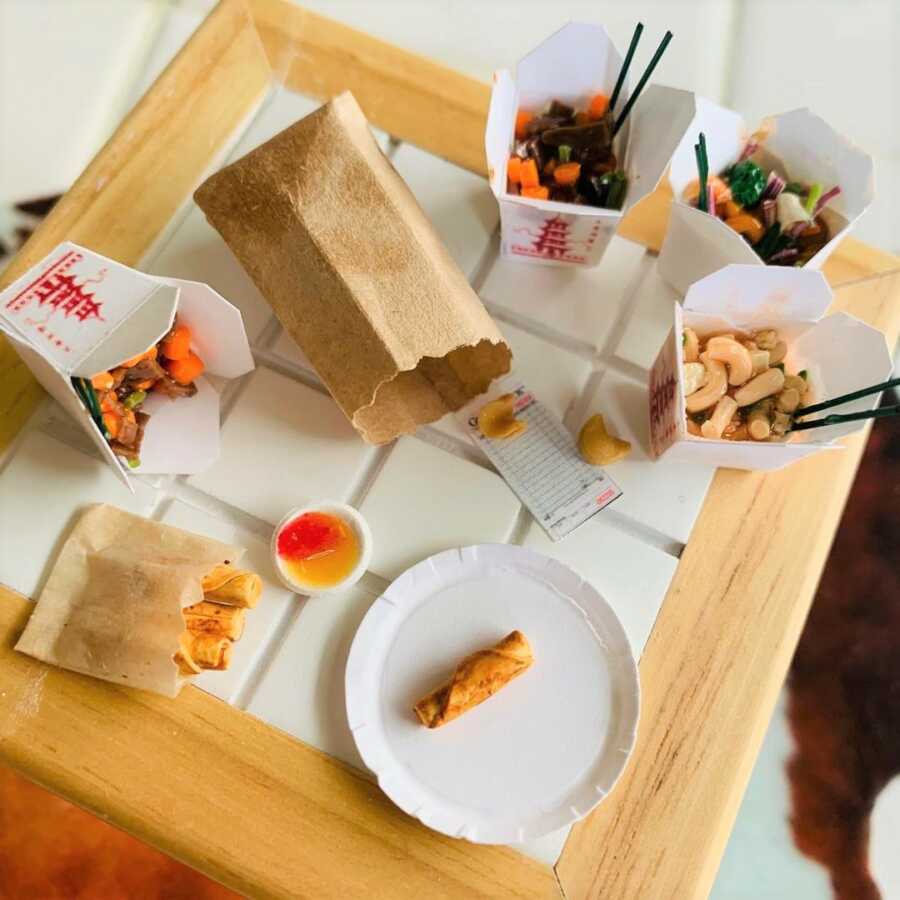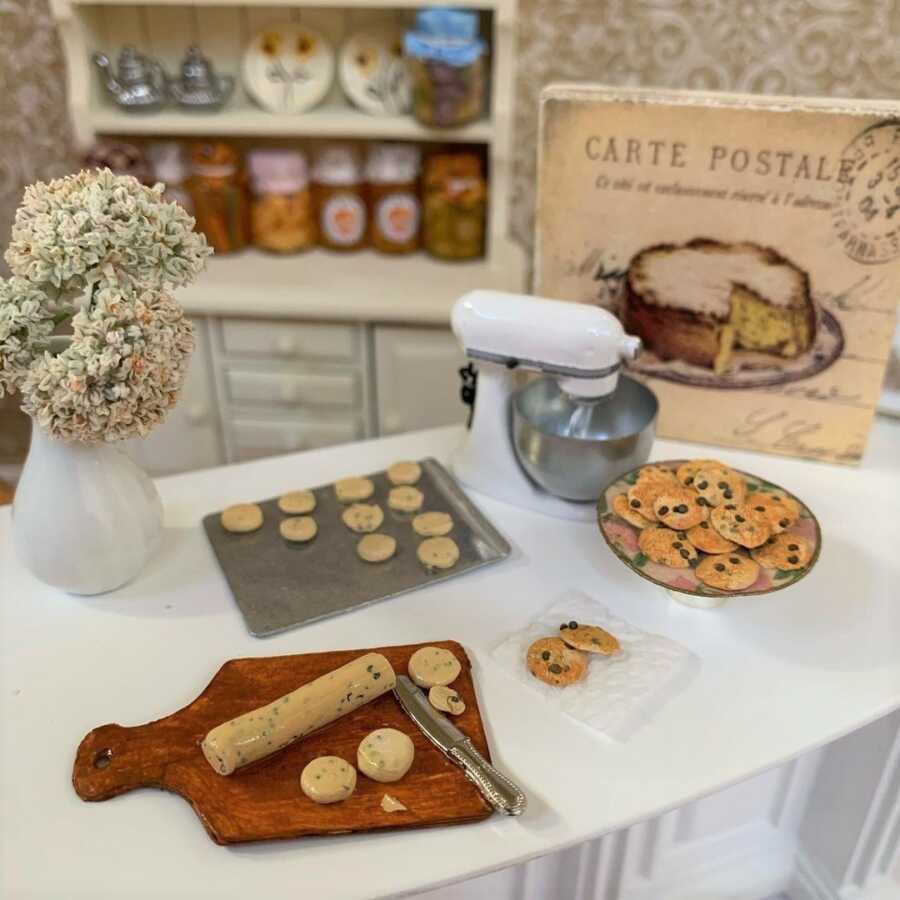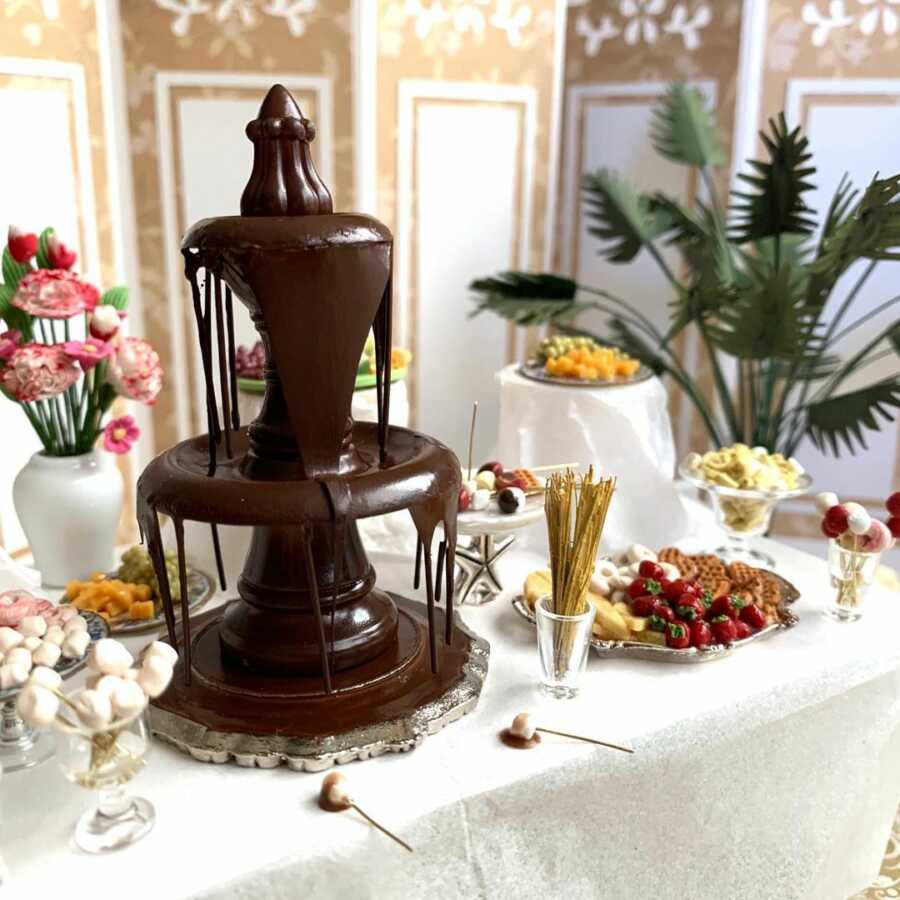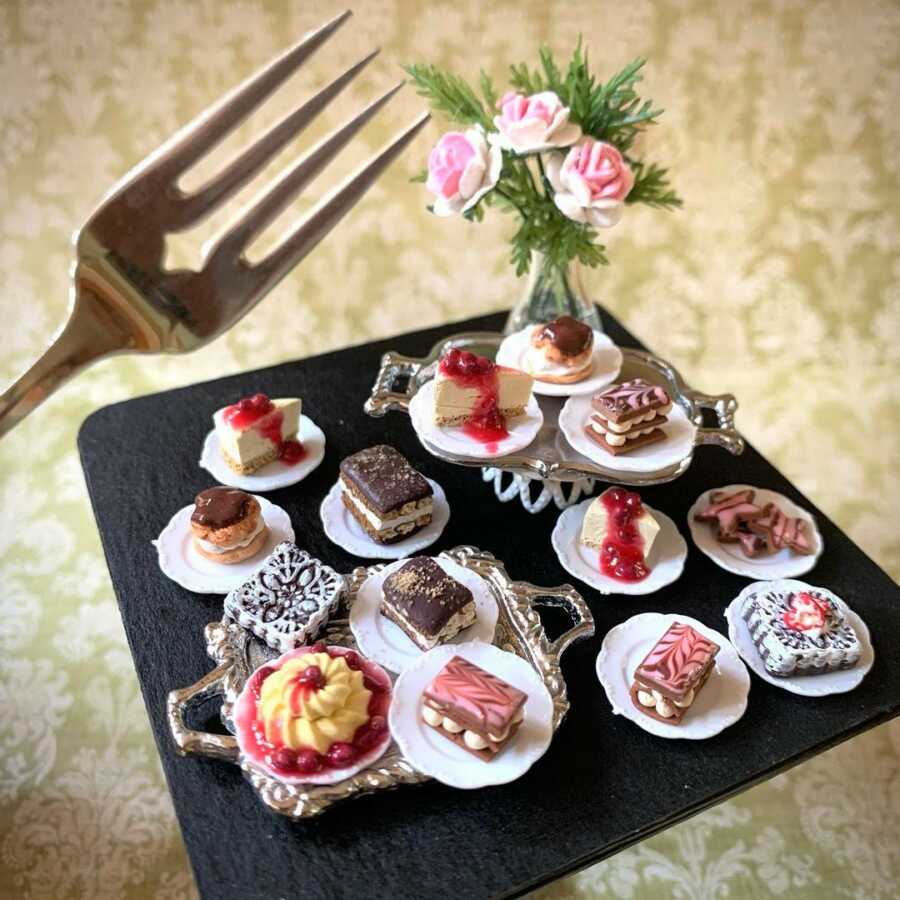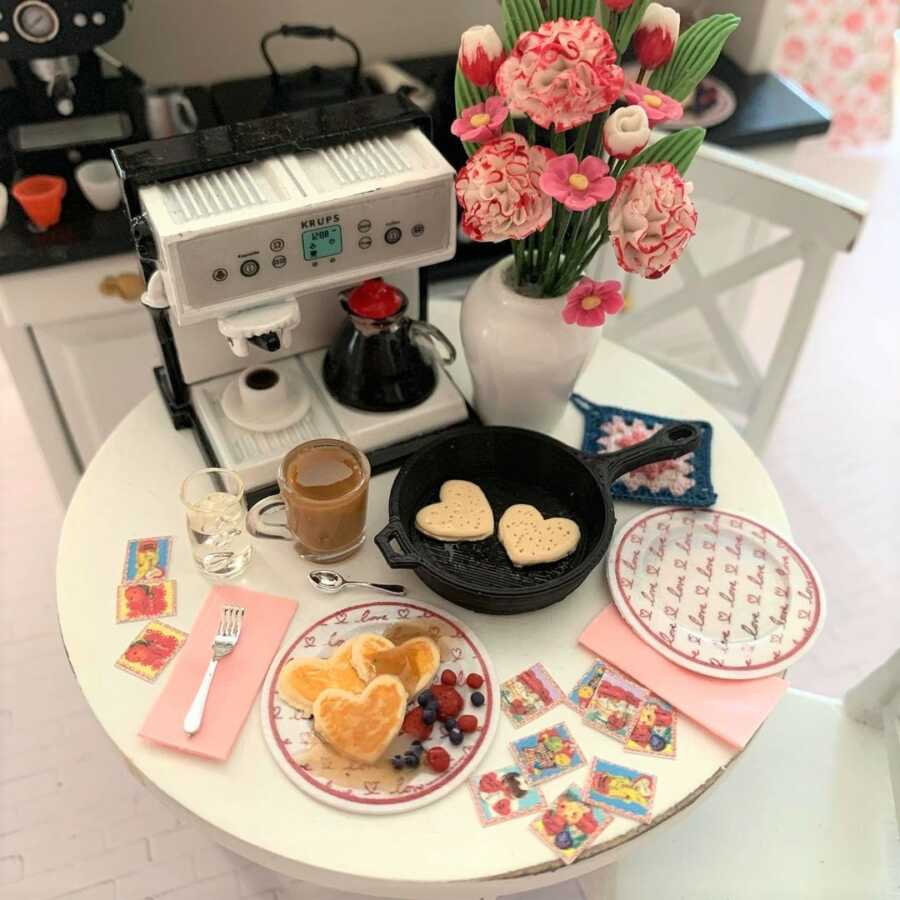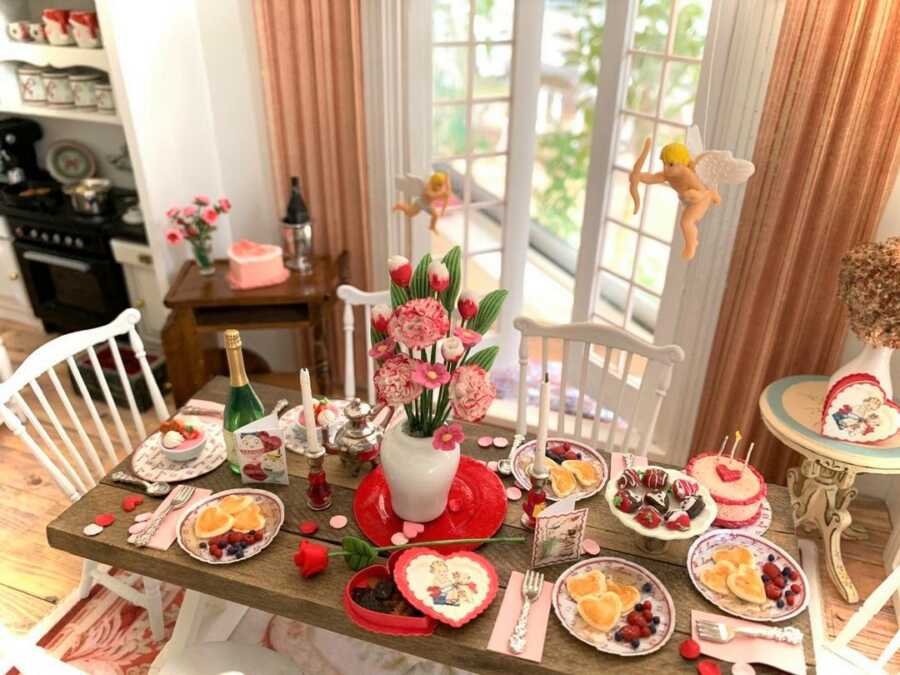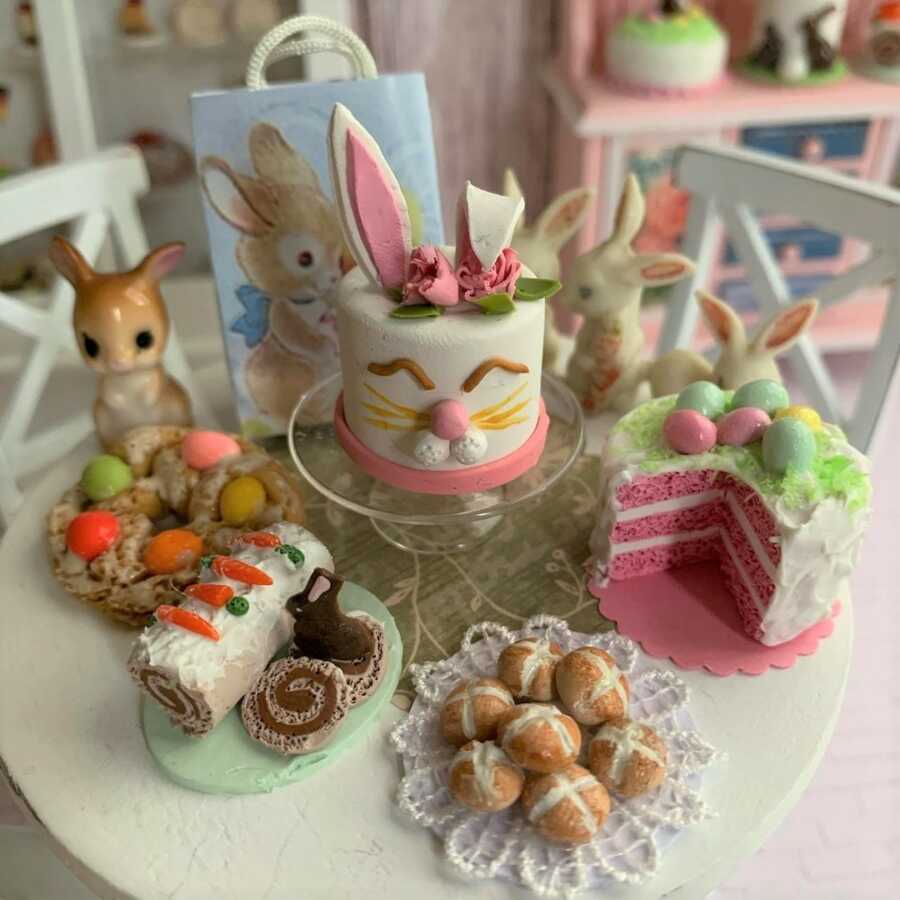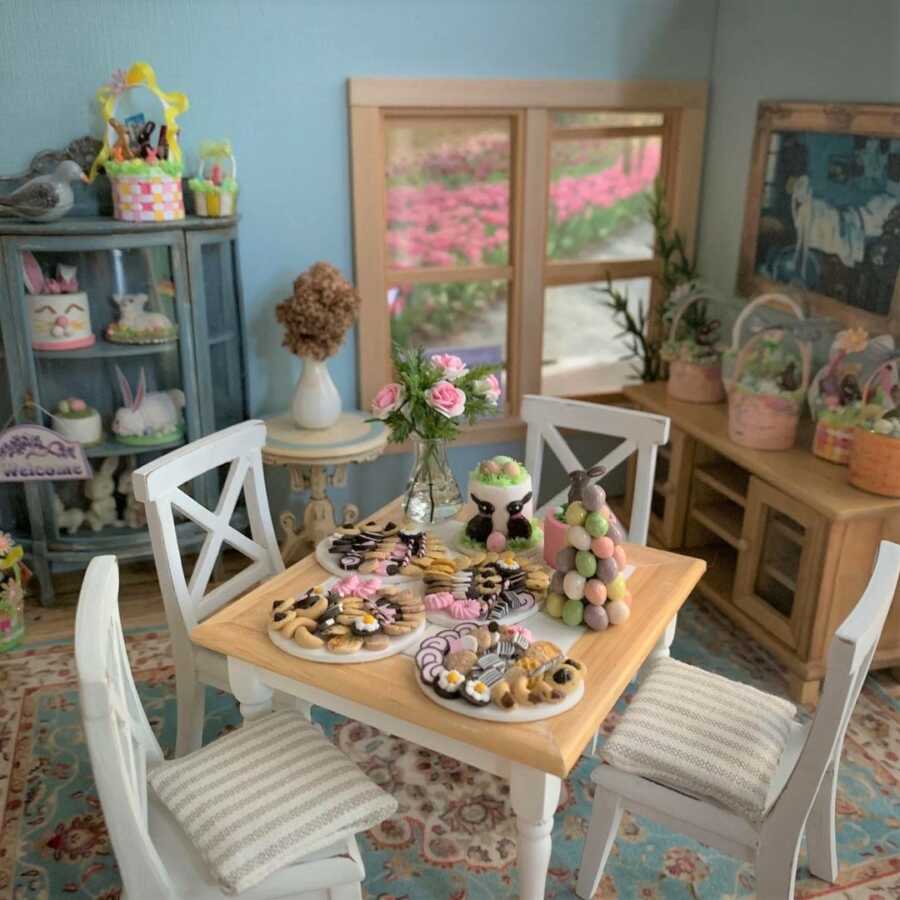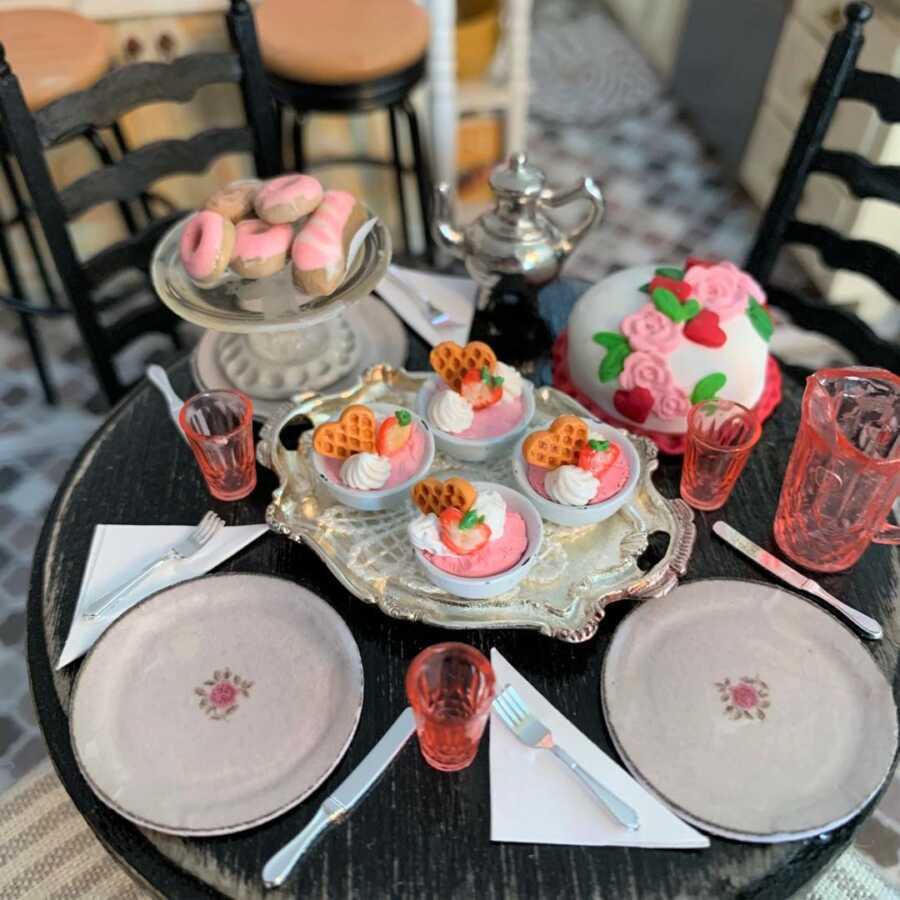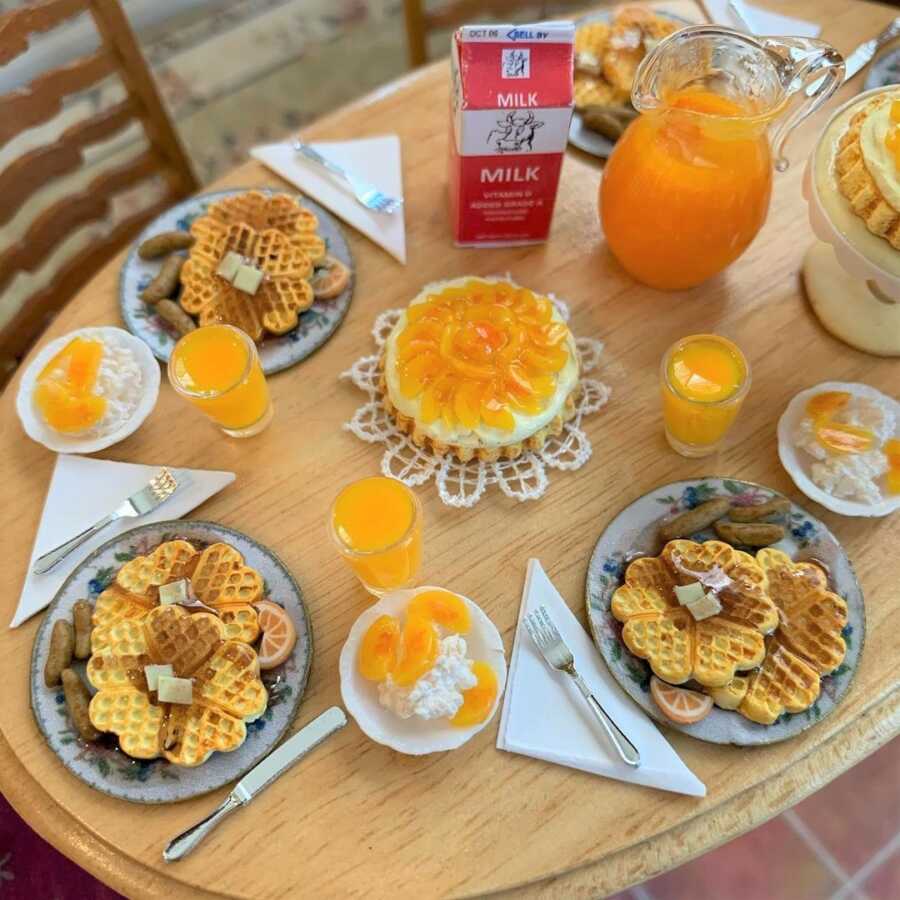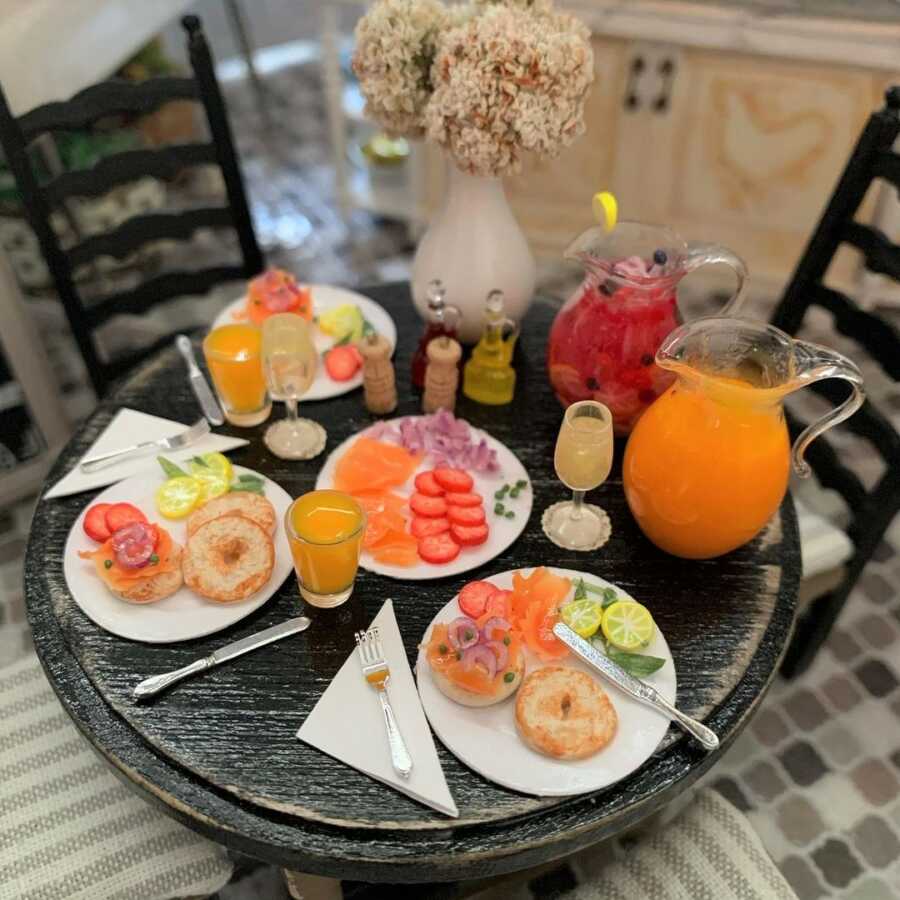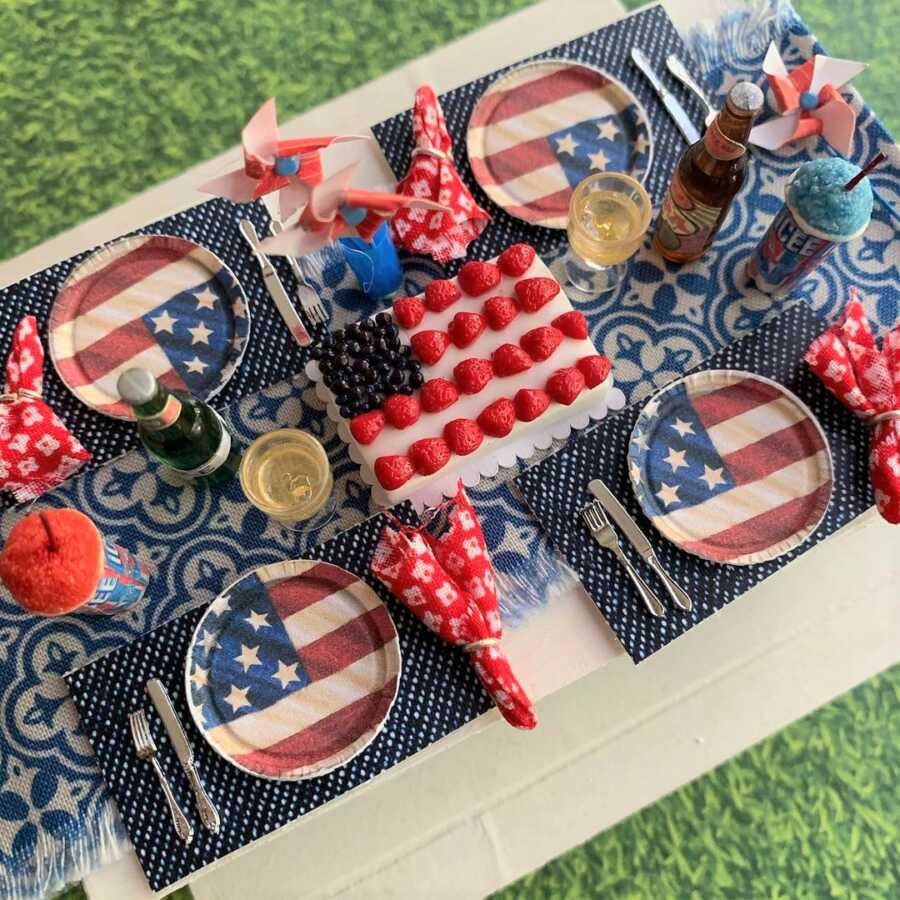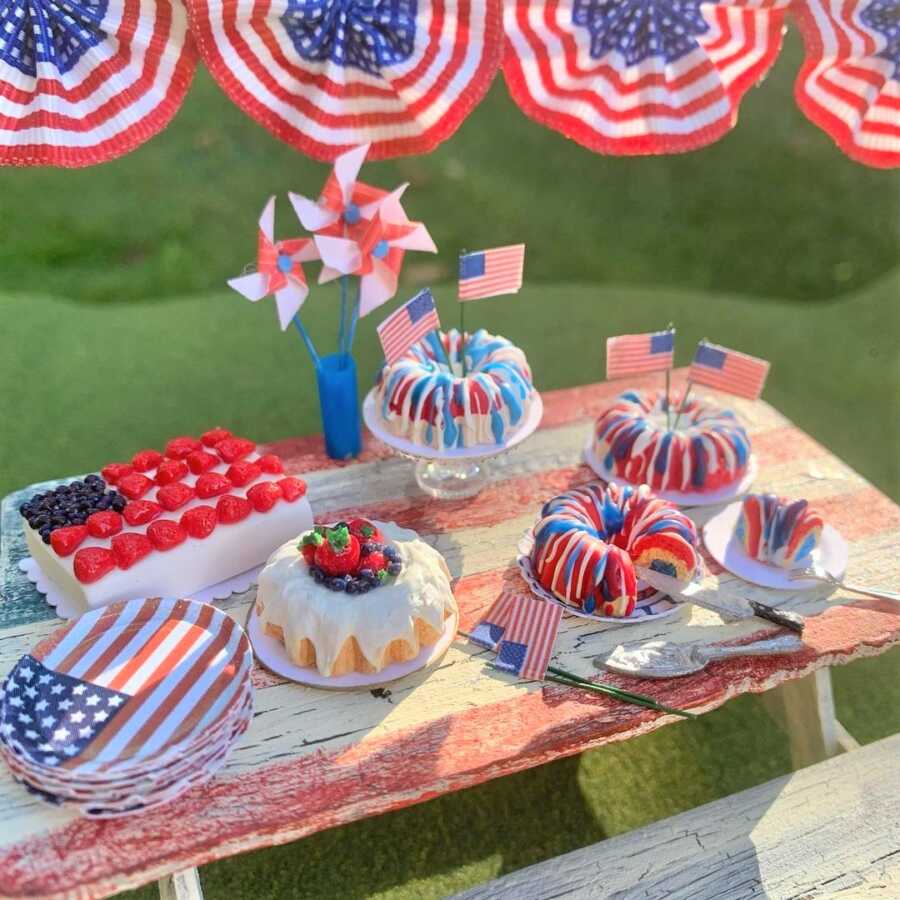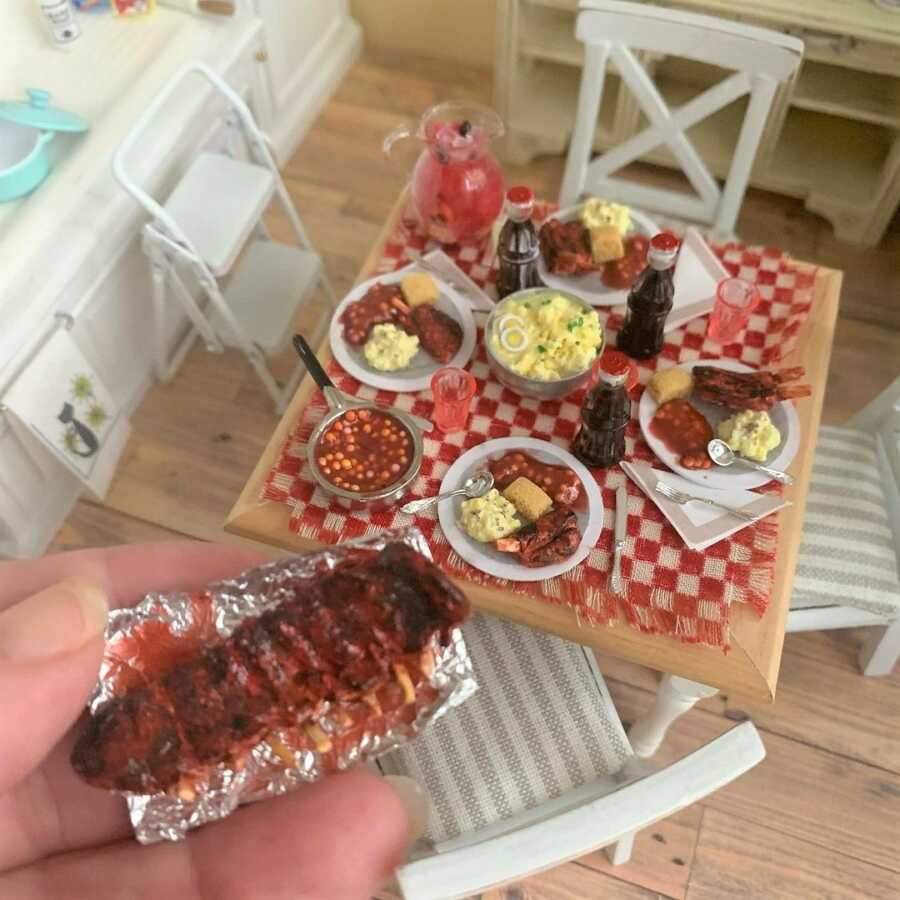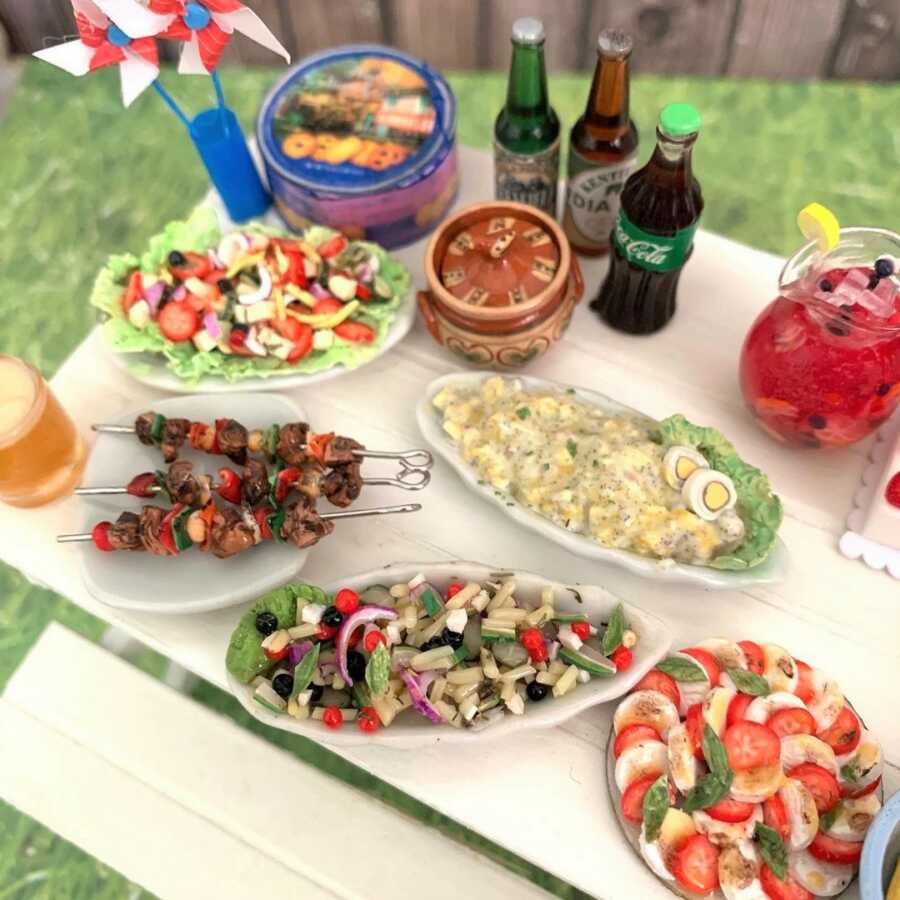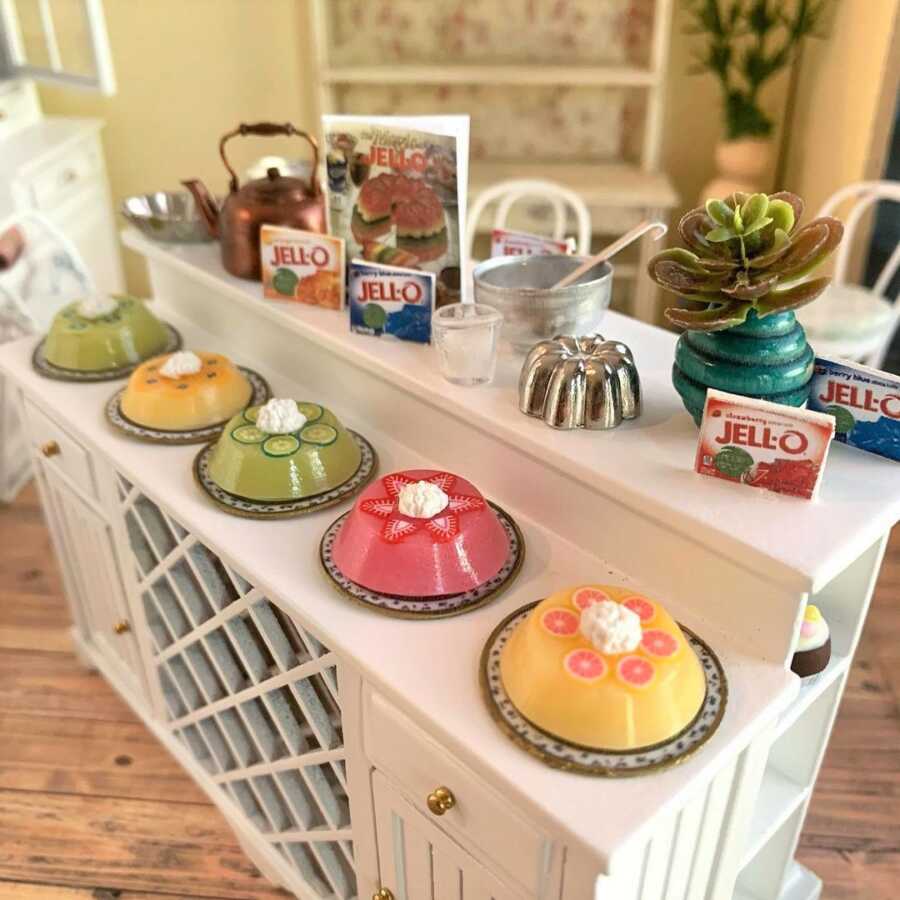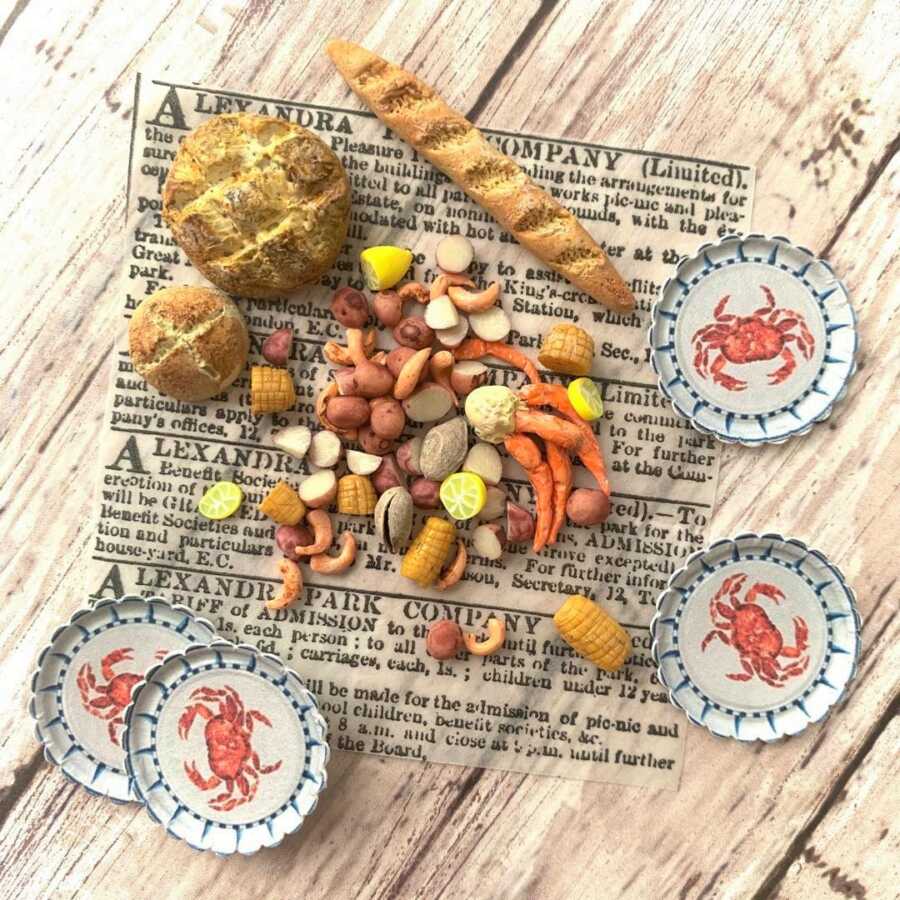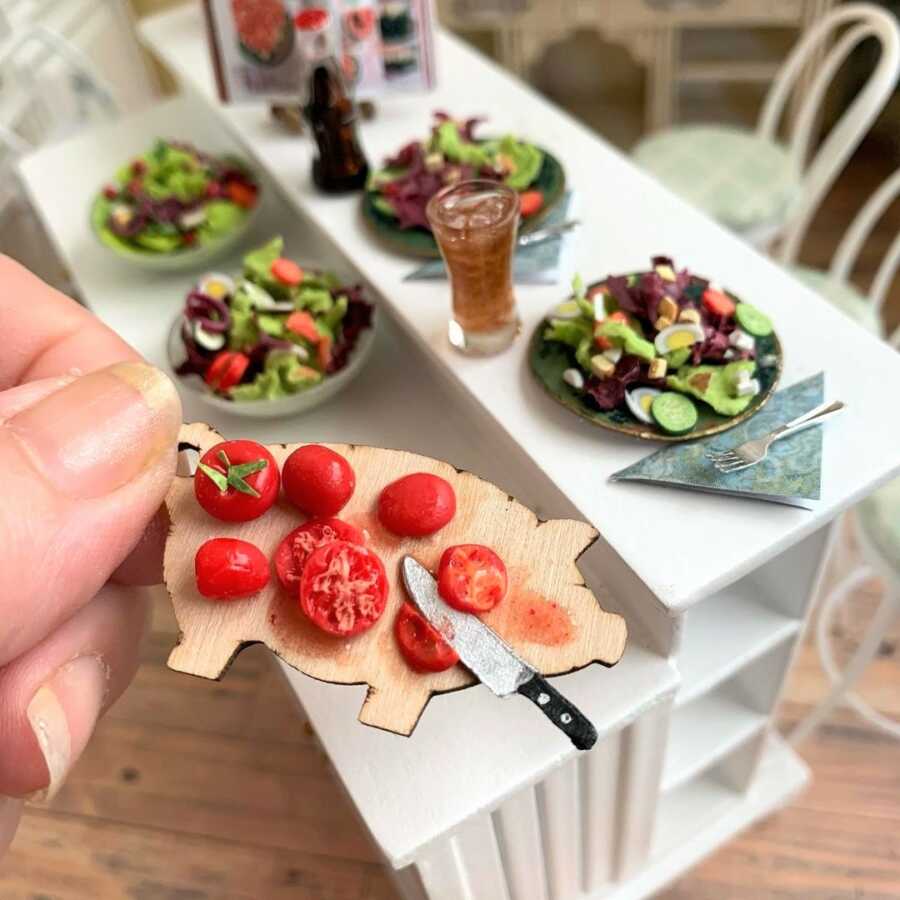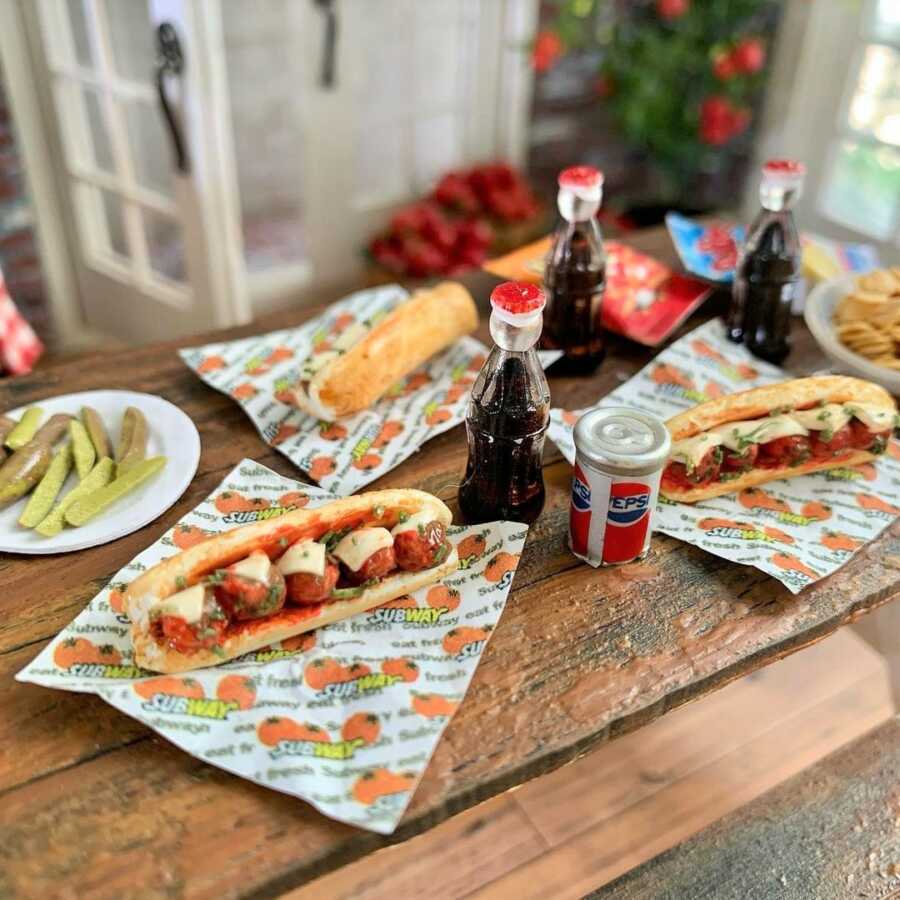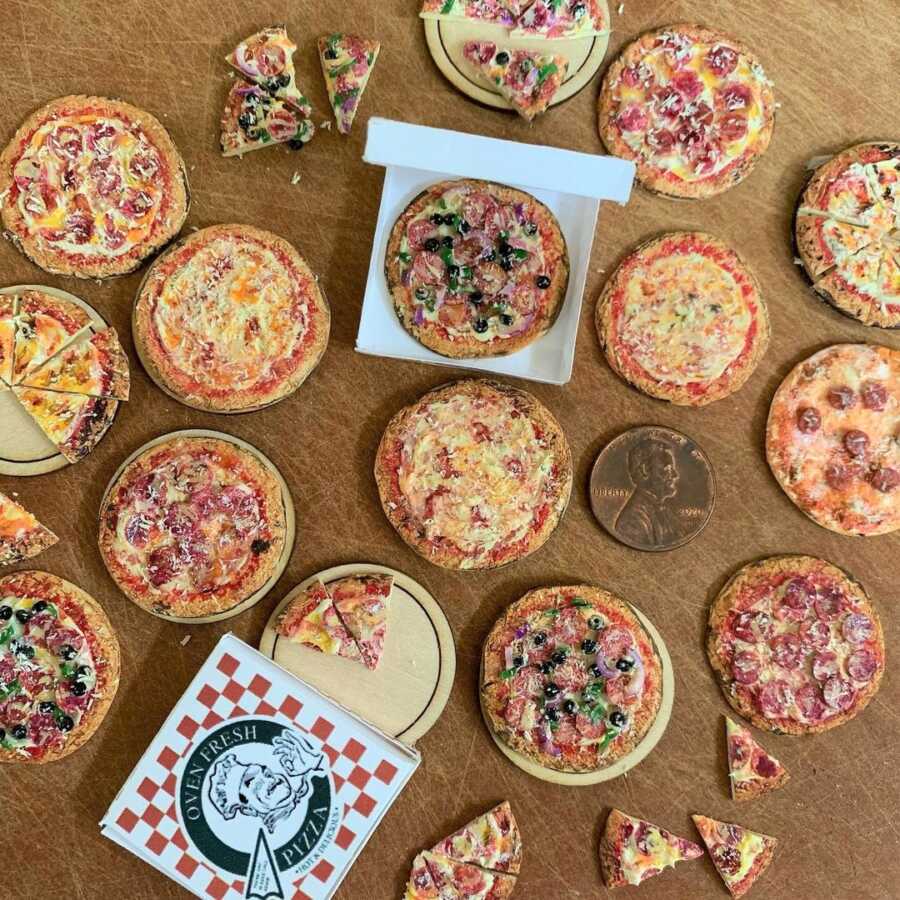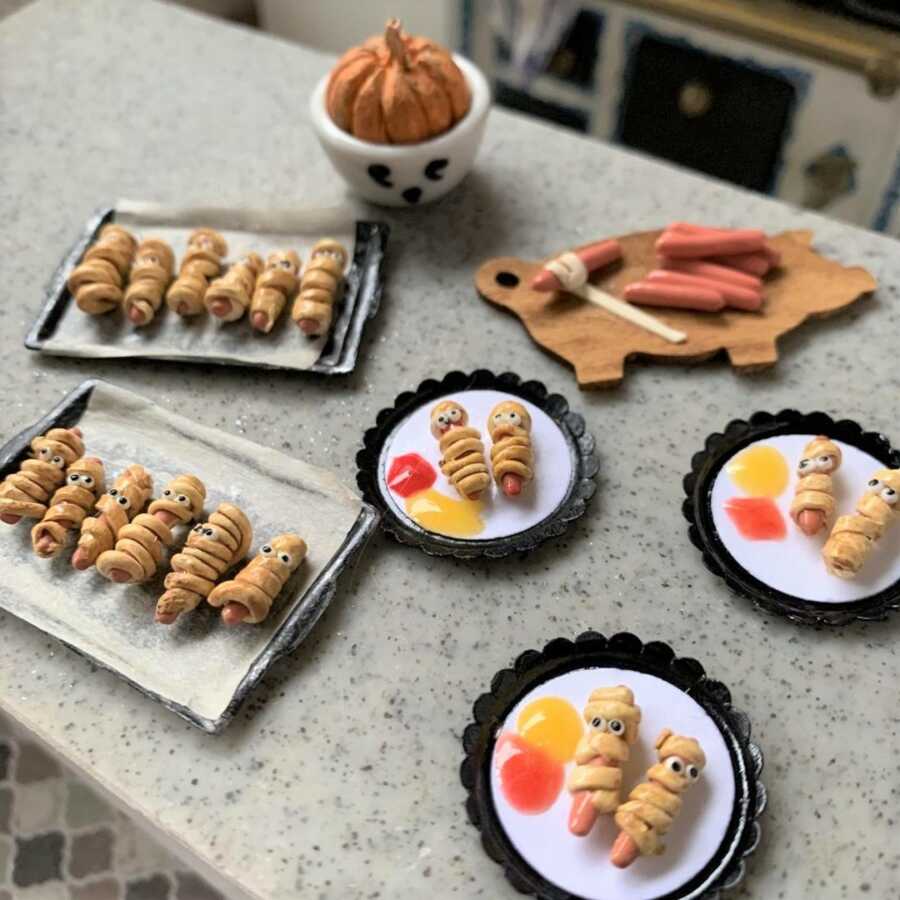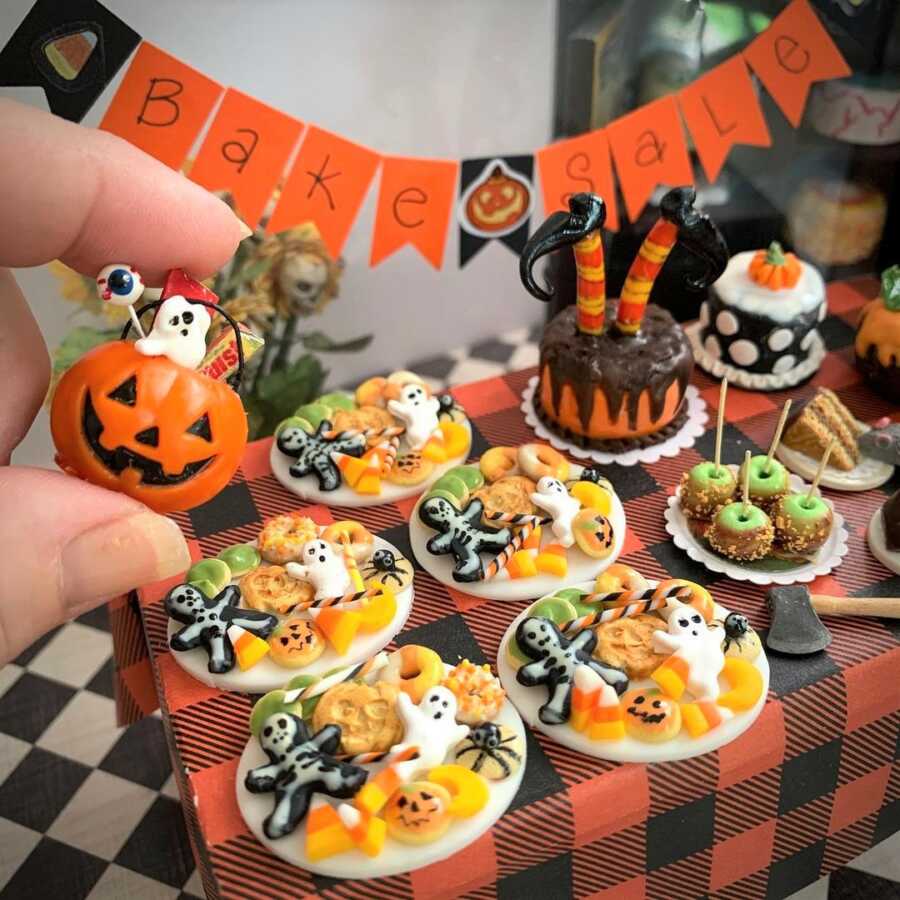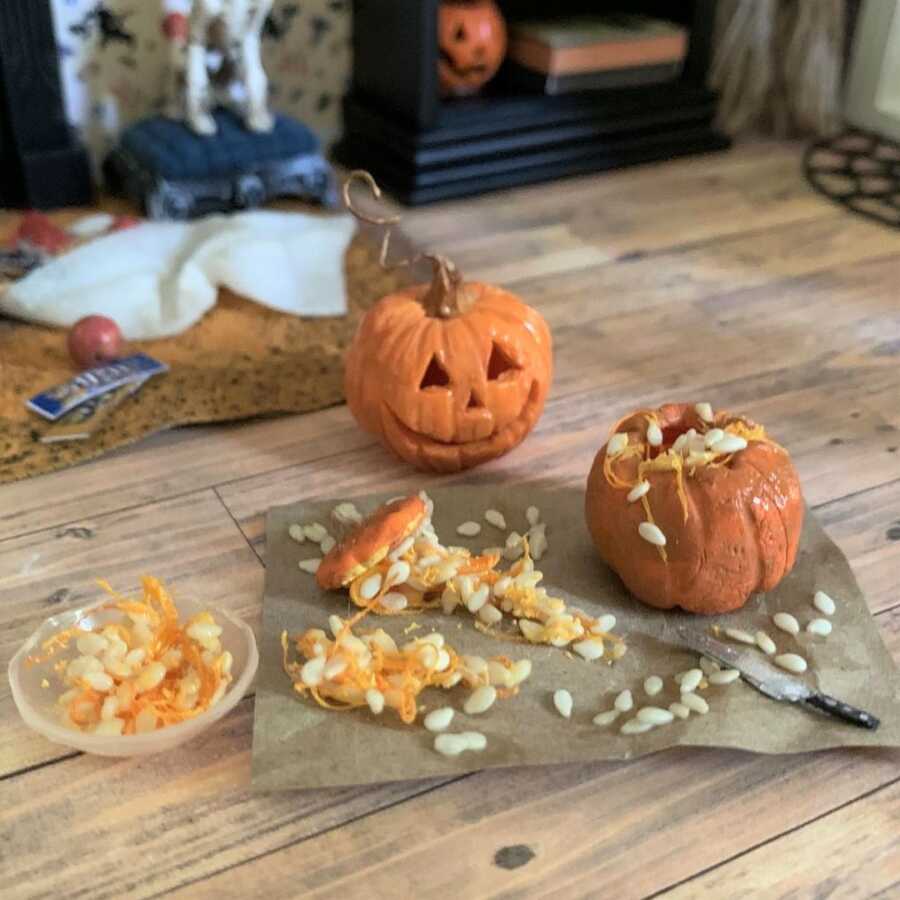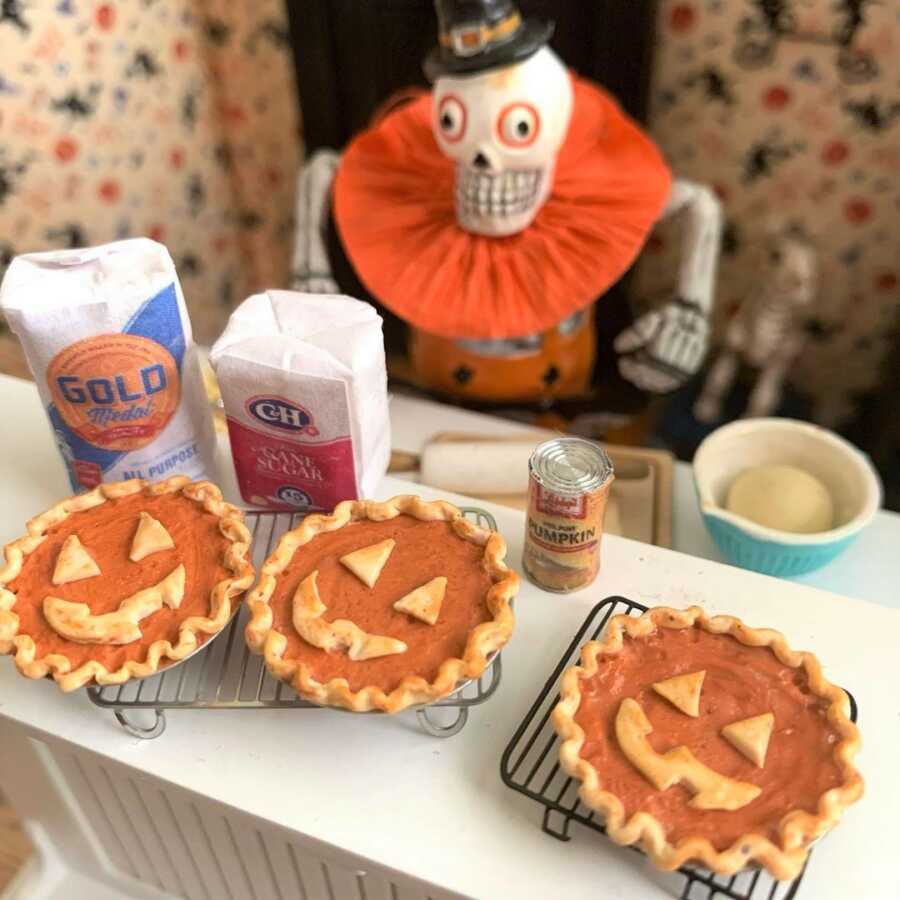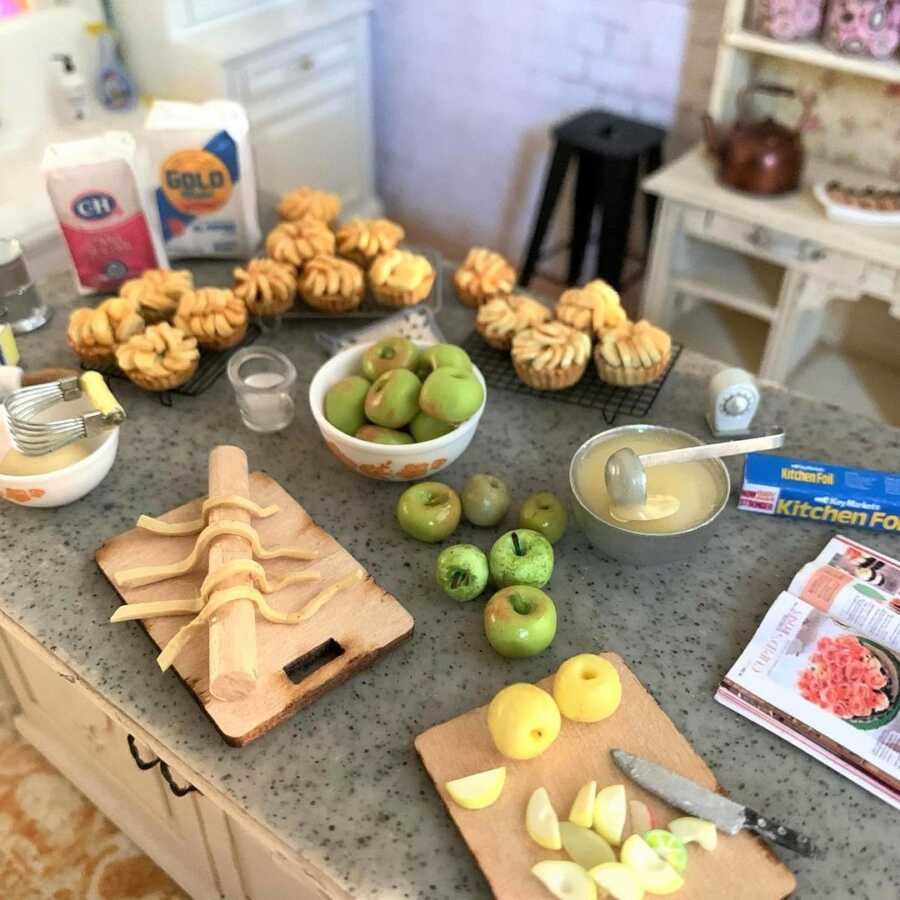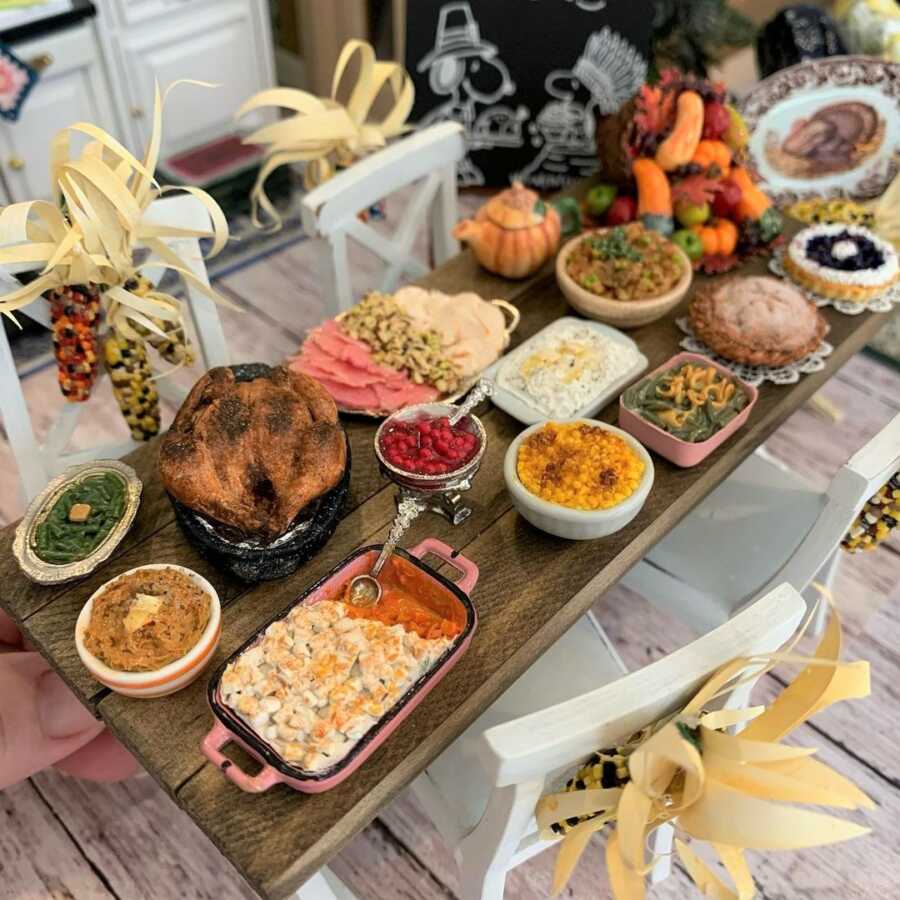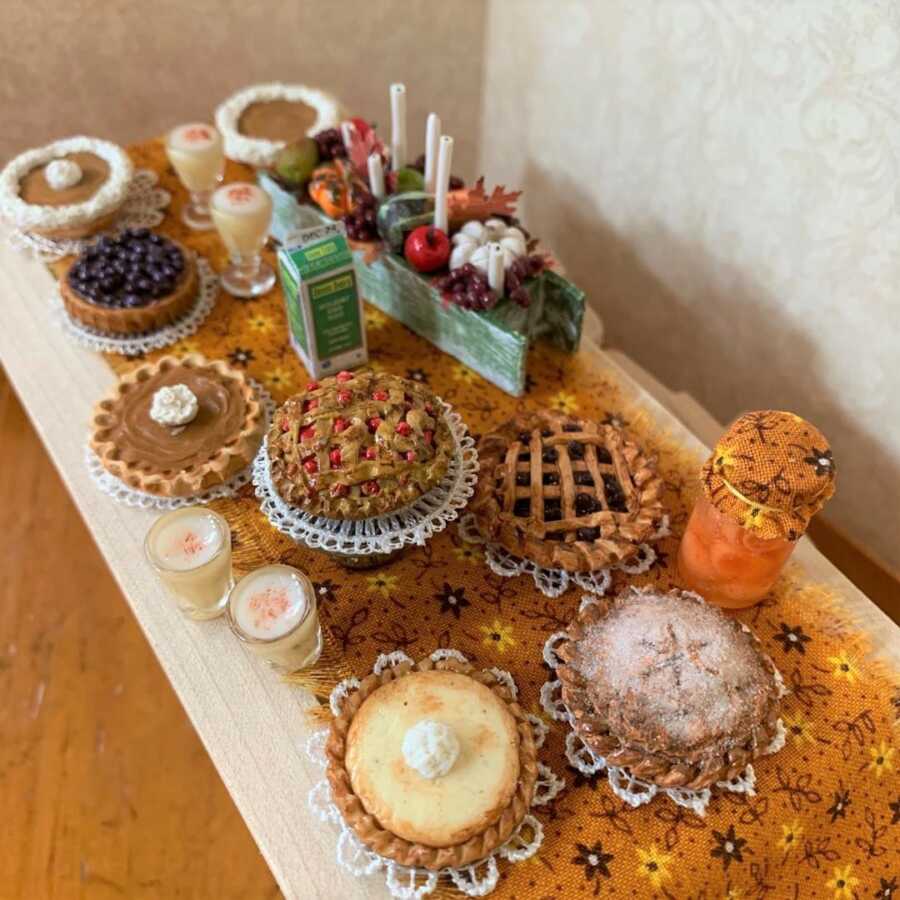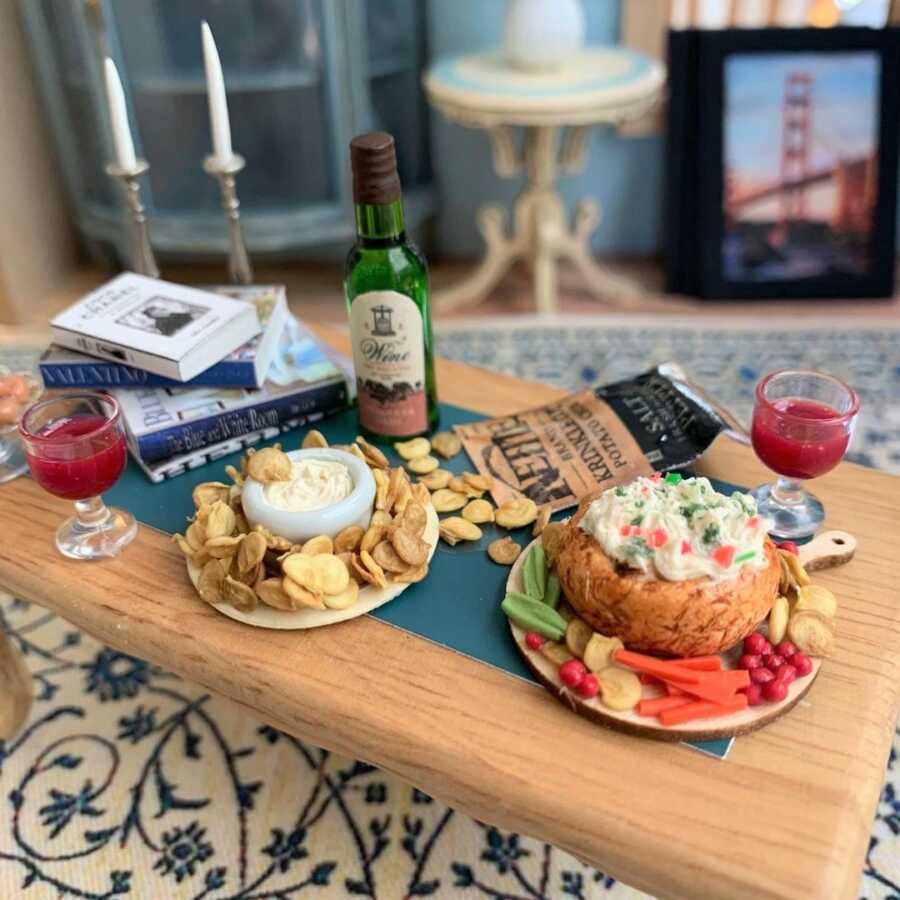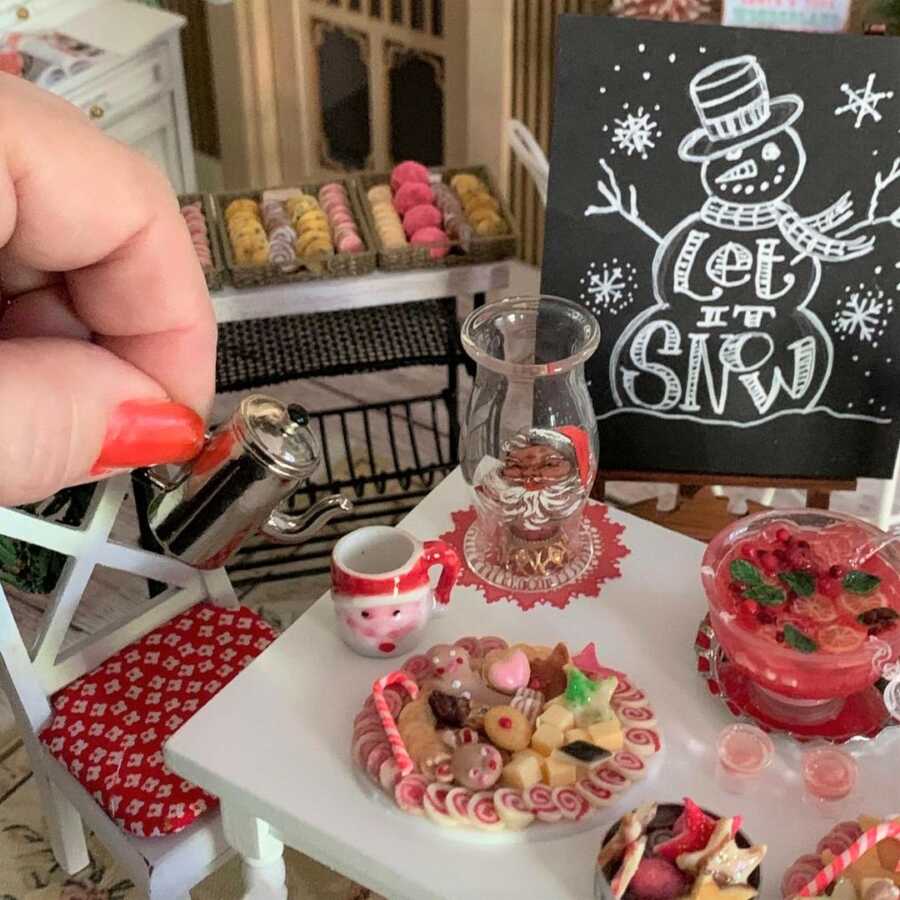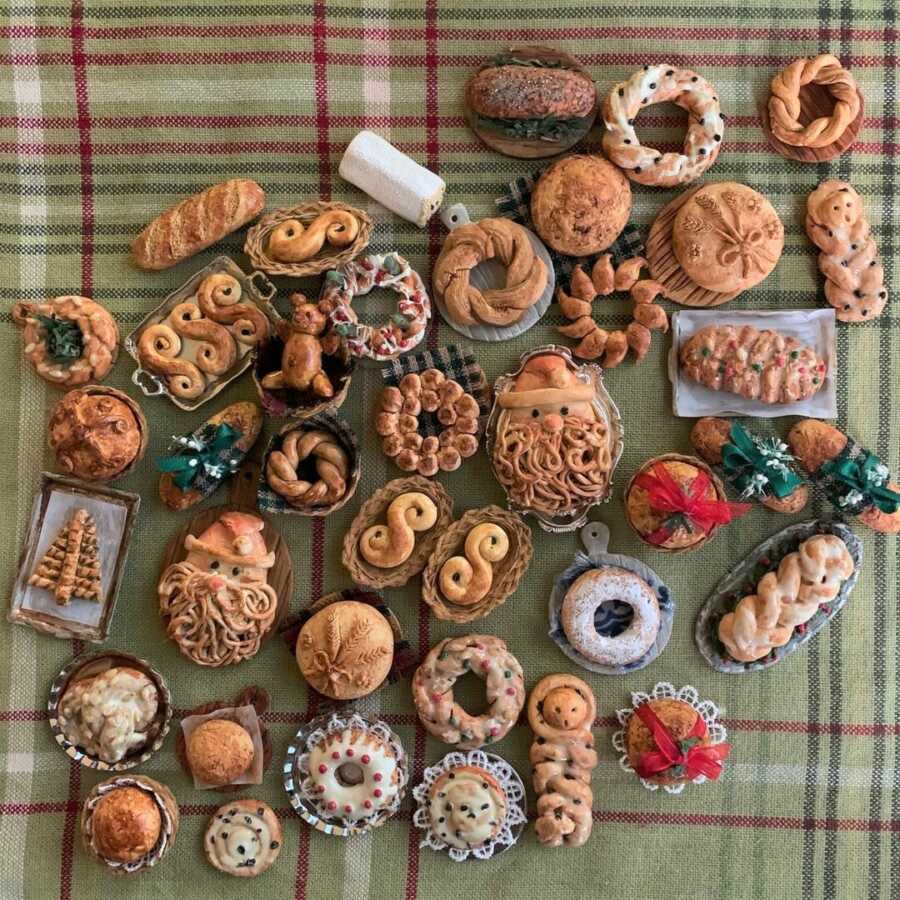 If these delectable dollhouse treats not only have your mouth watering, but your mind spinning imagining all of the gorgeous creations you could make… you're not alone! We've crafted a list of dollhouse miniature kits to get you started. Then you can hop on over to Dianne's store and order some food to fill it with!
This site contains affiliate links to products. We may receive a commission for purchases made through these links, at no additional cost to you.
This story was submitted to Love What Matters  by Dianne Gordon. You can follow her on Instagram to see more of her clay creations, and visit her Etsy store here. Submit your own story  here, and be sure to subscribe to our free email newsletter for our best stories, and YouTube for our best videos.
Read more stories like this:
'My neighbors change these skeletons every day for Halloween. I think I finally need to share them.': Woman documents neighbors' amazing Halloween efforts
Dad's Clever 'The Baby Is OK' Photos Will Make You Laugh Out Loud—Here Are Our 25 Favorites
Elementary School Teacher's Disney Spin On Photos Are Guaranteed To Make You Smile—Here Are Our 25 Favorites
15 Photos That Purrfectly Capture The Hilarious Nature Of Cats