"I lost my diamond wedding ring on Dafuskie Island, South Carolina, in the ocean.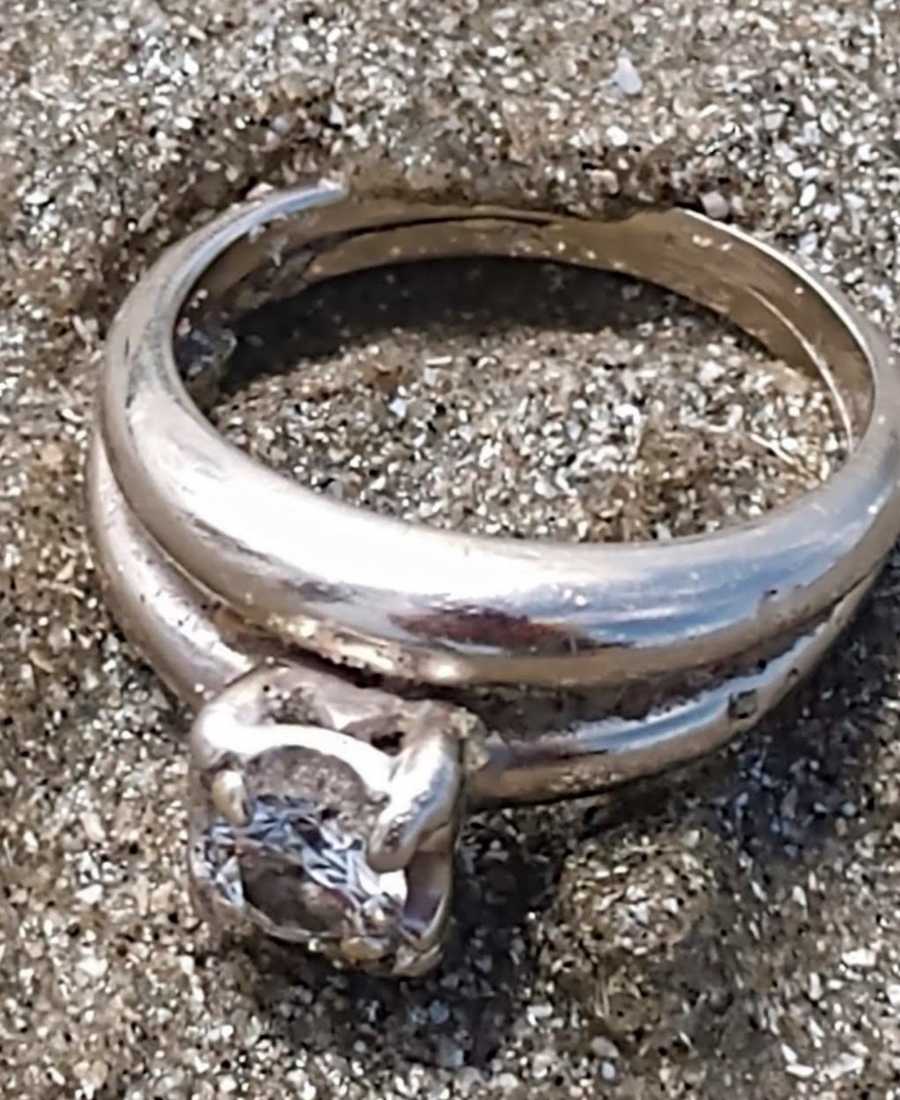 My husband, Jeremy, and I had a pirate themed wedding. To accompany this theme, we had the black pearls to go with it. Of course, the engagement ring Jeremy chose for me was also a black pearl. I wore it for five years after we were wed. And then, I retired it. I just did not want to lose it. Jeremy's mother graciously gave us her diamond ring and wedding band. She upgraded! I'm a simple kind of gal, so the solitaire she gave me was perfect. I wore it proudly for three years. And then, on July 13th, around 4 p.m., it fell right off my hand, into the ocean.
I screamed and cried. My friends and family came running. Those dearest to me dug trenches, scraped their knees, held me, cried with me, and laughed. Yes, it was all too funny that pirates like ourselves would lose such a treasure to the ocean!
My twin sister stayed by my side the most. She reminded me it's not so bad. After all, we had experienced much worse in our lives already, and if we could survive those happenings, we could survive this. Regardless, we cried.
Complete strangers came to my rescue. They put on goggles, dove in the water, sifted through the sand, and hugged me. I hope they know how much I wish I could thank them. I was still in shock when they tried to interact with me.
After two hours of searching, I knew it was time for me to call the search off. Jeremy walked up and hugged me. This was the first moment we interacted since I had lost the ring. We held each other tight. We cried. But, we both knew we have lost much worse in the world. We were just thankful we had each other.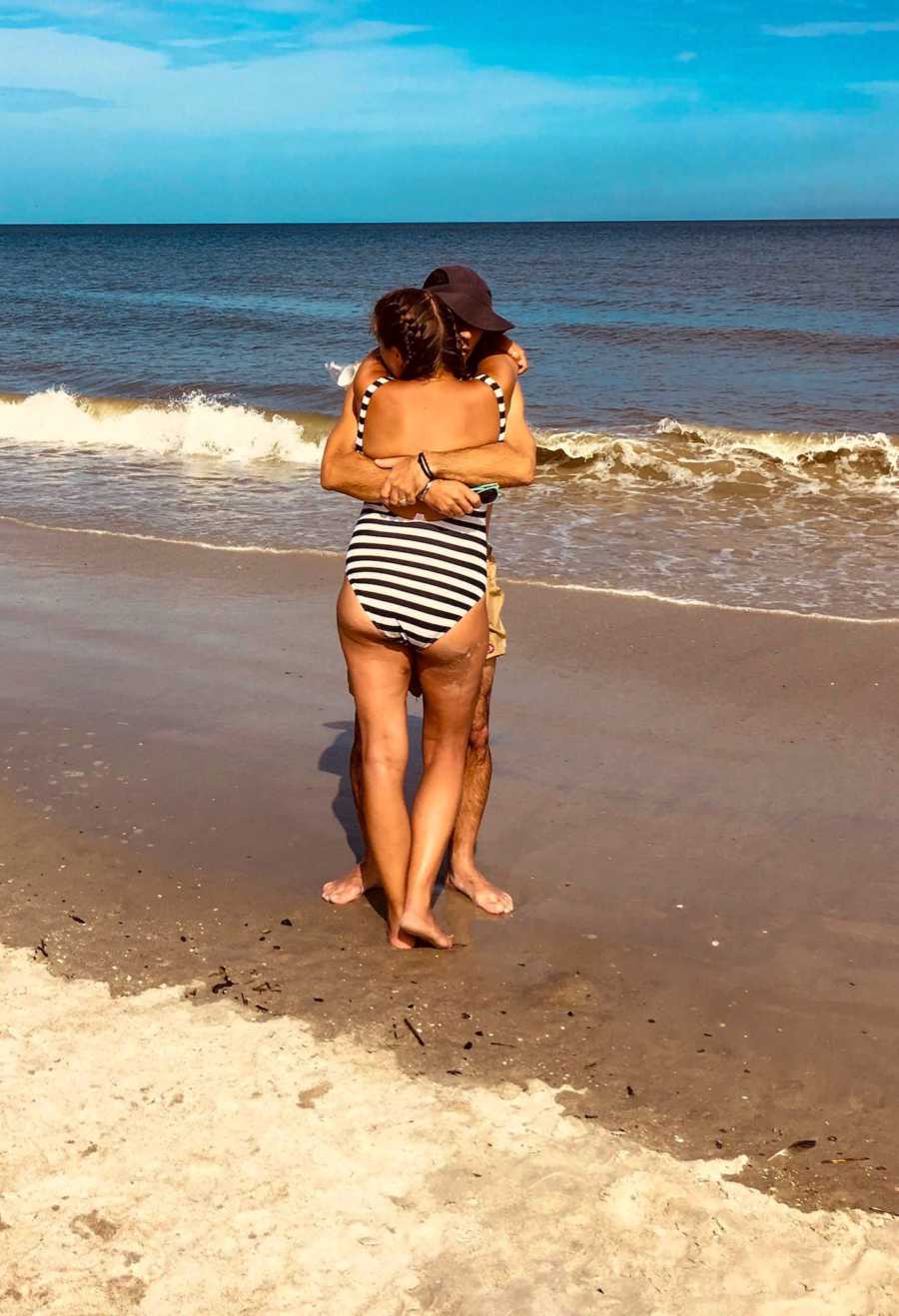 When I called Jeremy's mother to tell her I lost it, she sang 'Mother Ocean' by Jimmy Buffet, focusing on the line, 'And, in your belly, you hold the treasures few have ever seen.' I was beginning to accept the loss, since the ocean had my treasure. After all, my husband and I are pirates, so it made sense.
That night was our last night on the island, and we already had dinner reservations with our group of friends. I asked Jeremy, and a few others, to not bring up the ring situation at dinner. I wanted our last night to be enjoyable for all. And, it was. I found out later, all of the girls in our group who had engagement rings or wedding rings, collaborated and decided to not wear their rings at dinner. I didn't even notice, but I believe that was the point.
As soon as dinner was over, a team of us returned to the beach to look for the ring. Still, no luck. I couldn't sleep that night. I dreamed of my ring all night. At about 5:30 a.m., I grabbed my phone and typed 'how to find a ring lost in the ocean.' Silly, I know, but it yielded results. The first link to pop up in my google search was TheRingFinders.com
Intrigued, I searched the website. I read bios of ring finders and testimonies of those who had rings found. It seemed too good to be true.
But, I was desperate. I contacted a man from Myrtle Beach, South Carolina, who quickly gave me the contact information of another man, Tom, who lives in Savannah, Georgia. It was 8 a.m. at this point. I had nothing to lose. I called him, and we talked on the phone for about three minutes. We exchanged names, locations, and made a plan. Literally, within minutes, he was on his way to Dafuskie Island.
I came to Dafuskie for a vacation with 17 friends. By the time Tom arrived by ferry, I had four of them with me, including my husband. We headed to the beach wear I lost my ring. On the golf cart ride over, we got to know Tom. He is a very sweet man about to turn 60. He told us he had been metal detecting for 35 years. He also said he enjoys doing this kind of stuff for fun. He made us laugh with his country accent and stories.
My amazing friends, those 17 I mentioned earlier, had created markers, noted land marks, and counted feet and paces to mark the location my ring was lost at. Tom said that was a very good idea.
Tom began his search. He uncovered a 1994 dime and a copper ferrule before he uncovered my ring. And, he did this in less than thirty minutes.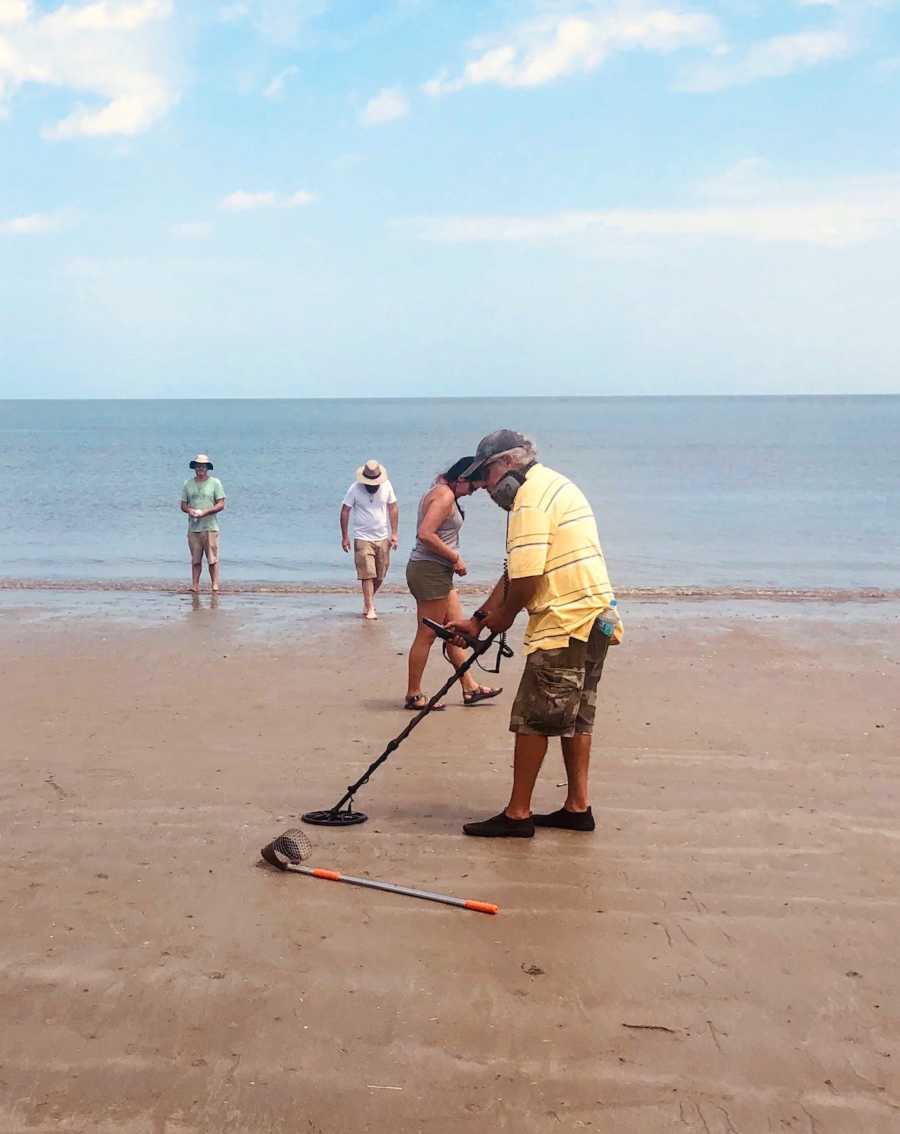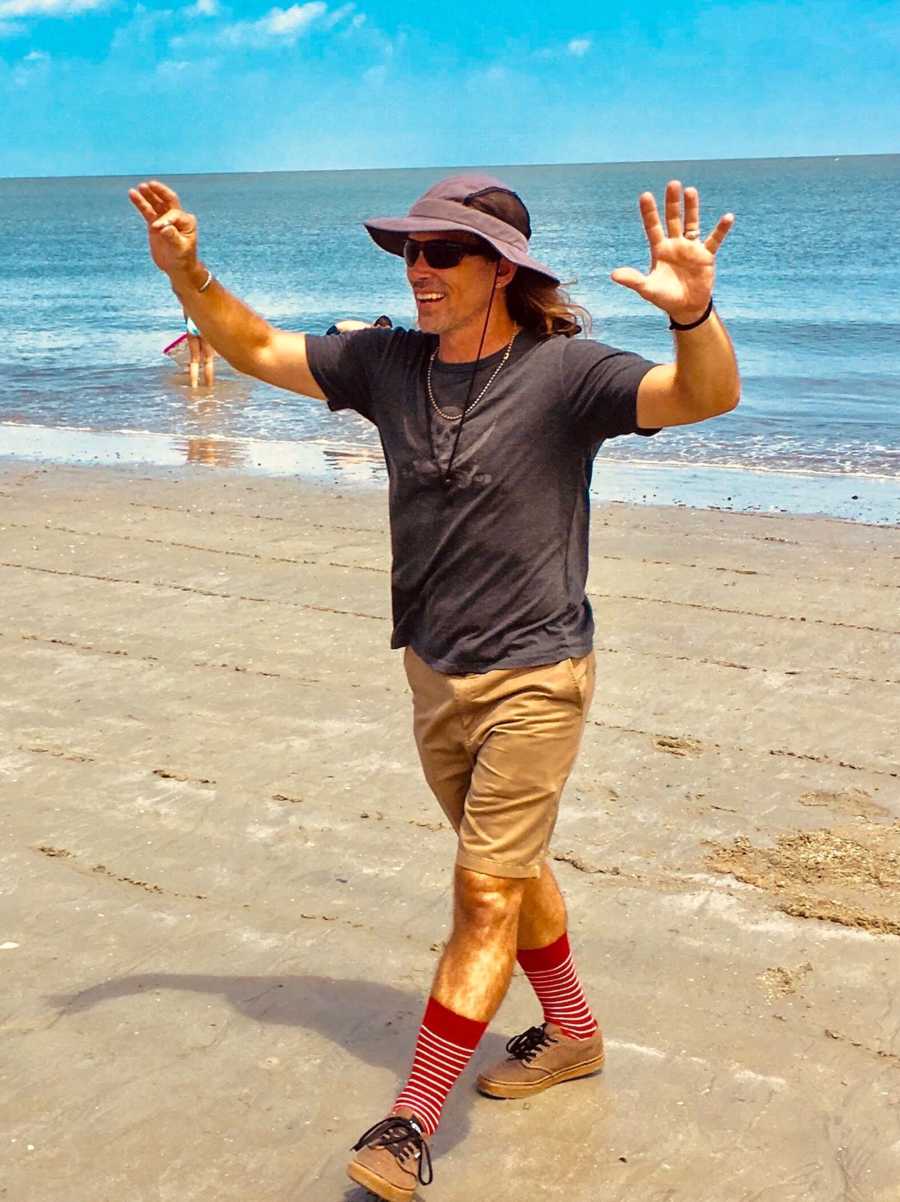 I learned three things during this experience: be thankful for what you had and what you have; trust humanity; and never give up.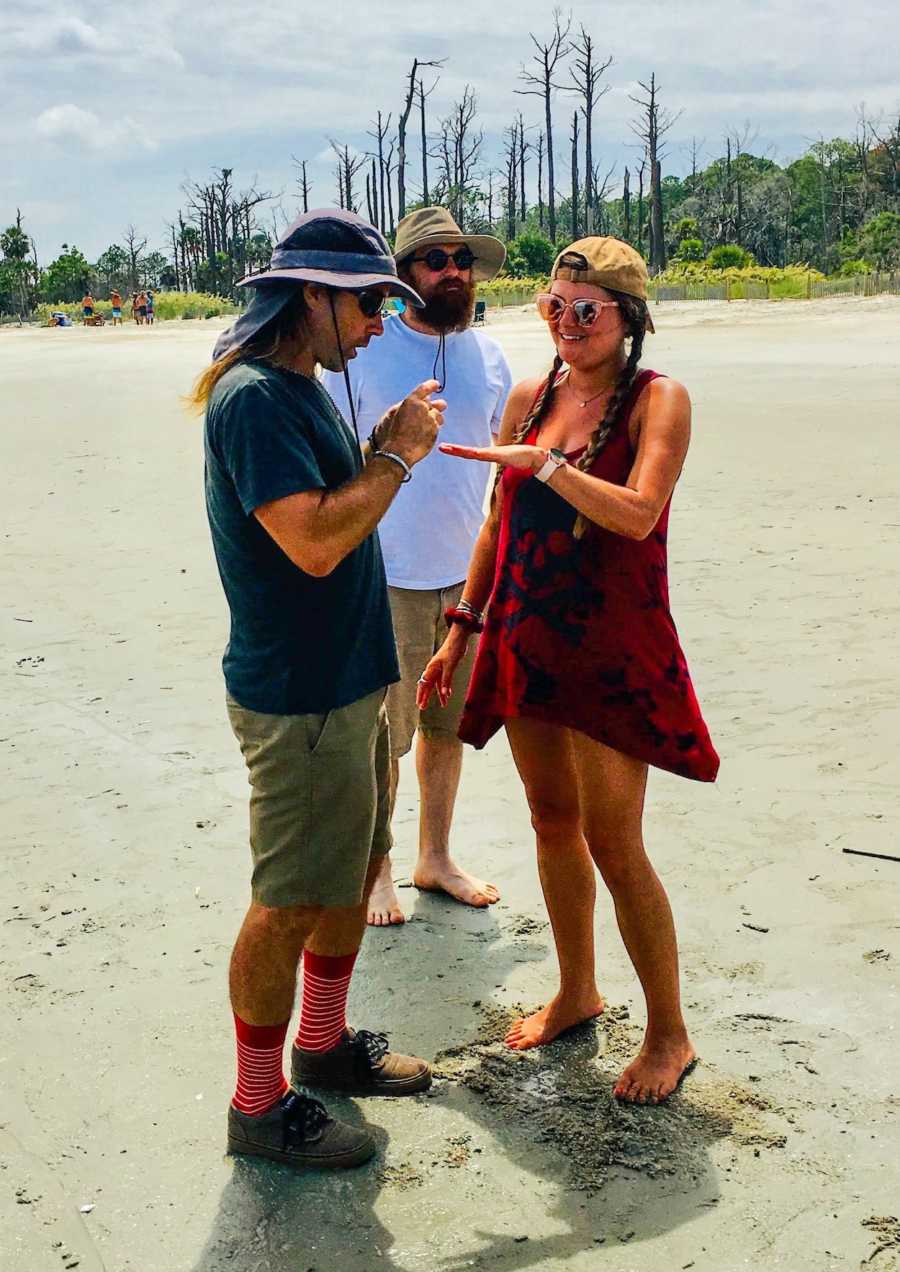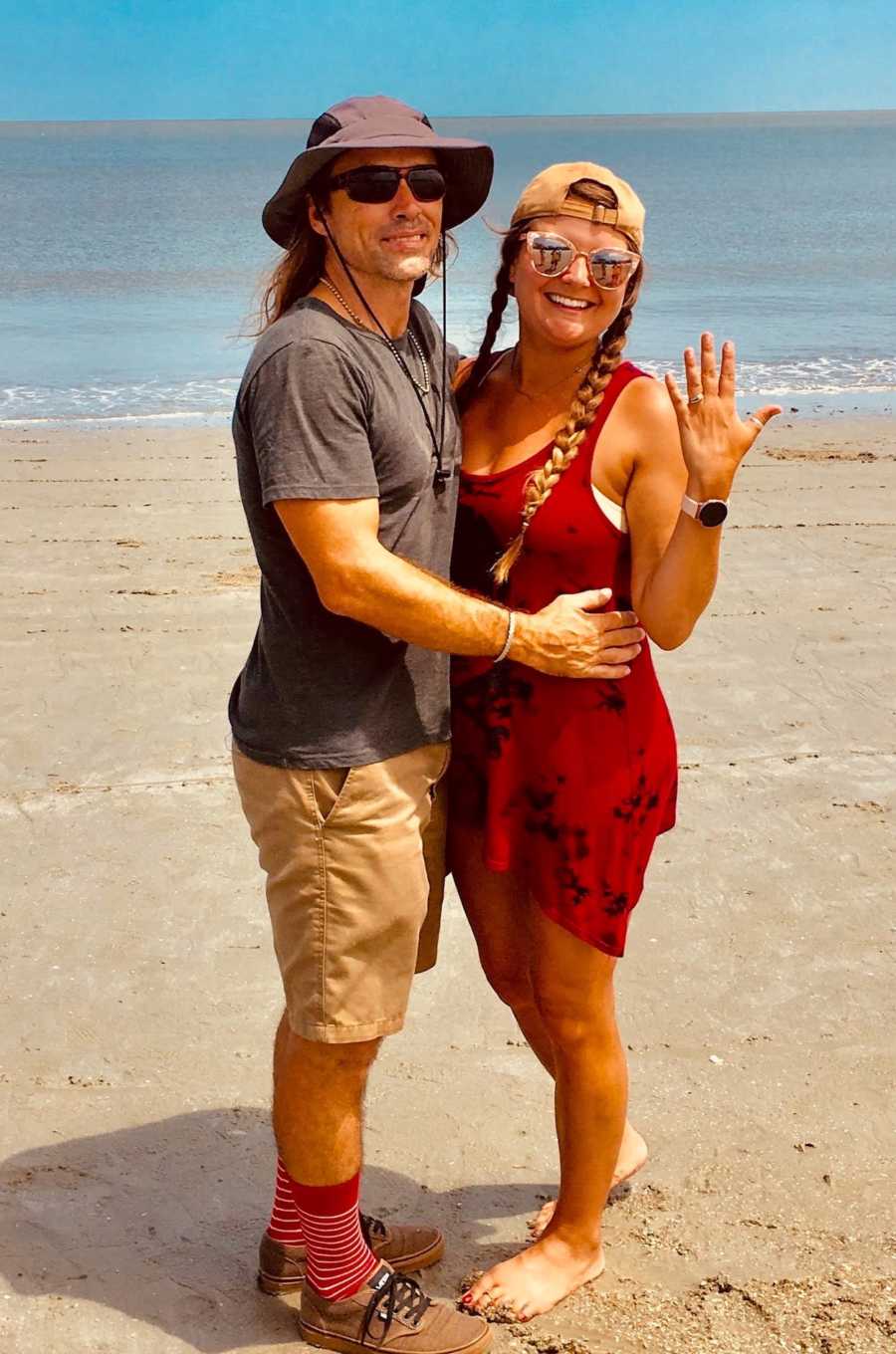 When Jeremy asked about payment, Tom said to pay what we could afford. He again told us he simply did this type of stuff for fun. He truly was a Godsend. He did ask us to spread the word about his work, to help build up his business. I believe the entire island knew our story, and him, before we left.
If you're ever in the Savannah or Hilton Head area, and you lose a ring or simply need a man with a metal detector, look up Tom. Tell him the two pirates sent you."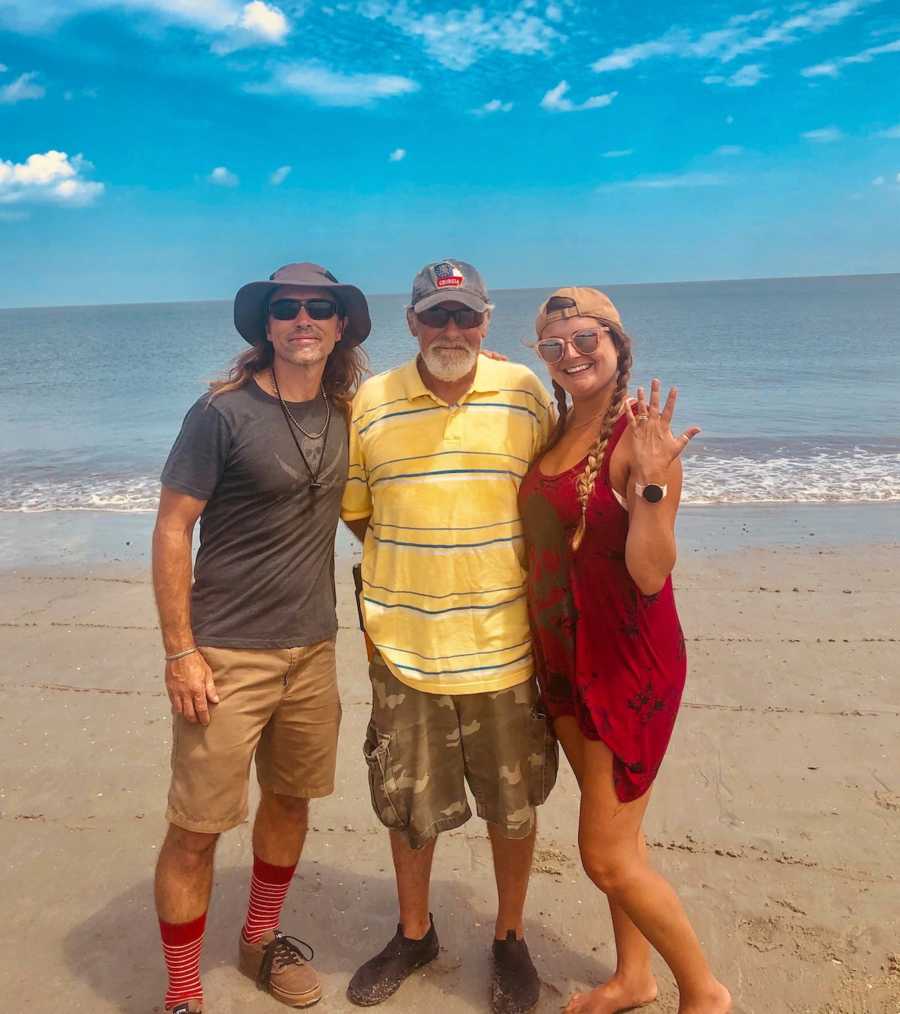 This story was submitted to Love What Matters by Katie Walton. Submit your own story here and be sure to subscribe to our free email newsletter for our best stories.
Read about more amazing acts of kindness:
'I saw an elderly man with his walker at the corner. 'I'm trying to get to the 99-cent store 1.5 miles away.' His wife needed some chocolate bars.': Man shares act of kindness for 93-year-old man
'Lonnie said, 'This is all for you.' Now any time he sees a truck, he tells me about his buddy, Lonnie.': Neighborhood in tears after recycling worker's act of kindness for little boy
'Is it illegal for me to go in and order my own dinner?' I almost held my breath the entire time. 'Stay six feet apart.': Mom shares Subway worker's act of kindness toward 11-year-old son
Help us show compassion is contagious. SHARE this story on Facebook with family and friends.