"Dear boy mom,
your life will not be a perfect one.
You will be scared more times than not because of their fearless nature.
You will pull over on the side of the road just to look at tractors and diggers and cement mixers.
You will be able to name every single dinosaur and you will be so proud when your son can do the same thing.
You will cry sometimes in your car and question if you are doing this whole boy mom thing right
You will try and find the balance to teach them to be strong and brave but also find yourself telling them they can be sensitive and kind and both at the same time
You will find yourself stepping out of your own comfort zone because of them.
You will find yourself laughing a little more and becoming a little more fearless all because of them
You will sit there on the sidelines cheering them on at games and in life.
You will be there to remind them that mom is always here no matter what.
You will build forts, travel to space, go on an adventure in the jungle and never leave your living room.
You will know the sweetness in their hugs and the power behind their "I love you mom" after a day that's seemed less than perfect and more like complete chaos.
You will begin to instill in them when they are young that they need to honor their spouse, treat people with respect and kindness regardless of their background or social status.
You will find yourself teaching them to not just be good boys but good men. Men that strive to look for the good in this world and when they can't find it, they become it. Men that aren't afraid to speak their minds with compassion. Men that will sit with the broken and cry with them because they know crying isn't just for girls it's for grown men too.
You will know the heartache in raising them to one day leave you but you will do it anyways.
You will know that being a boy mom is difficult at times but you will feel how it's changed you for the better.
Then one day someone will ask you what it's like to be a boy mom.
They will be scared and nervous and you will smile and tell them you wouldn't want to be anything else."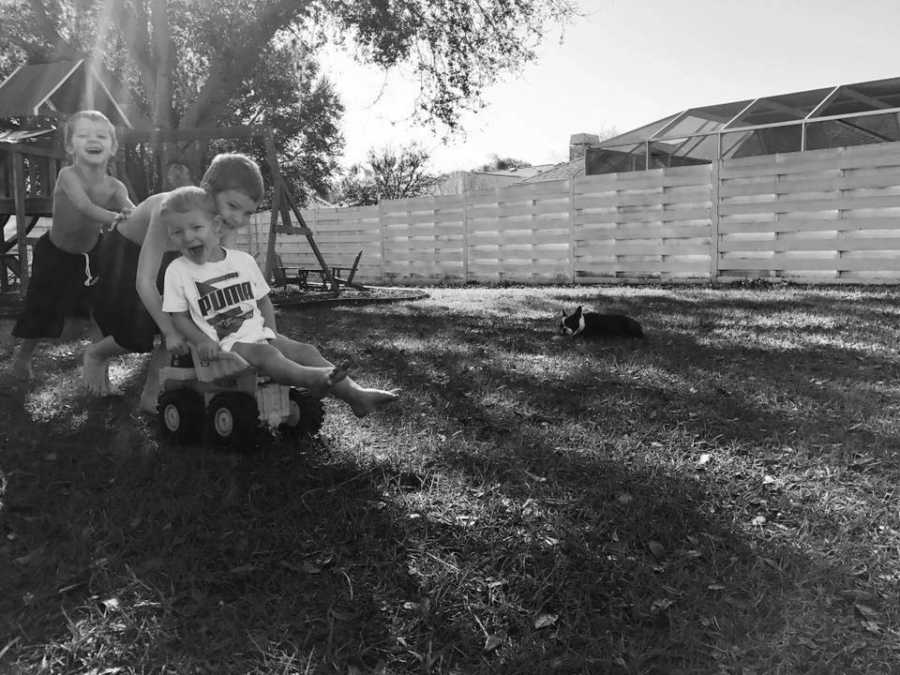 This story was written by Nikki Pennington of Grief To Hope with Nikki Pennington. The article originally appeared here. Submit your story here, and subscribe to our best love stories here.
Read more from Nikki here:
'I'm sorry, you have the wrong number.' 'Mom, no, stop joking, it's not funny.' Click. The phone hangs up. I felt like I lost my mom when she was still here.': Woman says she has found her mom 'in so many ways over the years'
'I cried in the truck. I cried getting out of the truck. And I cried down aisle 5 at the local grocery store.': Woman's realization about grief wishing Nana could be there for her children
'Can we talk?' I want to give you a big hug. I'm a motherless daughter, too.': Woman says she's 'here for you' through heavy grief, 'I will understand your silence'
'I'm sorry I couldn't provide a good Christmas those years,' she cried through tears. She didn't tell me until she was diagnosed with cancer.': Daughter reflects on childhood holidays being a child on 'one of those angel trees'
Provide hope for someone struggling. SHARE this story on Facebook or Twitter.