"Every year around Christmas the angel trees appear everywhere and every year I tell my kids the same story when we pass one in the stores.
It starts out with me telling them how I was a child on one of those trees for a few years when I was a little girl.
I didn't know it then, my mom only told me after she was diagnosed with cancer and learned she was terminal.
I remember her crying and through the tears telling me how sorry she was that she couldn't provide a good Christmas for me those years.
She told me how she cried herself to sleep one Christmas because she saw the way my eyes lit up when I opened up the Princess Jasmine pajamas and she was so happy for me but she knew she didn't get them, she knew she wasn't the reason my eyes lit up that way but it was because of a stranger. A stranger she was so thankful to for doing that but still she wished it would have been her.
The truth is I only remembered those gifts and some others she mentioned because of pictures she had taken, otherwise I don't think I would have.
She said she felt like she had failed as a mom and she wanted me to know how sorry she was for that and the years when my name wouldn't get picked and I would get necessities instead and she apologized over and over.
I couldn't believe it because I didn't see it or remember it that way at all.
I remember the Christmas we made Christmas cards with crayons and glitter for everyone in our apartment complex and we walked through the snow and handed them out even singing a Christmas carol or two when they opened the door.
I remember the year on Christmas night we went to the nursing home she worked at and we painted the nails of the ladies that didn't have any family to visit them.
Those were the Christmas traditions that I still hold dear to this day and now that my mom is gone and I'm a mother myself, those are the traditions I am passing on to my sons in memory of Nana.
So every year I tell my sons the story about how I was an angel on the angel tree and then I tell them what my mom and I did with the Christmas cards and the nursing home and every year without hesitation their eyes light up and they tell me how much they love that story.
My mom spent so many years feeling like she had failed as a mother on Christmas and I didn't see it that way at all, those are my favorite memories now as an adult.
You see, she thought she failed but the truth is she gave me one of the greatest gifts of all.
The kind of gift that doesn't come wrapped in pretty paper with a bow under the tree but the gift of how to give to others and that is the most important gift we can give our babies."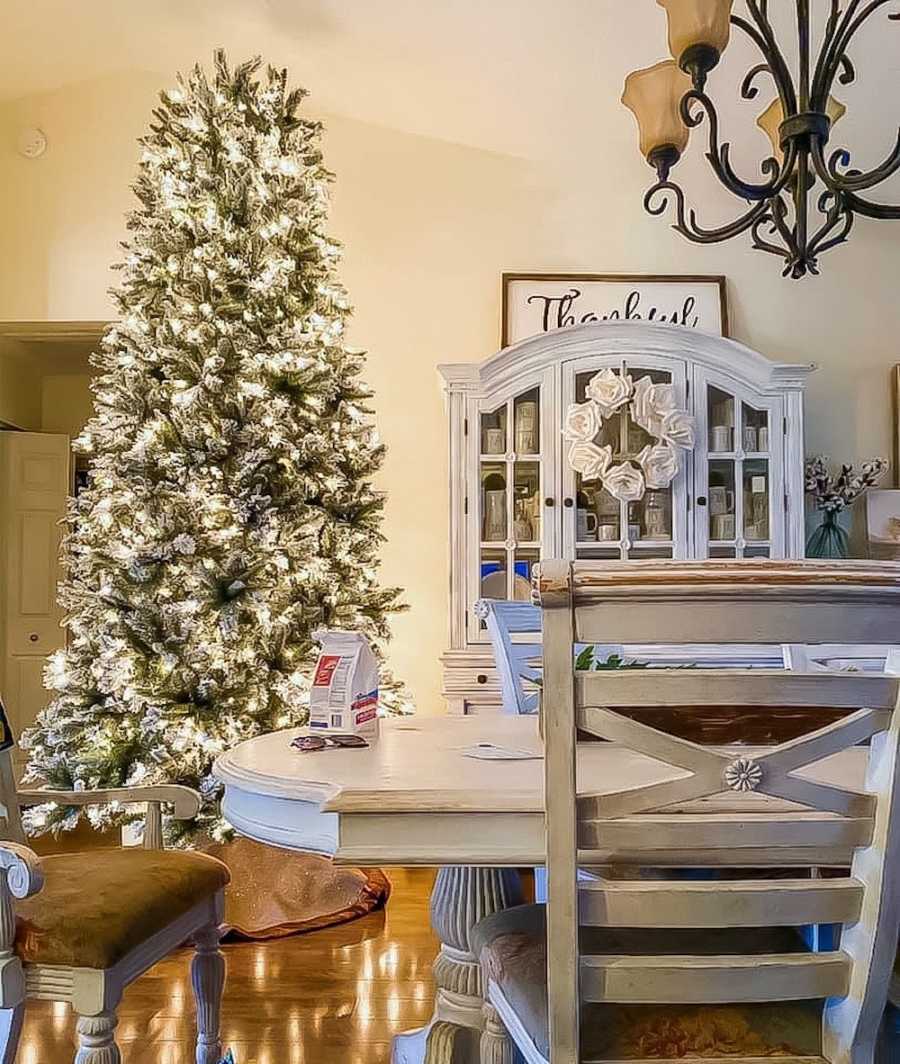 This story was written by Nikki Pennington of Grief To Hope with Nikki Pennington. The article originally appeared here. Follow her on Instagram here and Twitter here.  Submit your story here, and subscribe to our best love stories here.
Read more stories like this: 
'I whispered to Santa, 'He is blind and autistic and is very interested in Santa.' He said, 'Say no more,' and immediately got down on the floor to greet my little man.': Mom thanks 'Best Santa Ever' for giving son magical holiday experience
Read more from Nikki here:
'For our 1-year anniversary, my husband took me to McDonald's and bought me the dollar menu. It's all we could afford.': Wife insists 'being treated like a queen' looks different 'than what the world told you it should'
'A friend of mine called. 'Hey, I'm going to swing over and hang out with you for a few.' I panicked. This wasn't a planned swing by.'
'On our wedding day, my mom gave my husband a note. A note that was just for the two of them.'
Do you know someone who could benefit from this story? Please SHARE on Facebook or Twitter.