"We decided we wanted to have a third child. Actually, my husband was ready before I was. Once Hunter turned 4, for whatever reason, I decided, I was ready too. Maybe it was because I had transitioned and settled into my new career on campus at this point, we had just moved again and my parents moved as well, so we now had two more grandparents in town. Yes, I remember now! That was it. Timing is everything. I remember thinking logistics: that we had space in the new house, room in our large vehicles for 3 car seats, I was no longer traveling for my job and we have the support of all grandparents in town to help. The time finally felt right.
It was April and work were busy. Very shortly after we decided to start trying for #3, I had lunch during a conference day with one of my colleagues and friends. He asked me, very plainly, as we were just getting to know one another, 'So, what makes Kim, Kim? What do you like to do outside of work?' I awkwardly tried to explain other things that didn't start with being a Mom. 'I write for fun. I love to run, when I have time. We travel as a family quite a bit…' Later he followed with, 'Do you want to get your MBA? You should start!' (It became very obvious to me; I am now working in academia.)
The answer was yes. I have always wanted to go back to school. I have been considering it since I graduated from college. I still have hand written cards from MBA programs (specifically Kelley, where I expressed interest) inviting me to visit campus, dated in 2006. I even asked for a GMAT study guide book (you know those 900-page books) for Christmas in 2007. (I returned it after not looking at it for 6 months and bought a wedding planning book) The timing wasn't right. Many friends, colleagues, and schools told me to go and gain great work experience first to get more value out of my education. After all, your resume and work experience are part of the application process. Also, the thought of taking the GMAT scared me. And, the cost of grad school terrified me.
So, to answer my colleague, I told him that I would love to start my master's degree or MBA eventually, but I wasn't sure of the timing. I thought to myself… we are trying for a third child. I can't have both right now. I thought about it and over-analyzed it and tried to figure out what I wanted and what was possible. (Isn't that what we do, parents?) I didn't want to sacrifice a child for a degree, but I also didn't want to sacrifice a degree for a child either. My ultimate thought was, I didn't want to spread myself too thin (either as a mom or a student) and fail.
Honestly, we actually stopped trying for a third child for a month because I decided I could apply and start classes and then try for a baby next year or 'later'. I thought that I am now working at this school and have the opportunity to apply to one of the very best programs in the country. For that month, I prioritized my degree because in my little mind, I thought I had to choose one. But you know what? The timing is never going to be right, at least for me. You just have to find a way to make it all work if you really want it.
It was so heavy on my mind for a few months. One day at work, I had a meeting with a faculty member. She had her MBA, her PhD and 4 children. She is highly regarded around the school, is so humble and just the nicest lady in the world. I am honored to get to work with her. She saw my photos of my two boys in my office and asked about them. So, I asked her, 'How did you do it all with 4 children? How did you go to school, get your PhD, balance home and work and all of your children?' I will never forget her answer. Katherine looked at me and smiled. She told me that when you really want something and have a passion for it, you find a way to make it work. She told me she always knew she wanted to work and when she decided to pursue her PhD, she had 4 young children and was teaching full time. This helped me more than anything, she said, 'I would look at Canvas (our online platform) and see the list of all of the classes I was teaching and then there at the top of that list was MY CLASS, my own special class that I GOT to take and it just made me so happy.'
That was it!! That was all I needed to push me forward. A positive attitude and you can do anything. That was exactly how I felt about it. I was so excited to take a class, learn and be challenged, like really challenged. I had to stop worrying about how I was going to make it all happen and just concentrate on actually making it happen. Through all of this, my husband gave me his full support to go back to school and we would figure it all out together. I was optimistic and excited and so determined. I began looking into and preparing for the application process.
That next month I got pregnant with our third son! Later that summer we were on our boat on Lake Monroe and I talked with one of my best friends (who was 8 months pregnant with her third child) and was finishing a certification at work. She is a pharmacist and mentioned that with that certification she already had finished 4 classes toward her MBA in Healthcare and wanted to continue to finish it. 'I mean, I might as well.' she said so casually. She told me this without hesitation or concern. She too was excited about the idea of challenging herself and continuing her studies. I told her I was getting ready to do the same. I was getting ready to apply to a 4-course certificate program that would then lead into the MBA program. Just knowing that another mommy, one of my best friends, felt confident in handling kids and school, gave me that extra boost of confidence.
At 6 months pregnant, I completed the application process. My boss helped me to think through how many classes I could take at once and also worked with me on the tuition benefit. He was instrumental in helping me to get ready for this giant leap. My application included my updated resume, a letter of intent, a letter of recommendation, my official college transcripts and my final grades in accounting mattered. I was accepted! I registered for Managerial Economics in the spring semester. Just by coincidence, my first class began March 6th with a 90-minute live online class, and it was the exact day I was in the hospital delivering Wyatt. (Remember I was thinking I had to choose one or the other?) This is how it is going to go, I thought. Sometimes your greatest challenges in life join forces and meet you at once.
Of course, I was stressed and overwhelmed by the thought of missing my first class coupled with being just 6 hours postpartum. But I then learned that I could watch it later, recorded. You see, online classes are designed for flexibility. They are built for 27-year-old engineers balancing a full-time job, work related travel, a girlfriend and grad school. Online classes must also be designed for a 34-year-old mother of 2 who works full time but is currently in the hospital delivering another baby, right?
Now taking Economics, my first class in 13 years, during maternity leave while breastfeeding, being sleep deprived as well as transitioning our 3-year-old and almost 5 year-old¬-boys to a house with a baby maybe wasn't my best idea but remember I was excited and optimistic and determined. Now, I can fondly look back at my (most recent) maternity leave and know that taking Economics at that time in my life was one of the hardest things I have done in my life.
There are the many emotions of being postpartum and of course the tiredness that comes with (breastfeeding) your newborn. You are giving your very best to his health and wellness and not wanting to sacrifice anything for that, meanwhile with 2 other young children learning what it is like to have a baby in the house. (And their mom with a new baby in the house.) Sometimes, in the dark, gloomy corners of my sleep deprivation, when I wanted to be really negative, I thought I was ruining my maternity leave.
12 weeks, 12 live-online sessions, group assignments, and 2 4-hour exams later, the class ACTUALLY ENDED. I literally took my final exam for the whole 240 minutes and started back at work the very next day. I got a B- as my final letter grade and was happy with that. I celebrated! I don't know if I even deserved that, but boy did, I try hard, reading my text book every week of maternity leave relentlessly cross eyed from sleep deprivation. I was afraid of failing, which means getting a C in grad school, because 1) people at work would know 2) even with a discount, there is a financial commitment 3) I was afraid I wasn't cut out for it after all.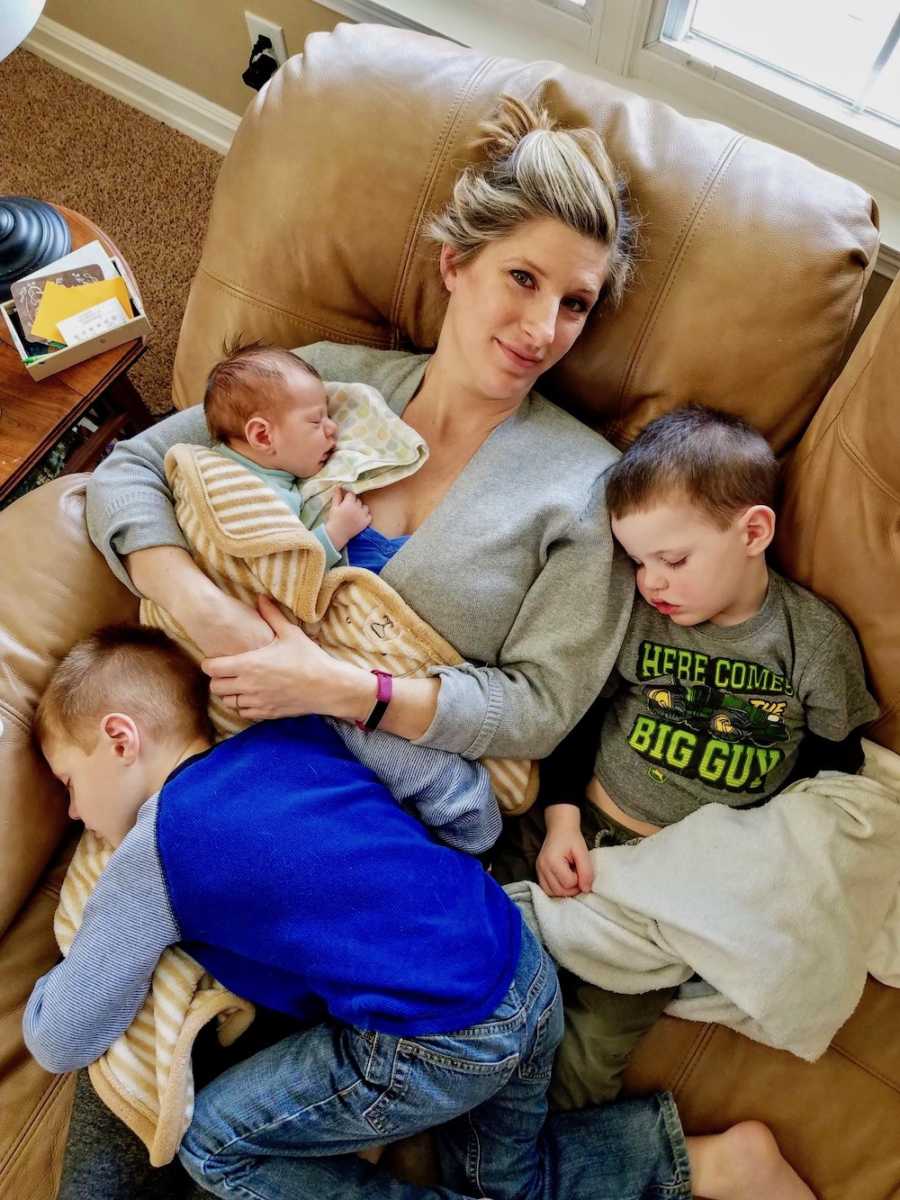 You see, all of this is to make my point that this would not be possible, in my little mind, if it weren't for the encouragement of my mommy tribe. Katherine inspires me more than she knows and helped me see going back to school in a positive light. Jen leads by example and makes me strive for more as a mom and a professional. She shows me it is all possible. Just a few small but crucial conversations like these helped me make some major life decisions! I was sure in my mind that it was not possible to have a class and a baby at the same time. And it doesn't have to be school or a class. This is just my little tiny story. Many moms I talk to don't like the idea of going back to school and strive for other BIG things in life like running 5Ks, marathons, traveling, raising a family, adopting, advancing in their career, volunteering, renovating or building a new home or building their own business.
So, here is what I learned about the power of your mommy tribe:
1. Take small steps toward making your dreams come true. Set goals and believe in yourself. Be inspired!
2. Talk to your mommy friends, your tribe that you trust, and seek insights and perspectives, other than your own, to consider.
3. Remember the impact of what you say and how you can help others. Remain positive and be helpful, be encouraging to others. Build each other up.
4. You are never too old to do what matters to you. I may not graduate until I am 38 years old, and I don't care.
5. Pay it forward. Share your invaluable wealth of experiences with other mommies. We need your help.
No matter what, your story and your example is more powerful that you know. If Katherine never told me how fondly she looked at her special class in Canvas, I may not be here to tell you that today I proved myself and completed my certificate in Business Management (12 credits) and am officially in the MBA program (36 more to go).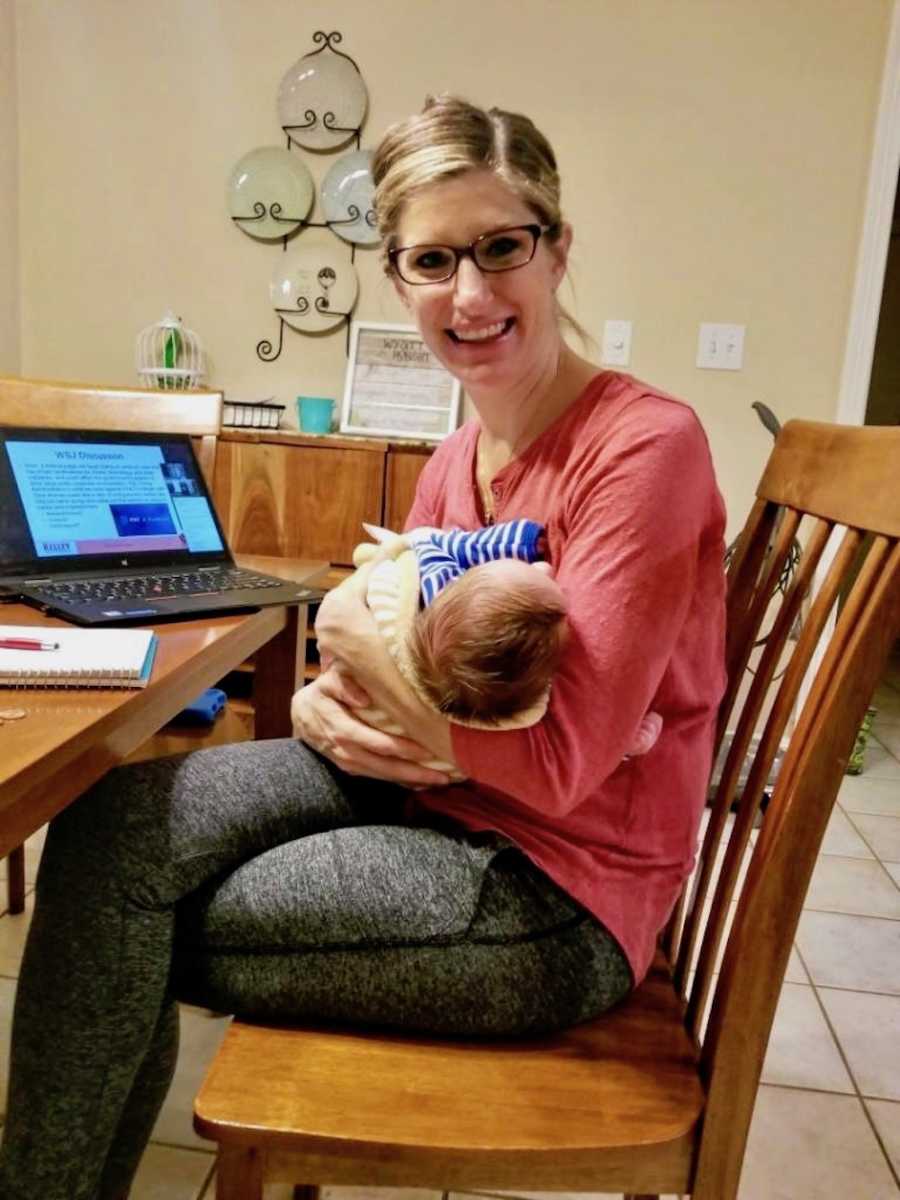 You can do anything, Mama. Whatever you want to challenge yourself with, you got this. All the power to you. You are doing a great job and you are amazing. Share your story and thoughts with me and I promise to be a listening ear.
And finally, I'll share one of my favorite quotes from a mom 'I think every (working) mom probably feels the same thing: You go through big chunks of time where you're just thinking, 'This is impossible- oh, this is impossible.' And then you just keep going and keep going and you sort of do the impossible.' – Tina Fey
And cheers to all of the amazing Daddies out there standing by our side and giving their full support."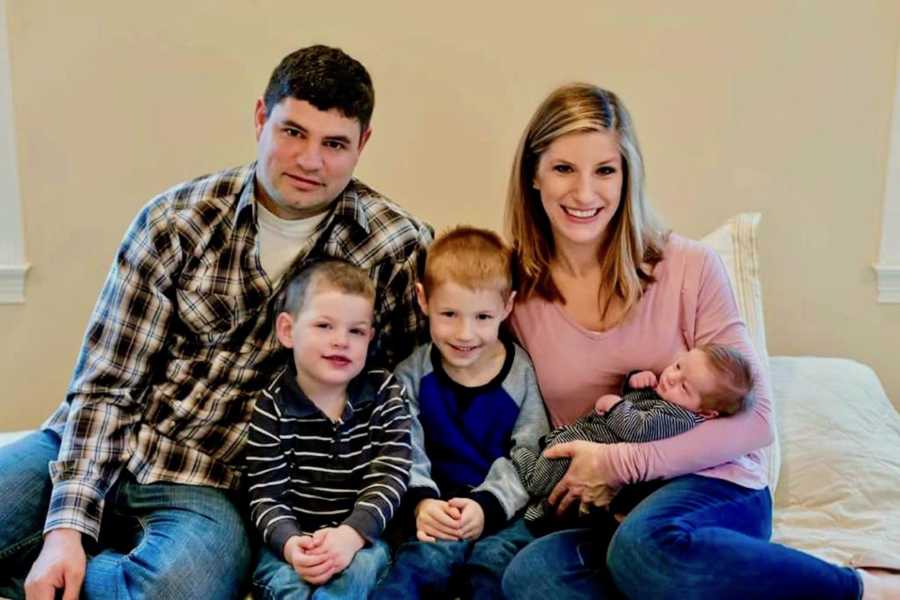 This story was submitted to Love What Matters by Kim Ennis, 35, of Bloomington, Indiana. Visit her website here. Submit your own story here and be sure to subscribe to our free email newsletter for our best stories.
Do you know someone who could benefit from this story? Please SHARE this on Facebook or Twitter.