"I was 28 years old when I found out I was pregnant with Braden. I had been married, had one daughter (Taylor), divorced and married again. We had a scare at 8 weeks into the pregnancy. A major bleeding episode but the problem apparently fixed itself and the pregnancy continued. At 22 weeks I went to the doctor to learn the gender and found out I would have a baby boy. I also learned he would be born with hydrocephalus (fluid on the brain). We were told that could be a big deal or no big deal at all. It would depend on brain development and severity of hydrocephalus at birth. For the remainder of the pregnancy I was followed by his neurosurgeons. I spent the next 18 weeks doing research and educating myself about the condition my baby would be born with.
On the day he was born everything seemed to go well. He had a CT scan immediately after birth. A neurosurgeon examined him and told me my baby seemed 'fine.' He was crying and eating like a newborn should and his head wasn't oversized. Most babies born with hydrocephalus have unusually large heads due to increased fluid. Happily, we went home with our new baby.
At our first follow up with neurosurgery we learned the fluid to brain ratio had crossed the 50% mark which meant he would need a shunt placed to drain the excess fluid into the abdominal cavity. The procedure was done when he was 10 days old. Again, things went well, and we went home.
Over the next 2 weeks he seemed to have trouble eating. He was then diagnosed with failure to thrive. This meant he would need a feeding tube. Placing a feeding tube requires opening the abdominal cavity. He was 3 weeks old now. Due to a lack of protein intake between the surgery he'd had at 10 days and the time he was 3 weeks old, he had not healed. After the feeding tube was placed, he ended up with a terrible infection in his brain. He stopped breathing 5 times in one day! We almost lost him. He was in the hospital from August to November. When he was discharged in November the doctors told us they didn't know what his future holds: 'We don't know yet the extent of brain damage. Hope for the best but be prepared for the worst.'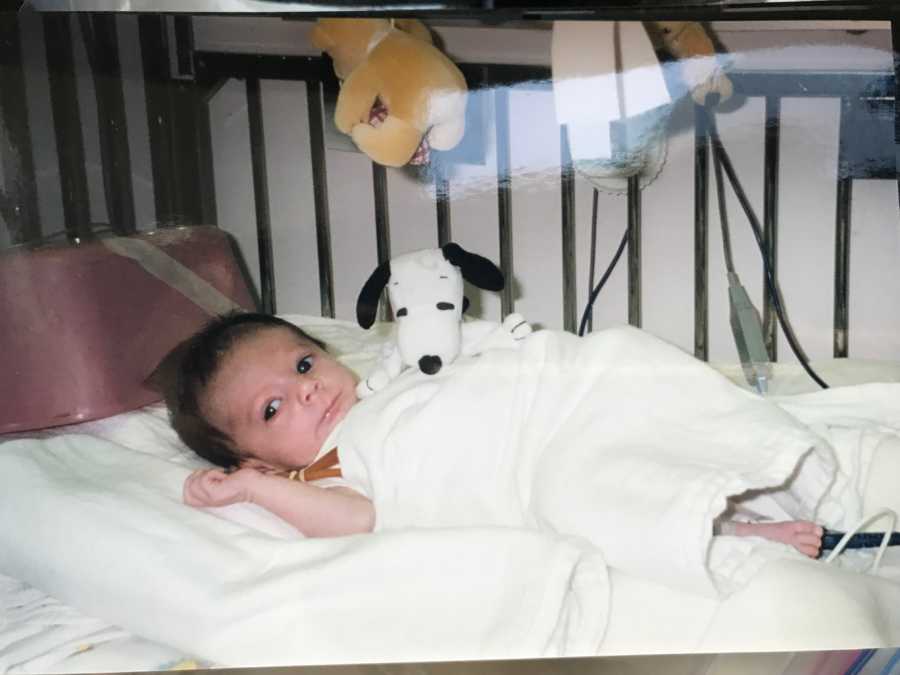 The first couple of years were tough. We learned he'd had a stroke during birth that caused left side weakness. That required a lot of physical and occupational therapy. His swallowing difficulties required speech therapy. He was in and out of the hospital many times those first few years. He had to have a couple of shunt revisions due to malfunctions, eye surgery and hernia surgery. Things settled down around age 3, although he began noticing his deficits. He noticed he was consuming food differently than others. Mentally and cognitively he was pretty much on point. He began working really hard in his therapy sessions.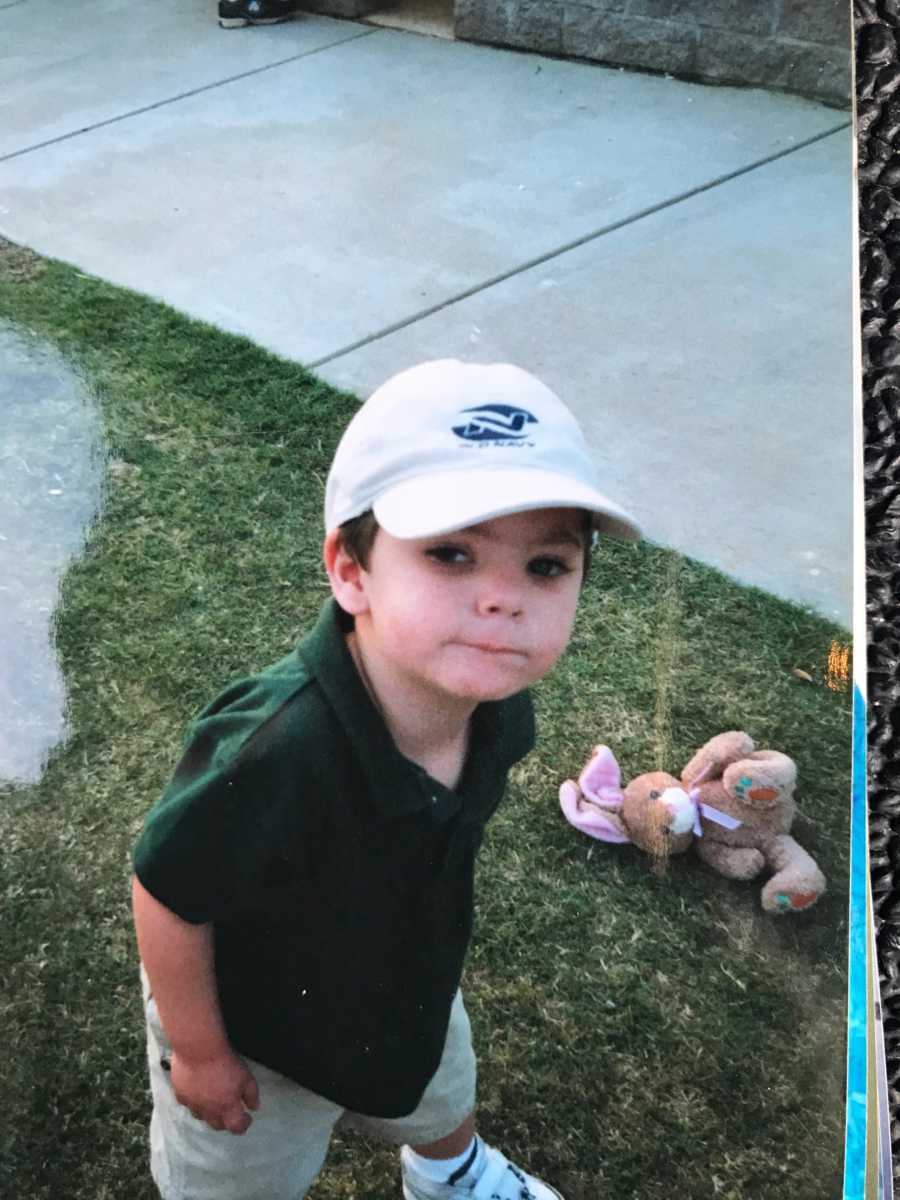 By age 4 he was walking, talking, and playing ball. He could drive his little Jeep to the park by the house. He could write his name and do simple math. He could say the Pledge of Allegiance. His articulation was at age 6 when he was only 4. He could have intelligent conversations with other children and even adults. He made friends everywhere we would go. He was eating food by mouth and was able to get rid of the feeding tube. He LOVED to eat! He'd been followed by every specialty physician you can imagine. He was born with an abnormal brain so he was always high risk for seizures, but never had one.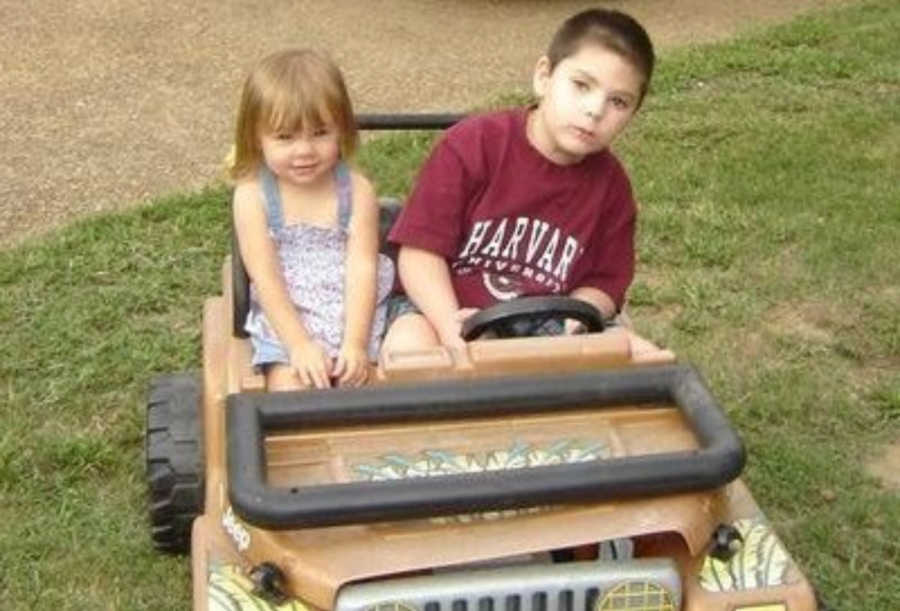 In January 2004 his neurologist released him from his service and said if he were ever going to have a seizure due to the abnormality of his brain it would have happened before that time. He told us he saw no reason why Braden wouldn't continue to grow and progress and have a normal life. We left the doctor's office feeling pretty good about the future. By this time he had a little sister, Lindsey. She was born in October 2003. So in February 2004 when Braden started to display some unusually bad behavior and wasn't doing as well in preschool, his doctors all agreed it was likely for attention. After all, he had been the center of everyone's world for 4 years and suddenly there's a new baby taking some of that attention away. So, we didn't worry much.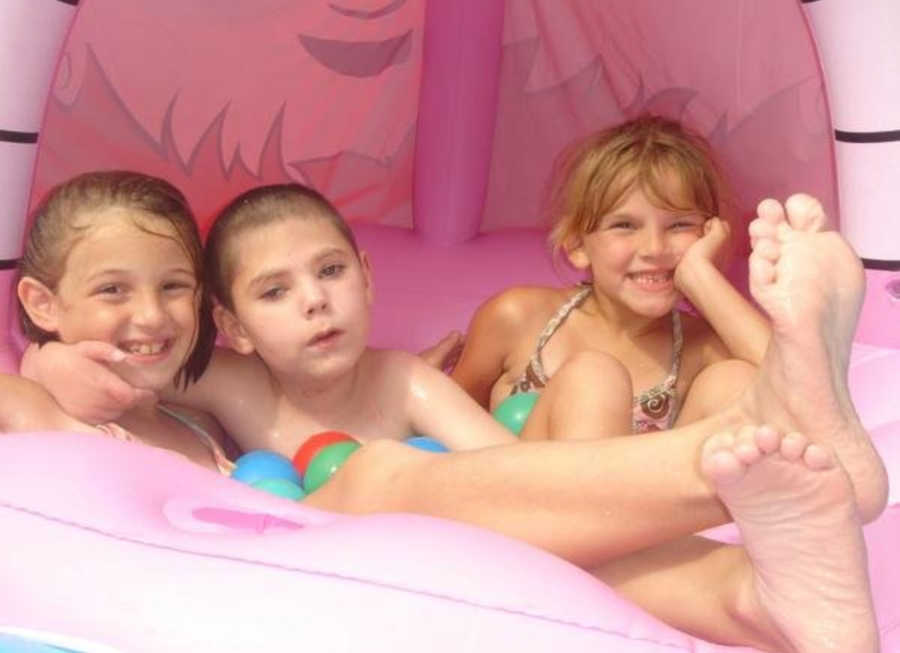 Then May 7, 2004, at 3:14 a.m. I awoke to his muffled, odd sounding cry. I rushed to his room to find him in the midst of a grand mal seizure. His eyes were rolled back, his body was stiff but moving back and forth, his bed was soaked with sweat and vomit. I called 911. The ambulance took him to the hospital. They gave him dose after dose of medicine to stop the seizure but nothing would make it stop. It went on until after 7 a.m. when his oxygen began to drop. They gave him medicine to paralyze him so they could safely intubate him and it was then the seizure started to subside. He was taken to ICU but continued to have seizures. They put him in a medically induced coma. He was on a ventilator. He had tubes and wires everywhere. It was 4 a.m. the next day. 24 hours later, I finally had a chance to breathe.
I went into the waiting room and cried. My heart was broken. I had no idea what would happen next. It was Mother's Day weekend and I would spend it at the hospital with him and away from my girls. He remained in the coma for over a month. When he finally woke it was time to evaluate the damage. He could not sit up, or walk, or talk. He could not move his left arm or leg. He could not swallow. He had to have the feeding tube replaced. After he was stabilized and put into the drug induced coma, the doctors ran several tests to try and find a cause for it, but they were unsuccessful. I remember them telling me we may never know what caused it. We went home that fall and he continued to have multiple seizures every day.
In November 2004 he had a device called vagus nerve stimulator placed. It would stimulate the vagus nerve in an effort to control seizures. It worked for a while, but he began having more again. In 2005 he had a procedure to disconnect the two hemispheres of the brain. Again, it helped for some time but eventually the major seizure activity continued. We had only one option: a hemispherectomy, to remove the right hemisphere. We traveled to Boston a few times planning to have the surgery performed there but ultimately decided to have it done in Memphis. Afterward, for a couple of years, he was free of seizures.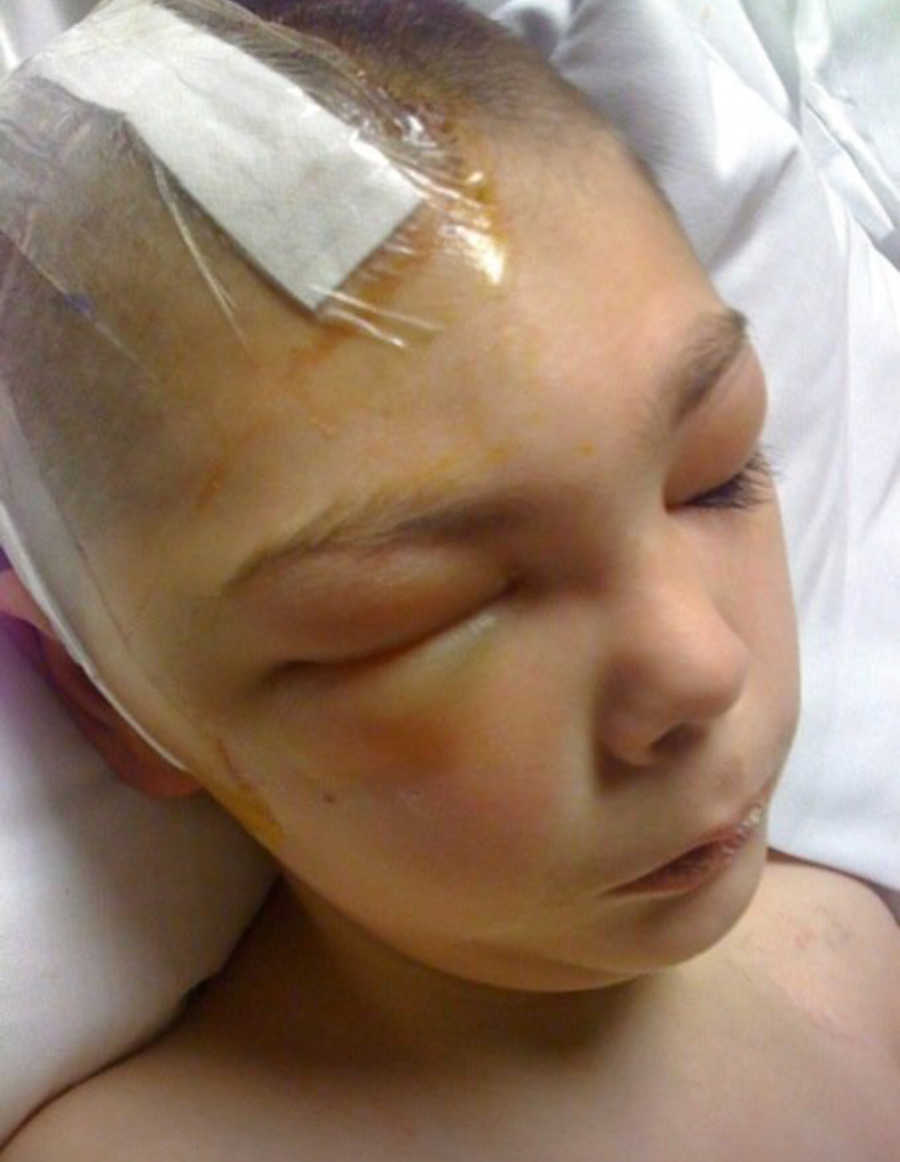 During that time he was able to once again work really hard in therapy to regain some of his capabilities. He did eventually begin having seizures again and still does today but is on medication to help control them. He has been able to attend school for 13 years. He has been in a self contained special education classroom for the most part. He has learned a lot of life skills. He goes to speech, physical and occupational therapy. Believe it or not he also goes to behavior therapy! Understandably, he has some frustration from not being able to do all the things he could before. He can say a few words but also knows some sign language and also uses his iPad to communicate. He is very social and loves to meet new people. He wants so badly to be more independent.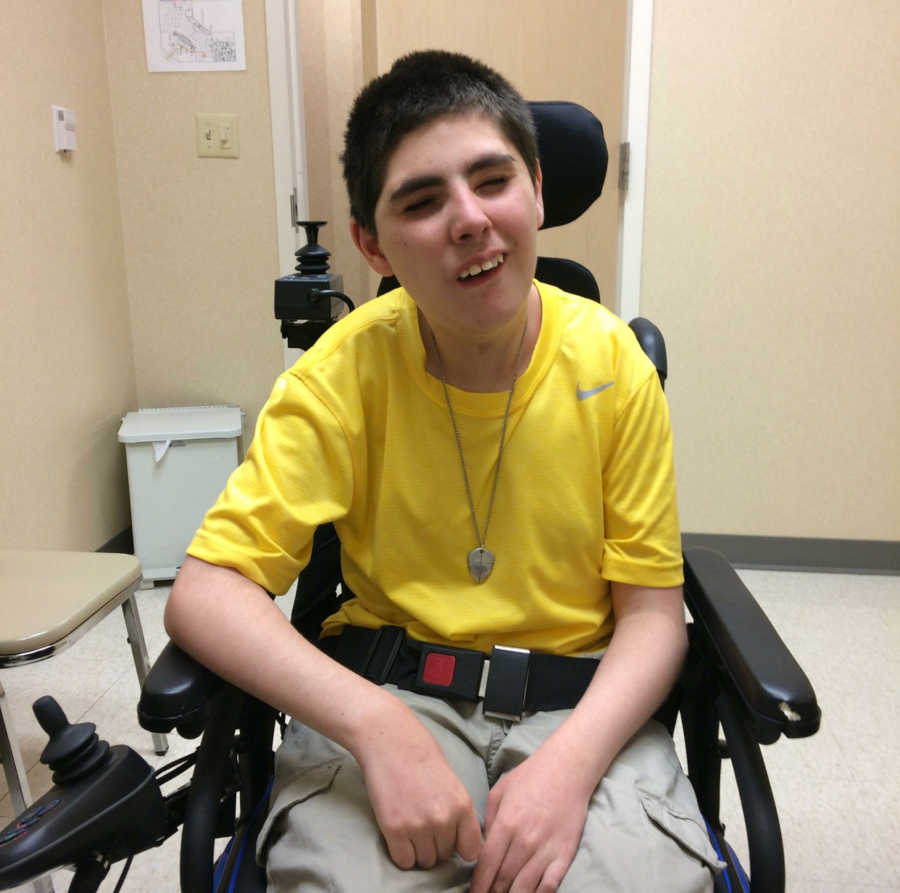 He used to love watching movies and recite the lines, but now grows frustrated that he can no longer say them. He also loved to play outside, especially on the slide. After the seizure when we'd go to the park, I could tell he remembered playing before. So I, with A LOT of help from big sister Taylor, would get him out of his wheelchair and to the top of the slide so he could still slide like he did before. The best thing about him though is that even if I couldn't get him out and let him slide or swing, he still had fun. He would sit in his chair and laugh at his little sister and other kids playing. He was just happy to be there and be outside. He could write his name before, but after the seizure he couldn't. It was truly heartbreaking to watch him try and see him get so frustrated and throw the marker across the room.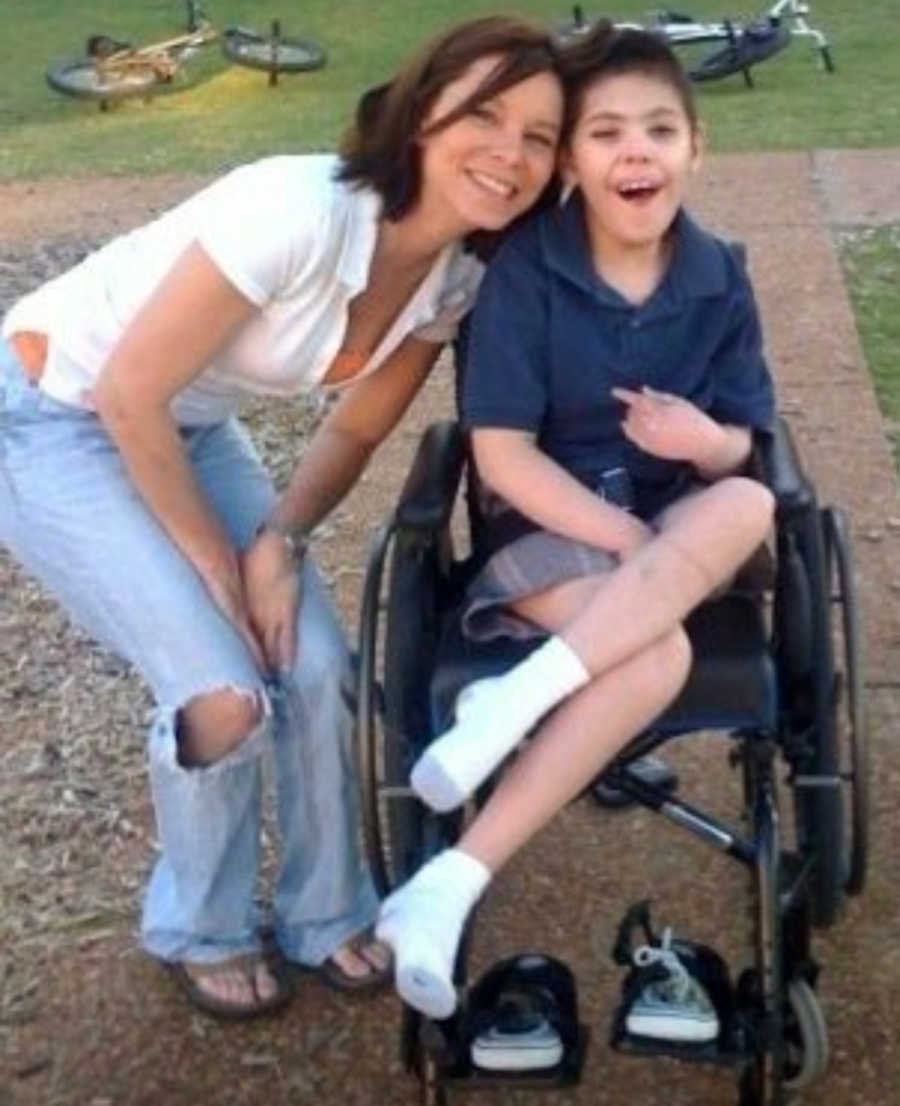 A while back we decided to get him a service dog. We wanted to work together with trainers to train his dog specifically for his needs rather than purchase a pre-trained dog. During this process we got a dog that was donated to the program by a breeder/trainer. Cyndi Mason, Boxers of Mercy, donated Romi to Braden. She is the best thing that has ever happened to him! She has literally changed his life.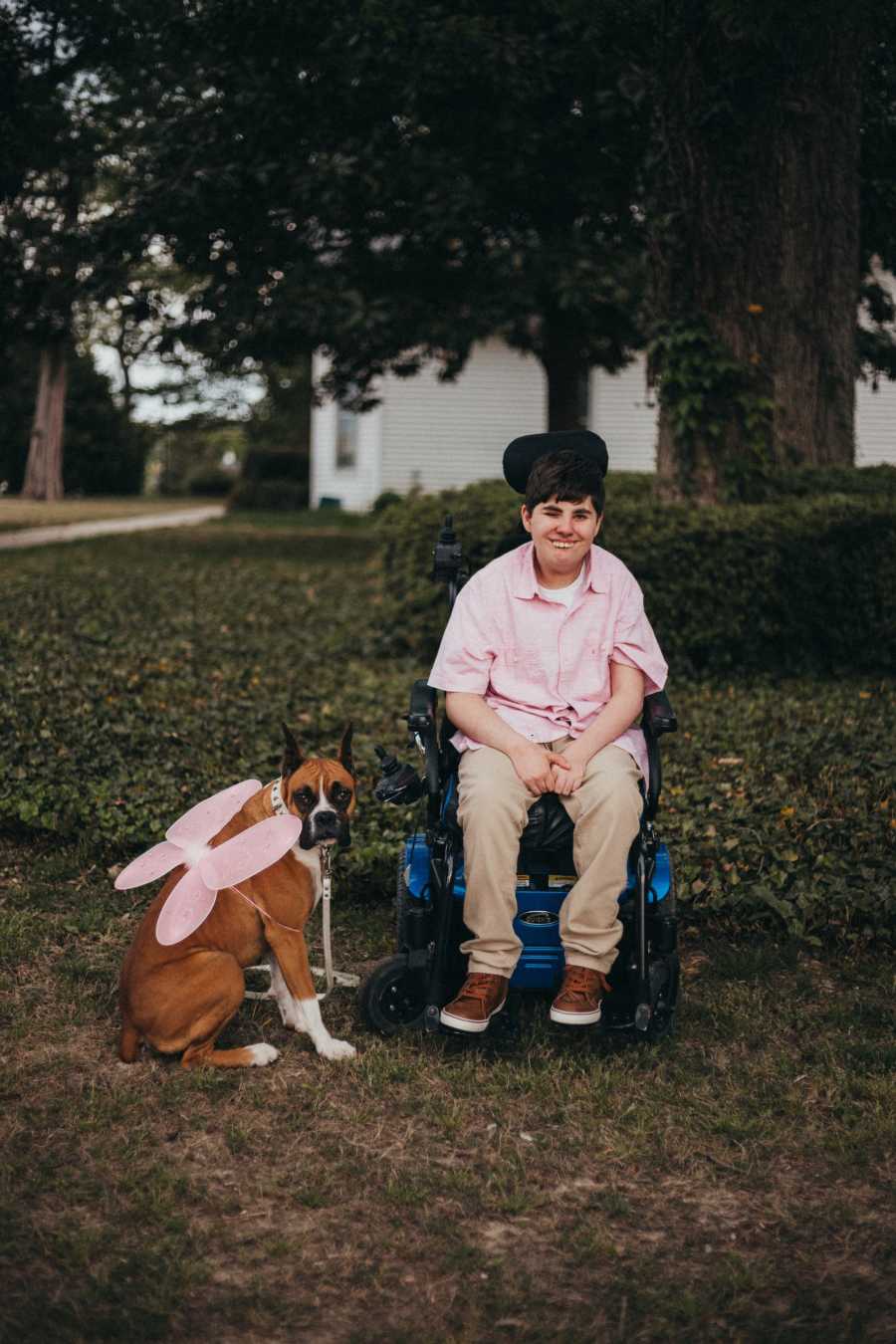 She is able to help him with his frustrations and she offers him the ability to be more independent. She can open doors for him, bring him things and help calm him during outbursts. She can be with him so that I don't have to be and that makes him so happy.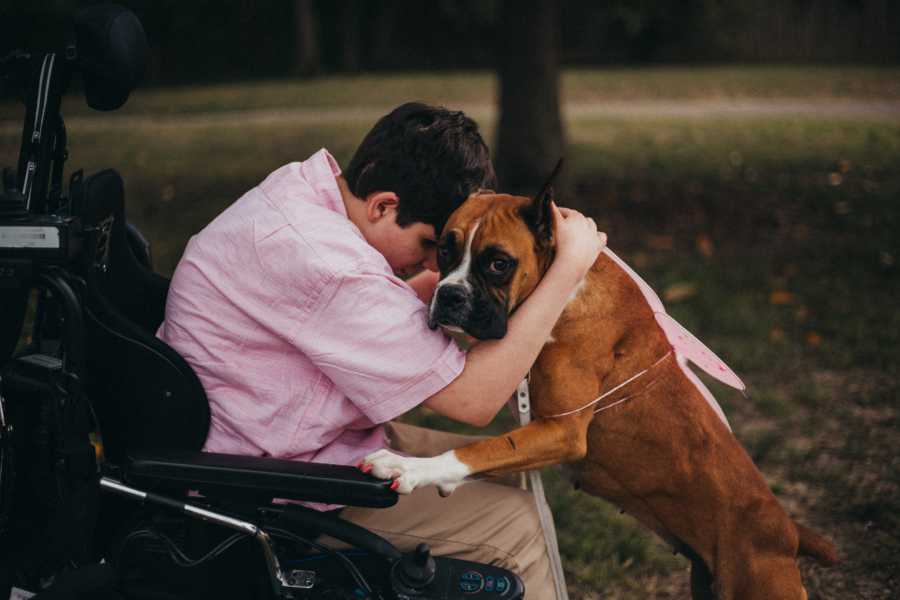 He's going to be 19 this July. He is graduating high school. He wants and needs independence. I have always anticipated his needs and done things for him even before he asked. It is my job to take care of him. While that is still what I want to do (and always will) I am very excited and proud to see his desire for independence. He even wants to get a job after graduation. Parents are always proud when their children meet milestones and goals but after almost losing him, not once but TWICE, I couldn't be more proud to have him graduate high school!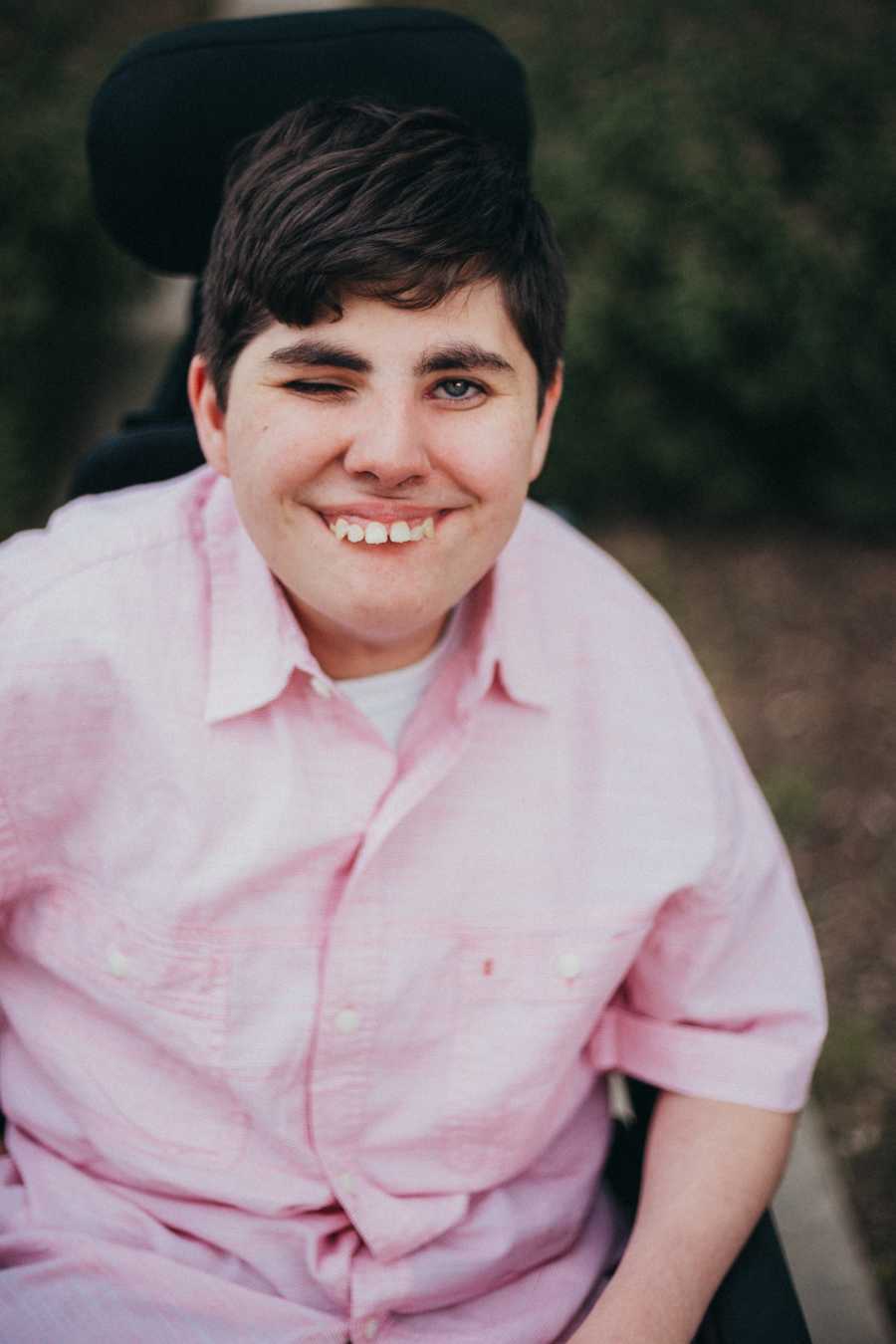 For Braden to graduate high school is such a huge accomplishment. He has gone to school for 13 years and worked hard despite the difficulties he's had. He's done the best he could to get where he is. I wanted to have his senior pictures taken to share with our family and friends so that we all remember this great accomplishment.
Lacey with Delta Rose Photography made the session so much fun with her happy, upbeat personality and we loved that she let us include Romi.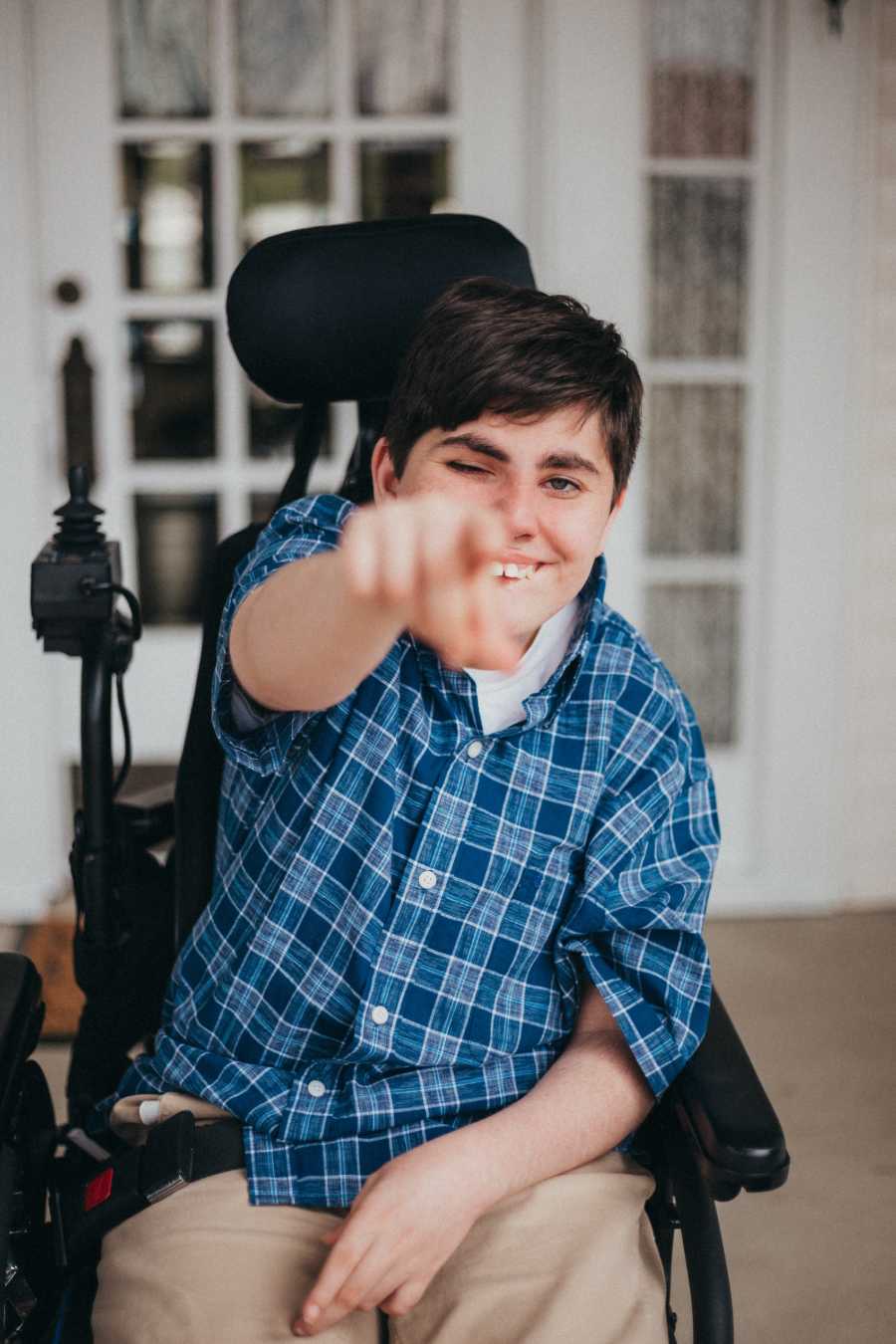 Our day-to-day life changed forever on May 7, 2004. Not only for him and me, but also for his sisters and grandparents. When he was in the hospital for extended periods I had to be away from my daughters. I stayed at the hospital with him and never left. And it wasn't because I loved him more. When you have more than one child you don't love one more than the other. You will, however, be there for the one that needs you the most at the time. Grandparents and friends made sure my daughters were taken care of. They did a fantastic job of making them feel loved while I was away. But before the seizure, we could do anything we wanted any time we wanted just like any normal family. Since the seizure, we have to carefully plan outings and vacations. There are so many things that he can't do now. We have to make sure there's handicap accessibility everywhere we go. I have to make sure there are bathrooms appropriate for him everywhere we go. Day-to-day life changed in ways of just getting up and ready to go places. Braden used to pick his clothes, dress himself, brush his teeth and do all those things on his own. Now he needs help. But most importantly, and the thing I miss the most that he could do prior to the seizure, was his ability to walk up to me and say, 'I love you Momma.' He cannot say the words anymore. He does show me all the time how much he loves me, but it's still sad that he cannot say those words anymore.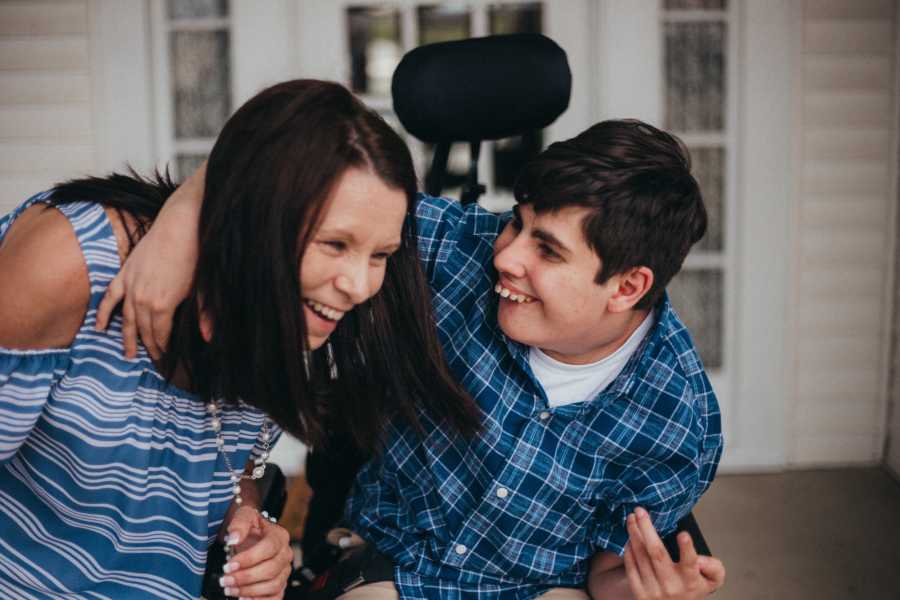 Even though he cannot say, 'I love you momma,' it is completely apparent to me and everyone else that he loves me, and others. He can do sign language for love (which I hope to get tattooed on my wrist one day) and he uses that sign many times a day. He also gives the absolute best hugs in the world. He will not go to school, to bed or anywhere away from me without giving me not just a hug, but several hugs and kisses. The love he has for me is obvious in so many ways.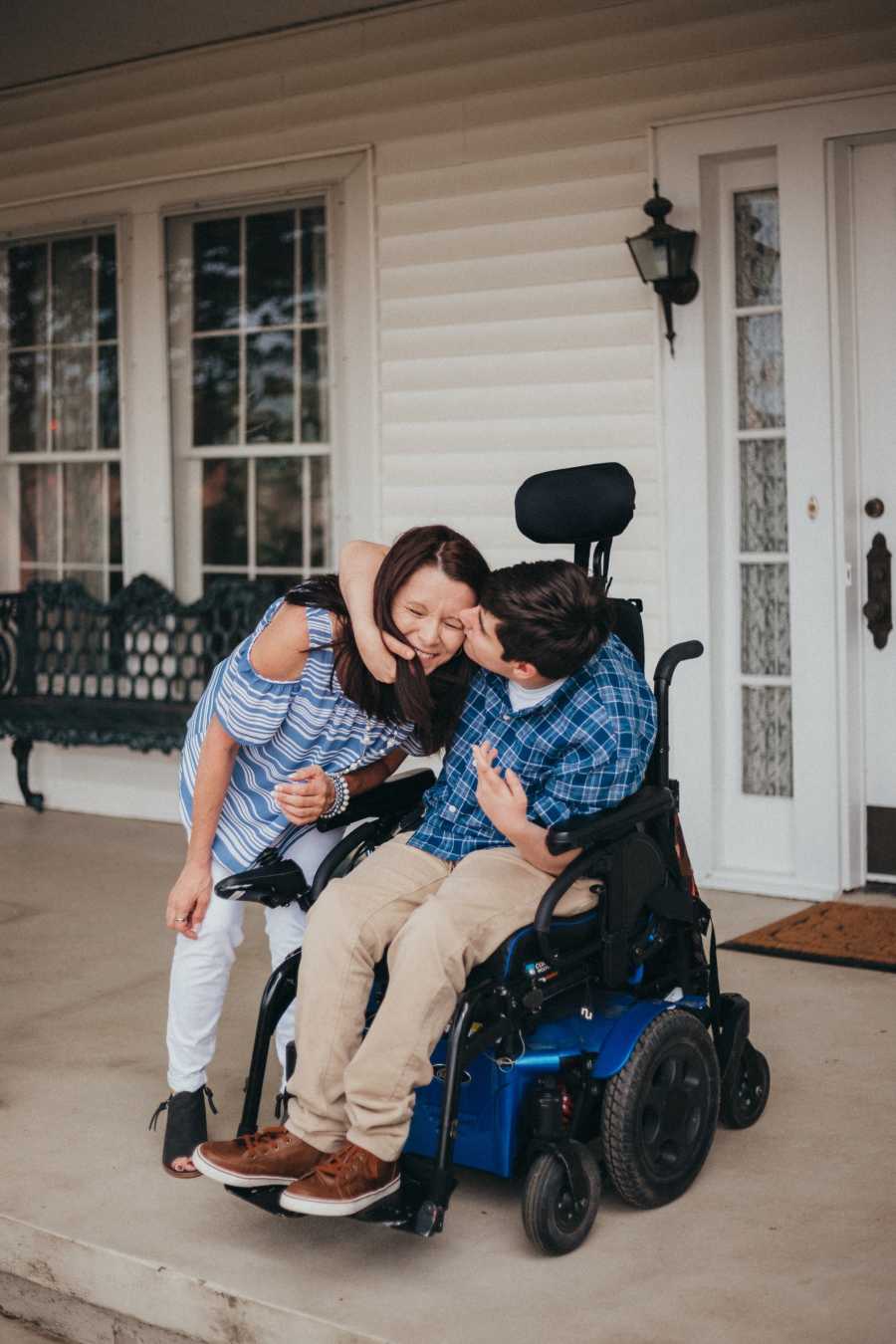 He brings our family so much joy in so many ways. He's so much fun, good hearted and happy almost all the time. You can be having the worst day imaginable and take one look at Braden and your day is so much better. I thank God every single day for all my children and my grandson, and I thank Him every single day for choosing me to be Braden's mom!"
This story was submitted to Love What Matters by Braden's mother, Jeri Evans, 47, of Byhalia, Mississippi.
SHARE this story on Facebook to encourage others to cherish every moment and love what matters most.