"My wife, Molli, and I had been working to get pregnant for a couple years with no success until we finally had a blessing with our daughter Ellie. We were over the moon and life had never felt more perfect until the day I found out. Sadly, that happiness turned into some of the most hurt, anger, confusion, sadness, emptiness, etc. feelings we had ever felt before in our lives on the day we lost her. The hospital we were in treated losing her like any other miscarriage because 'she wasn't viable' and that my wife would just be fine on bedrest there at the hospital. The hardest thing I will ever have to do in my life is bury a child without ever having any closure on why a hospital didn't work harder to save her.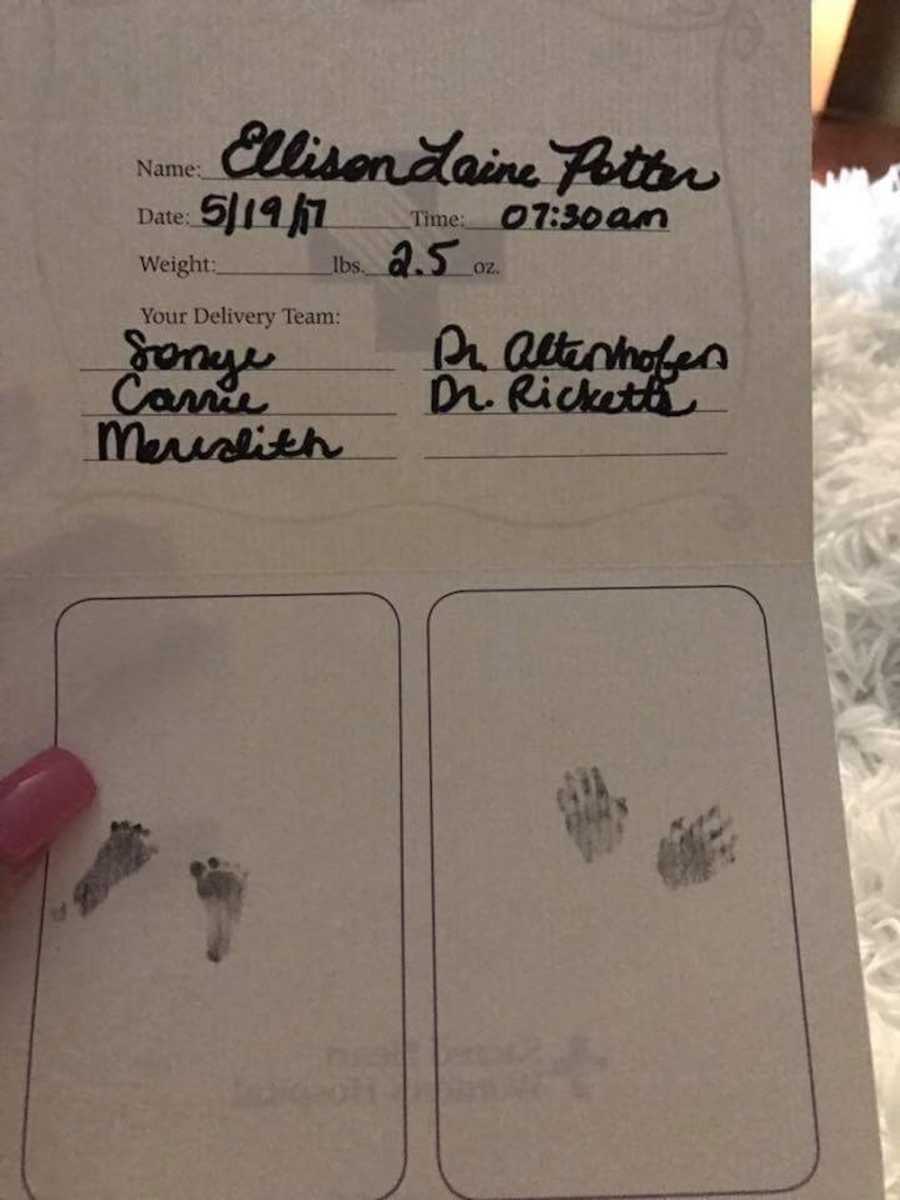 That brings us to the events leading us up to having our son Cullen. We sadly had another miscarriage between losing Ellie and getting pregnant with Cullen. In fact, we were pregnant with Cullen within 2 weeks of losing the last one. The doctors all thought my wife was crazy, until they actually verified it with their pregnancy test. At this point, she had to see high risk doctors due to the recent history we had with miscarriages and she was monitored very well. A preventative cerclage was put into place and sadly, again things took a turn for the worst.
We were preparing for my birthday party in January and I was out grocery shopping with our oldest son Kayden when Molli called me and told me she had some bleeding. At that moment we both had some fear in our minds due to the fact this felt just like Ellie all over again. She got home from the hospital and was put on 'light duty' and bedrest. This continued for a few weeks while she still slightly bled and each day we were just praying for the next day to be better than the last… that day never came.
I was at work and Molli called and told me she was heading to the hospital again because her bleeding had increased. My heart sank….in my head I felt like this was the end. The hospital released her to go home again stating it wasn't that bad and there was no concern. She was in the hospital again the day after, this time for good.
I rushed to the hospital from off the boat (I work offshore pushing barges in the river system) praying for the whole 5 hours it took to make it there that her body could hold on and Cullen would be fine. That never happened. The hospital she was in wouldn't save a baby before 24 weeks and treated her all over again like she was going to miscarry and there was nothing they could do to stop it. She sat in that bed for 3 ½ weeks scared, nervous, confused, helpless and in pain. I thought I was a strong man until I saw the hell my wife went through during this whole process…I wish that on no one, EVER.
After the 3 ½ weeks the doctors tried to convince her every day to remove the cerclage and save herself. That thought NEVER crossed my wife's mind. We made a promise to each other when we lost Ellie that if our baby was fighting, WE WERE FIGHTING! The high risk doctors brought in the neonatologist and he looked her in the eyes and told her Cullen would have a 2% chance to make it and if he did would be mentally handicapped…a mentally handicapped child is still a child and still deserves to be loved and would be loved whole heartedly by us. A 2% chance is still a chance…that 2% we were willing to take…the hospital refused to help. They told us their policies wouldn't allow it.
We were frantic! We knew by doing a TON of research that hospitals were trying to save babies before 24 weeks and some having great success with it. I called 16 different hospitals in 3 states and found University of South Alabama in Mobile, AL. With some very strong convincing and a desperate race against the clock, we got her transferred there. As soon as we got into a room they had doctors from each department come evaluate her and come up with a treatment plan. They were going to do everything possible to try to get Molli to the 22 week mark and bring Cullen into the world as healthy as he could be when he came.
At 12:01 midnight on the day she hit the 22 weeks mark they treated her like we had a viable baby and we had hope. That hope was all she had left at this point. She was physically and emotionally drained. I was emotionally drained and felt like there was nothing I could say or do to comfort her, so I focused on trying to make sure her care was 110% right all the time. She went into labor pains on and off for the next couple days, then it happened…we reached the point her cerclage could no longer stay in and it was now life or death that it had to come out. When it came out, she had blood clots and tissue come out larger than my hands and I saw grave concern in the doctor's eyes. She was rushed for an emergency C-section. Cullen was coming, whether he was ready or not.
Cullen was born March 14, 2018 at 13.9oz and 10 ¼ in long. She was 22 weeks and 2 days pregnant with him. His due date was July 16, 2018. The team from the NICU franticly worked on him as they worked to save my wife. It was a fight for them both at this point. The room was sheer controlled chaos, almost choreographed. We heard my son cry…we cried and we focused to make sure she made it out of surgery so we could see what our miracle looked like. I had to wait an hour to see him in the NICU…it was the LONGEST hour of my life. When the nurse came and got me I rushed to see him…he was the most beautiful tiny sight I had ever seen in my life. I was so happy and so scared at the same time because I knew his fight was just beginning.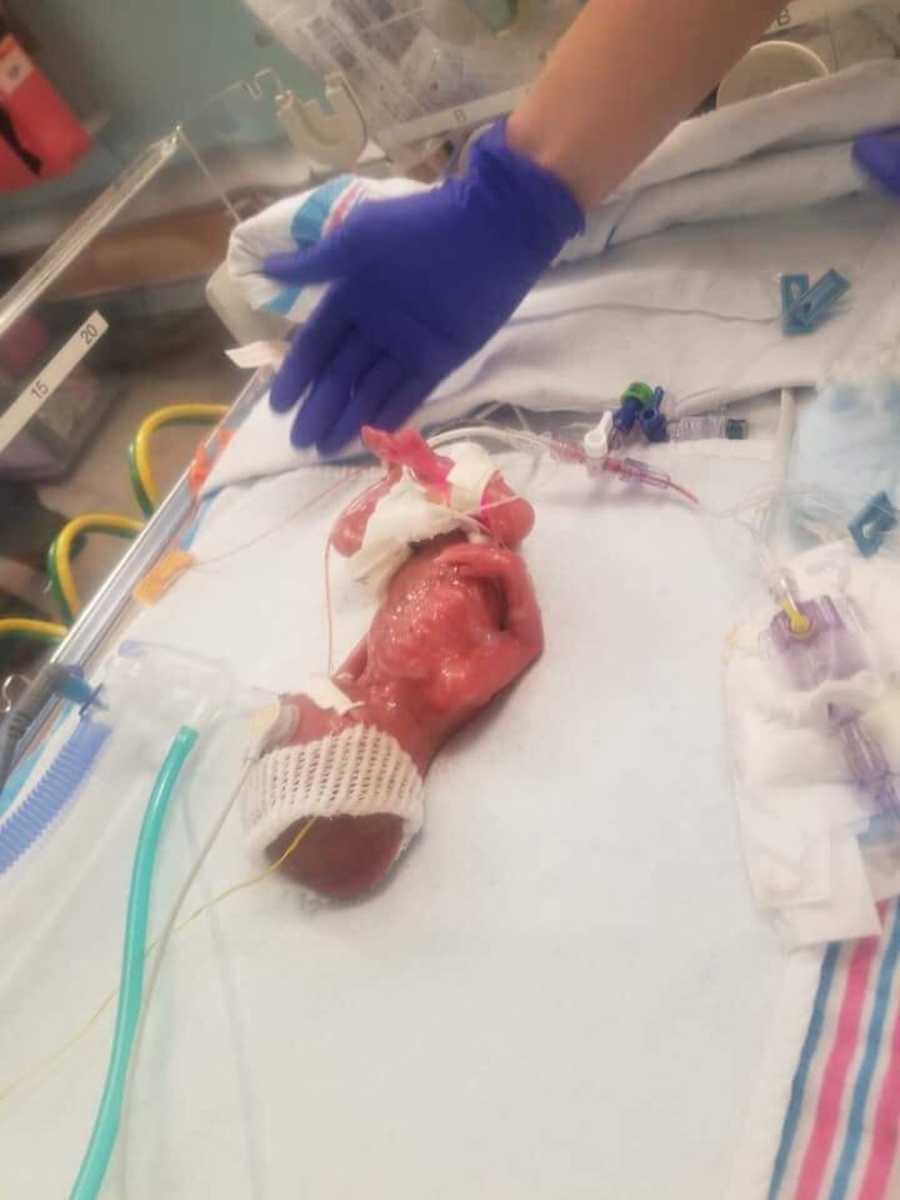 He spent 5 months (160 days) in the NICU unit and thrived each and every day. Molli spent every day driving back and forth from Florida to Alabama to spend time with him. Some days she sat in traffic longer than she got to see him which tore her apart.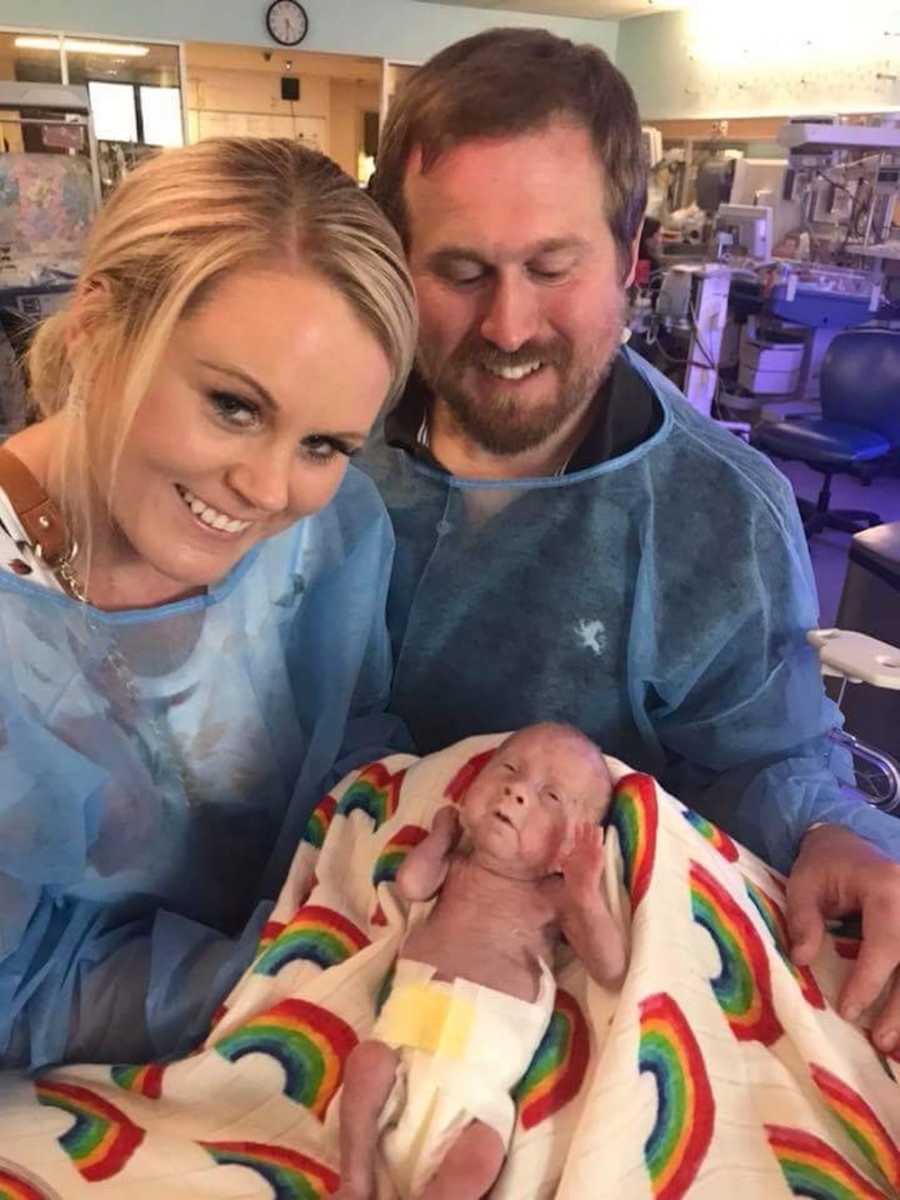 We called every day and night to check on him because each day that we left, we left a piece of our heart in there with him. The staff became family, and the days became easier.
We saw the light at the end of the tunnel because we knew he was still fighting and had a hospital fighting just as hard for him. We brought him home August 21st. Our family was finally home together under one roof for the first time. Our oldest son finally got to meet his baby brother and we finally took a sigh of relief.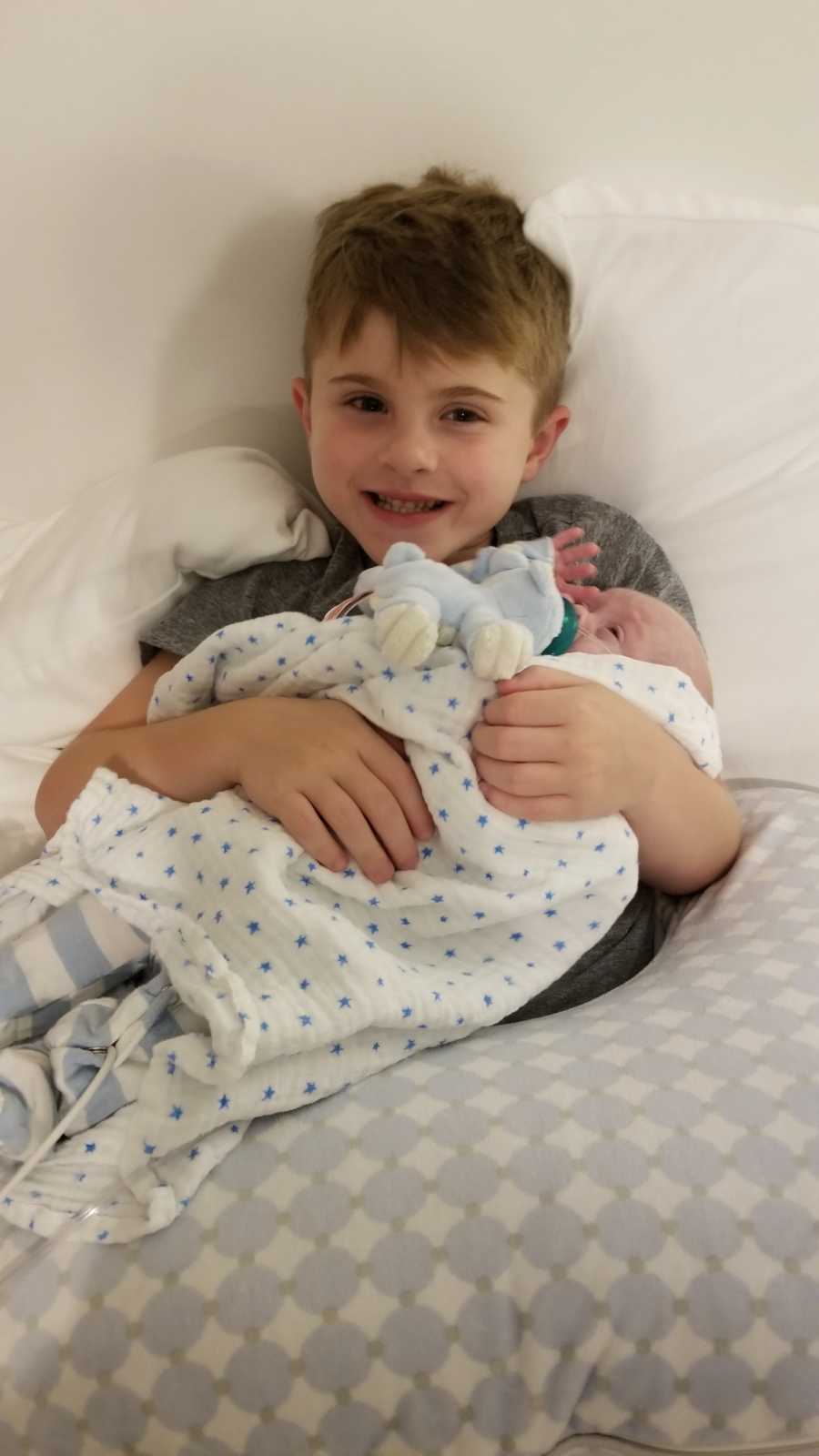 I am sharing our story because I want others to know that life in the NICU is hard, it's tiring and it can drain you…but it's worth it. I am also sharing because WE NEED CHANGE. These hospitals that refuse to save children because of policies are wrong. These babies deserve a chance and Cullen is a reason why. He has NO ISSUES and would have been left to die if not given a little help at first. The technology and education is there! There are hospitals that WILL TRY to save these babies, so at least give parents information to give them a choice to transfer. We are not God, nor are the doctors, so it's time we stop letting them pretend like they are."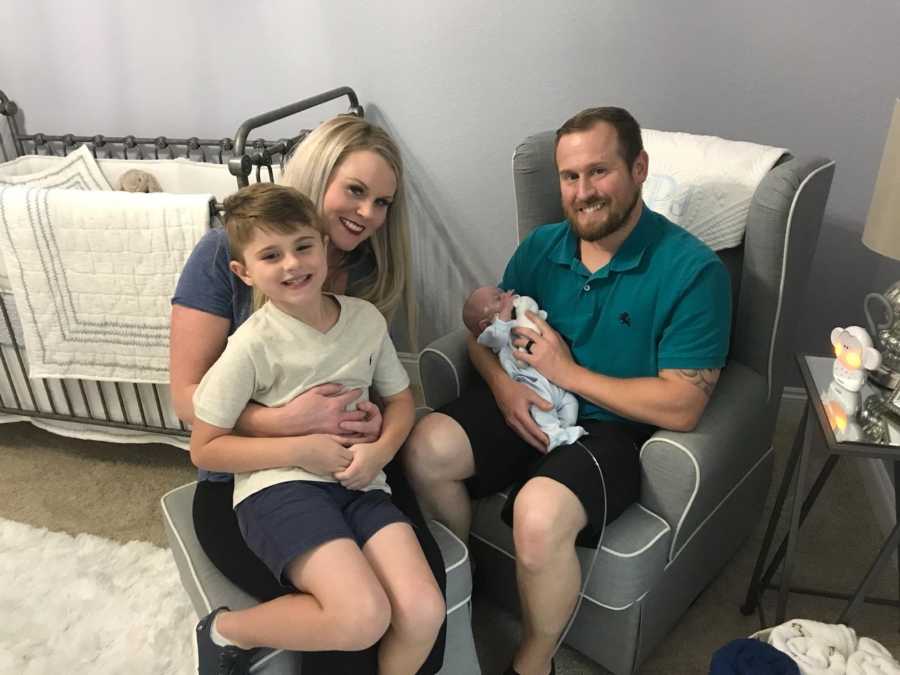 This story was submitted to Love What Matters Robert Potter, 32, of Florida. Submit your own story here, and subscribe to our best stories in our free newsletter here.
Do you know someone who could benefit from this story? SHARE this story on Facebook or Twitter.