An adopted woman, Hillary Harris, discovered she was living NEXT DOOR to her biological sister, Dawn Johnson. The two share a driveway in Wisconsin and have now dubbed themselves the "Driveway Sisters." Read their miraculous story of discovering each other.
Dawn Johnson's version:
"I was raised with my two sisters — one half and one full sister – and who I assumed was my father, until I was 14. At 14, I found out that this person was truly not my father, but my stepfather. I was shocked, but in reality, I was grateful, as he was much less than a desirable parent.
At 18 I finally met my biological dad. He came looking for us. My sister Renee and I took back our birth name, Clouse. From this point forward, I had a relationship with Wayne, my bio dad, but not the close relationship a father/daughter would normally have. We stayed in touch until I was in my late 30's. My father Wayne became ill and I believe he didn't want to fight his illness alone. We started to become close. He was able to kick the disease. At this point, we drifted apart and only had minimal contact between us. Once again, my father Wayne became ill with a cancer, which eventually took his life. Before he passed, when I was in my mid 40's, he once again wanted me near since I'm assuming he didn't want to lose this battle alone. I went to comfort him and enjoy the last couple of months with him.
We talked about me when I was a baby. Wayne and my mom never married, but he was in my life until I was 3. At this point I'm not sure what transpired between my mom and dad. I was fortunate to be with him when he left this life. I remained living in the Greenwood area near my mom. My mom's health was not stable and I wanted to remain near to assist her to remain in her home located in Loyal. The beginning of the summer 2016 it truly felt like hell. My mom had so many ups and downs with her health. I tried to stay hopeful and always wanted my mom to come back to her home, and eventually she was able to. But the beginning of July was the hardest thing to do as a daughter. I was elected to be her power of attorney for her health, and it was initiated by the doctors. My mom and our family made the decision to have her come home for her remaining days on this earth. Extremely exhausted physically and emotionally, this is something that I would never give back. My mom passed with us by her side (Renee, Dana and myself).
I tried to move forward with overcoming such an emotional roller coaster. The months after were very emotional but Kurt and I knew it was time to find a smaller house closer for his commute to his employer. We started looking for houses in the Eau Claire area in January of 2017. We looked at numerous house as this area of Wisconsin is a highly sought after out place to live. I found a small house for sale near his employer, actually only 5 blocks, which was much shorter than the one hour drive each way. We put an offer on a small 2-bedroom fixer upper. The only thing we weren't fond of was the shared driveway with the house next to us. As you know, in Wisconsin, we get snow, and not knowing the neighbors – it could be problematic. But we went ahead and took that chance. This house was postponed 3 times for closing. I persisted, but Kurt wanted to walk away. I convinced him that it will happen.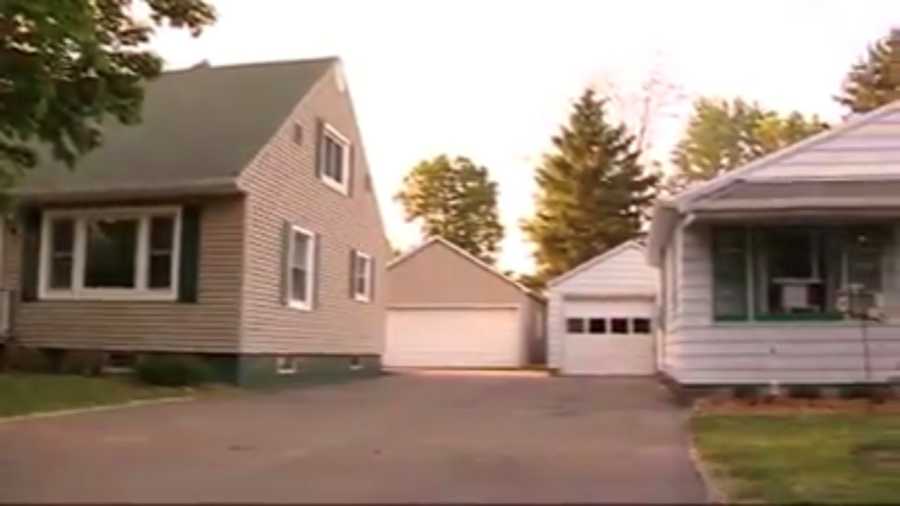 Finally on June 21st, I closed on the house. I started working on the fixer upper and had only met the gentleman who lived in the house with the shared driveway. He introduced himself as Lance and we made very small talk. I introduced myself as Dawn and told him I was from the Greenwood area, about an hour drive away. He told me his family, Hillary and her daughter Stella, also lived there. I only caught a glimpse of his blonde-haired wife as she was taking something out the back door. We gave a quick smile to each other but exchanged no words.
Within a couple days, this little girl would start coming over. She was always so intrigued and interested in what I was doing at that house. I told her I was trying to clean it up and make it a home and she wanted to always help assist to do anything — washing screens, pulling weeds, but of course she always wanted to play so she and I came up with a game: Ready, set, go down the middle of our shared driveway! The little girl would not stop coming over. I truly enjoyed it as I only had boys and they were all grown up and gone living their own lives.
The weeks turned into months and the beginning of August 2017, we had shingles delivered to the shared driveway with a banner on them that said my married name, 'Johnson.' At that point I am suspecting that Hillary knew what my last name was. I can only imagine how she felt looking out of the window making sure she was reading it correctly. We were putting shingles on the house and it started to rain. Kurt and I went into the garage and Hillary and Stella came over and stood in the garage by us. I could feel something a little intense as Hillary stared moving in all directions around me. I thought it was a little awkward or strange. Kurt and I left for the day to go to a house in Greenwood until this home was done being remodeled.
Around 9:30 p.m. I started receiving text messages from the neighbor Hillary since I gave the phone number to call in case something happened while we were gone. When the text message first came through I thought, 'Oh my gosh, something must be wrong.' In reality, it was a simple question: 'Your last name is Johnson and you're from Greenwood, right?' I said yes. The next question comes across via text: 'Were you Miss Loyal Corn Fest in 1983?' I thought, 'Aw great, somebody else that's going to give me a hard time about being Miss Loyal Corn Fest.' I texted back 'yes.' The next text came in: 'Who is your dad?' I said, 'Wayne Clouse. Unfortunately he passed away in 2010.' A couple minutes go by before she replied, 'Oh wow, we have a lot to talk about. Can I call you?' I said yes.
The call came through and Kurt was sleeping already. I went downstairs in the basement to talk because I thought there must be something up. I answered 'hello?' and she said, 'Remember how Lance told you I was adopted?' I said yes. She continued, 'I know who my birth father is…' Before she could even get out the last part, I said, 'You and me have the same dad?' Don't worry, we eventually started piecing things together remembering what was in my father's obituary. I knew she was adopted and I'm like, 'Oh my God, is this possible?' She asked me if I was mad or upset. I said, 'Oh God no, I just didn't know you existed.'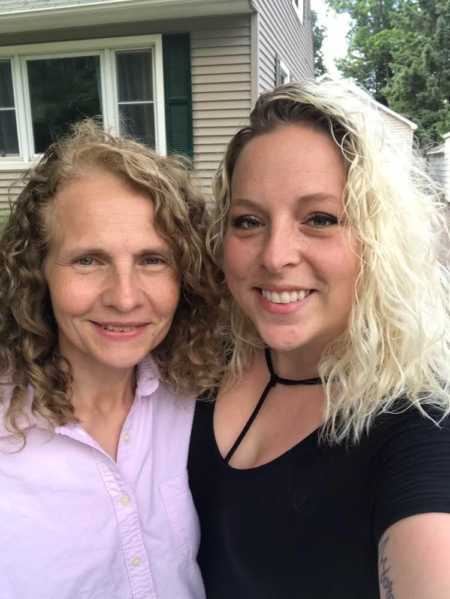 I was so astonished and dumbfounded. It's hard to believe. How could this happen? How could I buy a house with a shared driveway next to a sister I didn't even know I had?! I was happy, but I had so many questions about how she knew I was her half-sister. She explained about her adoption packet and the obituary that was in it. I just couldn't get over not knowing I had other sisters out there. It was truly an amazing, mouth-dropping situation. After we talked for hours, I told her I needed to get some sleep and asked her if she would like to see pictures of her birth father. I had some from when my mom passed away. She said yes. I couldn't sleep because of all the emotions running through my head. The next day I showed up with flowers and a card letting her know I was happy she found me, and I was equally receptive to knowing I have a sister out there. We hugged for the first time in our shared driveway knowing we were sisters.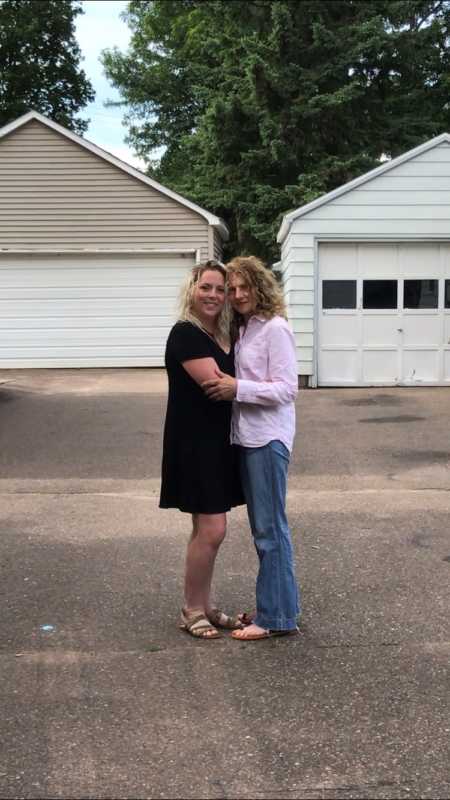 It's been truly amazing. Since that day we talk all the time. She asked me questions and it's great having a little sister to share things with and I know I have filled a hole in her heart that she has been looking for her entire life. I am grateful she found me. It is truly fate that has brought us together. We love telling the story of how we met. It is truly unique, and people's mouths drop when they hear it. They cannot believe that a miracle has happened. We share stories and talk every day. Since we are only 20 feet apart, we are bound together as sisters. Her daughter Stella has so many similar features that I have, too. It's almost eerie. I am truly grateful to have Stella around as well. We do everything together."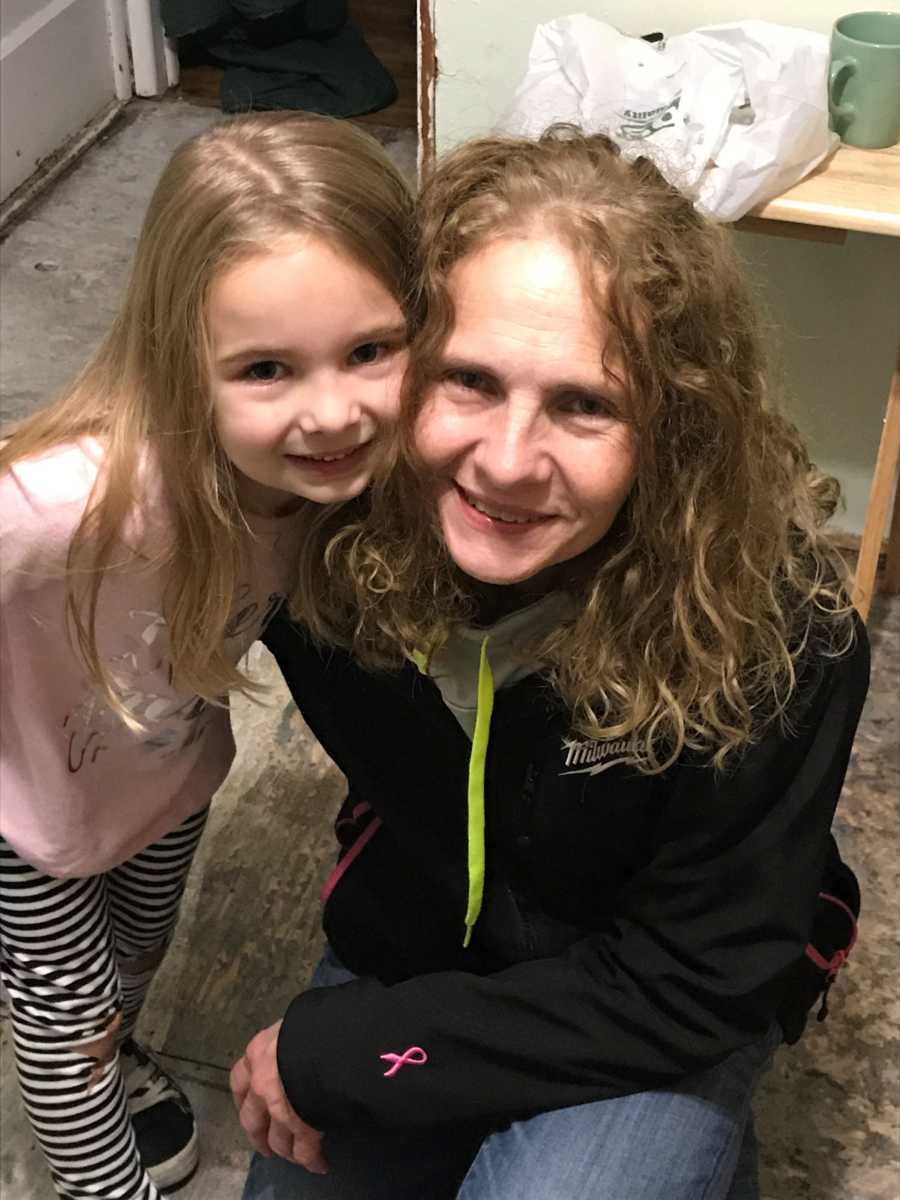 Hillary Harris' version:
"I was adopted early as an infant, and have known from the time I was in kindergarten. My wonderful parents adopted me in a small rural town in Elmwood, Wisconsin, not really knowing where to start. Sadly, my adopted mother passed away when I was 13. Not growing up with a female in the critical times of my life, my adopted father did the best he could with me. But I wanted to find out about my birth parents. I was raised always knowing I was adopted. Throughout my teenage years into college, I started going online looking at Ancestry.com to find some answers. Unfortunately, being a college student meant not having a lot of money, so I had to put this on hold.
Fast forward to 2012, I became pregnant and wanted to know health histories of my birth parents for myself and my unborn daughter. Lance, my husband, was always involved to help assist me with this search. I started online by looking for adoption agencies within the county I knew I was born in. I found an agency called Catholic Charities. I filled out an online request for any available information on my adoption – and waited for the envelope. Afterward, I received a call that they were able to release it to me, thank goodness. The adoption was open and I was able to receive the packet in the mail within a couple of days. It was something I was ready to open, but I wasn't quite sure. It was just overwhelming. I finally opened it and the first page of the adoption packet included an introduction page that stated my birth parents, along with a letter from my birth mother. Further down the introduction page, it's stated that my birth father unfortunately passed away in 2010 and they included the obituary. From the obituary, I was able to obtain the names of sisters I've been looking for.
Using the obituary names and locations of where they might be located, I started searching online — Google, Facebook, everything, but was unable to find either of my half-sisters. I was able to find my half-brothers, and mentioned the adoption packet and was able to connect with them within the same day. I officially met them a couple years later but I didn't want to tell them right away or ask them if they knew they had a half-sister. Emotions were high and I never wanted to upset anyone in case there was something hidden.
Fast forward to 2017, and my husband told me a lady moved in next door. Her name was Dawn and she was from Greenwood. Once Lance came in and told me I was like, 'Don't you get it? Remember my adoption? Dawn Greenwood. What would be the chances it would actually be the half-sister I've been looking for?' We joked around saying maybe it was her, but we were honestly just joking because it couldn't really be the right woman. What are the chances of someone moving in next door, sharing the same driveway, being the half-sister I was looking for?
My daughter Stella was always intrigued by Dawn and wanted to go over there constantly. I was a little uneasy as I didn't really know the neighbors and I wasn't comfortable, but Stella insisted they are nice and like to play. I was still uneasy about this. Then one day, a truck delivered some shingles for the next-door neighbor. Across the delivery was a banner that had the last name of JOHNSON. Was this real? I kept squinting my eyes, rubbing them. 'No, it can't be this woman who just moved in is Dawn Johnson from Greenwood, the person that is listed on the adoption papers I have.' I called my husband Lance ecstatic. 'It's Dawn Johnson from Greenwood! It's got to be her!' I was overwhelmed, nervous, but excited all at the same time. Do I approach her? I couldn't just yet. I was afraid if she didn't want anything to do with me. But I had to find out.
I first had to look at her hair, eyes, hands, any features that resemble myself. Unfortunately, I couldn't.  They left for the day. I waited until the evening to text her. I had a checklist of questions:
Your last name is Johnson, and you lived in Greenwood. She texted back yes
Were you Miss Loyal Corn Fest in 1983? She texted back why. I stated just wondering. She texted back yes.
Final question, which will complete all the things mentioned in the obituary I received with my adoption packet. Please, please let her answer correctly: Who is your dad? She responded back with Wayne Clouse, but unfortunately he passed in 2010.
Oh my God, it's her, Lance! Stella and I are jumping around and screaming, 'It's her! It's her!'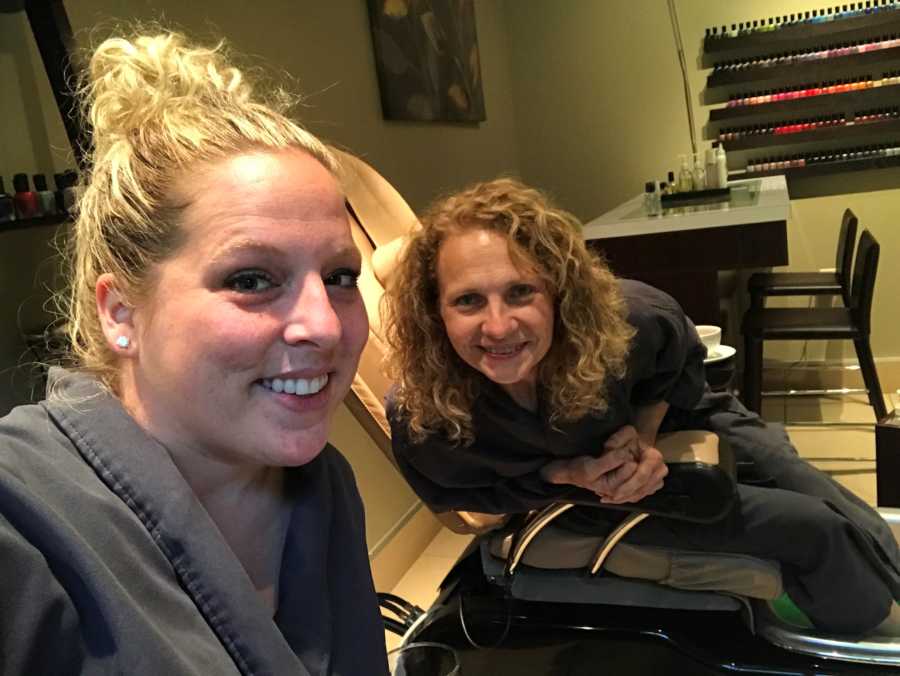 I was a little nervous to call but I knew I had to — my heart was pounding. Lance and Stella are jumping around and screaming and before I could even get out that I knew who my father was, Dawn blurted out 'You and me have the same father!' My heart literally burst. I was in shock and amazement — how could this person buy this house and we end up being sisters? She showed up on my doorstep with flowers and a card and it truly melted my heart. Hugging for the first time was amazing, simply knowing I have found my half-sister. She is everything I hoped she was.
I love that she loves my daughter, Stella. I love that she is kind and caring. I love that she loves me. I love that she is my sister and gives me advice. I love everything about her. I truly believe that something higher above has brought us together. We needed each other to fill the emptiness we had inside of each other, with Dawn losing her mother which took a big part of her life, and with me knowing I was adopted. To find her was truly a miracle. It has been a blessing to share the story of finding my half-sister and hope that others continue to look for their biological families even when they get frustrated. We hope others find strength in our story to continue searching for their loved ones."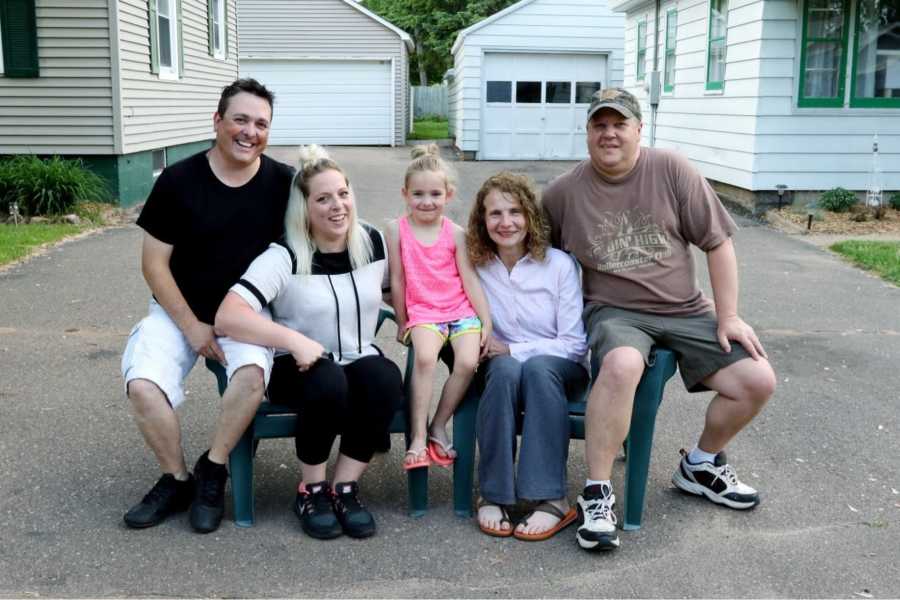 This story was submitted to Love What Matters by Dawn Johnson and Hillary Harris of Wisconsin. Subscribe to our free email newsletter, Living Better—your ultimate guide for actionable insights, evidence backed advice, and captivating personal stories, propelling you forward to living a more fulfilling life.
Provide beauty and strength for others. SHARE this story on Facebook with your friends and family.