"Has anyone else noticed people are angry? Get back to work. Stay home. Wear a mask. Don't wear a mask. Stay inside. Get out and breathe some fresh air. Stay 6 feet apart. Don't post happy photos, especially if you are anywhere near another breathing soul. I know what's right for the world. Now wait, you know what's right for the world. Fake news. Real news. Don't say 'Chinese.' Why are there cars on the road? Where's my money? Will I get my money?
All of these are valid questions and things to discuss, but why are we so angry when we do? A post, almost any post, opens you up to be slammed. To be taunted. To be judged. What is happening?
I admit it – I love living in my happy bubble. I realize the air has been sucked out rather quickly over the last few weeks, but I keep blowing it up because I will not be sucked out and into this world of anger. Let's go back to attempting to live by one of the rules that was almost mandatory in our home growing up, which I now realize was a very important rule to be taught. If you don't have anything nice to say, don't say it.
I don't think that means to say nothing. I think it means to say things in kindness or on a level playing field. Maybe you don't need to prove you know it all. Maybe you want to post what you think, how you feel, and why – you should – without the fear of your Facebook 'Friends' blasting you with words that leave you feeling nuts, crazy, wrong, and all the other words so many have found over the last few weeks. However, maybe it is best to say nothing at times.
All I'm wondering is if it wouldn't be better for everyone to be able to ask questions, to share thoughts in a safe place. A place you can be assured you will not be made to feel like a fool, knowing the responses may be questions or someone wanting more information. Or even someone who points out another side or even their opinion in a civilized manner. Is that asking too much? You also have the option to send a private message to a friend if you have a question or comment that could be hurtful if you shared it online. Where did you find the info you posted about? Have you considered looking at things from this angle? Is there a need to blast or judge someone publicly from behind your computer screen? Does it make you feel better, smarter, or more superior? I know when I read them on other people's pages it makes me sad.
We are all individuals. We all have minds of our own. We all have opinions. We are never going to agree with everyone or everything. That's the way it's supposed to be. It's what makes this crazy world pretty amazing. What we also have our own feelings. I try to post positive things. Also, I know I am not a professional in any of the things going on in the world right now, so I try to listen. I have discussions with people about how I feel and what I think, but I try to listen to what they have to say too. I try not to hurt people's feelings. Is that immature or not having a backbone? Maybe, but I don't think so. I think it is being considerate and kind and that is who I want to be.
I decided a long time ago to wake up and thank God for a new day, because he's my hero of choice. Everyone should have one to be thankful to who is bigger than themselves, whoever that may be. I ask him to help me see the good all around me, because there really is a lot, and if I don't remind myself, it gets lost in the everyday 'stuff.' I also ask for my day to be filled with some laughter whenever possible, and a bottle of wine would be nice (never hurts to ask).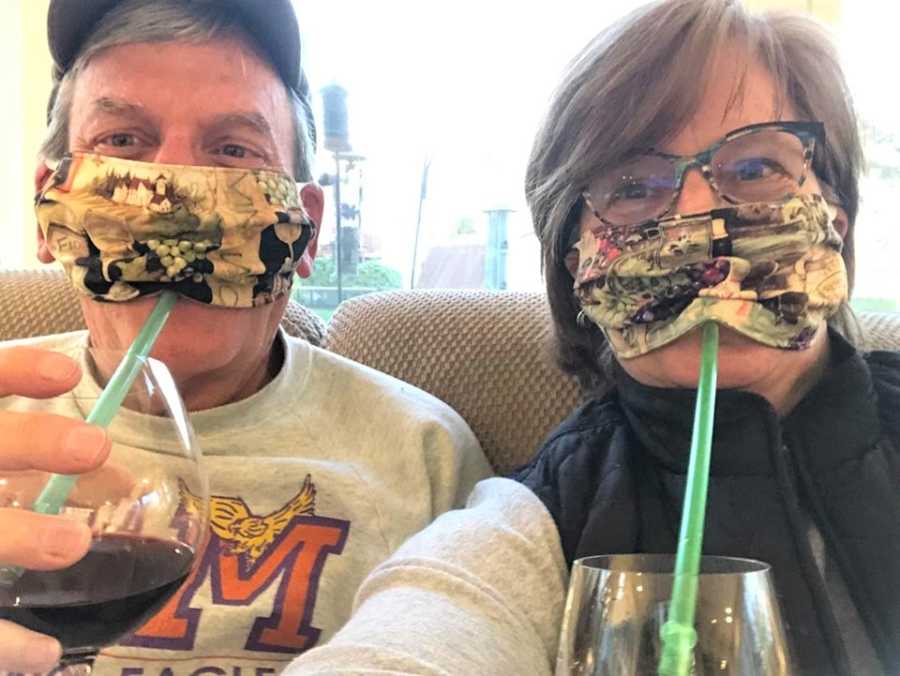 So, this has turned into a long ​request to ask for peace among us. To continue to share and respond ​to posts, but with a kind heart – not an angry one. To ask questions​. To listen. Posts should be responded to the same way we choose our words when we are face to face with the person we are responding to, who are usually our friends and family. Words are powerful – they can be as damaging as a knife or as wonderful as a gift, but we must remember that once they are said the damage or the good is done. This is just a small request to everyone to take a moment and choose your powerful words as a gift, not a knife you may have to attempt to remove once you hit send.
And maybe when you are thinking about responding to someone you don't agree with – take a break. Bake some cookies and deliver them to a friend. I did it safely using a 3-foot grabber pole – be creative. Pour yourself a glass of wine, a hot tea, whatever it is you love and turn on a movie – invite your spouse or your children to join you or watch it alone. Go for a walk, do yoga, exercise. Call a few friends and gather someplace that has room for you to be a safe distance apart – talk, laugh and breathe in the fresh air (it can be done safely). Drive by your grandchildren's house if they live close by – drop off something they love on their front porch, knock on the door and back away but stay close enough to see their faces when they see you and the surprise you brought for them. Drive by someone's home you love, slow down, roll down the window, beep the horn 'til they come outside then wave, smile and laugh like crazy and catch up – if only for a moment. Most of all – spread love, not anger. It makes the world a better place to be – beginning right on our own Facebook Page…
'We rise by lifting others.' – Robert Ingersoll"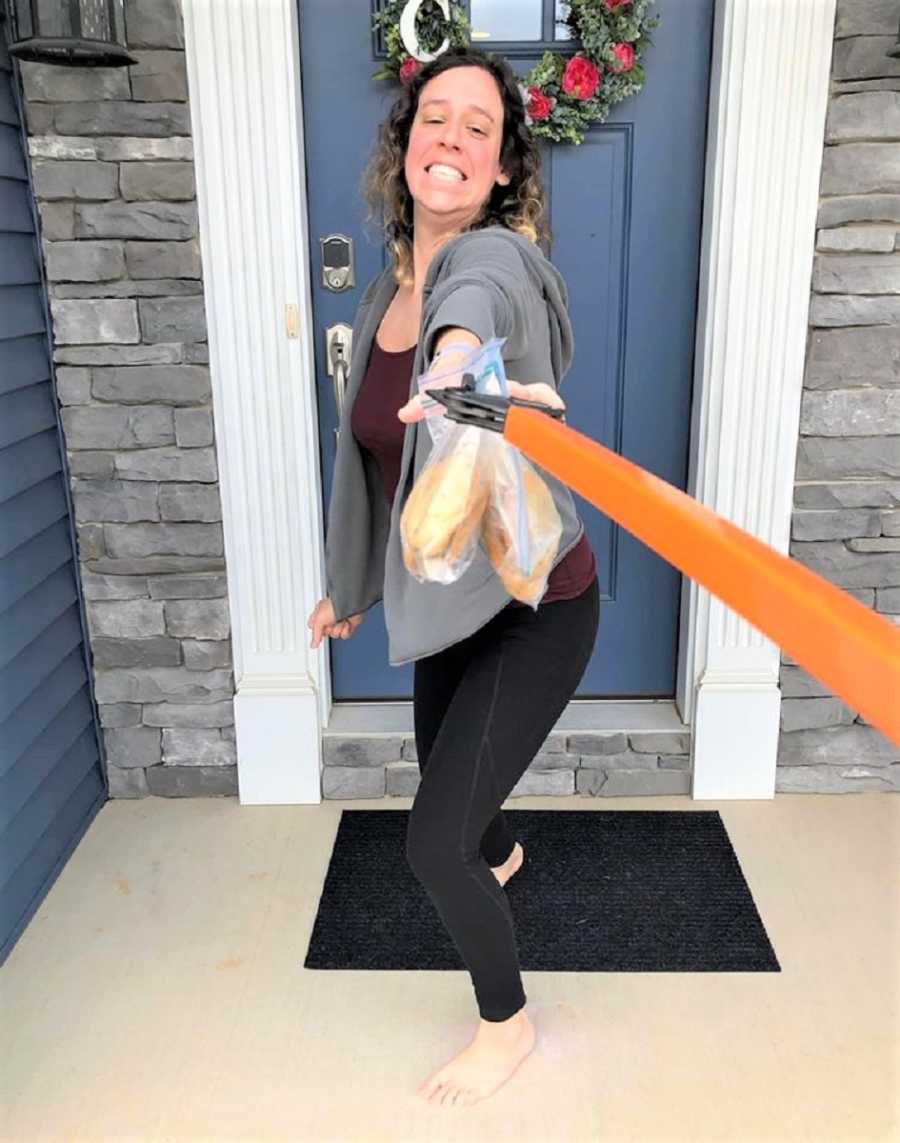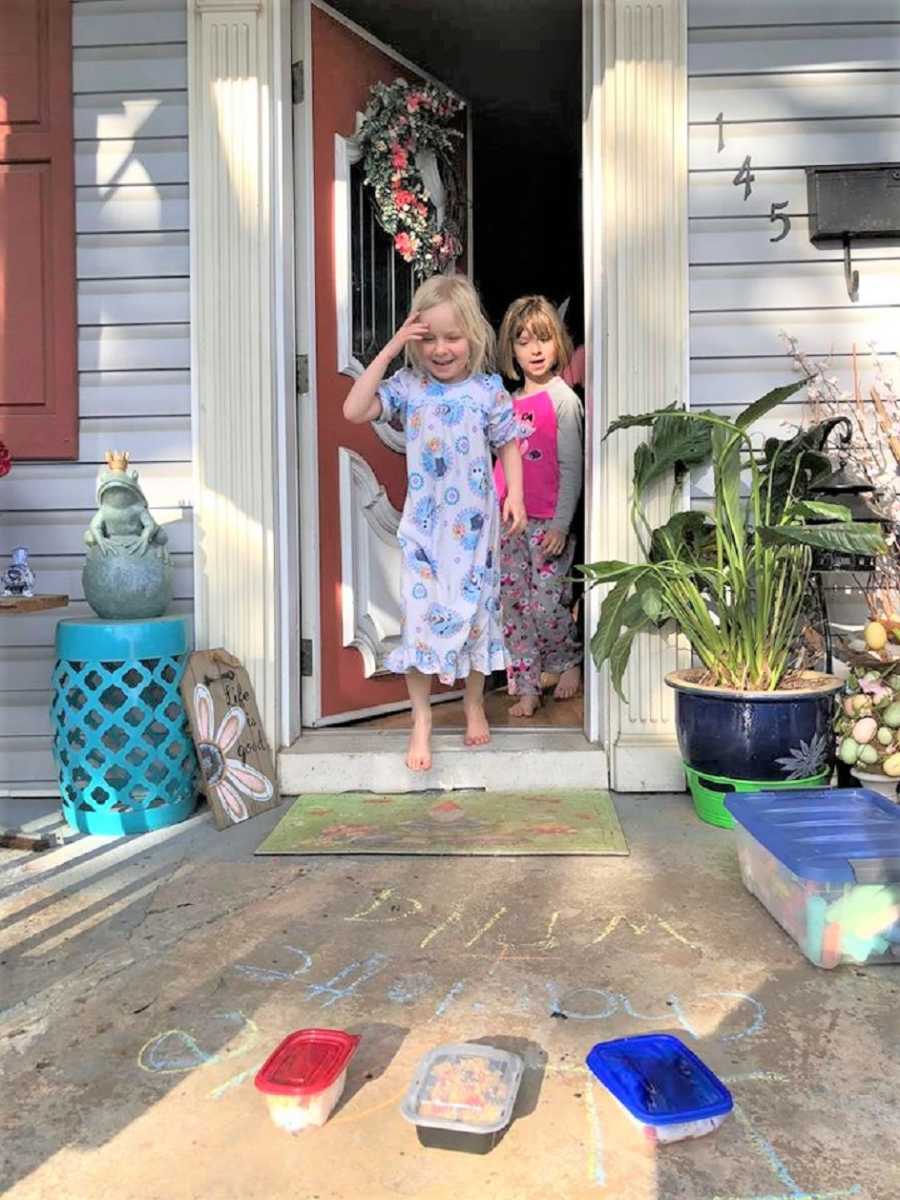 This story was submitted to Love What Matters by Becky Gacono of Annville, Pennsylvania. You can follow her journey here. Submit your own story here, and be sure to subscribe to our free email newsletter for our best stories.
Read Becky's backstory here:
'Can you wipe my eyes? Can you make my tears stop?' We sat in silence as my 90-year-old father's tears fell. He was going to be alone for the first time in 69 years.': Elderly man's emotional final goodbye to his beloved wife
'He said, 'I know she can't go home,' and was quiet the rest of the ride. Dad couldn't get his coat off fast enough. He sat beside her, so happy to see her, saying how much he loved her.'
Do you know someone who could benefit from this story? SHARE on Facebook to let them know a community of support is available.