"This is our journey through our mom's dementia which began almost 9 years ago. I started sharing our stories about a year ago of the ups, the downs, and even some occasional humor mixed in. These days the humor is gone, and the sadness seems to be what consumes us most of the time.
I have been quiet for the past few weeks as our days run together and time goes by. Every day seems to be touched with moments of tears as we try to go about our lives and not be consumed with the sadness of it all. My being has been filled to the brim with mom for so long, it seems strange to have my dad begin to take over this space.
Mom's life is predictable. She sleeps a lot. She eats very little. She sits in her wheelchair and rubs whatever she can hold onto – back and forth for what seems like an eternity. On a good day she will look at us and show a moment of acknowledgment. On a bad day she stares past us, lost inside herself. We have come to celebrate moments normally reserved for a baby learning a new word or task.
When she opens her eyes and looks at us, or raises her eyebrows in response to something we say. When she tries to put a few words together, or puts together 'I love you,' we feel like cheering. We anxiously share her accomplishments, often to an empty room or to dad, who is watching TV loudly and misses our excitement. But they are moments we hang onto, hoping they don't slip away as so many moments and memories have over the years.
Her journey began 9 years ago and there are moments I am overwhelmed and almost panicked as I try to remember our mom. Her voice. Her conversations. Her humming. Her wisdom. Her amazing ability to get things done. I miss it all. But mostly, I miss her.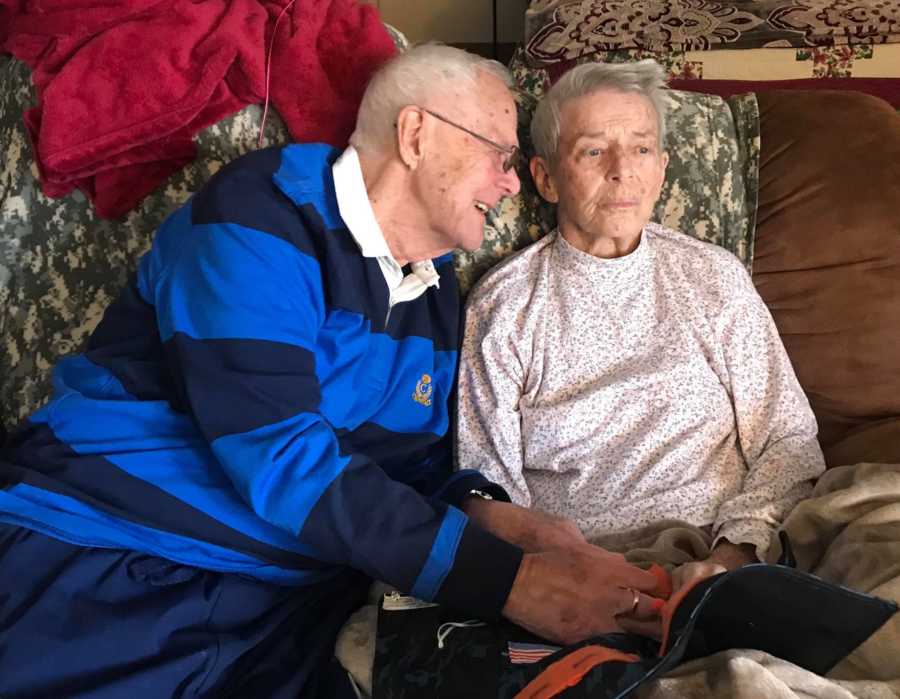 Dad is struggling. He cries a lot and struggles with sadness. He is often confused about the day or time. We rarely saw Dad cry over our lifetime. Now it is not uncommon to see him cry or we can tell he has been crying. He misses mom so much. She is in front of him, and yet she is gone. The highlight of his day is when anyone visits. One of us visits every day, but it is never enough. I wonder why old age so often comes to this? Loneliness, sadness, the loss of so many things.
There are so many ads on TV and Facebook telling us if we do this or that it will extend our life…who wants to do that? I don't want to check out anytime soon, but my goal is not to be around long enough to lose so much and feel the kind of lonely so many aging people feel. I'm assuming with my sugar intake and lack of enjoyment in exercising it's not a ridiculous request.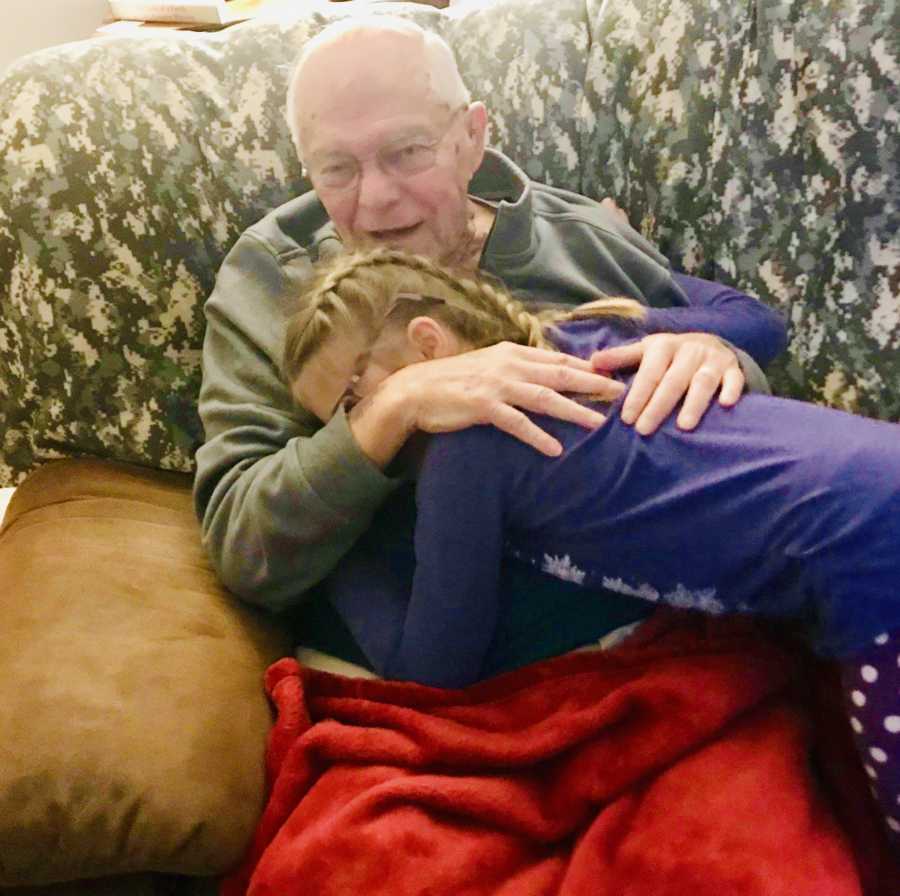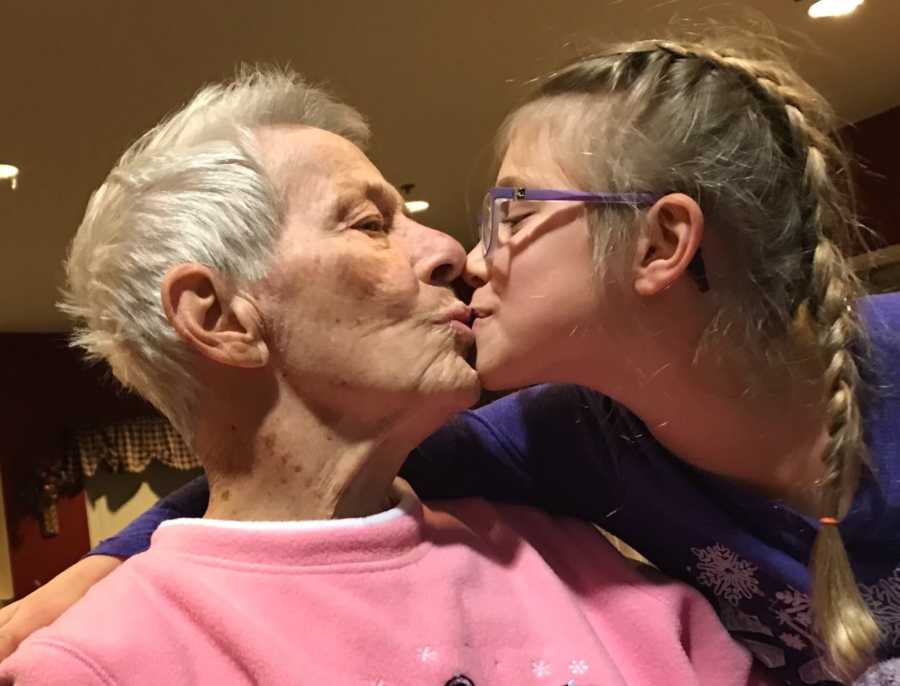 My dad goes to Sunday School every week. He has always been strong in his Christian beliefs. He believes there is a place after death where he will be reunited with his loved ones. All of that does not mean he is ready to go. He worries about mom, even though he knows she is taken care of. He doesn't want to leave her.
After his outing to Sunday School, or any outing he goes on, he is always ready to get back to her. After 8 years of caring for her, with the past year having in-home care and family helping, we finally made the tough decision in October to move them to an assisted living home. They miss their home, but she needed advanced 24-hour care.
Last Sunday was a tough morning for him. My sister Mary Ann picked him up for Sunday School and he told her, 'Mom wants to go home. When can we go home?' He wants to take her home. He was very emotional. She talked to him about it, but he was upset. He still wanted to go to Sunday School, so she took him. I picked him up and as soon as he was in the car he was asking about going home. I told him he would have to talk to someone that knows mom's condition. He then said, 'I know she can't go home,' and was quiet the rest of the ride home.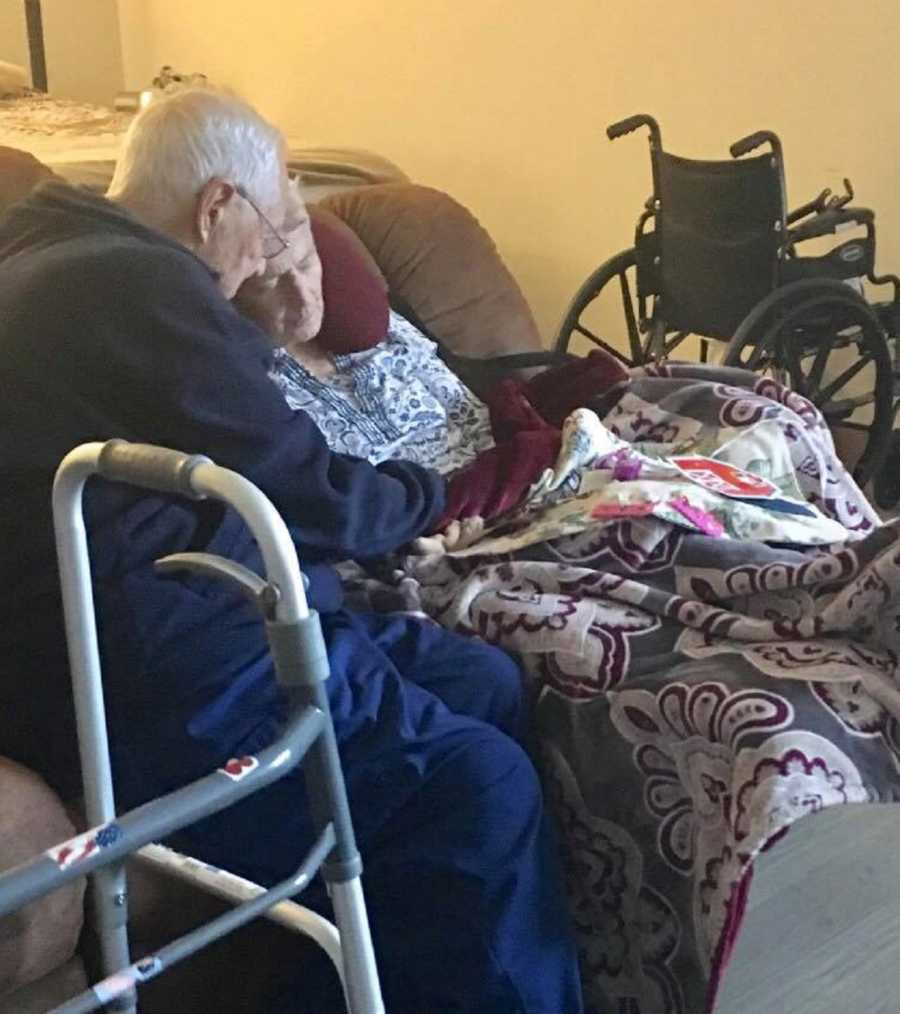 When we got back to their room, mom was awake and sitting on the couch in her recliner. She looked at us when we came in. Dad couldn't get his coat off fast enough. He sat beside her and kissed her and kept saying he was so happy to see her, and how much he loved her. She was staring straight ahead. It didn't matter to him. He was back with his Mary Jane.
I was picking things up around their room when I noticed it was quiet. I look over and dad is laying on her shoulder sobbing – not crying, sobbing. After my tears started, I went in their bathroom and all I wanted to do was scream. So these are the golden years? I pulled myself together as much as I could before heading out of the bathroom. More silence because there were no words I could come up with that made this moment better.
I have opted to visit them early evenings. Dad used to often drink a little glass of Port wine before bedtime and I thought that tradition/routine would be a good one to hold onto. Now on my visits, I pour a glass for him and we sit and talk, or say nothing, as we take a sip, both of us hoping it will cut through the pain, if only for a moment.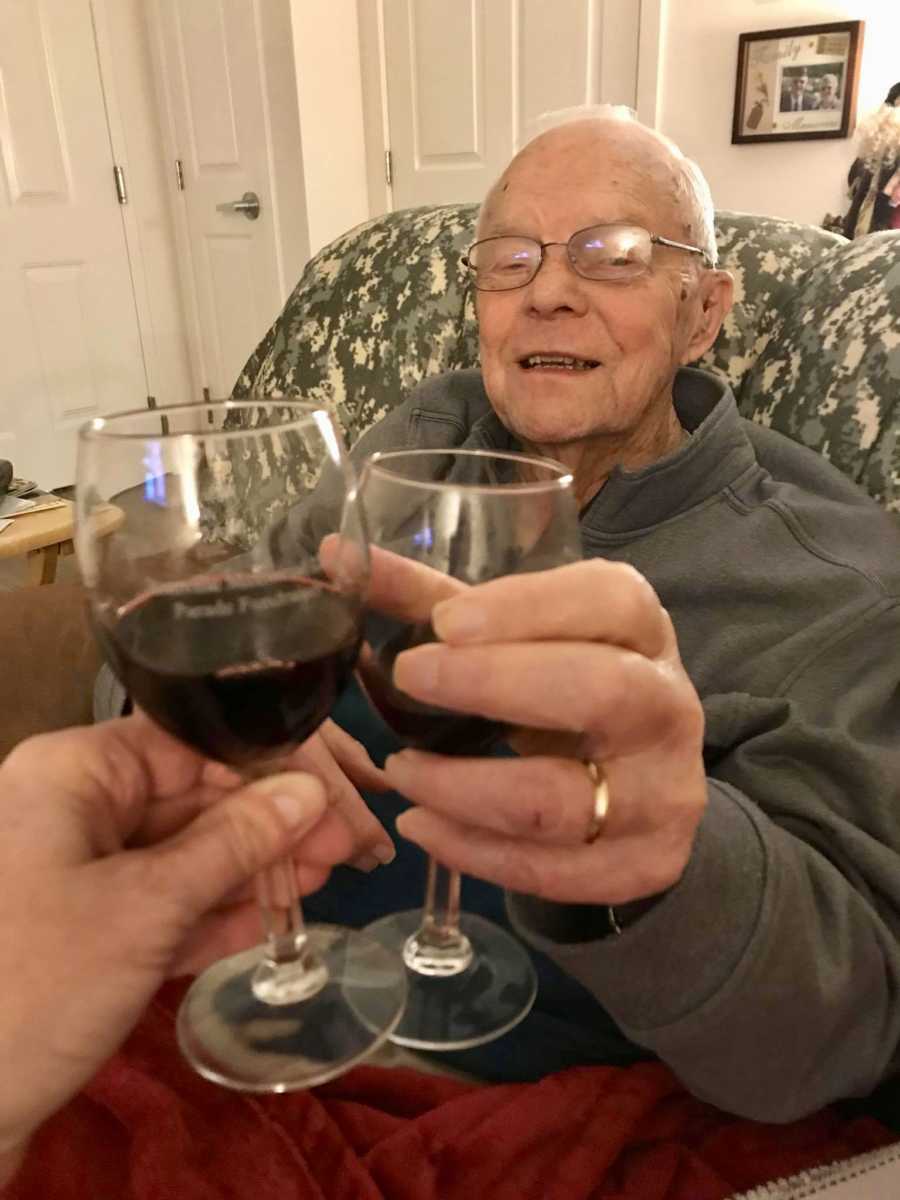 A sincere THANK YOU to so many who sent Mom and Dad a Christmas card. We hung them around their doors and Dad loved them. He told everyone they came from family, friends, and people that know them from their stories."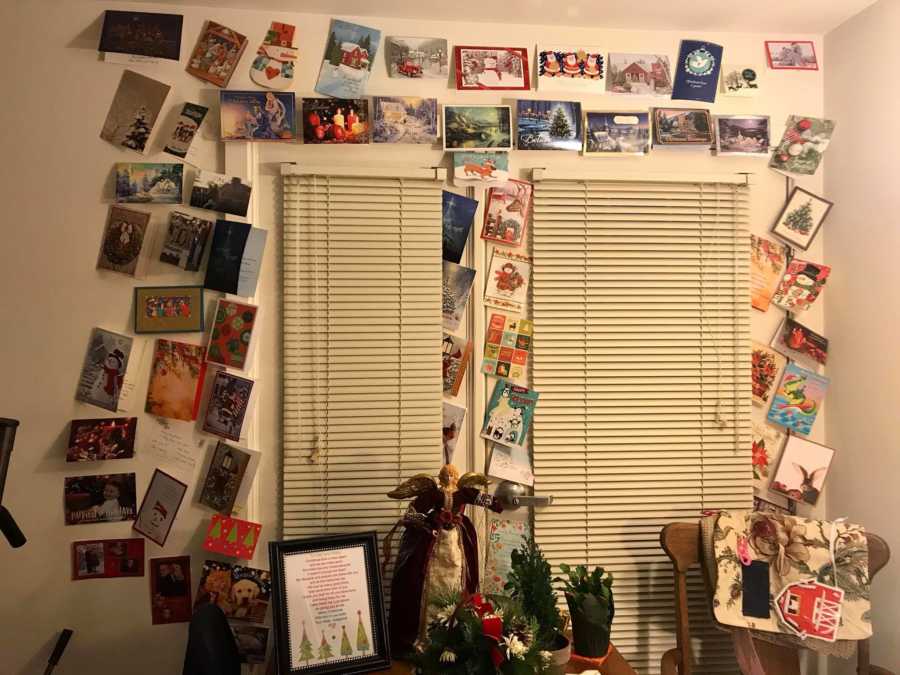 This story was submitted to Love What Matters by Becky Gacono of Annville, Pennsylvania. She is chronicling her mother's dementia journey on their Facebook page, Our Journey Through Our Mom's Dementia. Submit your own story here, and be sure to subscribe to our best love stories in our free newsletter here.
Read more from Becky here:
'His love for her is palpable': Doting husband's explicit instructions for wife with dementia's morning routine
'I'll get to her outfit later': Daughter's humorous attempt getting her mom with dementia to the doctor
Do you know someone who could benefit from this story? SHARE on Facebook to let them know a community of support is available.