"In the summer of 2017, I decided my life needed a change. I had worked in the casino industry for far too long and was tired of working somewhere I wasn't happy. As a result, 'The Riverside Woodshop' was born. About a year earlier, I had made my mother a wall hanging. I posted an image of it on Facebook and got multiple requests to make more and sell them. I decided to see if I could keep this going and created a few other products after my initial 'accidental' success. Within a couple of months, we were buying machinery, looking for a building, and starting to generate regular business. I was excited about a new journey, but nervous, since it meant taking no paycheck and putting all the earnings back into the business.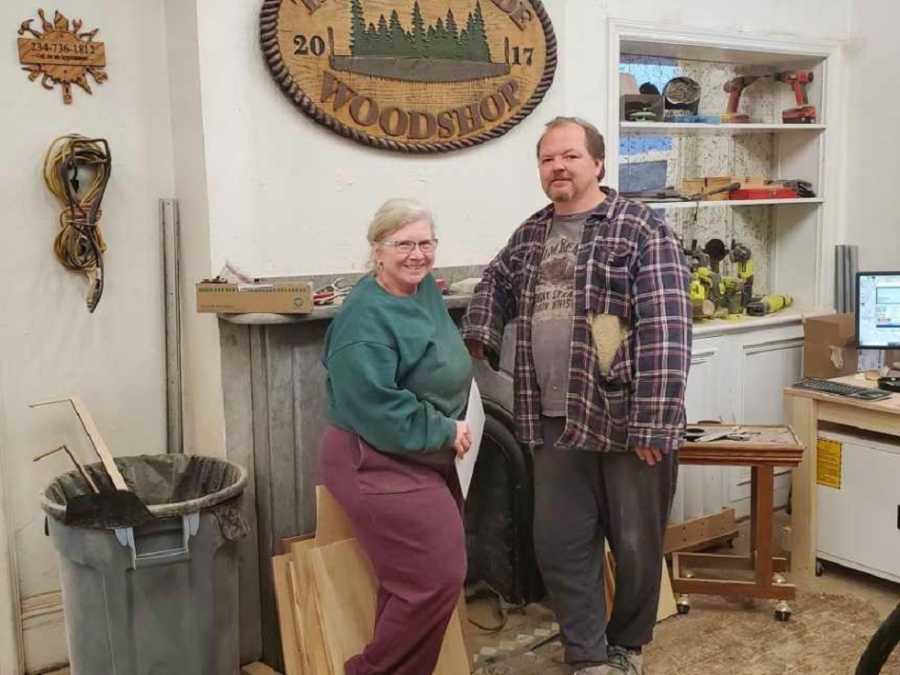 Fast forward two years. There were machines pressed against the walls, a desk in the back corner, and a wall full of wood. As the business grew, we added an exterior shed to store wood and a trailer to carry products and display racks to craft shows. At this point, I was finally feeling good about the business and figured I might be able to take a paycheck soon.
My mother and I decided we needed a vacation after two years of nonstop working. We planned a trip to Roatan with my daughter and her boyfriend for the end of June/early July of 2019. I decided to bring a laptop along to do design work when we had downtime. My mother put international service on her phone so at least one of us could call home if needed. At first, the trip was amazing! We went to beaches, snorkeled, and played board games at night when it was too dark to stay at the beach. We were all relaxing for the first time in two years. I felt as if my gamble of leaving my job to create my own business was paying off.
Our trip was calm until the night of June 30th. I had taken a nap earlier in the day and stayed up to design on the computer. As I was designing, I got a message on Facebook, from our hometown's fire chief. I needed to call them immediately. Of course, I started to panic and went to wake my mother up so I could use her phone to call home. I dialed the number, worrying something had caught fire. Why else would the fire chief need to reach me?
My mother groggily followed me to the patio, realizing something serious was going on. The fire chief picked up instantly and started to explain the situation, 'Someone has driven through your shop. We think he was going about 90 miles per hour. From what we can tell, he hit the trailer, hit the shed, drove through the entirety of the 40-foot building, and landed on your desk before getting out of the car and fleeing. The police have been notified and are working on finding him, while we assess the damage and wait for the holes to be boarded up.'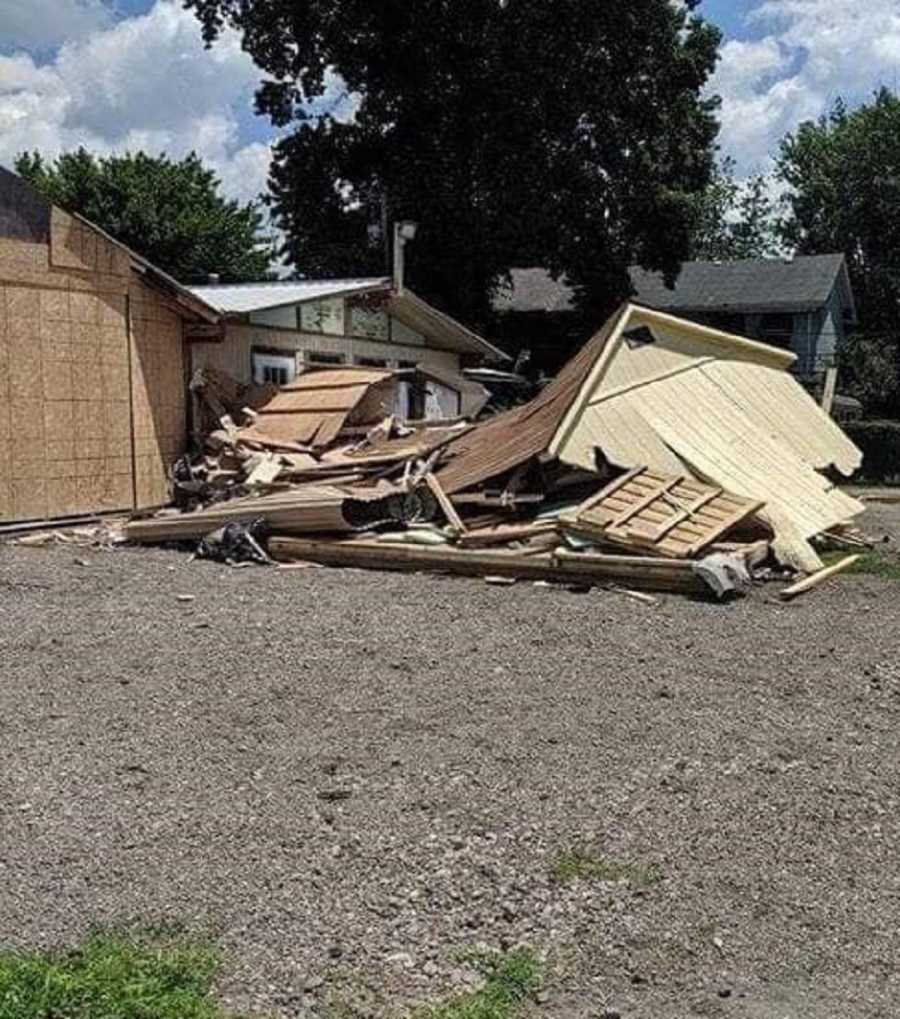 My heart stopped; my entire life for the last two years had been destroyed. I started firing questions, trying to understand how something like this could happen. I got vague answers, since this was within a half-hour of the incident. During this time, my daughter and her boyfriend woke up and joined my mother and I. My daughter decided to bring up the town's Facebook page and look for information. Her boyfriend and I talked about how to move forward, in between the barrage of phone calls.
My mother was sitting off to the side, silent. She helped finance everything, worked in the shop helping me paint, and took care of the odds and ends I couldn't handle. This hit her just as hard as it hit me. There was a mix of despair and fear surrounding us. We felt like we were never going to be able to survive this catastrophe.
I remembered we had an order for 185 wedding platters due just a week after we returned to the states. Another layer of panic set in. How was I going to finish this order with no tools, no materials, and no time? Thankfully, one-third of the order was finished and moved into our house just before we left. More troublesome was the other two-thirds that were in varying stages of production in the shop. At this point, I had no idea of the damage, or if anything was salvageable.
I called the client and told him what happened. He understood and explained that we should do our best, but if we couldn't finish, he would understand. I felt horrible. This was his daughter's wedding. I decided no matter what, I would finish this order. Even with the destruction I faced at home, I knew this order was important and I would prioritize it over all else.
After this, my daughter found the first images of the wreckage posted on Facebook. The shop was unrecognizable; concrete, wood, stain, machinery, wires, and half-finished products were strewn about with a car sitting neatly on top of where my desk used to be. I shivered. I could have been under that car. In the summer, when it was hot, I would nap during the day and work through the night to beat the heat.
Due to the large wedding order, there was a chance my mother and I could have been in the shop when this happened. I put that thought aside and told my daughter to reply to some of the threads that we were alright, no one was hurt, and thanks for the concern. Endless calls were made that night and the rest of the trip. Although nice, the next few days took on a somber tone. We tried to enjoy the excursions we had planned but it was hard, knowing the work we would face once we got back.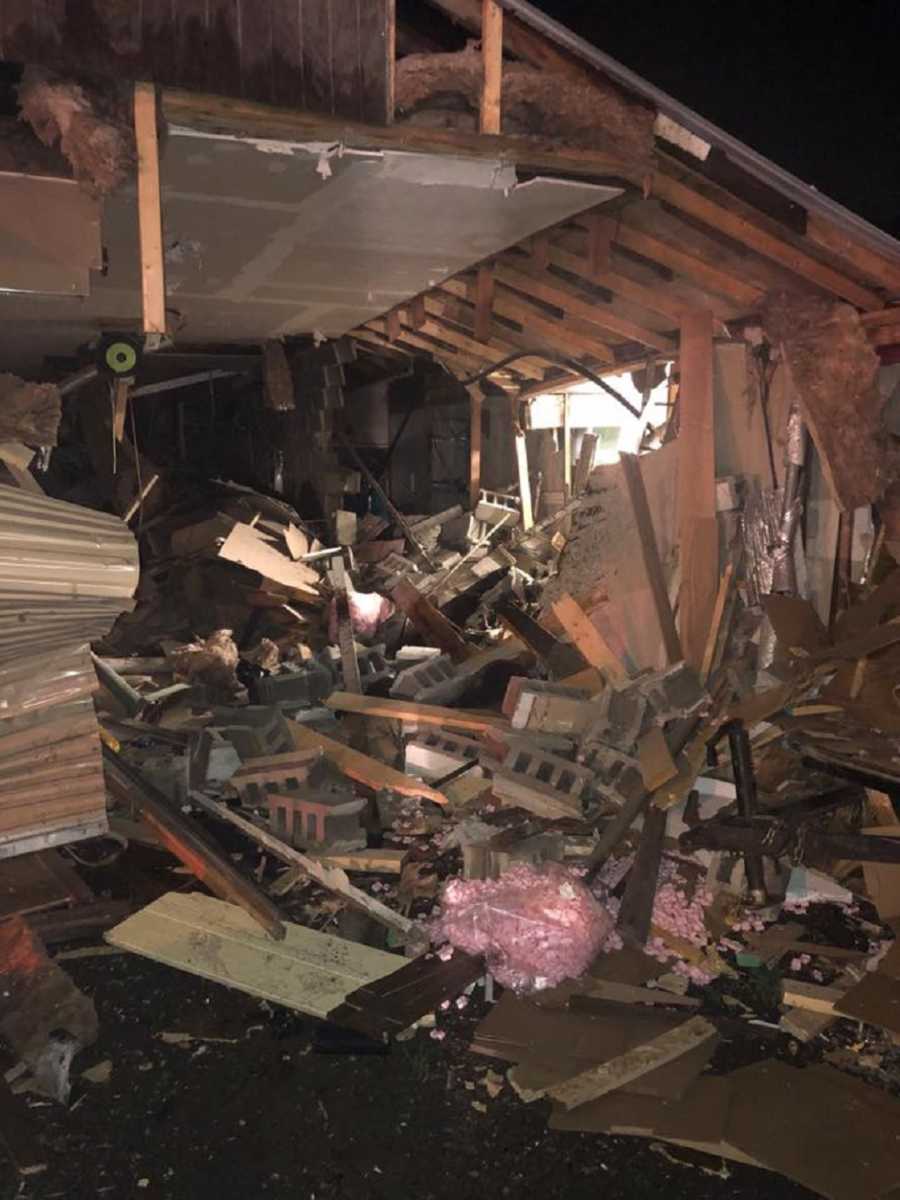 Finally, the time had come to return home. We arrived at midnight and got a preliminary look at the wreckage for ourselves. We saw the trailer was destroyed and only a few display racks survived. Next, we saw the shed. It was collapsed, with one corner being held up by a set of boxes. After looking, we discovered our slate coasters were holding up the corner. That corner of the shed was untouched by the car. Sadly, the rest of the shed was in shambles.
If the wood wasn't completely splintered, it was broken in odd places and not salvageable. Lastly, we walked into the shop. We saw immediately that our brand-new, expensive CO2 laser was untouched, and a handful of bigger tools had made it. The tools were pushed against the opposite wall of where the car came through and sat relatively untouched. Sadly, the cinderblock wall, the shelves filled with wood, and the paint and stain area were ruined. A good amount of smaller power tools were also destroyed. We all went to bed with a heavy heart.
The next morning, we made a game plan. We needed to set up a temporary work area for the order, clean up and unbury the tools and materials we needed, and work on cleaning up the debris as we went along. So that's what we did. Over the next few days, there was an outpouring of help. People from the local church, and people I knew but hadn't spoken to in years came out of the woodwork to help with the clean-up. A local funeral owner created a fund so people could donate. Everyone was giving advice, saying prayers, and offering their help in any way they could.
I felt so lucky. Even though this situation was devastating, so many people in our small town were willing to help one of their own. After setting up tools in the garage and a tent in the backyard, we got to work. We worked nonstop; people came and went over the next few days, helping us finish the wedding order and remove the debris. Finally, the night before the wedding, we were finished. We loaded the order into the car and delivered it the next morning. I felt relieved. I was worried about being able to finish the order, but now I could take a deep breath and work on the next step: rebuilding.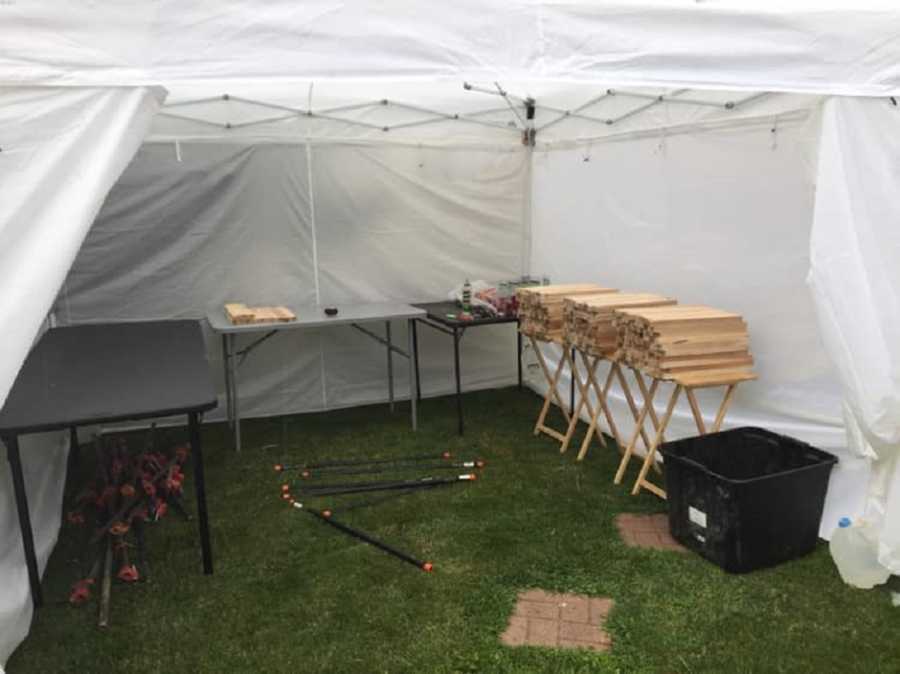 I put a plea out on Facebook. I needed somewhere to store my wood, move my tools, and an area to work that was not susceptible to the elements. Working out of a tent, the garage, and my dining room was taking a toll on what we could produce. Over the next month, we found a place to store the wood and had started building large scale items in our house. However, we were having no luck with finding a building, as most places were too small, too expensive, or too far away to be viable options.
One afternoon, I received a message from a couple in town. They said they had a building that might work and wanted me to look at it. At first, I was a bit sad. After all the dead ends, I assumed this would just be another failed attempt. But, something inside me decided I needed to go. I let them know and we scheduled a meeting later that day. My mother and I arrived and the tour began. This building was originally a house, but at some point had been used as both commercial and residential. Although it was currently being used as a multi-unit rental, the first floor had space that could function as an office and workshop. It wasn't ideal, and again, I felt somewhat discouraged. I saw the potential but knew I would need to update the mechanicals, fix a leaking roof, replace windows, etc.  Bottom line, it would take lots of money to get it into the shape we needed.
Because of how the case against the driver was unfolding, we had no money. The car was reported stolen after the incident, and therefore the insurance company denied liability. The driver was already on parole so we couldn't sue him for anything. We had to take out loans just to keep afloat since money wasn't flowing in. Luckily, the fund that was set up helped us get through the first month or so. Sadly, most people think insurance will pay, you can sue, or it will just be fine. I was feeling worse than ever knowing there was no way we could afford the building, even though it was a workable option.
The couple stopped us as we were leaving and said, 'We're getting older. You seem like a very nice man and have shown us through the tour that you care about your business, the town, and the history these buildings hold. We want you to take some time and think about it, but, if this building will work for you, we will give it to you for free, other than changing the title over to yourself.'
I stopped, my breath hitched, and I took a few moments to repeat the words in my head. I nodded and looked at my mother who had told them we would absolutely think about it and get back to them in the next day or two. Of course, my first thought was, 'Is this real? What strings were attached? Who would just give a building away?' The next few days were a whirlwind. We said yes to the offer and for about a thousand dollars, were able to transfer the title.
Unfortunately, it has cost us another $25,000 in repairs and upgrades to make the building ready for us to move into and start working out of our new shop. But we never could have stayed afloat if it wasn't for this couple. They had owned a business for over 30 years and understood the hardships of owning one in a small town. They knew how devastating this event was to not only the business, but to my ability to live as well. Their generosity gave us the start I needed to rebuild and continue my dream. I could never thank them enough for what they did.
Today, we are still getting caught up. Even though it has been over six months, there is still plenty to do. We are still renovating, decorating, and working in the shop every day. Over the holidays, we were swamped with orders and just barely finished them. In fact, my mother hand-delivered a few last-minute completions on Christmas Eve. Our social media presence has taken a backseat, and I am just now able to work on updating and revamping it. I am excited and certain about the future of 'The Riverside Woodshop.' I expect that we will continue to grow and expand our line of products. Every day, I thank the couple who donated this building, for without them our business would not have survived."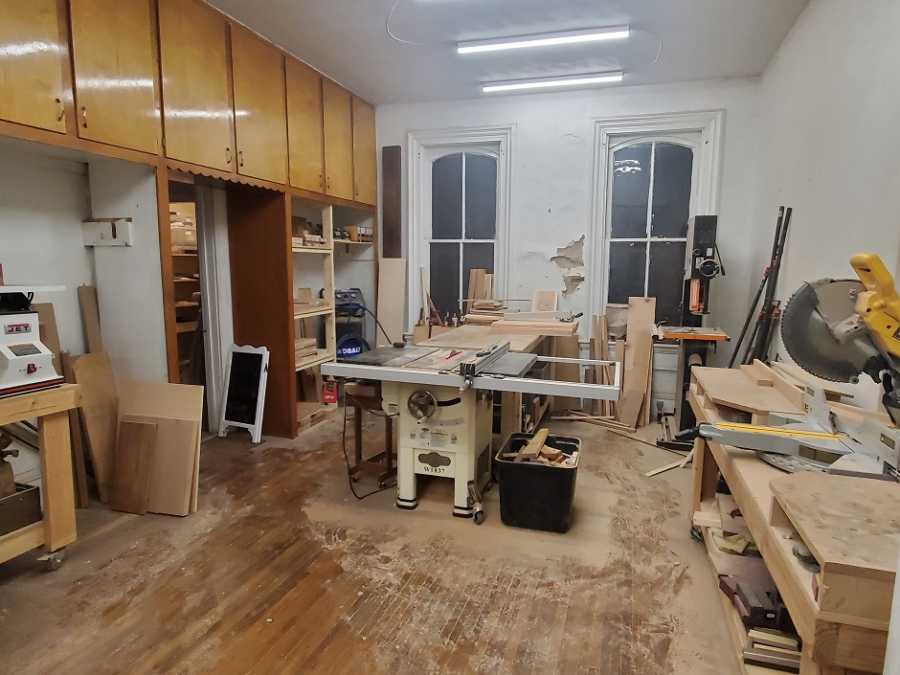 This story was submitted to Love What Matters by Brad Shirley from Wellsville, Ohio. You can follow their journey on Facebook, Instagram, and their website. Submit your own story here, and be sure to subscribe to our free email newsletter for our best stories.
Read more stories like this:
Help us show compassion is contagious. SHARE this story on Facebook with family and friends.