"It's taken almost 2 years to get to this point and it's been a roller coaster…so many times getting our hopes up and then recovering from the disappointment.  After 2 years of fertility treatments, 389 IVF shots, and 3 heart wrenching miscarriages (with one being just 6 weeks ago as this pregnancy began with twins), the world just seemed darker and more unfair. As many couples know, it was heartbreaking.  It still is heartbreaking. We were forced to grieve as a couple, forced into learning how to heal my body, forced to learn to be careful to not wish too hard for something because sometimes wishing can reinforce its absence in your life. Thankfully, we have amazing families and friends that helped us through the worst of it. But now, we can finally share the news of how incredibly blessed we feel to be ready to welcome our rainbow baby in December.
I married my high school sweetheart in 2016, 11 years after our first date. We have had some amazing adventures- exploring 24 countries and 26 states together.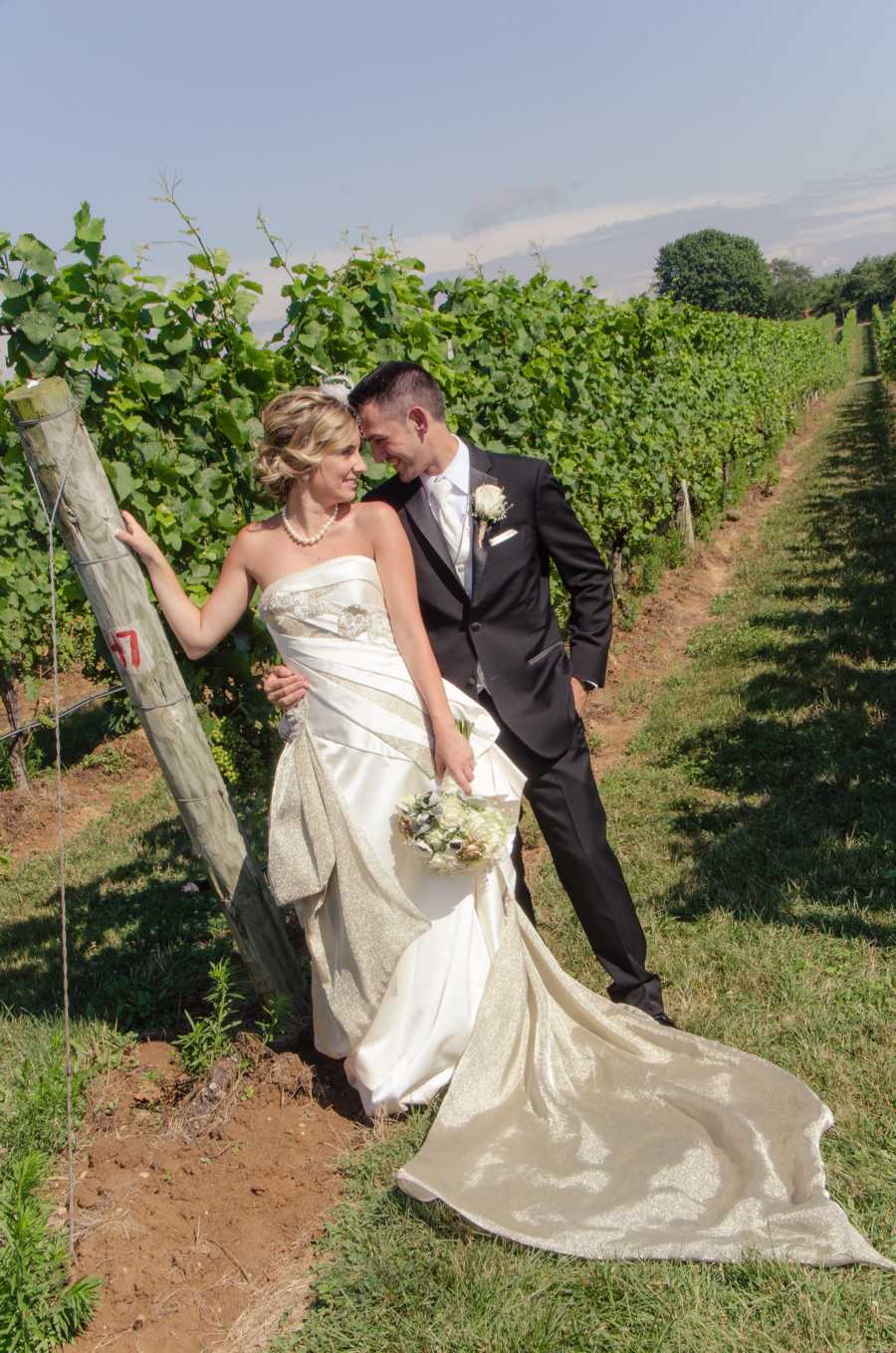 We were ready to take a break from exploring the world and embark on our biggest adventure yet- growing our family to have a squad to travel with. Due to some recent health discoveries (PCOS, thyroid, clotting disorder), we knew I would require fertility drugs to conceive but were told it should be very simple. After 9 months of trying, we found out we were 4 weeks pregnant! We were on top of the world. We downloaded every app. I started pinning nursery ideas. He began reading parenting books. We took pictures of my belly every day to have for a video showing my growing bump. We did every cheesy thing possible that you do when your silly ecstatic.  I had been so focused on conceiving that I was not even considering the possibility of having problems carrying this baby. I was naïve. I felt like we already surpassed our biggest struggle and now it would be smooth sailing. I was going in every few days for bloodwork to track my HCG and ultrasounds. I had an appointment when I was six weeks pregnant and I logged on the app to check if my labs were back to make sure my progesterone shots were working, and my hormone levels were good- that was when I saw the HCG levels had dropped drastically, indicating a miscarriage. My heart sank. The next week was a blur of waiting for my body to realize the baby was no longer living and for the miscarriage to begin. The month following the miscarriage involved more testing and monitoring as my numbers began to rise again, indicating a possible ectopic twin. I had to wait three months and then we began trying again. During these three months, we stayed busy- buying a house and renovating it. We moved on to IUI procedures.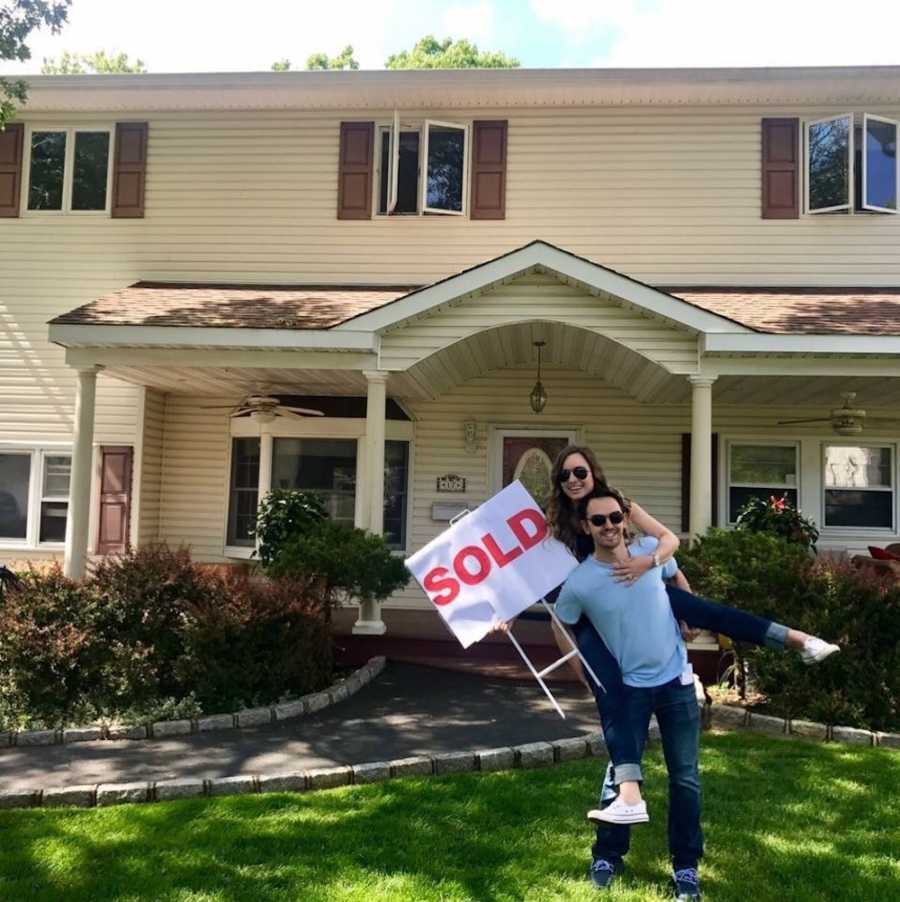 After 5 months of these medicines and procedures with no success, my doctors indicated that the fertility medications were presenting too much risk to my body to continue on this path and our only option was to move to IVF. The IVF preparation was not as awful as we imagined- 3 shots a day and my husband was a champ giving me every single shot. We felt super positive and with our relatively young ages (27 and 29 at the time), the odds were really in our favor.  The IVF retrieval didn't go as well as planned. I had 26 follicles and when I woke up after retrieval, the doctor was only able to retrieve 13. I was drowsy from the anesthesia and kept saying '30?' When I found out it was only 13, I was upset. I had a very painful recovery. On day 6, we transferred one embryo and had 5 remaining to be frozen. Two weeks later, we went in for the pregnancy test. I checked my phone all day waiting for this call. I was so sure it was going to be the best news.  When the phone finally rang, we found out I wasn't pregnant. I was beside myself.
The next day, my husband texted me to meet him for lunch at an address in between where we both worked. Coincidentally (or not so) there was a pet store in the same shopping center and he insisted we go in. He insisted saying that research shows puppies increase serotonin production and decrease levels of the stress hormone, cortisol.  I'm not one to argue with research and in we went. After snuggling with this adorable little pup, I admitted he was right- I was smiling. I'm not quite sure what happened over the next 24 hours, but after some calls to breeders the next morning, we were in the car heading to Pennsylvania to pick up a 9-week-old Cavapoo puppy. Our family grew by four paws.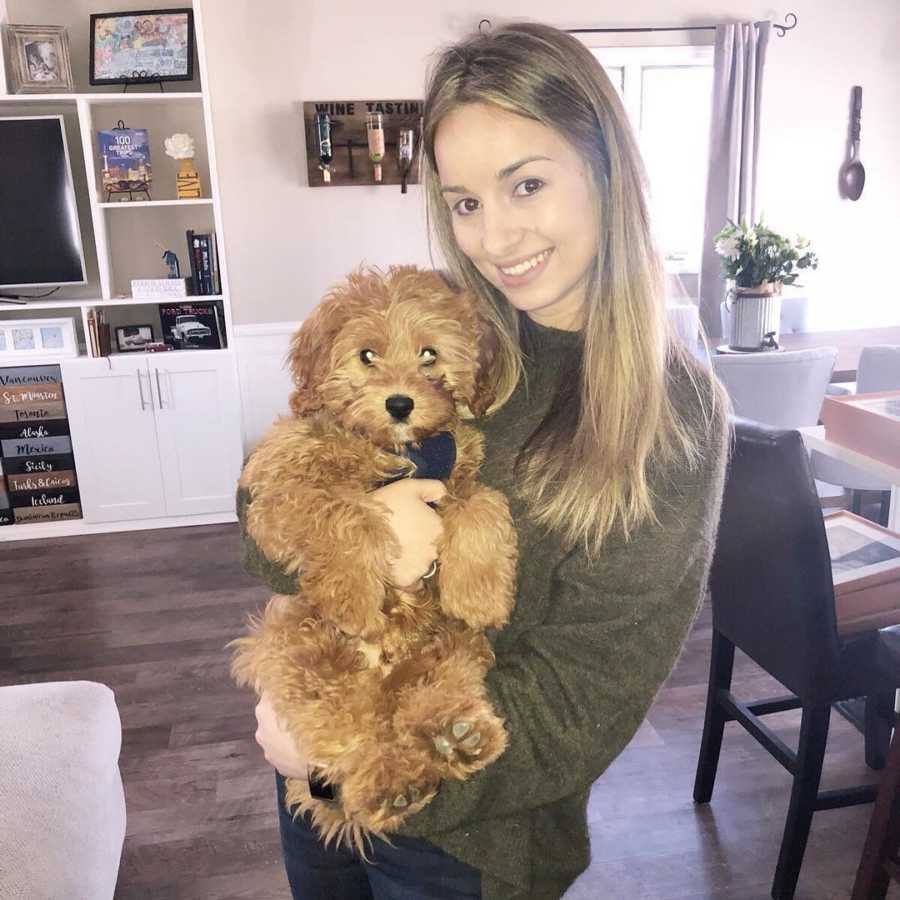 Rusty was the best impulse decision we've ever made. We spoiled him like crazy and since we did not have a need to decorate a nursery, we built and decorated a dog room for Rusty.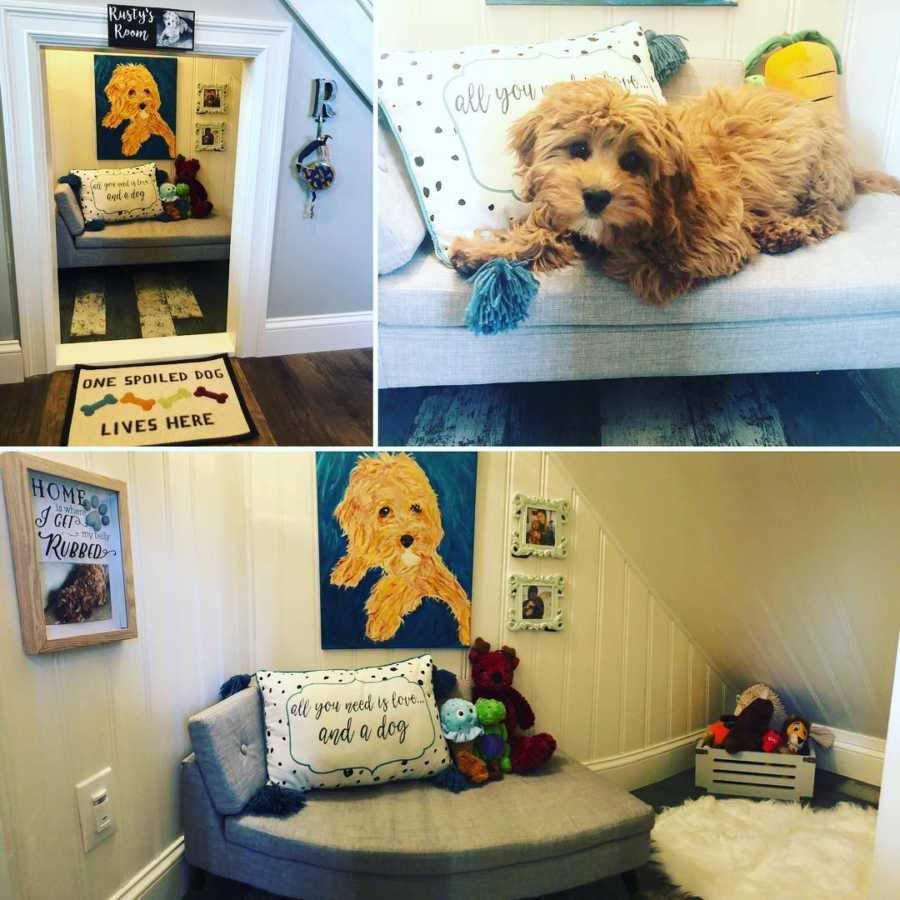 He was the best possible distraction while we prepared to go through preparation for another IVF transfer. This transfer resulted in a positive pregnancy test! Yay! Later that week, our numbers began decreasing again, indicating a chemical pregnancy. Another loss.
I wasn't sure I wanted to continue this journey.  I felt so defeated. I wanted to be a mom to a biological child more than anything in the world. I wanted to look into the eyes of a baby with features stolen from me and this man I love with my whole heart. But I could not keep enduring this pain. We struggled with a decision. We finally agreed to do one more transfer- we would transfer 2 embryos this time- that would leave us with two remaining embryos. We also decided I would not transfer our last 2 embryos in my body if this transfer didn't work. I couldn't help feeling guilty for not being able to carry our two pregnancies to term- feeling that my body was killing our babies. Our decision was if this transfer didn't work, we would either look to adoption or hire a surrogate to transfer our last two embryos. As we prepared my body for its final transfer, we were researching adoption and surrogacy- both options have a lot of heavy emotional and financial burdens to consider.  After finding out most adoption matches in New York find birth mothers through social, I created an Instagram for Rusty to be prepared if adoption was the route we were to choose.
On Easter Sunday, we transferred 2 embryos. We got the call that our numbers were insanely high, possibly indicating twins! We found out the next week we were indeed expecting twins! They both had strong heartbeats and appeared to be developing well! This made everything seem worth it! We were going to have two babies and all of this heartache was resulting in us being doubly blessed.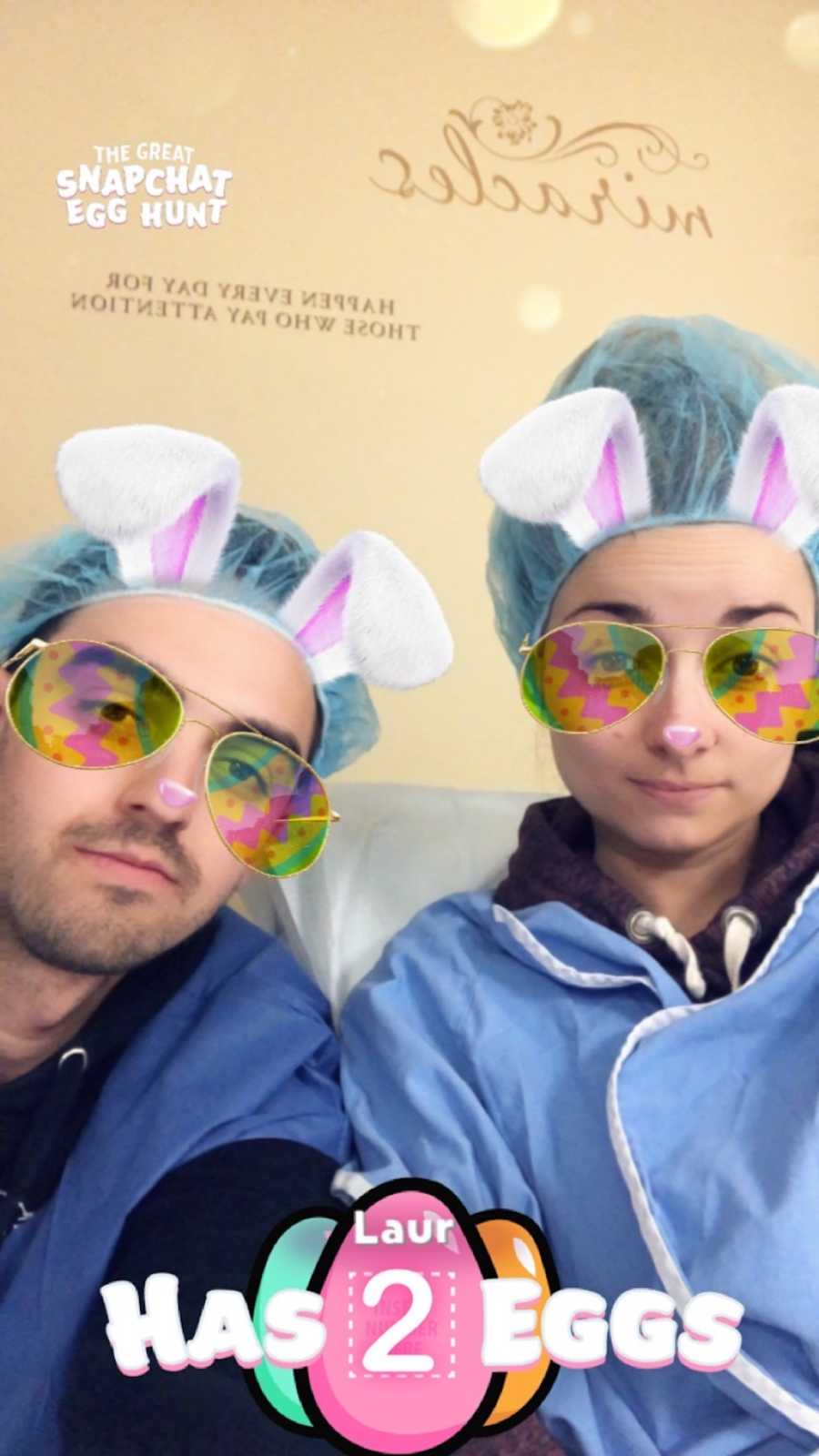 We were being monitored weekly and were excited at our 8-week 5-day appointment to get to see our little beans again. This all changed when the ultrasound tech couldn't find a heartbeat on one of the babies. I knew in that moment we lost one. 3I was an emotional mess.
After experiencing loss and heartbreak, I was having a hard time feeling connected to the baby I was carrying. How was this possible? Me who keeps a gratitude journal every night is now having a hard time feeling grateful for a living baby still inside me? I knew this was too much. We began seeing a therapist that week to help us cope with the loss and feel positive for our living baby. We worked on finding peace and celebrating the little joys. We grieved the idea of twins and were able to connect with our single living and growing bean. I used mindfulness techniques and began writing letters to our baby. 'You have the best daddy in the entire world. I know everyone says that, but I mean it. He has helped me through the worst of the worst, made me laugh when all I wanted to do was cry, lifted me up on the days I didn't think I could even get out of bed, carried the weight of the world on his shoulders, and believed in you even when I was too scared to believe in myself. You are already the luckiest little naval orange.'
While this pregnancy has not been easy, we are 15 weeks pregnant and every time we see our little bean dancing around on the ultrasound machine, we feel like the luckiest people on the planet. It doesn't mean I am always calm. I can't describe the anxiety I feel most days. But our little bean is growing well, and we are so, so thankful and counting down the days until December.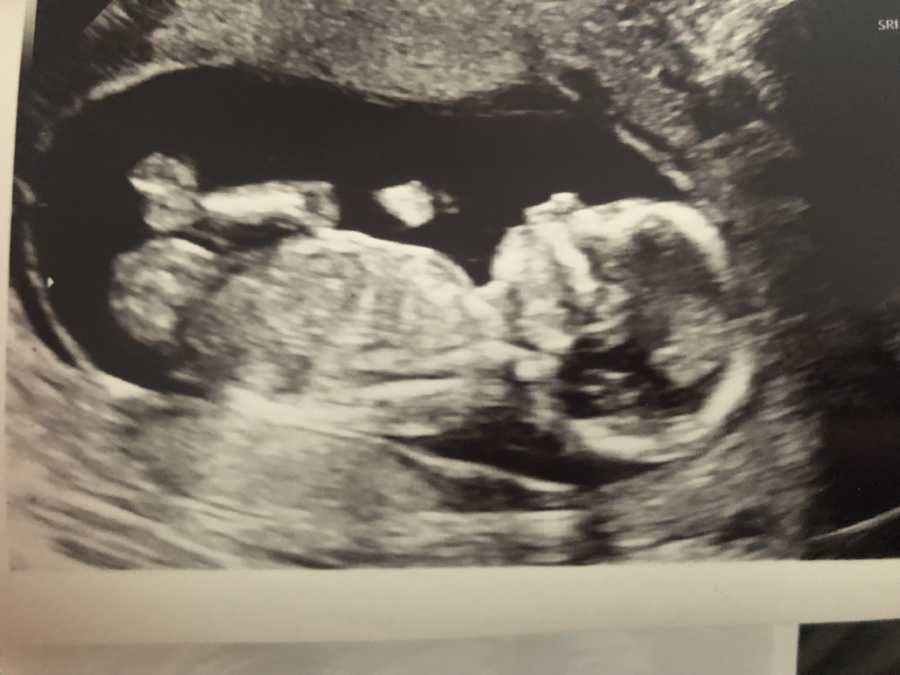 To anyone still grieving a loss or struggling with infertility or suffering through IVF, we get it. We understand how hard this is. You'll realize you're stronger and braver than you thought. I know how difficult it is to watch things unfold for strangers that you so desperately want. As you see pregnancy and birth announcements, let the good that is happening to others remind you of the possibility of what's out there for you. Our hearts are about ready to explode with love for this little bean already. This moment of sharing our news is so thrilling, yet also very surreal. Keep your hopes up and don't suffer in silence. You have a support system- open up to them- and if you're not comfortable doing that, message me. Sometimes just knowing someone cares about you and understands how hard it is can go a long way."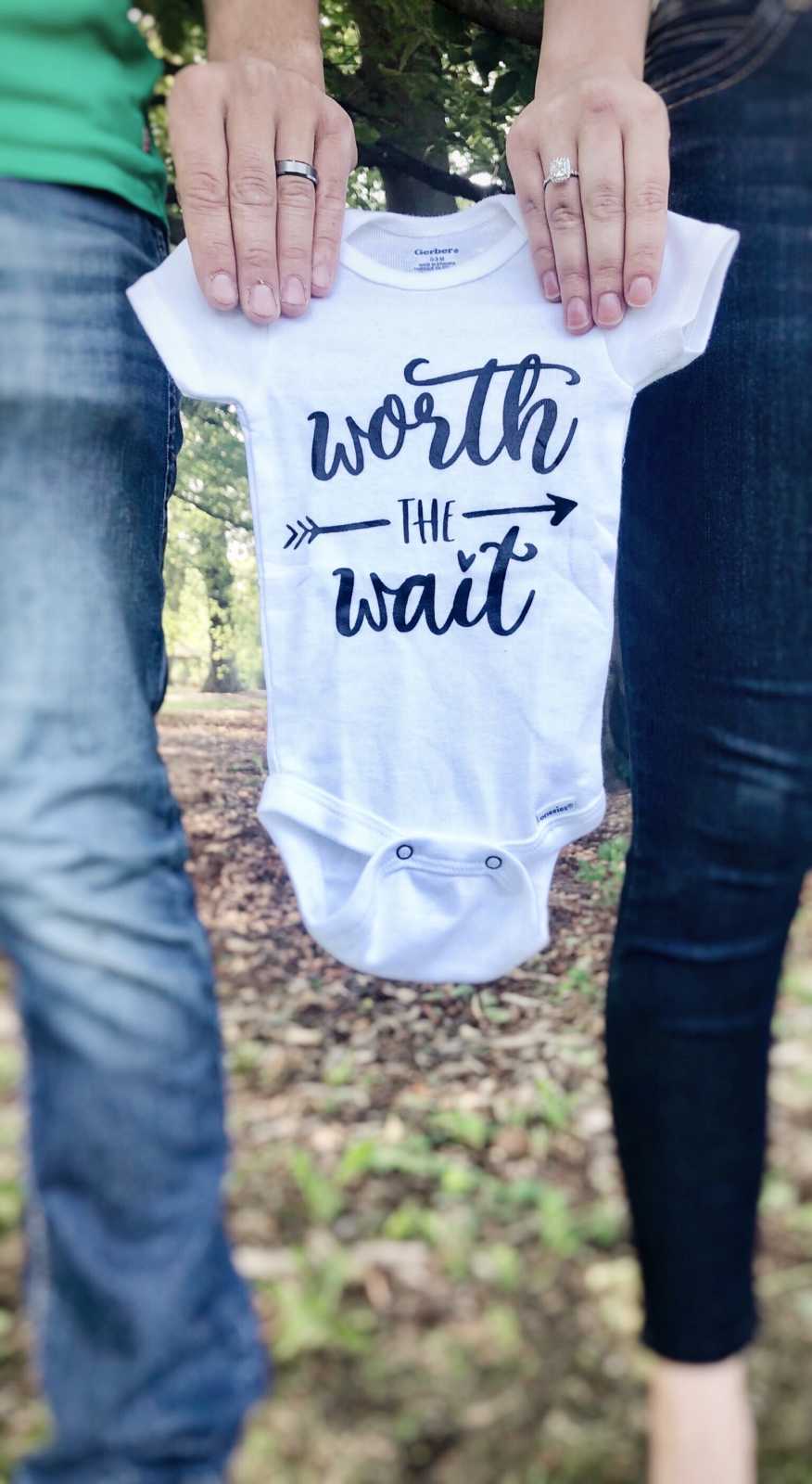 This story was submitted to Love What Matters by Lauren Volpe Rossi, 28, of East Islip (Long Island), New York.  You can follow their families (and Rusty's) journey here.  Submit your own story here, and subscribe to our best stories in our free newsletter here.
Do you know someone struggling with infertility? SHARE this story on Facebook to help give them hope that miracles can and do happen.