"On December 14, 2012, I picked up my Kindergartener as usual from school in Ridgefield, CT. The only difference was that she and her class were held in the cafeteria and not in her usual classroom. Her brown curls bouncing as she ran up to me as she always did smile on her face, excitedly telling us about the events of the day. I enveloped her in a hug just a bit longer than our usual. It was a normal school day for her, nothing had changed, but little did she know our lives as parents would never be the same. She eagerly handed me a picture she drew that day. It was a colorful winter scene with penguins skating on a pond with the date 12/14. That was the first time she had ever put a date on a drawing. I immediately hung it up on our fridge when I returned home wanting to remember the peaceful day she had at school on that day and always be grateful for that. Later in the day when my husband returned, he passed by the drawing, stopped and started counting. He slowly turned to me and said, 'Did you see what I saw?' He pointed to the stars in the sky that she had drawn above the penguins. I counted them. Exactly 26.
December 14 marks 7 years since our world changed forever and 26 families 'hearts would be forever broken. My family was coincidentally intertwined with this tragedy. That clear December morning at the time of the murders, my father was operating with a PA who would soon learn of the loss of his angelic 6-year-old daughter. My husband, an orthopedic surgeon, started anxiously texting me the horrific details yet to be disclosed by the media, while waiting in the ER for victims that never arrived. It was a day none of us in Connecticut, especially those of us with kids in school, will ever forget.
I received a call the following morning asking if I would sing at the memorial service for a beautiful boy named Dylan Hockley. Dylan loved the color purple, the moon and trampolines. One of his favorite songs was 'Hallelujah' from Shrek, yet when I started to learn the lyrics the darkness of the words didn't seem to fit the picture of his bright, joyful face. So, I called my sister who said a prayer and rewrote the lyrics from a vision she received of these kids in her thoughts. It was an honor to sing it for Dylan and a moment that will stay with me for the rest of my life.
The bravery of his parents still remains an image vivid in my mind. Please know that although the world moves on this time of year to glitter and tinsel and mistletoe, the grief never ends for these people. I saw one of my high school patients yesterday who showed me this quote that inspired her, and it is very appropriate for today. 'I admire people who could've turned cold after everything they've been through but still choose love anyway.'
To the Sandy Hook Families: thank you for choosing love over and over again, especially when you are weary and it hurts, for being brave when you have every reason not to and for powerfully changing this world that so desperately needs the hope that you bring. Sending you love and strength and light on many days but especially today. May we all actively choose love as you so graciously show us.
Below are the lyrics to Dylan's Hallelujah:
It's Calm, it's Clear, it's a Peaceful day Opening the heavenly gates
Hand in Hand with teachers and my friends Our laughter ringing in the air
The sweetest music everywhere
the angels welcome us with Hallelujah Hallelujah
Though you think we're worlds apart
We're not so far, you're in my Heart Every night I'll sing to you this song. On heaven's Trampoline I fly Soaring through a Purple sky Singing down to you My Hallelujah HALLELUJAH
Mrs. Murphy's here with me
She's happy too, now don't you see Together we are playing on the moon. So, when you see the beams of light Know that they Shine from my smile with all my heart I love you, Hallelujah HALLELUJAH
From His Family, The Hockley's:
'His beaming smile would light up any room and his laugh was the sweetest music. He loved to cuddle, play tag every morning at the bus stop with our neighbors, bounce on the trampoline, play computer games, watch movies, the color purple, seeing the moon and eating his favorite foods, especially chocolate. He was learning to read and was so proud when he read us a new book every day. He adored his big brother Jake, his best friend and role model
We take great comfort in knowing that Dylan was not alone when he died but was wrapped in the arms of his amazing aide, Anne Marie Murphy.
Though our hearts break for Dylan, they are also filled with love for these and the other beautiful women who all selflessly died trying to save our children.
We will always be a family of four as, though Dylan is no longer physically with us, he is forever in our hearts and minds."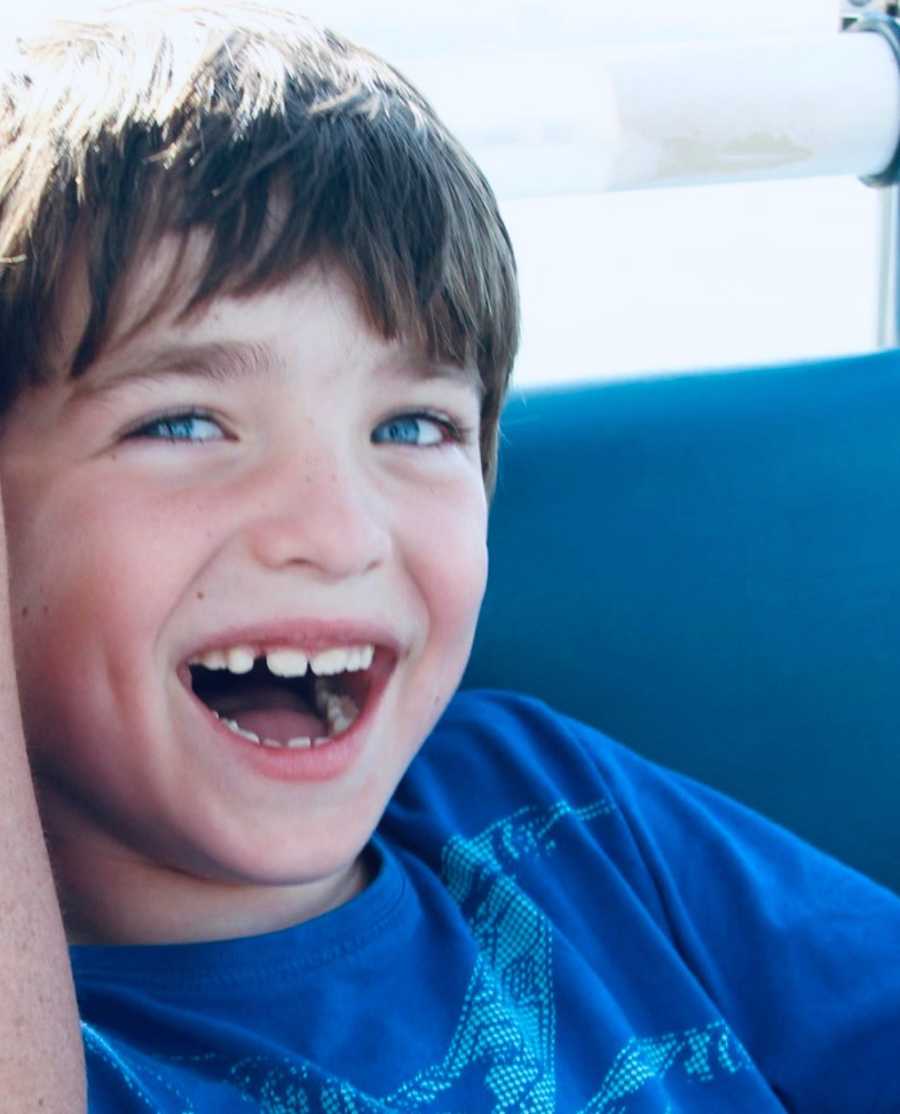 This story was submitted to Love What Matters by Niro Feliciano, 43, of Wilton, Connecticut. She is a wife, mom of 4, and psychotherapist. Follow her journey on Instagram here and her website here. Do you have a similar experience? We'd like to hear your important journey. Submit your own story here. Be sure to subscribe to our free email newsletter for our best stories, and YouTube for our best videos.
Read more stories from Niro here: 
'But mama, we want to go sledding with you.' Both girls looked at me with pleading eyes. I knew I had to go. I paused.': Mom struggles to drop everything for her kids during holidays
'Mama what did you bring me? Can I have it now?! I've been so good today!': Mom struggles with making her daughter wait for big surprise, realizes that's what God does in her own life
Do you know someone who could benefit from reading this? SHARE this story on Facebook with family and friends.