"It's the season of anticipation. Hope filled expectation lighting up every street corner and front yard sparkling with everything glitter and mistletoe. You can hear it each morning, the determined footsteps of a child pounding down the stairs in search of that elf up to his usual antics, and each night one sleep closer to the big day.
As I walked in the house from an epic Target Christmas run, my 6-year-old nearly tackled me pulling down those recognizable bags.
'Mama what did you bring me? Did you get me anything?'
'Maybe…' I replied slowly as knowing smile crept across my face.
'Can I have it now!?' she practically screamed with excitement. 'I really want it now! I've been so good today!'
'I know, but it's a surprise- you love surprises,' I gently reminded her of what she actually had asked for.
'But I want to know what it is and its almost Christmas! Please mama! I can't wait anymore.'
I bent down and scooped her up in my arms. Looking into big brown eyes filled with longing, I whispered, 'Trust me. It will be so much better on Christmas. You will be so glad you waited!' I kissed her, put her down and shooed her away.
As she ran upstairs to find her sister, I laughed out loud. 'Girl, will you just let me plan this surprise!!!!' I thought.
And then I stopped because I felt that familiar feeling. That quiet whisper that always dropped undeniable truth, resonating deep within the recesses of my soul.
'Isn't that how you are with Me?'
I paused and answered slowly and nodded, 'Yes, all the time.' And then I smiled, 'You are so right….'
This is how God speaks to me through the everyday happenings of my very normal life. I have learned on this faith journey to pay attention to everything because everything has the power to speak if we are listening and expecting.
I had been asking questions about the future, the unknown, those seemingly dark places only in shadow because I physically cannot go there yet. What is going to happen when…? Those what if thoughts I know so well as a therapist that leave us anxious and uncertain. Wondering if the twists and turns ahead will lead to that worst-case scenario and then what would we do?
And sometimes we go to the worst because we have been there. For those of us who live in Connecticut, Christmas now carries with it the weight of a reality that will never be forgotten. It's the forever ache that found a home in our hearts on 12/14 on a day that started out much like today with Santa letters and wrapped gifts under a tree that would never be opened. It's the sadness knowing that grief only grows 3 sizes too big every Christmas for those who truly lost everything that day.
That was the only day in my life that I questioned God. I questioned if He saw us and heard us and knew the depth of the pain that He allowed into the world that day. I wanted to know everything right at that moment and in my own distress sounded much like my 6-year-old.
Yet I knew then as I do now that He has never been a God who ignores or trivializes our pain, our deepest desires and needs, but rather one who listens and hears all of it. Even the faintest of thoughts we label as insignificant and forget- He hears and remembers and one day will make sense of it all. But in the meantime, I know there is a light in the darkness, one that promises to comfort and illuminate the path forward one step at a time.
I knew what my child needed. I knew that it would be so much more fun and exciting if she waited until Christmas for the big reveal even if she didn't understand it. I knew it was good to make her wait even though looking at her beautiful face bursting with anticipation, I desperately wanted to give it all right then and there and end her frustration.
I've started to look at God much like this, a passionate parent, a loving mother carefully planning the details of her daughter's surprise ready to unveil it Christmas morning, the time when it will have the most beautiful and powerful impact and not a moment before. I've also realized some of those gifts, though meticulously wrapped and brimming with hope, will not be opened this side of eternity.
I've seen that in the darkest of nights, the stars only shine brighter, so on this day I once again look for the light in the darkness.
Isn't that what this season is really about?
And so, I wait. I wait for the unfolding, sometimes impatiently much like my daughter, but often with hopeful anticipation of every detail, carefully considered, to be revealed. I trust that what I need to know for the present will be set in front of me and that's all I really need. And what is to come, intentionally and lovingly planned by the one who adores me, at that right time will be above all I can ask or imagine."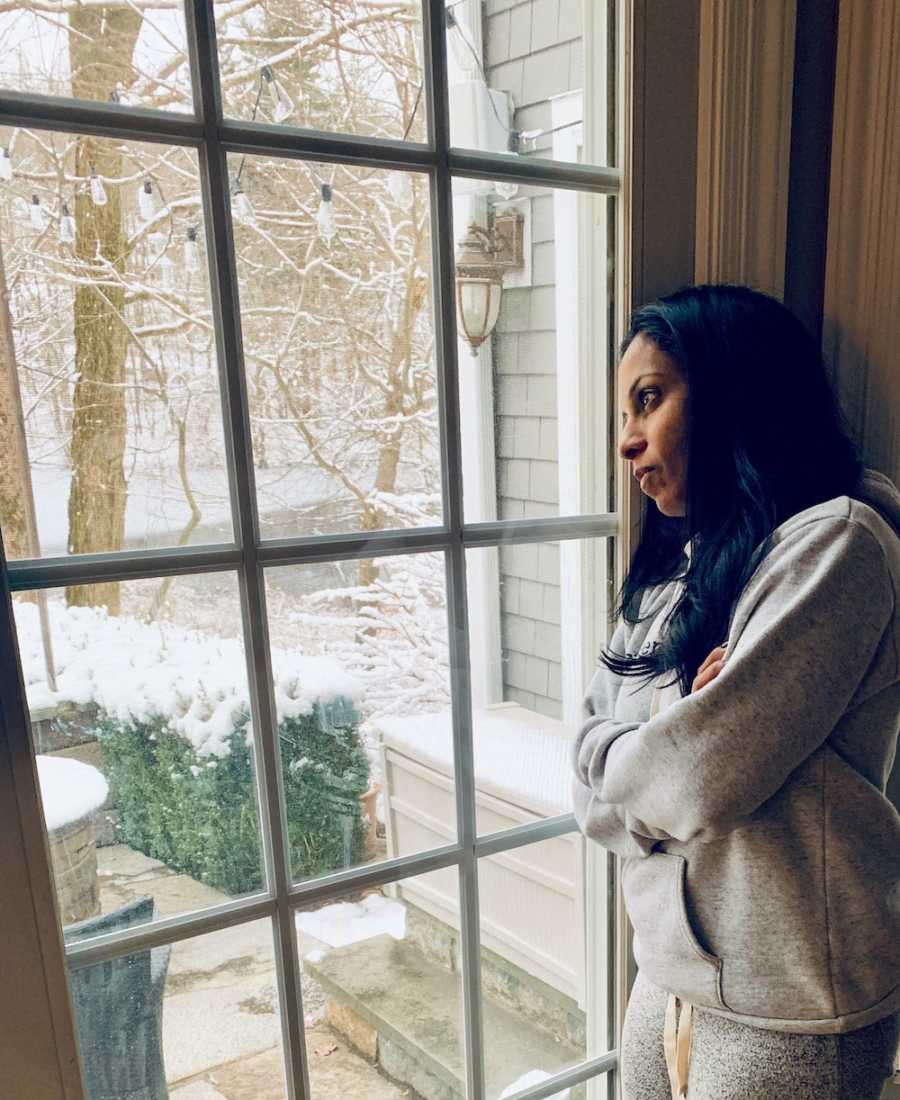 This story was submitted to Love What Matters by Niro Feliciano, 43, of Wilton, Connecticut Niro Feliciano, LCSW is a wife, mom of 4, and psychotherapist. Follow her journey on Instagram here and her website here. Do you have a similar experience? We'd like to hear your important journey. Submit your own story here. Be sure to subscribe to our free email newsletter for our best stories, and YouTube for our best videos.
Read more stories like this:
'I whispered to Santa, 'He is blind and autistic and is very interested in Santa.' He said, 'Say no more,' and immediately got down on the floor to greet my little man.': Mom thanks 'Best Santa Ever' for giving son magical holiday experience
'I got the call at 6 p.m., left my kids with my husband and drove to her house with my socks crammed into my Birkenstocks.': Mom urges others to 'just show up' when friends need you, 'She didn't need Pinterest, she needed me'
Read more stories from Niro here: 
'But mama, we want to go sledding with you.' Both girls looked at me with pleading eyes. I knew I had to go. I paused.': Mom struggles to drop everything for her kids during holidays
Do you know someone who could benefit from reading this? SHARE this story on Facebook with family and friends.