"On Wednesday, June 28th, 2017, I was parked on the side of a highway, with my hazards on, calling for roadside assistance because I ran out of gas. While on the phone for help I was hit by a driver going 55 mph. I was treated in the ER for a cervical strain, closed head injury, knee contusion and forehead lacerations. I consider myself lucky to have walked away from the accident relatively unhurt and alive.
A few people have mentioned to me, 'How does your eyeliner look so good still?' So I decided to write this 5 star review of Kat Von D's Tattoo eyeliner…"
This product is truly amazing. June 28th I was pulled over in my car calling for roadside assistance when a distracted driver hit me going 55 mph. I was taken via ambulance to the ER where I remained for 8 hours. My mascara was running down my face from crying and all other products had been wiped off in the transfer to the hospital. But not my tattoo eyeliner. I am posting a pic to show you, this product lasts and looks amazing through anything. Never buying any other liner again!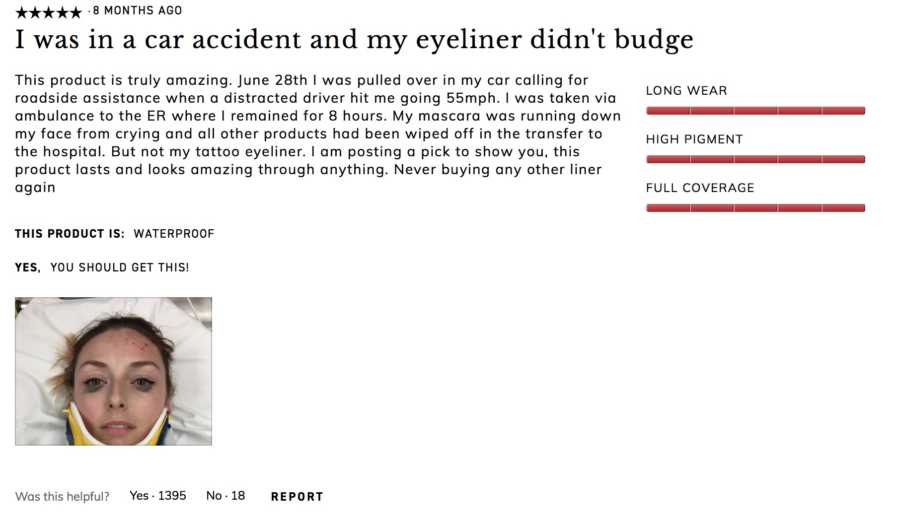 The hilarious review has gone wildly viral. People are in awe the young woman used the selfie she took with her neck brace on after being in a car accident for the actual makeup review.
Y'all I was really out here looking for a new eyeliner and look at this review lmfaooo
She deadass took a picture in her neck brace I am deceased pic.twitter.com/j9jHjAei06

— lahari (@guadalahari) April 24, 2018
Lololol it's me 😂😂 girl, when you find a good product, you have to share the info 🤷🏻‍♀️

— coffee, cats and cusswords (@catsandcusswrds) April 25, 2018
Just know that this is the greatest thing I've seen!!! P.S. hope everything is ok now and you're healing💕💕

— Kelsi Kardashian (@KelsiKibler) April 25, 2018
Your liner looks fantastic – mine doesn't look like that even on days I haven't been in a major accident. The liner is good, but also you have skills 💅🏻

— RHODA fan account (@kpyszczyk) April 25, 2018
Your level of EXTRA in this review is what I aspire to in my own life.

— Echec et mat 😘 (@louisapproved_) April 25, 2018
The woman's response? "…you're welcome!"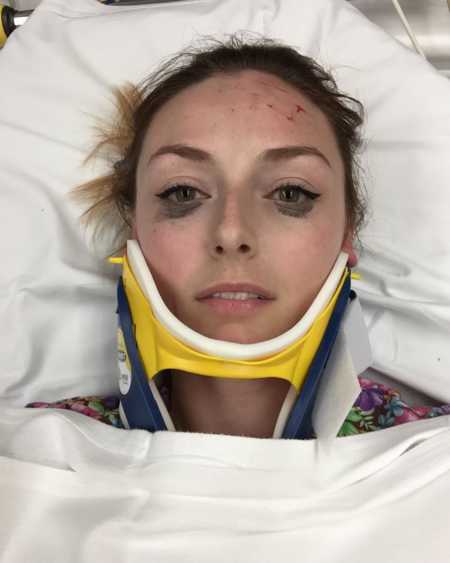 This story was submitted to Love What Matters by Shelby Pagan, 25, of Boston, MA. You can follow her on Instagram and Twitter.  Submit your story here, and subscribe to our best love stories here.
Do you know someone who could use a good laugh? Please SHARE this story on Facebook or Twitter.
SaveSave