"I went on a date today.
He was awfully cute. Dirty blonde hair, striking blue eyes. He's quite a bit shorter than me; almost 3 feet to be exact, but that type of thing doesn't concern me.
What mattered was that he was a perfect gentleman. He showed off his good ol' boy manners, saying 'please,' and 'thank you,' when appropriate. When his hand slipped casually into mine I couldn't help but smile.
I went on a date today– with my son.
For our best stories, subscribe to our free email newsletter 
Today we slowed down, we laughed, we joked. I got to proudly flaunt my date for the world to see, and he got some undivided attention from his Mama.
I plan to take my littlest guy on a date soon, too; just the two of us, and it's a tradition I hope with each of my boys for a good, long while.
For the next few years I imagine I'll be the one paying and holding doors open on our dates, but somewhere down the road, I fully expect that will change.
These dates will be sweet, but I'm aware of the responsibility that will rest on my shoulders during each outing.
Each time we go out, I'll be teaching my boys how to politely and respectfully interact with others.
They'll come to learn how to walk a little faster across the parking lot so they can beat that elderly couple to the door and hold it wide open as they pass through.
Taking their hat off as they enter a building will become second nature, something they won't have to think about; they'll just do.
At some point I'll let them carry the money and we'll have lessons in counting change. I'll teach them how to move the decimal point and multiply by two to find out the perfect amount to tip.
I'll model for them how to hold an engaging conversation from across the table rather than one interrupted by notifications and text messages.
I'll be sure they understand that their *presence* is more important to a future date than any *present* ever could be (although, Sons? Hear me when I say that chocolate is ALWAYS a good idea).
I won't forget to tell them that a dozen long stemmed roses aren't nearly as impressive as a pure, genuine heart.
Our sons have been blessed with the greatest Daddy in all of the land to show them what a good man is. But this Mama? Well, she's got a few tricks up her sleeve, too.
Someday, when these sweet little boys grow into almost-men and I watch them escort a girl to the car for the very first time, I hope to beam with pride as they walk around to the passenger side to open her door first. I want to see the blush of her rosy cheeks as she realizes she is headed out with a boy who will value and respect her every bit that she deserves.
So in the meantime, that's why I'll date my sons."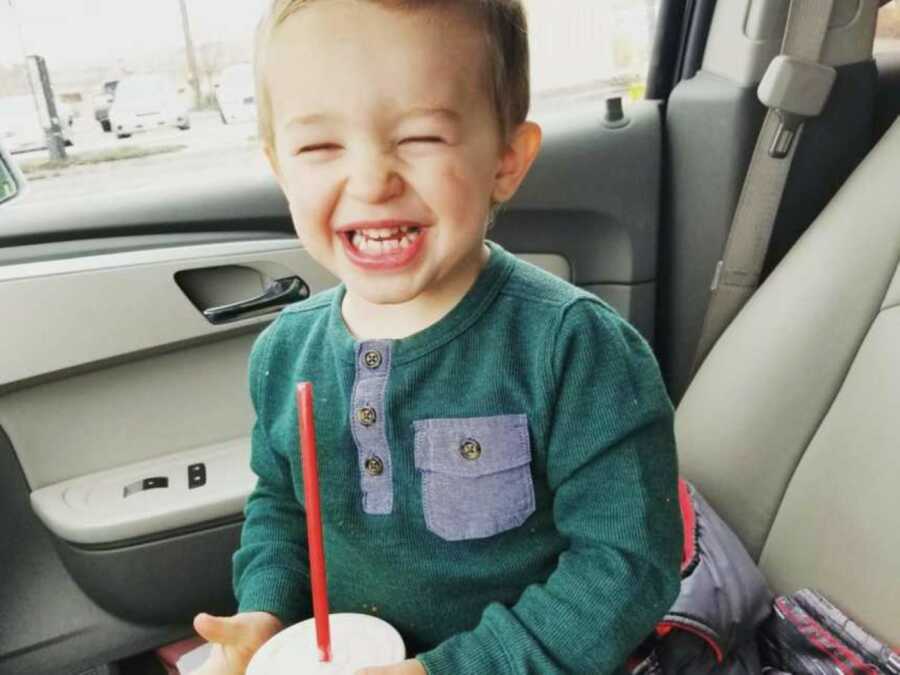 This story was written by Casey Huff of Etched in Home. The article originally appeared here. Submit your story here, and be sure to subscribe to our best love stories here.
Read more stories like this here:
'What's so special about this photo?' It's just an egg on top of toast, you may wonder. But to me, this is the best photo in the world.': Mom celebrates parenting win after sons' act of kindness, 'I'm raising boys not defined by gender stereotypes'
'My teenage boys carry a tampon and pad in their backpacks because gender taboo!': Boy mom raising teen sons to 'see past' menstruation taboo, respond with 'kindness, understanding'
'My sons see themselves in the pages of books we read. But what about everyone else?': Mom starts inclusive 'Kind Kids Book Club'
'They used to fit between my elbow and fingertips, now they tower over me like gentle giants. They fill my soul as I watch them love and adore the partners they do life with.': Mom shares the joys of raising boys
Provide beauty and strength for others mothers. SHARE this story on Facebook with your friends and family.