"There she goes, my baby sister. I watch as she places her hospital bag in the car, and slowly lowers herself into the passenger seat.
There she goes, my baby sister, off to deliver her first child, a sweet precious boy.
My nephew. The blessing we've been praying for and anticipating for months.
The boy that will transform my sister into a mother. A baby that will bring love and smiles and joy.
My nephew. The baby boy I won't get to see enter this world. The baby boy I won't get to hold, or kiss, or cuddle. The baby boy I'll be admiring from afar, and meeting through phone screens and technology.
My nephew. The baby boy that will be born with immense love, yet no visitors. A baby boy born during a pandemic, a time where the world is closed and scary. A time where love exists fiercely, but is sheltered, quarantined, and only experienced through protection and borders.
I watch and pray as my beautiful sister heads off to begin her journey into motherhood. I'm a mess of emotion. I'm a chaotic blend of excitement, fear, and bliss. I'm selfishly heartbroken for the empty hands I'll have today and the kisses that will go ungiven.
I'm selfishly heartbroken for the reality of the things that will be missed today. I will not be there for the special birth of my nephew. I will not be there for the priceless moment my sister becomes a mother. I will not be there for the moment I become an aunt.
The world's scenario is stealing moments from us, moments we cannot get back. I'm thankful for the safety protocols but also destroyed by them.
I watch as my baby sister and her husband drive to their newest and biggest adventure. I watch as their car rolls further into the distance. In just a matter of moments, the world will change once again.
It will create a mother, a father, an aunt, a grandfather, and so many other important and significant labels. It will create new love and new life. It will create beauty. It will create a birthday and a new day of celebration. It will create a miracle.
I can no longer see my sister as her car fades further and further. Hope tells me I don't need to, for a piece of me is with her in that car, headed to the hospital. A piece of me will be with her on this journey, every minute. A piece of me that cannot be hidden, or quarantined, or kept out. It's a sister's love.
A sister's endless support. It can be invisible and mighty if it needs to be. And today, it is.
Soon they will arrive at the hospital doors. They will walk in, simply a husband and wife. They will walk out as a family. A mother, a father, and a tiny baby boy.
Today, I'll wait. I'll pray. I'll count the seconds until my sister calls and says, 'Meet your nephew.'
The introduction will look different, but the feeling will still be love and pride and immense joy.
Happy birthday sweet boy! I can't wait to meet you and celebrate your birth. I can't wait to kiss your cheeks and cuddle your warm and tiny body. I can't wait to tell you the story of the day you were born and how fiercely you were loved from afar. I can't wait to start experiencing life with you in it. Your auntie loves you!"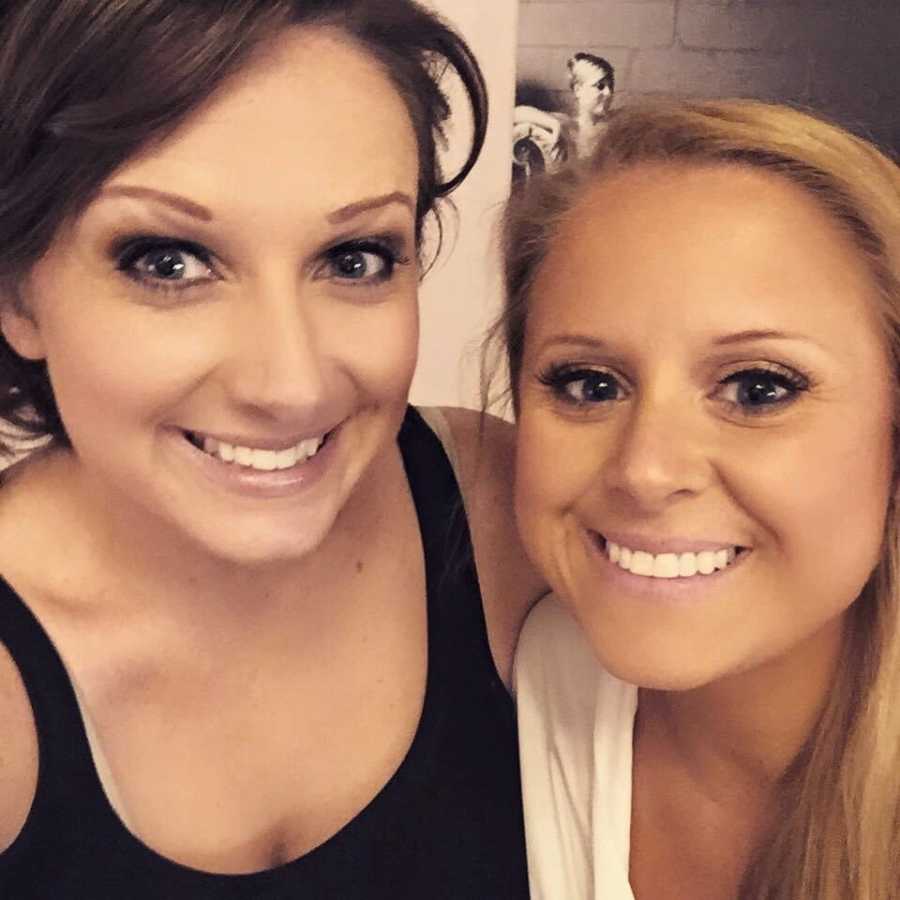 This story was submitted to Love What Matters by Chelsea Ohlemiller of Indianapolis, Indiana. You can follow her journey on Facebook, Instagram, and her blog. Submit your own story here and be sure to subscribe to our free email newsletter for our best stories, and YouTube for our best videos.
Read more from Chelsea:
'To my ex-husband's family, you didn't have to continue loving me, my new husband, and child. But you do.': Woman pens emotional letter to 'compassionate' in-laws, 'you've turned an unfortunate circumstance into something beautiful'
'Standing at my mom's casket, I was approached by an old friend I hadn't seen in decades. 'I heard, and I came.': Woman loses mother, 'humbled' by old friend's act of compassion she'll 'never forget'
'Instead of packing the car for a fun weekend with grandma, we came here, to the cemetery. This is where we must visit her now.': Woman loses mom, says we should 'let grandparents spoil our kids while they still can'
Do you know someone who could benefit from reading this? SHARE this story on Facebook with family and friends.