Disclaimer: This story contains graphic images of injury.
"I was blessed with a beautiful baby boy on a crisp October night. He was a HUGE newborn baby at 8 pounds and 15 ounces, and he slept like an angel! I was so lucky I was able to stay home with him and not miss a second, but in a second it all changed.
I had a seizure two days before my son's first birthday. When I woke up I was on my back in bed, which was weird since I'm a stomach sleeper. Then I started to immediately feel a burning sensation on my feet. This sensation grew as I gained consciousness and I ripped the blankets off to find my feet charred and melted. After a seizure, you are kind of like a zombie, and before I gained consciousness I gained mobility. During this time, I got a hold of my crafting torch and burnt my feet to the fourth degree. I didn't even know you could burn your feet to the fourth degree.
I ran to the bathroom screaming with my hands over my mouth. My son was sleeping a room over with the door wide open. I tried not to make a peep. I jumped in the tub, turned the cold water on, put my feet in, and it felt like acid. I yelped, slapping both hands over my mouth and running to my bedroom. I closed the door and I couldn't stop screaming. The pain was like nothing on this earth. I kept throwing up and losing consciousness. Finally, my brain registered to call for help.
My family arrived in record time. I was rushed to the ER where I was told they could not help me. No ice, no cream, no meds – THEY DID NOTHING but deliver the most insincere sorry I've ever heard. I was in indescribable pain, begging for them to please do something. I remember a male nurse coming up to me and asking me to stop screaming. My family and I didn't take kindly to that and we exchanged some choice words with the nurse. We later found out because of this, he called CPS on me to retaliate. I was rushed to what Google said was the closest burn center. It was a long drive, 20 minutes away, but off we went.
I tried everything to find some relief. At this point I had been in pain for about an hour. There at the burn center, Dr. Wu and his amazing team saved my life. I was immediately rushed into surgery. I woke up in the Critical Care Unit, my feet put together with staples. It looked like a horror movie. My skin was plastic and my flesh now shark. Science is amazing, and it sounds cool, but my foot was no longer fully mine.
I was told I would be on bedrest 24 hours a day, for 8 months, with more surgeries to come. This was all after my stay in CCU, of course. CCU was crazy. They would come in covered head to toe while I was quarantined in a sealed room. They were so strict about visitors, but I will never forget how they let my son come in and smash a cake for his birthday. He could only come in for 5 minutes and I couldn't really touch him. That was the only time I got to see him for a while in the CCU. Every day for 5 minutes. Luckily, I remember very little of my time without him.
Warning: Graphic images below.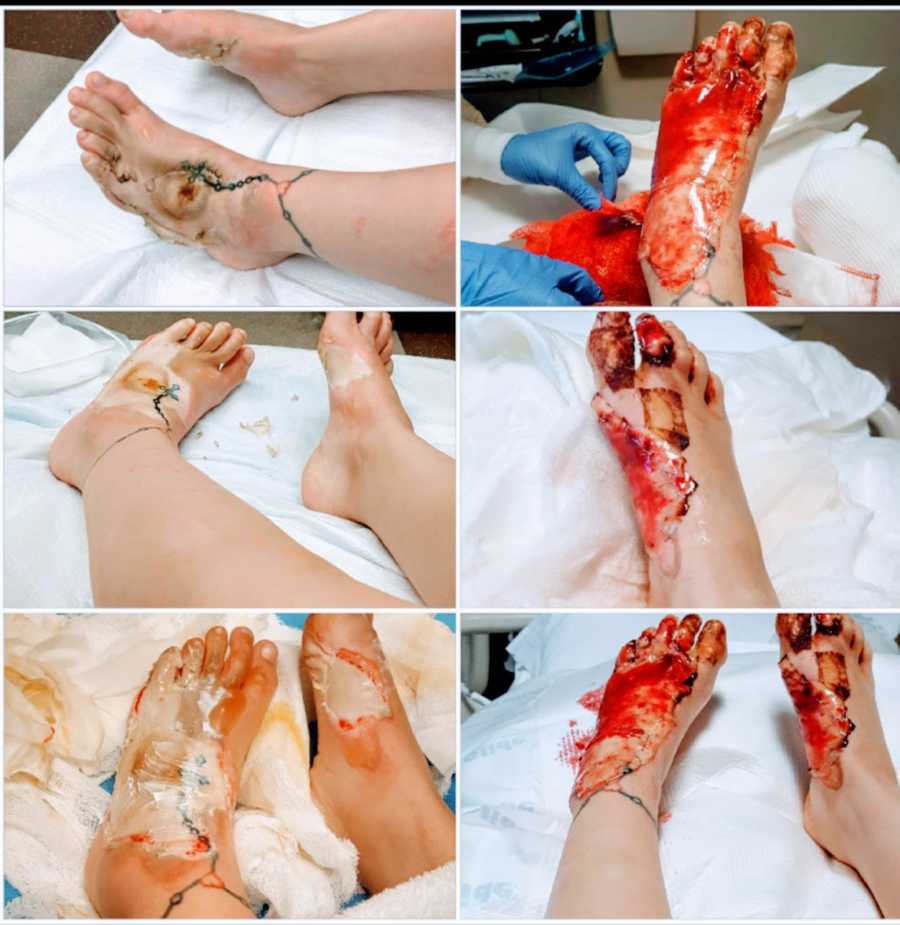 Not being there full time for my son hurt worse than the 4th degree burns. I was so lucky to have a partner who did so much and helped fill in every gap. He got our son's schedule figured out, worked full time, and fed us. He even set me up a mini kitchen with a microwave so I could snack to my heart's delight without the stairs. Because he was doing so much, he was so tired everyday. We both got pretty depressed. We just missed how things used to be. We were thrown into parenthood so fast and now this. I don't think we even got a chance to catch our breath.
After a few months, my left foot started to rot in a few places. I was a true zombie. This led to a second surgery and a second skin graft. I think I had five surgeries in total. In the fourth surgery, I lost my left pinky toe. A skin graft is like being peeled like a potato so they can put the skin somewhere else. On bedrest, they expect you to wear a diaper. That was not something I was willing to do. So, against Doctor recommendation, I bought some knee pads and would crawl to the restroom. I did this so much they wore down and I had to get a second pair. I was in a wheelchair when we would go out. I got down to 85 pounds. The looks, the comments, the pity. I will never forget a stranger coming up to me and saying, 'I hope it's not terminal.' I mean, what if it was?
One day, I army crawled to the restroom. It was not ideal, but at least I kept my feet above my heart! I had another seizure and woke up in the hospital. I remember looking at a nurse in the background and asking the other nurses why she was crying. I asked them to remove her, I joked she was unprofessional. The nurse was my mother. I damaged the frontal lobe responsible for facial recognition and memories. I had no clue who my family was, I didn't even recognize myself in the mirror. The only one I knew was my son and I didn't know why I knew him. I remember saying, 'He's my people.' I went home with strangers that day. They were so sad I started to pretend I knew them; I felt bad. One day, I finally told my mom I still didn't recognize them. I could tell she wanted to hug me, so I let her.
My son was the only thing that made me remember. As cheesy as it sounds, he was the best medicine. After a few months, I started to regain recognition and some memories. After 7-ish months, I started to heal and walk here and there. After 9, I was on my feet and walking. After 12, I got a new job and got back to life. I was still having seizures, but they had a pattern and I would work around it. Unfortunately with all the pressure and some personal differences, my partner left. I was devastated. I thought this was my soulmate through thick and thin. All of a sudden I was alone with my illness.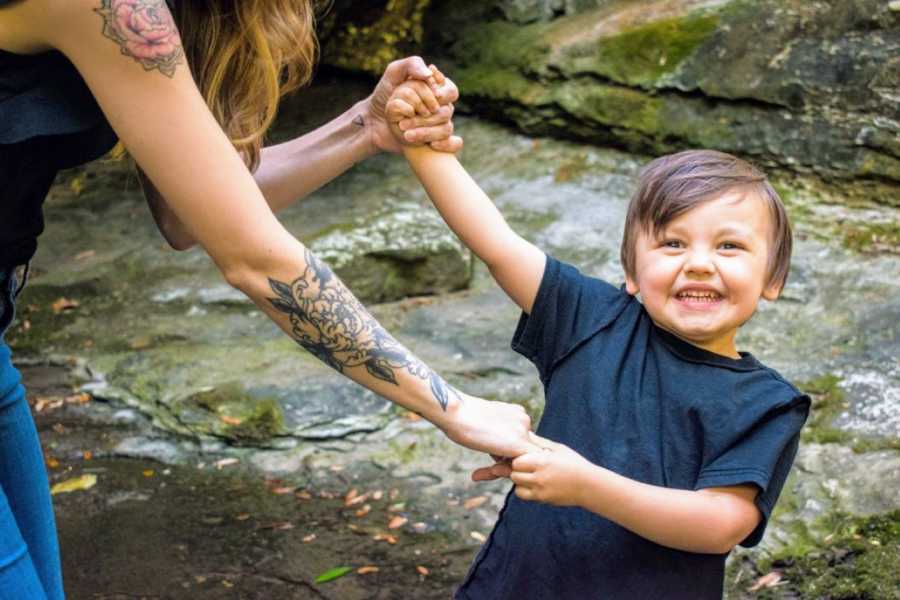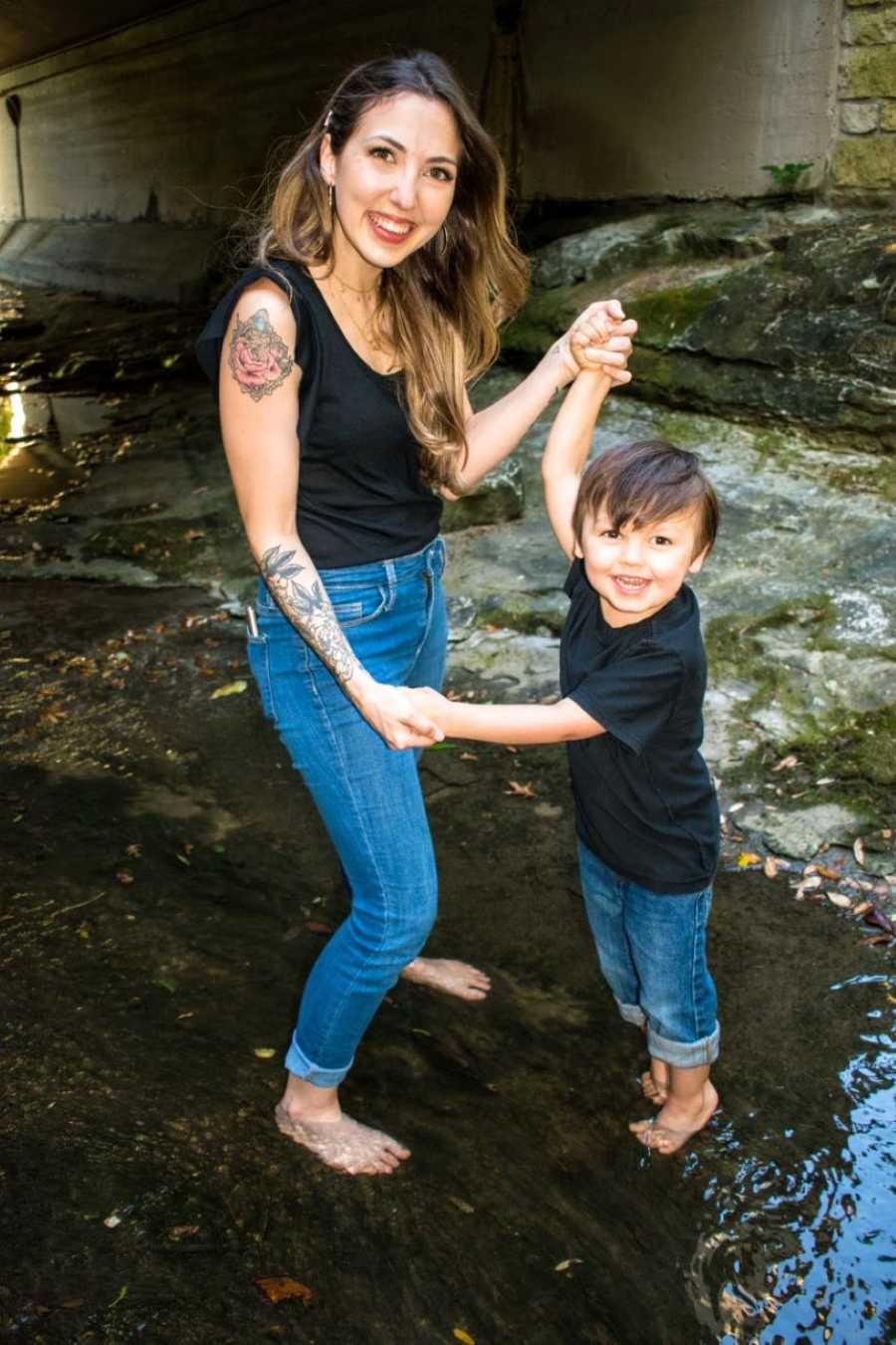 After so many doctors visits I noticed a pattern with the doctors I saw. It was a lack of genuine concern. I was told I had stress-induced seizures, here's a pill, any questions… yeah, how do I avoid stress?? Another time I was told, 'You don't have epilepsy, but we don't know what you have, so we are calling it epilepsy, here's a pill.' This was after having 25 receptors superglued to my head for three days to find out what was wrong. I was taking all the tests but getting no answers. So I tried less usual tactics. I did hypnosis, visited the chiropractor, CBD, red light therapy, all sorts of diets, shock therapy – you name it, I have probably tried it. After falling down the stairs, busting my head and teeth, and countless black eyes, I felt like I would never figure this out.
When I was on bedrest, art was really huge for me. It was the only thing I could actually do to escape. Art has always been like therapy for me. Through all the fear and times of anxiety, art has had my back. My grandfather and grandmother were both amazing artists. I grew up with my grandfather's beautiful oil-painted landscapes on every wall. I never met him, so I always felt we could speak through his paintings. My mom was also artistic. She loved to redo furniture and gave me my love for creating works of art beyond paper. I even started making necklaces on bedrest to burn some time in bed and maybe make some cash. I made a few sales, but it was a flop overall. I loved just getting to create things. This last year I went through so much loss. I crashed my car due to a seizure on my son's 5th birthday, Birthday cake in the car. I woke up to my brand new car totaled and strangers pulling me out of my car. A week later I lost my job. I was walking to work at that point and I had to walk home with all of my stuff. A few days later I lost my grandmother. She was like my mother. That loss has hit me hardest. She was my everything.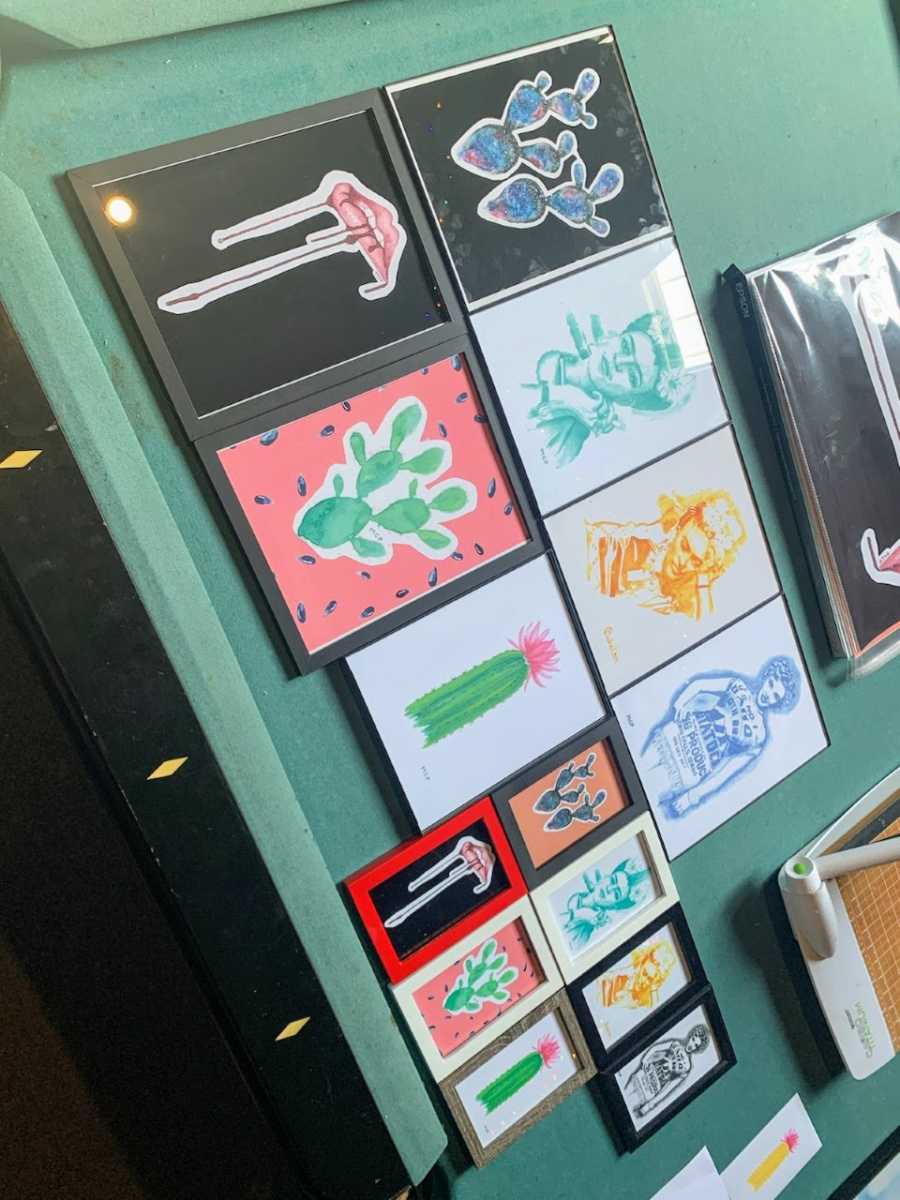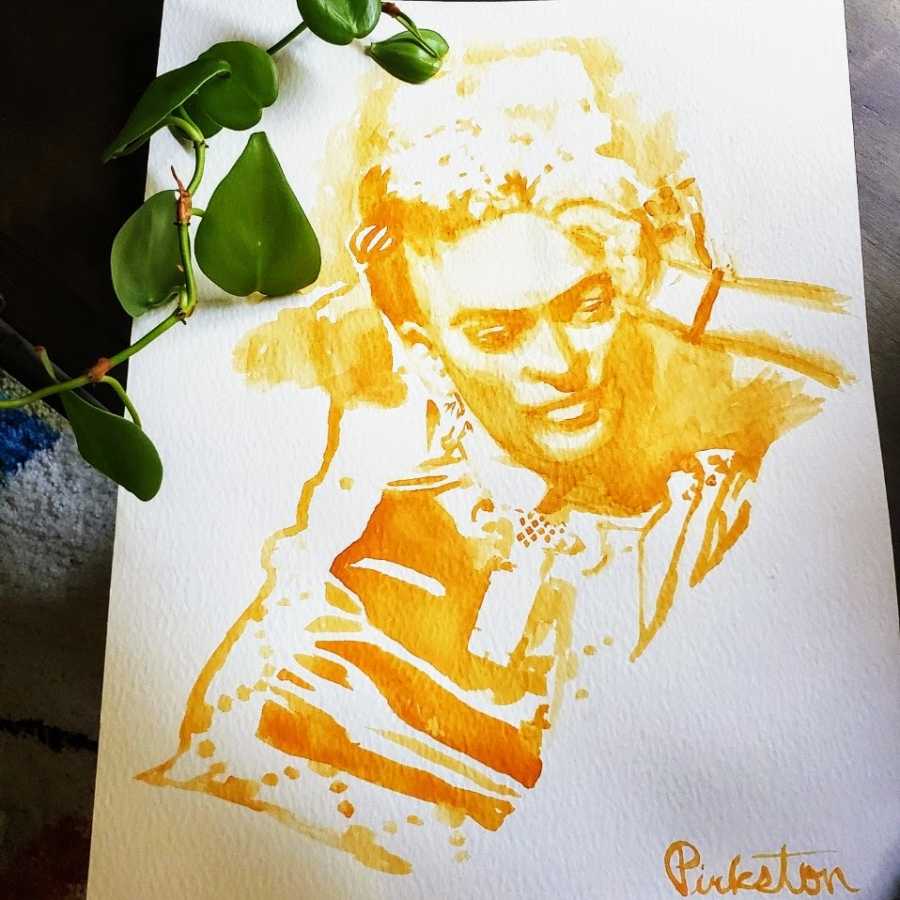 So, there I found myself with nothing. Single mom, no job, no car, and not really able to work. I kind of lost a lot of my independence that day. My seizures were coming every two weeks and my options were dwindling. I started to panic. My rent doubled and my income was discontinued. I looked at my skills and I turned to art. I ended my toxic relationship and started to take my relationship with art more seriously.
Ever since I've been working for myself the last 5 months, I have felt a whole new sense of freedom. I have no control over my seizures and I lost control of so many aspects of my life, but I have control when it comes to art. I decided to go full time with my art and take the leap. May 6th will be 3 months seizure free. I believe I owe it to my art. It allows me the escape as well as the security. Now, I am working on a little financial security. I'm currently doing commissions, but would love the opportunity to sell my personal work. I am hoping to create a children's book that my son can be proud of and show his friends. I just want him to be proud of me. I want to create something beautiful that my whole family can see and know I'm going to be okay. Even if I have seizures again, I know I can figure out the obstacles. There are definitely down days still and I will forever be learning how to improve myself.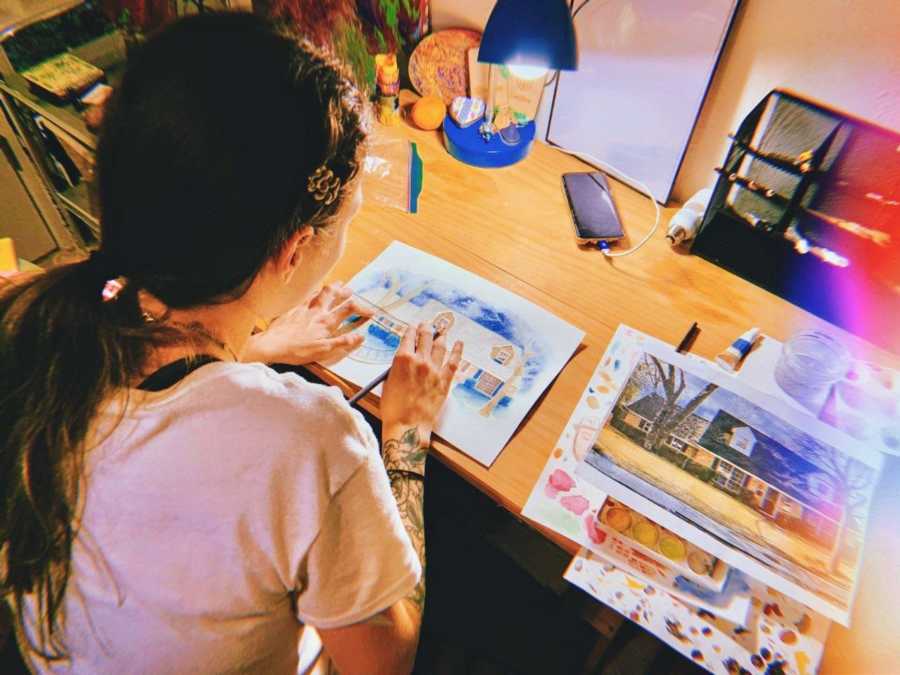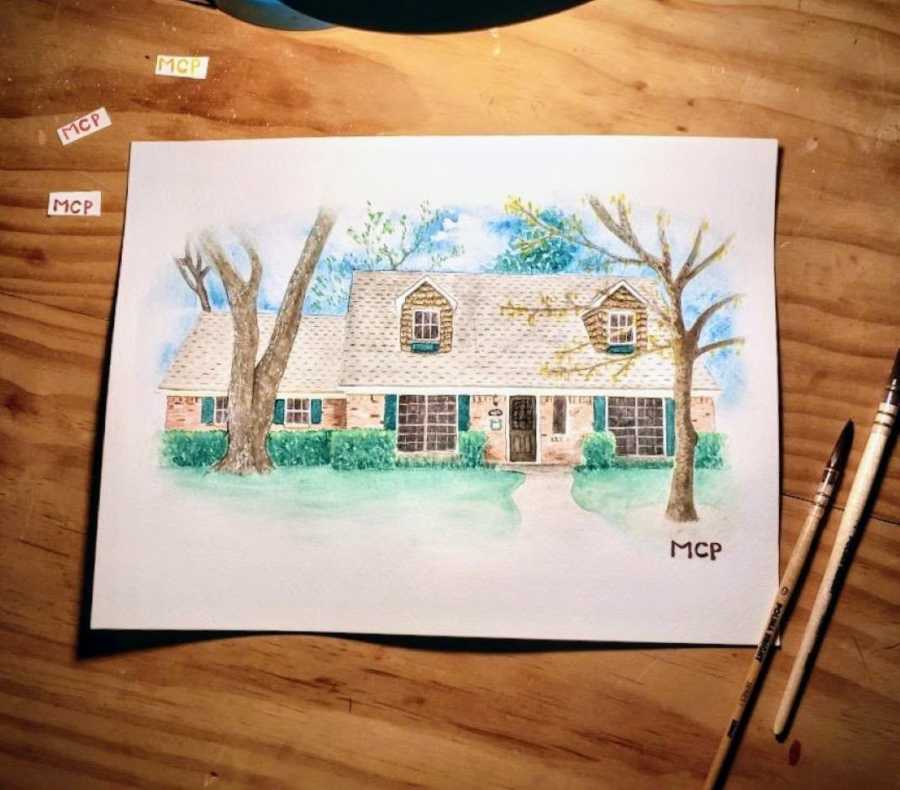 I am currently getting over the fear of leaving my home alone. For the last 7 months, I have been paralyzed with fear. At one point I was scared to take the trash out. I know I would rather not drive, but walking is scary. What if I ran in the street zombie style or what if some weirdo saw an opportunity to take me? I'm small and very stealable. I had a seizure in my grocery store in the line. I remember the panic I felt. I didn't want to abandon my cart, but I didn't know what I should do. What do you do when you can randomly lose consciousness in public? This is a question I am still trying to answer. Today, I now have a pup to train as a seizure alert dog and stopped having seizures, just very thin patience. Puppies are a handful! So that's really my story, it's one that is still in the works. What I know is I am a Texas-based artist, a single mom, and most of all a survivor. The rest is yet to come!"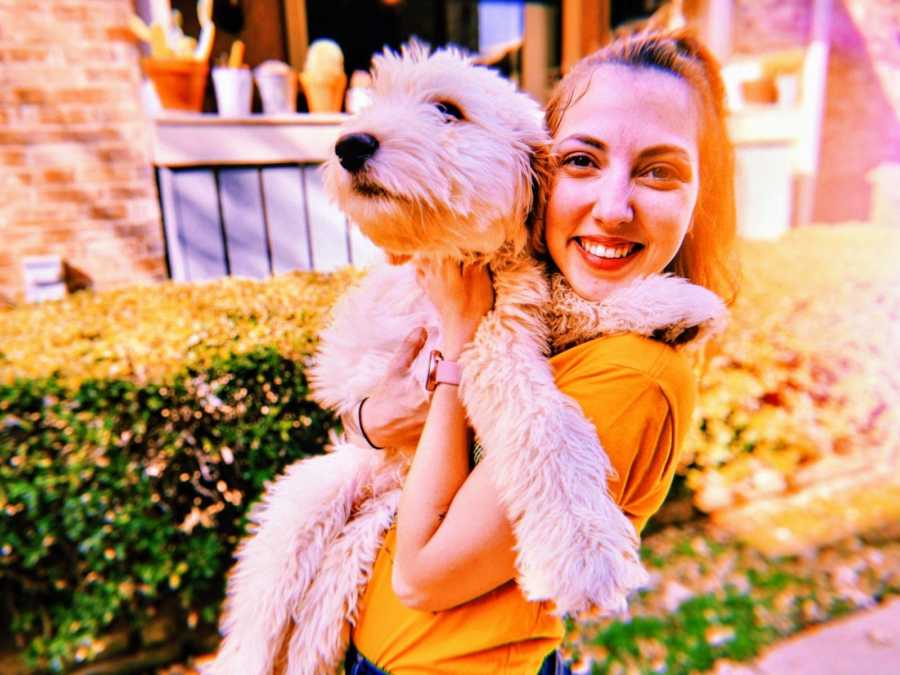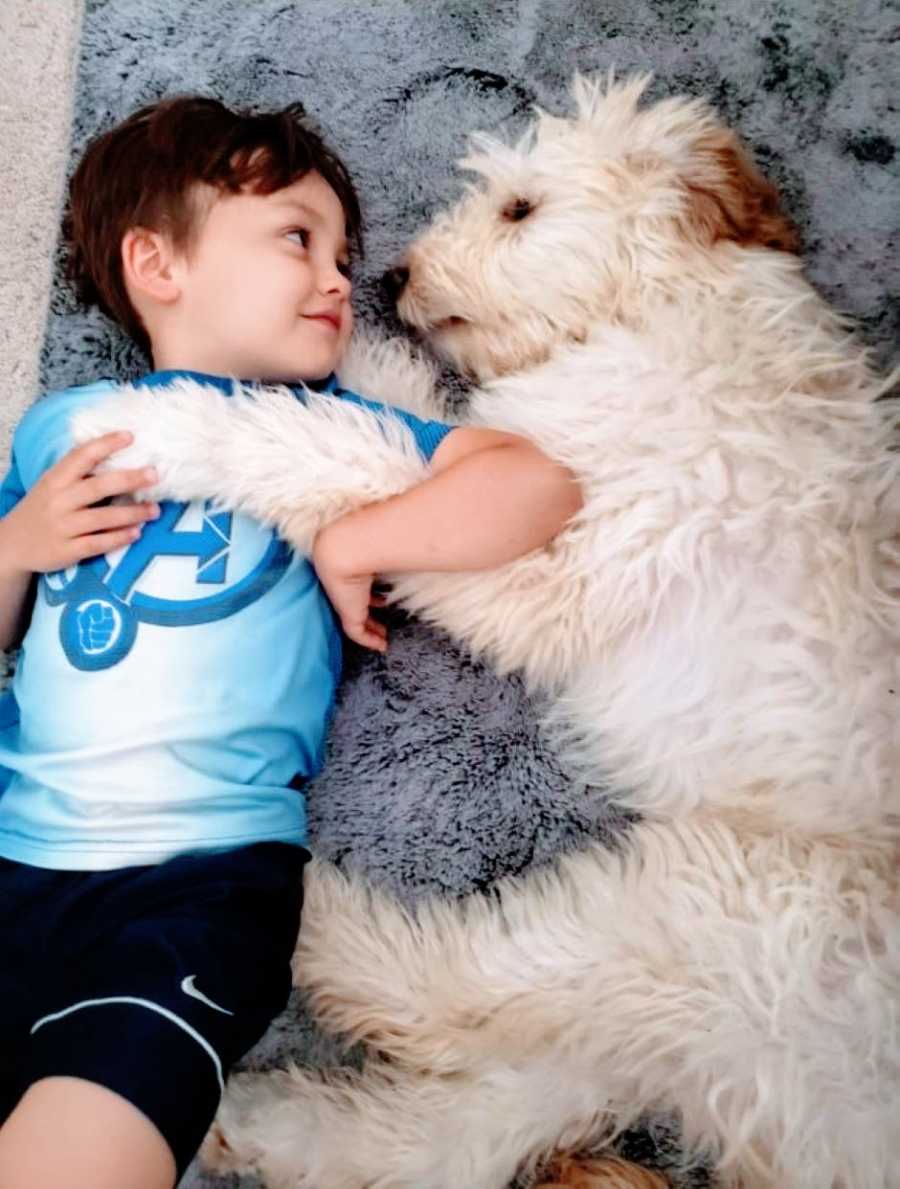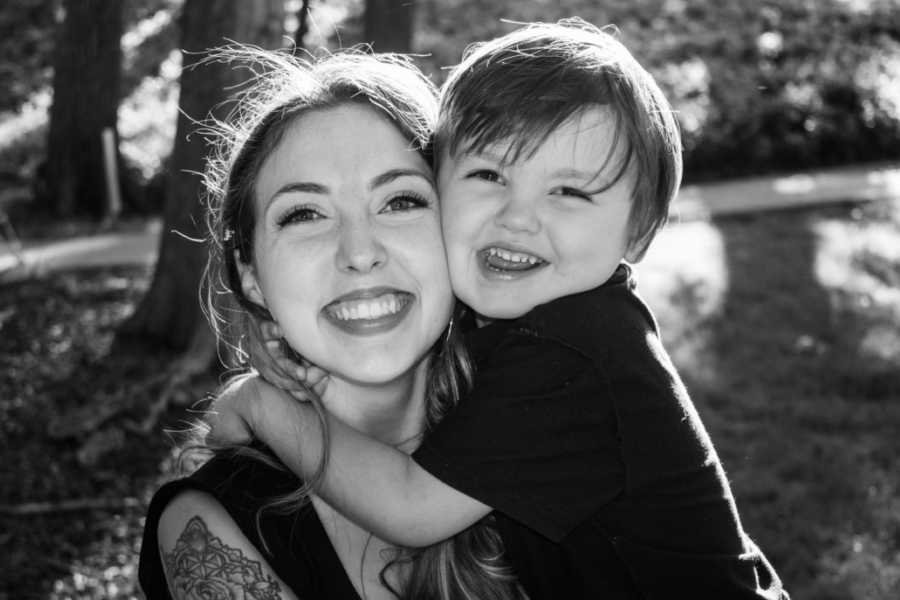 This story was submitted to Love What Matters by Caroline Pinkston of Texas. You can follow her Instagram here. Submit your own story here. Be sure to subscribe to our free email newsletter for our best stories, and YouTube for our best videos.
Read more stories like this here:
'I was abandoned on a doorstep at 1 years old, burned. 'Wen, we'd like to adopt you.' I was given a second chance to live.': Burn survivor adopted from foster care, 'I'm so lucky to be alive!'
'You look like a snake. You'll never get a boyfriend.' I made up my mind the whole human race was beautiful, and I was ugly.': Woman survives 4th degree burns after 'hide and seek' game gone wrong, learns to embrace unique beauty
'Mom, I made a mistake.' My boyfriend left me on the side of the road, a burning sensation on my face.': Young woman escapes abuser, 'I only survived for my child, but now I survive for myself'
'He went into a silent seizure. We heard 'code blue' over the loudspeakers. 'If it's his time, let him go.' My mama heart just knew.': Mom loses son to fatal Sanfilippo syndrome, 'God entrusted me with the most beautiful human'
Do you know someone who could benefit from this story? Please SHARE to let them know a community of support is available.