"'Do you want to come to Nicaragua in 3 weeks?' my friend Lauren asked.
I had to Google it because I wasn't even sure where it was. 'Sure let's do it!' I was recently out of a long-term relationship and had finally come through the part where I cried every day and didn't leave my bed and had just entered into the manic mode where I said yes to everything. This stage was much more enjoyable.
I couldn't really afford the trip but was determined to make it work. I rented my couch out to a girl I met at a dinner gathering to save on rent and lived off rice eggs and cabbage for weeks to save on food.
This would be my first flight alone. The old Kayla hated flying, but the new and spontaneous Kayla was determined to enjoy flying. I still remember the takeoff. I forced myself to stare out the window and I had this moment where I looked directly at the ground from who knows how high up and I wasn't afraid. I felt a sense of confident energy take over my body and I knew I had made the right decision.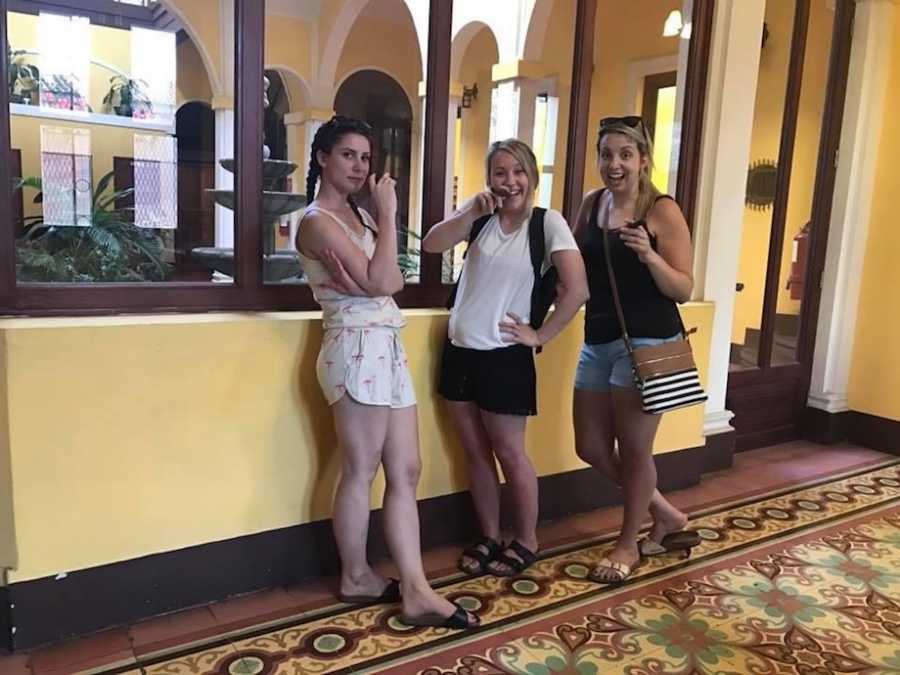 Lauren is that friend that has to plan every last detail on the trip. She had all of our accommodations booked before we even arrived and all of the activities we would partake in, including the life-changing Kayak tour. It was the first thing we did in Granada the morning after we arrived. Freddy was our kayak tour. He was wearing track pants pulled up to his knees so they didn't get wet, a striped long sleeve, and a life jacket and towered over me at 6'2. He was attractive but young and didn't speak much English so we didn't really chat much for the first part of the tour. We got to the tour destination and enjoyed a few beers at the bar and eventually, Freddy loosened up enough to laugh along with us. I took some photos on my go pro and when the tour was over I asked for his social media info so I could send them to him.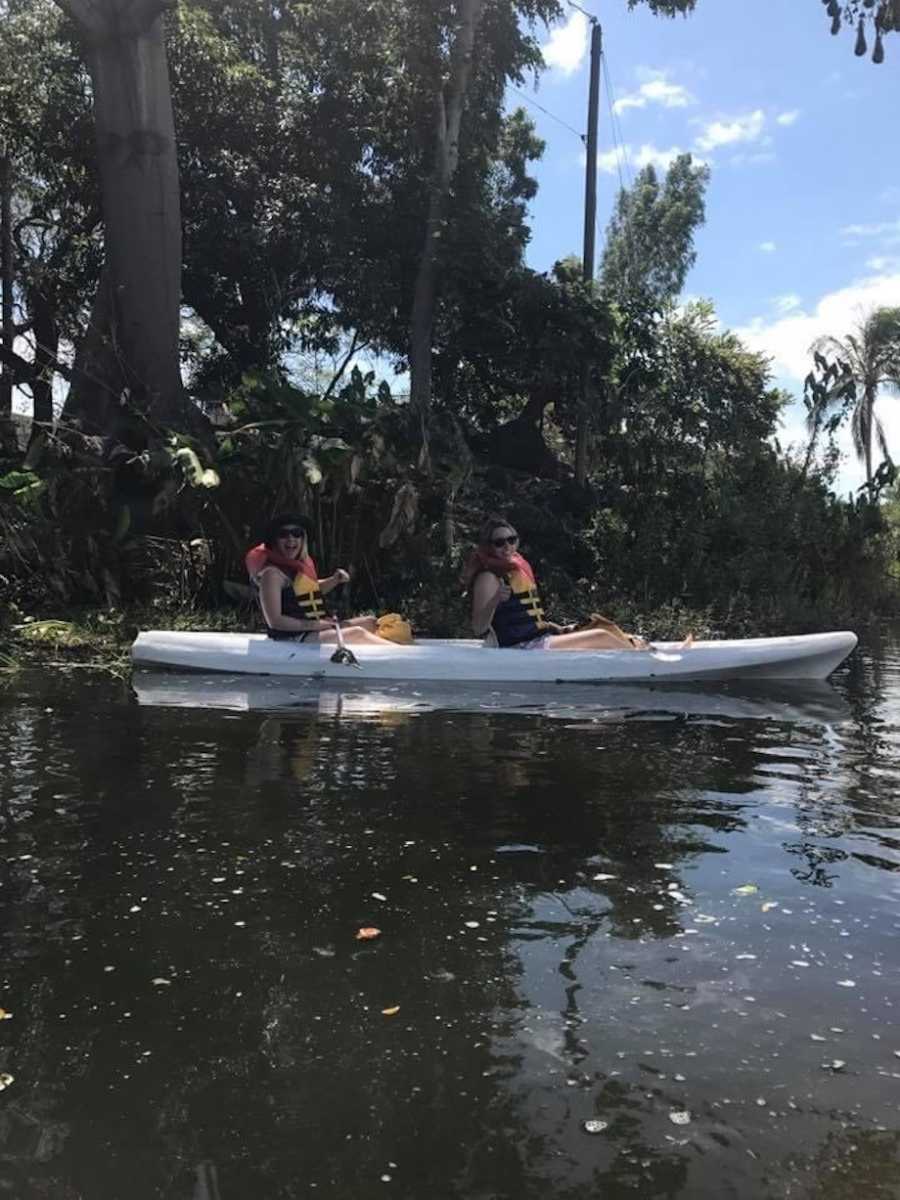 That night, we decided we wanted to go out on the town, not knowing where to go I decided to send a message to Freddy and ask where the popular nightspots were. He told us a few and said he would come meet up with us.
We met up at a popular tourist bar called Reilly's. It was filled with overserved foreigners flailing around on the dance floor. I've never been one to care for other tourists while on vacation so I stayed at our booth with Freddy. The more beers he drank the better his English got and we ended up talking all night. The next morning we left Granada and our handsome kayak guide behind and continued on our journey through Nicaragua.
We were on an island called Ometepe sitting on the beach when an inebriated local came up to me and tried to pull me off the sand to play soccer with him and some over locals. I repeated a few times I didn't understand him and didn't speak Spanish before he snapped and yelled in English, 'Why would you come to my country when you don't speak any Spanish?' It shook me more than it should have. The guy was drunk and rude but he was right. I loved traveling and always tried to learn as much of the language as I could absorb before going, but this trip was spontaneous and I hadn't learned any Spanish before coming. In that moment, I knew I wanted to learn Spanish and come back to Nicaragua.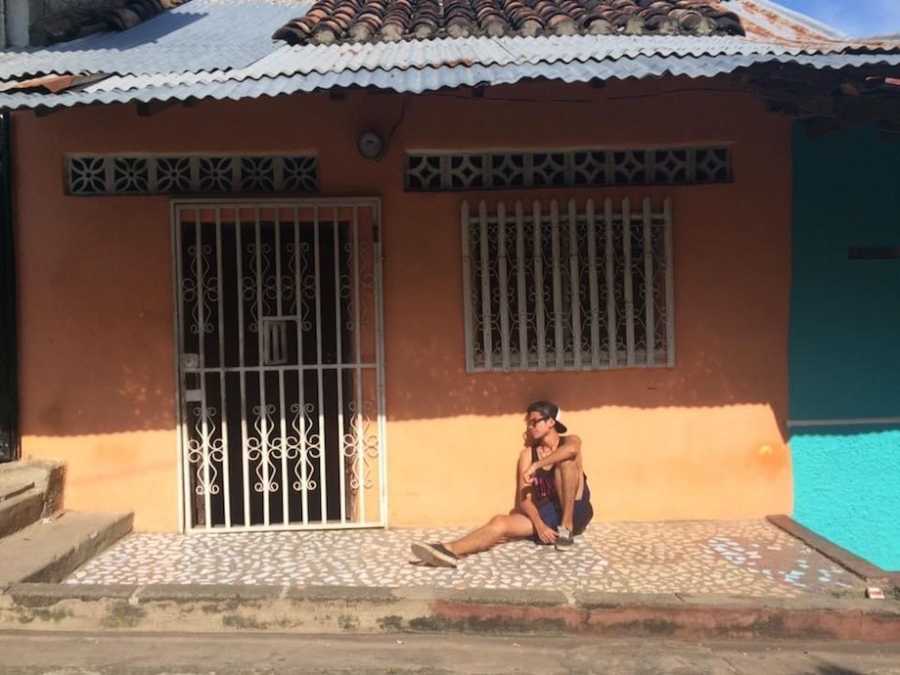 After I returned home I sent a message to Freddy. 'If I teach you more English, will you teach me Spanish?' He agreed. We spent the next 5 months talking over video daily. We did many Spanish lessons that later turned into a genuine friendship then love interest. By the end of the summer, we would set up our phones and fall asleep on video side by side. We would wake up together… we were wildly in love.
'You should come live with me and my family,' Freddy said. 'It will be cheaper and you can stay longer,' and of course, I agreed. I didn't really tell many people. I made it seem more as if I was going to backpack alone in Nicaragua. I spent a month living with Freddy and his family but was getting restless. I was scrolling on a local Facebook page for Nicaragua when I saw an ad looking for volunteers to come and 'work' at a small resort and farm in a coastal village called Salinas Grande. Basically, we would receive 3 meals a day and a place to sleep in exchange for volunteering a set amount of hours a day at the resort and farm. I pitched the idea to Freddy and he replied, 'Let's do it.'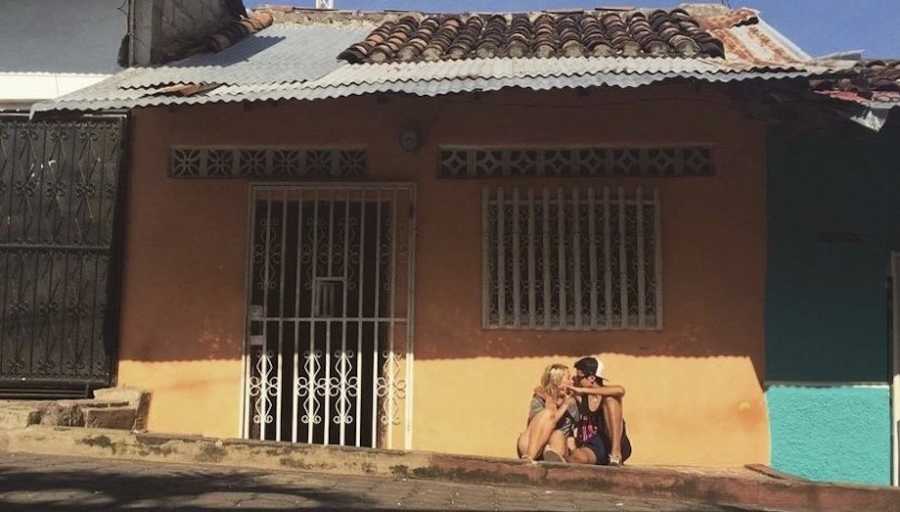 We left the next morning. He told his family and I'm pretty sure his grandma wasn't fond of me. She thought Freddy should be focusing on getting into university, not running off to work for free in his own country with some tourist girl he met on vacation. She wasn't wrong, but we didn't care.
We spent the next 3 months in the middle of know where. Frequent power outages and playing chess by candlelight, daily calls from the staff that were stuck in the mud on the long makeshift road from town to the resort and needed to get pulled out. Our favorite thing to do was venture down to the beach after high tide and collect shells and fossils. I would never tell him when I spotted a big shell in the distance because his long legs would sprint after it before me and snatch it up. We would compare shells at the end of the walk and see who collected the best ones. Shells lined every surface of our room. Life was simple.
January came and it was time. I had run out of money and needed to go back to work in Canada. We shared a teary evening the night before we left and went out on the town to share one last bucket of cold beer on La Calzada and went to Reilly's to sit in the booth where it all started. The next morning, I flew home.
It wasn't long after I arrived home I missed my period. 'It's probably just stress,' my friend said. She worked at a pharmacy so she came over one night with some pregnancy tests. We drank a glass of wine prior so I had the courage to pee on it. My heart was beating so fast. Positive. We just stared at each other for a moment. 'What do you want to do?' she said.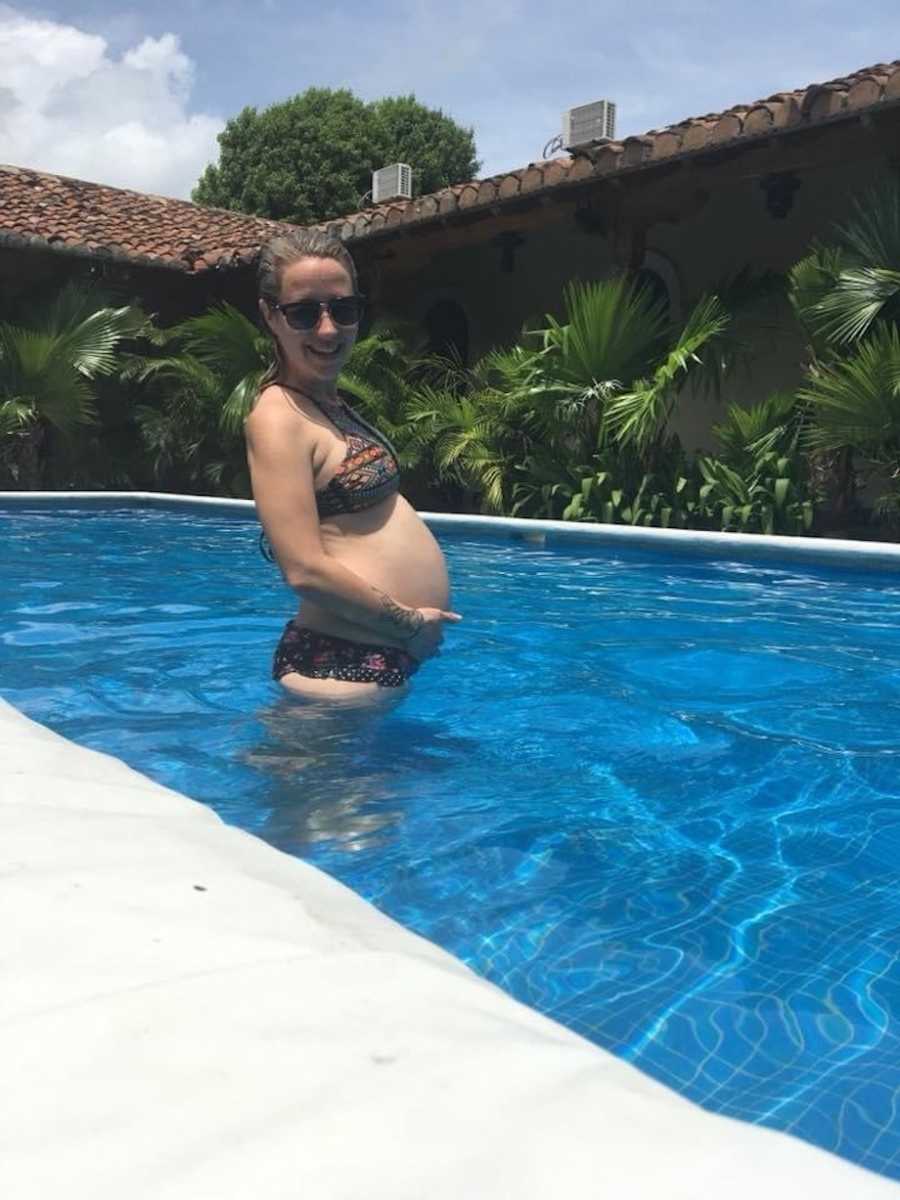 The next week was a whirlwind. My sister, who is my closest friend, was pregnant. She never vocalized it but I knew internally she was bursting with excitement we could possibly be having children together. Freddy is very religious and abortion wasn't an option in Nicaragua so he couldn't even understand the thought of it. I distanced myself from everyone for about a week. How could I have a child? I was 30, I live in a one-bedroom apartment. Freddy can't even visit Canada let alone live here. It seemed impossible. But the alternative was more impossible. Suddenly, my thought process flipped. I was 30, I had my own apartment. Babies are small right? They don't take up much room. I can do this. We will figure it out.
I called my parents. I got my mom first thankfully. I had to tell her I had a boyfriend and I was pregnant all in one phone call so that was fun. She then primed my dad, 'Kayla has news and it's good news, okay?' she said. They were surprisingly really supportive and I felt like a weight had been lifted. I could do this.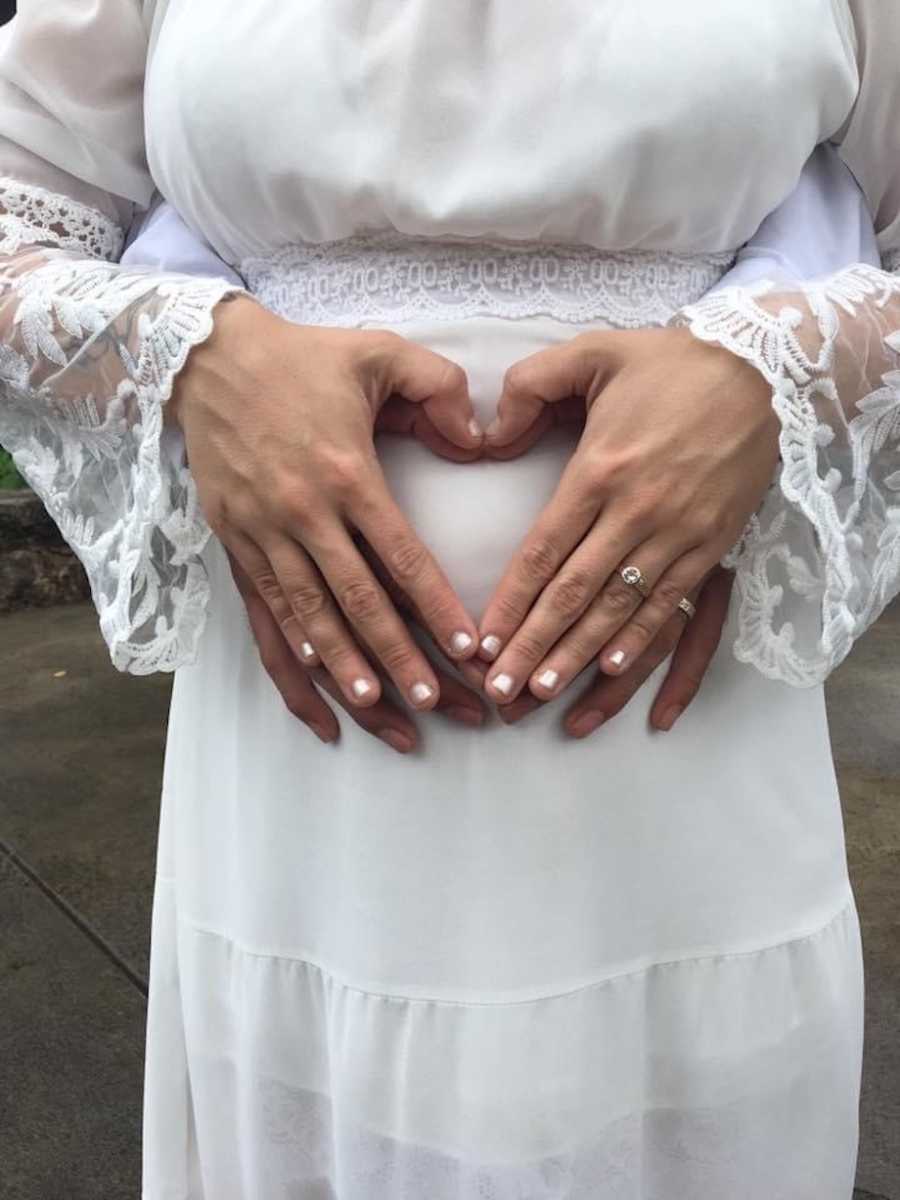 We decided to get married in May of 2018. It was exactly how I had planned my wedding, but we were in love and starting a family together so I told myself we could have a Canadian wedding when Freddy was finally in Canada. Nicaragua was on the verge of a civil war at the time, my parents had moved to there life from Ontario to Vancouver Island to be closer to my sister and I, not to mention they didn't even own a passport. My sister had just given both weeks prior so neither could fly down. The world felt like it was going so fast but not fast enough all at once.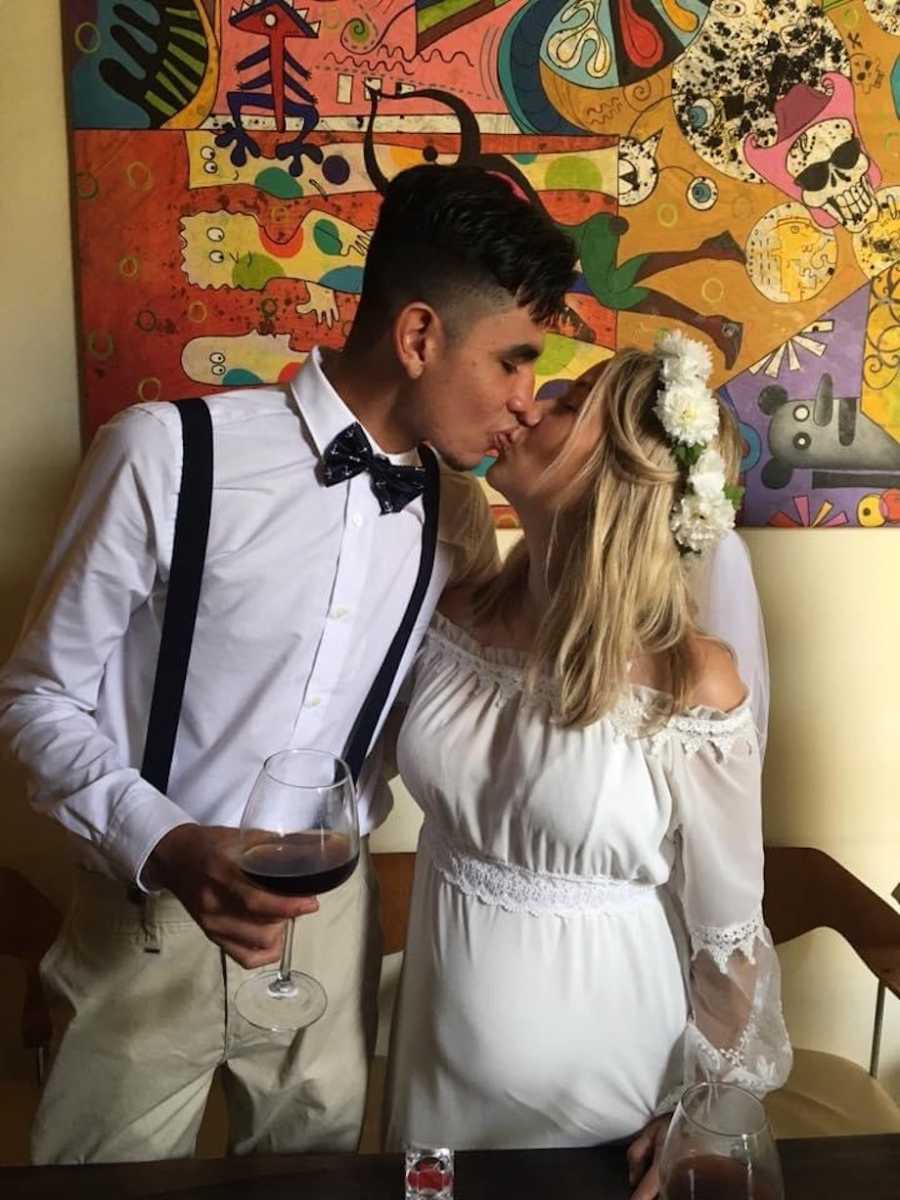 I flew down with a friend and she booked us a beautiful house in Granada. We had a private ceremony at the house we had rented with a few close friends and family. The wedding was also supposed to be pretty small but we still had around 50 people. Days after, I flew back home the City Hall that processes all the government paperwork for Granada burned down during the riots, so we couldn't get our marriage certificate. We weren't able to get a criminal record check that was required because all the police stations were closed to the public. The list goes on. We felt hopeless.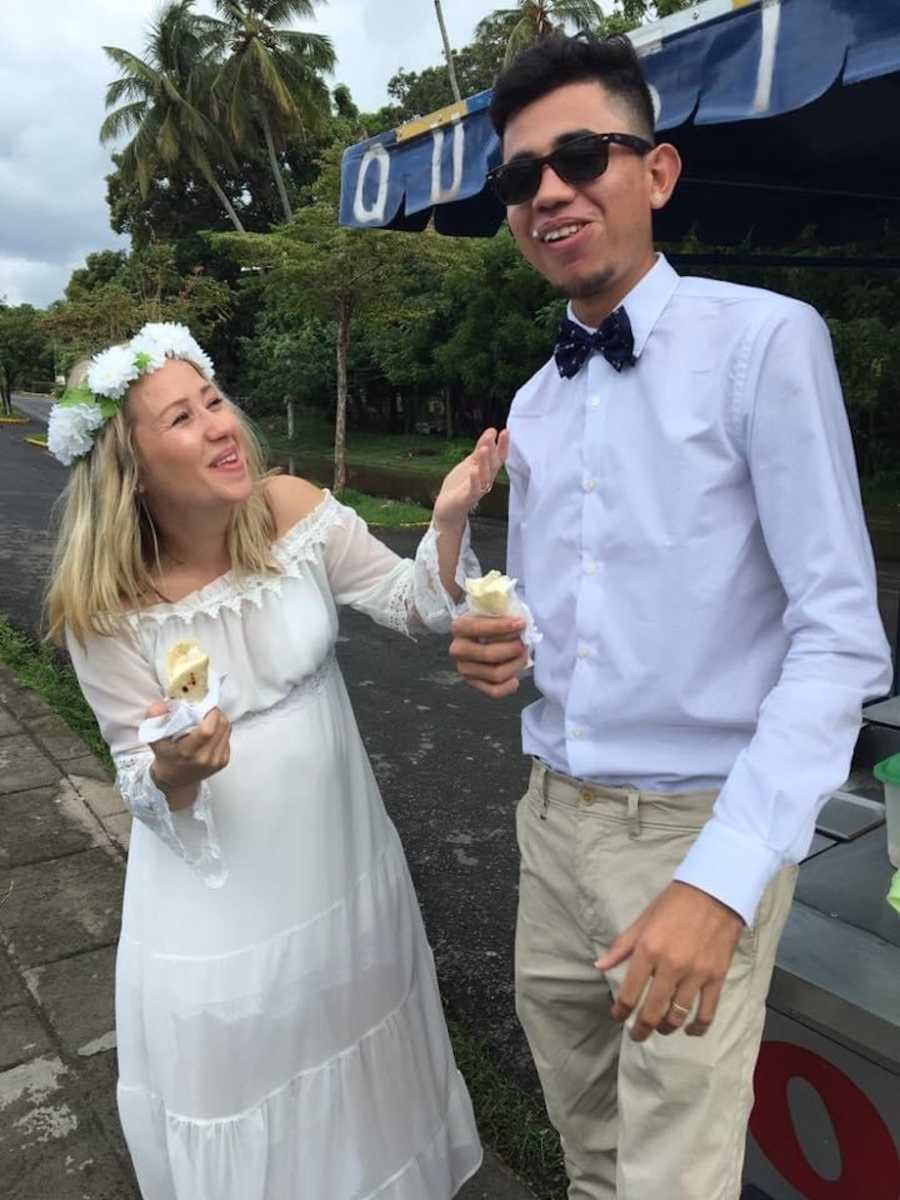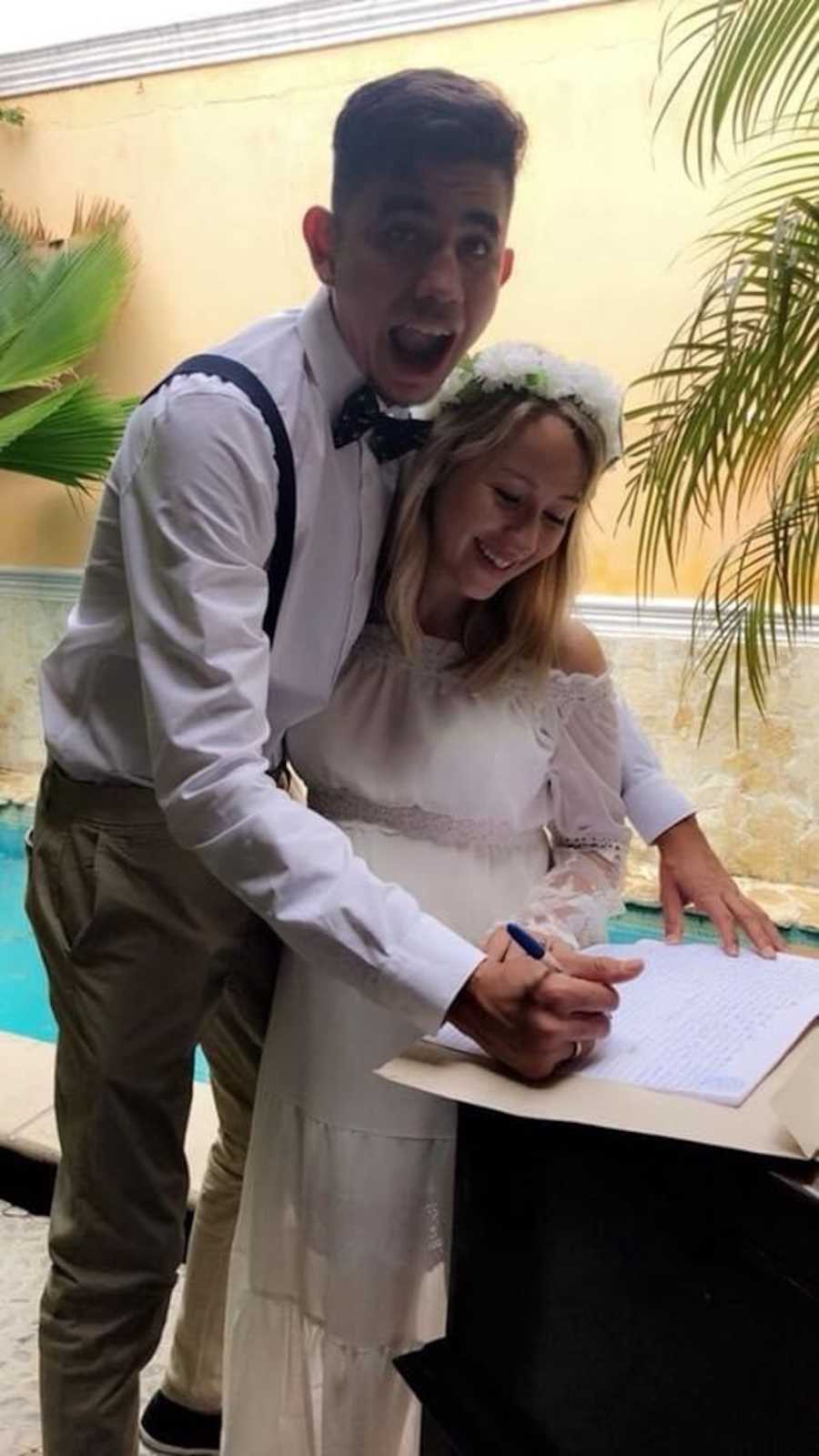 I don't know what kept me hopeful. I made a list in my Notes app of the smallest tasks just so I could check them off and feel like I was going somewhere but Everything went on hold in October when I went into labor. My mom was in the room with me for the birth and I kept Freddy updated throughout most of my labor. At 6:56 a.m. on October 18, our daughter Atlas was born. Suddenly, reality outside these four walls was on hold for sleepless nights, feedings, and healing. Atlas and I flew down to Nicaragua when she was 8 weeks old. we had planned to stay there for my entire mat leave and just enjoy time as a family leaving the visa and all the paperwork stress behind for now.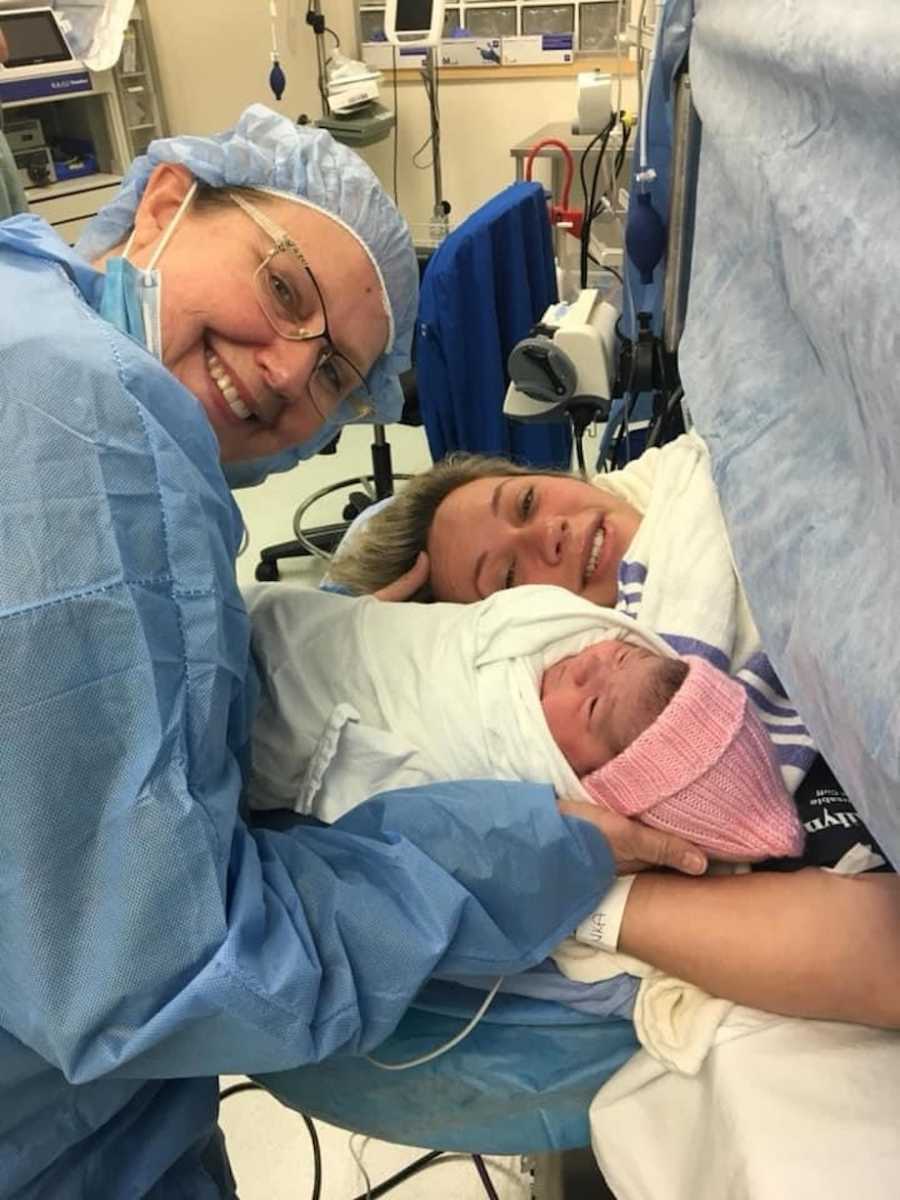 We didn't adventure how we used to. We rented a room in a house in Granada. We set up Atlas's little foldable co-sleeper on two chairs beside our double bed. Freddy's mom would come over every day and rock Atlas for hours in an old rocking chair so Freddy and I could spend some time alone together. We would make food in the kitchen and enjoy a large Toña at the kitchen table and it was the part of the day we looked forward to. Life was simple again.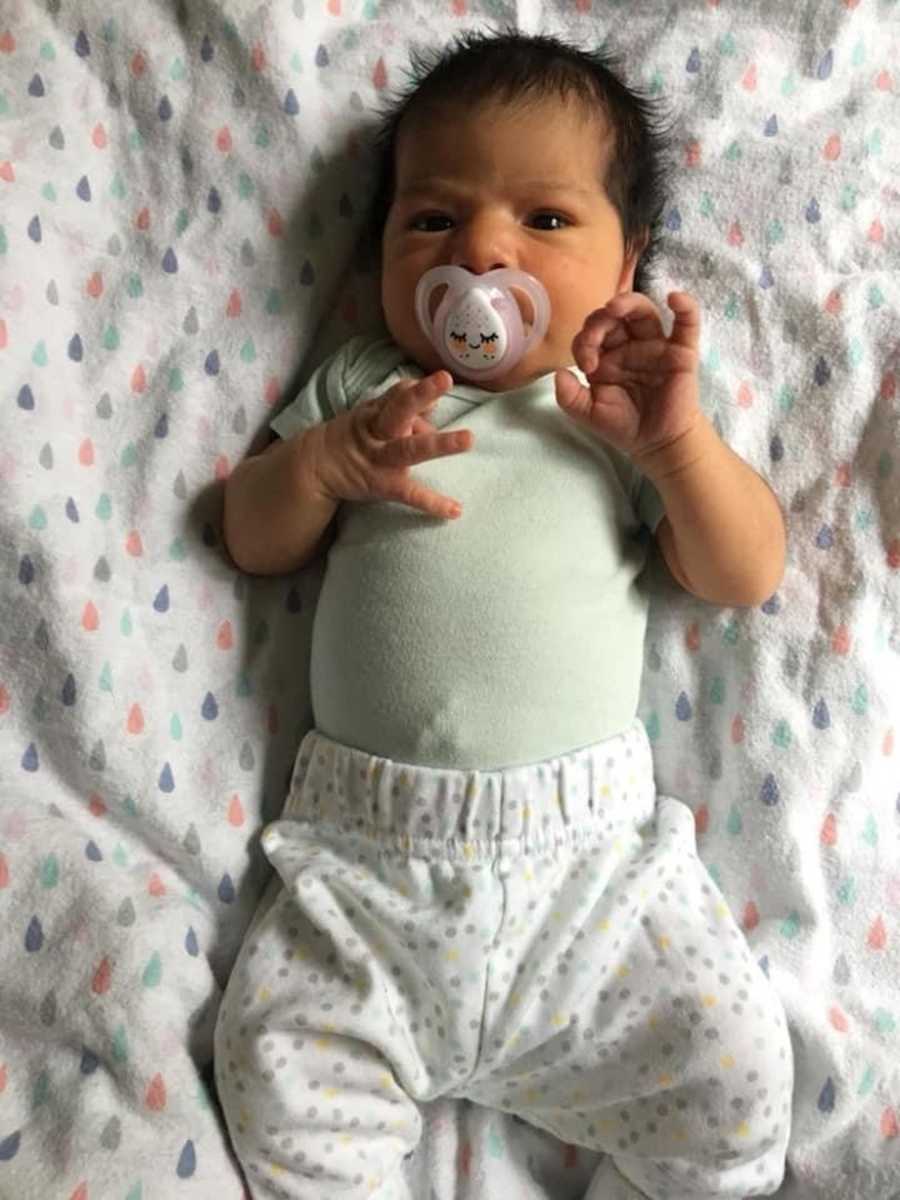 The calm didn't last long, a short while into our time in Nicaragua Atlas developed what was thought to be a stomach infection. We tried for 2 weeks to follow a local pediatrician's plan. We even took her for antibiotic injections at a dingy clinic in Granada but nothing seemed to work. We worried things would eventually take a turn so Freddy and I decided it was best for Atlas and me to fly back to Canada and get Atlas into a better hospital.
Atlas and I flew home leaving Freddy behind once again. My mom met me at the Vancouver airport. We took a taxi to the Richmond children's hospital moments after arriving. After running tests, Atlas did not actually have a stomach infection. She actually had an allergy to the protein in the formula we were giving her in Nicaragua. I was not able to breastfeed and the formula she needed now was not available in Nicaragua. Just like that, Nicaragua was out of reach once again.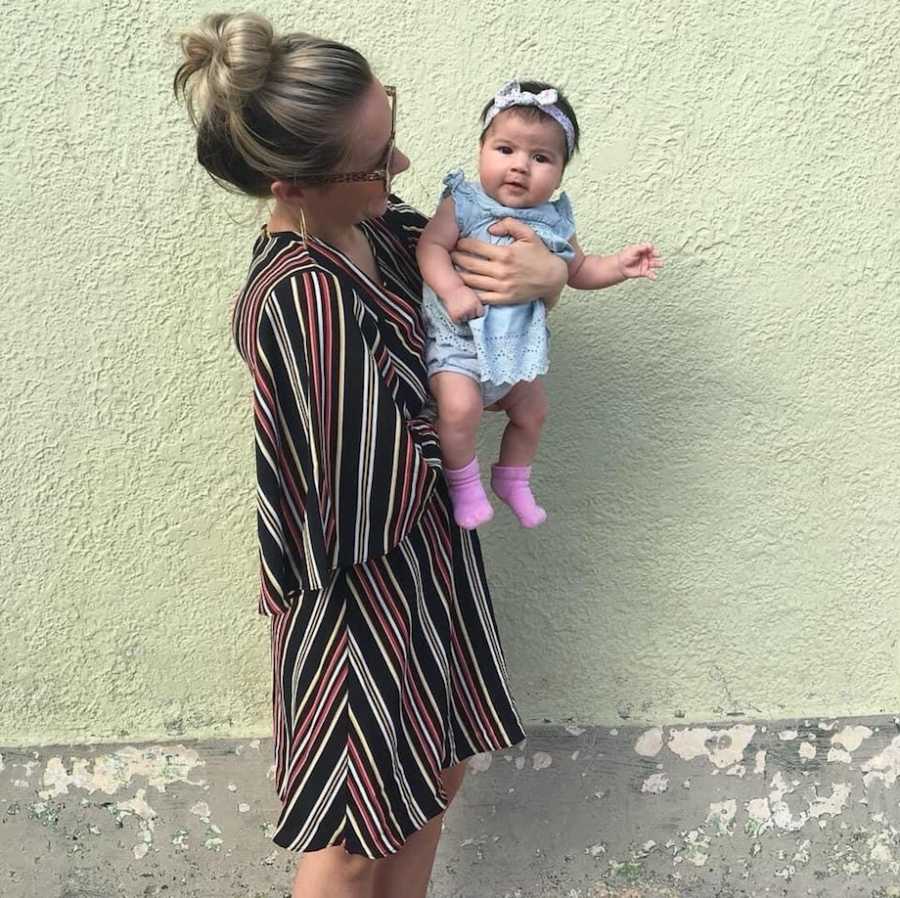 We decided to put our energy back into the Visa. I spent the summer living with my parents for the extra help and put my head deep into paperwork for months. We collected the letter from friends and family stating they supported our marriage, we printed out endless conversations we had online, printed photos, translated endless Spanish documents. Finally, we were ready. We submitted the Visa.
8 months later, we got the news Freddy's visa to Canada had been approved. He mailed his passport to the Visa office and it returned with his landing Visa on December 23rd. He flew out the next day and arrived in Canada at 4 a.m. in December 25, 2019.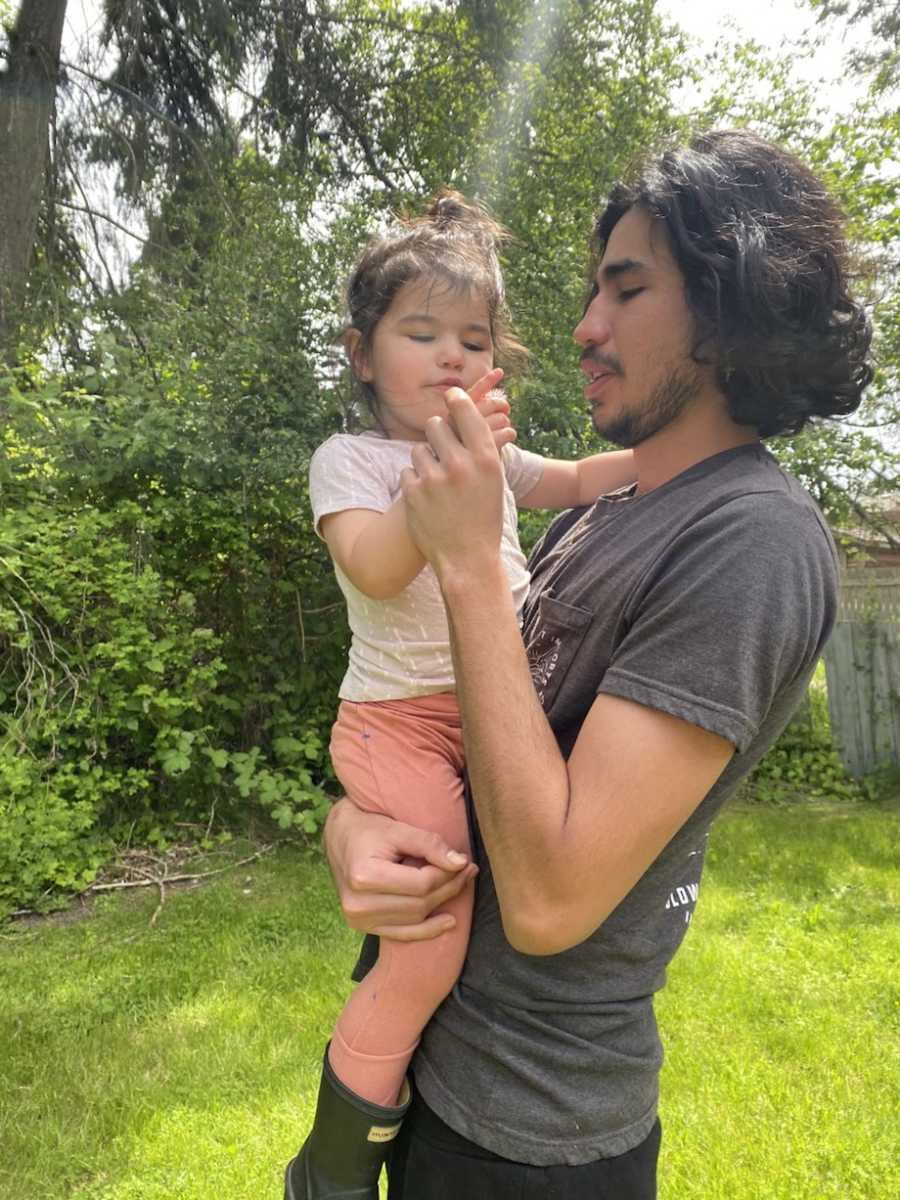 I still remember the moment we stepped out of the airport watching Freddy realize he could see his breath for the first time. We stopped in the mountain pass on the way home so he could touch the snow and enjoyed his first Canadian turkey dinner and fixing at my sister's house that evening. He was so worried Atlas would be scared of him, but she warmed up to him very quickly and the two have been inseparable ever since.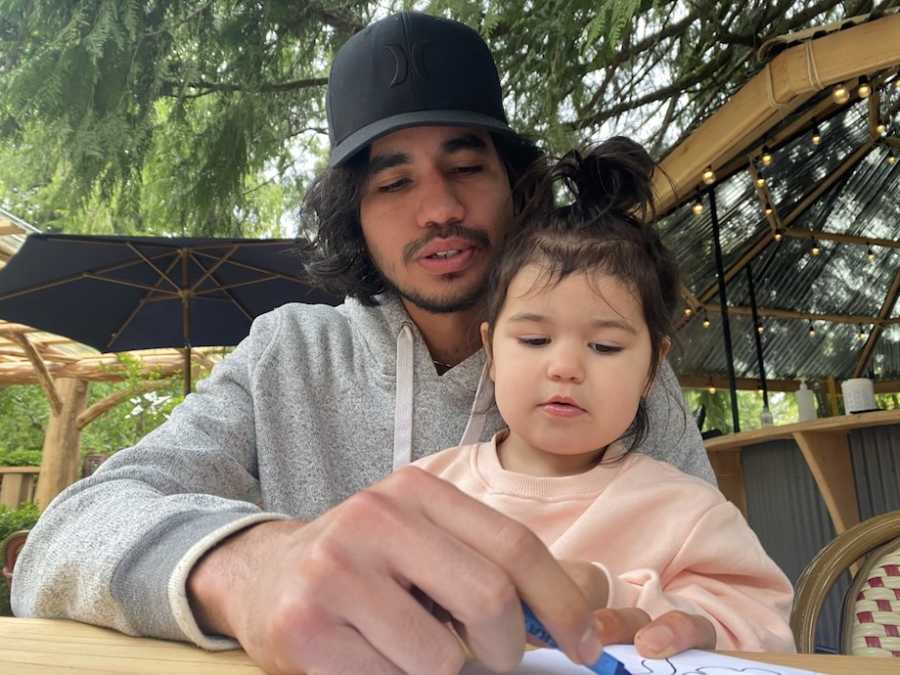 Though we thought this would be the end of the hardest journey we would ever have to endure, 3 months after his arrival Canada locked down due to Covid 19. Our story is far from over and we would love for you to follow us on our journey navigating parenting, pandemics, and our Canadian/ Nicaraguan travels."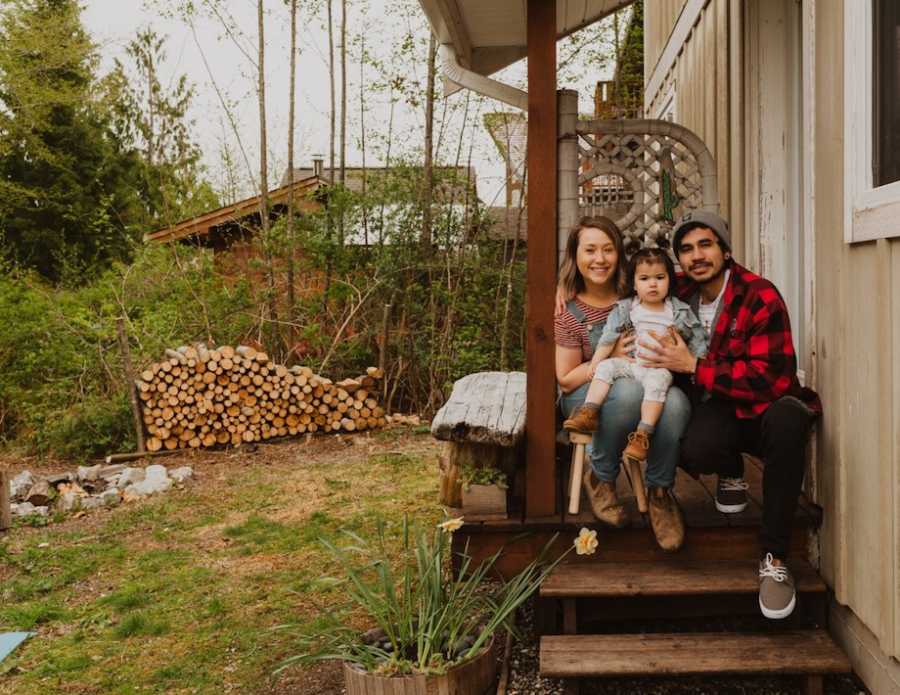 This story was submitted to Love What Matters by Kayla Acevedo from Vancouver Island, Canada. You can follow their journey on Instagram and TikTok. Do you have a similar experience? We'd like to hear your important journey. Submit your own story here. Be sure to subscribe to our free email newsletter for our best stories, and YouTube for our best videos.
Read more touching stories like this:
'I called my mom, sobbing, 'We have the visas and we're going to get our baby!': Mom shares international adoption journey
'My visa was denied.' I never thought I'd be a single parent with a partner on the other side of the world.': Solo mom raises son alone during lockdown, 'I have hope we'll be together again'
'No one hugged me and said, 'Congratulations!' I celebrated silently. I felt like I'd messed up the timeline.': Single mom navigates motherhood, 'Unplanned doesn't mean unwanted'
'When are you hopping on the baby train?' I didn't want a baby. I wanted to spend my money on traveling and selfish things, not diapers.': New mom says motherhood is 'easily the best thing to happen to me'
Do you know someone who could benefit from reading this? SHARE this story on Facebook with family and friends.