"I grew up in a small village in South-West Germany near the French border. Until I was 24, the furthest I had moved away from home was a 3-hour car ride to Munich to go to college. And even then, I came home pretty much every weekend to spend time with my friends and family whom I had always been close with.
If my last year of college wouldn't have been a total disaster, I probably never would've felt the need to go away for a while. But after my graduation, I had a mental breakdown during a job interview and lost the last bit of confidence I had. I pretty started questioning every decision I had made so far. I needed a break from it all to figure out what I actually wanted in life. So, I decided to apply for an Au Pair position in America. After many months of searching for the right family, I found my perfect match in Denver, Colorado.
In August 2015, my new life started with me moving across the globe to live and work for a family I'd only talked to a couple of times via Skype. To say I was nervous would be an understatement, but I was very lucky to have found a couple that made me feel like I was part of their family—they even took me on their yearly skiing vacations and paid for daycare for their toddler so I could go snowboarding myself. I soon got bored of riding by myself and decided to go on Tinder to look for a riding buddy. Since I was only looking for someone to go skiing with, I pretty much just swiped right on every guy that had a snowboarding/skiing image of him and looked like a nice, decent guy that wouldn't kill me. Attractiveness was definitely not a priority.
Brett and I matched right away and we soon started chatting. I told him I was looking for a riding buddy and asked him if he wanted to drive up to the mountains the next day to ski together. On Sunday he texted me and told me he would be pretty late, so I started riding by myself. He arrived around noon while I was taking a lunch break on the terrace. I saw him right away thanks to his bright yellow jacket, but he walked right past me and went inside and down the stairs. I ran after him, chasing him down the stairs. I tapped him on the shoulder and asked, 'Are you Brett?' Completely forgetting how nervous I had been about meeting a complete stranger.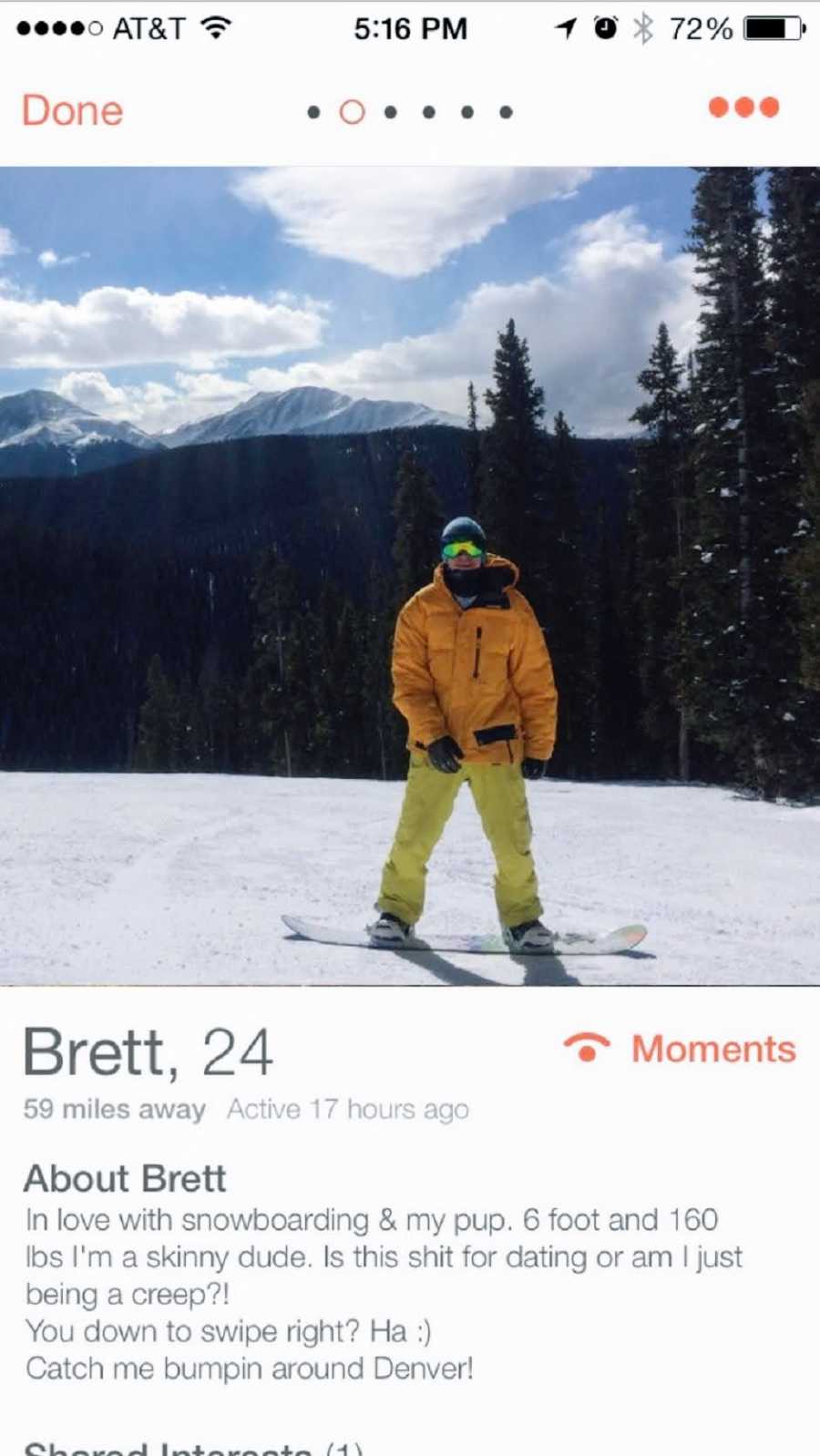 I've always been an introvert and very quiet around people I don't really know yet. To this day, Brett still likes to make fun of me about how I responded with 'okay' to everything he said.
After riding all afternoon together, I drove him to his car and we exchanged numbers. We soon found out we only lived 10 minutes away from each other. He actually asked me out on a 'real date,' but I quickly told him I wasn't looking for a boyfriend since I knew my J1-visa would expire at some point. We decided to go riding together the next weekend instead. After parking at the ski resort, Brett walked around the car to give me a proper hug and I remember thinking this hug is way too long to be platonic. After a great day of riding, we walked back to the car. I'm still not sure how we ended up kissing, but somehow we did. For the first time in a long time, I had butterflies while kissing someone.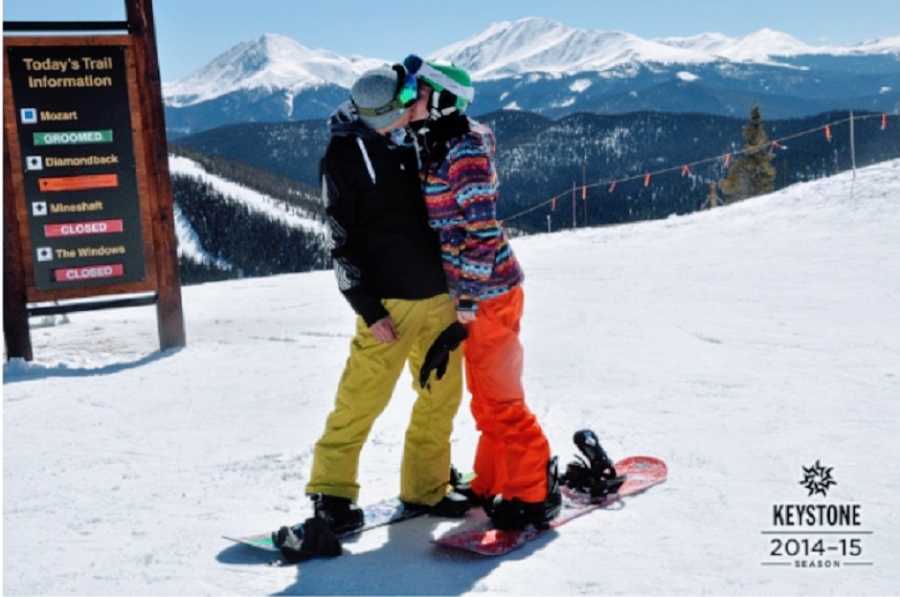 From that day on, we pretty much spent every weekend together. We went off roading and hiking with his dog. It reminded me how much I loved doing that when I was a kid. And even though I didn't want a boyfriend, I slowly started to fall in love with him. I laughed more often and harder than in every relationship before. From the very beginning, he pushed me out of my comfort zone, helping me grow as a person and being more comfortable in my own skin. He always gave me compliments. We even traveled to Alaska together.
I felt loved, and for the first time, understood. Which was kind of crazy since we didn't even speak the same language.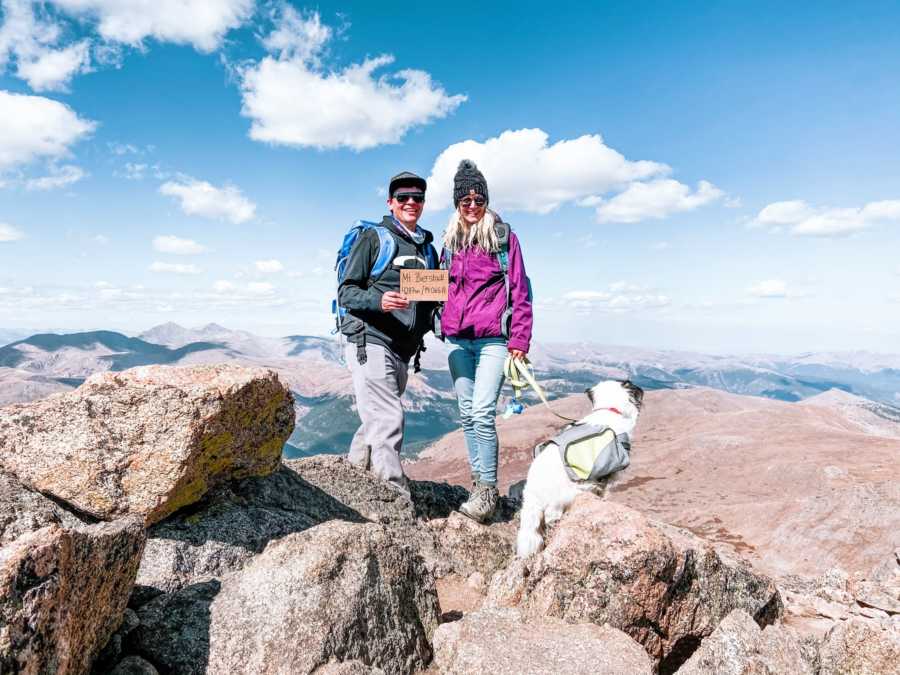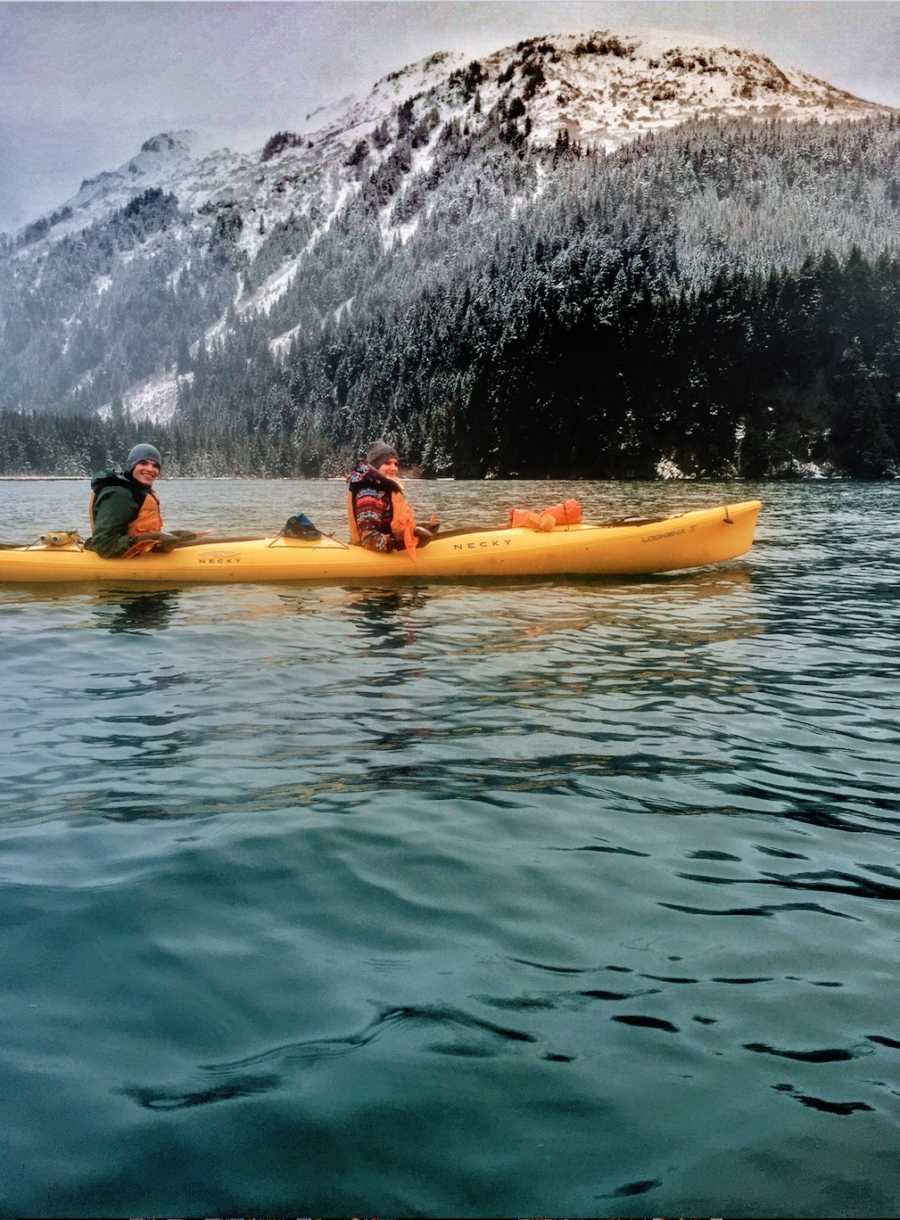 Naturally, I decided to extend my time as an Au Pair for another 9 months so we could spend more time together. We had an amazing 1.5 years. Yes, we fought, but always managed to get back together, learning more about each other with every fight.
It wasn't until I actually had to leave when things went downhill fast. A couple of weeks before my flight we started talking about what it would mean for our relationship once I was back in Germany. I knew he didn't believe in long-distance relationships and that he wanted to break up, but I loved him so much and couldn't picture my life without him. I always have a hard time accepting when things don't go my way, so I talked him into trying it anyway. 
I'm still not sure how we ended up there, but I even started talking about getting married. At this point, I should probably mention we both never believed in marriage. Brett just never wanted to get married, and I was raised to be totally independent and I always believed you didn't have to be married to prove your love for each other. But, somehow, here I was, talking about getting married to a guy from the other side of the world I only knew for 1.5 years. I was so sure about this that it even convinced him to try. The plan was for me to fly home and then come back as soon as I could.
Fast forward to my last weekend. In the morning we woke up to his dog being sick and ruining the whole apartment. I knew from the beginning that Brett struggled with Bipolar-Depression, but I didn't truly understand what that meant until this weekend. This whole situation of me leaving soon was already really hard on him, and with the dog ruining the whole floor, he just snapped. He started yelling at him, dragged him out of the apartment, and started throwing stuff around. I just stood there and couldn't believe what I had just witnessed. I'd never seen him this angry and felt paralyzed. I went outside and searched for the dog to give Brett some time to cool off. Thankfully, I found him and brought him back inside.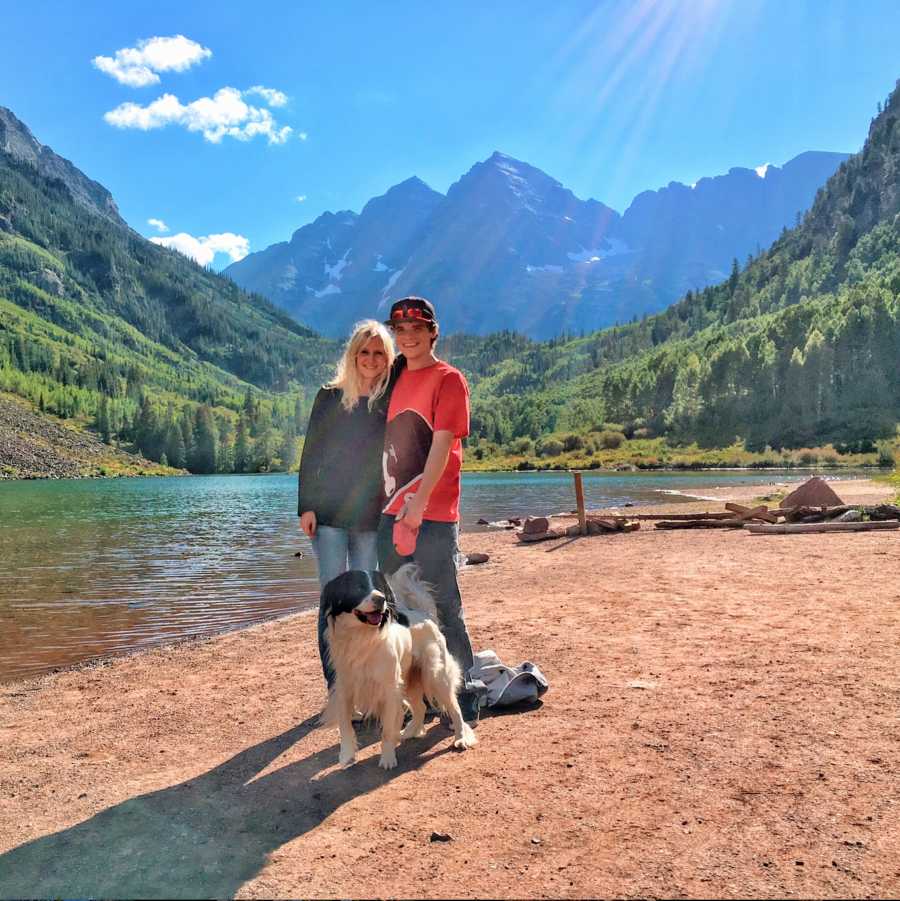 A couple of days later, my flight left, and even though seeing him this angry scared me a little, leaving him behind was the hardest thing I had done so far. Even harder than saying goodbye to my family a year and 9 months earlier.
After I got back to Germany in June of 2016, I moved back in with my parents until I knew what I wanted to do with my life. The first couple of weeks of being back home were just as terrible. I hated every single minute of not being with Brett. I felt stuck and nothing excited me anymore. I spend a lot of time outside just wandering through the forest, trying to find answers to all those life questions. Should I really move back and get married? Do I even know Brett well enough to spend the rest of my life with him? What if I'm doing something wrong and he's just kicking me out like he did with the dog? He would be the only person I had over there.
I first moved across the globe to find myself, maybe even figure out what I wanted to do with my life, and here I was having even more questions and even bigger decisions to make.
After a few weeks, my mom forced me to start applying for jobs, and since I felt completely lost and didn't even know what I wanted to do anymore, I figured it wouldn't hurt. Miraculously, I got a job offer from the first interview I went to. It was for a one-year trainee position, and naturally, Brett wasn't thrilled. I promised him that I would move back to Denver as soon as the trainee position was over.
The next couple of months were still hard, but like all humans, I started to get used to my new life. And slowly but surely, I started to love being back home with my family and friends. Yes, I missed Brett deeply, but just knowing he was there was enough for me. It got to the point where I started thinking about staying in Germany and him moving over instead of the other way around like we agreed on months before. I went from 'I'll marry you' to 'I have a one-year contract' to 'You should move to Germany' in just a few weeks. The worst part about changing my mind was I never truly admitted it. I don't remember how often Brett asked me if I was still committed or if I still wanted to be with him. I always said yes, but also had a long list of why I was so worried about moving.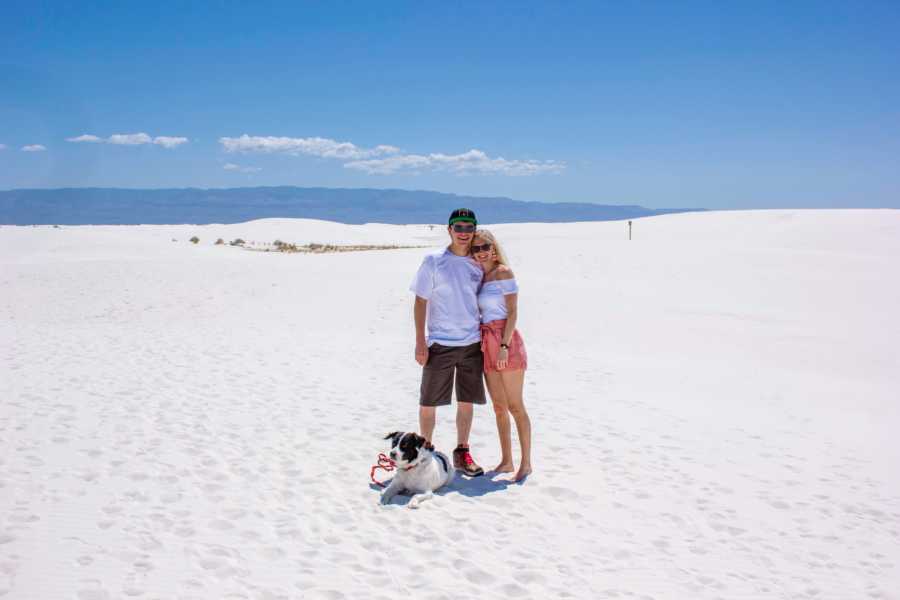 He tried his best to convince me that everything would be fine and he would never just kick me out if we ever got into a fight. And even though I believed him on some level, I was never truly convinced. On top of all that, we started fighting about the smallest things. How we both don't spend any time with our friends anymore because the only time we can truly talk is on weekends. How much it sucked to only talk and not be able to just hug each other or physically spend time together.
December came around and Brett visited me for a week. I had the time off as well, and since it was his first time in Germany, we spent every day exploring. It was exactly what we needed so desperately. To physically be together reminded us of what great of a time we always have together. When he left I thought, 'We're as good as we can be in our current situation.'
But a few weeks later in January of 2017, Brett told me he needed some time to think about our whole relationship. He asked for a one-week break with no contact. This came totally out of the blue for me. We just had a great time a few weeks ago and now he wanted a break? I was in shock and couldn't believe it. I figured if I just reminded him of how great of a couple we were and how great of a time we always had together, he'd change his mind. So I kept texting him and asking for an answer. Which was obviously the wrong thing to do considering he wanted to have no contact. But, I couldn't help myself and kept texting him anyways. He ignored all of my texts until a few days later on our two-year anniversary, and he told me he was breaking up with me.
My whole world just fell apart. I cried for a week straight. I couldn't sleep or eat. I pretty much walked around like a zombie. It took 26 years for me to have my first real heartbreak, and to punish myself even further, I kept texting him about how thankful I was for the time we had together and that I wished him all the best for his future. We kept texting back and forth all through February, and every so often I kept asking him to get back together. One day he just had enough and sent me the worst text message I had ever gotten. Telling me I was the worst girlfriend he ever had. That I never fully accepted him and his friends. He pretty much brought up every fight we ever had.
I must have read that text like a hundred times, and every time a piece of who I thought I was disappeared. This wasn't just him breaking up with me. He made me question everything that had happened in the past 2 years. Was I really that terrible of a person? Or is he just saying that so I would stop harassing him? I honestly couldn't say anymore. I didn't answer and turned my phone off so I would leave him alone and get some time to think. Not about how to win him back, but about what had happened in the past few months, and what I had done to receive such a message. 
My phone was turned off for a week straight. I still believe his message was an overreaction, but I slowly started to realize it also isn't fair to change my mind over and over without being honest about it. Actions speak louder than words. All I did was talk, I never truly committed to anything, and that's not fair to anyone. When I turned my phone back on, I saw he had messaged me days ago, apologizing for his last message, and he also told me he never wanted to break up in the first place, but he just needed some space and time to think.
And since I wouldn't even give him space, his Bipolar Disorder kicked in and he took it to the other extreme. We had a long conversation on the phone, but he agreed it would be best to talk about everything in person. I didn't want to ask myself in 10 years what would have happened if I tried one last time. So in mid-April 2017, I flew back to Denver to talk.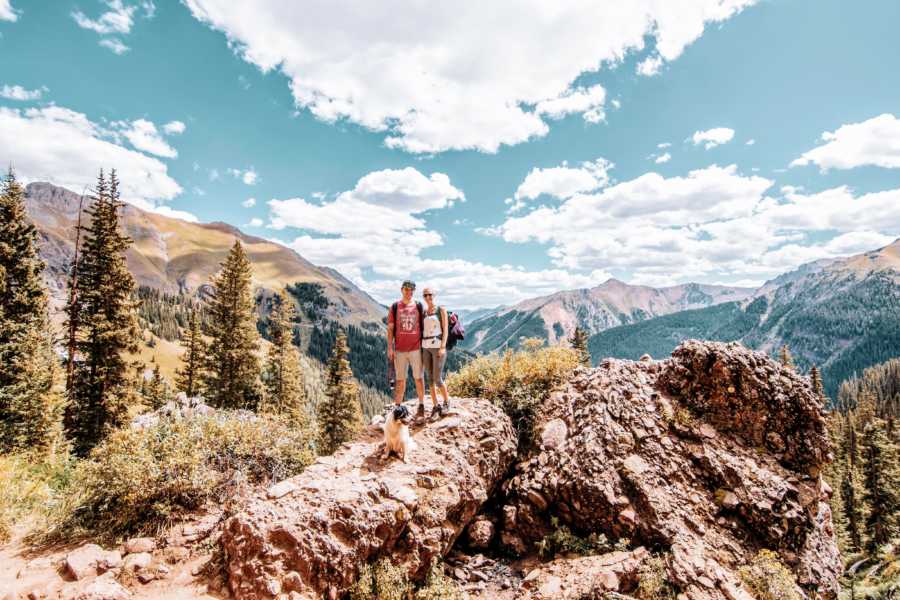 We agreed on taking it slow, and just to stay in contact as friends so we could see where time would take us. Would we start missing each other again? Are we able to have a normal conversation without fighting every 5 minutes? We completely removed the pressure and expectations you have in a relationship which allowed us to be fully present in our daily life and make our way back to the great conversations we had while dating. Over the next few months, we started talking daily again. We soon noticed despite everything we went through, we still loved each other.
In November 2017, I moved back to Denver. Not to get married, but to find out if we could actually make it work as a couple. We had 3 amazing months living together, so naturally, the wedding topic came up again since getting married would be the easiest way for us to legally live together. I was still a little worried since this would be a huge step out of my comfort zone. Ultimately, it was my mom who convinced me to just try it by reminding me I always have a place to come home to if things wouldn't work out.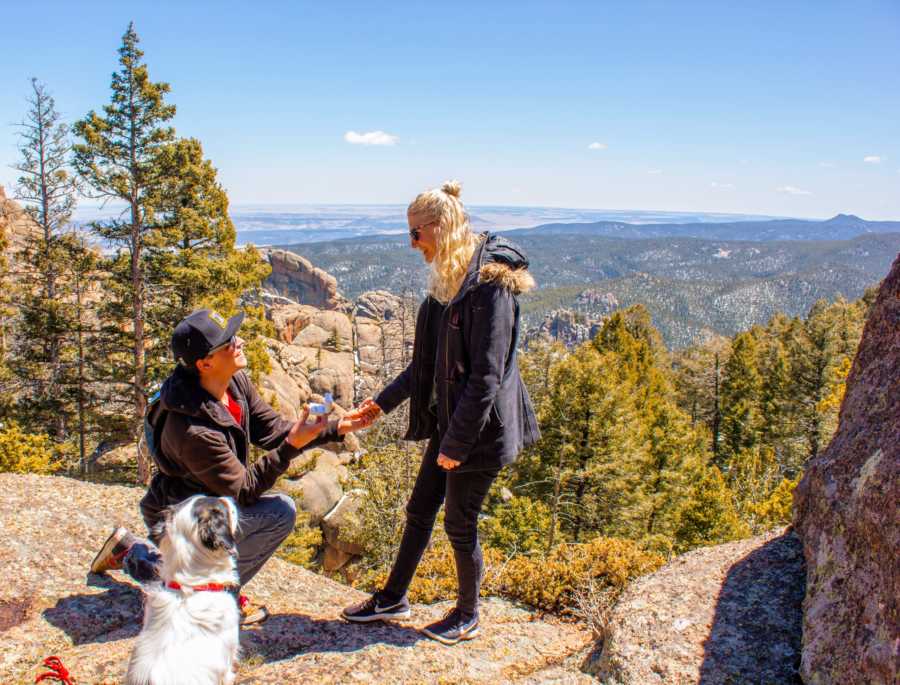 So in February 2018, we sent in our K1-visa (Fiancée-Visa) application, which meant another year of long-distance and waiting for the visa approval. This time I was only working in a remote part-time position, allowing me to visit more often.
The year went by surprisingly fast. In January 2019, we got our visa approved, and I moved back to Denver in mid February. At this point, I had an absolute hate relationship with Airports, since it felt like I'm always leaving part of my heart behind. This made the final move even harder considering I didn't have a set timeframe until I had to come back home.
After we had our civil wedding in March 2019, we applied for my Green Card, which would allow me to start working. The approval took another 6 months, meaning I couldn't really do anything while waiting. We only had one car, so I couldn't go hiking or go any place that was further away than a couple of miles. I didn't know anybody yet, and Brett was working overnight, so he was always super tired by the time he got home. My plan was to save as much money as possible, but this took a huge toll on my mental health.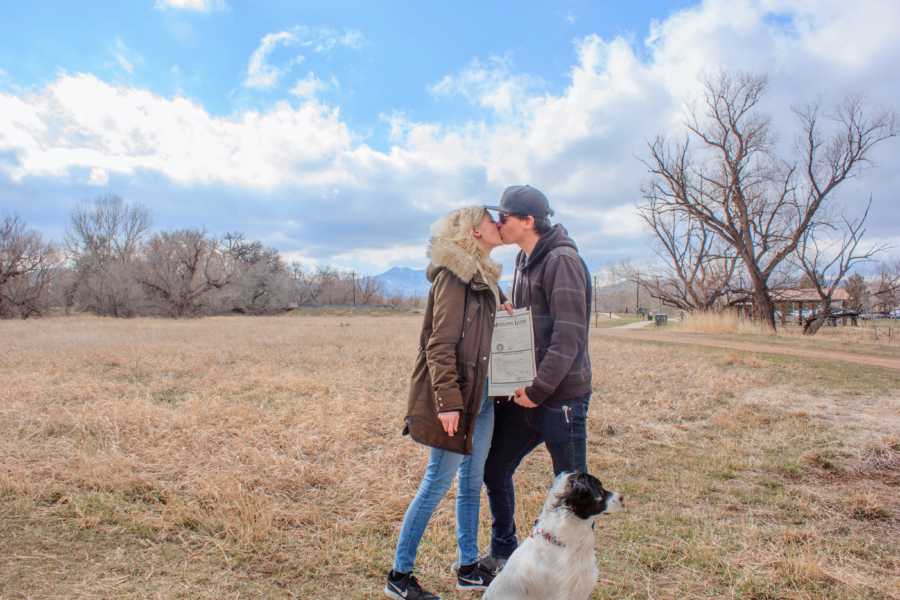 I never questioned if moving was the right decision, but I became more and more unmotivated. It got to the point where I spent most of the time in bed. I had to do something about it, but couldn't even find the motivation to get up and change something. Both Brett and my mom spent days convincing me to buy a car with the money I had saved up. At least now I was able to go hiking with our dog. And what was even better, a few weeks later I met up with another German girl who also got married here and we became friends. Slowly but surely things started to fall into place. In August, I finally found a job I love.
It was an adjustment for us living together, but nowhere near as hard as being in a long-distance relationship. We rarely fight, and if we do, it's about stupid stuff like who goes grocery shopping.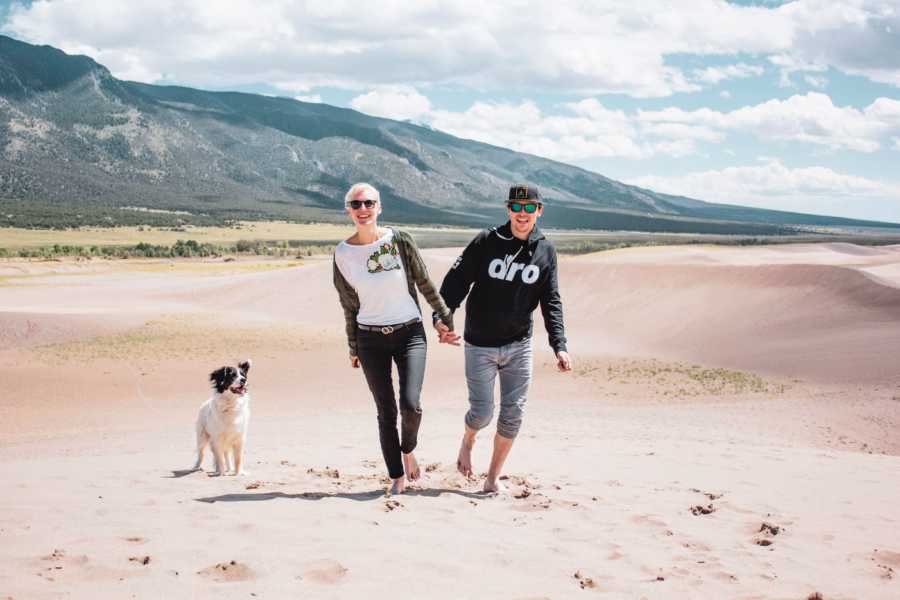 This might sound crazy, but on some level, I'm glad about everything that happened. Everything that's happening now seems easy compared to everything we've been through. I realized those months and months of overthinking everything made me feel worse than trying and possibly failing ever could.
We don't know what life will throw at us, but I'm certain we'll make it work. And even if not, I know we both tried our very best to make it work. We never gave up believing in our love. I think that's all you can really ask for in a relationship, for both of you to be the best version of yourself in this very moment and the next one. And the one after that, until there are no moments left."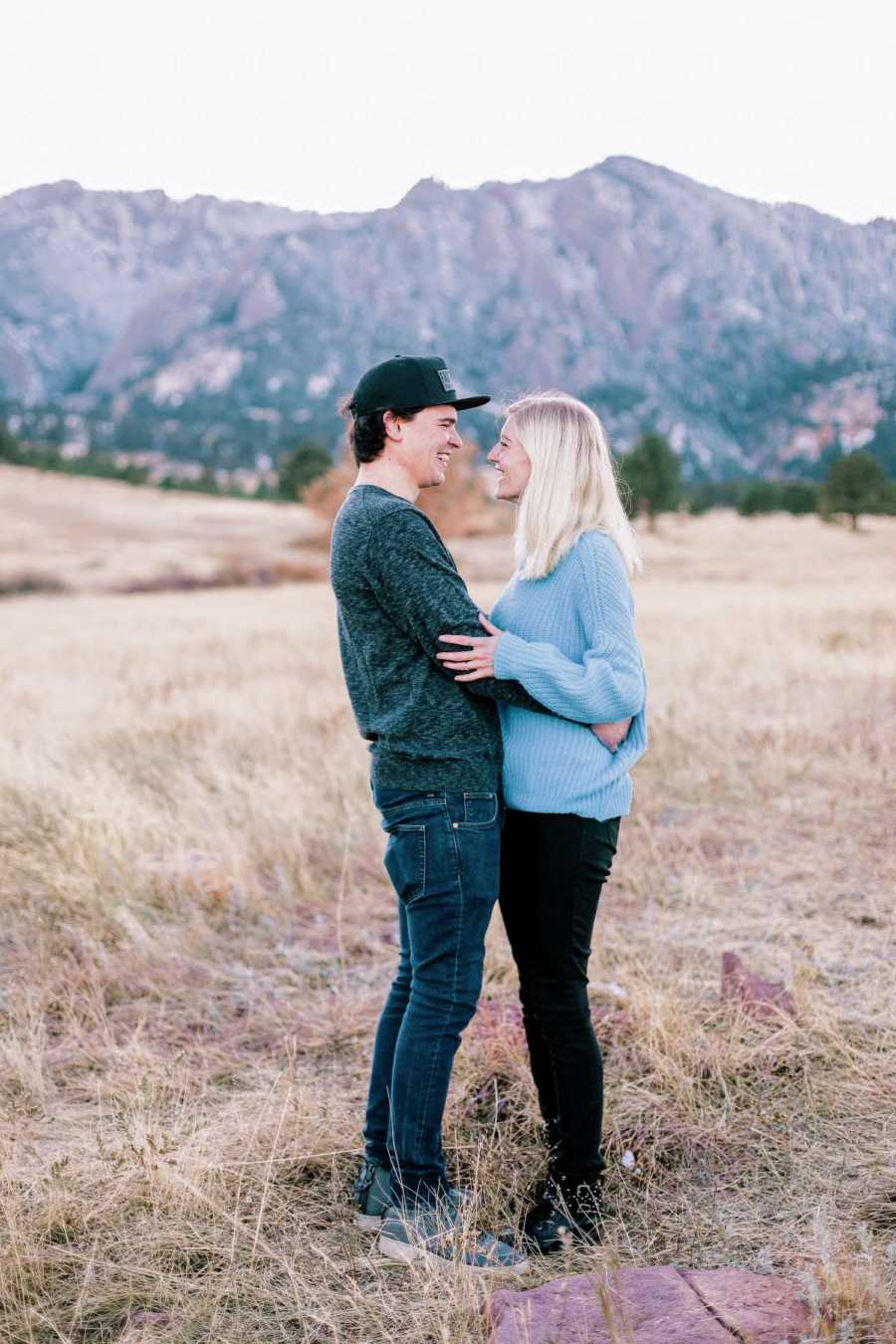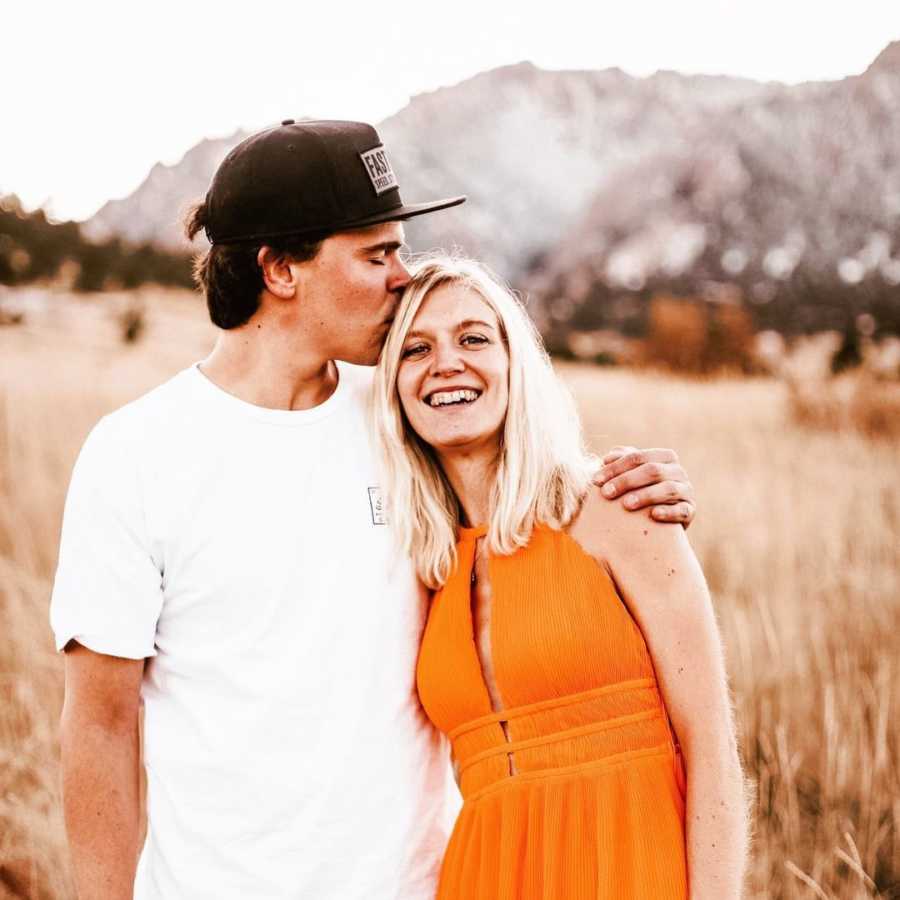 This story was submitted to Love What Matters by Brett and Patricia of Denver, Colorado. You can follow their journey on Instagram and Facebook. Submit your own story here, and be sure to subscribe to our free email newsletter for our best stories, and YouTube  for our best videos.
Read more stories like this:
'I stepped out for fresh air on the cruise ship. 'How're you doing tonight?' All I could see was a beautiful white smile.': Couple share long-distance love story, 'Love is stronger than distance'
'We had a long-distance marriage, and adopted a teenager. Yes, you heard that right. We adopted a 14-year-old teenage boy when I was 27 and my husband was 31.'
'She's the kind of girl I would marry.' We were strangers in Vegas. He turned out to be my best gamble ever.': Military spouse urges 'let yourself fall in love' after long-distance relationship
SHARE this story on Facebook to help celebrate long-distance relationships!