"The first day I put on my scrubs was on my birthday in January of 2013. I felt all the feels. And I have came so far as a nurse since that day. Nursing will always have a special place in my heart. It's my passion.
Here's a sentiment to my future kiddo who wants to be a nurse.
Nursing students and new nurses, this will resonate with you too. All my nursing fam, you will get this.
I know the day will come when my child will be asked in kindergarten what they want to be when they grow up. The teacher will give me a sheet containing a variety of questions on it at the end of the day, and I'll look forward to reading the adorable responses. I will be honored if my kid wants to be like mom and exclaims he or she too wants to be a nurse. I'll be excited, thrilled even, and we will play dress up in scrubs with a mini plastic stethoscope while their perfect little hands press the diaphragm against my chest and tell me I have a 'great big, huge heart.' I dream of these moments, really.
Then, the day will come when my child grows up to be a teenager, eager for the pages of life that have not yet been turned, full of ambition and a desire to change the world. We will pray about God's direction, as He is guiding him or her into their destiny. And if by chance, He whispers to their heart, 'You too are going to be a nurse and help heal many lives,' my heart will burst with joy. But I, too, will have so much to share with my precious one.
'I'm going to be a nurse like you, mom!'
If you want to be a nurse, my darling, there are things you must know.
Being a nurse is the most rewarding occupation I think I could ever attain. It is something not to be taken lightly. You will have to spend long hours studying and learning and crying and laughing through the ridiculous blessing that is nursing school where 'select all that apply' questions will nearly drive you mad. You will spend long hours at clinicals and in simulations for which you don't get paid, just to learn your skills and prepare you for what is to come. Then, someday, you will spread your wings and feel the weight on your shoulders of caring for not just one, but many people's lives day after day, hour after hour.
You will struggle at first. There is so much to take in. So much to learn. So much to do. So many things that could go wrong. You will be afraid to mess up. Your feet will throb after long hours, and you will be physically, mentally, and emotionally exhausted. Some days you will forget to eat, and you will learn what it truly means to have a 'nurse bladder.'
But in these growing moments, you will thrive. You will learn what it takes.
Sacrifice.  Diligence.  Humility.  Perseverance.  Kindness.  Compassion.
You will learn how stinkin' tough it is to be a nurse. You will always be needed in a million ways and in a million places. You will wish you were an octopus, or a superhuman nurse on roller-skates. But you will soon find out how worth it nursing is.
You will learn that these new shoes fit better than you thought they would; the shoes you are wearing will become your own. You will own your new role. You will learn you have a voice for those who have no voice, for those who are afraid, vulnerable, sick, and dying. You will learn to advocate for your patient when no one else is listening, when no one else is teaching or empowering them, when you are the first to notice signs of deterioration.
You will be the hands and feet of Jesus. You will be one of the first ones they see. The first one that truly cares. They wish they didn't have to see you, but oh, will they be glad that you are there. You will meet their needs and notice the details of their ailments. You will help your patients heal and find hope for tomorrow. You will be the light they see in your smile and the kindness of your reassuring touch.
It's not glamorous. Most of the time it's quite the opposite. Messy. Ugly. Difficult. Painful. Exhausting. You'll work holidays and have a weird schedule. Some people won't get it. And bless it, if you work night shift, they just don't understand you have to sleep during the day (shout out to my night shift folks, I don't know how you do it. I tried and failed). You'll have days off where you spend two days recovering from your crazy work days. You will get burnt out and want to quit. But don't you dare forget your why. Remember, it's so worth it.
You may help stop a life-threatening arrhythmia, restart a heart, help a patient breathe, or give life-saving medications. You may encourage a first time mama as she is about to give birth and help her through the delivery process. You may assist in a lumbar puncture on a baby who has neonatal meningitis and give antibiotics that help get rid of infection. You may hold the hand of a patient who has been fighting cancer for months while they spend their last few moments on this side of heaven. You will see life and death. Joy and sorrow. Excitement and fear. You will cry with patients, celebrate with them, and just be with them as you help them navigate through their circumstances.
There are so many crucial, special moments you may encounter. And you will be so glad that you did. You will be so glad you took a chance on this thing called nursing.
You'll be glad you did it, because healthcare needs you. They need a person like you who will fight for what is right and not settle for less than the excellent care your patient deserves.
So, darling, go for it. Be a nurse. Be the best nurse you can be and don't give up learning, trying, praying for healing.
Because let me tell you this, I believe in you and your God given capabilities. He will give you strength and wisdom when you need it. He will sustain you and fill up your cup as it overflows to those around you.
You are going to change the world, one patient at a time."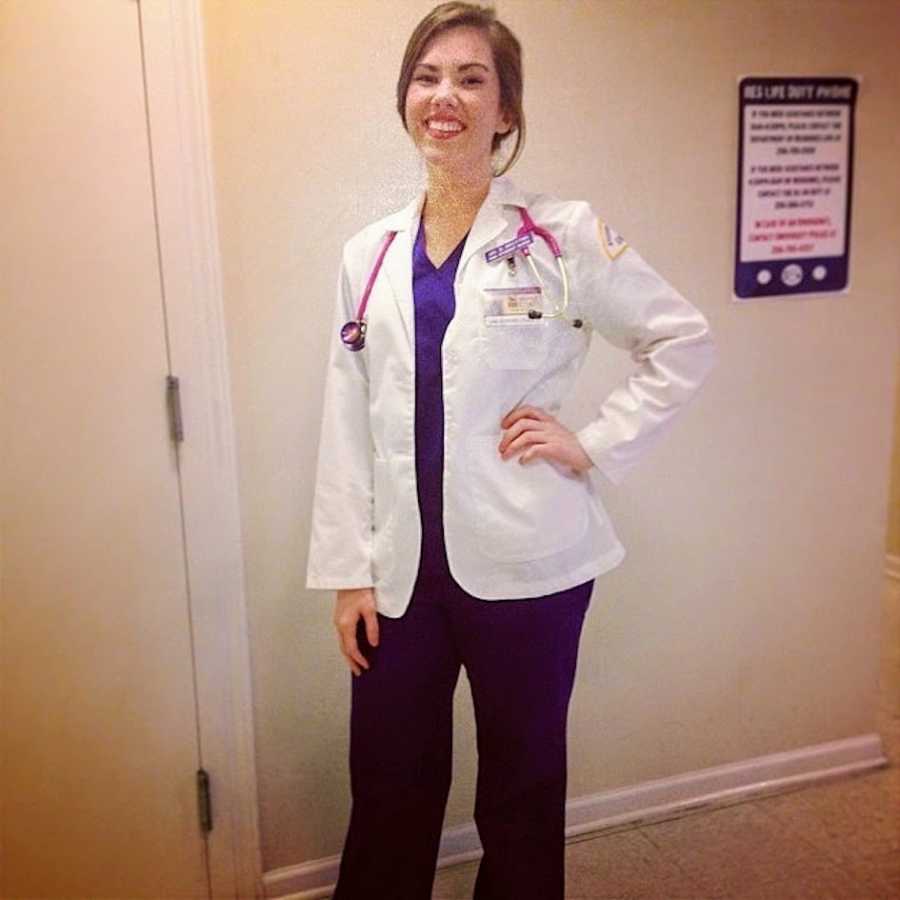 This story was submitted to Love What Matters by Bonnie Cochran. Do you have a similar experience? We'd like to hear your important journey. Submit your own story here. Be sure to subscribe to our free email newsletter for our best stories, and YouTube for our best videos.
Read more stories like this:
'Sweetheart, you're going to get through this.' The smiling eyes behind your goggles and N-95 masks will stay with me forever.': Woman pens love letter to nurses who helped her battle COVID-19
'It doesn't end for us on the frontline. You see, we take it all home with us.': Nurse urges 'love on your people as much as you can'
'You didn't choose to be separated from your mommy and lay to wait for a stranger to pick you up, but we, your nurses, will choose you.': Mom pens appreciation letter to fellow nurses
Help us show compassion is contagious. SHARE this beautiful story on Facebook with your friends and family.