"My grandfather had several close calls with death during his life; this is the story of one of them and of the cat who saved him.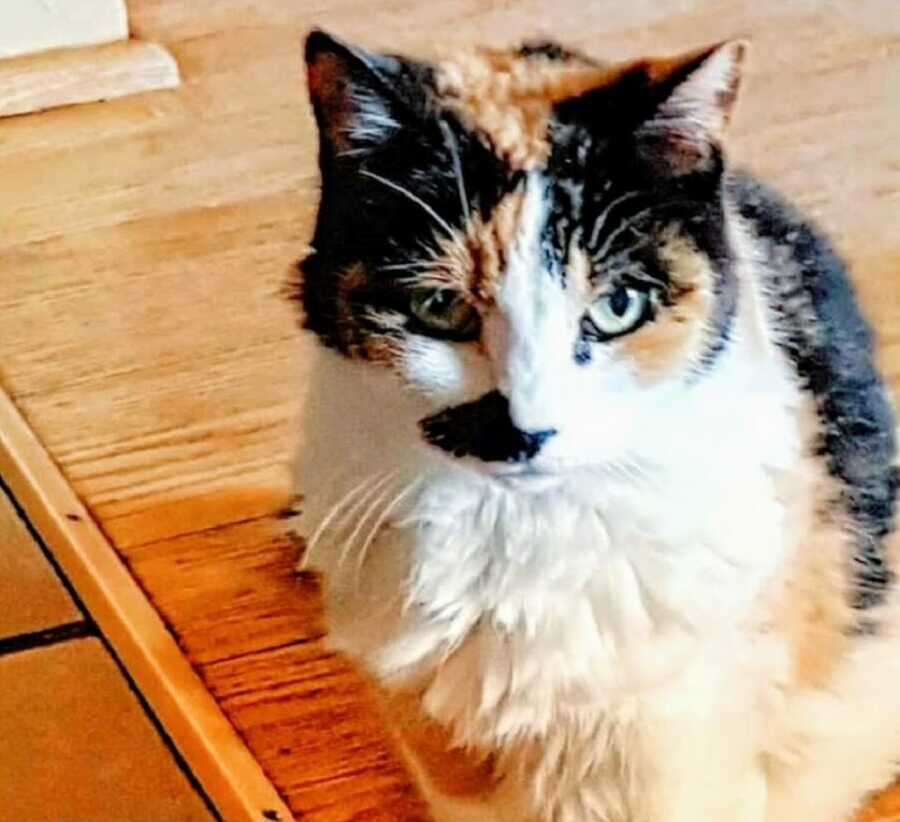 I was close with my grandparents on my mom's side growing up. My grandmother died 18 years ago, and I still think of her almost every day. I couldn't say Grandma and Grandpa when I was two, so I named them Bunny and Branka. Bunny didn't stick, but Branka did.
It would take a book to share all the crazy stories this man lived through, but here is the short version of some of his other 8 lives. He recovered from two hospitalized bouts of pneumonia in his 90s. The same year, he got hit by a car and flew off his scooter while crossing at a light. His pelvis broke in three places; the skin on his arm opened up like a flap when he slid along the concrete. Recovering in the hospital, a nurse said to him she had never seen anyone heal as fast as he did at any age. He was 90. He had two extremely close calls while he was overseas in the war. One involved an armored vehicle he was supposed to be traveling in hitting a landmine and blowing up. It killed the wireless operator who took over for him because my grandfather stayed in the barracks that day with the stomach flu.
My grandfather was an immigrant from Poland. He was 3 ½ years old when he set sail on a boat with his mom, sister, and brothers to make the journey from Poland to North America.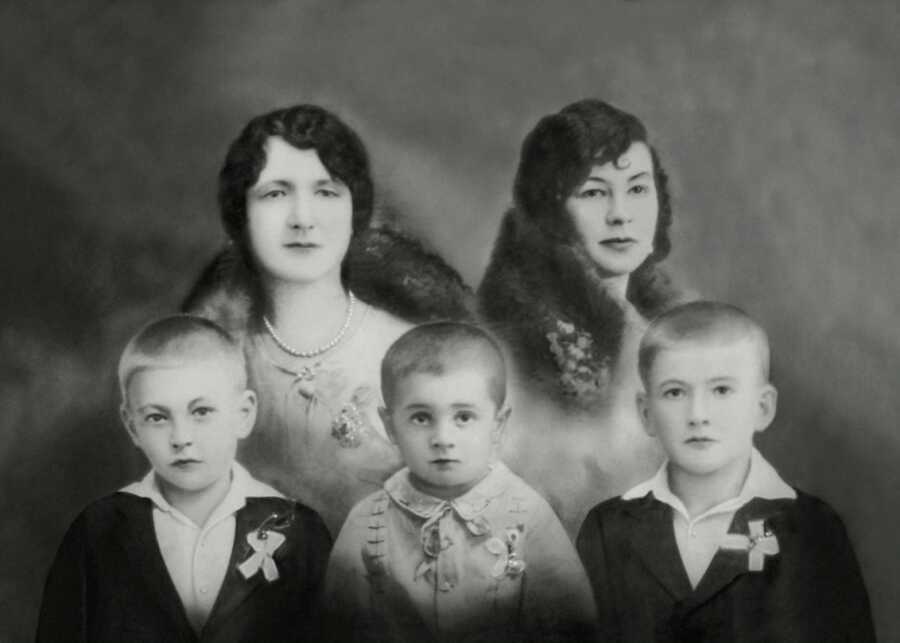 My grandfather's earliest memory was the loss of his only possession on the ship. It was a ball that accidentally fell overboard while they were sailing. They were very poor, and this would have been a very precious thing to him. He never forgot this incident, and it probably accounted for his lack of interest in possessions during his lifetime. His family and his pets always took precedence over material things.
He had a horrible upbringing. His father was physically abusive and his sweet mother died when he was ten. His last words to her before she died: 'It was an honor to have you as a mother.'
He was left with his abusive father who fed the kids bread and lard and locked up the food. He became a street kid and ran away at 15 to join the army. In his 20s, he started a business that grew and employed dozens of people. He married my grandmother and they had two kids. He broke the cycle of violence in his family and was kind and gentle.
And what about that cat?
At 94 years old, my grandfather still lived at home in a bungalow with a basement (which he had stopped using) and his two cats.
He used a walker to get around the house. One week he was hit with a bout of sciatica, so walking was more painful. He found it much less painful to walk backward with the walker.
Early morning, he got out of bed to use the washroom. He walked backward down the hall and turned (backward still) when he got to the bathroom door.
Only it was still dark out and it wasn't the bathroom door. It was the doorway to the steps to the basement.
Suddenly, one of his cats (a super gentle, older cat named Emma) started biting him on the ankle. She NEVER bites him, ever.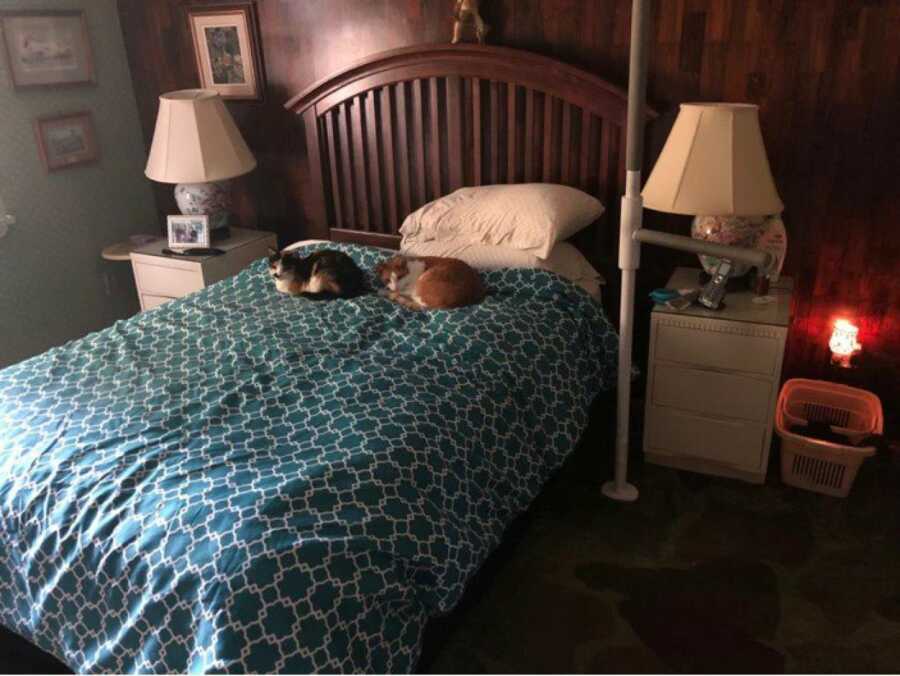 My grandfather thought it was strange but a fluke and took another small step backward.
This time Emma bit his other ankle harder. That was enough for him to look around and realize he was about to fall backward down the stairs.
His sweet old cat saved his 94-year-old body from tumbling down the stairs. I can't even fathom it. It just blew me away that she found a way to warn him and was persistent until he stopped moving and saw where he was.
We were all beyond grateful to Emma. The intelligence and compassion of animals blows me away.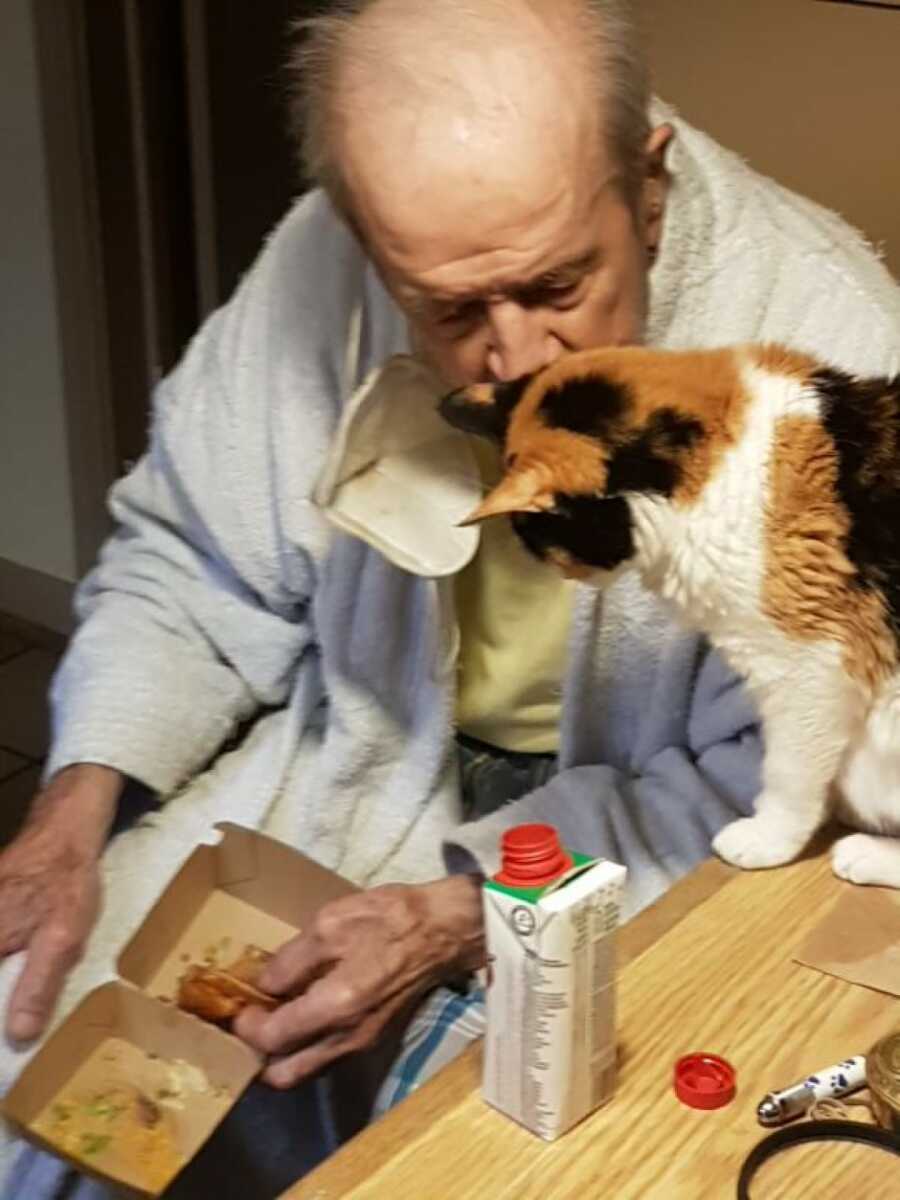 My mom had tried to leave him a nightlight in the washroom on many occasions, but he refused to keep it on. After this, he agreed to a bathroom light. A few people reached out to us and were kindly concerned about the door to the basement. I appreciated how they expressed it in a gentle way. We realized how close a call this was, and the door was locked from that day forward.
Shortly after, my grandfather agreed to move to supportive living. It was something discussed in my family for years, but he hadn't agreed to it until this point. He was of sound mind to make the decision, so it was his choice. He had to say goodbye to his beloved cats who were rehomed, and he moved in during the pandemic. My parents and aunt and uncle had to leave him at the door—they weren't allowed to go in and help him get settled into his new place. They said goodbye outside, and an aid wheeled him in.
My grandfather was in the care home for less than six months and was doing as okay as a really old person could be. Then things went downhill quickly, as can happen when you're in your mid-90s. My mom and aunt got phone calls that they should come in and say their goodbyes. The doctors were not expecting him to last more than a few days.
My mom spent almost 2 hours with him. He couldn't talk and wasn't moving or opening his eyes, but at the very end he looked up at her with recognition as she said goodbye.
That picture is my mom holding his hand while she said her goodbyes.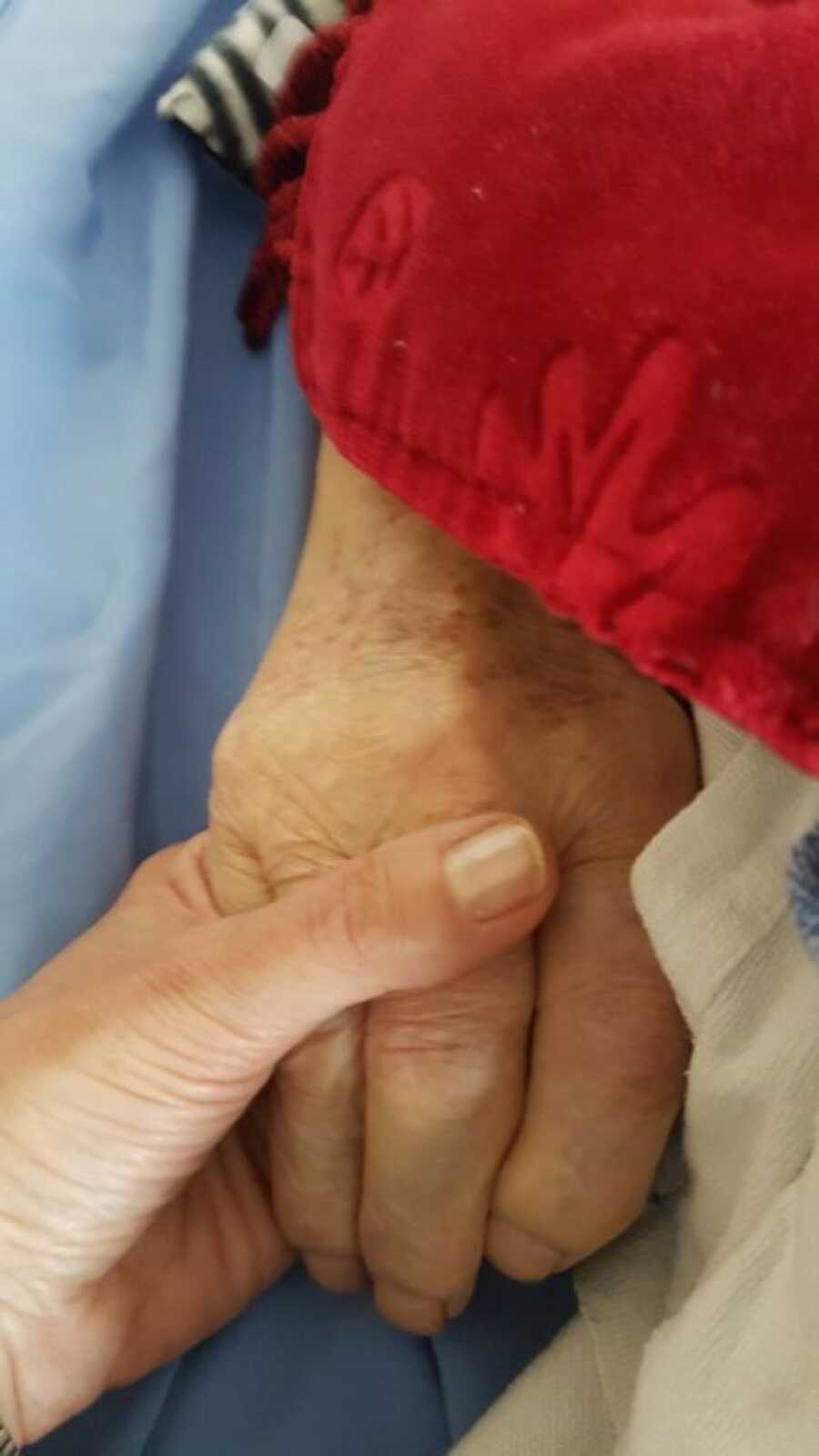 A few days later, on January 9th, 2021, my grandfather died peacefully in the nursing home. His favorite nurse was there as he took his last breath. This was comforting to my mom as she wasn't allowed to be there.
I'm grateful for how flexible my business is: I took a lot of that day to look at old pictures of my grandfather, and photos of him meeting my daughter and reminiscing. I'm so glad he was able to meet my daughter a few times (my only grandparent who did).
I felt called to write this letter to him after he died. Due to Covid restrictions in early 2021, I wasn't allowed to be at the funeral or burial.
'Dear Branka,
Today you were buried.
I wasn't there.
Sorry about that.
You never wanted people to make a fuss about you, so you probably would have preferred it small and simple.
Still. I wish I was there.
I think about how you came over on a boat as a little boy with your family. How you lost your mother when you were only ten. How horrible your father was.
How you left home (it was barely a home) to fight in the war when you were fifteen.
How kind you were to your own wife and kids. My mother.
I think about how you had nothing. How you somehow started a business. How that business grew and you provided jobs for dozens of people.
How big-hearted and funny and generous you were. All the hard things you went through and the person you became.
I hope I can keep the spirit of you alive, even as we say a big goodbye today.
Xoxo
Suchot'
My grandfather embodied strength, optimism, a sense of humor, and the ability to let the hard things go and live in the moment. I hope I have inherited even a fraction of what he had and was. He was an amazing human with what he went through and how kind he remained.
He is a reminder that we are all stronger than we know, more resilient than we think, and we can overcome so much.
And he is also a reminder to always listen to our pets."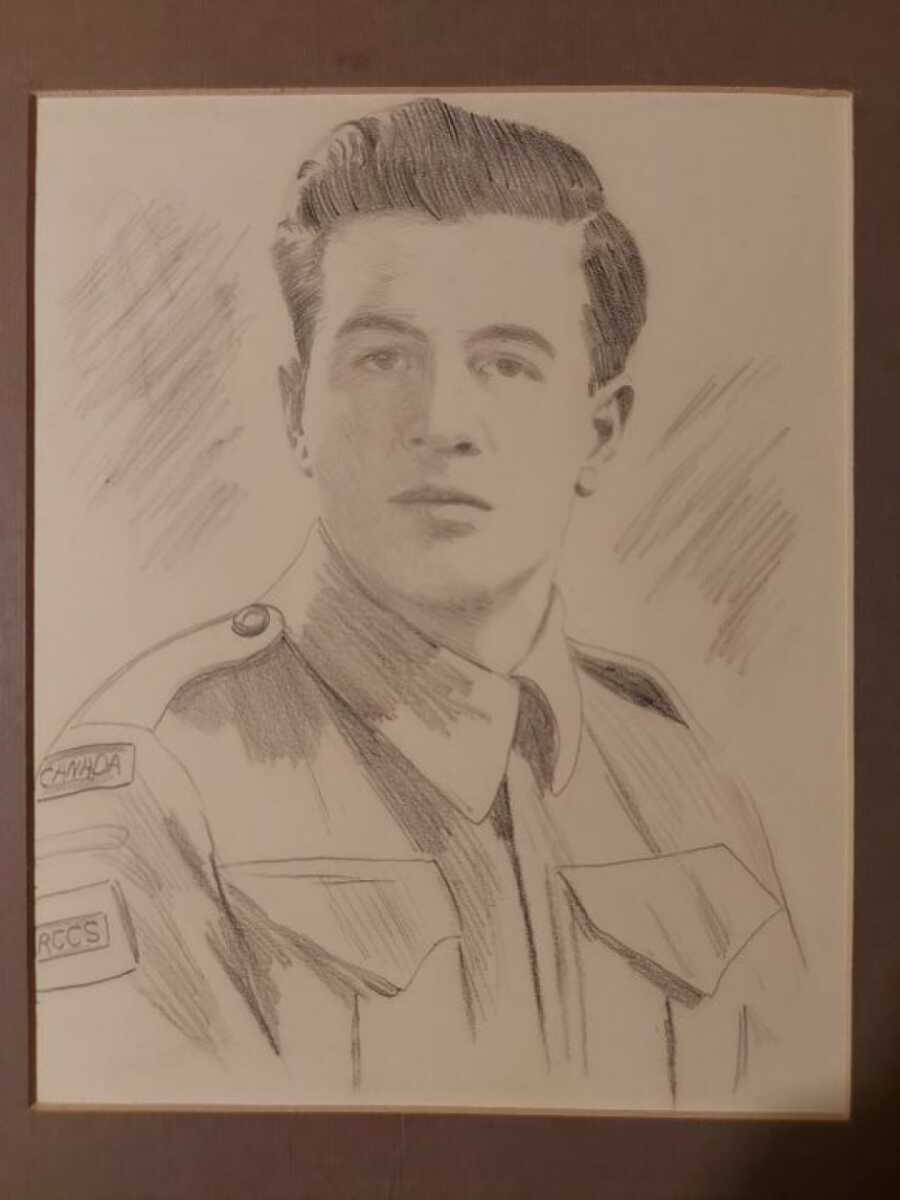 This story was submitted to Love What Matters by Suchot Sunday from Winnipeg, Canada. You can follow her journey on her Facebook and website. Submit your own story here, and be sure to subscribe to our free email newsletter for our best stories.
Read more amazing stories about hero pets here:
'Dogs Are Family Too.': Hero Puppy Rescues Newborn Baby Abandoned In Garbage Dump
Heroic Dogs Team Up To Save 71-Year-Old Dad Who Collapsed Mid-Hike
'Kinley and Lily are best friends.': Service dog has sweetest way of helping deaf sister
'He was beyond putrid.': Neglected dog with multiple infections transforms after adopted by forever family 
Help us show heroes are everywhere. SHARE this story on Facebook with family and friends.