"The picture that accompanies this post I sourced from Facebook the other day when I was on a treasure hunt for memories. She's just so brilliant, isn't she? This picture is of my friend, Nem (she also has about five other name variants). I met her when I was a carefree eighteen-year old living among the exquisiteness of Hamilton Island. This has been a year of deep reflection in that I've noted myself quite often wondering where the heck the past twelve years went. Correction, thirteen years because I'm thirty-one now.
Nem is 'perhaps' the only woman I've known to be able to balance with such finesse the roles of playing my friend, mentor and leader. But devastatingly, she lost her struggle with cancer in May 2019. It felt sudden and horrendously painful and heart breaking all at once. Yet all the sorrow has been and probably will continue to be an indicator of how lucky I was to have had someone of such significance to walk with for a leg of this journey. 'We don't always get people for as long as we like, but we do get them don't we?' ~ Unknown.
To learn from. To observe. To study. To celebrate. To witness. To be in awe of. To marvel at. To travel with. To admire. To love. And now to remember. There are so many quotes I could share to try give you an idea of how much of an outstanding and incredibly gifted person Nem was – but there's not enough space to write down every single one that resonates to a true leader. Needless to say this is an example of the mastery she had access to: 'The true leader makes each team member twice the person they were before.' ~ Leonard Sweet.
The past week I've been super focused on searching for ways in which I can honor how much she means to me, and during the process I've quite often found myself perplexed. Confused by the level of suffering that has panged me to my core, the separation from her on a soul level has been more excruciating than the grief I howled over for my mom. I have these nostalgic deja vu intervals, past life visions, where it feels as though I have literally written this story to her before, as if for whatever reason I am repeating this part again.
In my eyes, and I don't understand why I never thought of this earlier, when she was alive, yet there can be no other explanation for this experience but to realize that she was, and is, one of my soulmates. I knew everything always felt OK/calm when I was around her, but I presumed she had that effect with many others. I'd bet on it, in fact. The dreams are a dead giveaway, and the amount of dreams I've had over the recent years should have been the telltale sign for me to know what's really going on here. 'Having a soulmate is not always about romance. You can find a soulmate in friendship too.' ~Unknown.
In hindsight does it actually matter whether we called each other soulmates when she was alive? Nope, not at all. Would it have shifted our friendship one bit, in all honesty? Nem might have poohed the whole soulmate concept anyhow. She was logical and calm, where I'm the opposite. Creative and fiery. Here's an example of how we used to challenge each other:
'So, you don't think you're stealing this book by not letting the library know you're taking it, Lis?'
'Well no, I don't. Not really; I just don't think it's necessary to follow proper formalities. I'm simply borrowing it with no intention of returning it as yet, but I'm not judging myself for doing this, I mean I feel as if it's calling me. If it belongs back on the bookshelf in this Library, or with someone else in the future, then it will find its way. Things tend to wind up where they're meant to in the end, Nem.'
(I don't think she poked the beast in me to carry on further with a war on words. Call her wise.)
But I love that we had contrast; I love that we stood in our respective truths. I love that we saw the world differently. I love that we had life. And now, I love that I have an even more tender expression of self due to the mark she has left on me. But before I runaway to be all sensitive and pensive, could you do me a favor and share in my grief or pain or joy? Because it's too much for me to bear alone. Preferably joy.
WOULD YOU MIND JUST REALLY LOOKING AT MY FRIEND? Because she's trying to make you smile. Love her, because she would have been your friend. She was everyone's. And if you're a friend of mine who was a friend of hers, well you already agree you are more capable, and in turn, your life positively more beautiful because you knew this Nem.
Look – at her! Owning the scene! Her black bikini top supporting boobs as big as mine, her curly auburn brown hair doused in the water of the infinity pool, her hand wearing a ring of sorts and a watch – her fingers wrapped around a cocktail, and the horizon behind her – a view of paradise. She's got her head titled back slightly, hinting towards a nonchalant, 'not much phases me,' 'yeah I'm having fun,' laughing at life stance.
You would laugh, wouldn't you Nem? You killed it down here; I can guarantee your legacy is alive in so many successful restaurants, because the managers were taught by you, and therefore the 'Newman magic and knowledge' is an essence spread far and wide. And that is just one example of many. My tiny mind can't visualize the ways in which you've stepped up since leaving us behind, but if I were to hear a flowers song, it'd tell me to run out underneath the stars and galaxies tonight and hum: 'Please save a job for me as a writer in the universe you now run.'
'And I'd choose you,
in a hundred lifetimes,
in a hundred worlds,
in any version of reality,
I'd find you and
I'd choose you.'
~ Nikita Gill, The Chaos of the Stars."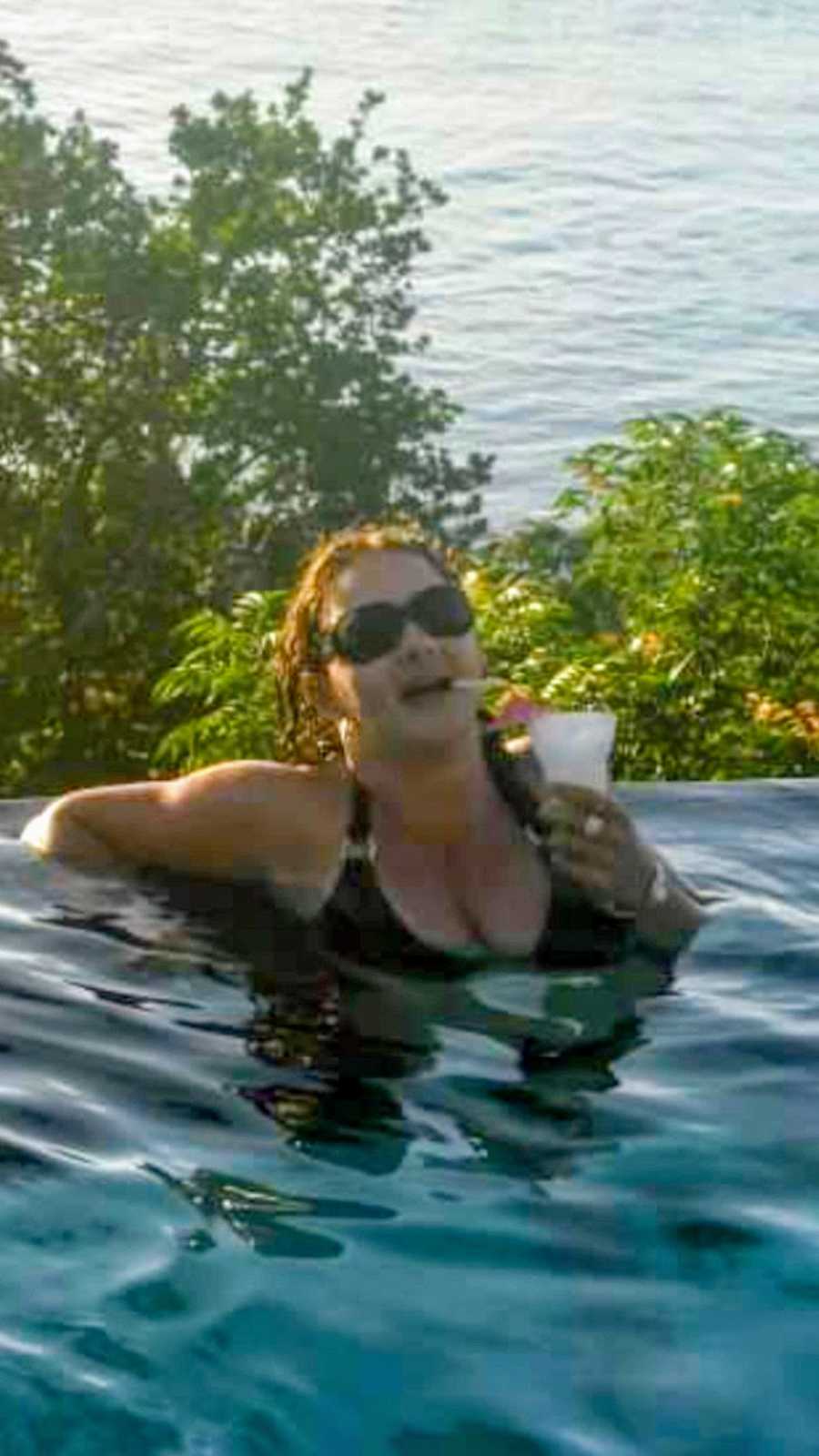 This story was submitted to Love What Matters by Lisa Hoggarth. Follow her journey on her blog. Do you have a similar experience? We'd like to hear your important journey. Submit your own story here. Be sure to subscribe to our free email newsletter for our best stories, and YouTube for our best videos.
Read more stories like this:
'I took out the trash to 'investigate' our new neighbors. We watched the dreaded moving truck from the second-story window.': Two moms find new friendship during quarantine
'Her mother told me she could no longer be friends with me because I was black. We snuck around town, stealing moments of friendship when we could.': Woman says 'you can change the world' in wake of Ahmaud Arbery death
'I didn't have to be strong around my best friends. They were my shoulders to cry and scream on.': Woman thanks 'true friendships' for getting her through rough year
Do you know someone who could benefit from reading this? SHARE this story on Facebook with family and friends.