"My husband, Daniel, is a sales manager for a home security company and I am a professional newborn and baby photographer. We live in a small-town in Texas and have 4 beautiful kids- Myleigh, 10, Montana, 6, Lane, 5, and Hannah, 4. Last year, after a lot of thought and prayer, we decided we wanted to trust God with the size of our family and were open to having more children! I guess you could say we were trying but not trying for about a year when we learned we were pregnant in January. We were so excited. I surprised my husband with the news of our new little one and would have actually been due sometime this month. However, on February 2nd – I suffered a total miscarriage at home and we lost the baby. We were heartbroken…. and it took us some time to get past the loss of our baby, but we knew if it were meant to be, we would have another.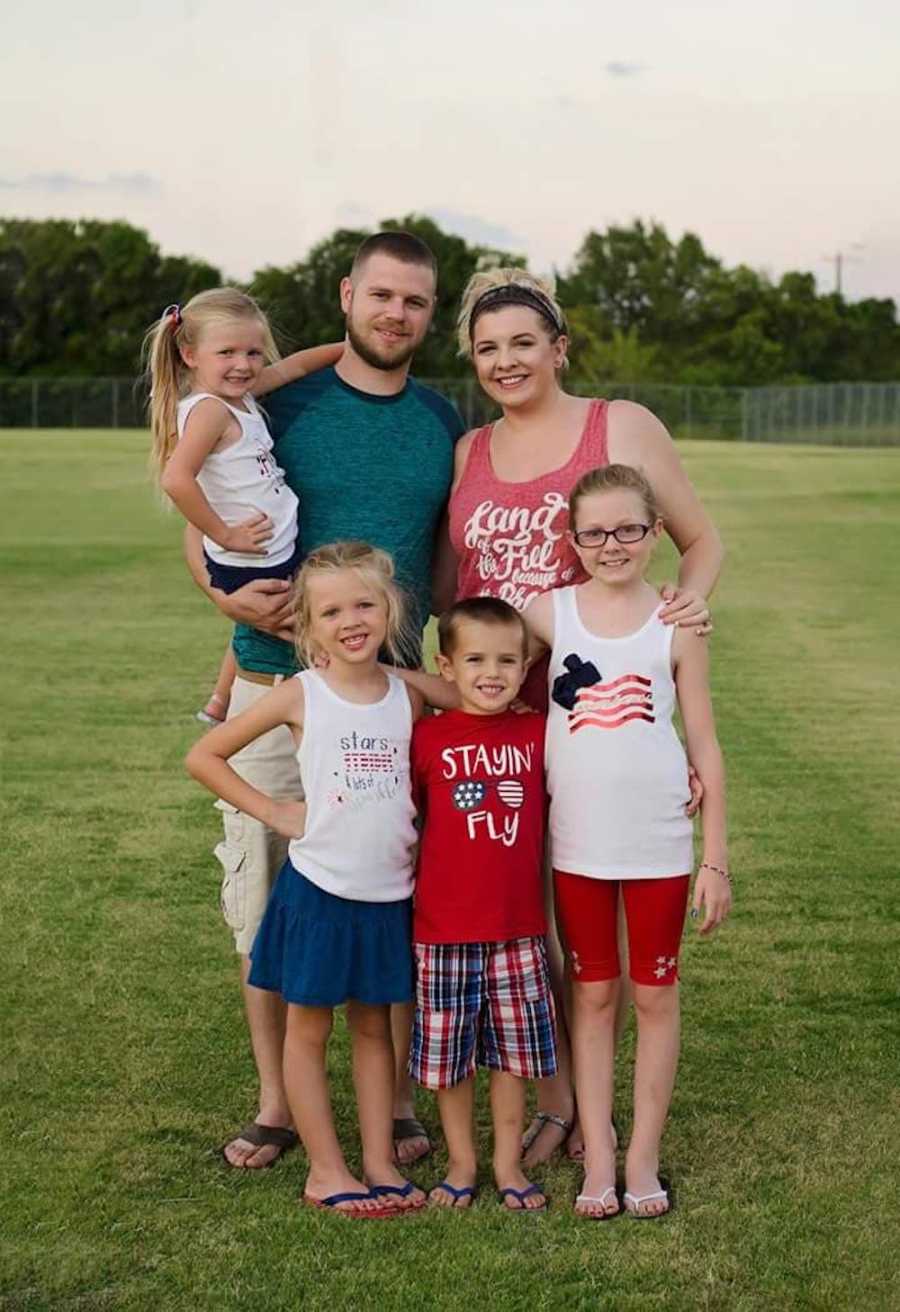 In July, I learned we were expecting again, and it was a total surprise. I guess you could say after many months of testing and planning – we sort of stopped paying attention to any of it, trusting that it would happen when it was supposed to… and that's when it finally did. We were expecting again, and I just cried. I think when you learn you're expecting after suffering a miscarriage, especially so soon thereafter, it's hard to jump straight to excitement. I was incredibly reserved with my feelings at first. I wanted to be sure before I allowed myself to get excited… and I had to wait a few weeks before I could get in to see my doctor. Those weeks were brutal. I kept getting positive tests at home and there were no signs of a miscarriage but logic kind of goes out the window when fear is involved. I finally got to see my doctor and we had our first ultrasound…. and there was no heartbeat. I was super early… only like 5 weeks… so they told me that was normal and that we would do another one 2 weeks later. Another brutal wait! We finally made it to the ultrasound, after a battery of blood-work and hormone testing, and there it was – our baby's strong heartbeat in the 140's.
It was really happening, and I think at THAT point… I allowed myself to get excited for this pregnancy. I allowed myself to plan.
The dinosaur pregnancy announcement idea actually came about back in January – when we first found out we were pregnant – but we were never able to do that announcement so I kind of kept it in until I could use it. I am glad I did! When we got the all clear from the doctor- I reached out to a good friend of mine who is also a photographer to start planning our session. I remember telling her 'Look, I have this REALLY dumb idea- and I am just gonna need you to let me roll with it!'
She was crazy excited about it and we even joked about it going viral when we were planning it, but I don't think either of us actually expected it to blow up like it has. I am pretty sure I told the photographer the plans before I even told my family… but when I did tell them, my husband actually didn't even want to do it! He took the most convincing I think… because the kids, while confused as to why, were willing to dress up and do the session! Since I am a photographer- I am constantly sticking cameras in their faces and they are always really good about supporting me and my crazy ideas.
The idea for the costumes came from me really wanting to do something DIFFERENT… and unique… because this is our 5th baby. We have announced pregnancies and done the cutesy stuff… and I just wanted to have fun and do something fun for everyone in our family. I am pretty sure I saw the inflatable costumes in a meme or something and thought, 'This would be PERFECT for us!' We have a 5 year old son, Lane, that is CRAZY about dinosaurs… and as a family, we really love the Jurassic World movies— so it just fit US.
The day of the session, it was full on storming in Texas. I am so thankful to have had a photographer that was down for anything, because most sessions (including my own with MY clients) end up getting rescheduled because of bad weather. Susan Garrett Photography was our photographer and she asked, 'Got an umbrella?' to which I replied 'Heck yes! Let's do this!' So, we all braved the rain. Thankfully, we got through the dinosaur costumes before it poured down on us but if you've ever been to Texas- you know it's hot, humid, and muggy when it rains, and those costumes were HOT! We could only stand to be in them for about 15 minutes of the session and the rest of the time, we devoted to family photos in the rain.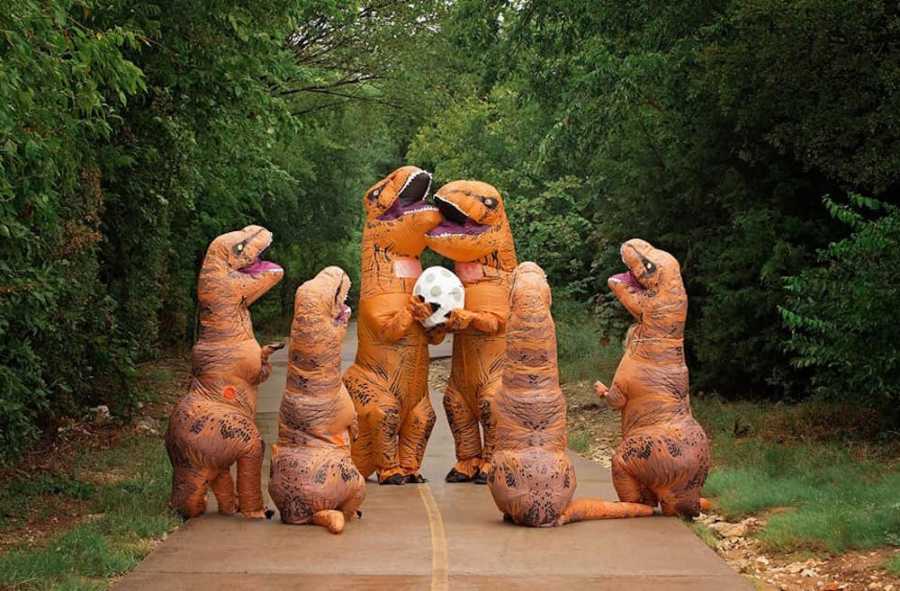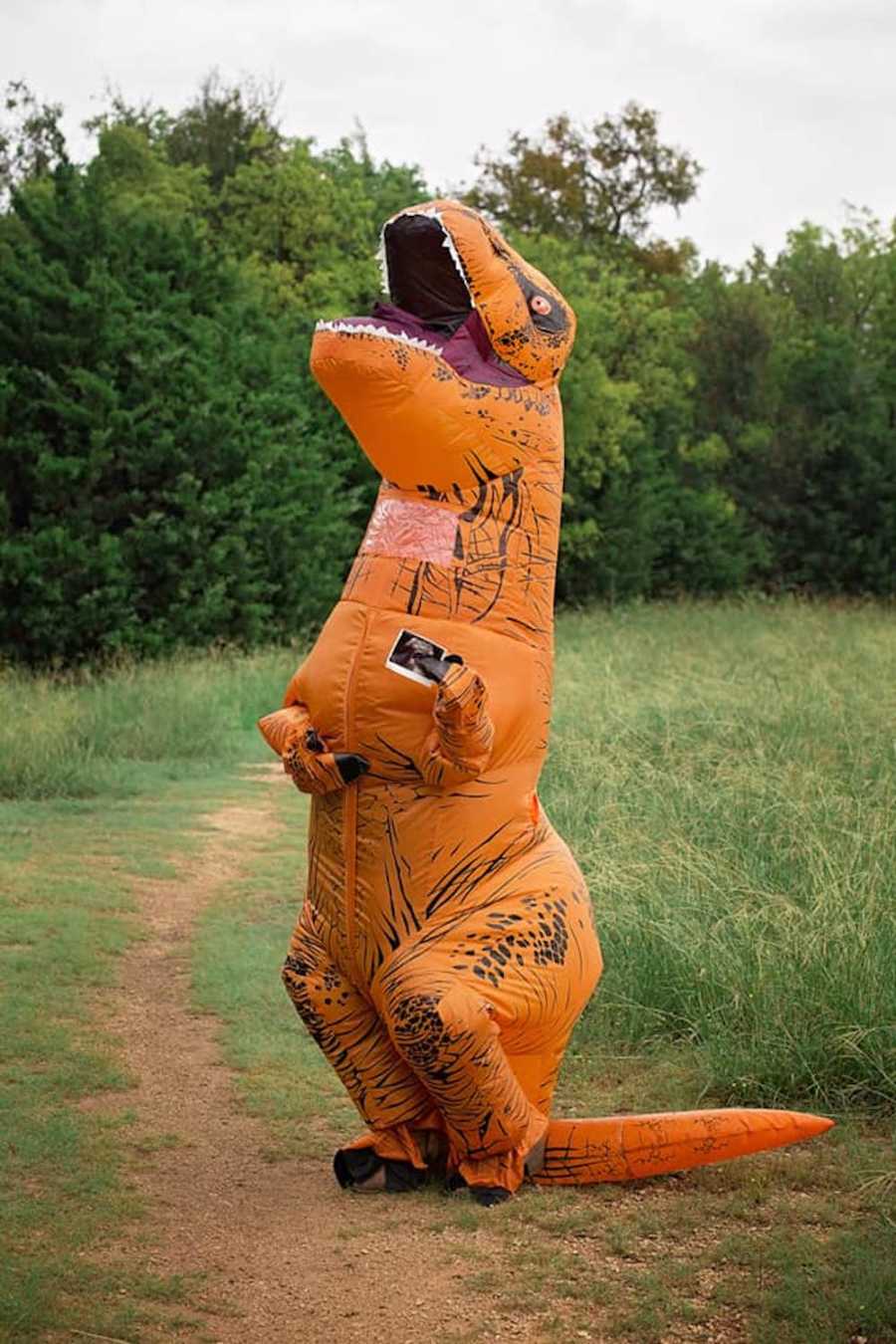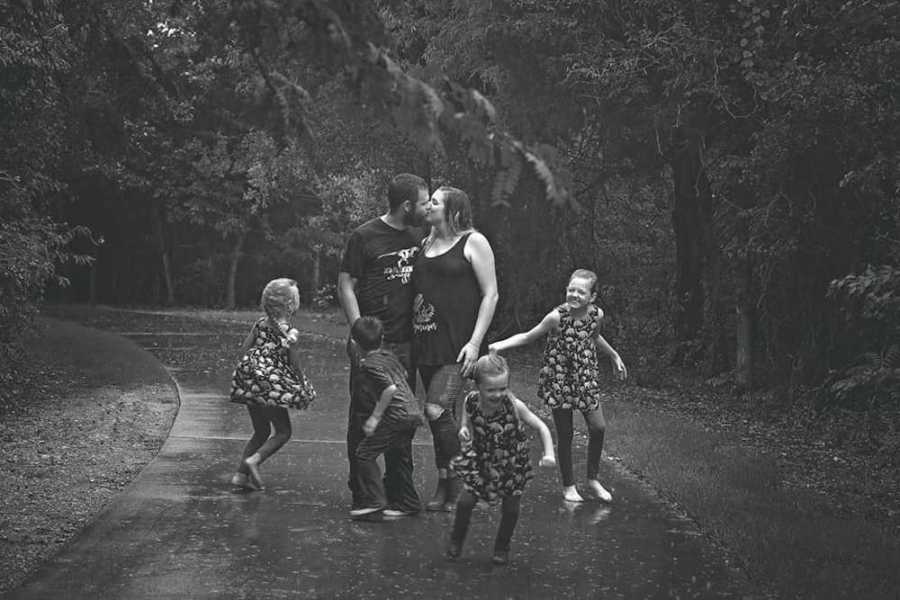 During the session, no one could keep a straight face for long.They're HUGE… and they have HUGE rear-ends that waddle and sway when you walk in them and our kids were DYING over that. It was really A LOT of fun. People were slowing down in their cars, taking photos and videos of us and asking our photographer what was going on. Between all 6 of us in these costumes and the photographer juggling an umbrella and a high-dollar camera… I am sure it was a sight to see.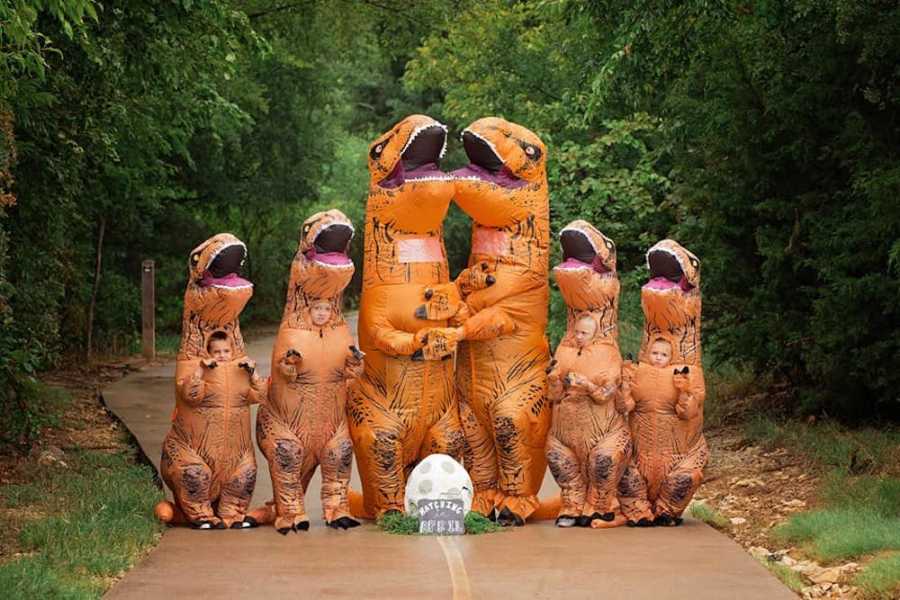 It took about a week for us to see the photos and we got about 80 photos back to choose from. I couldn't contain my excitement, or my laughter, going through those photos to choose. Between my kids' faces… and the poses… and the rain – it was SUCH a fun session and the photographer captured this moment EXACTLY like I envisioned! This is the kind of magic that I think happens when two photographers get together on an idea!
We got our photos back to post and within hours of me announcing our pregnancy on my personal Facebook page. I hadn't even really heard from all our friends and family members yet by the time the announcement had gone national! This little miracle baby of ours is already making waves and he or she isn't even here yet! We are due 4/23/19 and have not learned the gender yet, although I have my ideas
We plan to incorporate some more fun things into our journey. My BIG takeaway from this whole experience and our journey… is that loss is hard. Uncertainty is hard. Fear is hard. There is no pain like the pain of losing a child, but God makes all things good in His time. He makes beauty from ashes. The child we lost cannot be replaced… but God took that pain and heartbreak and turned it into pure joy with this new life! I also want to inspire other LARGE families to ignore the naysayers— trust me when I say we have heard it ALL when it comes to comments about how many kids we have, but our kids are happy and healthy and provided for. It's okay to want to have a large family in a day where it's not really normal to have more than three kids."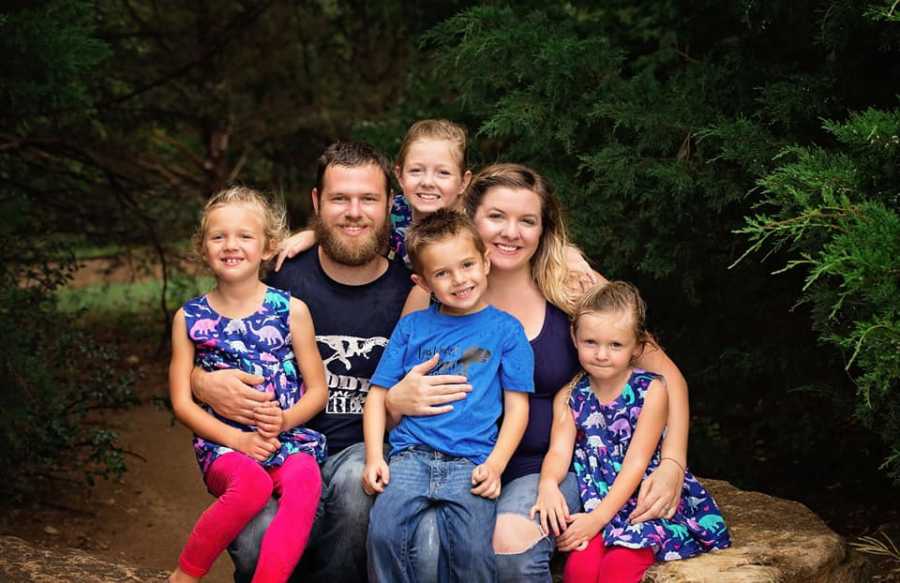 This story was submitted to Love What Matters by Nicole Berkley of Texas.  Submit your story here, and subscribe to our best stories in our free newsletter here.
Provide hope for someone struggling. SHARE this story on Facebook with your friends and family.