"She wanted to dress like Elena of Avalor for church today. I would rather her hair be pulled up out of her face, and her clothes be preppy and smocked.
But right now she believes that her wind-blown hair is beautiful. She believes her cotton $10 dress from Amazon transforms her into a magical princess.
So today, I let my girl be a princess at church.
After Sunday School, my kids and I ventured back to the car, and my son saw a pile of gravel in the grassy overflow parking lot.
'Mom—a MOUNTAIN! Can we climb it?'
I twirled my keys in my hand for a second. It's 90 degrees in Fort Myers. I could feel the sweat dripping down the back of my dress. The sun was high, and the idea of standing in the parking lot watching my kids clamber up a gravel pile didn't exactly thrill me.
But right now, my son believes he is scaling actual mountains. The gravel hill in the parking lot inspires adventure in his spirit, and the wild of his heart begs for a brave and daring quest.
So, today I let my kids scale the gravel pile in the church parking lot. As little old ladies teetered out to their Buicks, my children smiled down from the summit.
A conquering hero mountain climber.
A magical princess with her hair flowing in the wind.
I'm not going to lie, I'm not one of those moms who enjoys playing. When my kids ask me to join in their games, or their adventures, I tend to wiggle my way out however I can.
But I do remember what that magic felt like. If I close my eyes, I can feel the wind in my hair, too.
I used to ride my pink Huffy bike, who I believed was a horse named 'Eclipse' all around my neighborhood. I would pedal her faster and faster down the street, yelling 'giddy up' (and also responding with neighs.)
Neighbors were perplexed. I was definitely a weird kid.
But magic runs deep in the weird kids.
Which is why, at 35 years old, I fight my instinct to say 'no' to magic as often as possible.
I want my children to savor the weirdness of their childhood as long as the world will allow it.
I want my daughter to believe in goblins and fairies and princess warriors.
I want my son to believe in super powers and knights and his ability to scale imaginary mountains.
Parents, we have to fight so hard to allow our children to flesh out the beauty of their pure, unadulterated imaginations. There are so many barriers between our children and the magic of their childhood.
There's culture, and school, and bullies, and heck.. .just growing up.
So, do your best to remember this with me:
When our babies ask permission to just be little…to pretend…to imagine that mountains and princesses are real…
Let's not be a barrier between our children and the beauty of their childhood.
Say yes to magic, every chance you get.
They only believe for so long."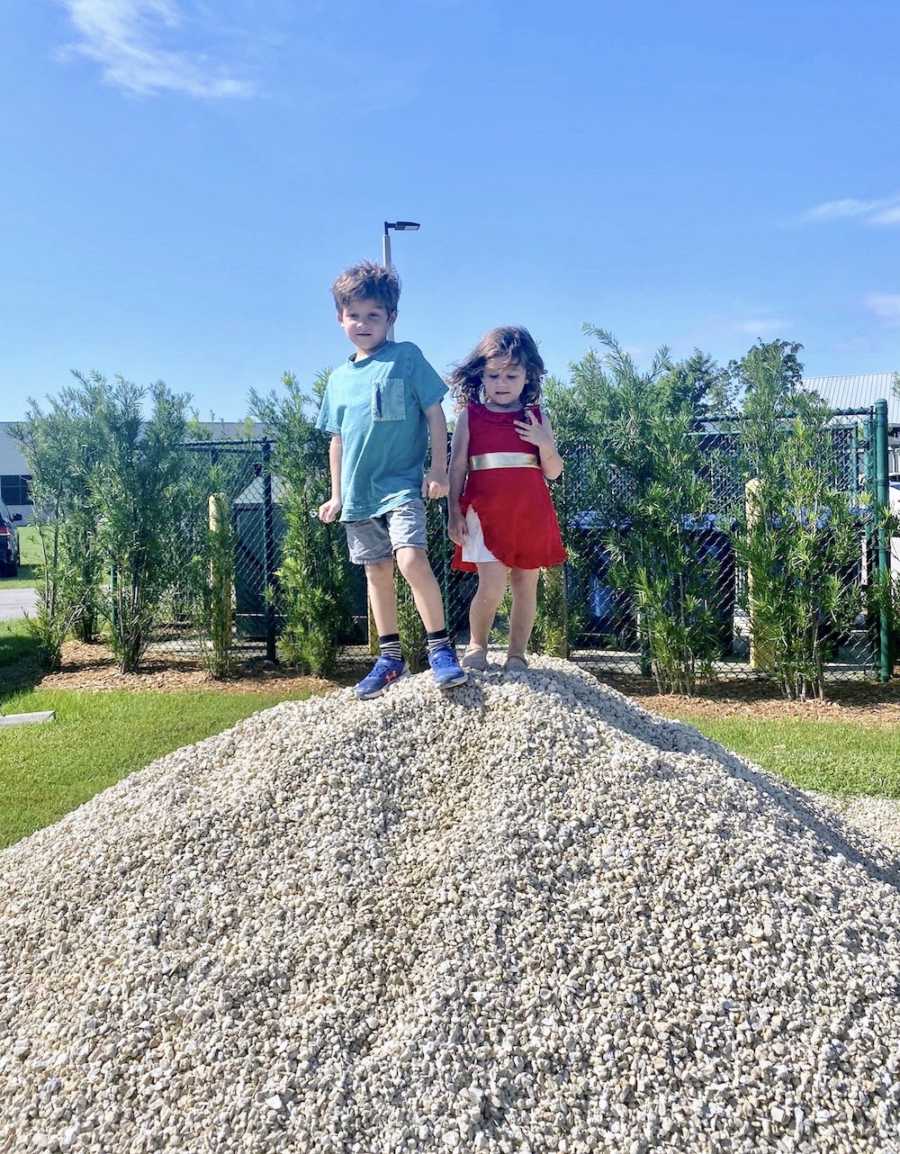 This story was submitted to Love What Matters by Mary Katherine Backstrom. Mary's book Mom Babble: The Messy Truth about Motherhood is available here. Follow Mary on Instagram here.  Submit your story here, and be sure to subscribe to our best love stories here.
Read more from Mary here: 
'UM, IAN. Cough. IAN!' I expected a box of pizza on the floor. I found foot-tall flames.': Mom recalls dangerous fire pet dog accidentally caused before 6 a.m.
'We gave each other a list of people we were allowed to marry if one of us died.': Woman admits she threatened to 'haunt' husband if he ever remarried, now encourages him to 'keep on living'
'Some children are just born feral. If a know-it-all wants to tell you otherwise, go find them a drunk and hungry hyena. Shove it into some Doc McStuffins pull-ups and drop it off at their house.'
'Mommy, why do you put on that makeup?' Every day, I lie to my daughter.': Mom avoids telling young daughter 'real reasons' for insecurities, 'I won't bring her down with my ugly truth'
Provide beauty and strength for others.  SHARE this story on Facebook with your friends and family