"Evie is a spunky 3.5-year-old little girl who has spent almost half of her life-fighting cancer (Neuroblastoma) and the symptoms it brought along with it. She is the middle child between her two brothers and never lets them forget who is really in charge. Evie was one of the 800 children diagnosed with Neuroblastoma in the United States in 2021.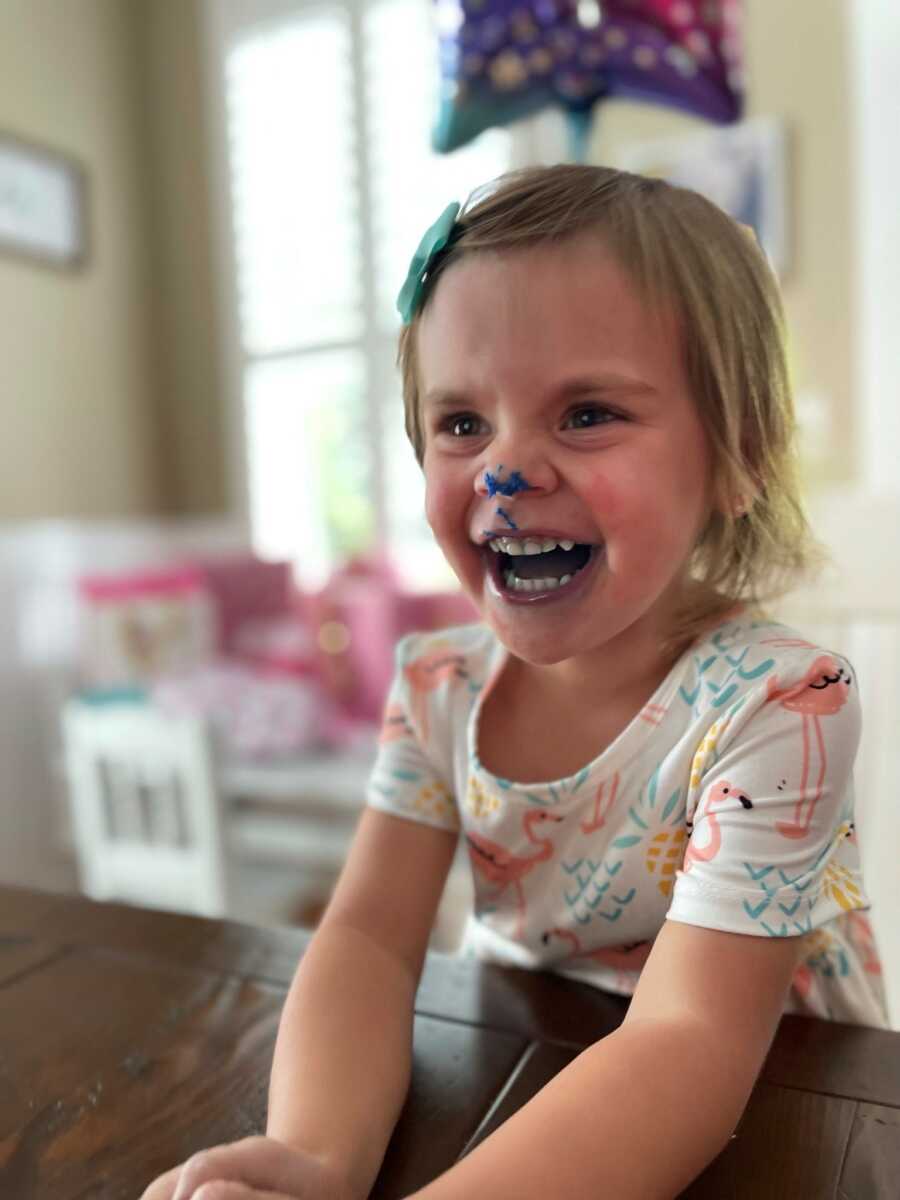 It was October of 2020 when we first noticed the major behavioral change in Evie. This was later found to have been caused by the tumor secreting hormones.
She had just turned two in August, and for the first week or two we chalked it up to the 'terrible twos.' Her big brother never went through the terrible two phase, so I was hopeful, yet dreadful, that this was all it was. Her behavior went from a typical two-year-old to an uncontrollable, inconsolable, and unpredictable little girl. It was honestly terrifying as no amount of discipline or affection would change her disposition. Some days were better than others, but not a day went by where the 'episodes' didn't get worse, or a new behavioral symptom didn't arise. Before we knew it, sleep was no longer a thing for Evie or myself. The night terrors, or what we thought were night terrors, would get so bad she would wake screaming and be completely and utterly inconsolable.
It was December 13th, 2020, when we knew something was really wrong. The day before she had a fall and shortly after she presented with a head tilt while playing on the trampoline, but it wasn't affecting her balance and didn't change her disposition, so we decided to just watch her and go on about our day, The following morning she had another 'episode,' and shortly after she had her first seizure. That day was the beginning of what would become three different weeklong hospital stays before finding out that what was wrong was much bigger than the terrible twos.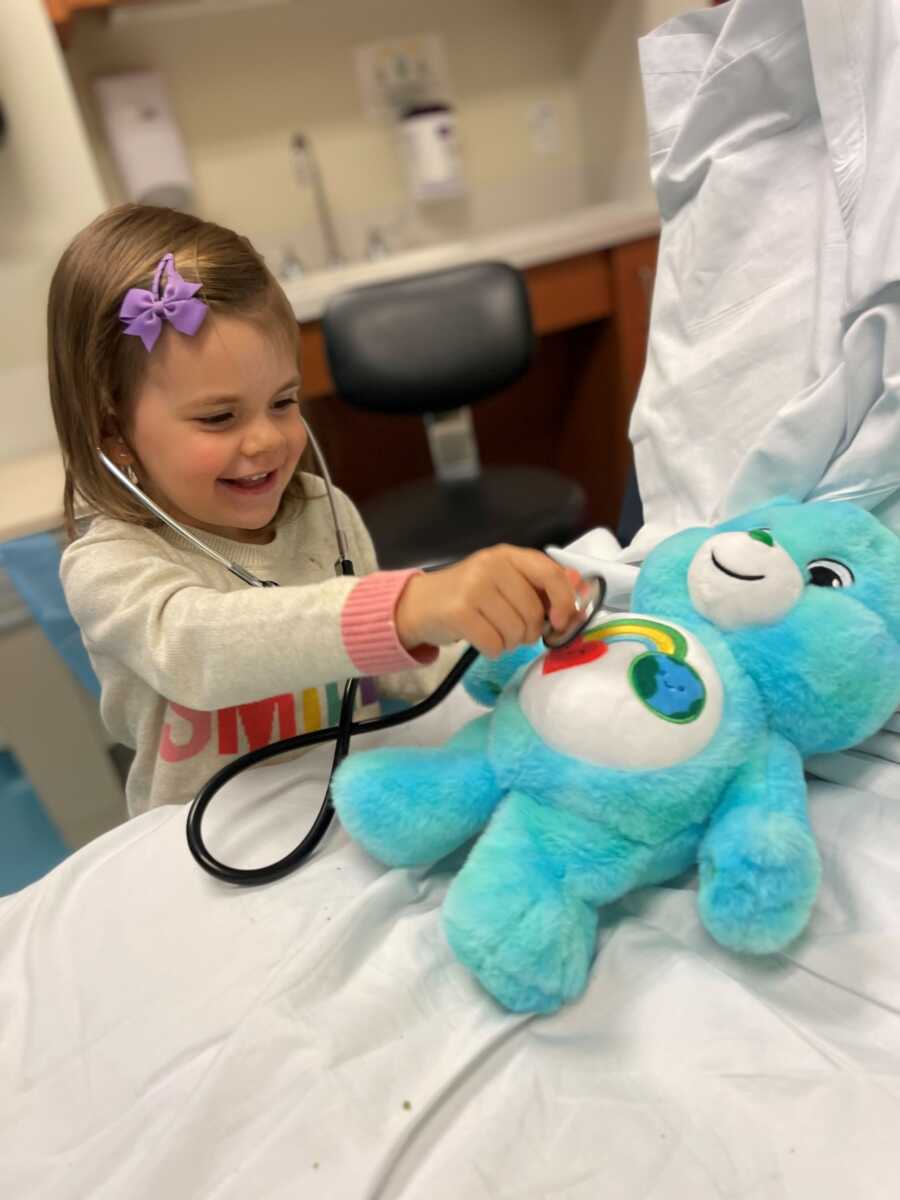 That is a day I think every cancer patient's parent says they'd like to forget, but it is burned into our memories forever. It was day two of our third hospital stay, and we were awaiting the results of her abdominal CT as we knew cancer was a possibility. I remember telling myself and everyone around us that it wasn't going to be cancer. She just wasn't 'that sick.' It was around 8 p.m. on January 13th, 2021, when we received the news. I knew walking into the room it was true. There were five doctors and/or nurses lining the wall and a navy blue notebook lying at the foot of the bed.
As soon as I walked past them my tears started falling and the night doctor said, 'Based on your reaction, you know that we have bad news. I'm sorry, it's cancer.' I remember hearing the words and not being able to breathe. Those people you see in movies are crying and screaming hysterically, well, that was me. It was completely uncontrollable. It's a feeling I wish on no one, and I pray every day that I never have to feel again.
After the doctors had confirmed every parent's worst nightmare, I was gutted. I honestly couldn't breathe; it was the absolute worst feeling in the world. They could not answer the questions on whether she would live, how much time she would have, or what her treatment would look like until they took her to surgery to get biopsies from the tumor to find out exactly what stage/mutation, etc. we were dealing with. They did tell us about her cancer (Neuroblastoma), and statistically, the outcomes are terrifying. Every tumor is different, and they told us they couldn't and wouldn't give us inaccurate information without having specific information from her tumor. You would think that would give you a sense of security, but it was the complete opposite. Not knowing what was going to happen to Evie was more terrifying than when I knew what she was going to face.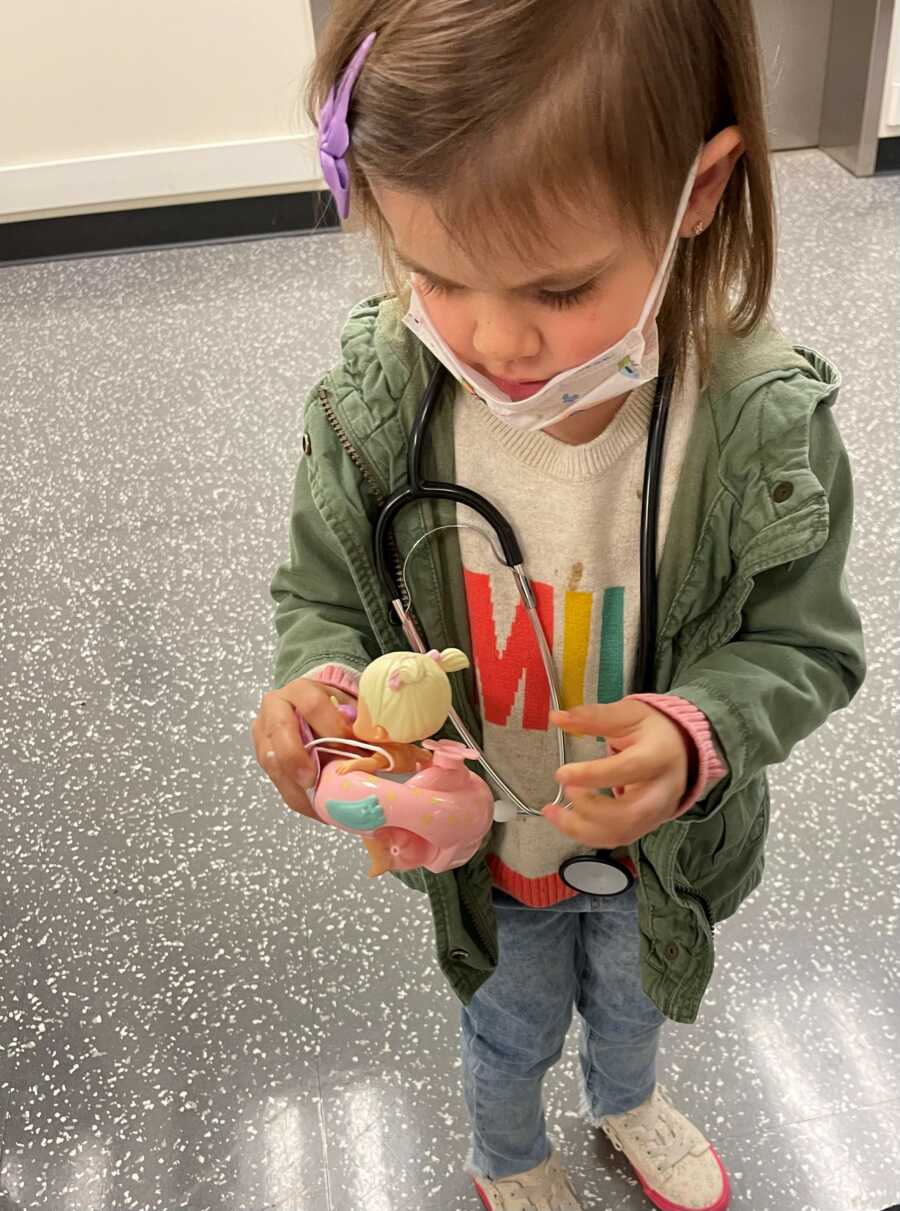 From diagnosis day on January 13th, 2021, through the first week, our days were full of procedure after procedure. She was diagnosed on a Wednesday night, and by Thursday morning, we had met with her oncologist and found out that Evie would be having surgery on Friday, January 15th, 2021, around 8 a.m. They would be placing a double-lumen Hickman line (which was changed to a port once they had opened her up), doing a biopsy of the tumor, and a bone marrow draw. What was supposed to be a three-hour surgery starting around 8 a.m. turned into an 8-hour surgery that began around 6 a.m. A few days after surgery, Evie had an MIBG scan which was used to determine if there were any Neuroblastoma cells other than her main tumor that was located in her abdomen on her adrenal gland.
Aside from the normal struggles of waiting on test and scan results, starting a treatment plan, going to doctor visit after doctor visit with a two-year-old, Evie had a four-year-old brother and five-month-old brother at home who we were trying to shield from what was going on all the while trying to spend as much time with them as possible. The balancing act was impossible. Either I felt as if I was neglecting the boys, or I couldn't going to go with Evie and that just wasn't an option. Not because she couldn't do it without me but because I couldn't handle not being there with her. When it comes to the medical side, there have been so many ups and obviously some downs along the way, but one of the harder things to watch was her not having the chance to be the typical toddler.
Her weeks were filled with doctor appointments, port accesses, blood draws, CT scans and so much more. She was so anxiety-ridden that she would not go or do anything without me. Even if it was with her friends she's lived beside for as long as she can remember. She could not watch me leave without freaking out, and I just couldn't put her through that. I couldn't go to the grocery store alone without feeling a sense of guilt that I left her, but as time went on, she overcame a lot of that anxiety. In the very beginning, we were at Clinic at least once a week and sometimes more often. She was absolutely terrified of doctors by the time she was diagnosed and here we are 15 months later she is FINALLY warming up to a certain few Doctors. It's the best feeling watching her laugh and play with the people who saved her life.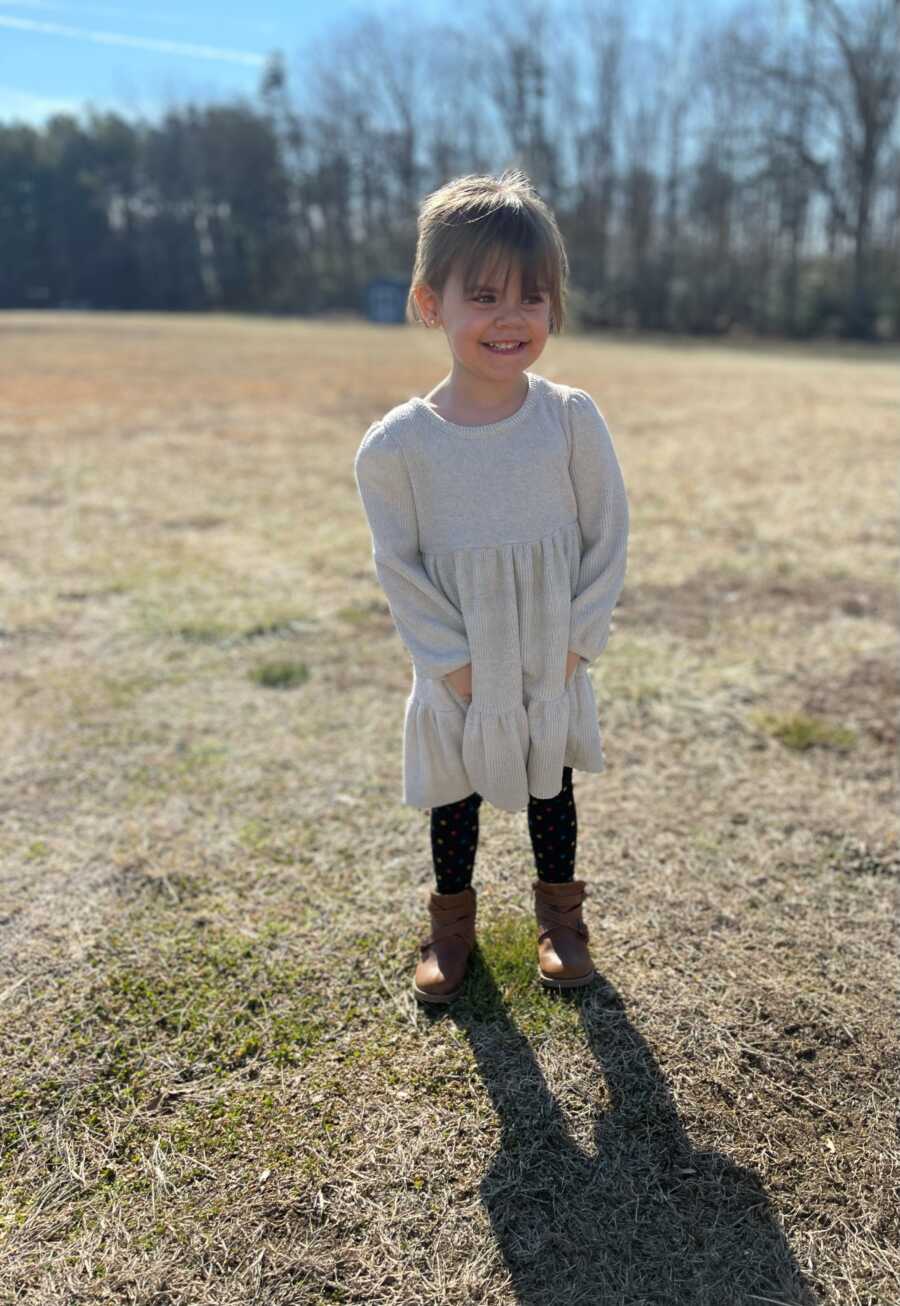 We are coming up on 16 months since Evie was diagnosed and are in the best possible place we could be. Evie was declared cancer-free on August 13th, 2021, and since then we have been doing maintenance treatment for symptoms cancer brought along with it. We have taken a break from immunotherapy to see if her symptoms get better or worse and then we will go from there on a new treatment plan. She does have monthly urine checks and blood tests, as well as quarterly scans. We are currently waiting to have an MRI of her hips done as she has been walking a little differently than normal. It could be as simple as a muscle/tendon issue or a side effect from the chemo as well as many other things. This Mama's heart is trying to stay positive!
Evie is a very 'spicy' 3.5-year-old little girl. The joy she has in her eyes is the most beautiful thing I have ever seen. The way she looks at life after all she has been through is something I aspire to have. She doesn't seem to have any developmental setbacks at this point and she's very eager to 'go to school like Bubby.' She does have some balance issues when you pick her up, but she has no problem jumping on the trampoline (or her bed) so were not sure why or where that is coming from. It presented immediately after surgery and has improved so much. At times it's not even noticeable and then other days it's as present as it was when she woke up from surgery. Even though these things are present, and I wish they weren't, I'm beyond thankful they are. I'm thankful she is still here with us to show us what #EvieStrong is.
If 2021 has taught me anything, it is that tomorrow is not promised. I am so excited to watch my children grow and enjoy life. They are currently 5, 3.5, and 20 months and enjoying life to the fullest. I used to put off doing things or taking trips because it just wasn't the 'right' time or the excuse of 'we can go next week.' My goal is to change that the best I can because you never know when you can't. Life is nothing but choices and memories, and when it's my time to go, I hope to have memory book after memory book filled with laughter and tears from the baseball games, dance practices, go-carts, and 4-wheeler tracks; and pictures of all the stains in my freshly cleaned carpet so I never forget the life God allowed us to live!
My ultimate goal is to bring awareness to Childhood Cancer in hopes of raising the funding for pediatric research. When we started this journey, I had the pleasure of getting to know an amazing woman who unfortunately watched her child gain his angel wings due to this ugly disease. She was a Godsend, and she still is. She guided me through the bad times, and the good times, and reminded me to never give up and that at the end of the day there is a plan for all of this. I hope that by sharing Evie's Endeavor, I can be that for someone else."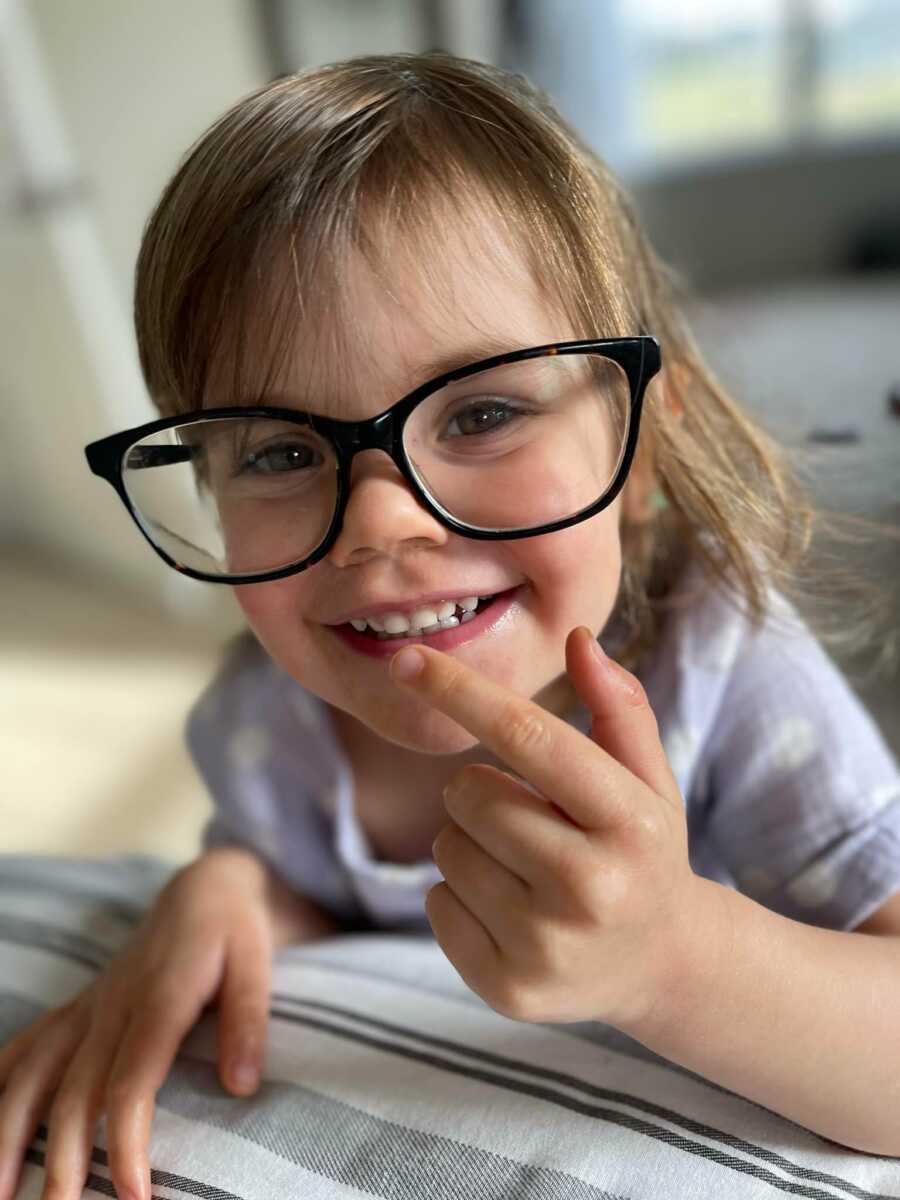 This story was submitted to Love What Matters by Danielle Sargent from Bumpass, VA. You can follow her journey on Facebook. Submit your own story here. Be sure to subscribe to our free email newsletter for our best stories, and YouTube for our best videos.
Read more stories about childhood cancer here:
'I'm so sorry I can't take this away.' He looked up at me with absolute perfect clarity. 'It's okay.': Parents 'astonished' by infant son's miraculous response, lose him days later to rare brain tumor
'Does it look too big?' Our perfect, happy, healthy baby boy had a belly full of tumors. Cancerous tumors.': Mom's newborn diagnosed with Neuroblastoma, says 'every little moment' with loved ones is a 'reason to celebrate'
'Mommy, I've been scared to say this, but I have a big bump on my chest.' I lifted her shirt. Sheer horror!': 8-year-old girl diagnosed with breast cancer after both parents beat cancer, 'we are a family of fighters'
'She knew something was wrong with her best friend. Her brother was now a quiet, sick little boy. He never wanted to play.': Sister dotes on her once 'lively, energetic' little brother now suffering from childhood cancer
Please SHARE this story on Facebook to help spread awareness to other parents!