"My journey as queer started when I was quite young. I'm constantly baffled that it's already been 11 years since I first realized I liked women. At 14, I first told a friend of mine I was gay. Her reaction? 'I knew it.' I felt like I could take a deep breath and that a massive weight had been lifted off my shoulders—because if a friend I had only known for a few years reacted that way, surely my other friends and family would react the same? Boy, was I wrong.
Before I tell the story of how coming out to my parents went, here's a little backstory of who I am and how I realized I liked girls/women. I'm now 25 and (very) happily married living my life in Copenhagen with my wife, Emilie, and our bunny, Manfred. I identify as nonbinary and use she/her and they/them pronouns. I never really identified with being a woman. I never seemed to be able to fit into the norms of society of what it meant to be a woman; I never wanted children, and I always did what I could to look as masculine as possible. Wearing oversized hoodies and t-shirts, preferring to look for clothes in the men's department rather than the women's. I always thought it was just because I was larger than my very feminine peers. Because I didn't look or act like the many girls that I was surrounded by growing up, I figured there was something wrong with me. Since I wasn't attracted to boys and didn't want to look like the other girls.
I grew up as an only child half an hour north of Copenhagen, and let's just say that where I grew up didn't have much diversity compared to Copenhagen or other larger cities. In fact, I didn't know any queer people for most of my childhood. I cut off my hair just before starting in the 8th grade (age 13). Not because I thought it made me look gay, but it just felt better than long hair. A few months into the school year, I had gotten a few good friends from the grade below me. Meaning that I spent a fair amount of time around their classroom—and ultimately ended up crushing hard on a close friend's female classmate. Hello, gay feelings! Funny thing though. I never liked or truly identified with being a lesbian, I honestly don't even like the word. Meaning that every chance I would get (still to this day) I say gay, queer, or that I like women. Never that I'm a lesbian, it just never sat right with me.
A few months after telling my friend for the first time, I finally felt like I had come to terms with the fact that I was gay, so it was time I told my parents. I was prepared for it not to go well. I decided to write a note telling them I liked girls/women and had packed a bag, so I was prepared to leave my parents' house before giving them a chance to see the note. To this day, I still wish I had been able to get out of the house. But I didn't. I couldn't. My parents discovered me on my way out the door. After they read the note, I suppose they had an unusual yet usual reaction. They claimed that it was normal for girls to have closer feelings towards their friends than boys, and it may be a phase. After this little statement, the next words that left my parents' mouths still haunt me today: 'What if we want grandchildren?' At the time, I wasn't even old enough to have sex, not to mention think about having children. Honestly, I've never forgiven my parents for reacting the way they did. Their reaction back then made me close up like a clam, and it would be over a year and a half before I talked to them about my sexuality again.
Fast forward to about a month before my 16th birthday. I had met a nice girl on an online dating website for LGBTI people, and we fell hard and fast for one another—and we just happened to live in the same little town. We very quickly decided to become girlfriends. My father did not seem pleased. My ex and I weren't together for long, but the few times she and my dad met, he wasn't particularly friendly towards her. This resulted in me crawling right back into my little closet after we broke up. I could basically FEEL my father's disappointment, and it hurt. This also meant that I never got to tell my grandfather, my last grandparent, who I really am before he unfortunately passed in 2017.
Because I still dreaded my father's reaction to being introduced to women I was into, I stopped dating altogether. Since I couldn't bring anyone home and introduce them to my family, I figured there was no point in trying to meet someone. So, I was single from I was 16 to a few months after I turned 22—where I met my now-wife.
I do think my parents, especially my mom, tried to be supportive about me attending Copenhagen Pride, but that is as far as their allyship goes.
Just before my 22nd birthday, I moved out of my parents' house to move to Copenhagen where I had just started studying. As I had just started school, I had suddenly gained a lot of new friends that I spent a lot of time with, and I started to really enjoy the freedom that followed moving away from my parents so I started considering dating again. I had my own space and wouldn't have to introduce anyone to my parents before we were ready.
I didn't have to swipe Tinder profiles for long before I came across a face that I really liked. So, I swiped right—and so did she.  When we met for the first time on January 11th, 2019, I could never have imagined that she would one day be my wife.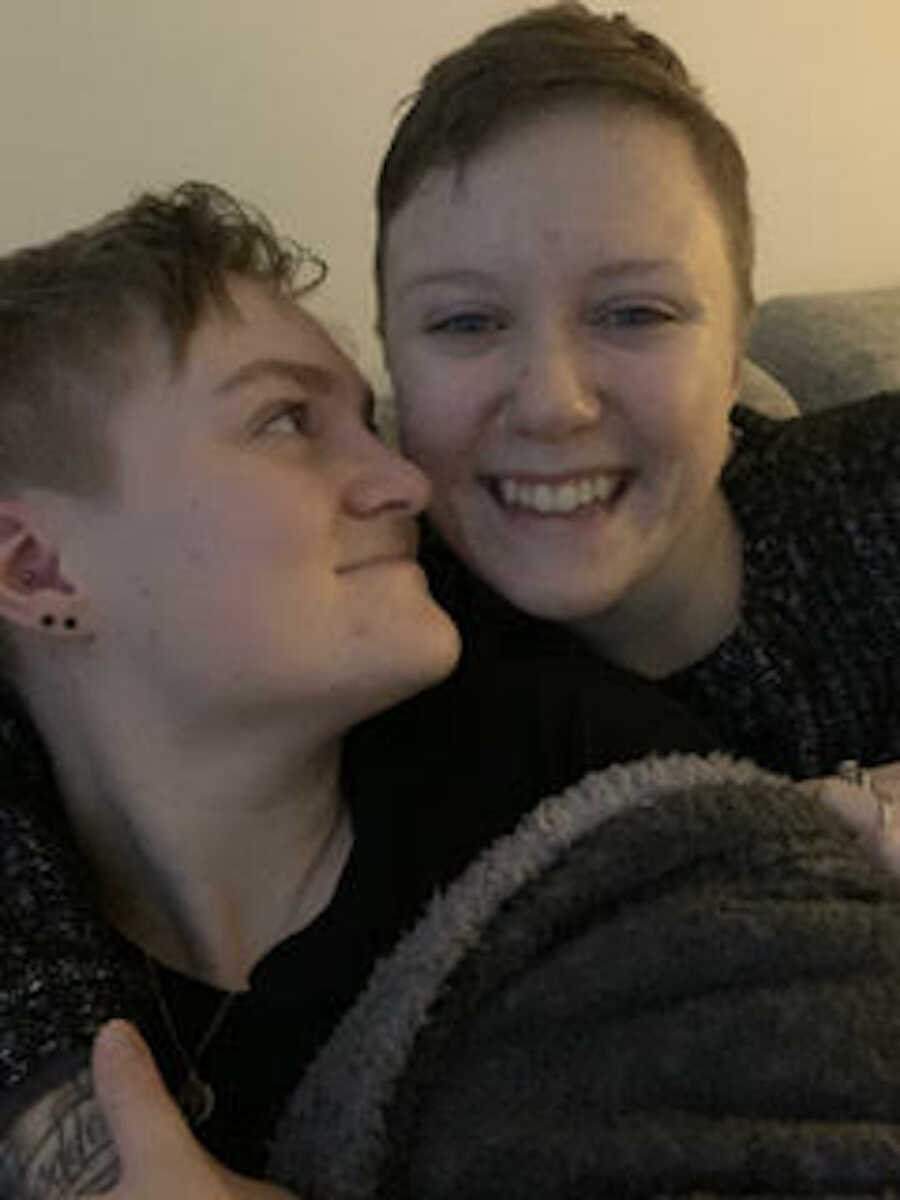 In some ways our relationship has been kind of stereotypical, being two women in a relationship. When things first started going, they went fast—at least according to other people. We have never looked back and wished we'd done anything differently. To quote my wife, 'We followed our guts and intuition and did what felt right for us. Maybe except for listening to other people thinking we rushed into it.' And she is so right.
Our first date was beyond magical. Seven hours on a cold January evening, starting at 8 p.m. and seeing two bars close before we headed home at 3 a.m. We still try to recreate our first date on our anniversary. We both knew that things were heading in the right direction from the very beginning. Two weeks later, I gave her a cheesy gift in the shape of an artificial rose in our favorite color, purple, and a small picture with the words, 'Will you be my significant otter' and an otter. She (obviously) thought it was a bit soon, but it didn't take her long to reconsider. On February 11th—a month after our first date on the day that was supposed to be our second (but ended up being our like 10th date) and the day we got to experience Hayley Kioko (aka Lesbian Jesus) live in Copenhagen—she showed up to my apartment with a big bouquet of flowers and a card, thanking me for being 'Otterly patient with her' and asking me if I still wanted to be her 'significant Otter'…I then proceeded to call her an idiot and say, 'Yes, of course.'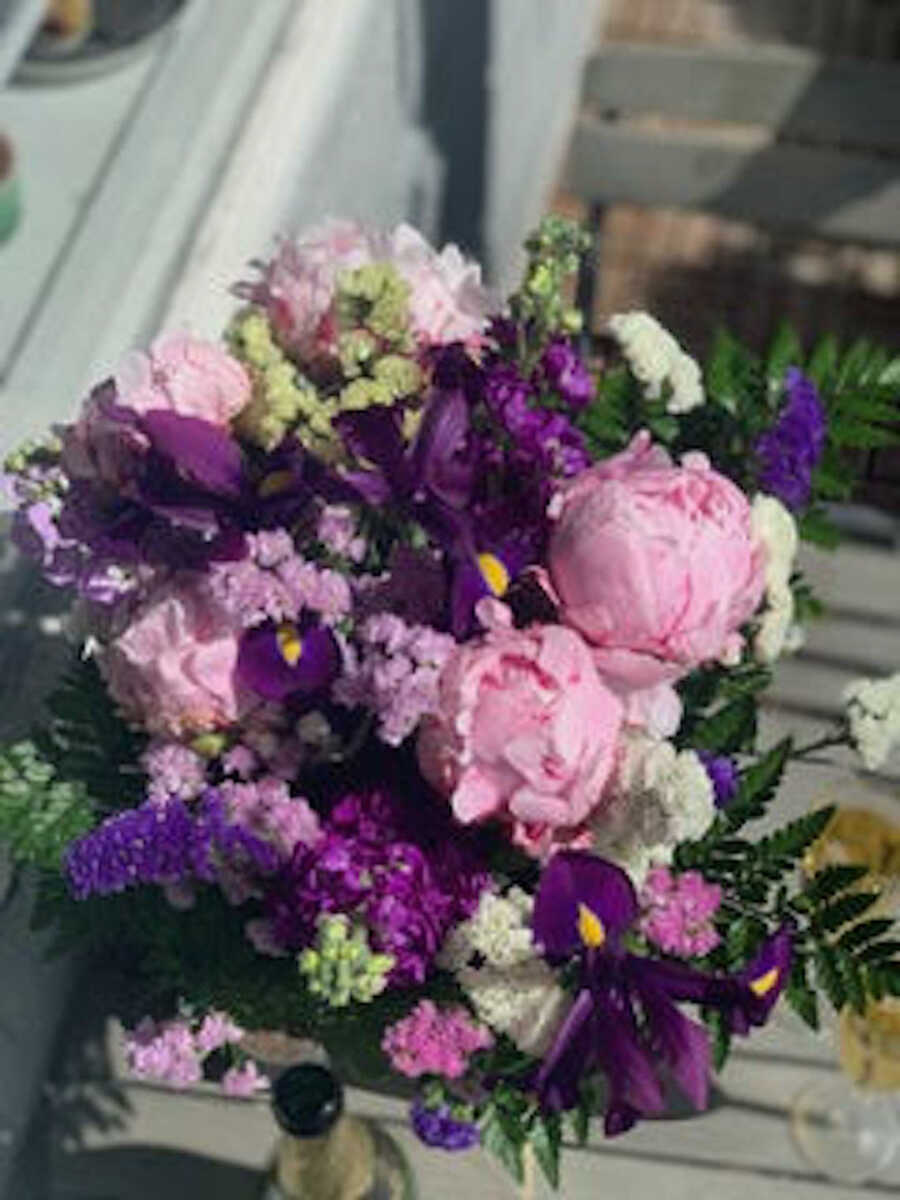 By October of that same year we moved in together, or Emilie moved into what was originally my apartment. But that's all it was. I had lived away from home for roughly a year, but it was only once Emilie moved in with me that my apartment became a home. She made it feel like home and warm. She gave the place character and a personality, and then we made it our own.
Not long after we were done settling into our home, Covid hit Denmark, and I got sent home from school while writing my final paper. On top of that, I was given a hip dysplasia diagnosis a month prior to lockdown and suddenly had to fight with insurance, isolation, and the prospects of major surgery while trying to work and study from home. Through every toss, turn, and painful and sleepless night, there was Emilie. My absolute rock, standing by me every step of the way. Honestly, I wouldn't have been surprised if she'd left back then. But no. Even while staring right into the possibility of my having a permanent disability, she stayed by my side, and on May 25th, the same day I handed in my final paper, she got down on one knee and asked me to marry her. OBVIOUSLY, I SAID YES. Getting engaged in the middle of a global pandemic did, to some extent, limit us from getting married fast. Originally, we had hoped we'd be able to marry in 2020, but we decided not to do any planning until we were sure that we'd be able to go through with the wedding without the chance of another lockdown forcing us to reschedule.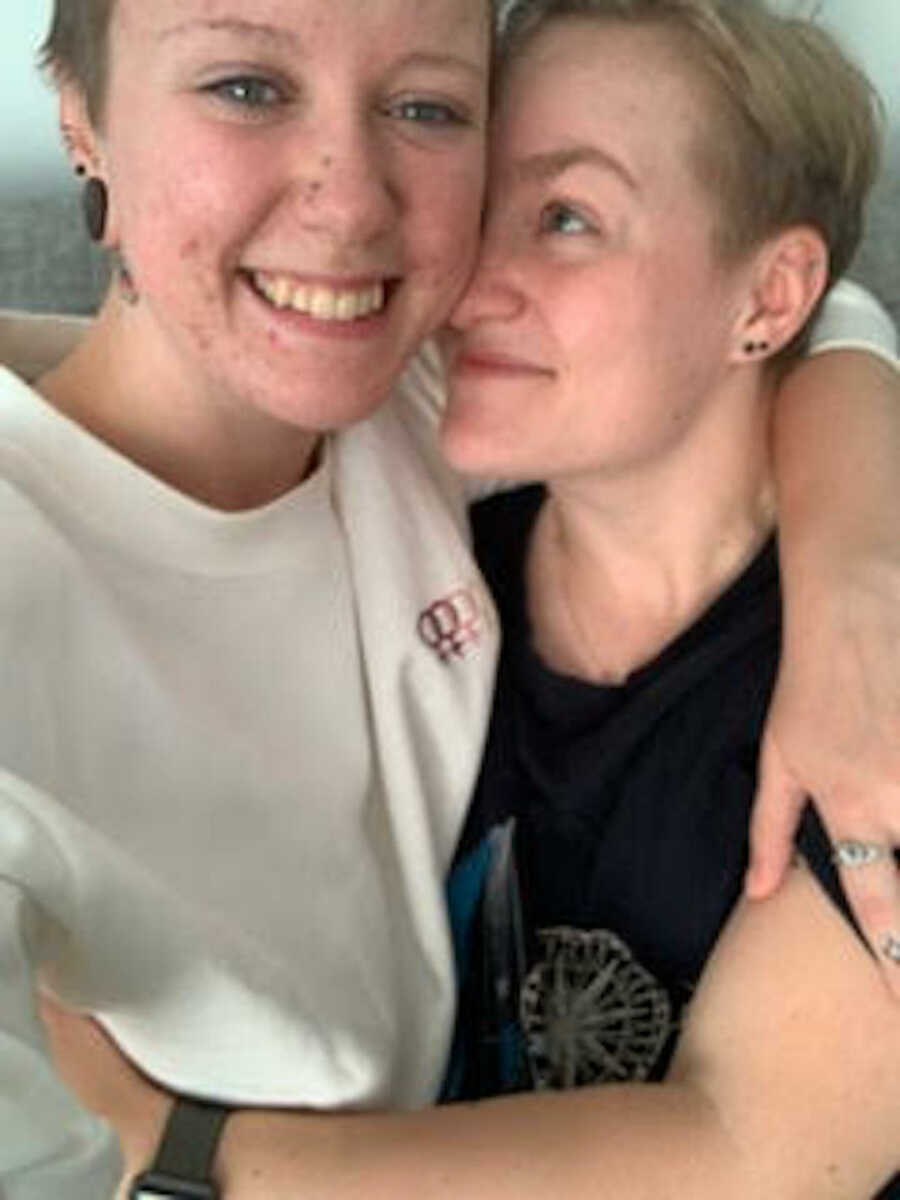 We ended up getting married at Copenhagen City Hall on September 4th, 2021—only five days after my internship with Copenhagen 2021, World Pride and EuroGames had ended—in a beautiful ceremony with only our closest friends and family around us—my ex and her wife being among our guests. We had a marvelous party at the first and only rooftop farm in Copenhagen where we had invited our wedding photographer to join us to eternalize our wedding day. Everything was perfect, the weather, the company, the food. I wouldn't change anything if I had the chance. Thank God my parents are super fond of Emilie and very supportive of the relationship that I have with her, and if they weren't, what could they do? Throw me out from home? Nope!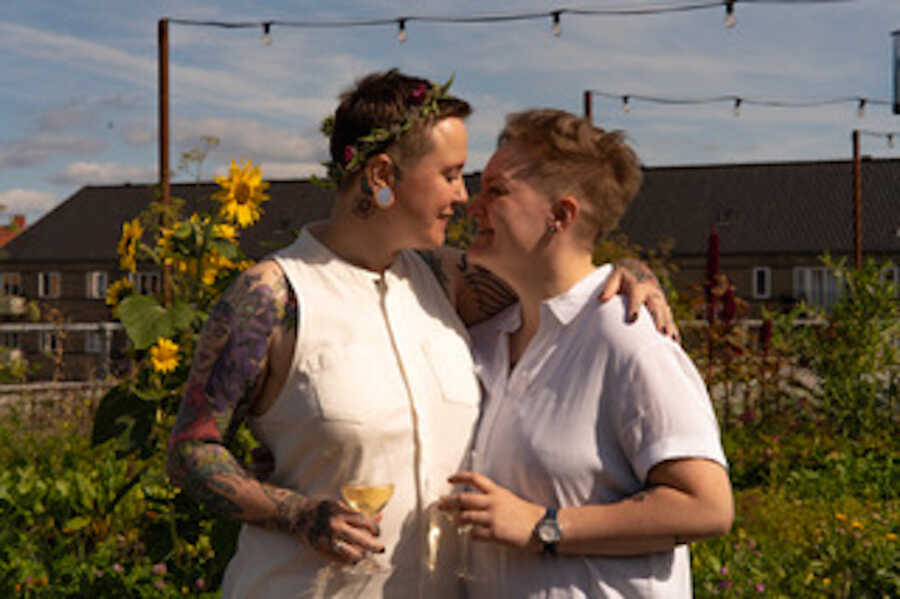 During the summer of 2021, I met a lot of different people on the LGBTI spectrum. This made the little cogs in my brain turn and made me reconsider my identity as a cis woman. Meeting people who took their gender (or lack thereof) into their own hands and made their expression their own and couldn't care less about what other people thought of them was such an inspiration.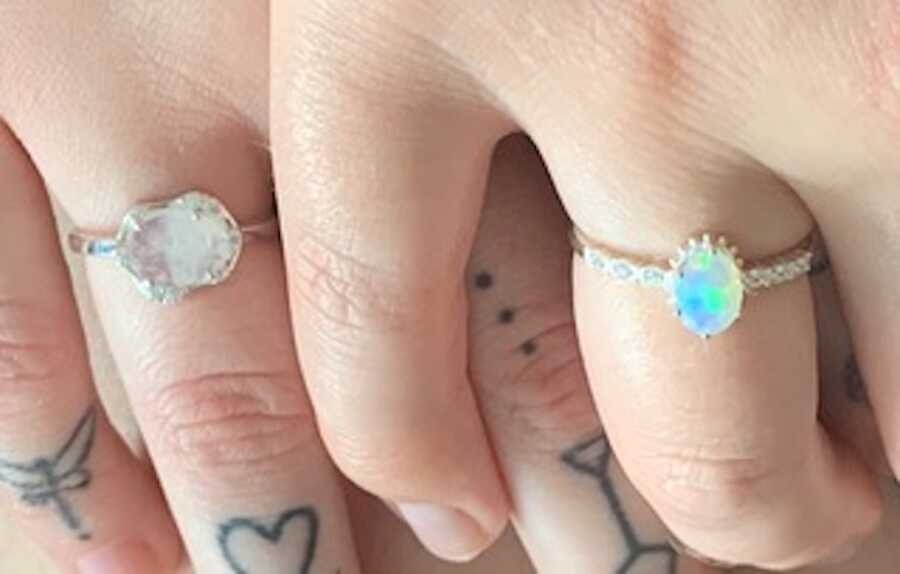 As I had always felt 'wrong' in my way of being a woman and the way that I expressed myself compared to the people around me it suddenly made sense to me why I hadn't been excited when I had started growing my breasts or hated my body every time I was on my period. Looking back there were several little signs when I was growing up that I was non-binary and maybe even trans masculine. Suddenly things just made sense I wasn't cis; I wasn't like all those many women I had compared myself to when I was growing up.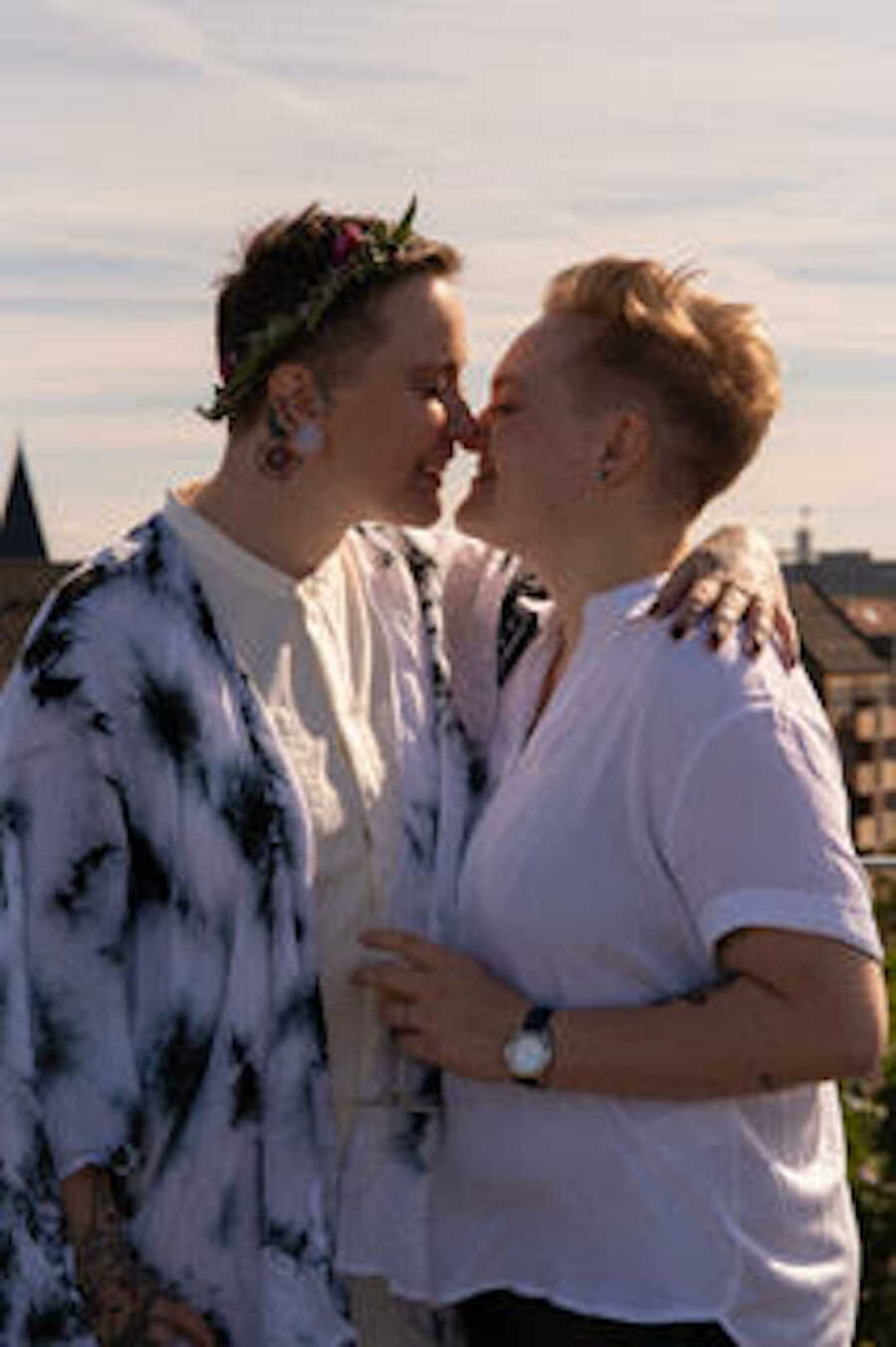 When I first started thinking that I wasn't cis, I had a minor crisis, because for 10 years I thought I had figured out my identity and my place in everything LGBTI, so I struggled for a while. And I cried about it several times—to my wife, when I was alone, in the shower when I saw my reflection in the mirror. At the beginning of the new year, I'm going to my doctor to hopefully get referred to someone who can help me realize my dream of having my breasts removed—to make me look less female. For the time being, I don't have any thoughts about getting hormones as those would bring about some male characteristics that I don't feel comfortable with any more than I do my female-presenting body.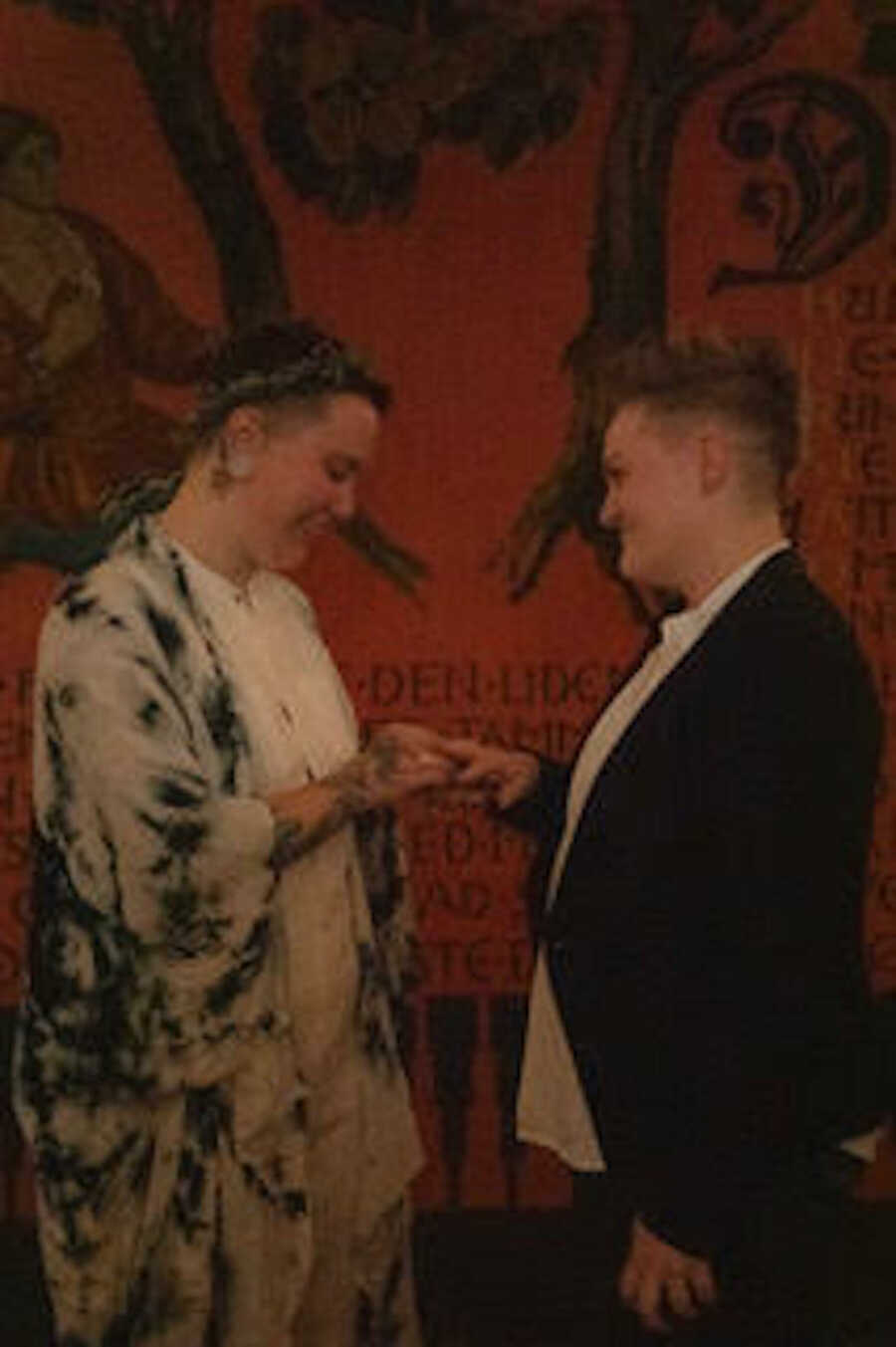 I love referring to Emilie as my wife, and I love when she refers to me as hers. So that's never going to change. Non-binary or not, breasts or no breasts, I will always be her wife. And I love it. And she loves and supports me as I try to find my new place in this unnecessarily gendered world.
I learned that I can't talk to my parents about things like this, so I don't. I came out as non-binary to friends first and just recently I came out to all of Instagram—I don't even think my parents have seen it. But that doesn't matter as I'm surrounded by irreplaceable friends and my selected family.
To all who are struggling with their identities whether it be gender or sexuality, you are absolutely, perfectly allowed to be here, and you're allowed to be in this world under terms that you feel comfortable with. And you're even allowed to change your mind! As many times as you want. Don't keep it inside, if you're in a situation where you don't feel comfortable talking to your parents, I hope you have friends close enough that you feel comfortable opening up to them and showing them your true (rainbow) colors."