"My return to those halls was unplanned, unwanted, and everything I needed.
It felt like it had been nanoseconds and eons in equal measure. The familiarity enveloped me with dread and anticipation. To describe the feeling in my heart and stomach as conflict was a grand injustice to the turmoil bubbling inside of me. The faded murky yellow walls offering a grim reminder most people who entered this hospital would never leave. Everything smelt like a combination of antiseptic and human excrement. Bile rose in my stomach at the thought of how I was going to tell her he was gone. How would I keep myself from falling apart?
A loosely appointed guard followed behind me to ensure I didn't stray from the deliberate and militantly laid out direct path from the front door to my mom's hospital room. Ducking out was no longer an option. 30 minutes was all I was availed.
I was clad in a mid-shin length yellow papery gown, tied behind my neck and at the small of my back. The strings of my N-95 mask were tight against my cheeks and already leaving lines I knew would serve as a reminder this had really happened hours after it had. They chafed the backs of my ears and I hadn't even made it to her room yet. I wore latex gloves which stuck and squeaked between each of my sweaty fingers. A full plastic face shield ran the length from my forehead to my collarbone and bore the words 'face shield' in a cobalt blue band across the top on the off chance I passed a mirror and momentarily had forgotten what the plastic veil had been for.
My mom was asleep when I got to her door. I could only see the back of her head from the position of her bed. The stark white circle of newly revealed scalp created by shedding hair stood out to me first. She was as still as could be. Her television hung high in the corner and blared loudly in the background. Three's Company. Her usual muse that actually maybe didn't amuse her at all anymore, but we always had them turned on for her comfort.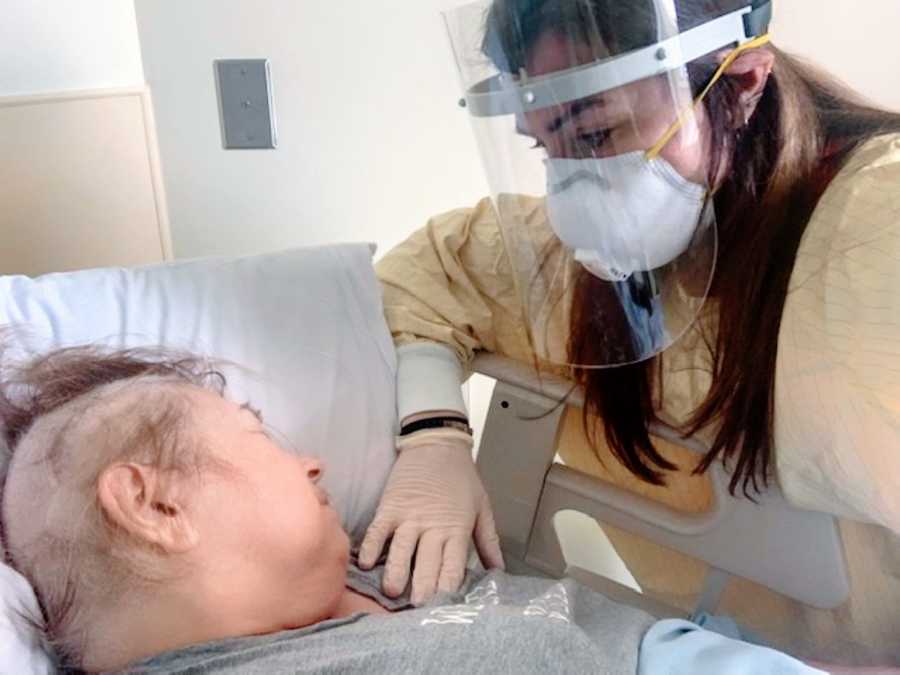 As I walked around to the front of her bed, I willed her head to move. I lumbered with great noise at the cumbersome nature of my swishing, squeaking armor. There she lay – my beautiful, sweet mother, only 63 years young. The noise of me didn't rouse her.  I could feel my heart beating hard against the inside of my ribs. I could feel the bile rising again. I could feel myself consciously trying to swallow it down, forcing it back into the very depths of my bowels where it needed to stay. As nauseous as I felt, I could not risk spending my now 27 minutes vomiting on my dying mother and having to clean it up. Besides, she had usually been covered in enough of her own vomit as it was.
Nothing I did would wake her. It occurred to me then she could be gone. Was it possible to lose both parents on the same day? I grounded myself and called her name loudly. I squeezed her bony hands and watched her chest rise and fall every so faintly. I exhaled. But nothing I did would wake her. I cried from somewhere deep within the place I had stuffed the volcanic bile. The cries were guttural. They hurled me forward with each noisy exhale. I wailed for her to open her eyes. To see me. To hear me. To by mommy again. After nearly 12 straight minutes, leaving 18 minutes of visiting time, she did.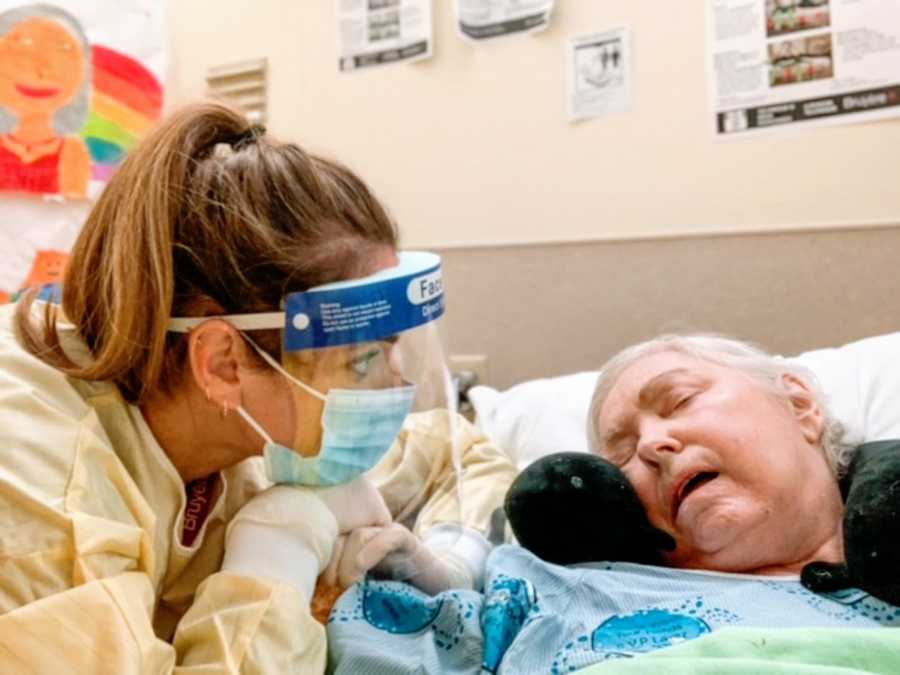 Her dull grey eyes once shone as bright as emeralds. Now they just stared vacantly at me. Not into my eyes – she had lost the ability to do that too. To really see me. Instead, she looked at me and past me and through me, all at once. And while my heart knew her heart and mind felt differently and were overshadowed by a damaged brain, my head couldn't see past the vacancy in her eyes and the straight line of her mouth, unperturbed by my presence.
I tried to talk but just shook. The sounds that followed were little broken pieces of syllables punctuated by deep sniffles. I now had to find the strength to tell my mom my dad had just died, only hours before, by the same brain cancer she was about to die of too.
Nearly 12 hours earlier, I woke from a staccato sleep at a different hospital across the city. I had been spending most nights there, sleeping on an uncomfortable hospital chair beside my dad who had been unconscious for nearly 9 days now. We were in a long and excruciating waiting game till his last breath. At 2 a.m., I woke and watched the faint rise and fall of his chest, an unknown foreshadowing to future events of my afternoon. He was still with us. One hour later when I woke again for my usual hourly check, I was met with only stillness. No rise. No breath. No life. I froze.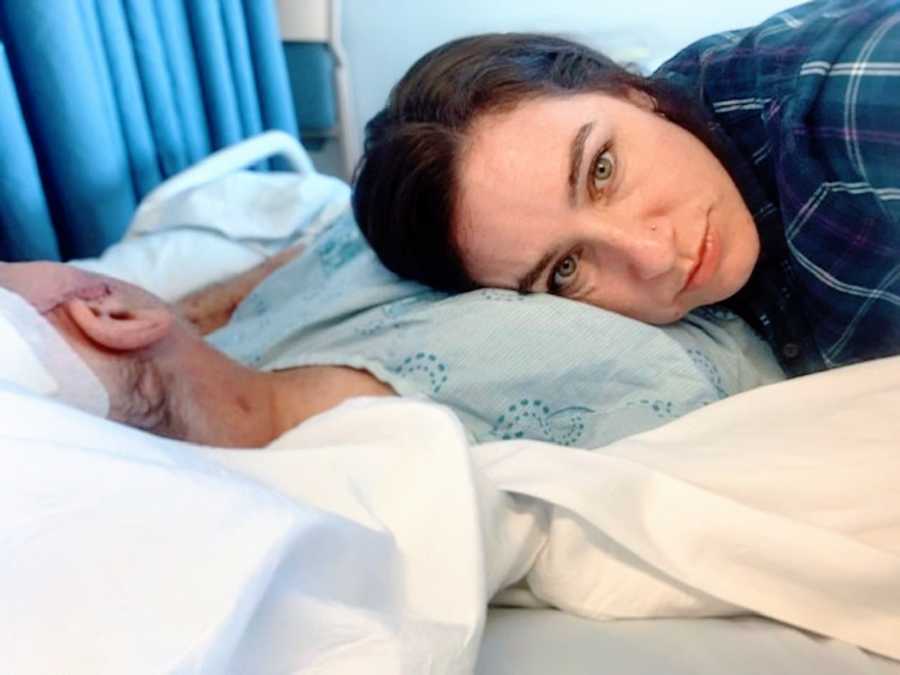 Weeks earlier, in March of 2020, COVID-19 would shut down the world, leaving my two parents in two different hospitals completely isolated with no loved ones. We would go weeks relying on the hope a nurse or doctor would have the time to call us with an update that day or we would be lucky enough to catch one walking past the phone when we called their units with our one daily permitted call.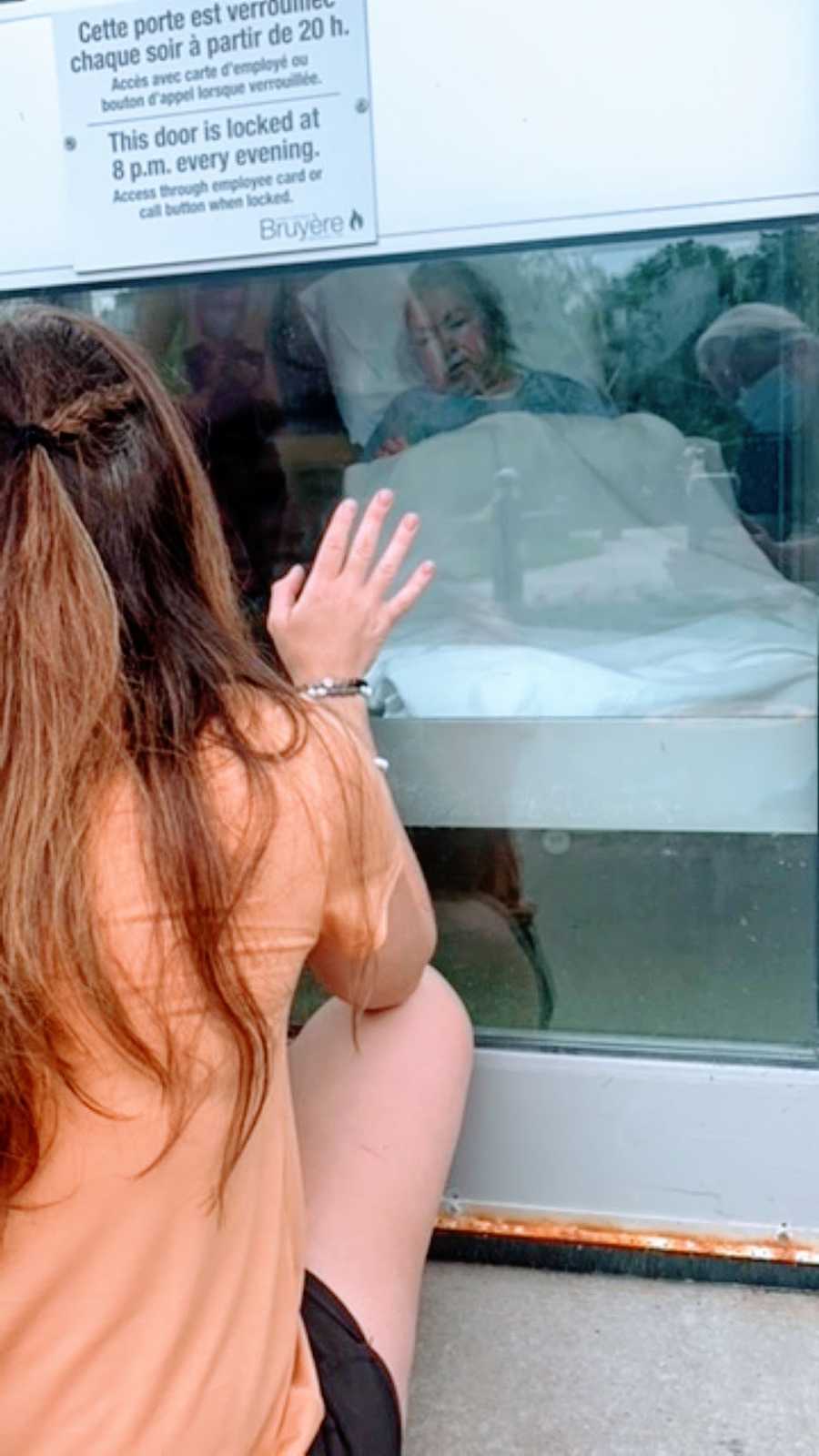 In the late summer of 2019, only 7 months prior to this day, my dad was taken from my daughter's 7th birthday party to the emergency department of our local hospital due to our rising concern over his cognitive decline. Things like Alzheimer's and Dementia had long been medically ruled out, so we were at our wits end with accepting his incontinence that day could be caused by anything other than some underlying and serious condition that had yet to be discovered. To our horror, we were right. That week he underwent brain surgery to remove a large tumor that pathology later confirmed to be glioblastoma. A rare and aggressive form of brain cancer with the prognosis of 12 months. 'The most destructive cancer in humans,' according to world-renowned and celebrity status neurosurgeon, Dr. John Boockvar.
Our worlds were rocked. We would lose our dad. And not only lose him in one year, give or take, but lose him right now in this very instant as surgery had just required removing a large portion of his brain and leaving him with enough deficits for us to know that despite the blessing he could still walk and talk, he was no longer the same and never would be again.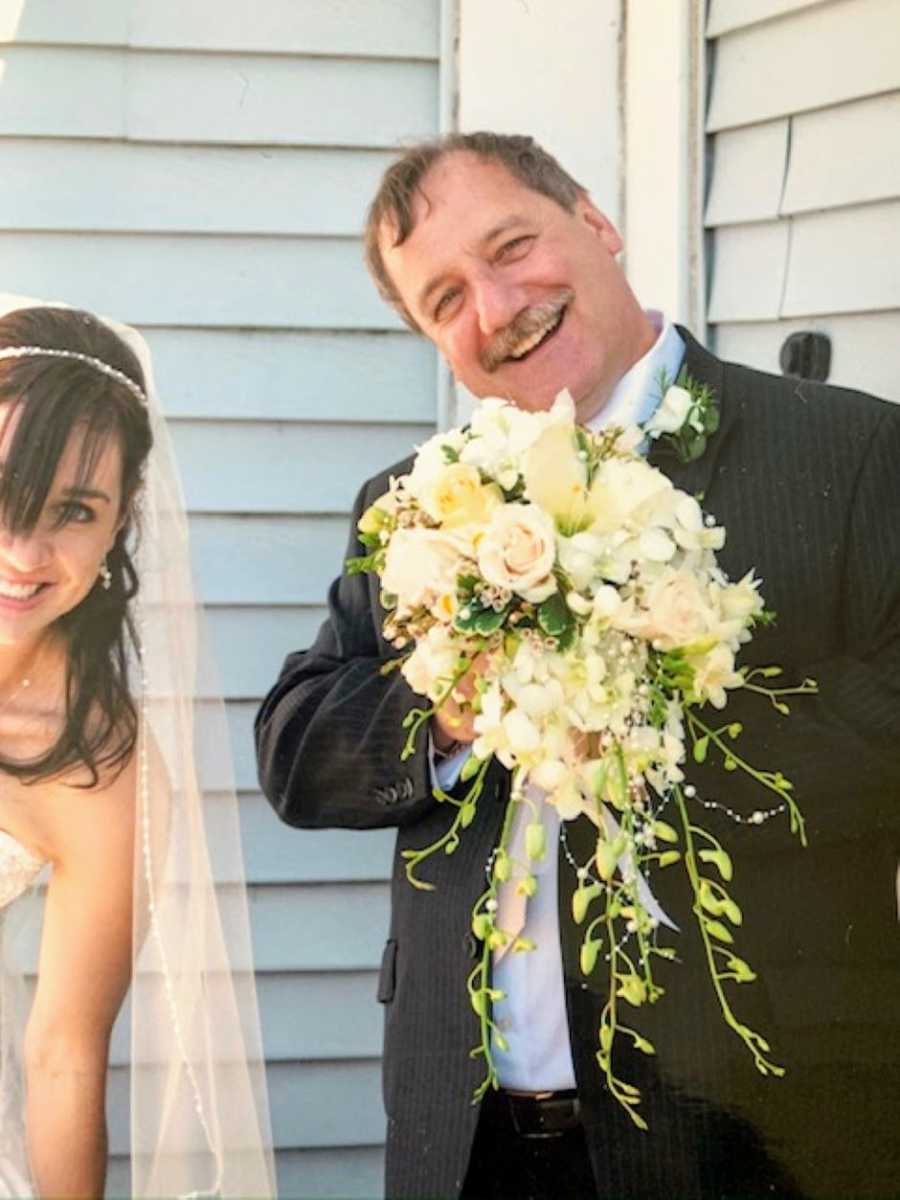 It was the end of August and my youngest of 3 children was to start kindergarten and join his sisters at school the following week. Instead of heading back to work full time, I made the decision right then and there at his diagnosis I would stop working full time and spend 3 days a week with him at his house to help with his care.
By my 37th birthday, he had been out of the hospital only 3 days. It had been 14 days since he first went into the ER. We had survived what we thought at the time was the worst. I spent the day with him and my family eating ice cream cake and trying to take him all in, for fear it would be my last birthday spent with a dad. It was everything I imagined it would be. Beautiful, gut-wrenching, tearful, filled with love, and occasional quiet sobs behind the bathroom door. This was hard. What we couldn't have foreseen coming though, was the wrecking ball whose trajectory had it heading straight for our broken, hurting hearts.
On that very day of my very birthday, while we ate that very cold, sweet, crumble-filled cake, my mom dropped from a seizure across the city from where I lived. In her own kitchen with her own husband, she went from standing up to limp on the floor in a matter of seconds. She would be rushed to the same ER department of the same hospital, undergo the same tests, and be diagnosed with the exact same thing: Brain cancer. Glioblastoma. This time not 1 tumor, but 2.
We were immediately back at the hospital in some cruel Groundhog Day version of our lives, waiting for Bill Murray to appear from behind the room dividing curtain and laugh at us. But there was no hidden film crew. This was our real life. Within days she would undergo two separate awake craniotomies and also leave that hospital as a ¾ version of herself.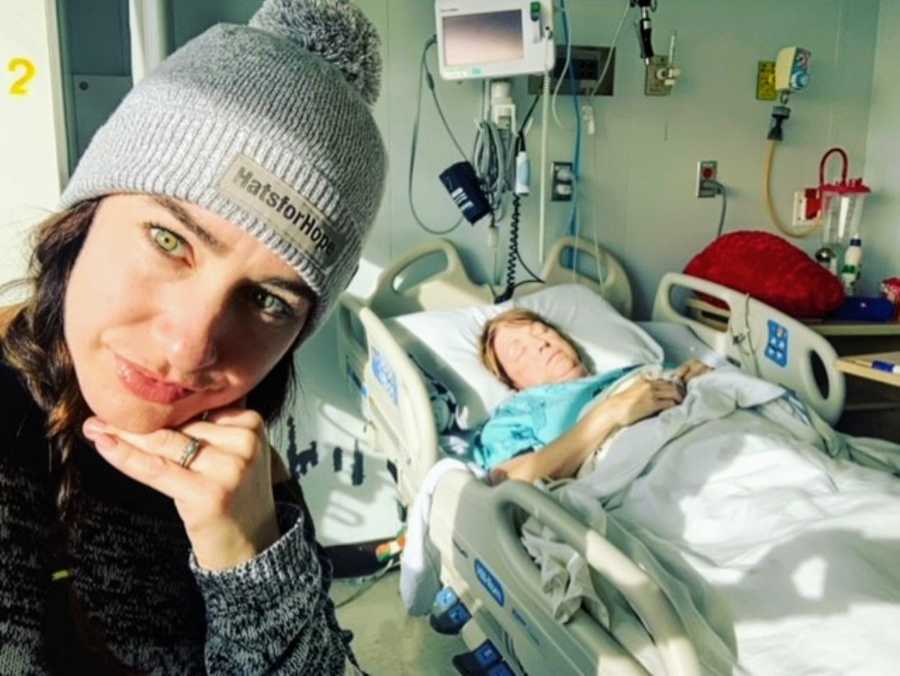 She would move into my house immediately after her recovery, where my children would take turns giving up their bedrooms for one week at a time for her and taking up residence in sleeping bags on our master bedroom floor. I took her in because her husband's alcohol addiction didn't deem him capable at the time. My part time work would become a long-lost dream and my days would be dedicated to splitting my care between her and my dad as best I could. We lined up doctors and appointments for them together. This would become our lives.
We quickly learned joy didn't need to come from money or grand gestures and while facing an unprecedented, paralleled diagnosis we could still laugh all day, every day. We could laugh at our situation, we could laugh at each other, and we could laugh at ourselves. And when we got tired of that, we could yell and scream and cry and feel the hurt all the way down to our toes.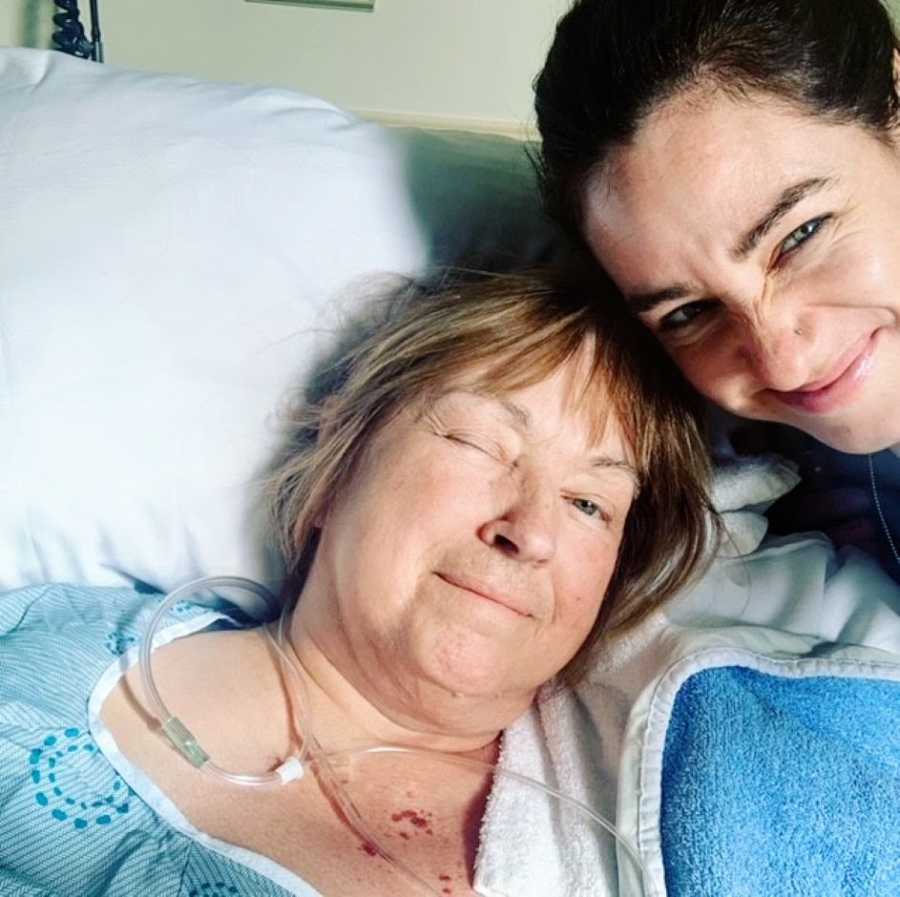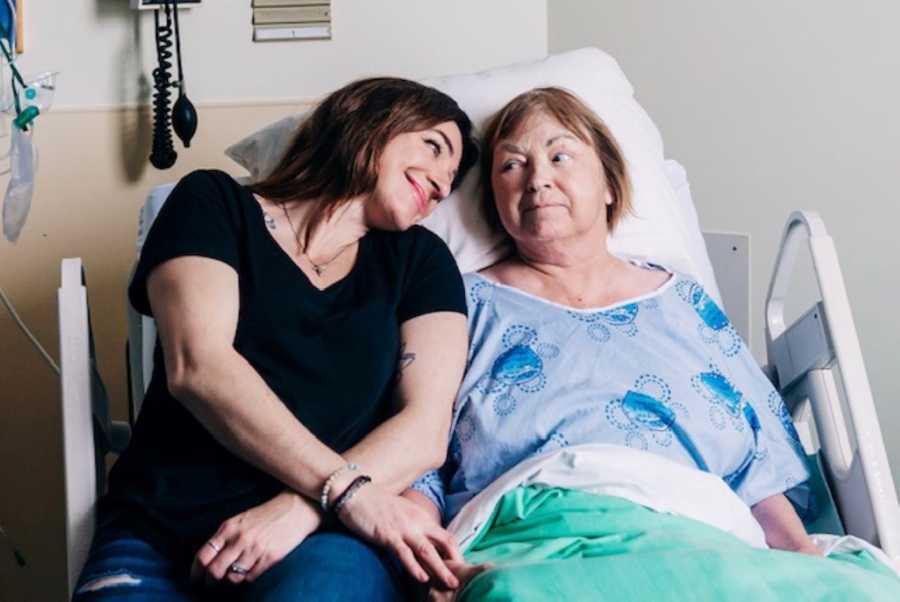 Over the months, my mom would quickly decline until she became bed-ridden and chronically palliative. She was moved to her complex care hospital by early December of that year. My dad would triumphantly battle and stay strong, undergoing one more complication-related brain surgery after another until April 3, 2020. After weeks of being in the hospital alone and isolated, we would receive a phone call he had contracted an infection that had spread too far and there was no more they could do. We could be with him now until the end.
And here I was, 9 days later, realizing his end had come. Covid had taken away the opportunity for me to turn and find solstice in anyone's arms. We could only have one family member with him at a time and nurses wouldn't touch me with a 10-foot pole, even cladded in PPE. I stood there in the cold and dark, completely alone with his body. After heading home later that morning and managing several hours of staring at my ceiling, I was awarded the opportunity to go tell my mom in person. I did not want it. I hated it. I needed it.
Back in my mom's room, I sobbed and snorted as I blurted out to her with no eloquence whatsoever that he was gone. I held the guilt of being the messenger, the utter pain of seeing her in this state, the heart-searing reality that after this 30 minutes, I would not be allowed back to see her for the foreseeable future, and the disgusting unmentioned understanding that she was inevitably next.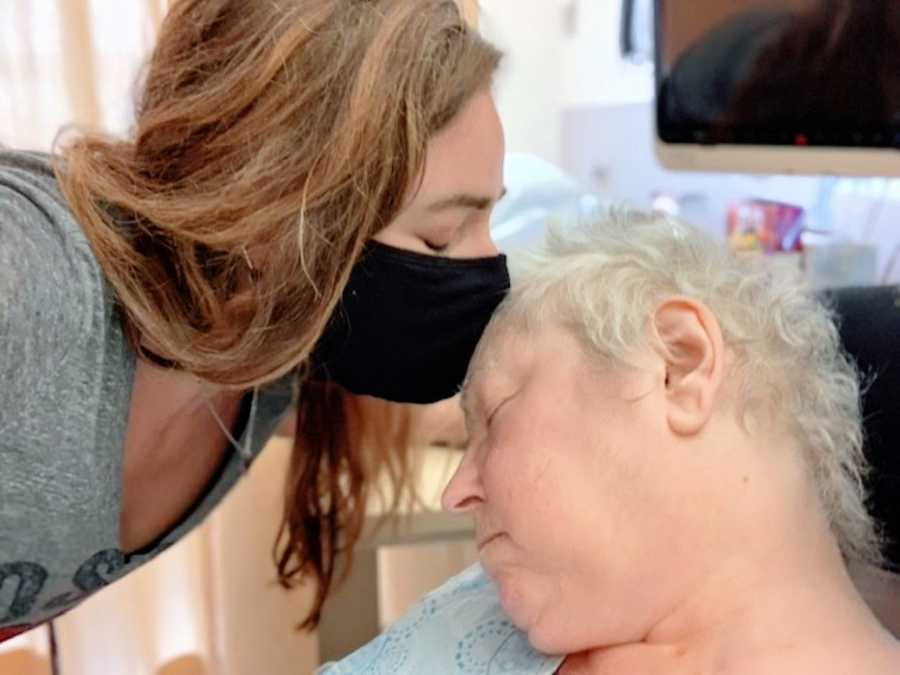 She would live in this slow declining state for 6 more months. Over that time, I had fought hard to get back to her and clawed my way from window visits to garden visits to in-room visits with 6-foot distances to helping to create a program that would designate loved ones as part of a patient's care team, therefore allowing myself and others 24-hour access to them.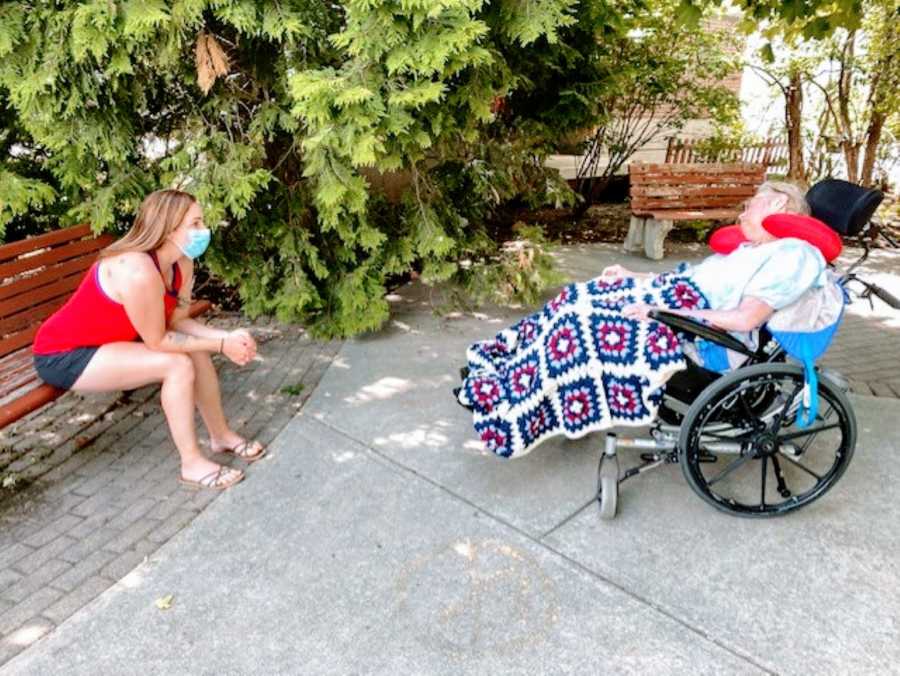 On October 19th, I received a phone call reminiscent of the one that came April 3rd about my dad. It was my mom's time to go. She was at the end. 5 days later, on Friday, October 23rd, her breathing took a sudden shift into a shallowness I had not seen, and I knew in that very instance we only had minutes left. This time I did not have to be alone. Her husband, now having remained sober for some time, was there as well. I tucked her rosary into her hands and flanked either side of her bed, leaning over in anticipation of every breath. The long pauses between felt like an eternity. We played her favorite song and I leaned over and kissed her forehead. And with that, she was gone. With the same quiet softness with which she would have cradled me in her arms as a babe and whispered me a lullaby, she slipped out of this world and onto the next, where my dad was waiting to greet her.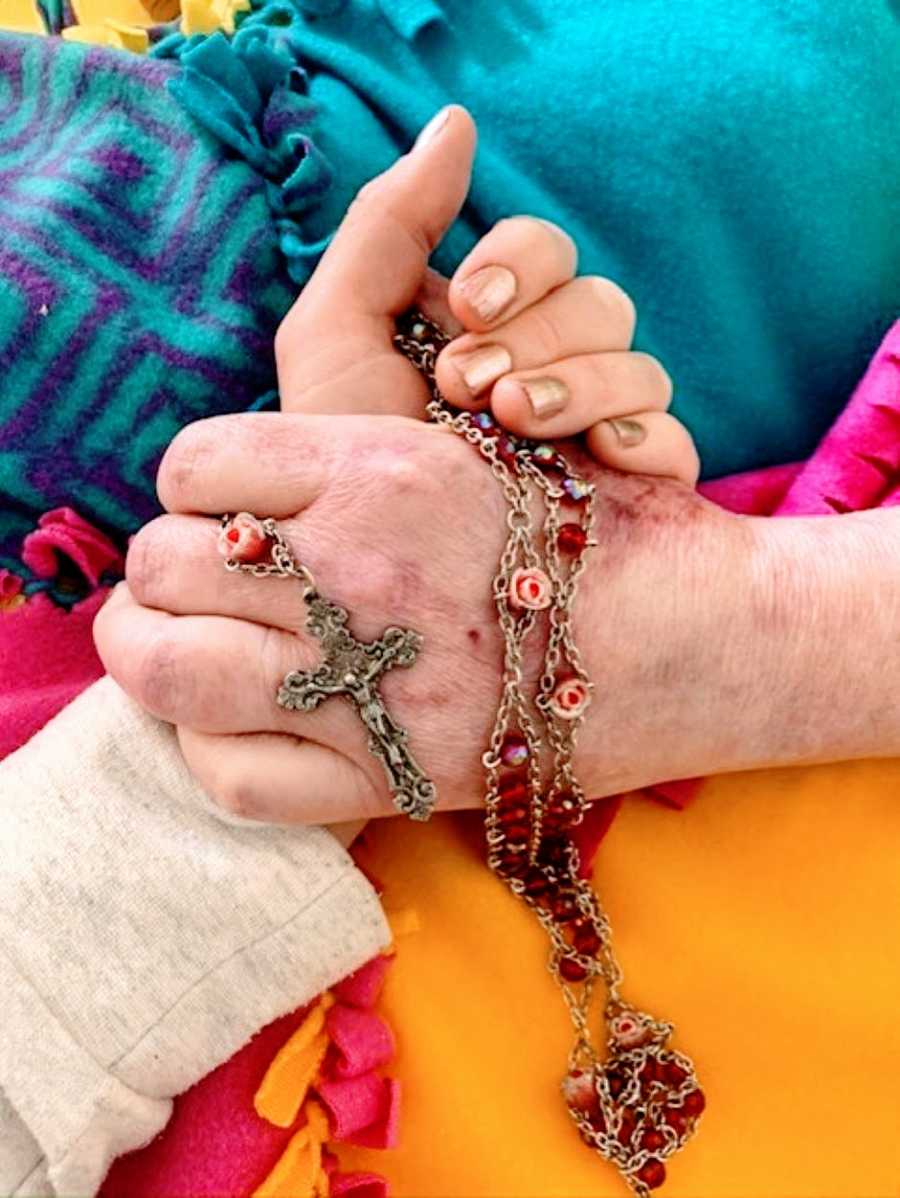 Over the past year, I decided to use my pain and grief as fuel to live. I created a not-profit called Slay Foundation during our chaos and raised over $40,000 in 2020 to support other families caring for loved ones with this disease. As my charity grows, so does my desire to keep helping and keep spreading awareness about Glioblastoma until Dr. John Boockvar's words become, 'It is one of the most curable cancers in humans.'
The lesson is we are not guaranteed time. I loved them through their deaths instead of turning away from them with fear, which is the only reason I can walk away without regrets. For it is love that matters most."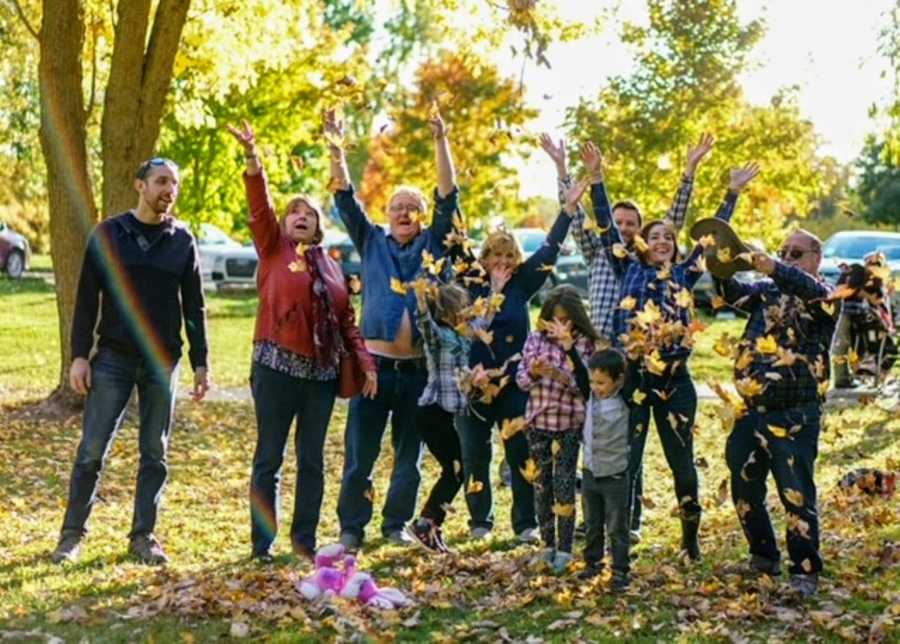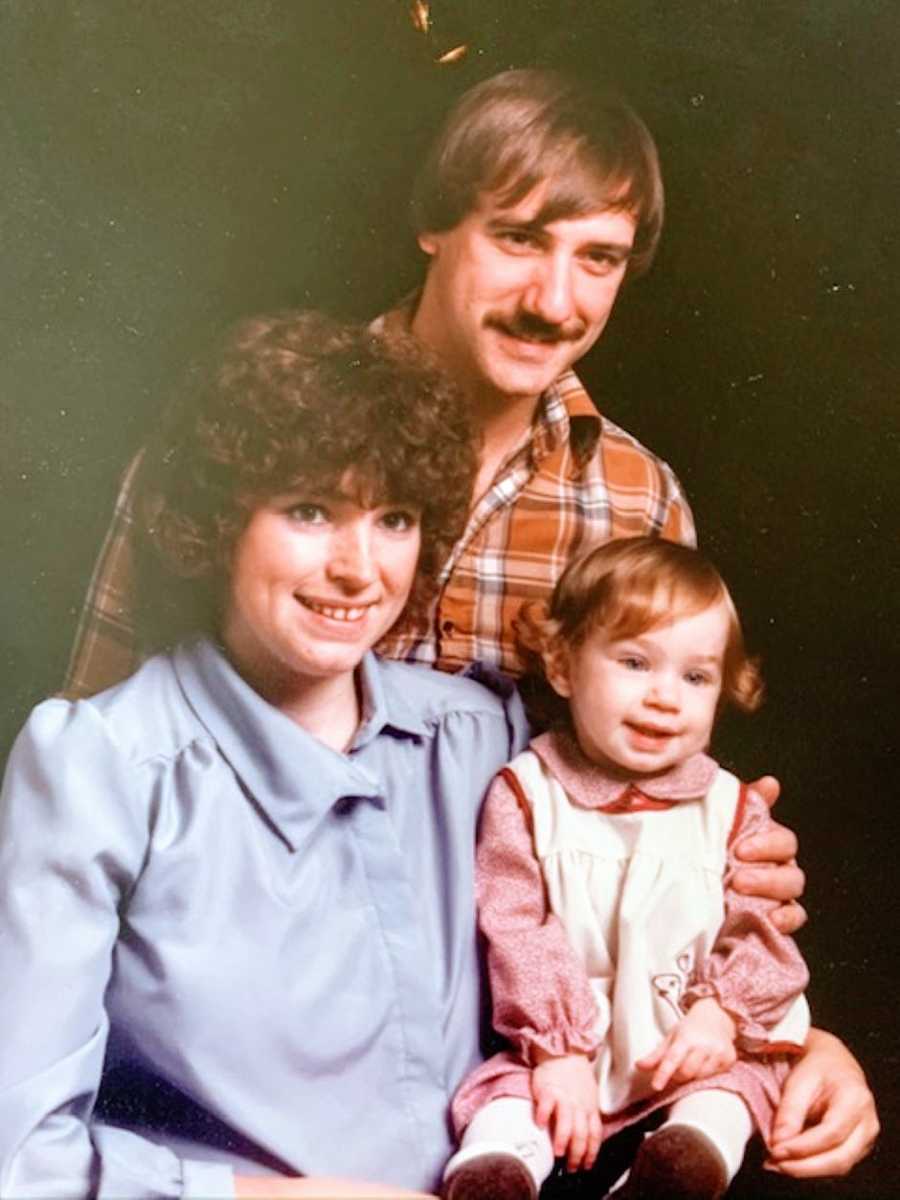 This story was submitted to Love What Matters by Laura Dill of Ottawa, Canada. You can follow herr journey on Instagram, and her website. Do you have a similar experience? We'd like to hear your important journey. Submit your own story here. Be sure to subscribe to our free email newsletter for our best stories, and YouTube for our best videos.
Read more stories like this:
'No. It's just a sinus infection.' I demanded my husband get tested. A full-blown yelling match ensued. 'OK, OK.': Woman loses husband to Brain Cancer after 'sinus infection' misdiagnosis, 'this is a never-ending healing journey'
'I'm not feeling well.' I called my husband. I remember crying, thinking the only thing I wanted was my mom.': Widow laments loss of husband during thyroid cancer journey, 'he always knew how to put my mind at ease'
'I've spent life forcing myself to not lose my memories of my mom. I wish I had more photos of her.': Woman urges parents to take more pictures after losing mom to Ovarian Cancer, 'one day it is all they will have left'
'Is there a family history of cancer?' I said, 'I'm adopted. I have no idea.' The search began.': Adoptee reunites with birth family, 'They accepted me with open arms'
Do you know someone who could benefit from reading this? SHARE this story on Facebook with family and friends.