"We were so excited. It was my son Isaac's third birthday and we were going to find out whether he was getting a baby brother or baby sister! As we headed into the anatomy scan for our sweet baby, we never dreamed that the day would be anything but joyful.
Our technician was very quiet, and we were asked to come back to the OB/GYN's office. There was something wrong. Our baby, we were told, had ventricles that were measuring with too much water and we needed to see a specialist. At home, we googled the condition, hydrocephalus. Maybe everything would still be okay. With a shunt, everything could still be fine! Right?
That evening, we announced to the world that our son was getting a baby sister. Then, for two agonizing weeks, we watied to see the perinatologist and find out more.
The visit with the specialist was the worst day of my life. A more in depth ultrasound revealed that the problem wasn't just enlarged ventricles after all. Our baby's brain hadn't fully divided in early pregnancy. Parts were missing. A genetic counselor spoke to us about the possibility of trisomy 13 or 18. We had an amniocentesis done. This began a very difficult time. I spent all my time googling and crying, trying to find answers to my questions. My husband, Simon, spent his time avoiding thinking and talking about what was going on.
A meeting with the staff of Children's Mercy of Kansas City revealed an official diagnosis after I had an MRI. Our baby had holoprosencephaly, abbreviated HPE. Three percent of babies diagnosed with HPE survive until birth. One percent survive past the age of six months. Holoprosencephaly is actually a fairly common birth defect in utero. It's just that most babies pass it before birth.
I remember one individual in our meeting at Children's Mercy saying he thought her odds would be better though. 'She's already made it this far.' We looked at projected pictures of our girl's brain, talked about how the differences might affect her health. Seizures, motor difficulties, problems eating, maintaining her body temperature, diabetes insipidus. A vast, long list of challenges that were hard to take in during the meeting.
During my pregnancy, I visited the hospital frequently, planning to deliver at the children's hospital in order to be close to her in the case she needed serious interventions after being born. I had weekly ultrasounds, with pictures sent home after each one. The staff helped me to feel close to my baby during my pregnancy, as they knew the pregnancy might be the only time we might get to enjoy with her.
I can't describe how hard the pregnancy was. It was so different from my son's pregnancy. We told our church to please not make plans for a baby shower. I didn't want to have to return things if my baby died. I felt so bitter.
Everyday interactions like strangers asking about my due date in the grocery store were like ripping open a wound. I tried to prepare my three-year-old for the chance that his baby sister may not come home from the hospital. How could this baby, kicking so strongly in my womb, possibly not live?
As my due date approached, we considered planning for the possibility of a funeral. But how do you truly prepare for the death of a child? I decided to instead prepare for what life might be like with a child with a disability. I read some blogs of other families and found comfort in the fact that they were just living their lives. These families were going places, enjoying silliness, continuing on with the everyday tasks. I cried out to God, not having the words to pray, but just calling His name out in the shower as I hoped with all my heart to just be able to have my daughter no matter what difficulties she might have.
And when the due date arrived, Simon and I couldn't believe the calm presence that surrounded us. The end of this long, difficult pregnancy culminated in an incredibly peaceful birth. The fears that had plagued me for months were momentarily put on hold as our daughter, Ivy Elizabeth, was born. A full head of dark hair, a plump 9lb. 3oz. body and pink skin.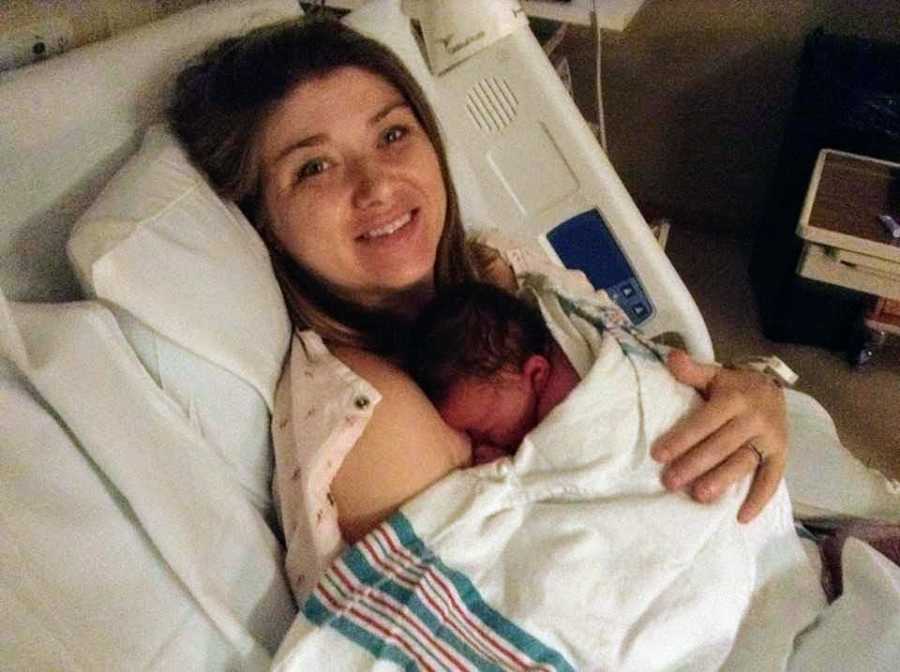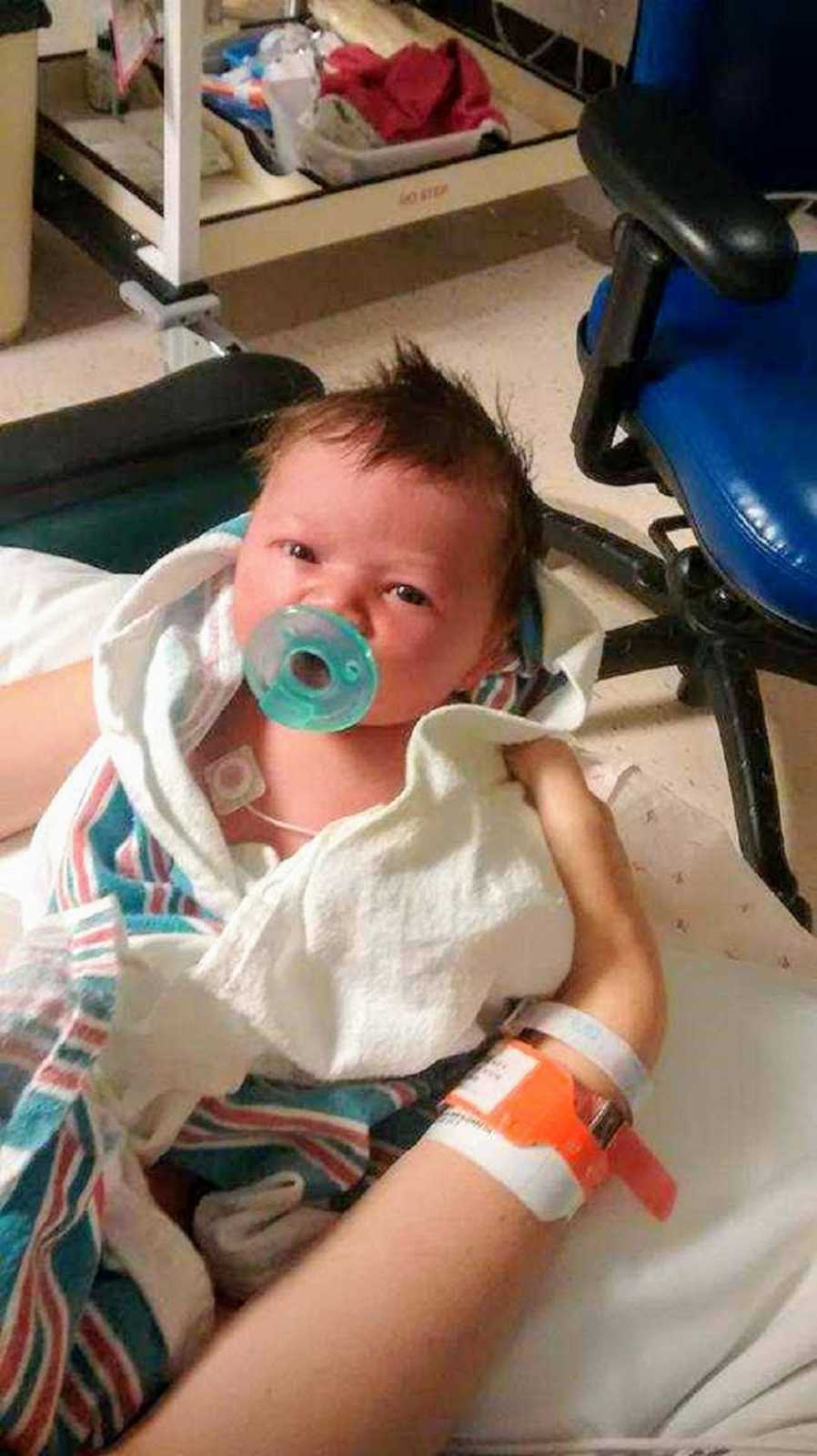 Everything was okay. She was perfect. The hospital stay would have been uneventful if it weren't for the sheer surprise of it all!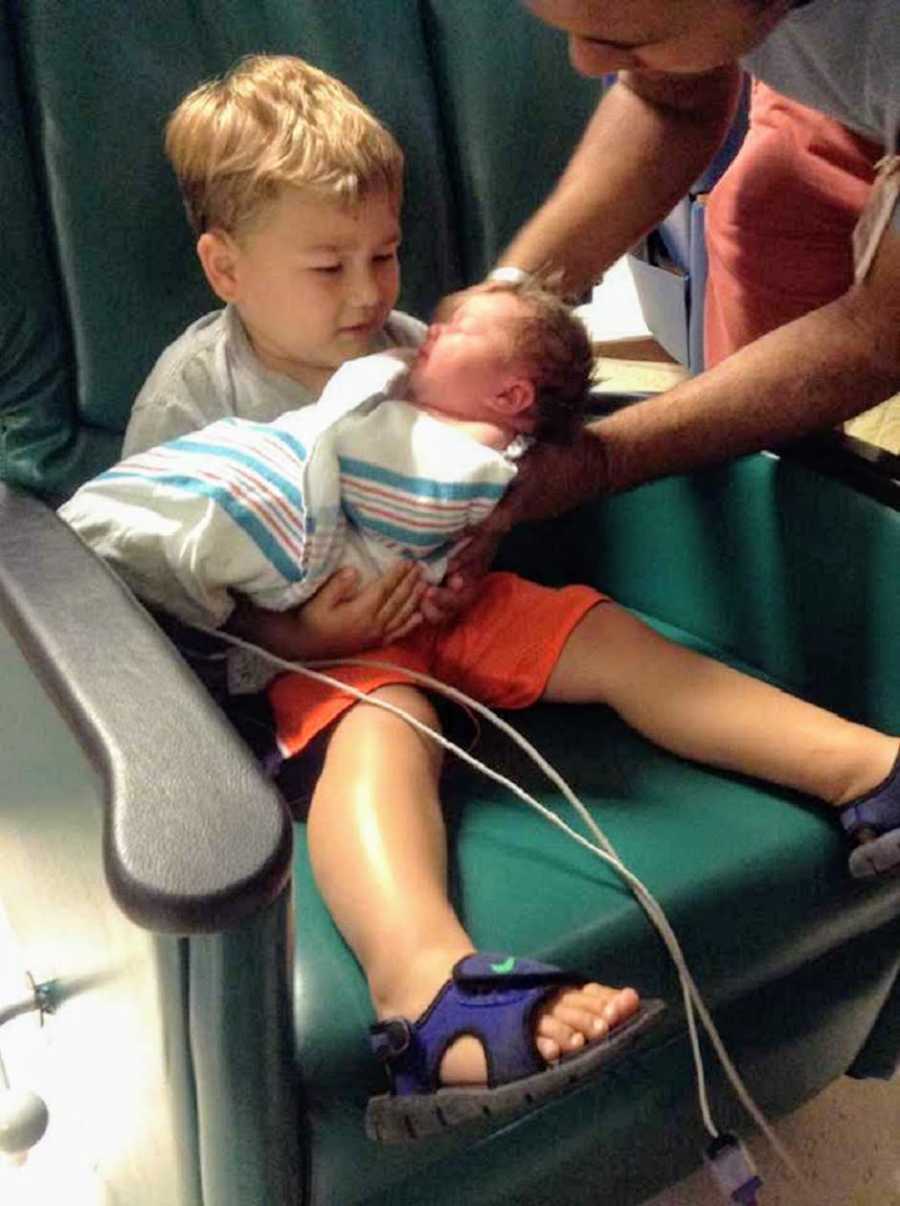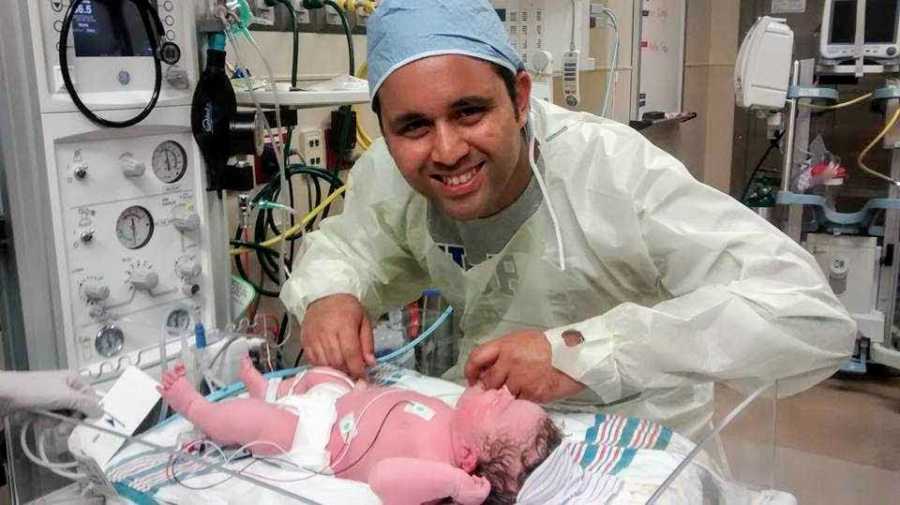 Ivy's newborn days were so normal, so very much like her brother's early months. She was such a wonderful baby and so beautiful. And even as challenges have arisen in her life, we have found that day by day we can handle it with help from family.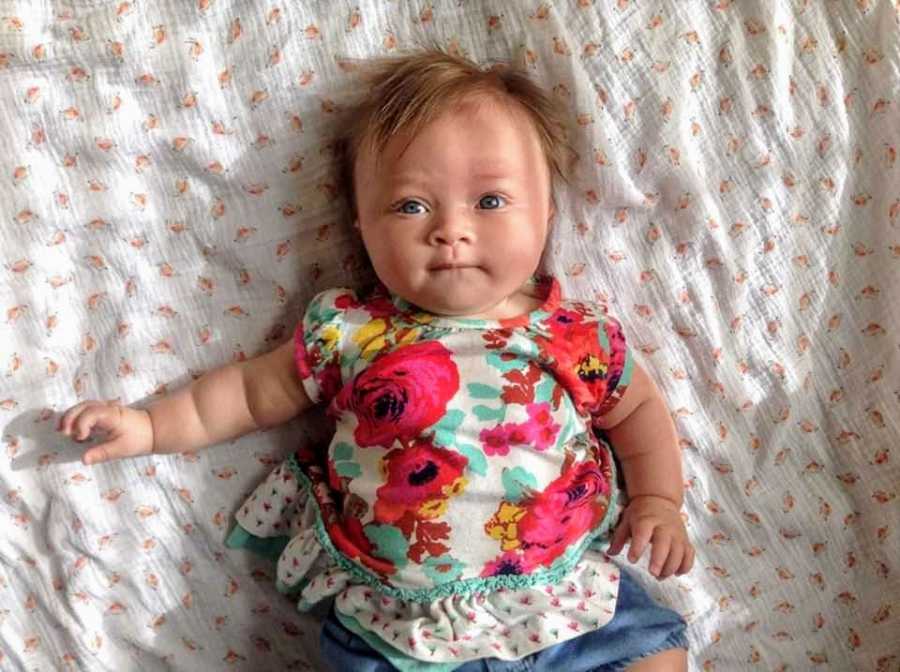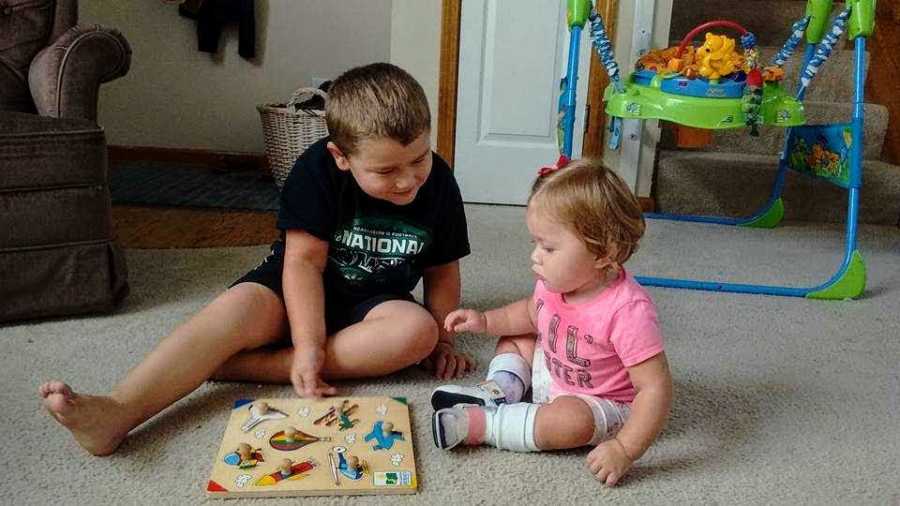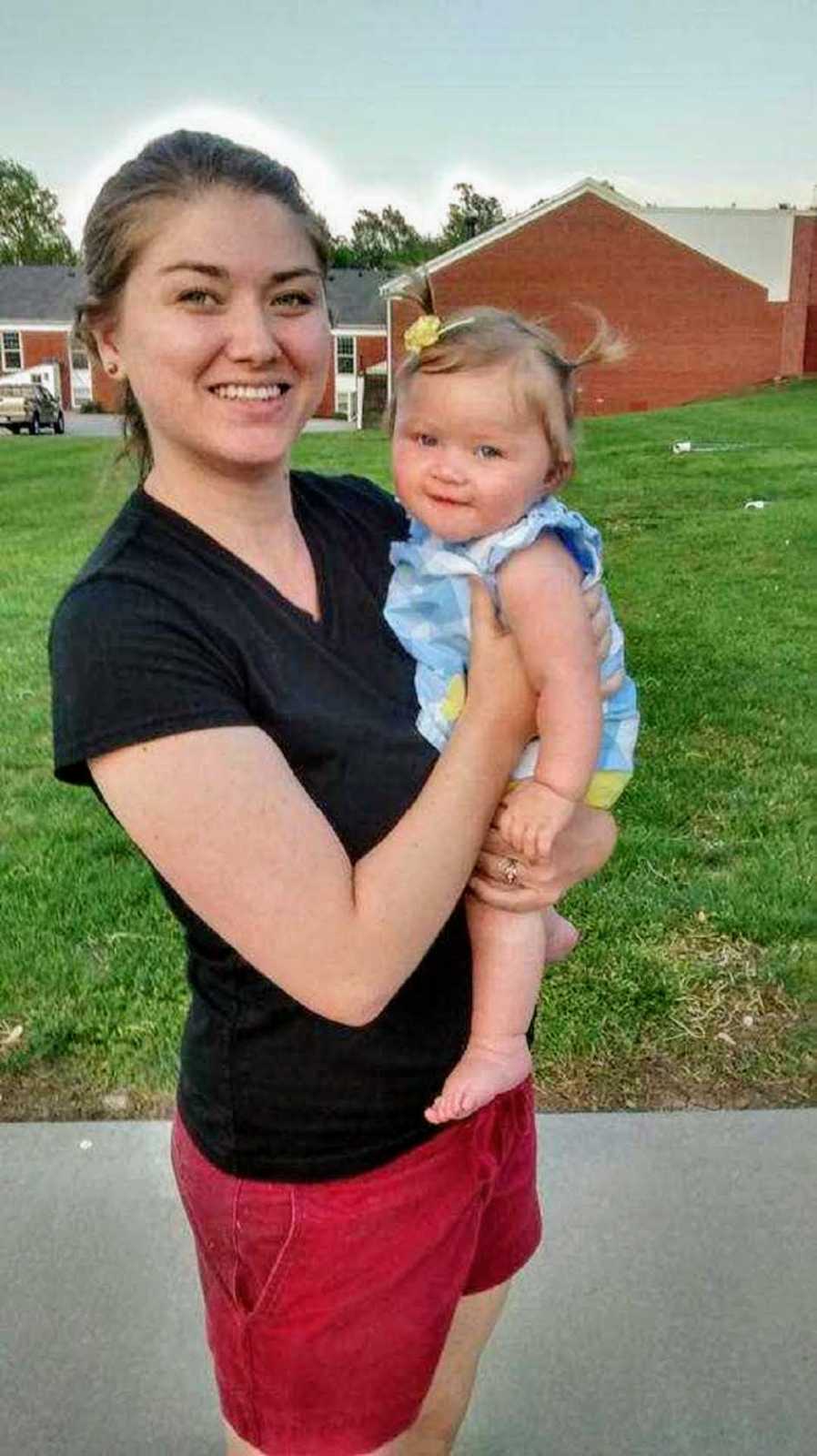 We wondered if she'd ever roll over. We rejoiced when she was two and began to crawl. I cried in frustration as my toddler cried at the park, wanting to do the things the other kids could do. We've hung on every new word she has spoken. I can't tell you that I don't have nights where I can't sleep thinking about her future, but everything has been worth it.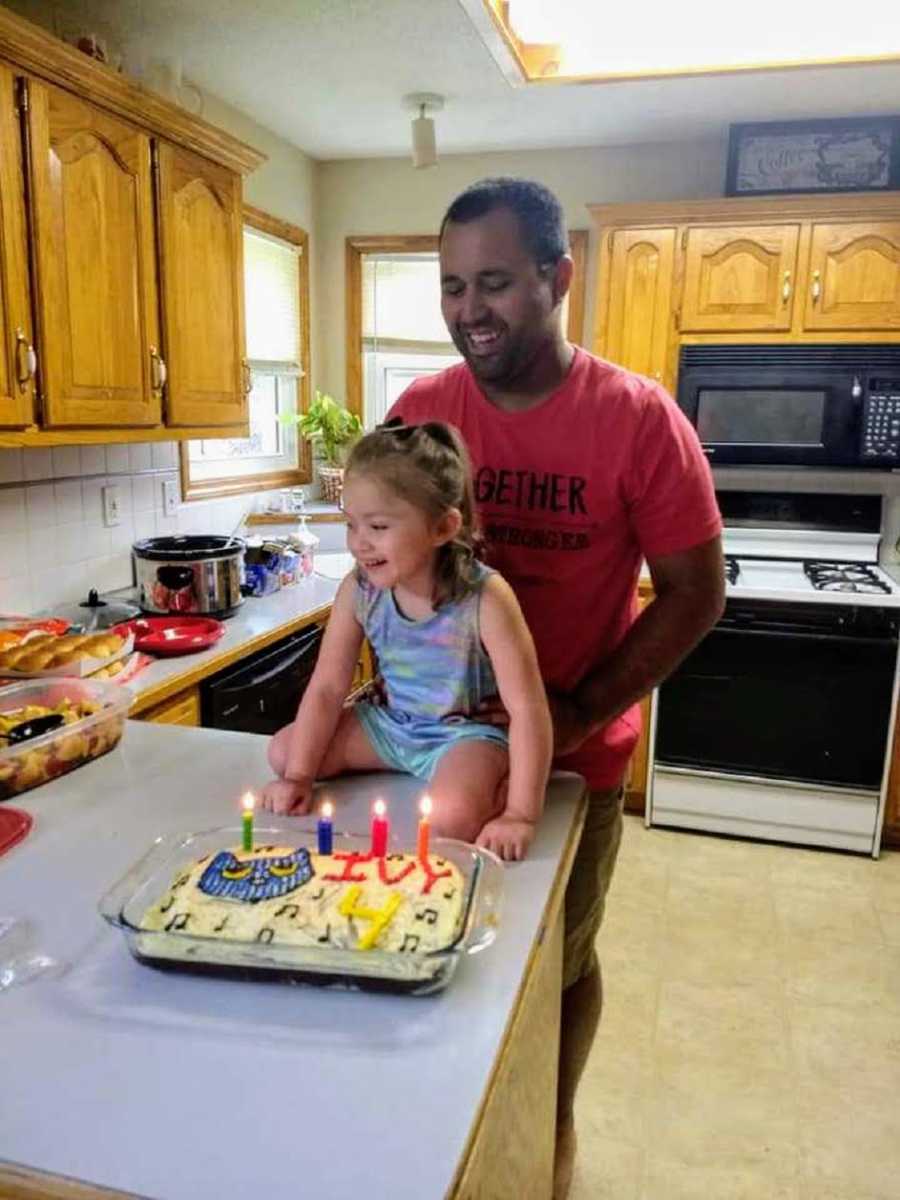 Ivy is an absolute joy, she is funny, she is naughty.  She yells at her brother, she kisses us, she loves Mickey Mouse and Moana and reading books. She is so very much a typical four-year-old little girl, even with the ways she is different.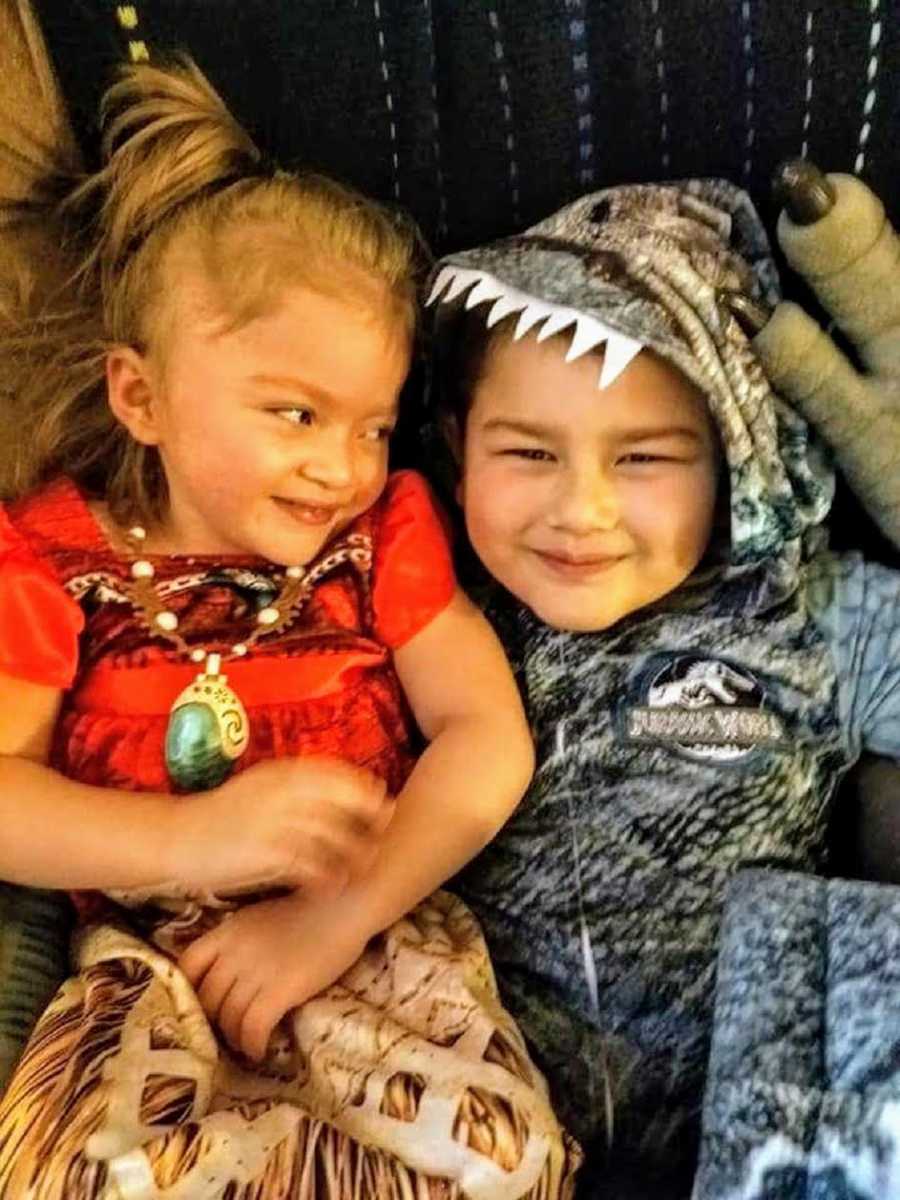 She has been remarkably healthy, despite her holoprosencephaly. Ivy knows her colors, but she can't stand by herself. She can count, but she can't walk without a walker. She plays pretend, but her speech is delayed. She is frustrated by the things she can't do, but she can do so much.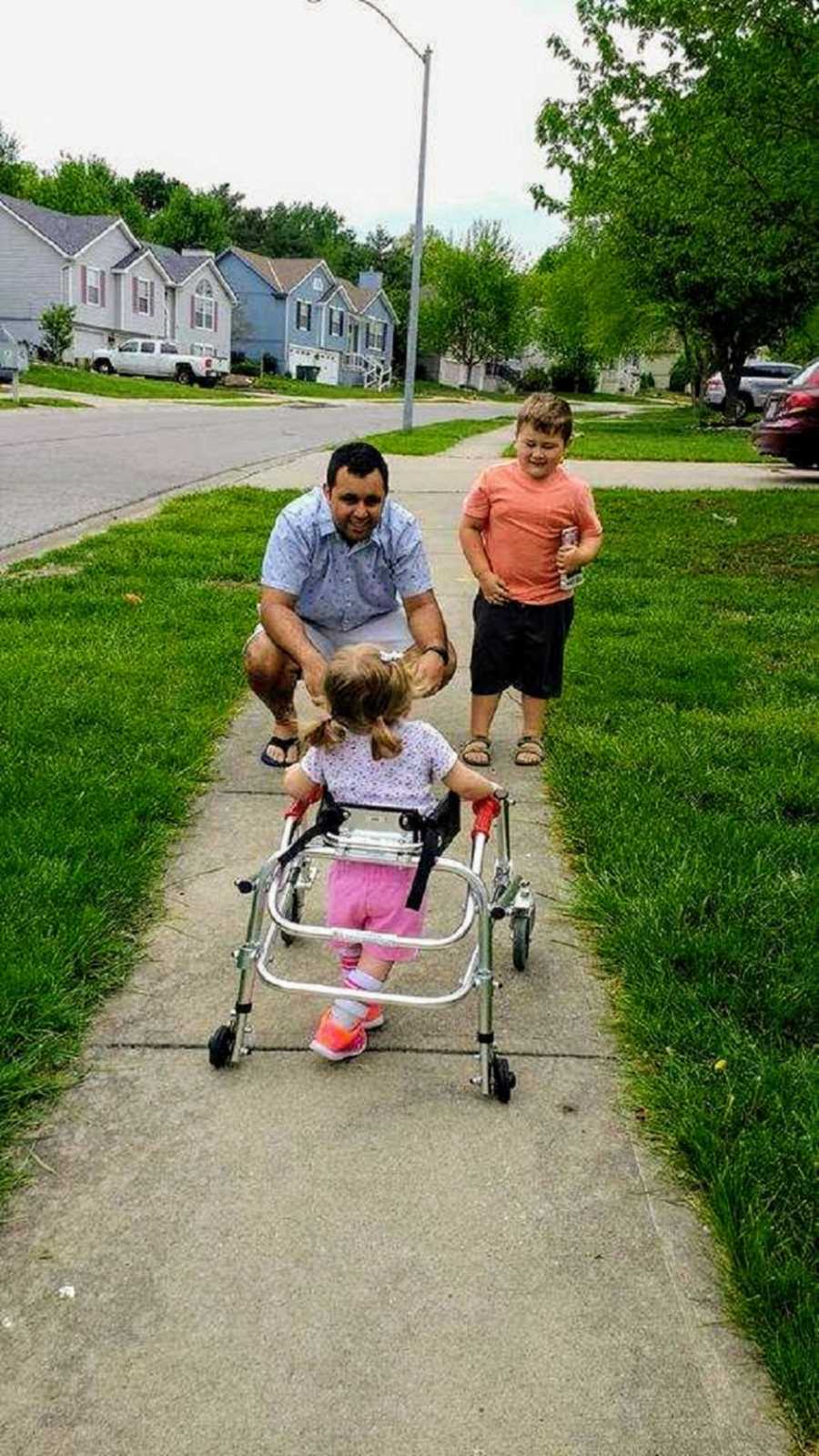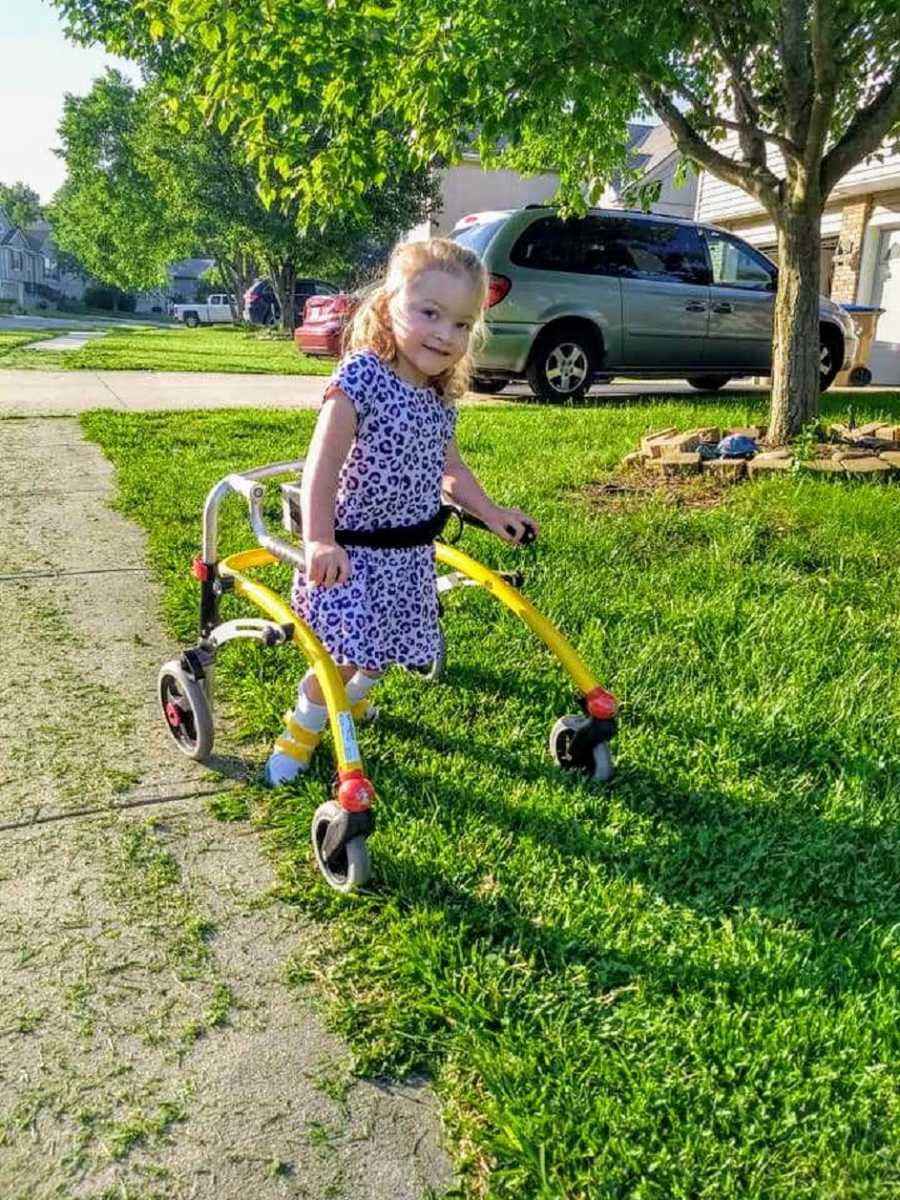 There is hope for families with a prenatal diagnosis. Even through the challenges, you live your life. You continue to do the things you did before you had this child, even as you go through periods of grief for the things that are different.
You do the doctor's appointments. You go to the therapies. You find out more about insurance than you ever knew before. You handle your child needing surgeries. You change diapers past the point you thought you would. You load up the wheelchair. You delight in her laugh. You discover these things become a new normal. Your other children learn more compassion as they grow to understand how their sibling is different from their friends.  You find people that love your child to teach her and care for her. And you find, bit by bit, that you can make it after all."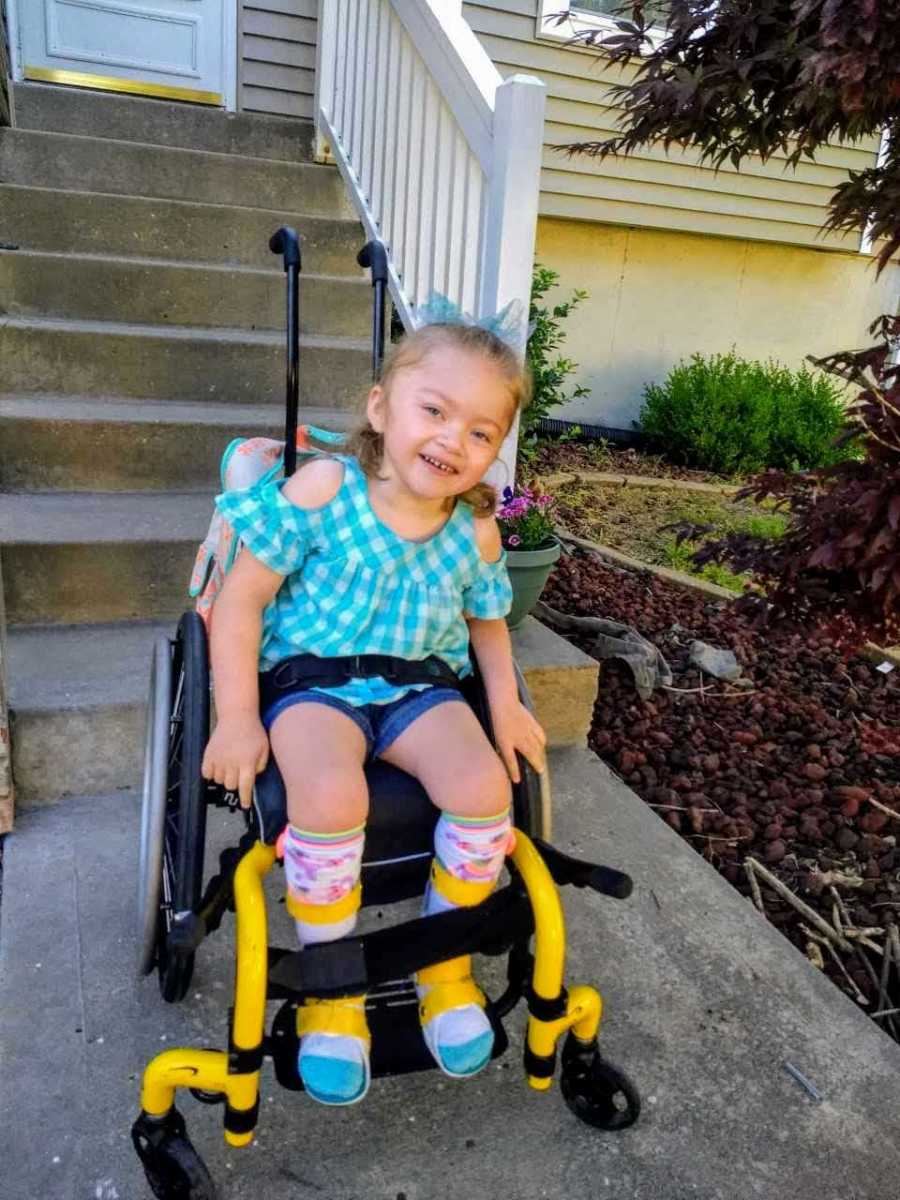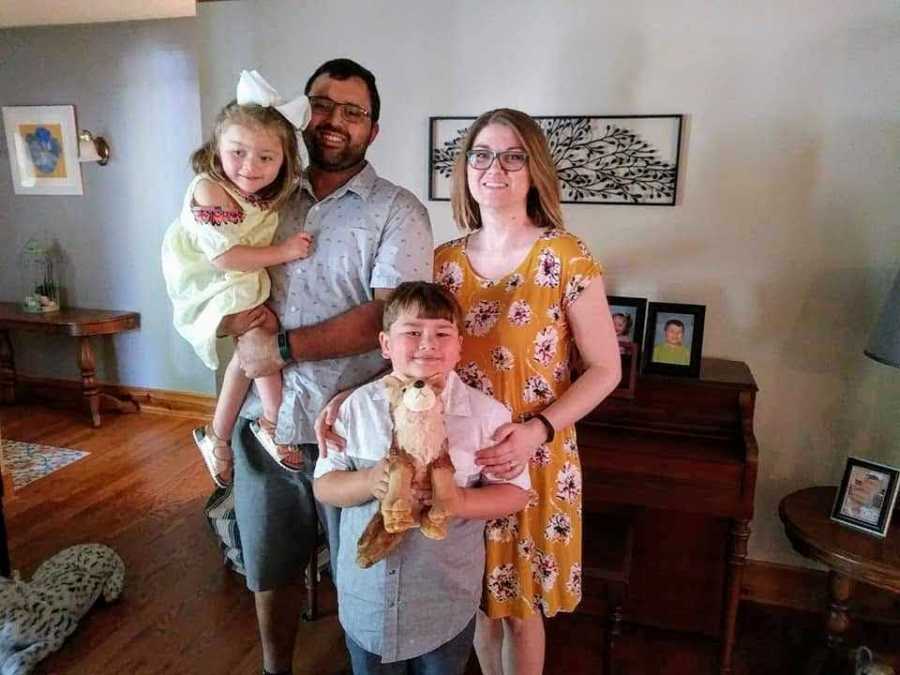 This story was submitted to Love What Matters by Anne Schupp of Raymore, Missouri. Submit your own story here and be sure to subscribe to our free email newsletter for our best stories.
Read more stories like this:
'He's not fatal but we have no idea what's wrong. We won't know until birth.' My husband waited outside. A nurse was singing to keep me calm. The next thing I knew, I felt like I was drowning.'
'He wanted me to get a second opinion. 'Is it a boy or a girl?,' I frantically asked. 'Are you sure you want to know?' 'Yes, please tell me.' 'A boy, it's a boy.' Things like this don't happen to people my age.'
'We finally got the call. This baby was due in 2 months, and she had a heart defect that would require open-heart surgery. The second I saw her little face, I fell to the ground.'
Provide hope for someone struggling. SHARE this story on Facebook with family and friends.