"After becoming engaged in early 2015 we also found out we were pregnant with our first child together, joining our blended family. Up until 30 days before our wedding at our 20-week routine anatomy scan everything was going great. We knew our baby was a boy and the initial first trimester screenings came back clear. I was already seeing a high-risk OB due to going into labor very early with my first born so I opted for all the blood work and tests they offered – everything was normal.
Within a few minutes of our ultrasound the tech became very quiet with a look on her face that said it all. After 20 minutes she left came back in with the high risk OB who told us, 'Your baby is sick. He has multiple issues. The first is his heart, he has Tetralogy of Fallot – it's a heart defect consisting of 4 heart defects. You will need to follow up with a fetal cardiologist at Children's. Next, we see multiple brain abnormalities with your son. They are very hard to confirm exactly what they are, so you need to come back in an hour to see our genetics counselor to go over options. Right now we do not know if this is fatal.' Without going into major detail, the appointment with the genetics counselor was by far the worst appointment I've ever been to. We were told we could terminate now and get it done before the 24 week cut off, or we can get an MRI to see if it's fatal and terminate after 24 weeks, but it'll have to be far away as they don't do it here. We chose the MRI and got the results two days before I was 24 weeks.
'He's not fatal but we have no idea what's wrong and won't know until birth.'
We continued with our pregnancy, had a beautiful wedding on the beaches of La Jolla, California, and made the best of the next few months.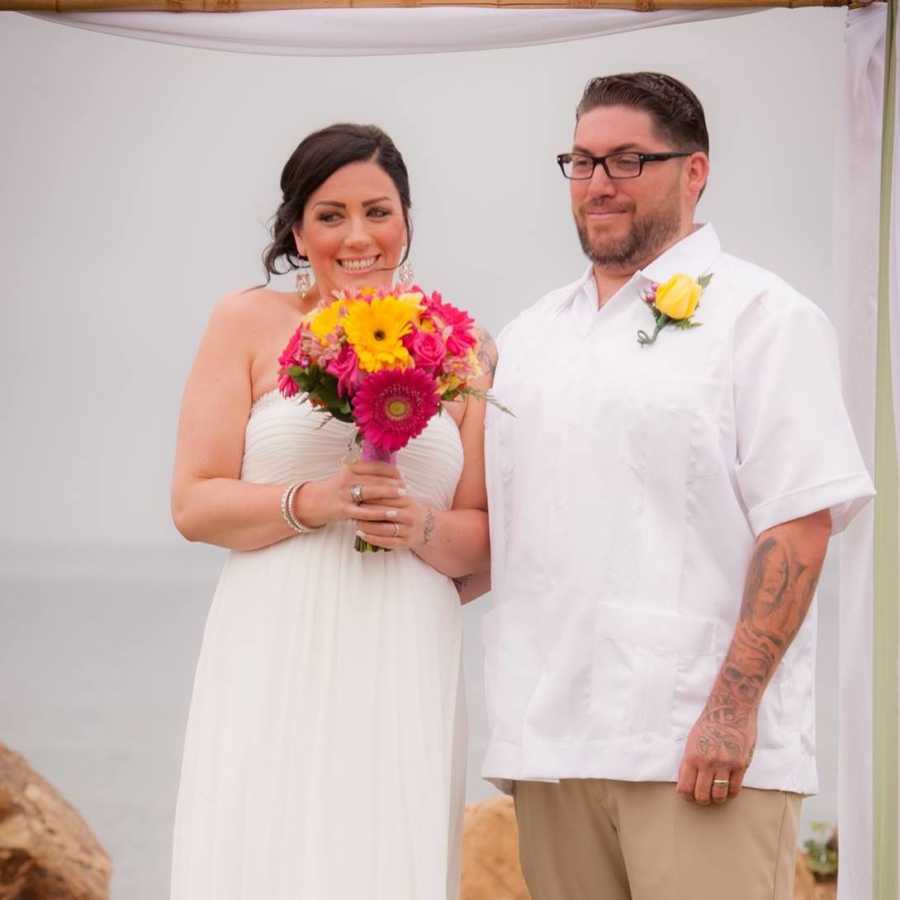 I had weekly appointments with my OB, monthly cardiac echos, and everything stayed stable which made the process a bit easier. We planned on inducing to make sure we had all the doctors needed on hand at 39 weeks. My water broke at 37 weeks, 7 days. He was born at 38 weeks. I didn't know my water had broken so I went about my day and 12 hours later the contractions hit. I was 4 cm dilated but also developed an infection due to my water being broken. At 1 a.m. on 9/21/15 they gave me my first epidural which didn't work, at 9 a.m. they gave me another which didn't work. My labor was painful and I started getting sick. I was throwing up, had spiked a fever and was just too tired to continue our original plan of a vaginal birth. At 11 a.m. I asked for a c-section. I had not dilated past 6cm.
At 1 p.m. they wheeled me into the OR. They needed to place a spinal. My husband waited outside until they called him in. I had the sweetest nurse holding me up as they placed the spinal – she was singing a song to me to keep me calm. The next thing I knew I felt like I was drowning. I could hear codes being called, people screaming and my birth got harder to take. I coded at 1:25 p.m. on September 21, 2015. My son Vicnete Jr. was born at 1:30 p.m., not breathing. He was bagged and got CPR for 3 minutes and finally started breathing on his own. Thank goodness. He only needed oxygen for a short time and was taken to the NICU. It took about 15 minutes to get me back as doctors were working on both ends of me to sew me up and resuscitate me. I didn't wake up until that evening. My husband was with our son so they brought my husband to me and once I was cleared to leave the recovery room, they wheeled me to the NICU to see our son. He was beautiful, but I was very disconnected – he looked different.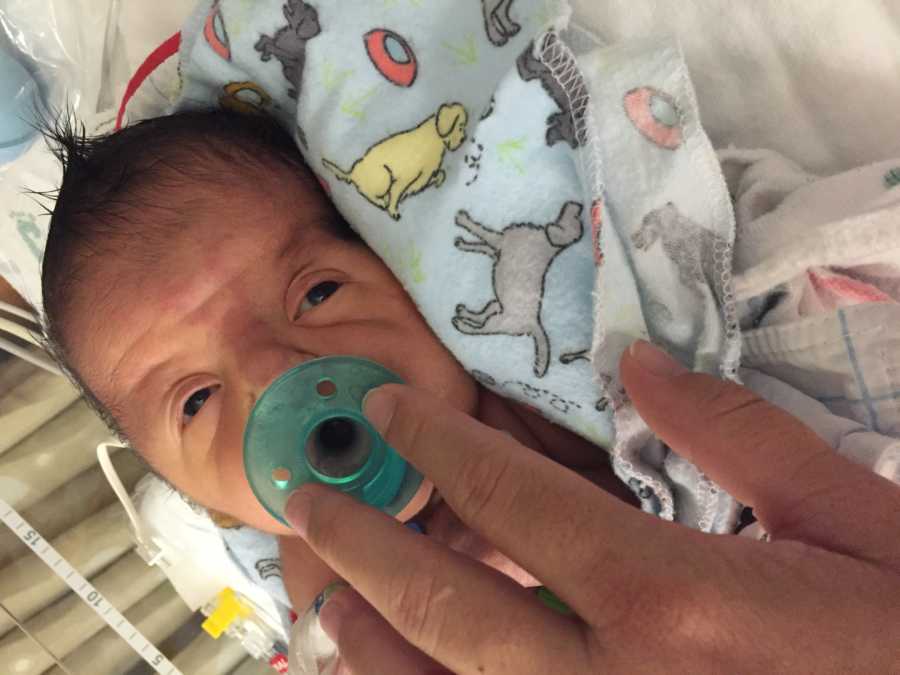 Every pregnant soon-to-be mom has a vision in her head of her child. What they will look like with 10 fingers, 10 toes, perfect in every way. Jr was just that, except he wasn't. I struggled for the first few days. I questioned everything. Why us? Why him? The following day after he was born, we had a diagnosis: Apert syndrome and Tetralogy of Fallot Pink TET.
He had 10 fingers and 10 toes, but they were fused together. He had syndactyly of both hands and feet caused by the Apert syndrome. The first surgery to separate his fingers brought me so much sadness. I miss his little mitten hands every day but watching him use his fingers is also such a joy. He has 1-2 more hand surgeries to go to separate and straighten them out.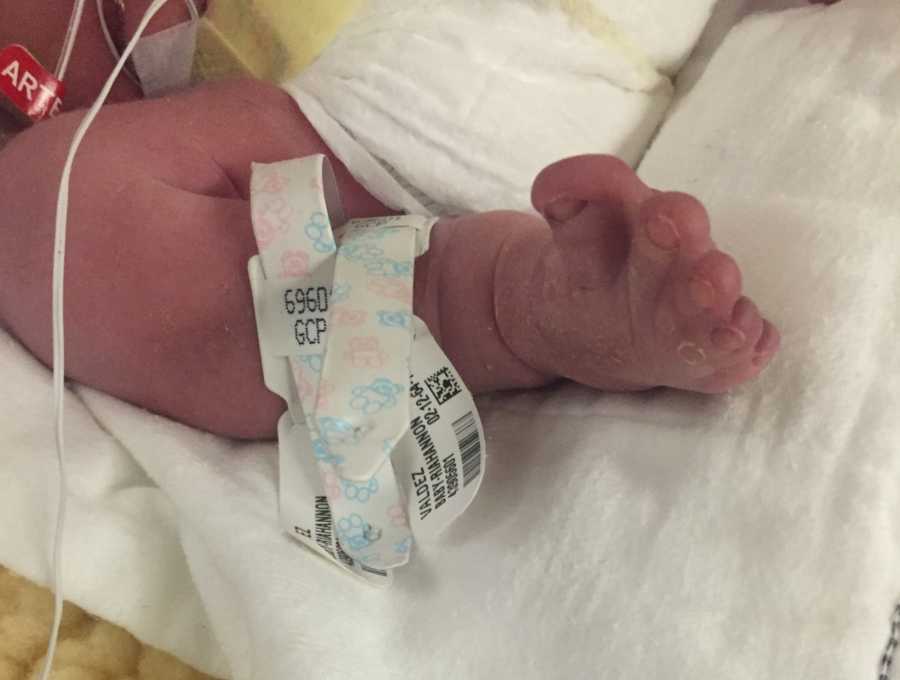 Jr had a very tall head and a smashed face in part because he ran out of room in the womb and in part because of the Apert syndrome which causes early fusion of one or more skull sutures. He had bicoronal and bilamboid craniosynostosis. The first few days were hard. It was hard for me to look at him, not because of his appearance, but because of the unknowns. He was my second child but I felt like I was a first-time mom and that somehow I was going to break him. Every irrational fear went through my mind.  After a few days and doing a lot of reading and calming my fears, I realized I was madly in love with this little boy of mine and was ready to go to the ends of the earth to get him all the care he needed.
Jr stayed in the NICU for a little over 2 weeks. He did amazing and didn't need much in the sense of care. Apert's is so rare they wanted to make sure they ran every test and checked out all his organs before we went home.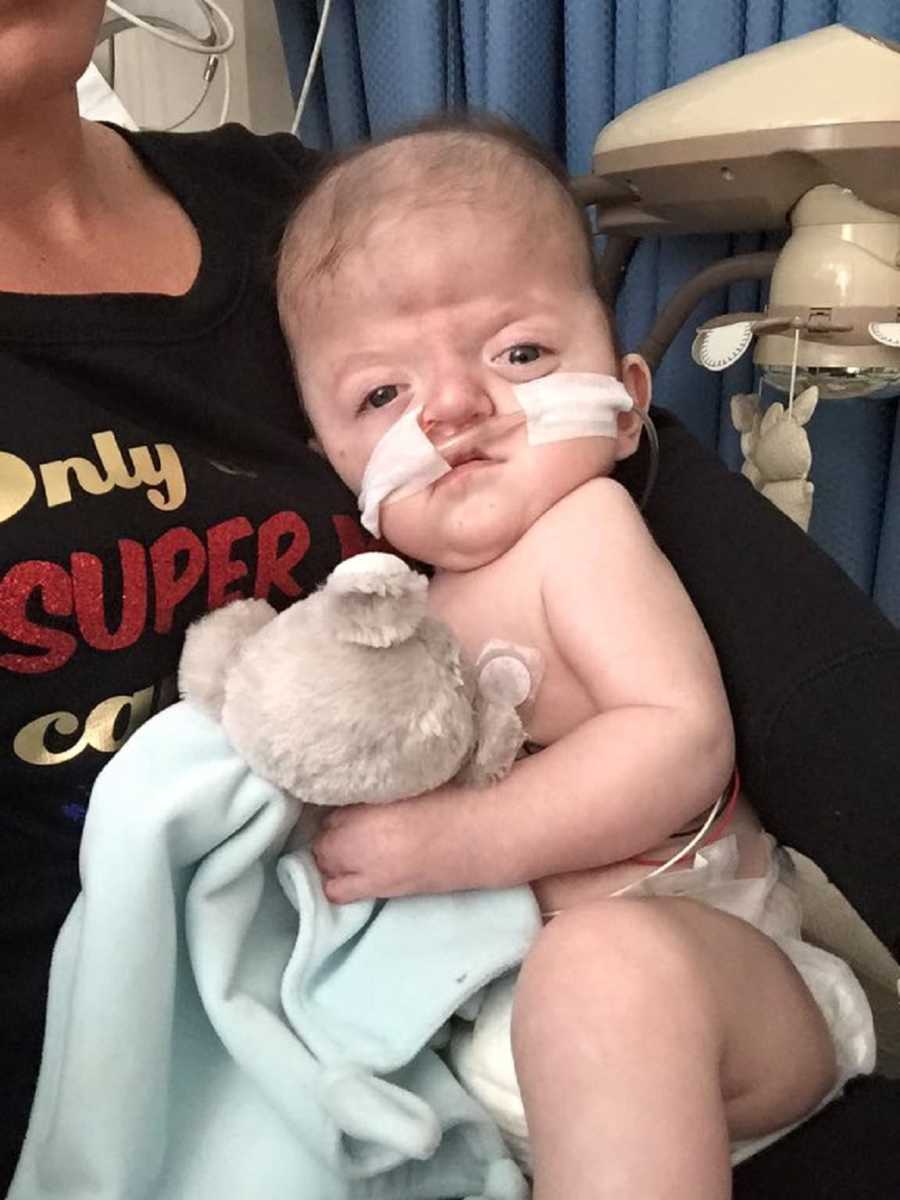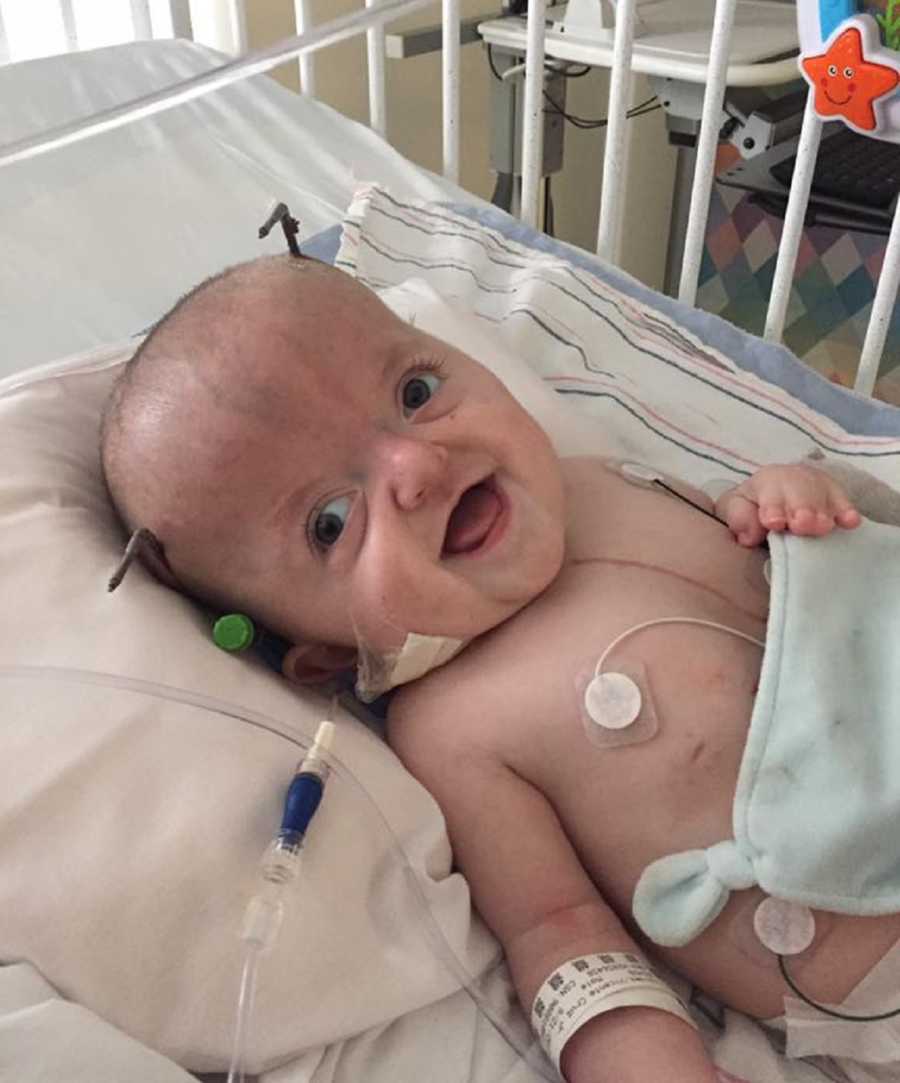 Fast forward 3 years. Jr is now a little over 3 years old, he has had 29 lifesaving (most emergency) surgeries. Jr has a long list of diagnoses as a result He has craniosynostosis, congenital hydrocephalus, chiari malformation with syrinx, chronic lung disease, seizures, gastroparesis and a few other issues. Jr was also diagnosed shortly after 1 with HDAC8 mutation which is Cornelia De Lang Syndrome. As Jr has gotten older he has needed a G-tube for feeding, oxygen and then eventually he got a trach. He is not walking yet but he sure does still get around. He doesn't let anything stop him.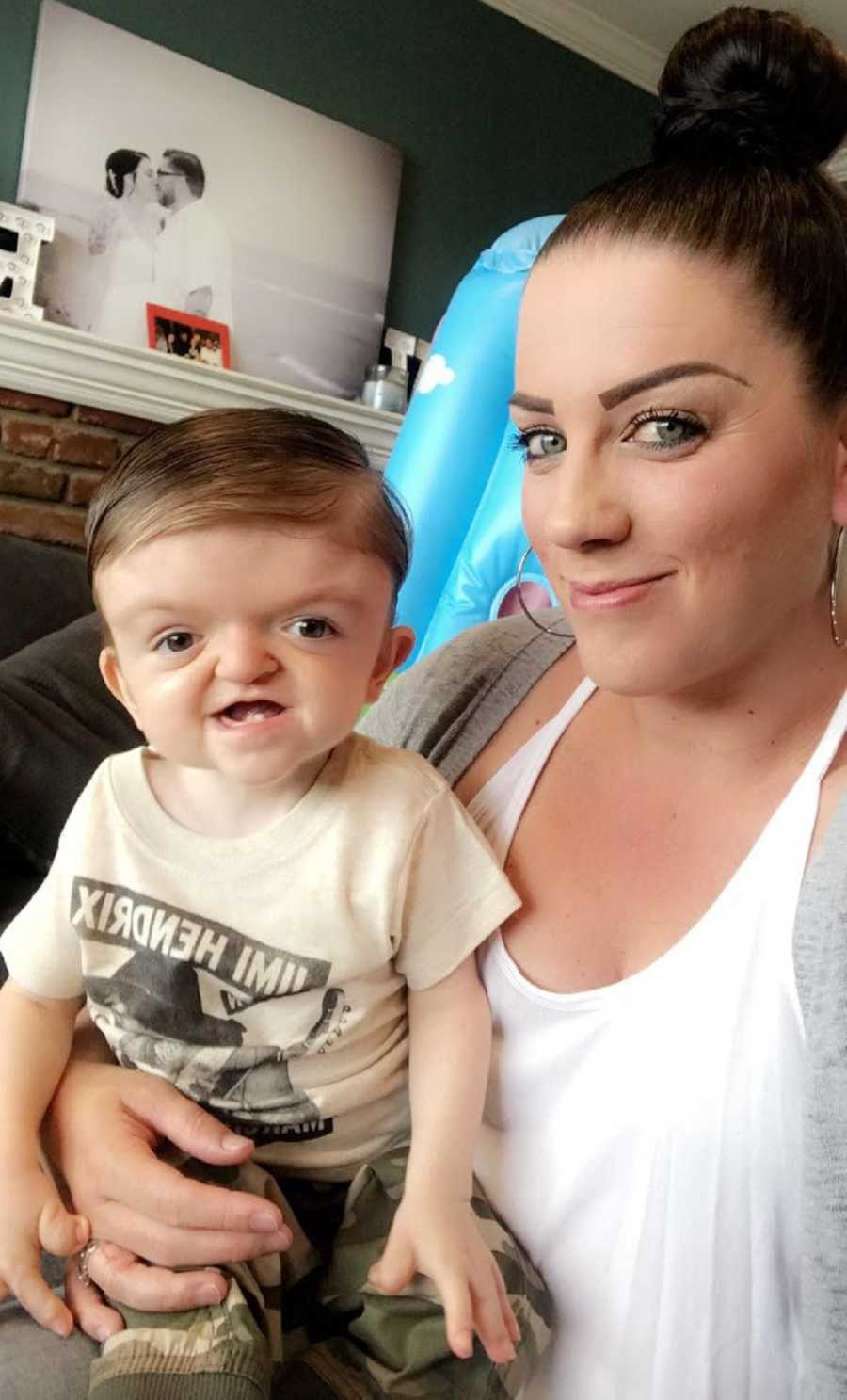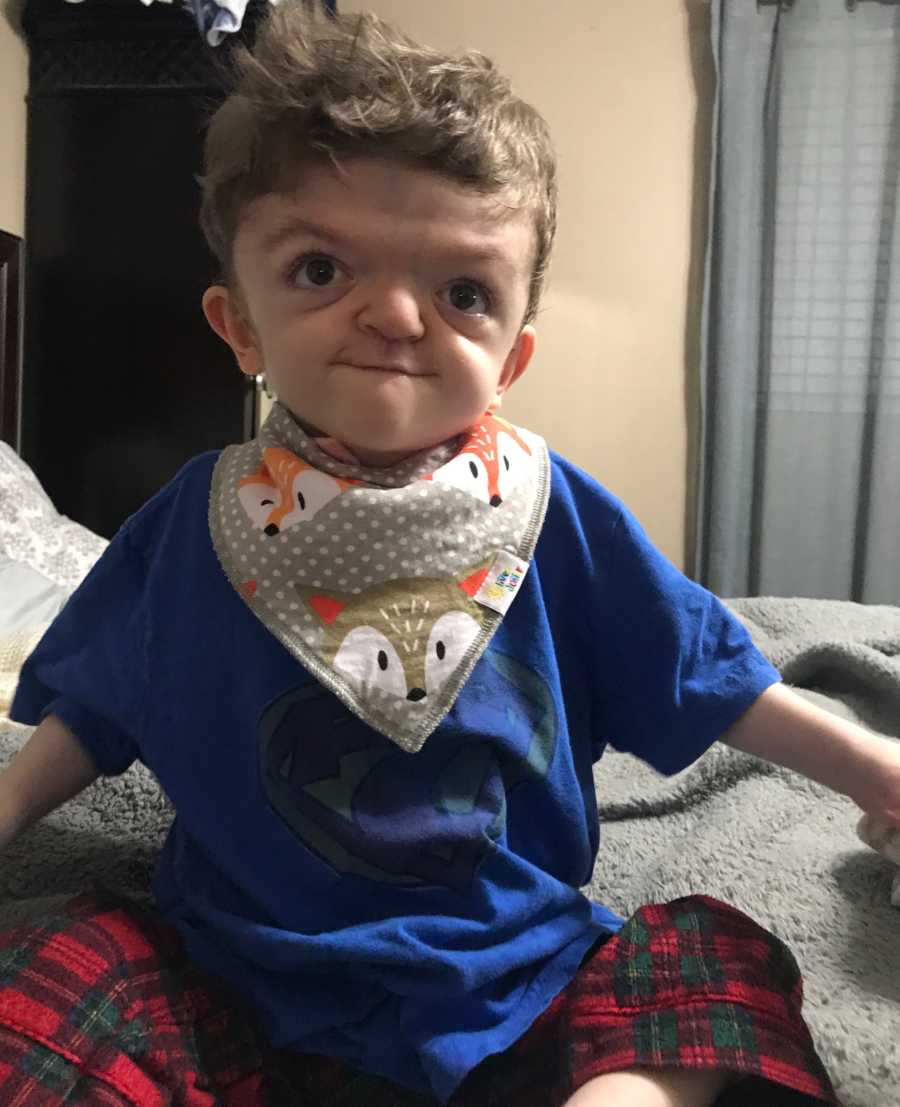 Jr is very rare. There is no one in the world with his combo of diagnoses. He has an amazing medical team that is making sure he gets everything he needs to be able to enjoy life. We are far from done with surgeries, but with each year we take it as it comes and just enjoy life. Even at our darkest time we knew we would get through it all."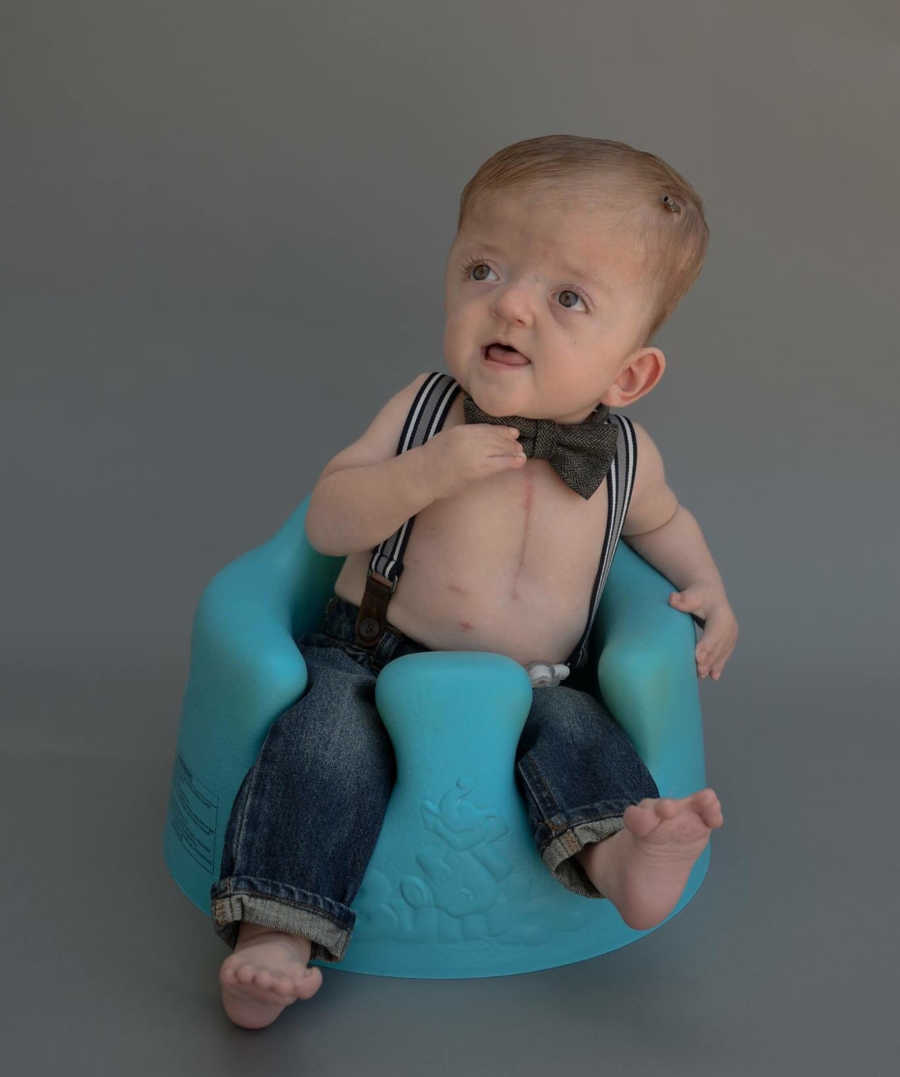 This story was submitted to Love What Matters by Riahannon Valdez of San Diego, California. You can follow their journey on Instagram. Do you have a similar experience? We'd like to hear your important journey. Submit your own story here, and subscribe to our best stories in our free newsletter here.
Read more stories like this:
'What's wrong with her fingers?,' my husband asked. 'They look strange, but they're perfect.' Then he saw her toes.': Parents surprised by daughter's Apert Syndrome diagnosis, 'she just wants to be loved'
'I was too scared to touch my own son. You gave us hope when we had none.': NICU mom pens ' long overdue' thank you letter to nurses who helped son survive
SHARE this story on Facebook to help celebrate unique and beautiful differences!