"I have a little girl. Her name is Amelia. Amelia is like other girls. She loves to play with baby dolls and to make believe. She likes to swing, slide and jump. She takes gymnastics. She has an older sister, Jocelyn. She enjoys snacks of any type and has tempter tantrums like any other 2-year-old.
I have a little girl. Her name is Amelia. Amelia isn't like other girls. Amelia has Apert Syndrome.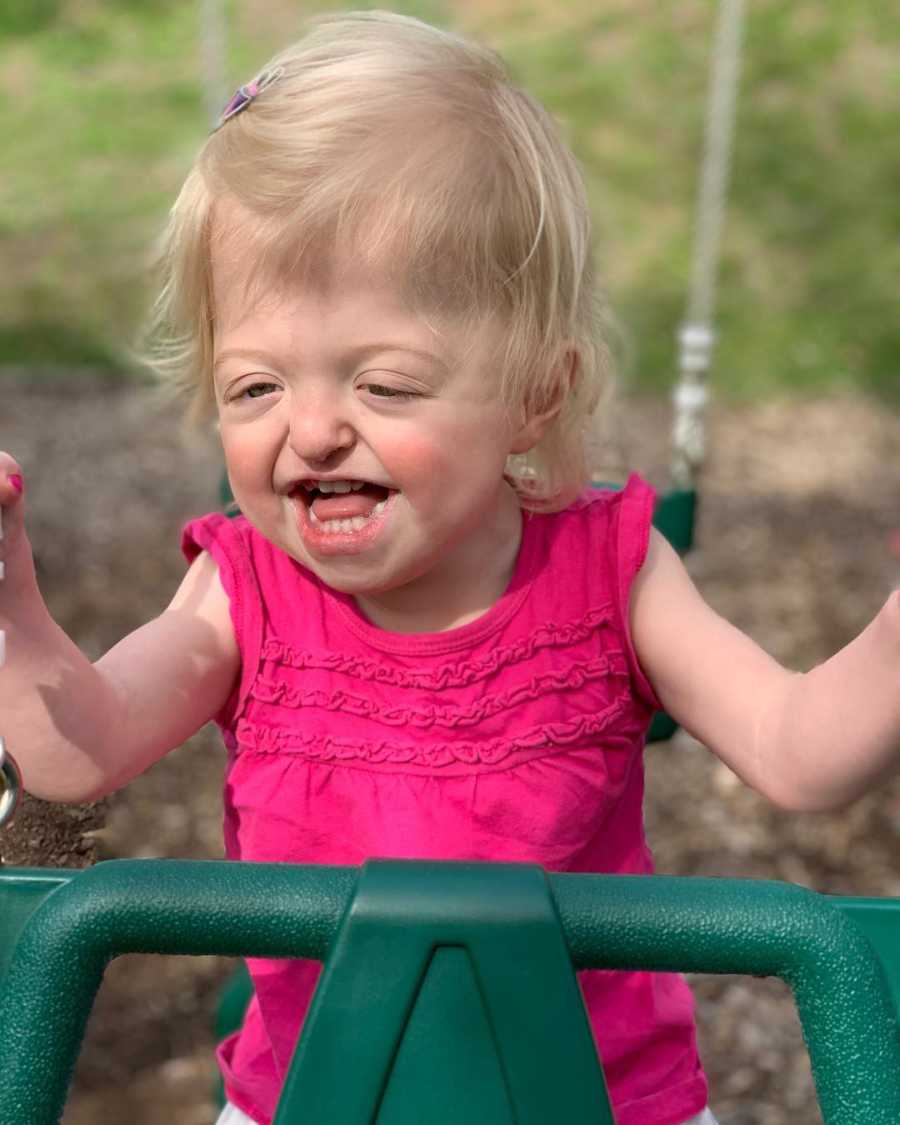 Our story starts like any other pregnancy story. We were ecstatic, yet scared, to have another baby so close to our other. Jocelyn and Amelia are 19 months apart. Could we handle that? If this baby was like our other, yes we most certainly could! Jocelyn was perfect. Cute as a button, slept through the night, and never got sick. With two, we would have the perfect family.
At around 6 weeks, I felt a pain. I had my first ultrasound to make sure baby was ok. It was. Our little mustard seed was healthy and growing. At the normal 20-week ultrasound, we found out we were having another girl! She had hydronephrosis (enlarged kidneys) so we would be getting additional ultrasounds. Everything else was great. I had a total of six ultrasounds during my 38-week pregnancy. Never was anything mentioned about Apert Syndrome. Never did they notice her skull was fused, her fingers and toes were fused, her cervical spine was fused, or that she had a cleft palate.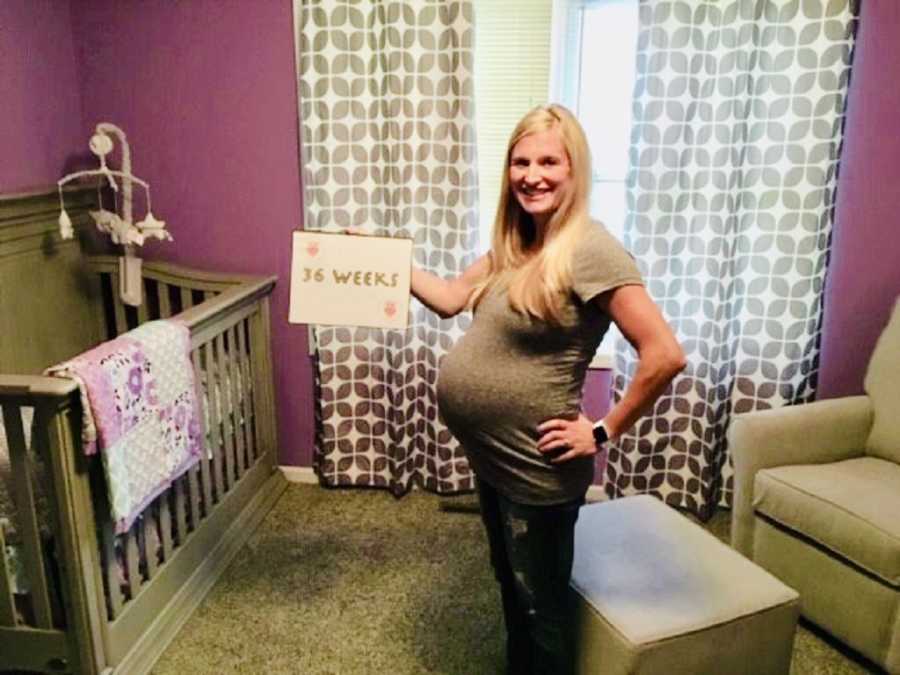 On August 12, 2016, I started having major contractions. I couldn't even get Jocelyn out of her crib that morning. Once we got to the hospital, it wasn't long before we were in a room getting an epidural. I ended up pushing for only about 20 minutes before Amelia made her appearance into this world.
The adventure begins.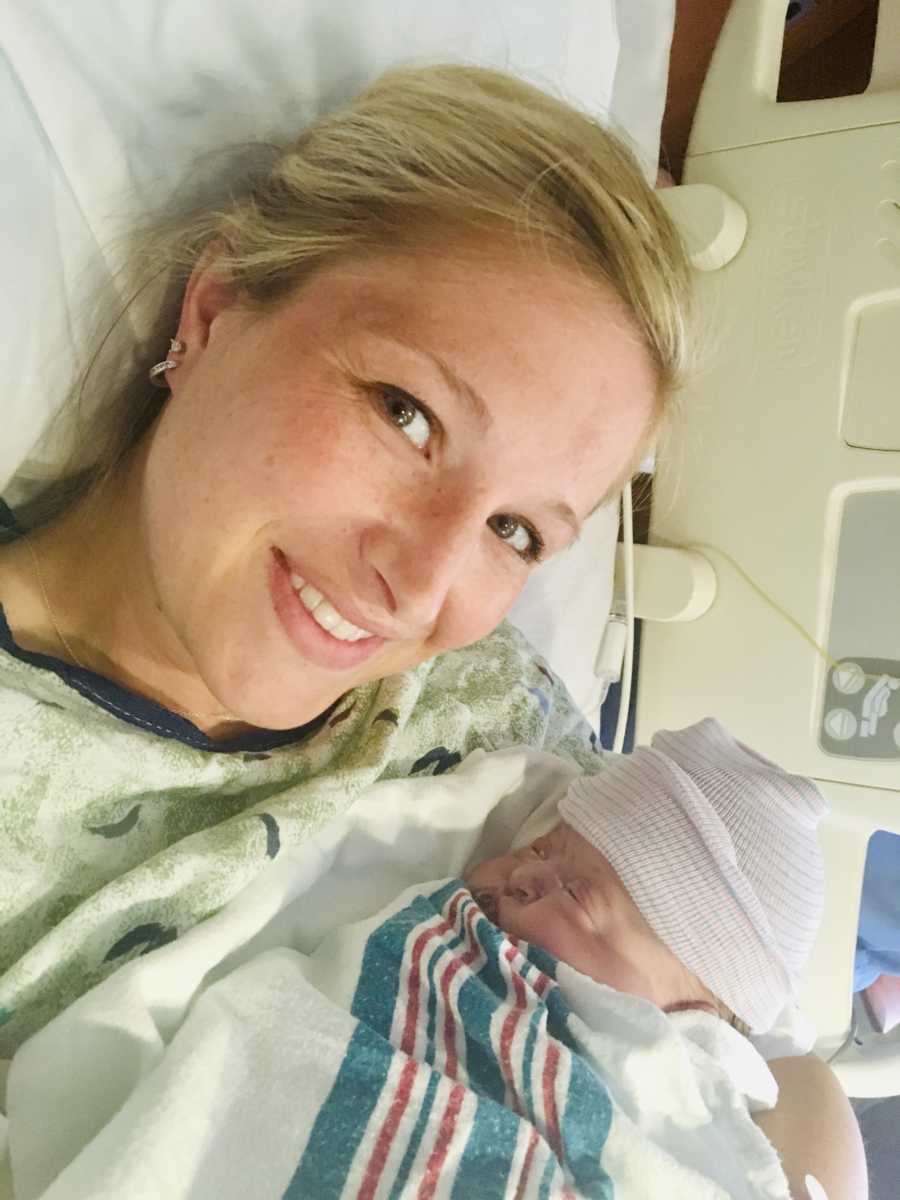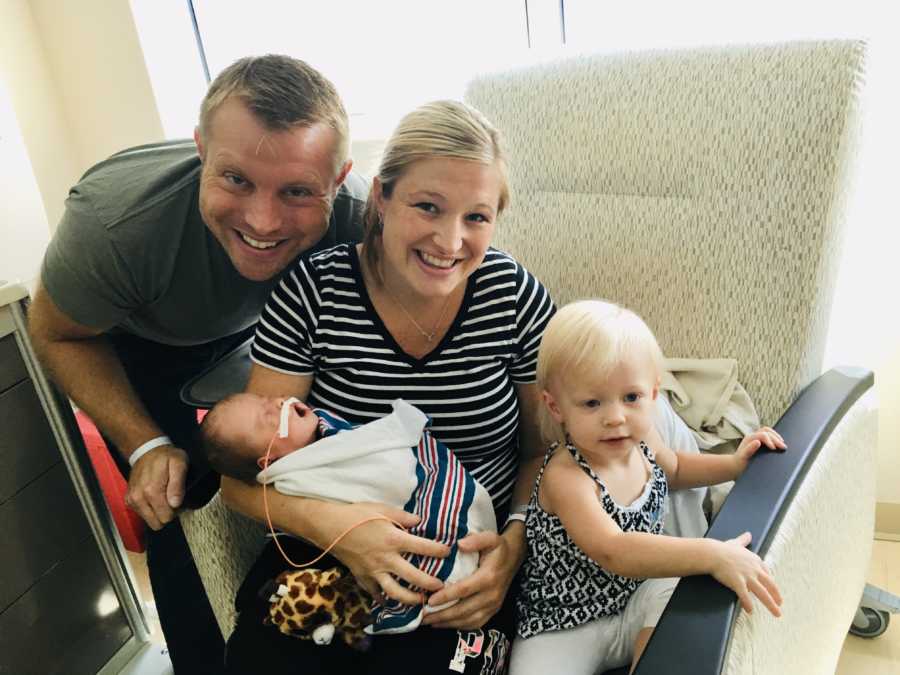 The doctor immediately placed Amelia on my chest like he would any other baby. Joel examined her fingers, and I remember him asking, 'What's wrong with her fingers?' I checked them out and thought, 'They do look strange, but they're perfect.' Then he examined her toes and exclaimed, 'What's wrong with her toes?!' At that point, the doctor yelled to the staff to get the NICU team in as soon as possible. They came in so fast and took Amelia away from me that we could hardly get a picture. I don't remember the exact happenings after that except that Joel googled her syndrome based on her appearance and I was left alone in the delivery room. No husband. No baby. I asked for a Diet Coke. They only had Diet Pepsi.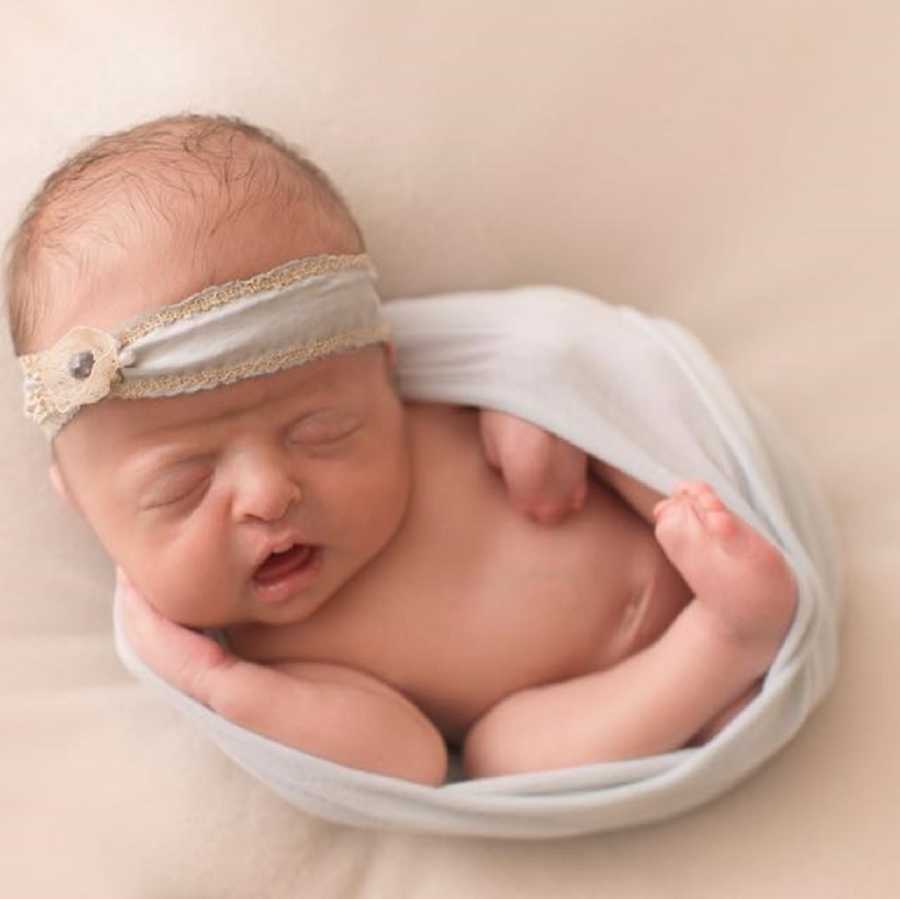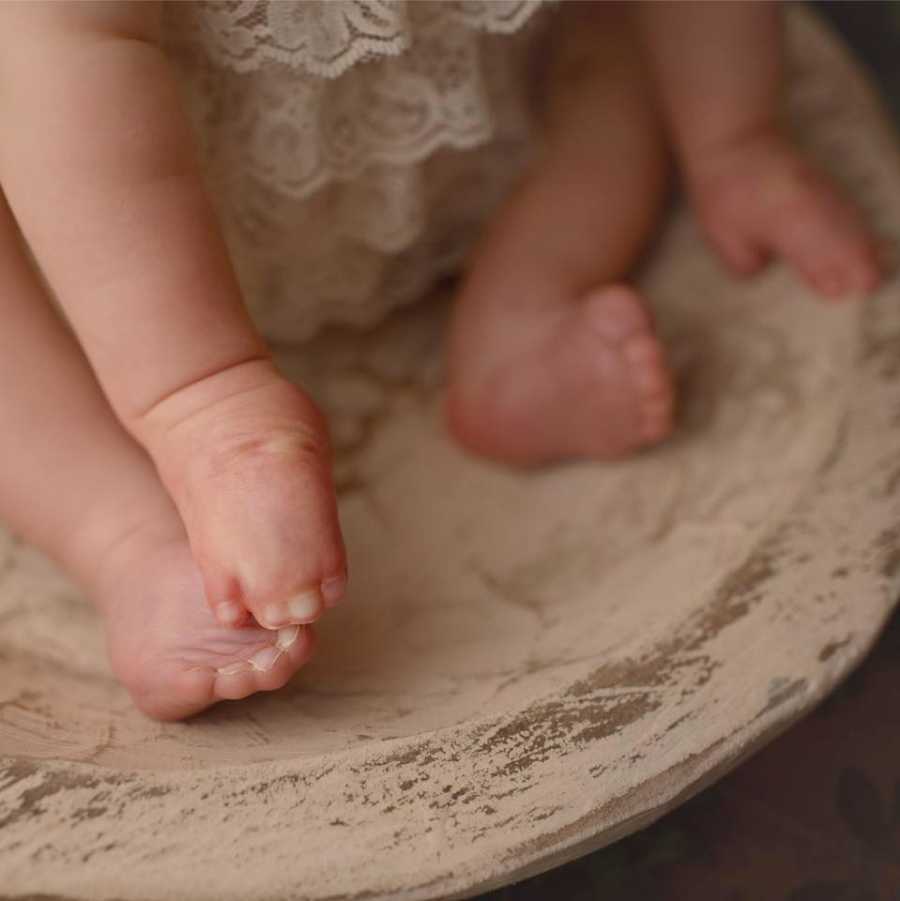 The next five days were spent in the NICU, meeting what would soon become what our craniofacial doctor explained as a 'family' of physicians and learning everything we could about Apert Syndrome. In short, Apert Syndrome is premature fusion of bones. It has nothing to do with medication or actions taken while pregnant which I was so scared it was. Was it my fault somehow? Did I cause my baby's fingers and toes to be fused? No. We became active in the Facebook community of Apert Syndrome and created Amelia's Adventure with Apert Syndrome (her personal page). Then we went home.
Home became a place to rest between appointments. We were averaging four to six per week between different doctors and therapies. We had scans and x-rays, tests and blood draws, all while trying to adjust to our new life at home with two small children. Amelia had a cleft palate, so she couldn't breastfeed, so I was exclusively pumping to provide nutrition for my new baby. This was a daunting task while watching the kids, navigating appointments, and dealing with the feelings that come with being surprised with a child born with a rare syndrome. I saw a therapist.
January 9, 2017, was Amelia's first of what have now become nine surgeries. She had a frontal orbital advancement, where they took off a part of her skull (her forehead), reshaped it, and put it back on. Her first surgery was about 6 hours long and left a zig zag scar across her head.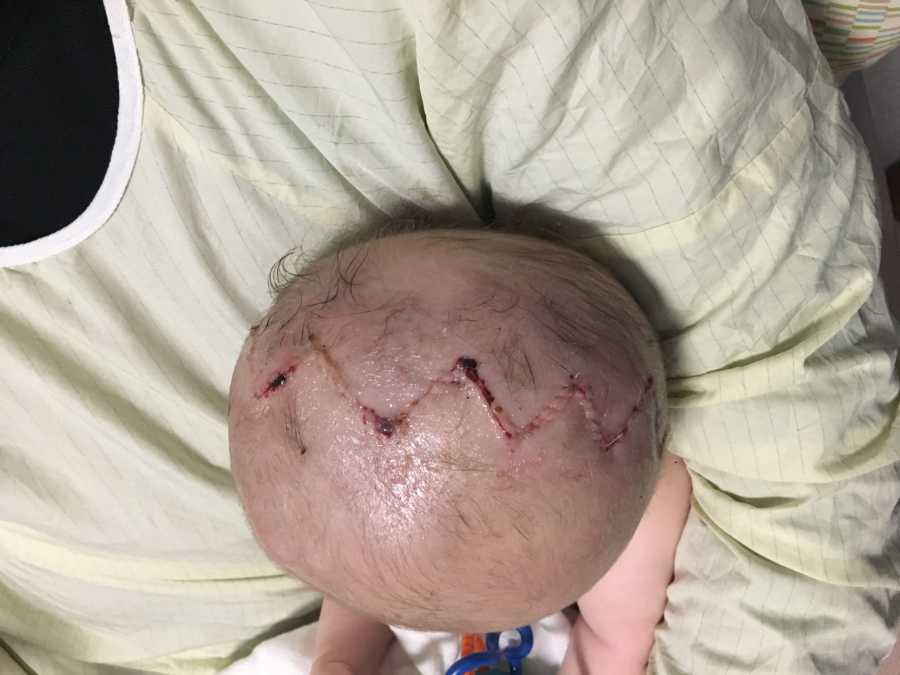 Following this operation, she had to wear a helmet for 23 hours a day. The helmet's job was to help give the skull a nice shape and help her head heal properly. Instead, it gave Amelia sores and after a few months, our physician decided it wasn't worth the hassle. More skull surgeries were to come and in January 2018 she had her second skull surgery. This time it was to push back the back of her skull. It was a posterior vault reconstruction with distractors. She had to have pins on the outside of her head that we had to turn twice a day. They stuck out the back so they looked like pigtails. The turning was horrific and Amelia would cry and scream each time we turned them. After 9 days of turning, I noticed the distractors were leaking fluid. I was scared, called the physician, and took her in. The doctor examined her and while feeling the fluid between his gloved fingers asked, 'When was the last time she had anything to eat or drink?' She was leaking cerebral spinal fluid. She went into emergency surgery and the distractors were removed. She was a trooper through the entire thing and went home the next day!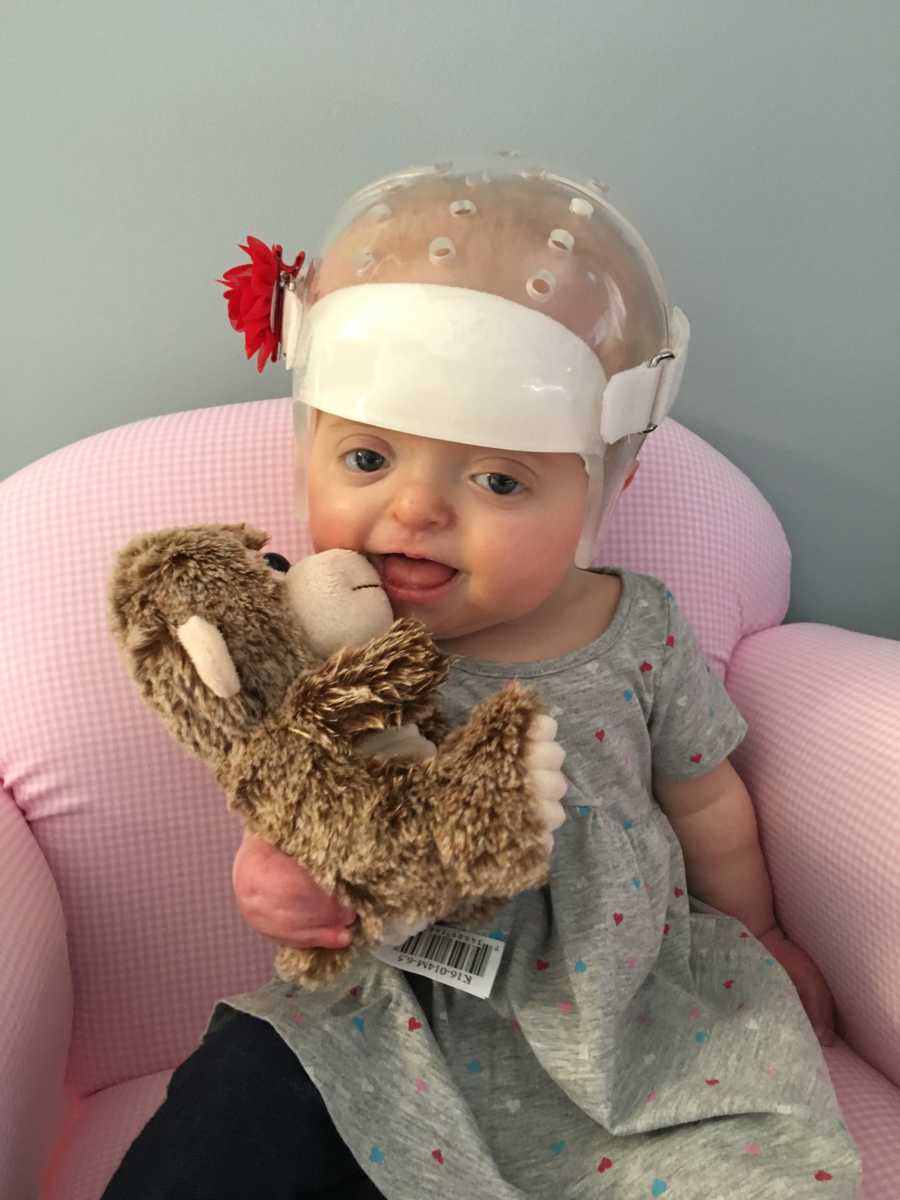 May 31, 2017. Another major surgery, with this one being even longer – eight long hours in the surgical waiting room. Since Amelia was born with her fingers fused together, the physicians thought it would be a good idea to do a syndactyly release, or separate the fingers. This way she would be able to hold and grip things. She would be more functional. To do this, it must be done in stages. The first stage is to separate the pinky from the ring finger and the pointer finger from the middle finger. Our wonderful physicians here in town did that for us and we went home that same day!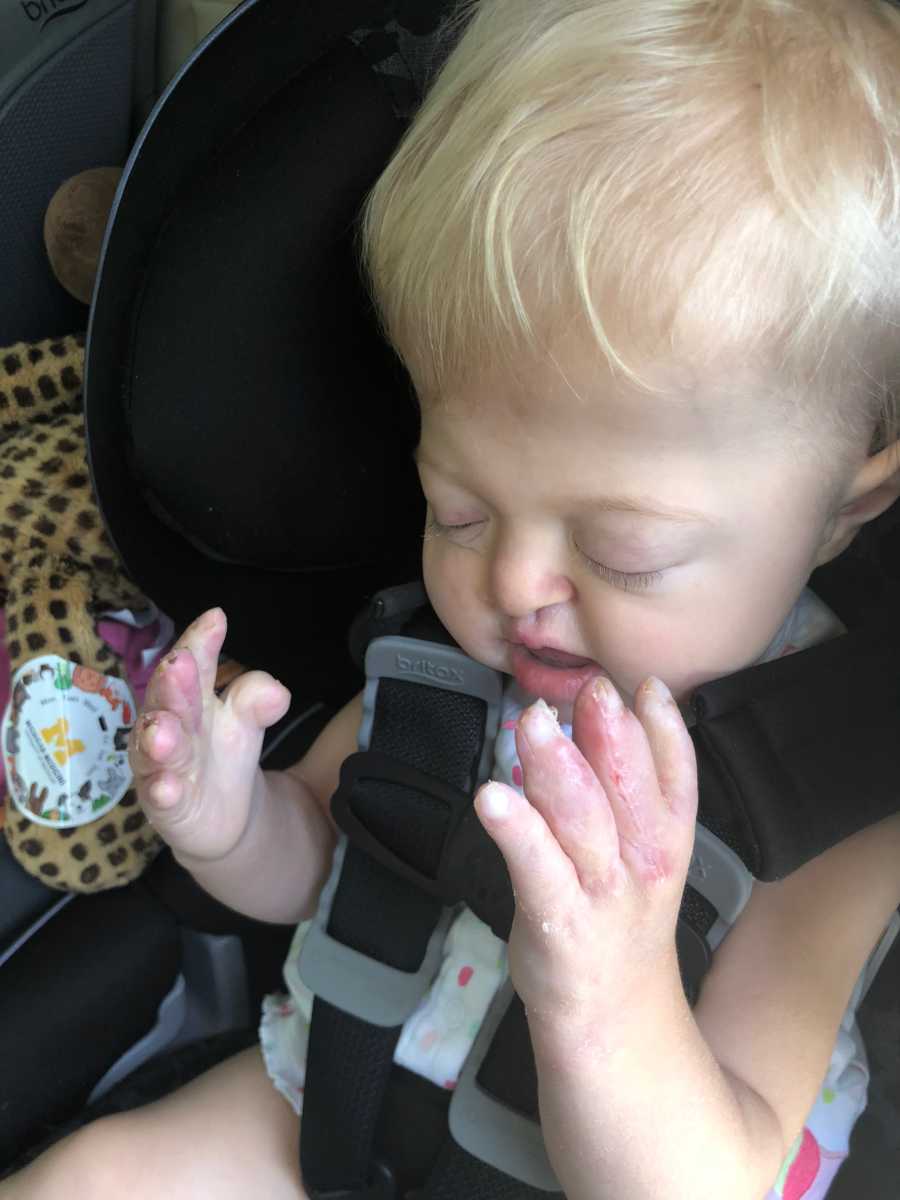 The next syndactyly release wasn't done until June 2018. For that, we went to Boston (13 hours away) so they could do a syndactyly release of her toes at the same time. Boston Children's Hospital has physicians who are familiar with Apert Syndrome and can work quickly and efficiently to get more done in a shorter amount of time. So skipping surgeries three through seven (cleft palate repair, ear tubes, more skull, and tear duct stents), brought us to number eight in Boston. We did a lot of research and had to do a lot of insurance hoop-jumping to get there, but we went through another long surgery that ended up with our dear girl in 4 large purple casts on her limbs.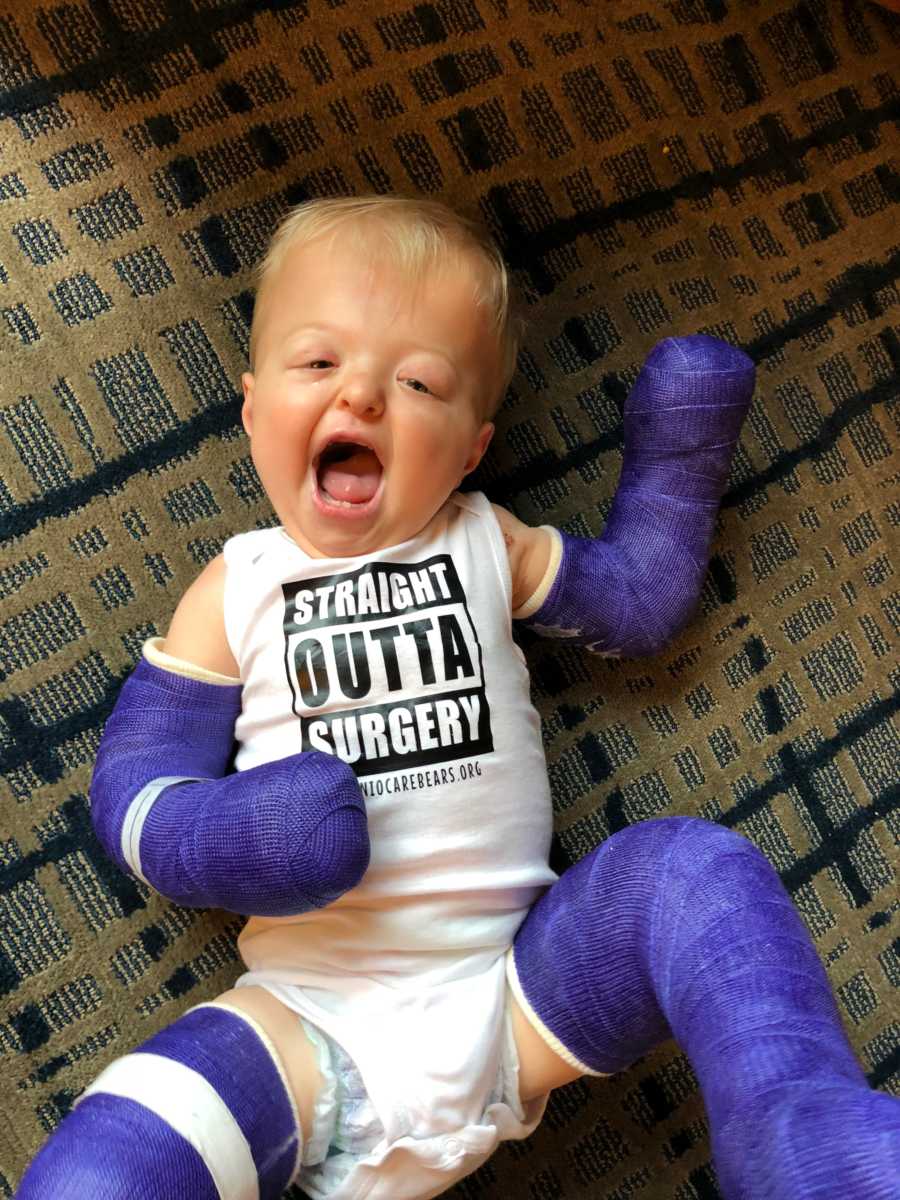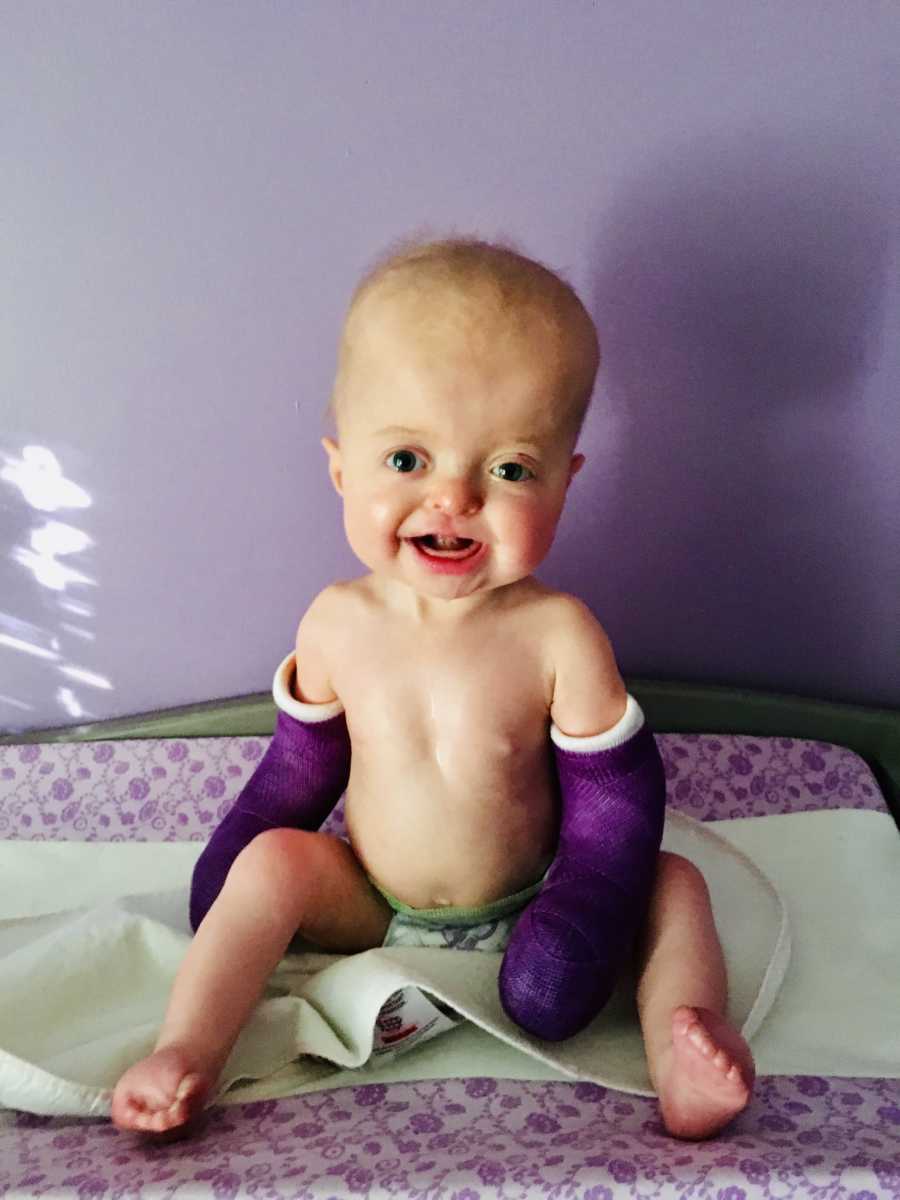 We stayed overnight one night after her operation and then drove for 13 hours straight to get home that next day. Having casts on each limb didn't slow Amelia down. We put baby leggings on her casts and stuck markers in them so she could still color, and she learned to walk with casts on her legs! Once the casts were removed there was no stopping her.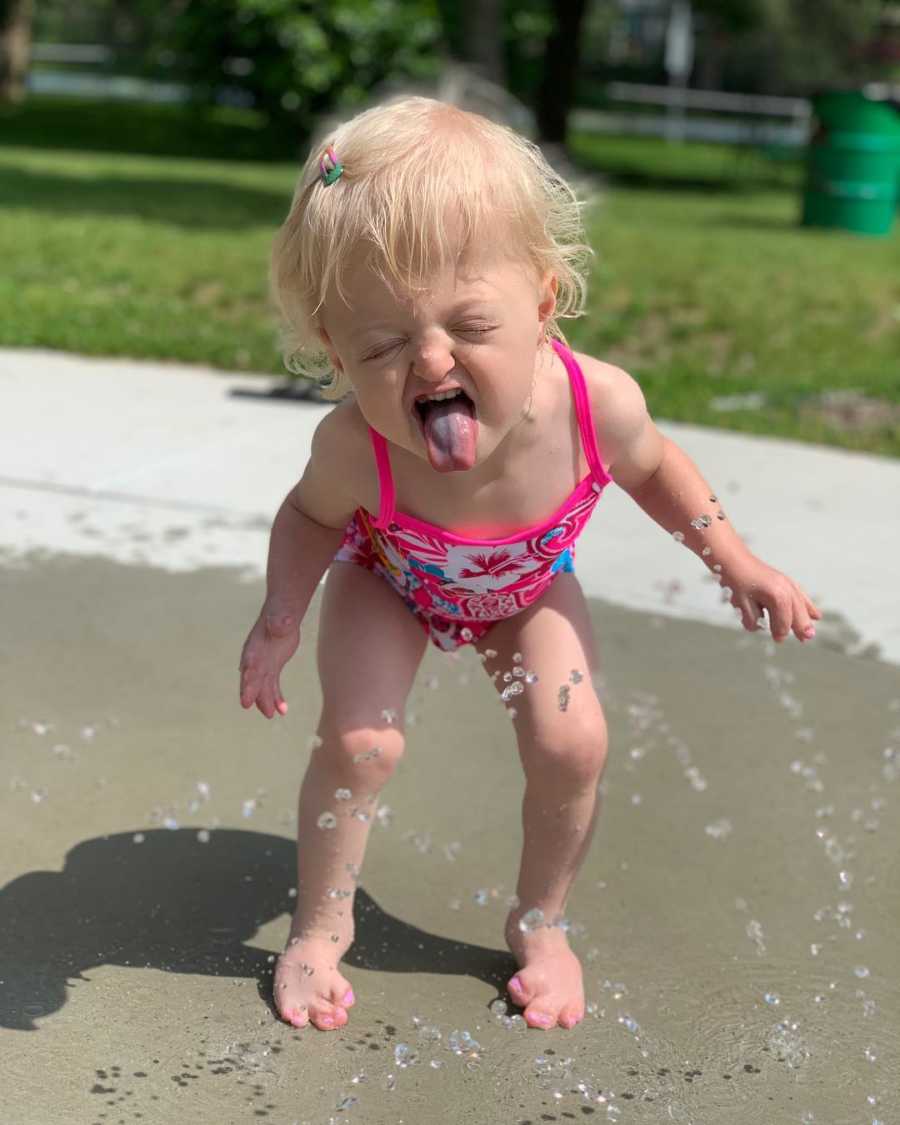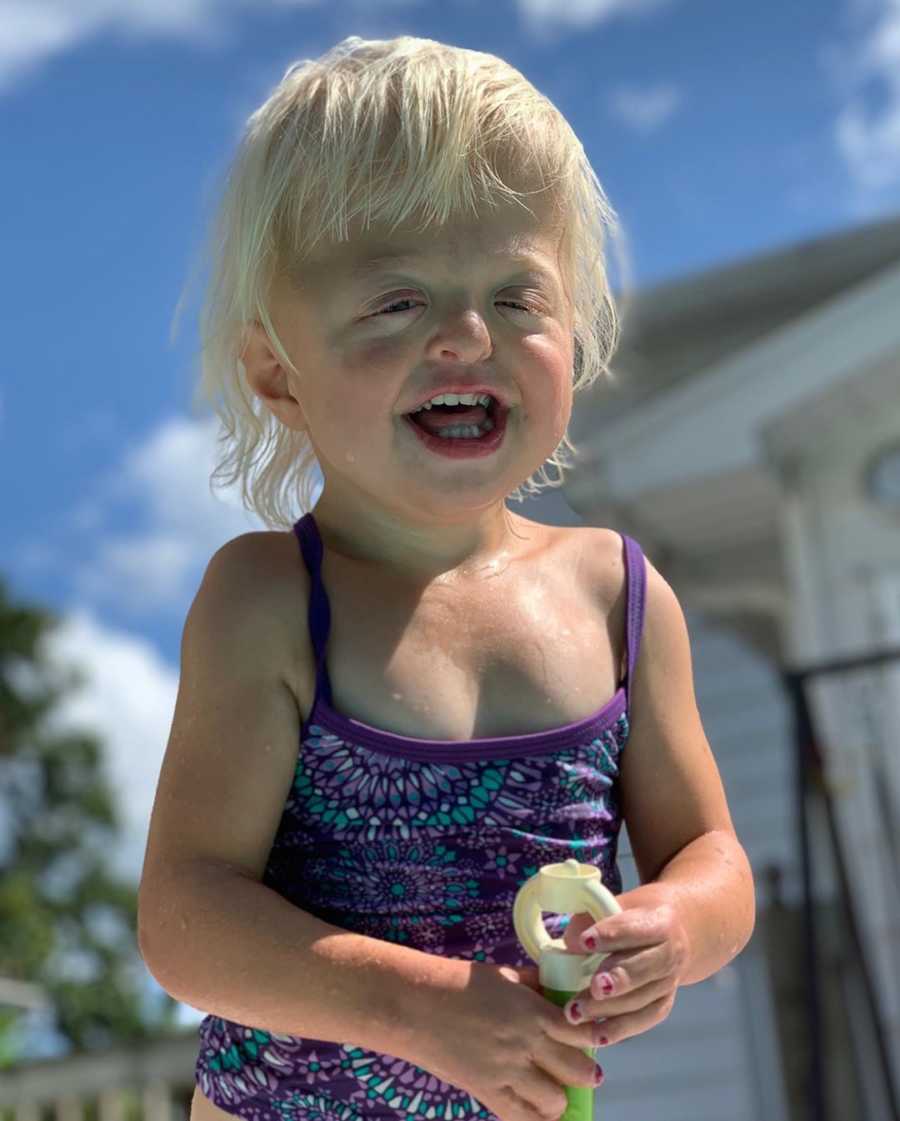 This fall Amelia will be starting preschool. I'm nervous. I see how other kids look at her in the park. I know her face, fingers and toes look different. I'm also excited. I see how her personality shines bright and how she can make friends with just about anyone. I see how she sticks up for herself already and doesn't let her differences stop her from being her. She has a lot more surgeries to overcome. She has a lot more stares to ignore. I have a little girl. Her name is Amelia, and she just wants to be loved.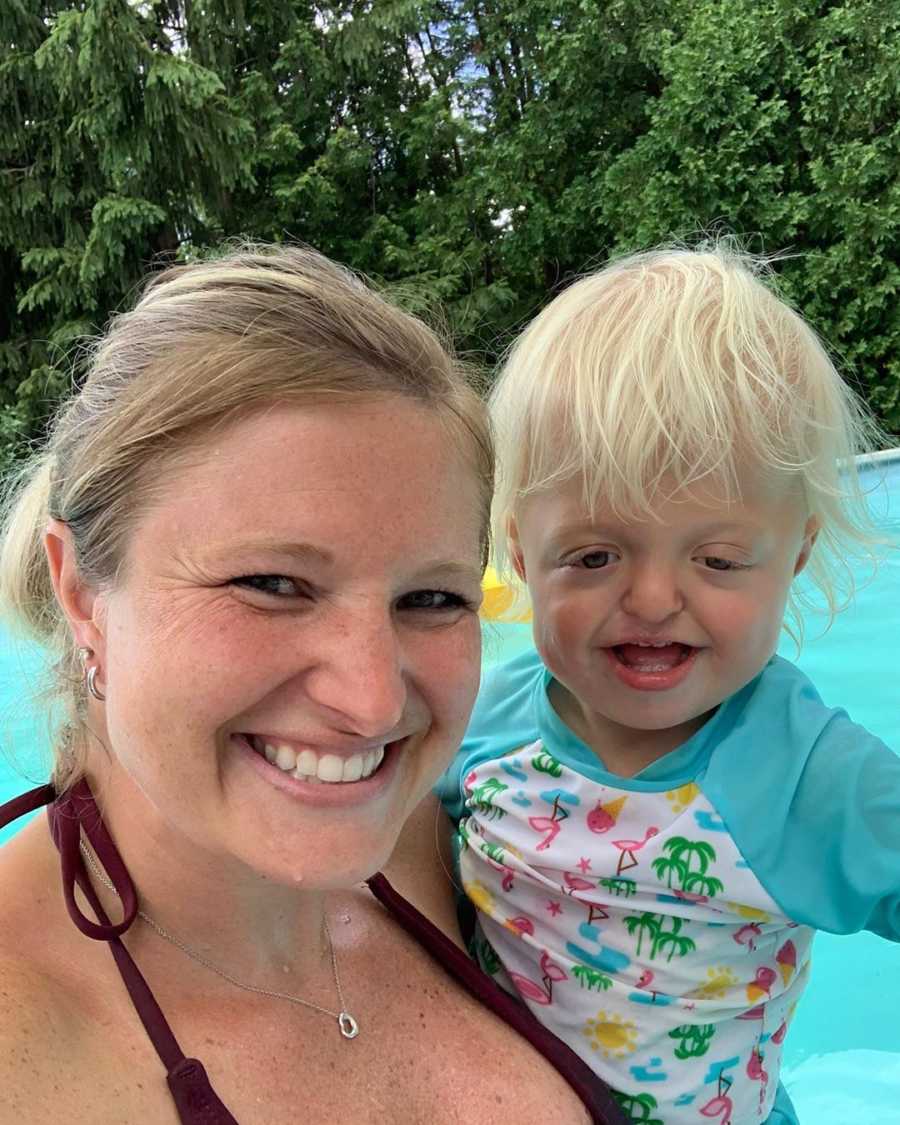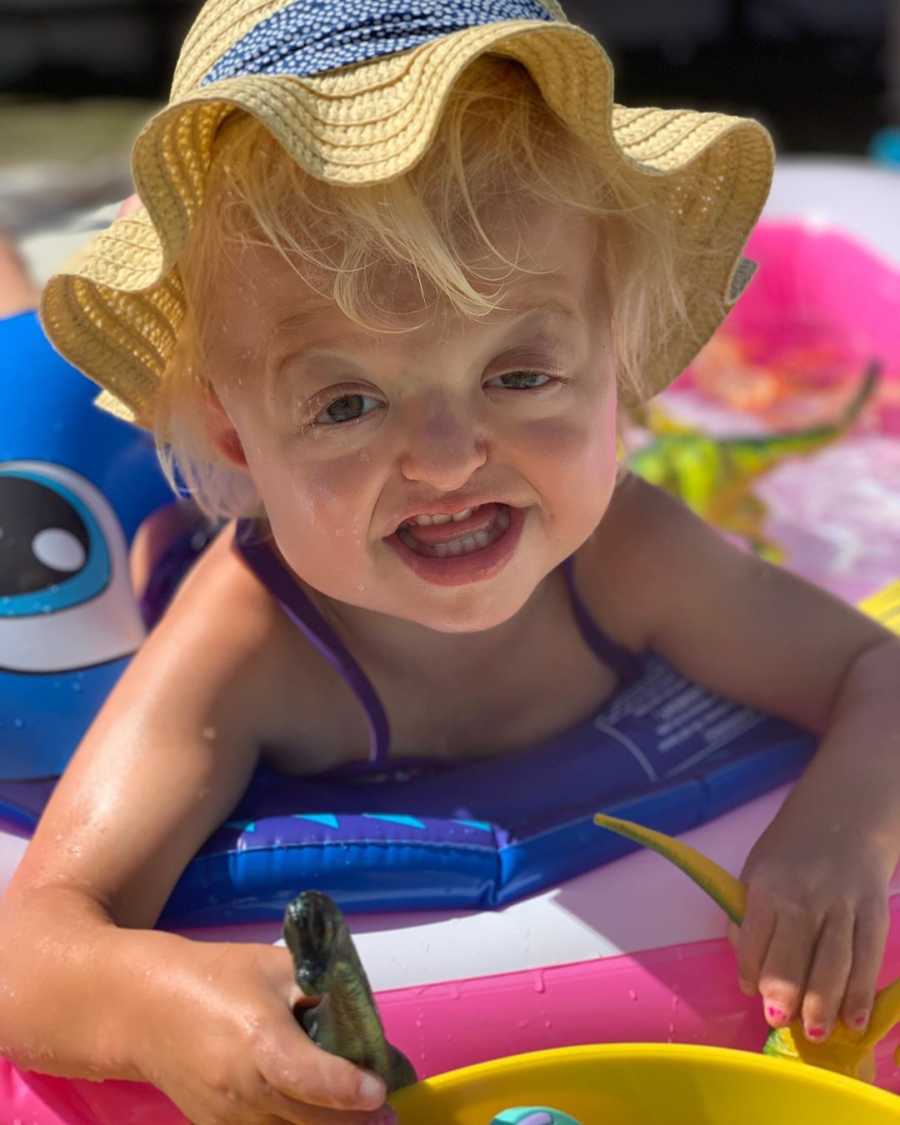 This story was submitted to Love What Matters by Tricia Brusk of Grand Rapids, Michigan. You can follow their journey on Instagram and Facebook. Do you have a similar experience? We'd like to hear your important journey. Submit your own story here, and be sure to subscribe to our free email newsletter for our best stories.
Read more inspiring stories of children with rare and unique differences:
'He is broken and breaking,' the doctors said. 'No hope. Always fatal. It would be kinder to terminate,' they tell his mom and dad.': Newborn with Brittle Bone Disease diagnosis defies the odds to become family's 'fighter'
'He's here, he's breathing, and he has a TON of hair!' The joy only lasted for a moment. Our son was ready to shake things up at the hospital.': Mother learns of son's rare Cornelia de Lange syndrome diagnosis
Provide beauty and strength for others. SHARE this story on Facebook with your friends and family.