One San Franciscan's attempts to mend the dismal vibes the COVID pandemic has blanketed so many of us in has sparked hundreds of new friendships and rekindled feelings of community and togetherness in his neighborhood.
Curtis Kimball, owner of The Crème Brulee Cart, put his culinary talents to good use and concocted a plan to combat the despondency and gloom becoming a pandemic in and of themselves. The plan? PANCAKES.
"I had a ridiculous, silly, simple idea: I could make my neighborhood a better place, AND make some new friends, just by making pancakes in front of my house for anyone who came by to hang out."
Not sure how much of a turn out he would receive, Curtis was surprised at the response to his initial 'pancake party.'
"I had kind of accidentally stumbled on something," shares Kimball. Not only were people hungry for pancakes, they were starved for the human connection so many of us have been missing.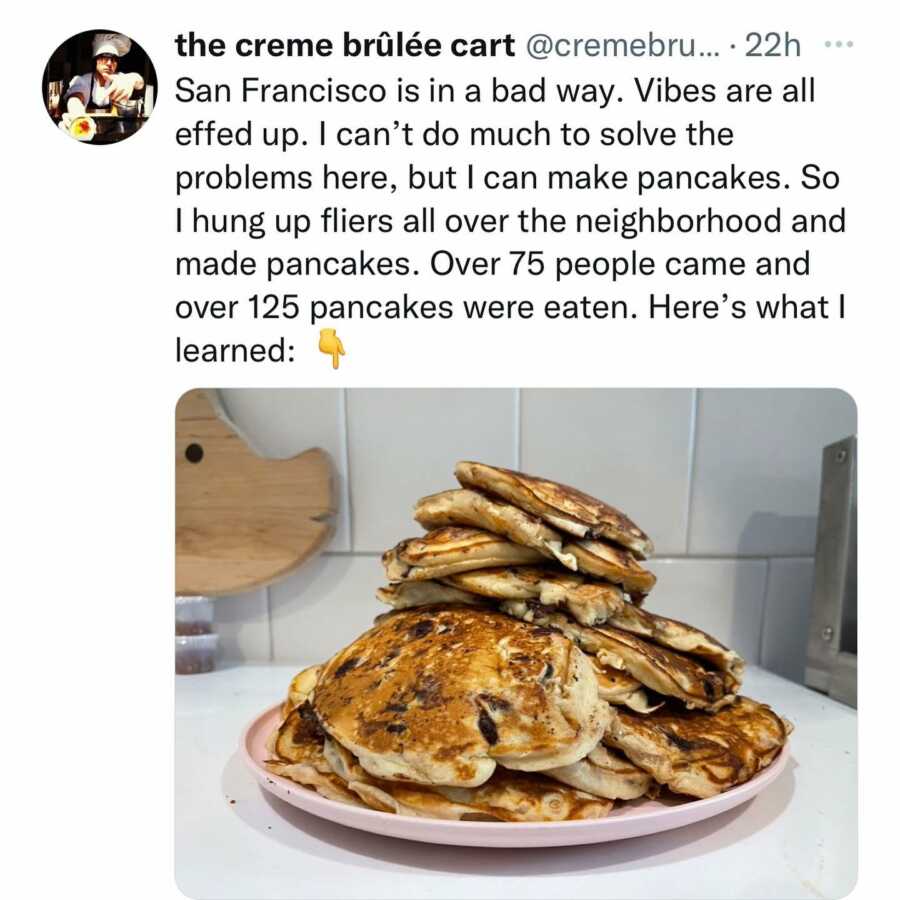 In a popular Twitter thread, Kimball shared the lessons he learned from his first pancake party:
"1. People like pancakes. Or at least the idea of them. Pancakes are something everyone can relate to and almost everyone has at least some positive associations with. (Bonus: my pancakes are actually pretty good!)
2. Foodieism may be done. Because they're just free pancakes, the vibe of being a pancake critic rather than a pancake enjoyer wasn't present. Not every part of the experience needed to be graded. People just living in the moment. Pancake participants, if you will.
3. Fliers work. In a world full of an increasing number of digital experiences, the IRL world has a authenticity premium to it. If you see a flier, chances are good there's a human putting in effort behind it.
4. If you're hungry to connect, chances are good other people are too. We're all tired from the last 2 years (6 years really), but there's something incredibly rejuvenating about experiencing little joys with other humans."
With a little more confidence his pancake party idea was a good one, Kimball went all out. He hung up even more fliers advertising the free pancakes.
One flyer humorously read, "My wife says I'm getting weird. She says I need to make friends. So I'm making pancakes."
Another flyer with a big, blubbery sea lion said, "Hey neighbor! Wanna come over for pancakes? No pressure, but it could be fun. Pancakes with blueberries, pancakes with chocolate chips, maple syrup, salted caramel sauce, whipped cream, and more!"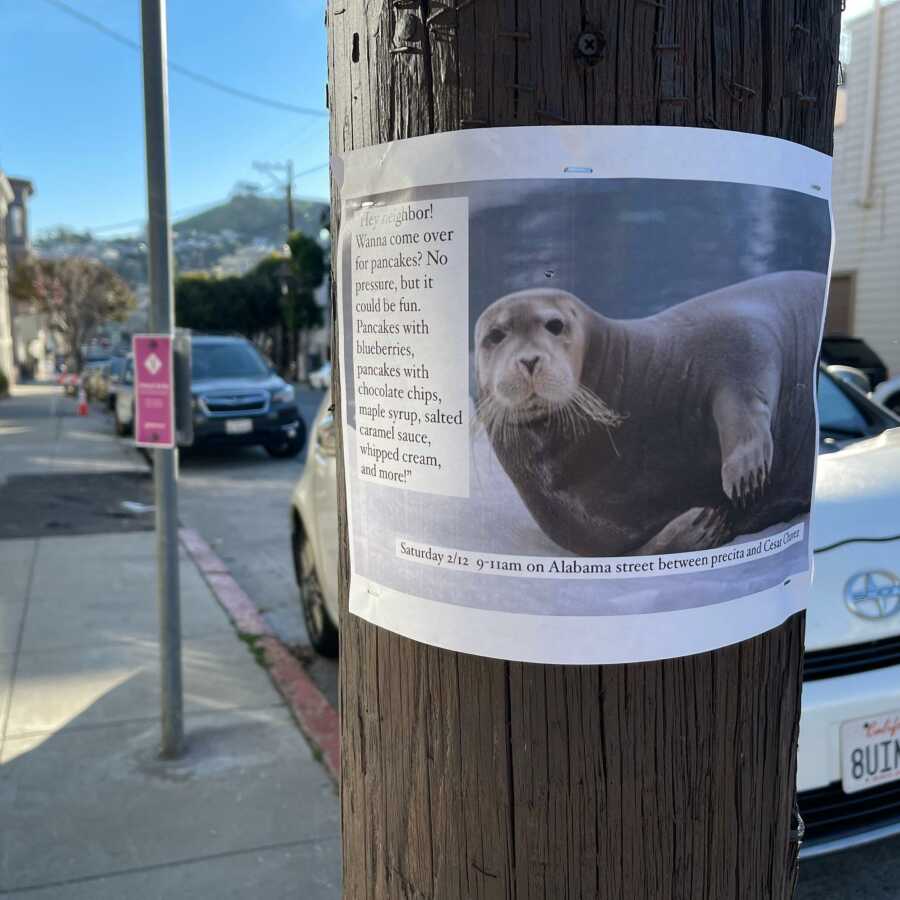 With the word out, Kimball and crew then went to work making A TON of pancakes.
"In two hours, myself, my mother-in-law, and some friends I used to work with made over 700 pancakes for 300 brand new friends," Curtis reports.
The line for Curtis' pancakes stretched around the corner and down the block! "It was one of the most incredible experiences of my life," says the man now affectionately called, 'The Pancake Guy.'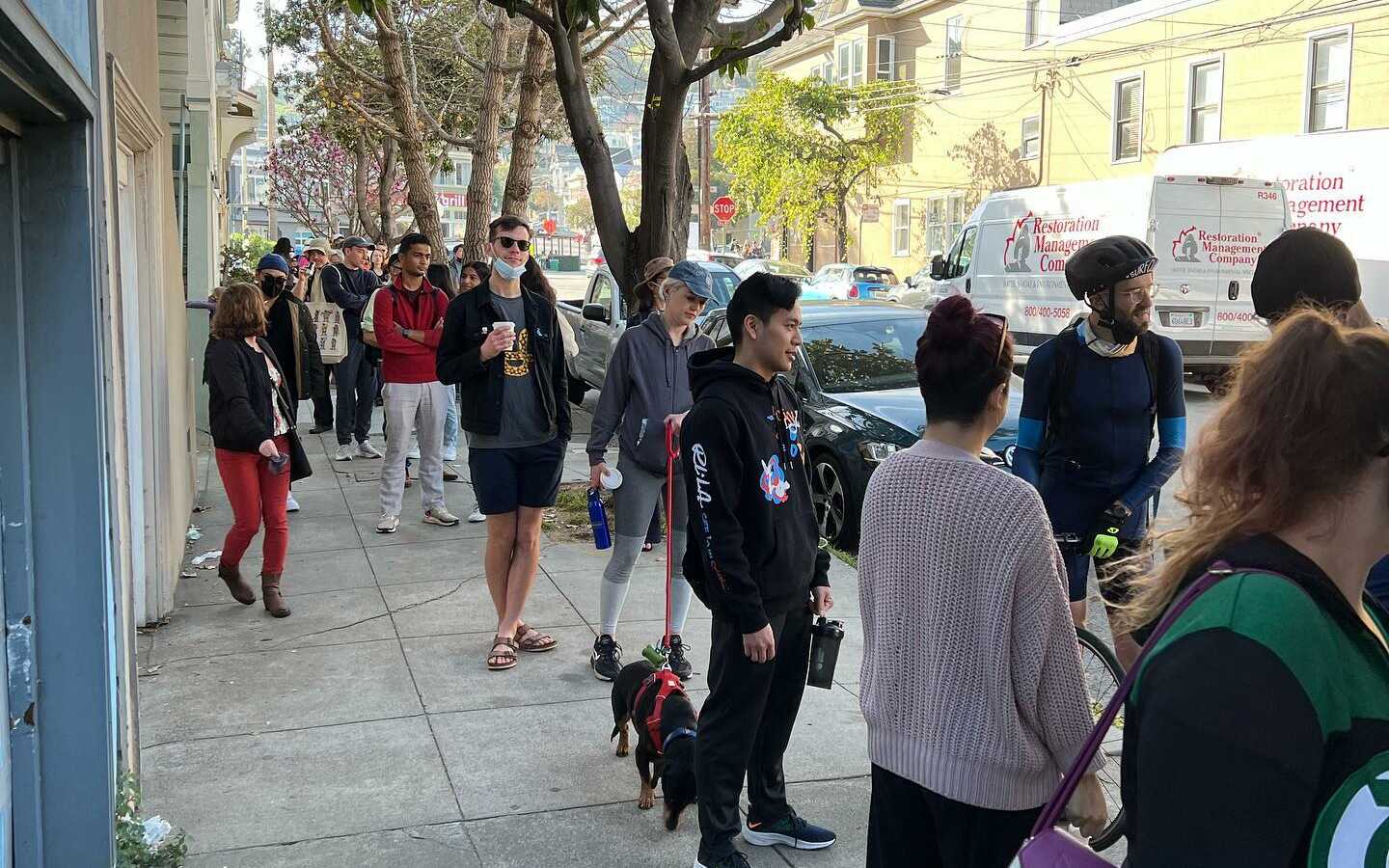 Many wanted to know if it worked, the attempt to make new friends. In addition to all of the wonderful people who stopped by to share a bite and chat with their fellow 'pancake participants,' Kimball said the event even effected people who couldn't participate.
One man who didn't have time to wait in the long line, came by to drop off a bag of lemons and a thank you card expressing his appreciation and his own desire to make friends.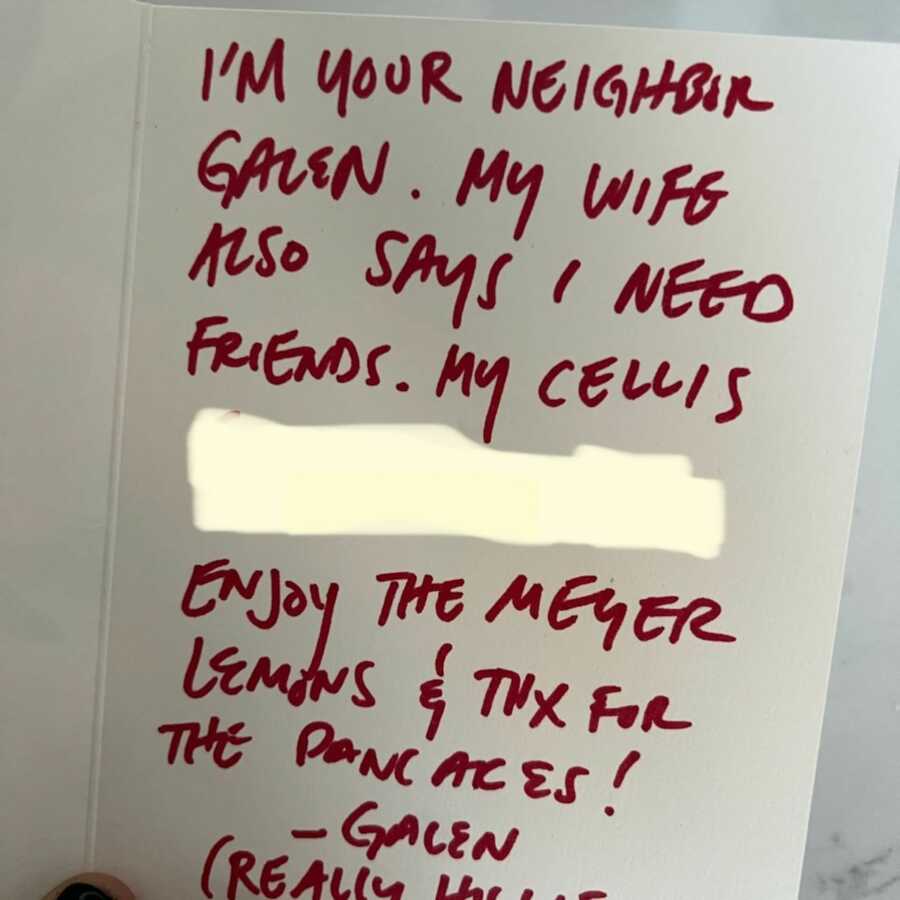 "The joy, the laughter, the gratitude, the kindness was all overwhelming (as was the smell of pancakes)," Curtis shared on Facebook. "Not to be a softy, but I got a little misty a few times as every person thanked me for what to them felt like the perfect antidote at the perfect time after a rough two years."
It was a simple solution, but a much needed step in a more positive direction. And a wonderful example for others: If you feel a need, you can fill it! You can create connection and foster friendship in a way that is uniquely you.
Curtis was as uplifted by the experience as the people partaking. "Everyone who came was a little more wind in my sails as we all start to put our world back together," he shared. "So go forth. Make friends! Reach out! Give love and receive it."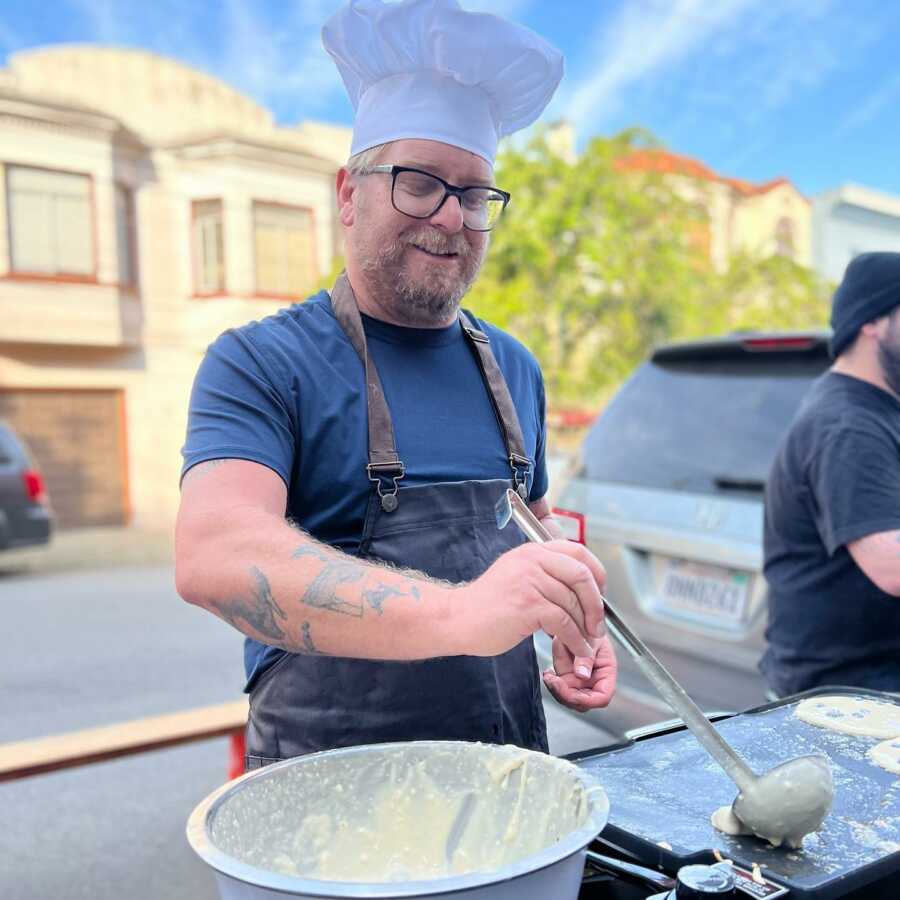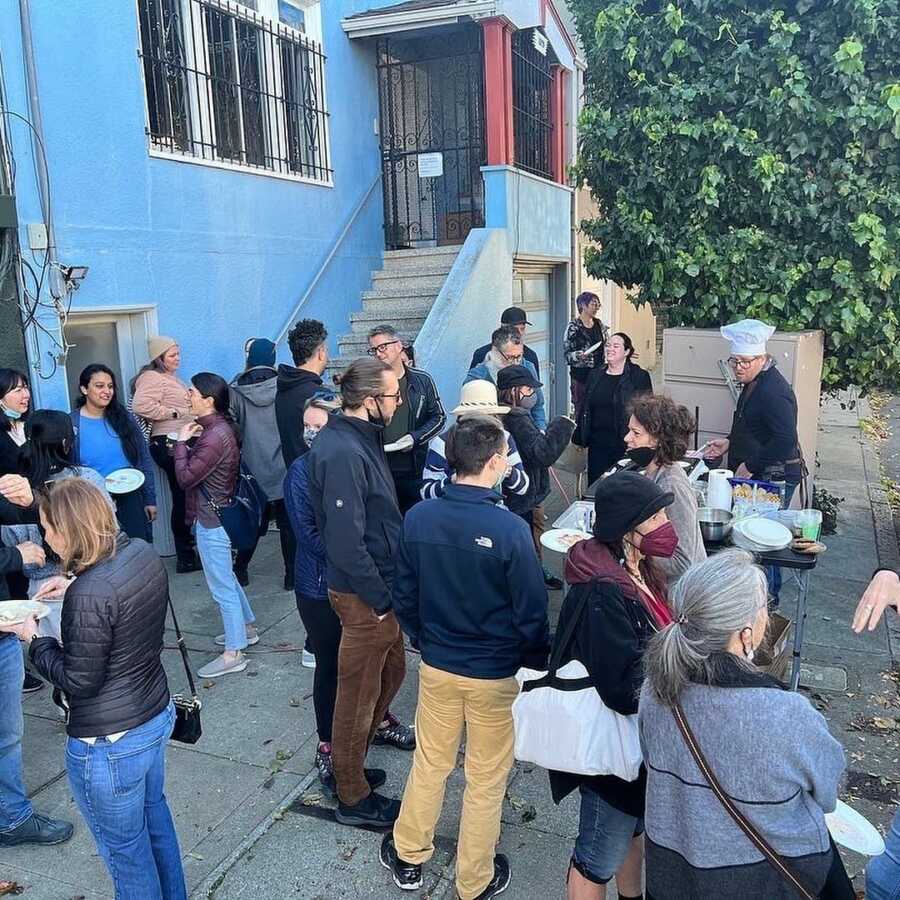 Do you have a similar story? We'd like to hear your important journey. Submit your own story here and be sure to subscribe to our free email newsletter for our best stories.
Read more beautiful stories like this:
Couple's Free Food Pantry Helps Thousands In Their Community During COVID
Elderly Man Makes Thousands Of Pocket-Sized Hearts To Give Away
Man Runs Non-Profit Restaurant And Basketball Camp To Teach Life Skills To Youth In His Community
Formerly Homeless Man Crochets 8 Hours A Day For 'Project Warm-Up'
Spread beauty and strength for others. SHARE this story on Facebook with family and friends.