"I thought I knew what motherhood entailed.
Like most new dads, I have only experienced motherhood as an outsider.
I saw my mother, sister, and friends do it.
I've seen or heard about motherhood a fair amount.
I got the gist of it. Or at least I thought I did.
I knew that the newborn phase was tiring.
I knew that it took up a lot of personal time.
I knew that it required a lot of sacrifice. But what I didn't know was how little I really knew.
There have been nights where she has gotten almost no sleep at all.
There are times where he is fussy even after she fed him, but she patiently and lovingly rocks him over an hour.
Only to have to feed him again before he goes to sleep.
When I'm not home, she is left with little to no personal time for herself.
She intentionally loses herself in him, so he knows he is loved, cared for, and safe.
All while dealing with the pain.
The pain leftover from giving birth.
The pain from breastfeeding (men, imagine scraping razor blades across that area… constantly).
The emotional pain from postpartum hormones.
The emotional pain from looking at herself in the mirror, wondering if her body will ever look the same again.
I thought I knew what motherhood entailed.
But to see it through the eyes of her, has bred a newfound understanding of how encompassing, exhausting, painful, and yet beautiful it all truly is.
It's taught me that no amount of pain or frustration will ever keep her from loving our son. Fiercely.
I have witnessed a strength I thought I knew, but truly didn't.
The strength of motherhood."
From podcasts to video shows, parenting resources to happy tears – join the Love What Matters community and subscribe on YouTube.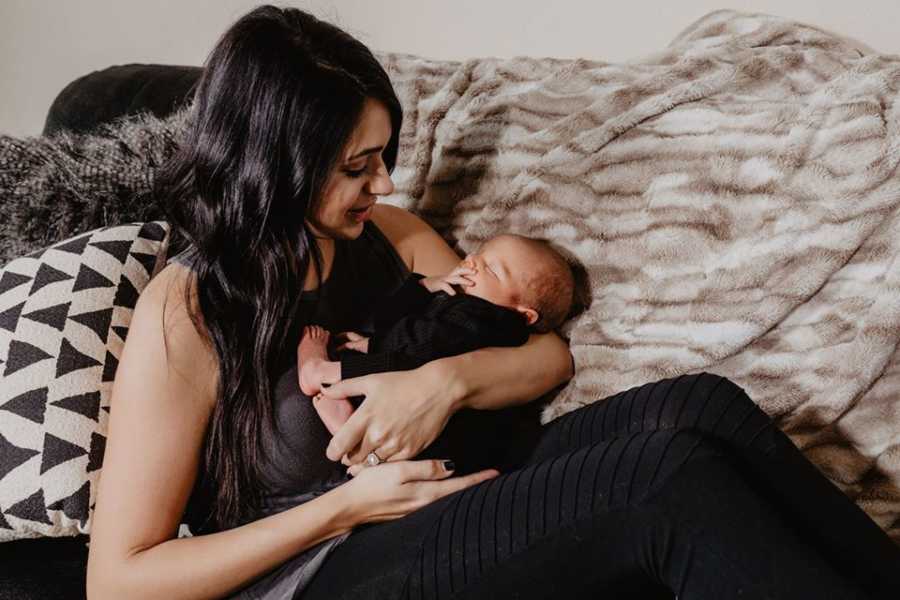 This story was submitted to Love What Matters by William Trice Battle. You can follow his journey on Facebook. Be sure to subscribe to our free email newsletter for our best stories.
Read more stories like this:
'Nothing prepared me for my wife's cesarean. NOTHING. Birth was the most frightening thing I'd ever seen.': Husband praises 'stoic, strong, powerful, dedicated' wife for 'bringing children into the world'
'When you marry a nurse, you marry their job. She gives 100% day in and day out.': Man writes sweet tribute to nurse wife, 'this is her calling'
Show some support for the mommas out there. SHARE this story on Facebook with family and friends.