"This past holiday season was the worst for my family to date. What was supposed to be 'the most wonderful time of the year' turned into severe anxiety. On December 20th, I attended McKenna's (my four-year-old daughter) Christmas party. I was so excited for this day since I got to take her home right after and start winter break. I was looking forward to spending some serious quality time with my children during this break, but as life does, we got thrown a curveball, and that excitement turned to worry.
The next day, Saturday, December 21st, I  noticed McKenna's sclera (the white part of the eye) turning pinkish. I immediately thought it was just conjunctivitis (pink eye) as she was acting fine. That night, she got worse. She had a fever, cough, was coughing so hard she vomited, and overall looked terrible. She was still intaking fluids, and since we had been through these symptoms before, I believed she would sleep it off and be better the next day. I was wrong.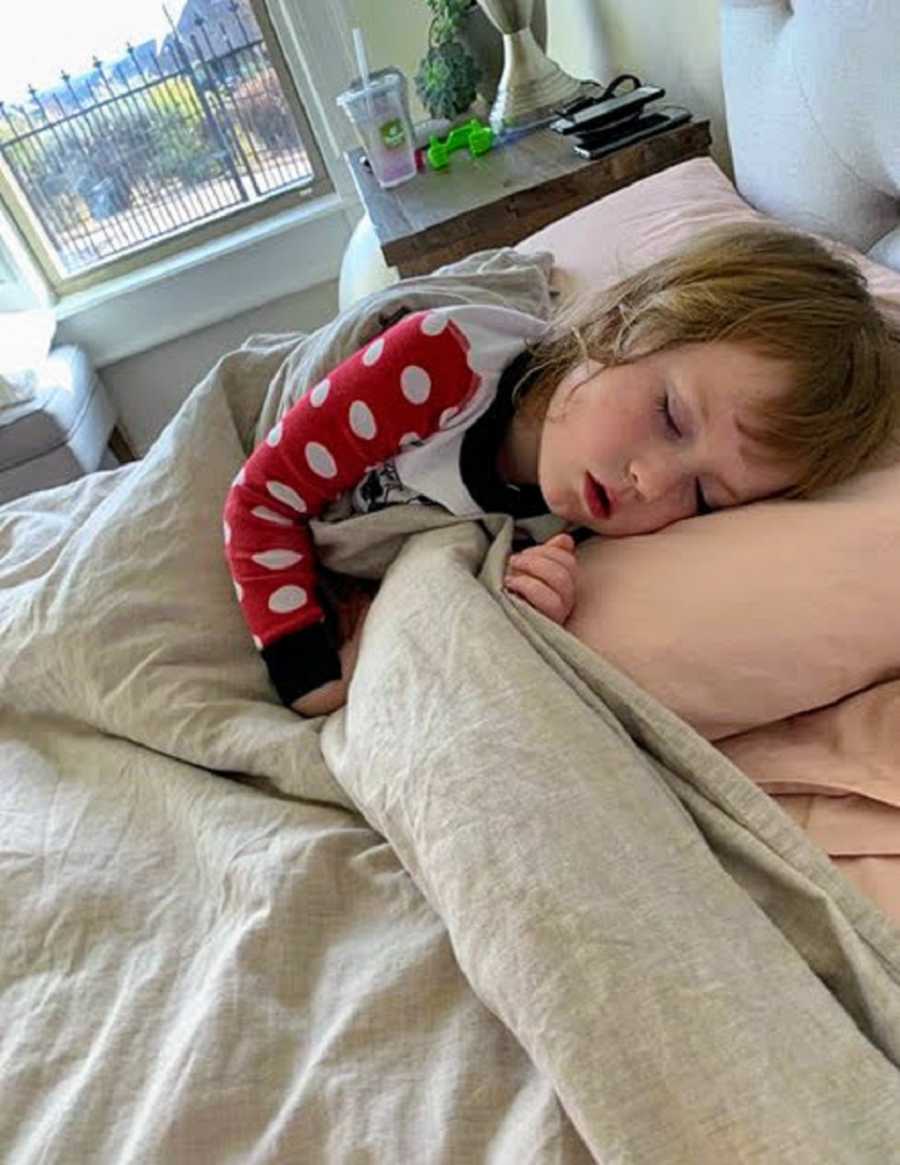 Sunday morning rolled around, and she was not better, but not worse, so I  thought by that afternoon/evening, she would come around. She started declining food, and if you know my daughter, you know she loves to eat. I started offering her all of her favorites to get her to eat, but by Monday morning, it was apparent I needed to take her in. I took her to a stand-alone emergency room, where they told me she was positive for Flu A. The doctor offered us Tamiflu but said since we were outside of the 48-hour window, it would likely not do anything to help. I  am not a fan of Tamiflu, so we weren't going to take it anyway.
We went back home where McKenna became nothing short of miserable. She was very lethargic with high fevers, not eating much, and slowly declining fluids. My husband, Ken, took care of her for the most part while I cared for our other two children. We have a six-month-old baby named Helena and a nine-year-old boy named Hayden that I did not want to get sick, so I  tried my best to keep them separated from McKenna.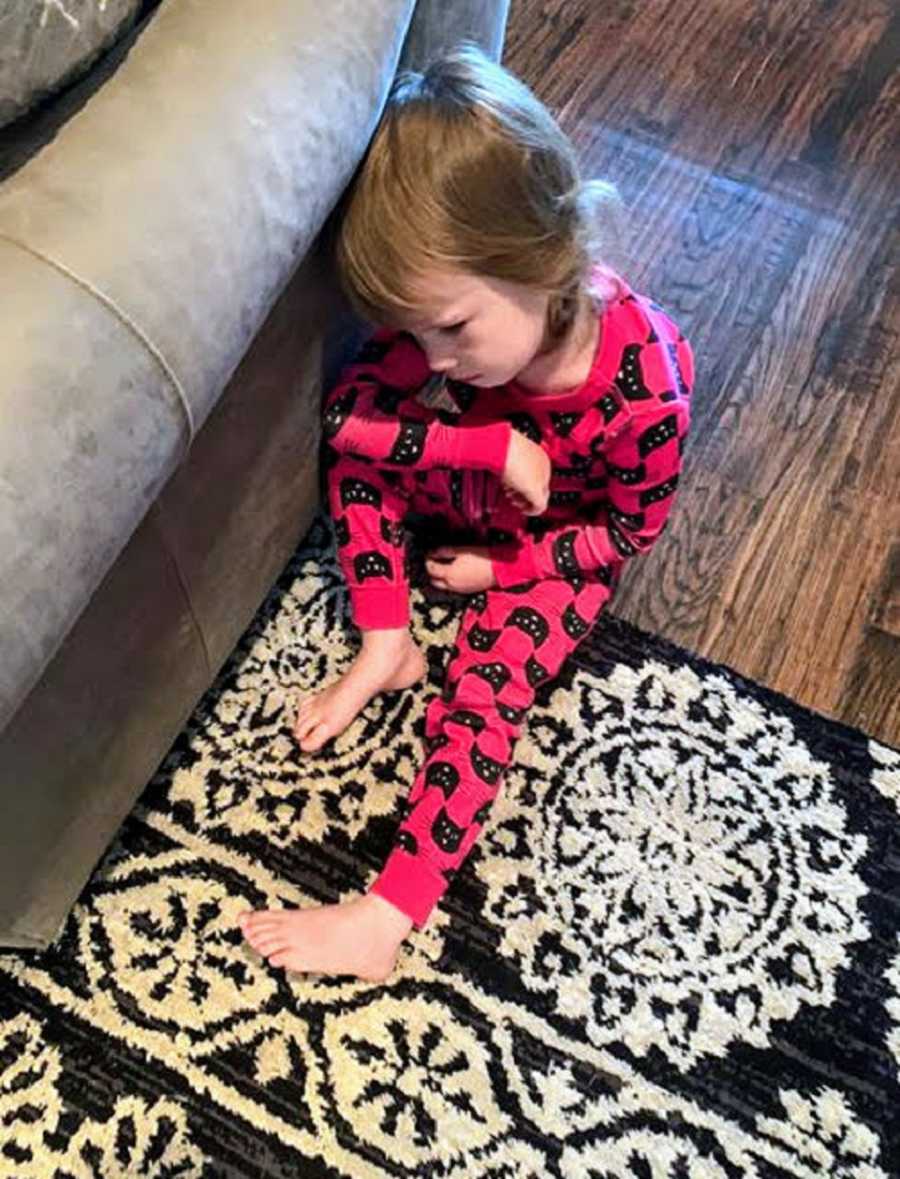 Chrismas arrived that Wednesday and I told them we were delaying until McKenna felt better. I kept thinking she would make a turnaround. She had never been sick like this! Christmas night, I put Hayden and Helena to sleep and decided to wrap presents with Ken. McKenna kept waking up to cough, and it hurt her so much to do it that she would scream out in pain each time. I wanted to comfort her, but I was also trying to keep myself from getting sick.
Ken went in and made sure she was ok each time she did this. It took us a bit longer to wrap presents because of this, but it got done. I placed them under the tree that McKenna helped decorate just days before, and I felt an extreme sadness take over. The morning of December 26th arrived, and she was no better. I  felt terrible making my son wait for presents, so we decided to go ahead with opening gifts. You know your child is sick when you tell her that there are presents under the tree for her and she cries.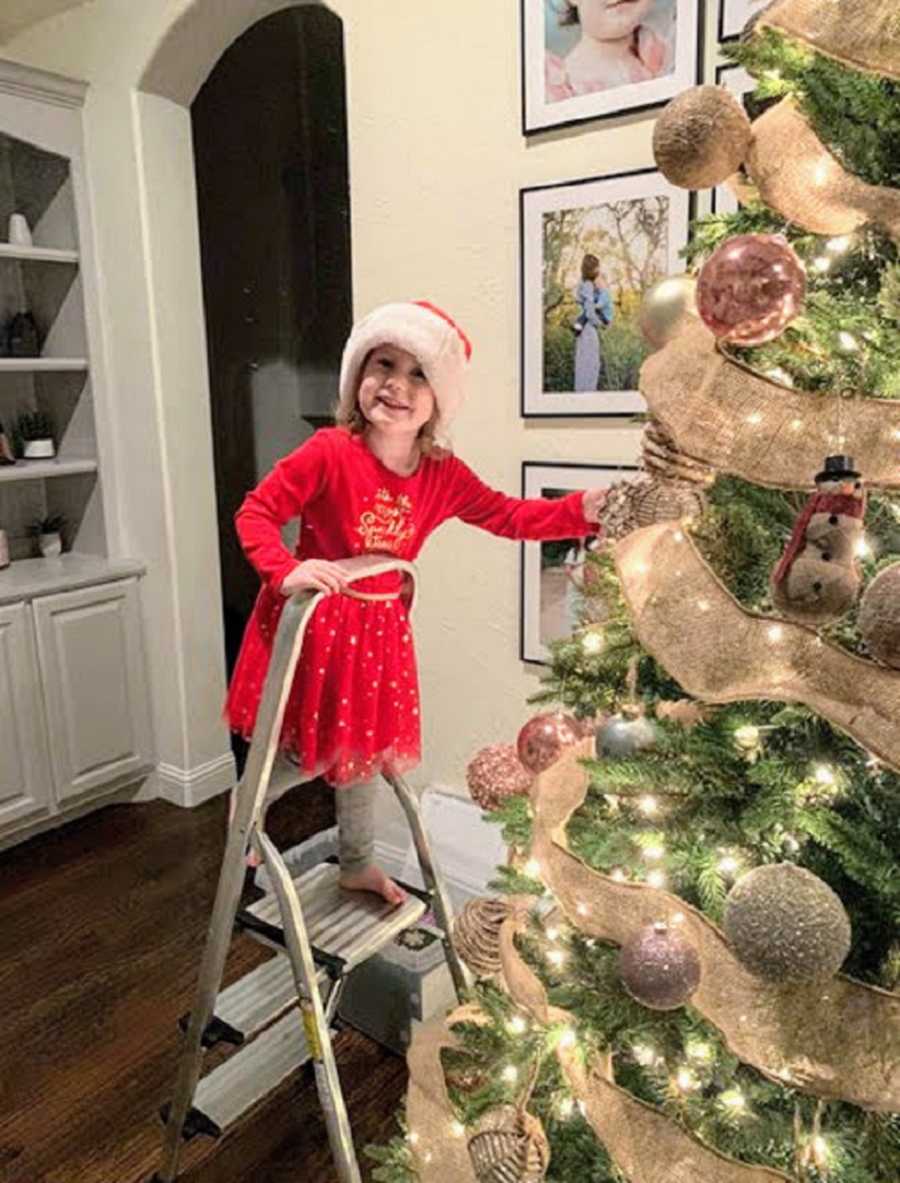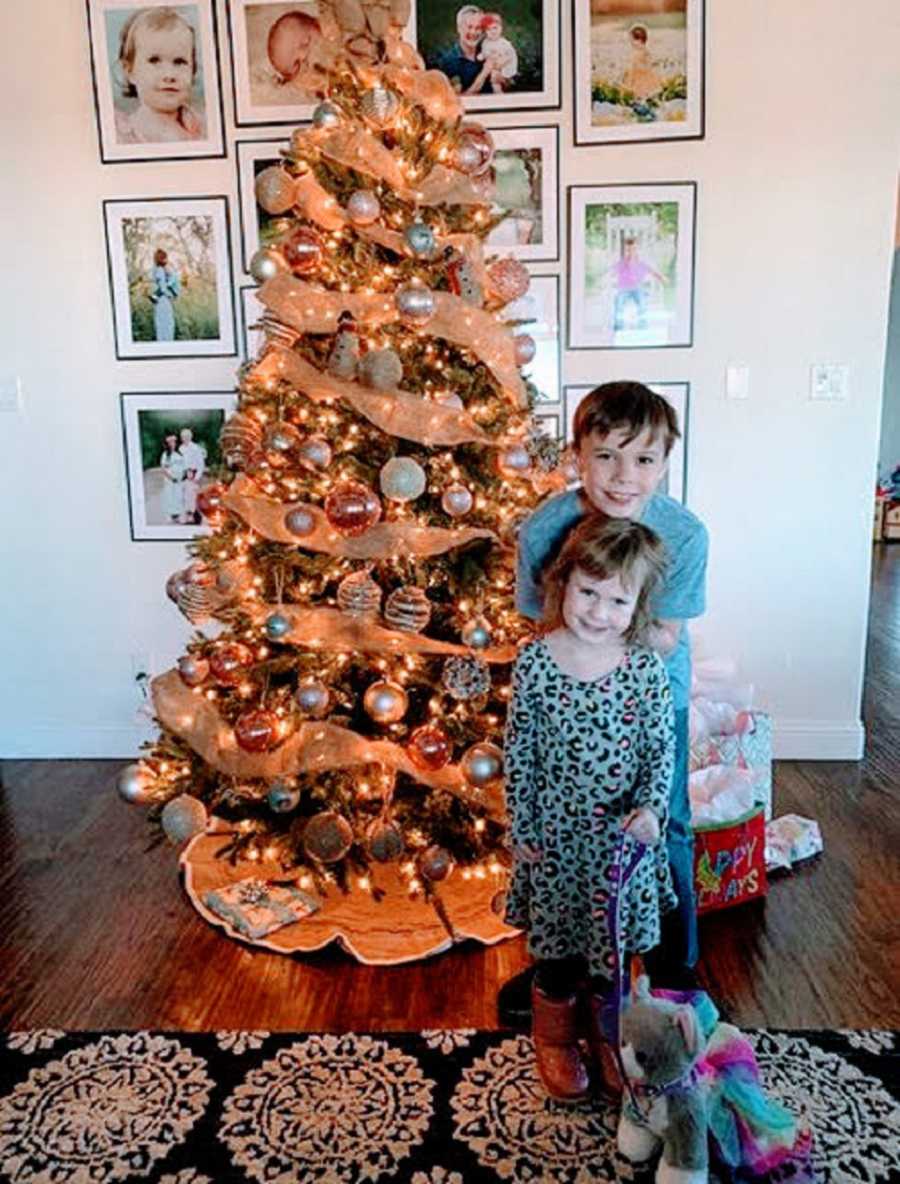 This morning would be the first time she got out of bed since being diagnosed with the flu, but she physically could not open up her presents. She sat next to the couch and cried. It was a terrible day. That is when I started thinking I needed to take her back to the doctor, but I told myself to give it another day. I kept hoping for that turnaround day. I wish I would have just listened to my gut.
By Friday, I knew I had no choice. I told McKenna we were going back in, and since she hates the doctor's office, she was agitated. I felt terrible taking her back in, and I even questioned myself. I let her sleep until early that afternoon. When I  came in to check on her, I  noticed her breathing was off. I took a video and sent it to a few friends that are medical professionals. They agreed she likely needed to be seen. By this time, my husband was also sick with what I  would assume was the flu since he had been in close contact with McKenna. Hayden was at his friends, so I  packed up the baby along with McKenna, and we headed back to the stand-alone ER.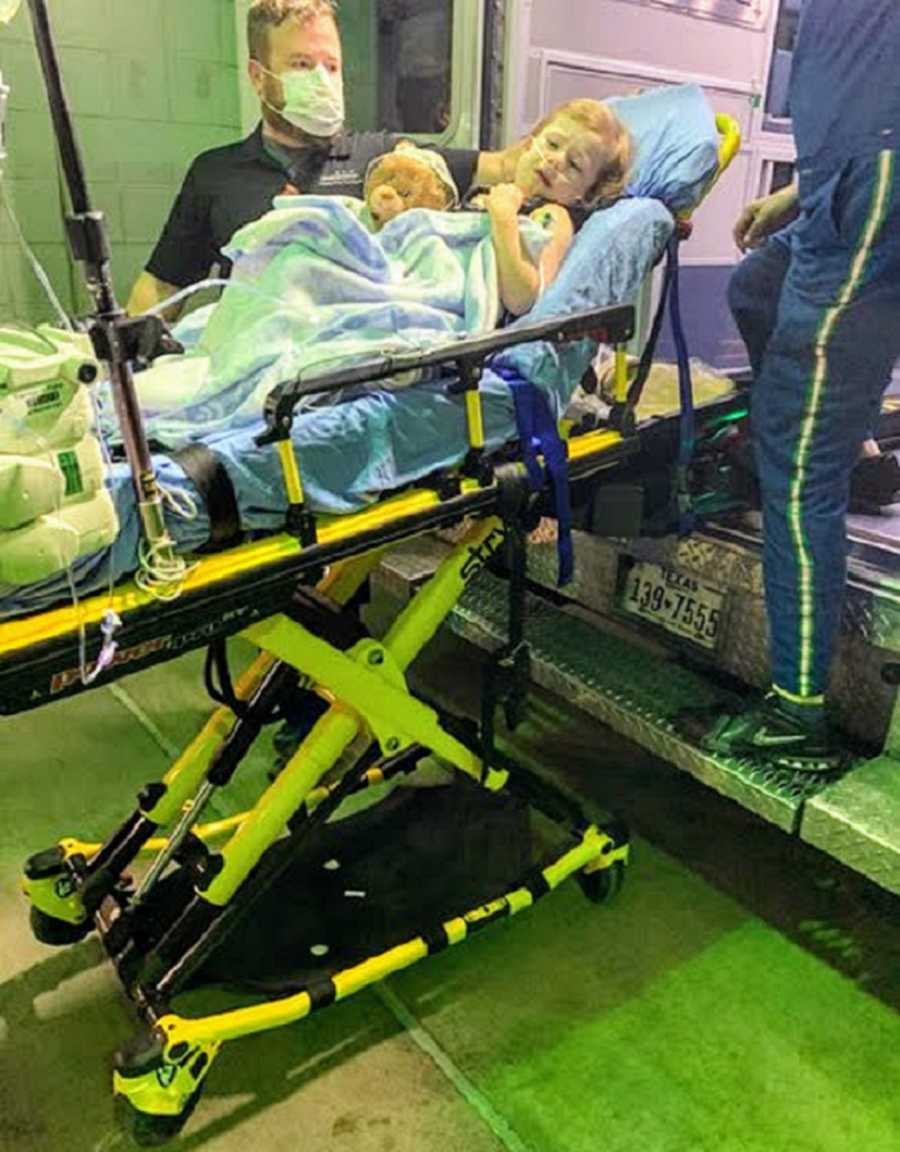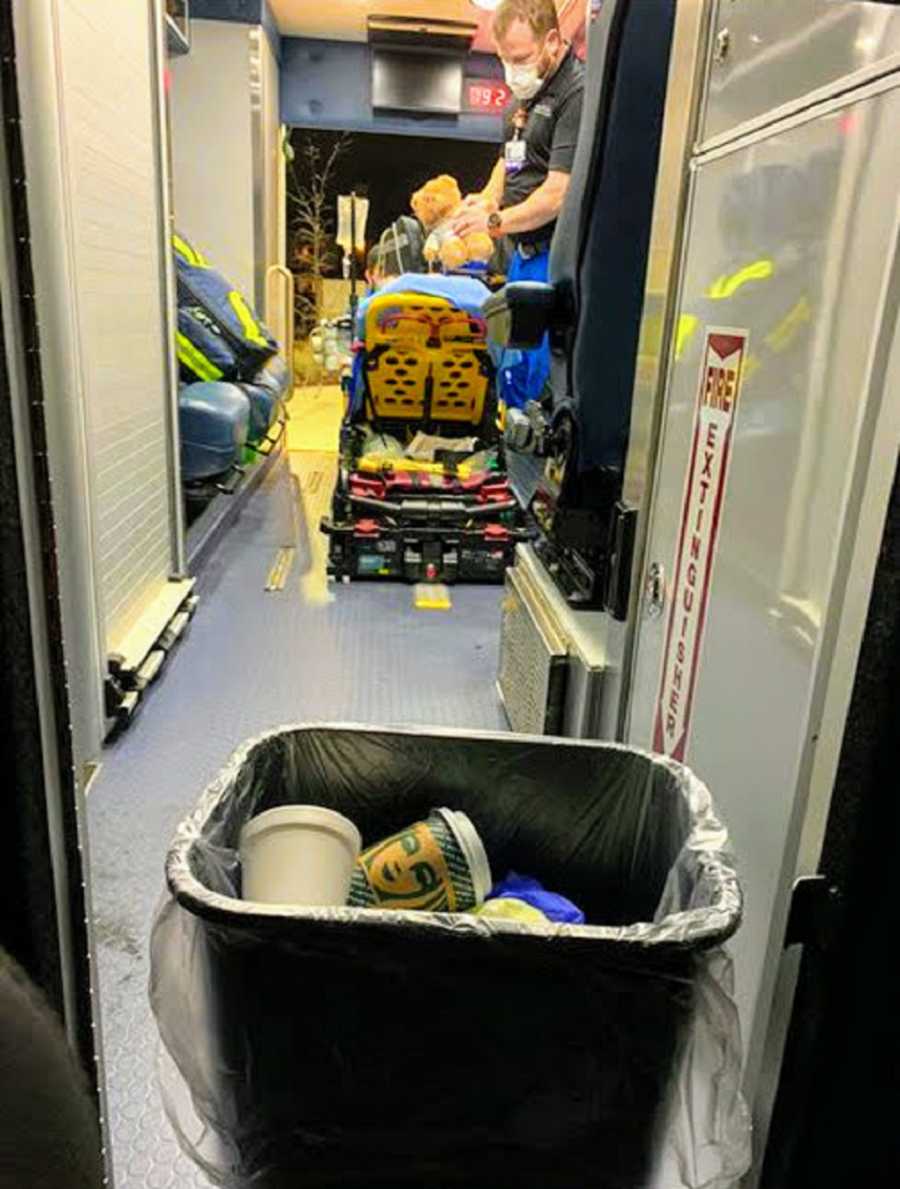 When McKenna was being evaluated, the nurse was asking the usual questions about her sickness. When she checked her oxygen levels, she wasn't sure if her monitor was correct because they were low. She checked again, and it was right. Her oxygen levels were at 81, and her temp was 103.7. The nurse picked her up and took her to a room with the proper equipment to start treating her. She was placed on IV fluids and oxygen immediately. I was having trouble being there for McKenna while trying to care for my baby, so I called my friend Rebekah who lives nearby to see if she could help. She was there within 10 mins.
Before she arrived, I  was told by the doctor that we were going to be transferred to Cook Children's Hospital in Fort Worth. I did not want to bring my baby there, but she is also exclusively breastfed, so I needed to figure out what to do. Rebekah said she would figure it out and told me to go with McKenna. Her taking charge was so needed at that moment. I was told the ambulance was en route, so I quickly got the car seat base and Helena's belongings for Rebekah. I said bye to them, and that is when I lost it. I  was terrified and felt out of control, but I knew I had to be strong for my sweet girl.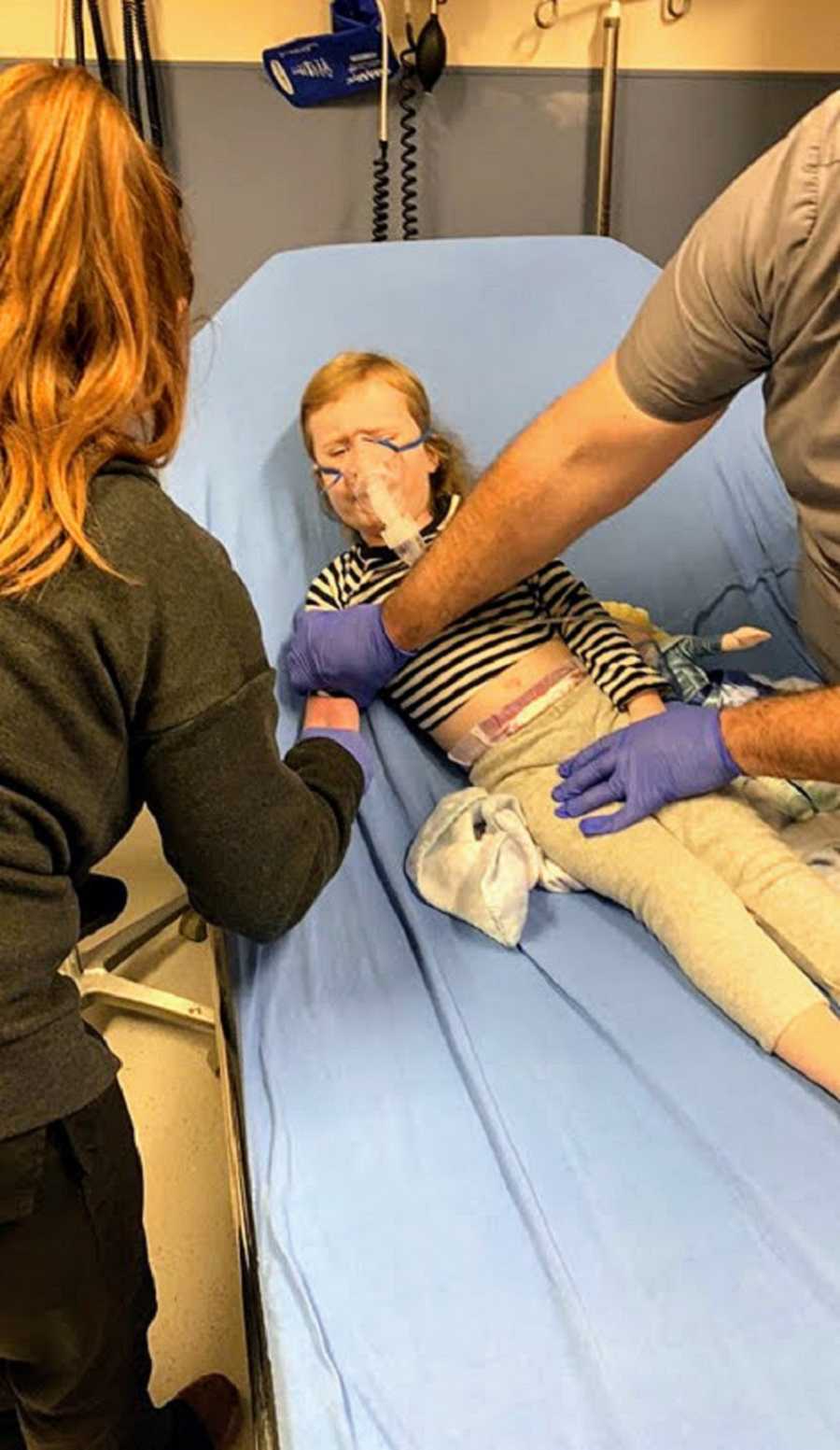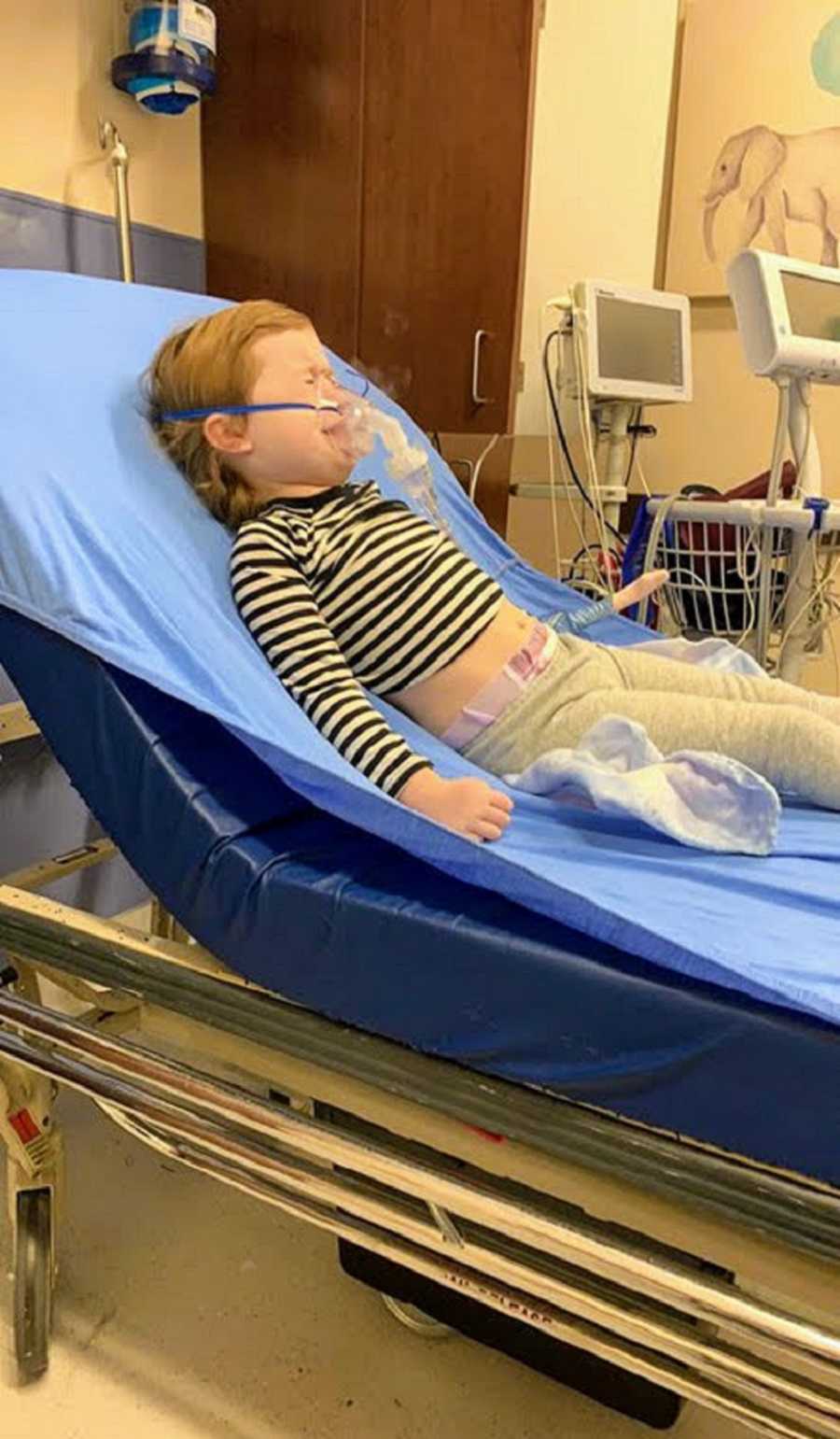 I went back to the room, the ambulance arrived, and we started our journey to the hospital. I had no idea this would be night one of the nine nights my daughter would stay there. After getting settled in the hospital, I checked in with Ken and Rebekah to see how Hayden and Helena were doing. Rebekah was able to get some donor milk for Helena from a local mother after posting in a Texas mom's group we run. Helena has been hot and cold with taking bottles and seemed to be doing ok on this particular night, but I knew the later it got, the more she would want me. I was told McKenna would be staying and moving to a the floor for short term patients, so I had my husband come to the hospital where I went home with Helena and Hayden. The next day, two of my aunts came in to help me with the kids. I wanted to be at the hospital with McKenna because I knew it was a frightening time for her.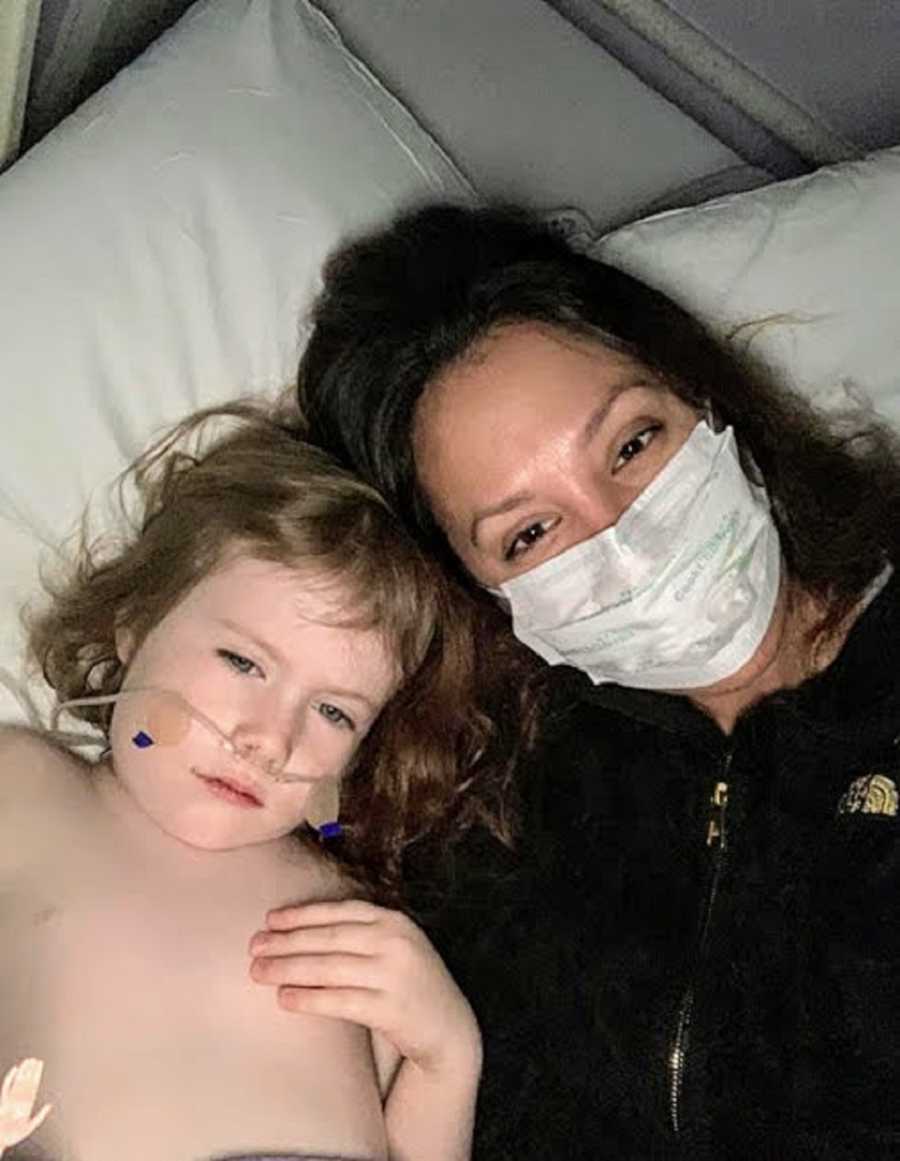 I truly thought this would be a short-term hospital stay until her oxygen stablized, but after seeing her again Saturday, I felt something was completely off. She was worse! And how? I was told the chest x-ray they took upon arrival was clear. It did not make any sense. I had to come back home to nurse my baby because my aunts told me she was no longer taking a bottle. My mother was on her way in from San Antonio and I was a complete diaster. Reality started to set in. I  started to think about my baby not coming home. Horrible intrusive thoughts entered my mind and they would not stop. I felt like my child was getting worse and the flu would take her life.
In the days that followed is when they retook her x-ray, and again, it was clear, but she was not better. By this time, my aunts had left, but my mother stayed. She was my rock during this time. She took care of me, my children, and my home. She would head to the hospital super early and get back to my house late. She would take notes, research, and get anything McKenna or I needed.
When McKenna was not getting better, I knew I could not continue to leave her to go and nurse Helena. I could not bear the thought of being away. It was eating at me. I  would wake up in the morning and vomit. If I couldn't vomit, I  would dry heave. At this point, I was dropping Helena and Hayden off with Rebekah daily. 'What am I going to do?' Rebekah made another post in search of a mom to come and nurse Helena. I gave Rebekah full permission to do what she felt was best for my babies while I stayed at the hospital.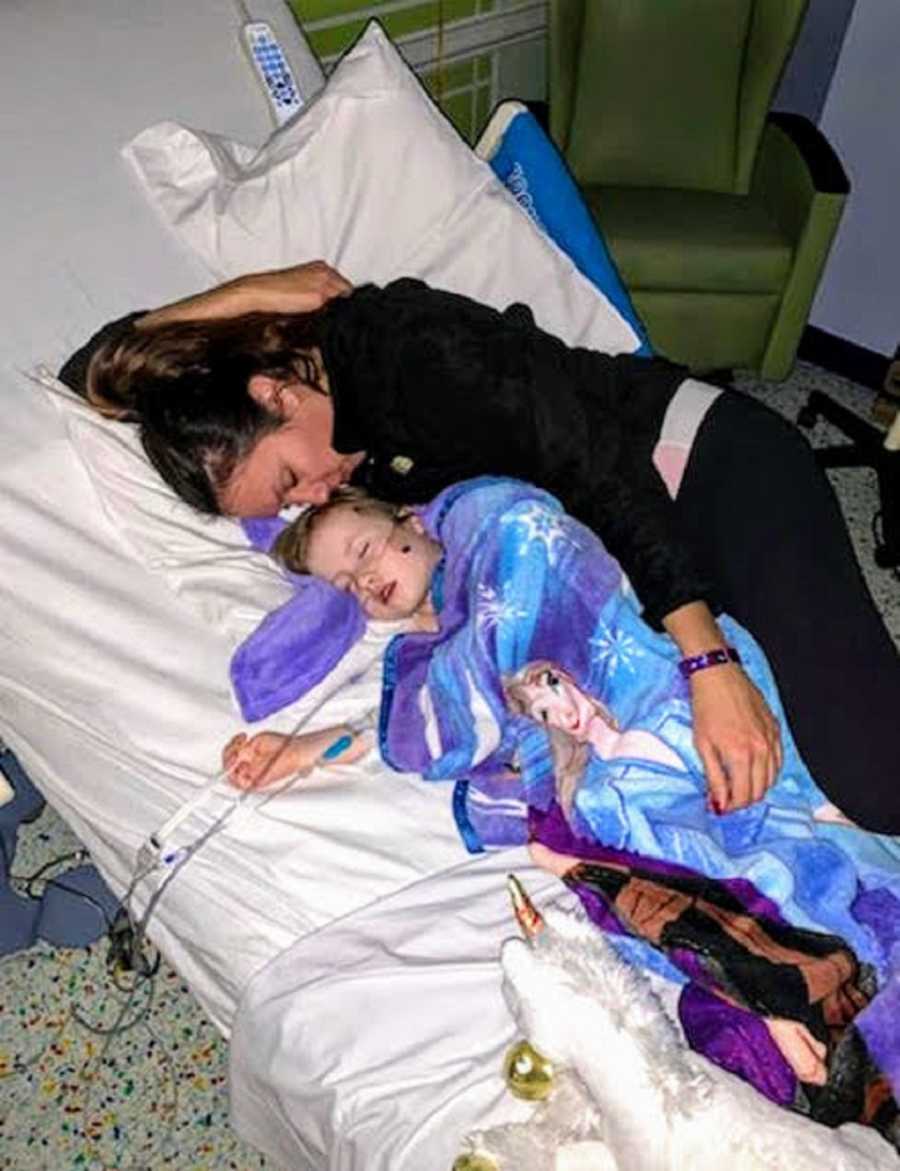 Well, because of her post in our Facebook group, other moms posted on their pages and in different groups. One post, on Taylor Bland's Facebook page, was shared over a hundred times. Rebekah's phone number was on that post, and that is when she started receiving text after text of mothers wanting to help. Many offered donor milk, but since Helena was not responding to a bottle, she focused on the ones offering to 'wet nurse' her. Rebekah and my friend Samantha screened the ladies to the best of their ability. And while these ladies were strangers to me, they ended up being friends of friends or family members of friends.
Rebekah set up the times and updated me as these mothers came to her home to nurse my baby. I ended up meeting one of them in passing to and from the hospital, and I conveyed how thankful I was. Or at least I  hope that I did. I was so exhausted during this time. Some people are grossed out by 'wet nursing' or 'cross nursing,' but to me, it is our biological norm. If you see a baby in need, you can feed it.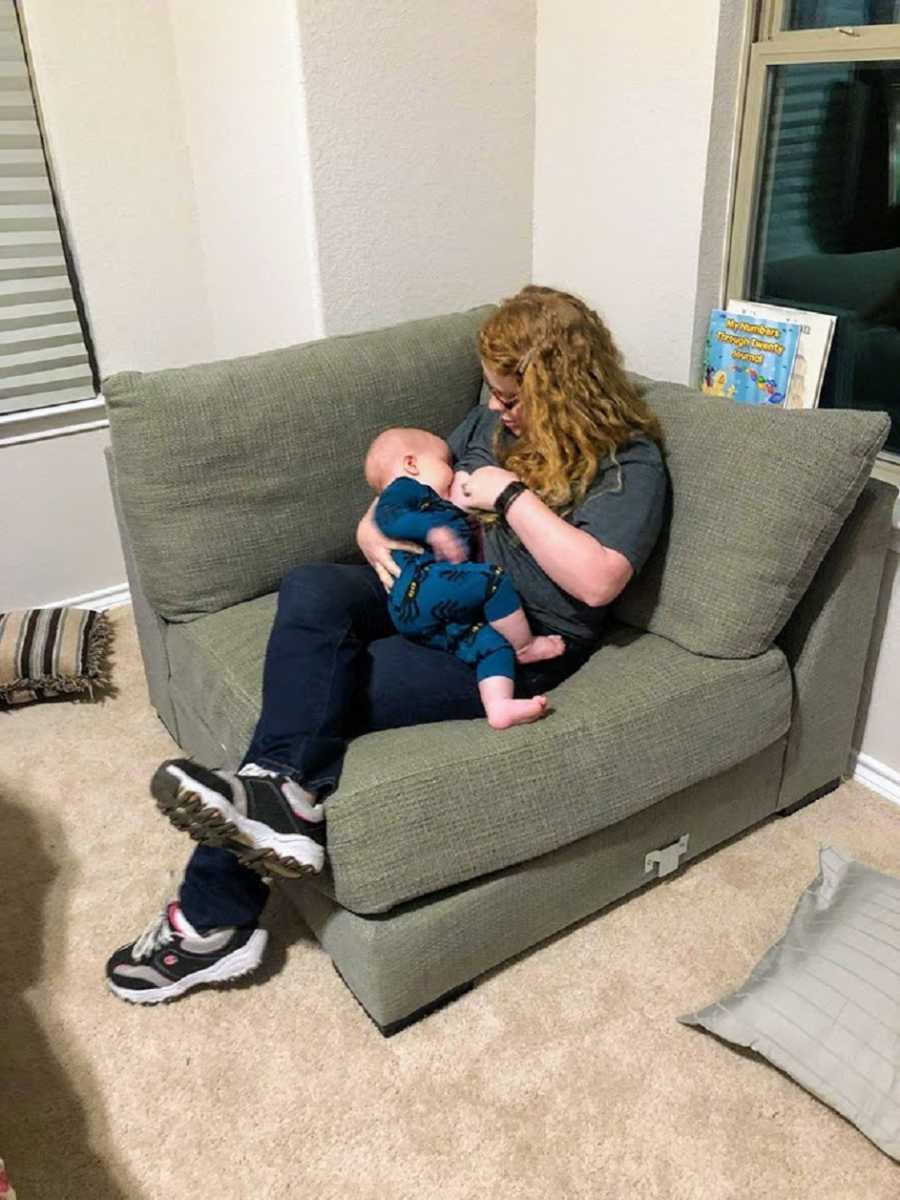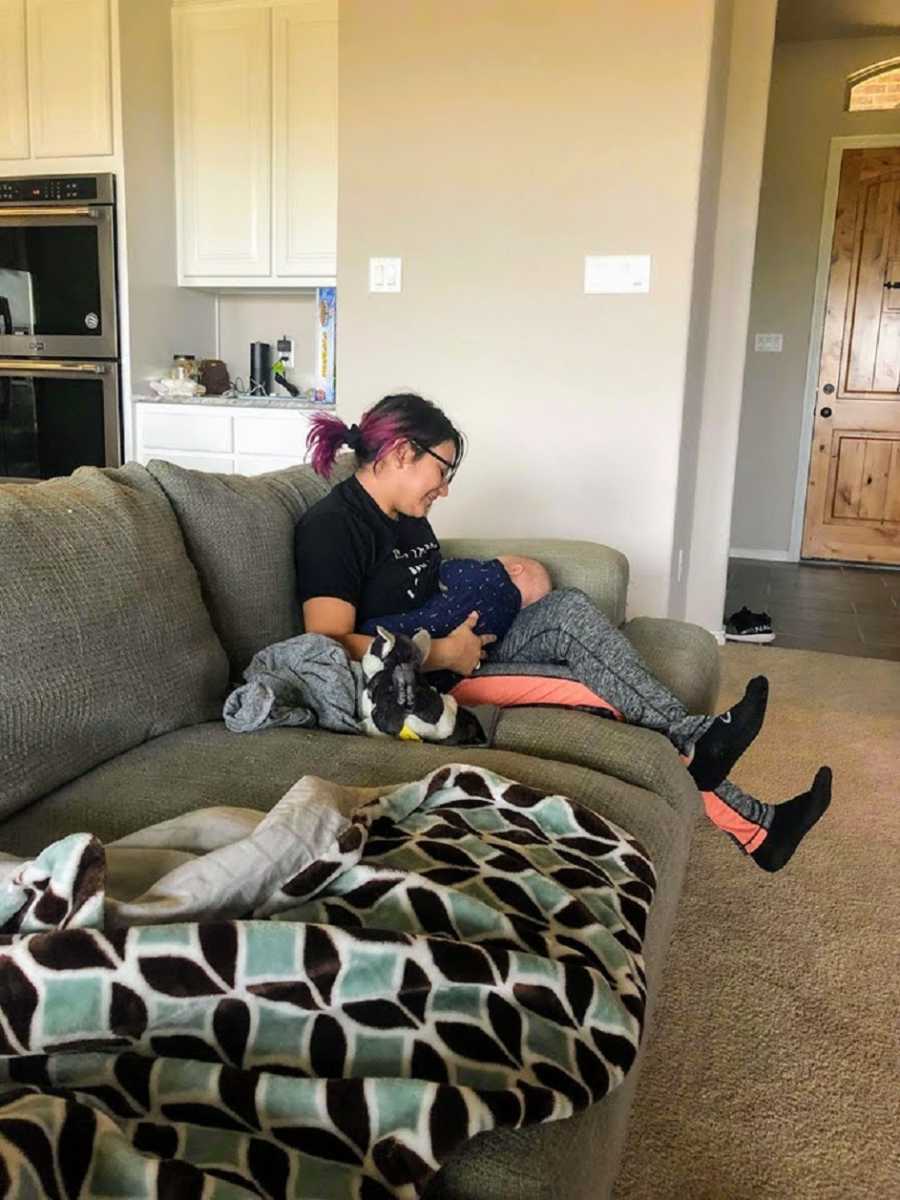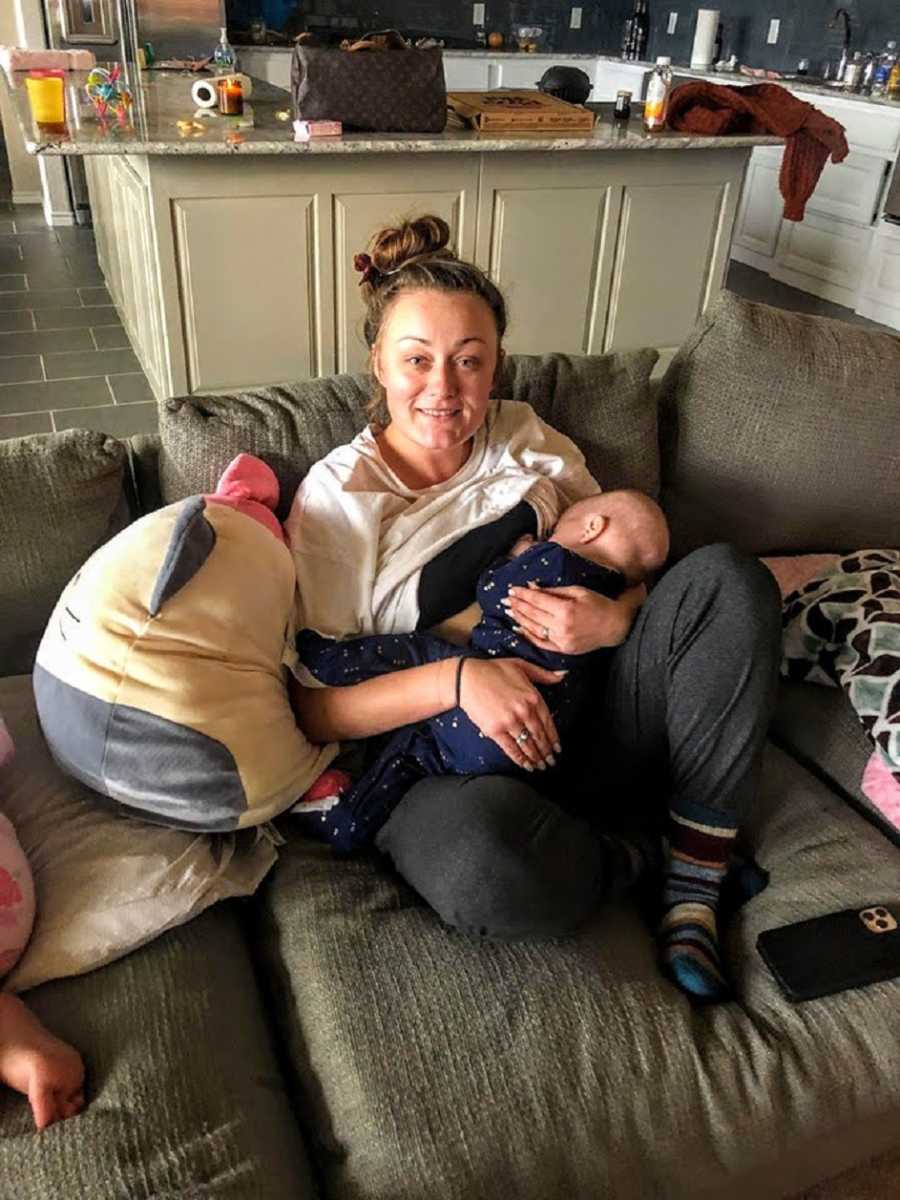 As time went on, the doctors were still trying to figure out what was going on with my little girl. It went from, 'She has the flu, and she has it bad' to 'Maybe it is RSV.' The not knowing was killing me. Eventually, they started to treat her for pneumonia. While the pneumonia was not showing on x-ray, she was showing symptoms clinically. So we started her on antibiotics, and she moved to the floor for long term patients. The doctor said to give the antibiotics 48-72 hours to take effect, and if they did not work, we would try something else. What he did not know is that I needed them to work. They HAD to work! The fact that my daughter was in the hospital getting worse was my worst nightmare. She could not walk; she could hardly sit up; she did not eat anything but a few bites of fruit here and there.
After a few days of antibiotics, McKenna started to make progress. I was so happy, but the doctors were still concerned about her breathing, so I knew we weren't in the clear just yet. She needed to get up and get moving in order to help her lungs clear. This proved to be quite tricky since she was so weak, but eventually, she did it! She started eating some and getting her pep back. In the last few days in the hospital, the doctors were focused on  getting her moving in order to wean her off of oxygen. That day was January 5th it was a fantastic day! Taking my McKenna home and finally seeing her open up her presents made me weepy.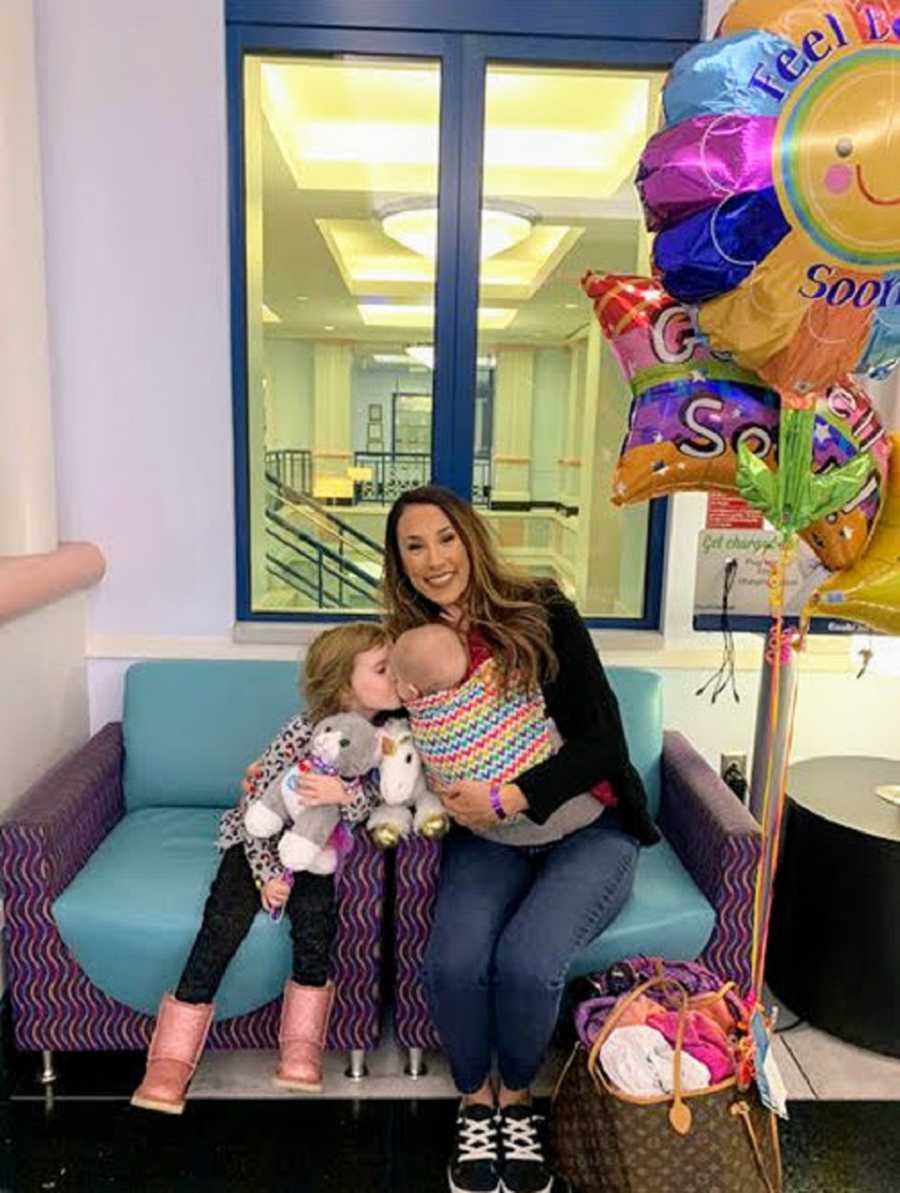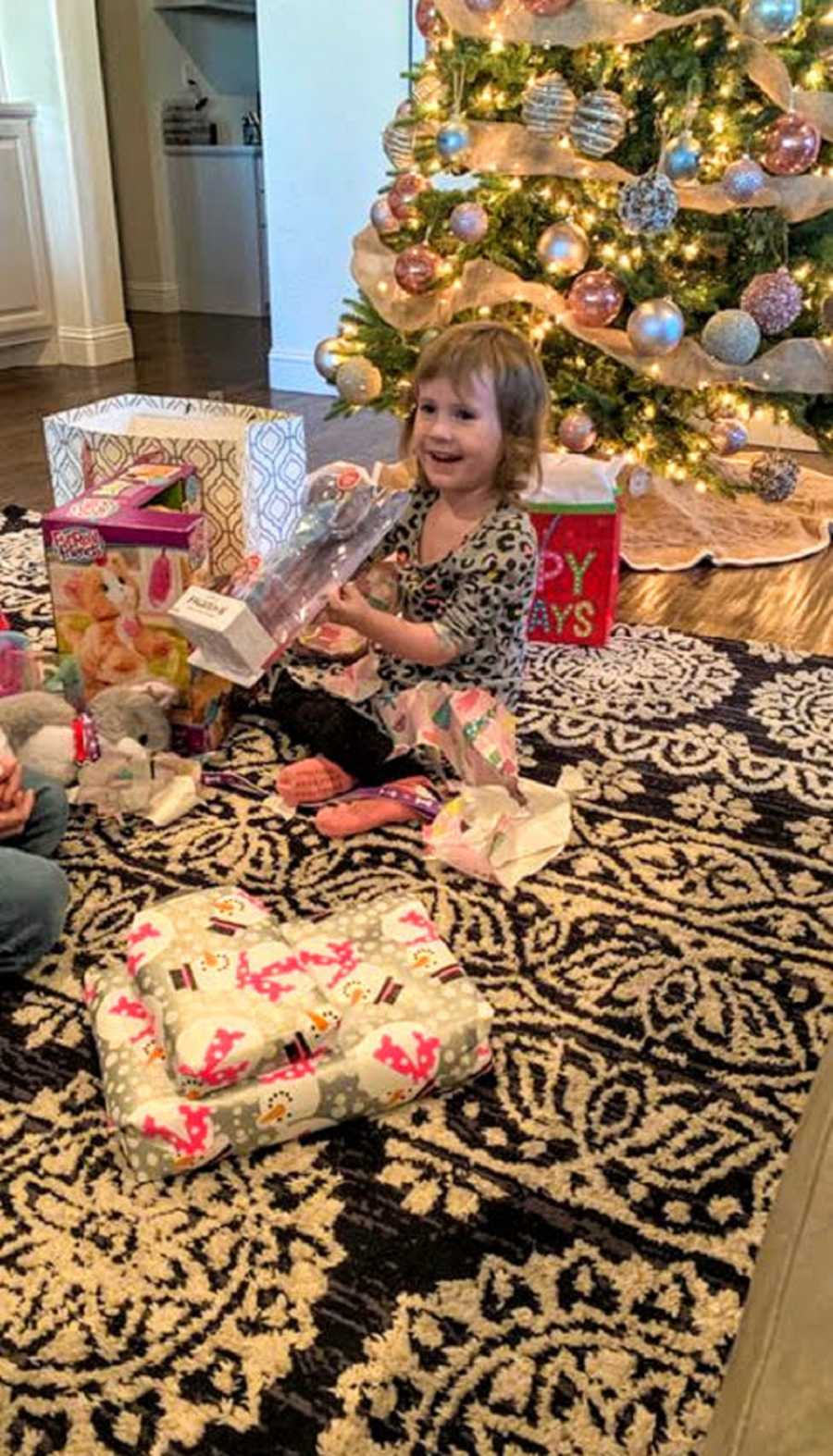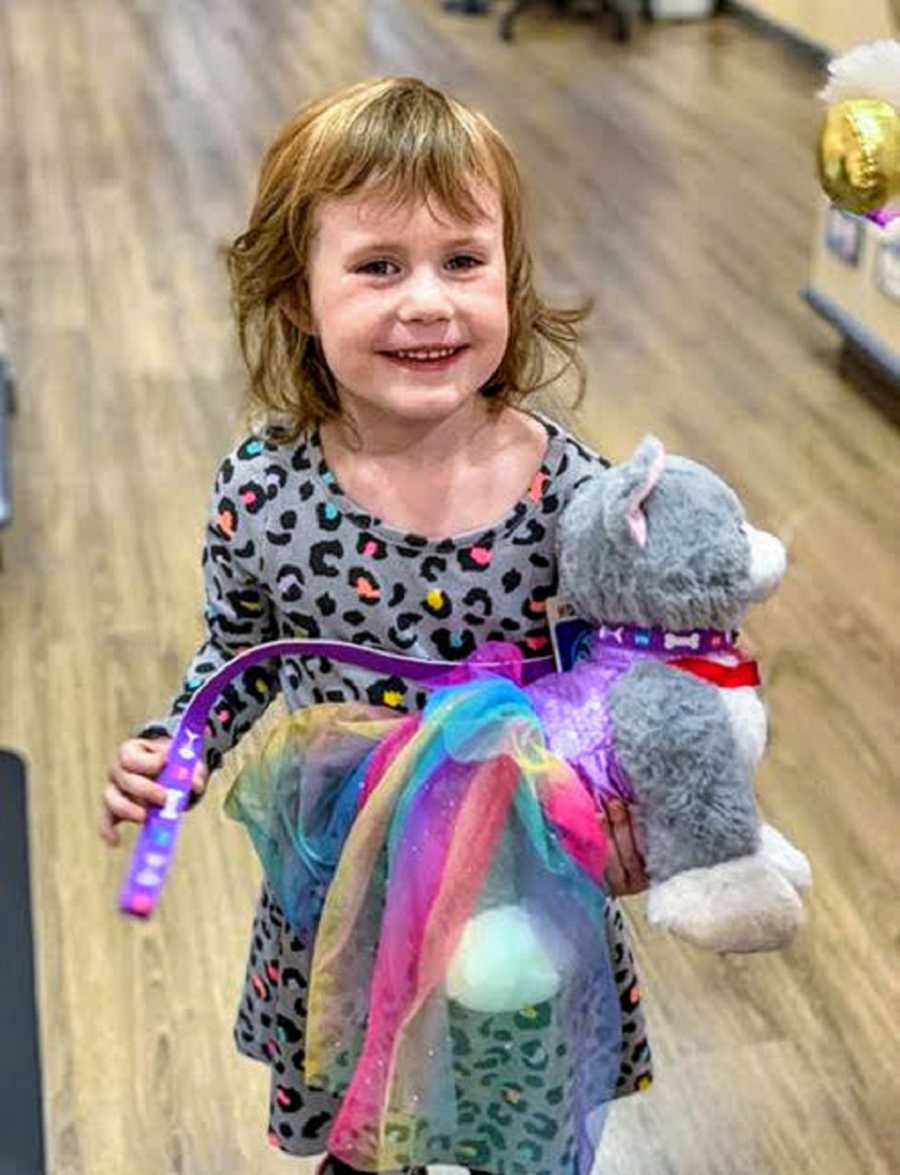 Looking back on this experience, I know that I have found my tribe.
This is what a tribe looks like.
This is what 'it takes a village' means.
This is love. Selflessness. Kindness.
The women that step up to the plate when one of us is in need. People that will drop what they are doing when you need them most, even when you do know how to ask for it. People like to laugh at mom groups, and don't get me wrong, I have poked fun at them myself, but the one I help run came together for my children and me in a big way. I cannot ask for anything more than women supporting women when one of their own is in need."
From podcasts to video shows, parenting resources to happy tears – join the Love What Matters community and subscribe on YouTube.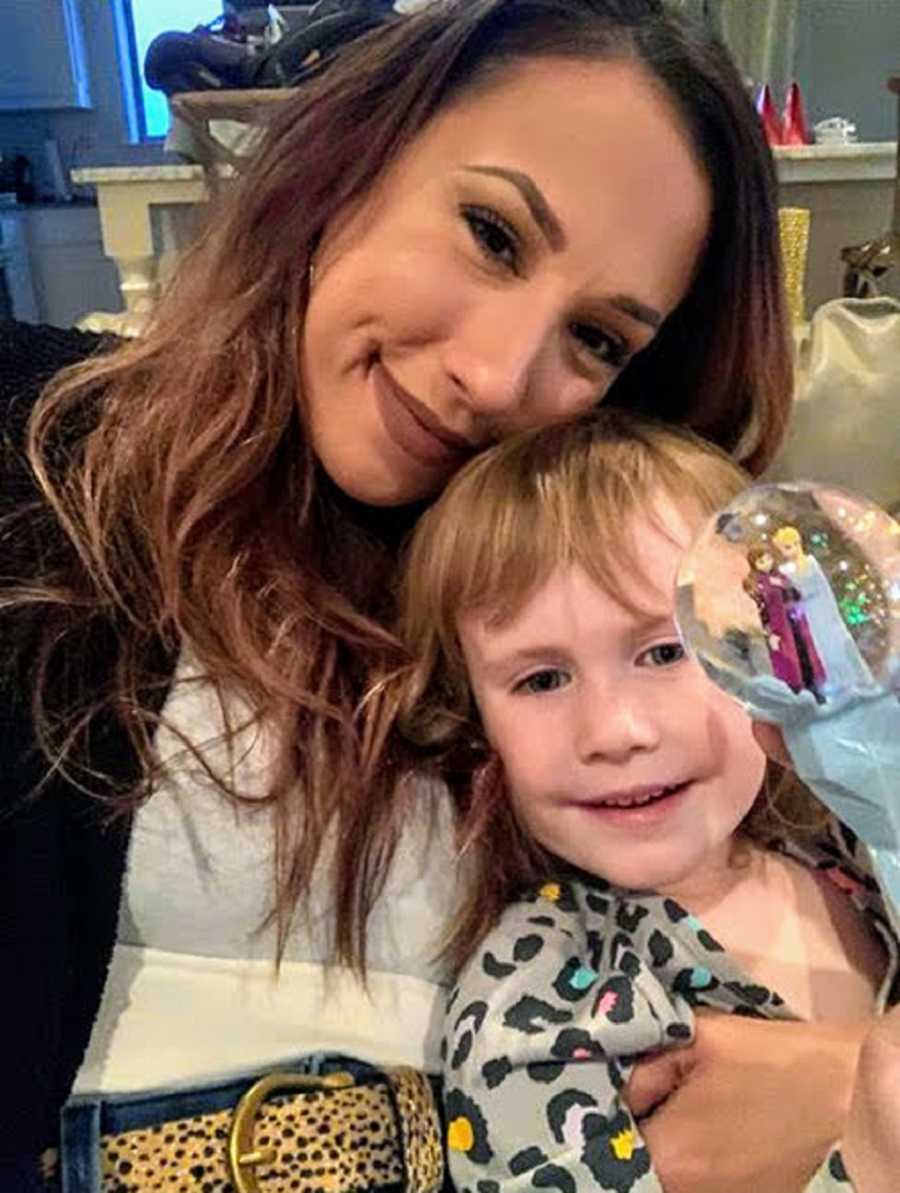 This story was submitted to Love What Matters by Aundrea Griffin. You can follow her journey on Facebook. Submit your own story here and be sure to subscribe to our free email newsletter for our best stories.
Read more about amazing acts of kindness:
'She looked directly into my eyes and placed her hand up as if to touch my son. This beautiful creature had me in tears.': Mom shares 'breathtaking' moment zoo orangutan 'supports, protects' her while breastfeeding son
'Ma'am, you dropped something.' She couldn't afford to buy a SLICE of cake for her son's birthday. 'Take this. It's yours.': Woman shares touching act of compassion for stranger, 'kindness is putting others before yourself'
'Where is my wife?' An old man turned a corner and put his hands on my shoulder, tears in his eyes.': Woman comforts distraught stranger with Alzheimer's, 'kindness costs nothing'
Help us show compassion is contagious. SHARE this story on Facebook with family and friends.