"Until almost two years ago, when I was 25 years old, I was known for my beautiful hair. People were always telling me they were jealous of the amount of hair I had. My hair was one of my biggest 'selling points.' One day, I woke up and my hair started to fall out. I thought I slept wildly so it didn't worry me at first.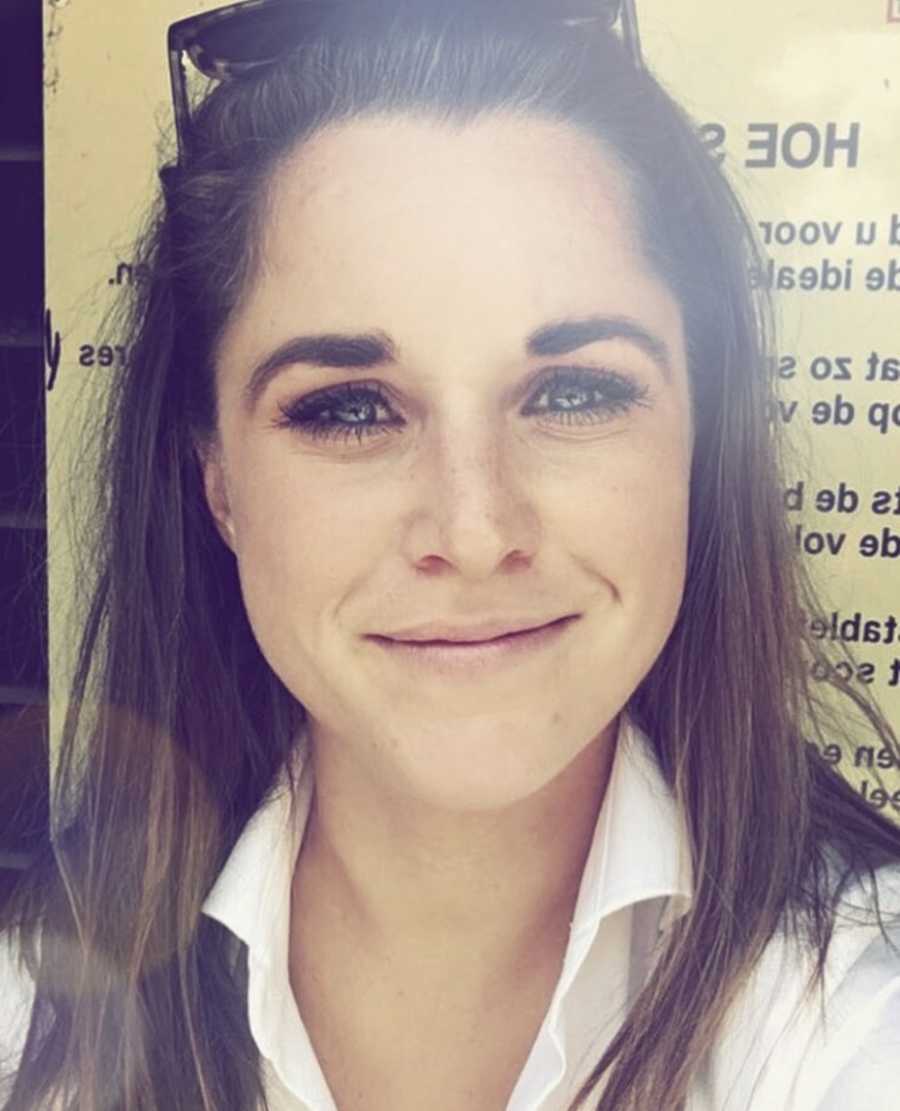 After two days, the hair loss started to get worse so I went to the doctor. He said, 'You have Alopecia, an autoimmune disease. We don't know enough about this, so I can't tell you what is going to happen.' I was sent home without any further information or an indication of the process of my hair loss.
Four days after I went to the doctor, the first bald spots were visible and I called him to ask what to do. He told me, 'We can't do anything for you so you'll have to wait and see what is going to happen.' I didn't accept that so I (sort of) forced him, after nine calls, to send me to the dermatologist.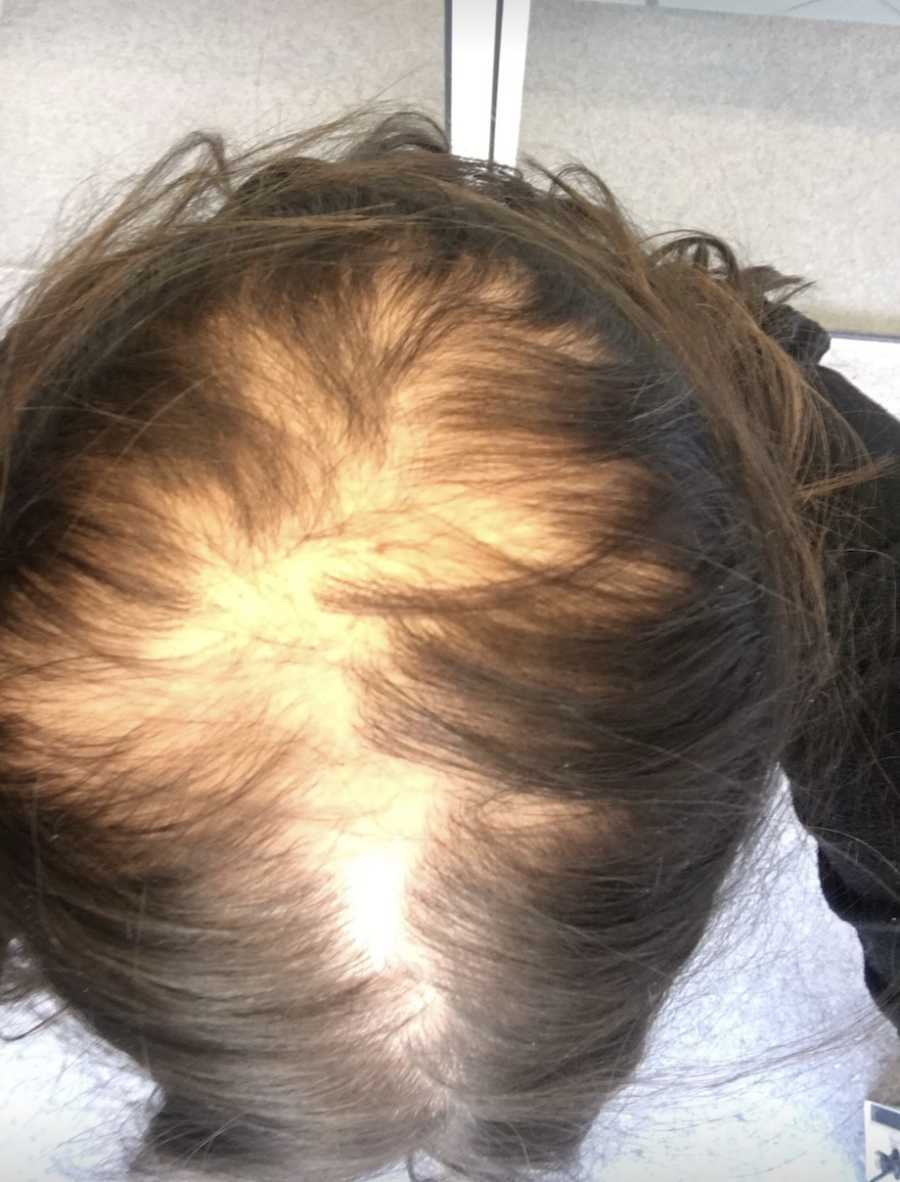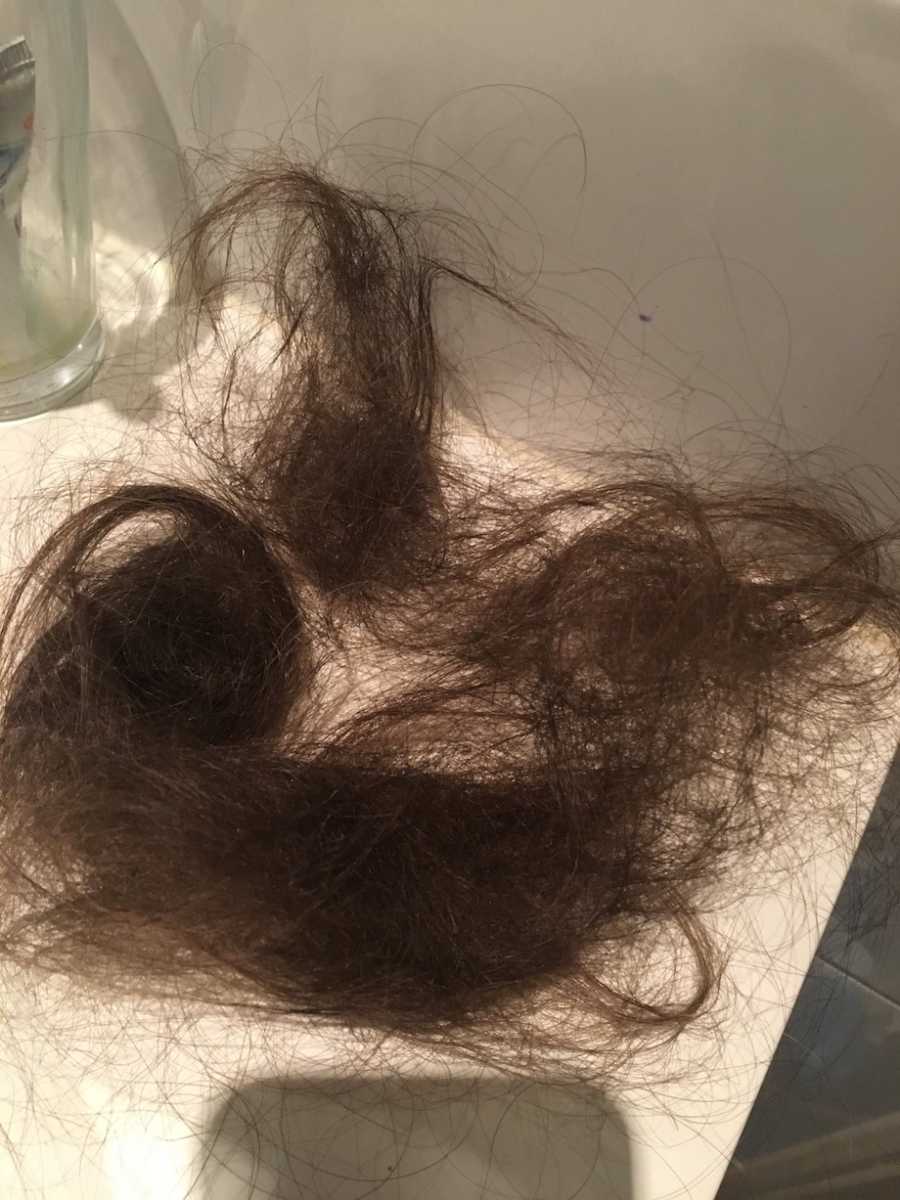 The next day, I went to the dermatologist and she said the same, 'It's Alopecia but we don't know enough about this.' At the end of this appointment, she said, 'When you are almost bald, please come back and we will look at it again.' Guess what? Five days later, I was back at my dermatologist.
My mom, a really good friend of mine, and I went to a wig store in Amsterdam. We thought it was going to be a really awful experience but we had a lot of fun trying on the wigs. It was so much fun, I tried on almost every wig this lady had in her store. I bought a wig and it would take them a few days to make it perfect for me. When I went back to the store with my mom and sister, I decided to shave off the last of the hair I had. At that time, I couldn't explain why I wanted this so bad, but the wig lady explained it perfectly: 'Your hair has become your enemy, and this is the reason you want to get rid of it.' Then the wig lady grabbed a clipper…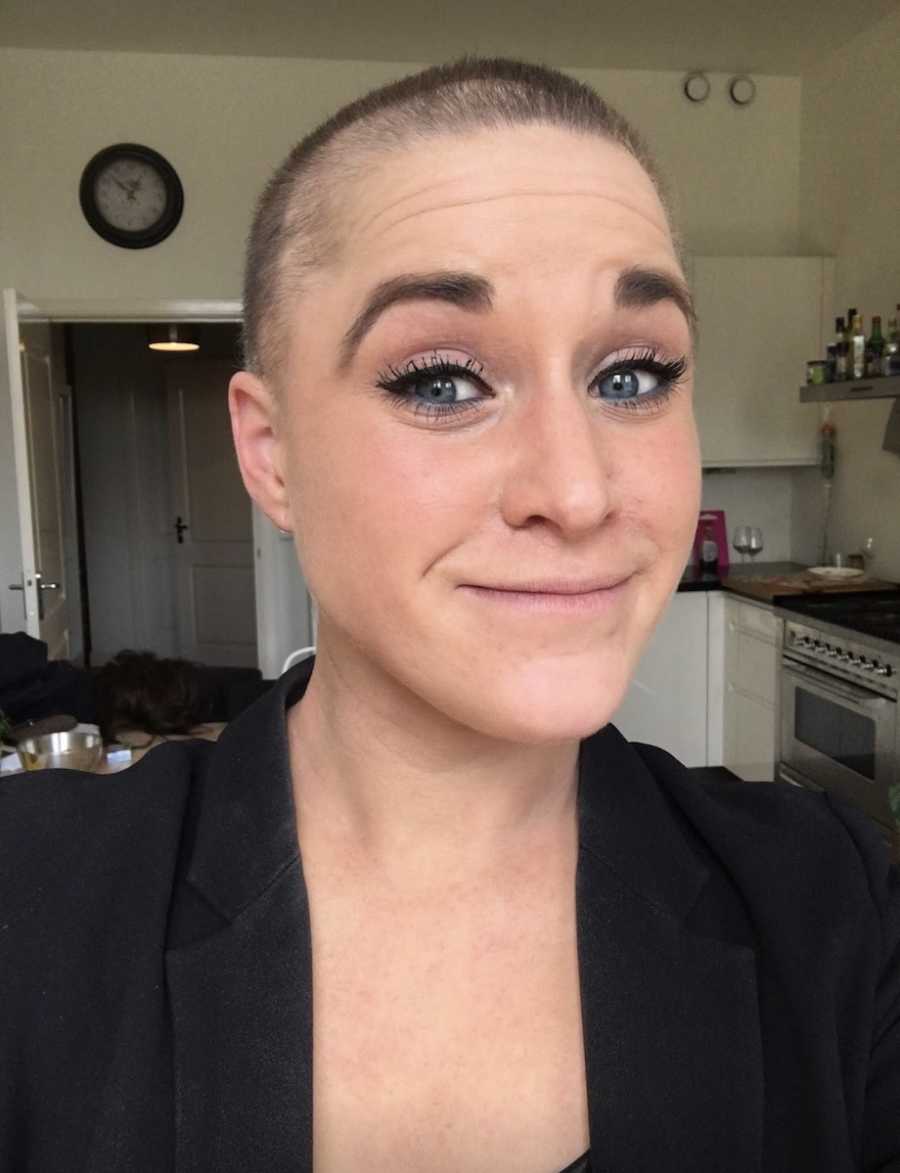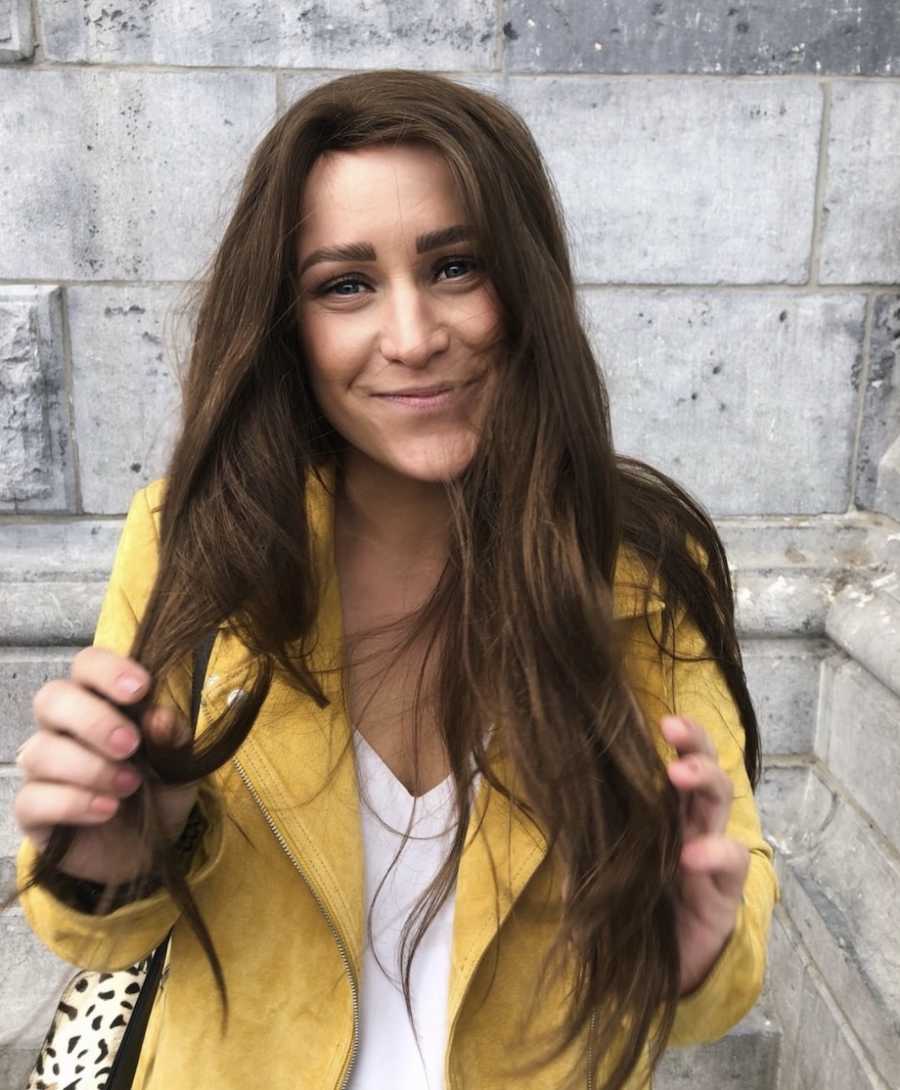 These past 2 and a half weeks were an emotional rollercoaster! I went from having really beautiful hair to being a baldie with a wig. It was so weird and a lot to take in.
A week later, I posted a picture of my bald head on my Instagram to tell people my story. 'I am not sick.' 'I am not dying.' 'Who thought I was going to be bald before my dad?' I received a lot of really sweet comments and this gave me a really big boost.
A few months later, I lost my job as well. At first, this was really hard because I had lost my hair, my home, and my job. What the hell was I going to do with myself?! I didn't work for 3 months, so I had enough time to get used to my bald head without having to worry about anything else. I told myself a few times a day, 'I am beautiful, with or without hair!' After a while, I started to believe it!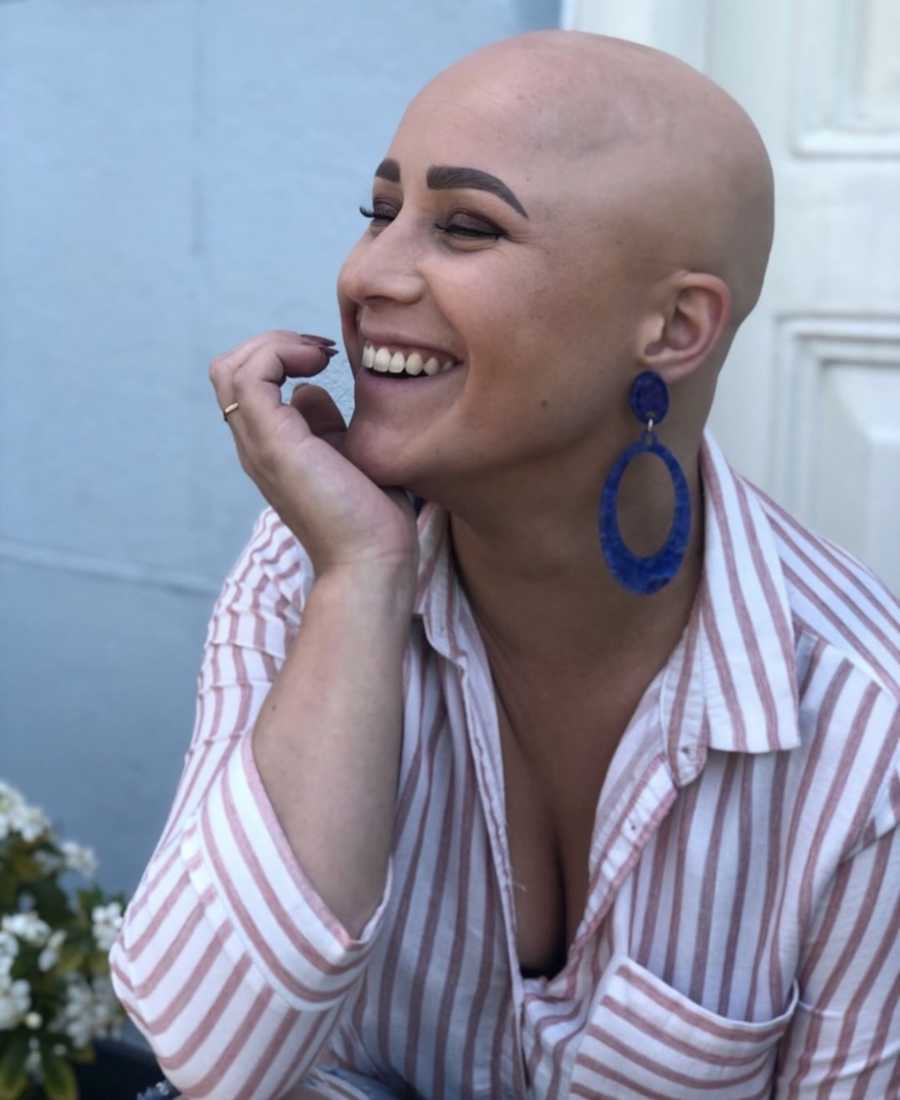 One day I said to myself, 'If I don't go outside without my wig today, I would probably never do it,' so that's what I did. My first experience going outside as a baldie was horrible. A woman came to me when I was smoking a cigarette at the train station and said to me, 'Are you insane, smoking when you have cancer? You might as well jump in front of a train!' After this incident, I told myself many times, and I still do sometimes, to ignore the rude, awful comments and think about the positive ones. This is an ongoing process and sometimes it's harder than others.
After I posted my first baldie picture on my Instagram, I received a lot of messages from men and women with Alopecia, cancer, and other diseases that cause hair loss about my confidence and positivity and how I handle bad comments. That's where my idea started to help other people. On Instagram, I am helping other women to get more confidence by showing them what you can do with earrings, hats, scarves, sunglasses, and other accessories. Besides the tips about accessories, I am trying to give them the courage to talk about and accept their hair loss.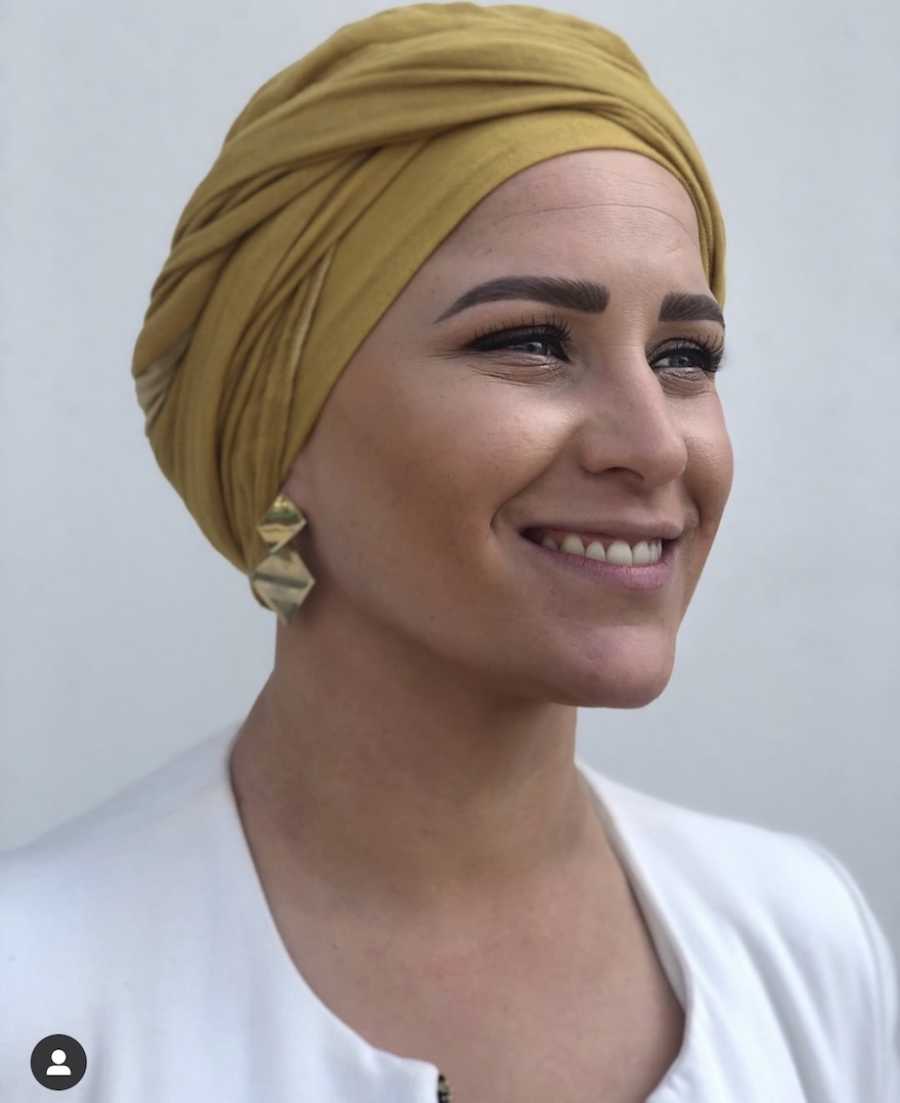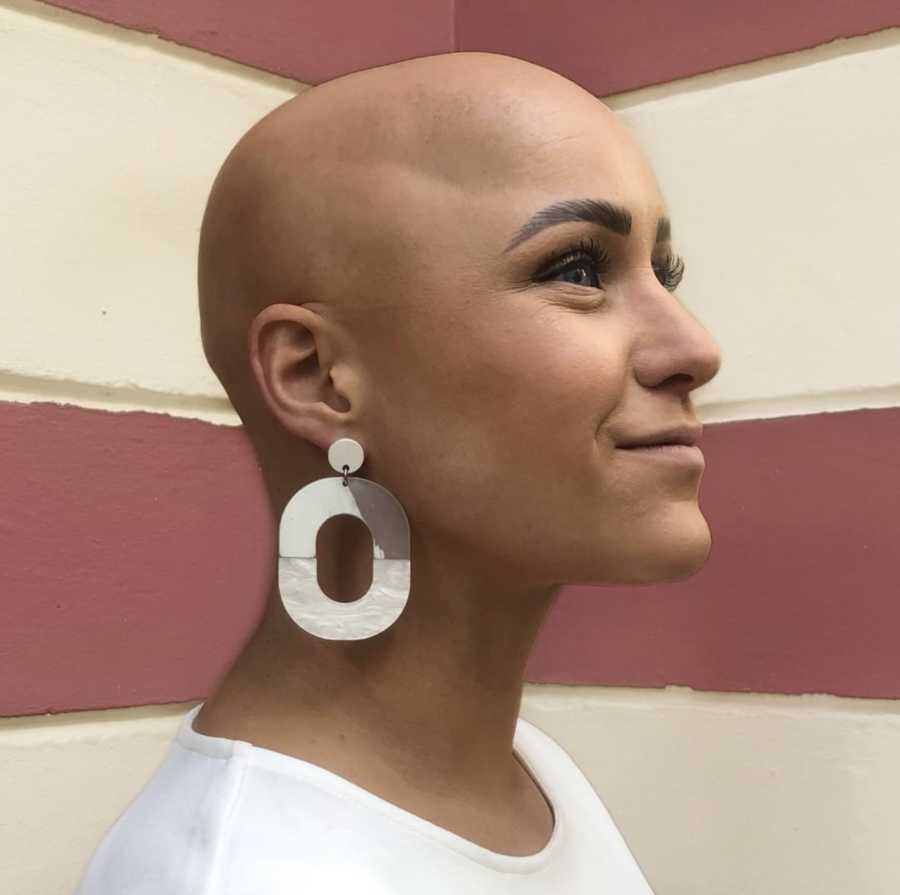 A question I get a lot is, 'If you had the choice to have all your hair back, with the insecurity of hair loss, or stay forever bald without any random spots, what would you choose?'
I would definitely pick bald! I am more confident about myself than ever. It's the worst but at the same time, the best thing that ever happened to me! It's a weird thing to say because at first, I was really sad about my hair loss and I didn't know what to do with myself but after (almost) 2 years, I am really comfortable with my bald head. I really enjoy and love helping other women!"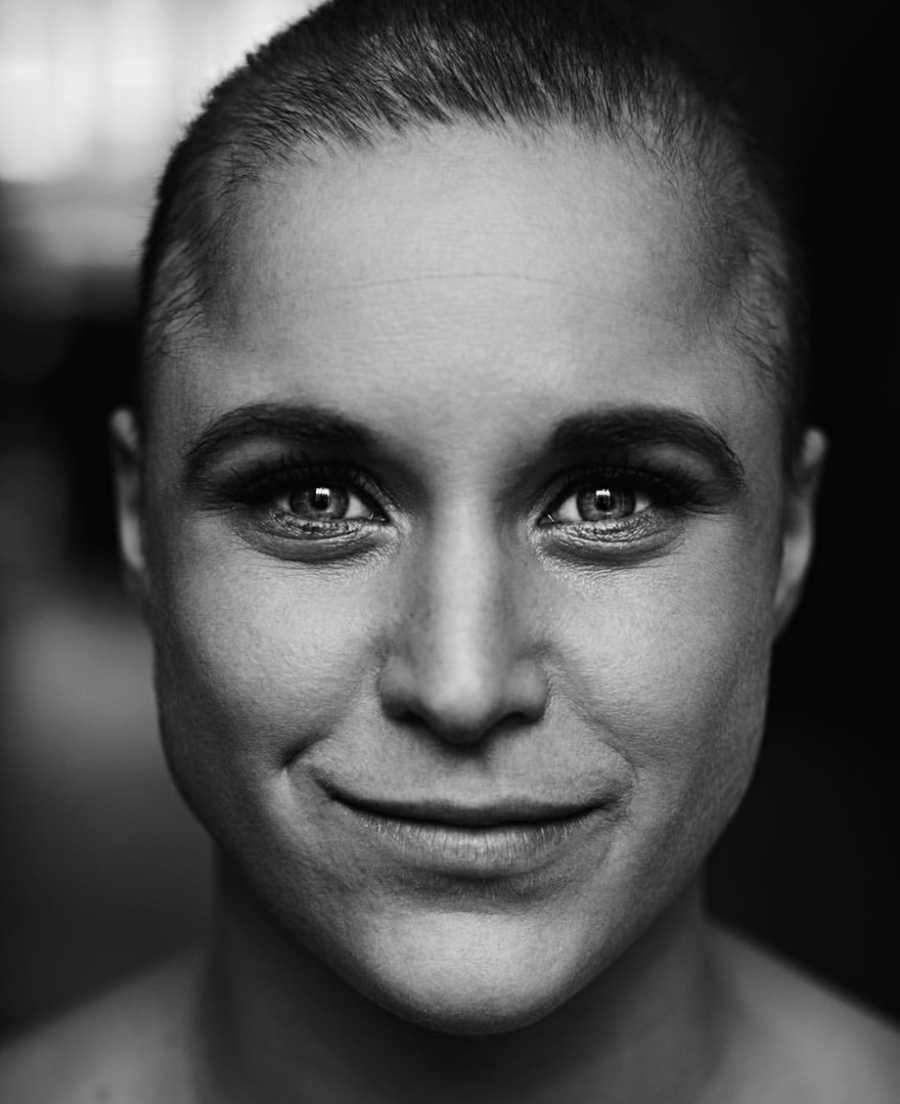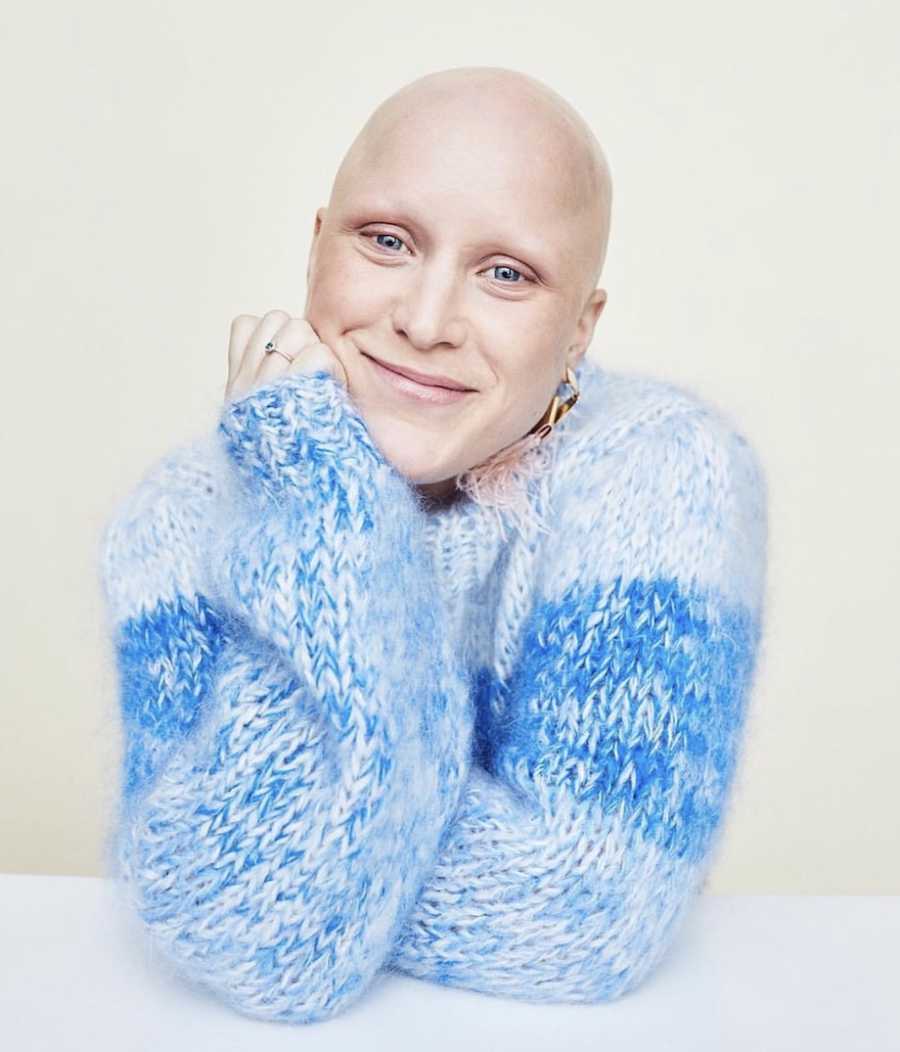 This story was submitted to Love What Matters by Veronique Pardoen from Amsterdam, Netherlands. You can follow their journey on Instagram. Do you have a similar experience? We'd like to hear your important journey. Submit your own story here. Be sure to subscribe to our free email newsletter for our best stories, and YouTube for our best videos.
Read more touching stories like this:
'Her hair loss isn't from stress.' The pleasant chit-chat stopped. 'There's no cure for this.': Little girl diagnosed with Alopecia starts head scarf company to 'help all of the bald kids'
Spread beauty and strength for others. SHARE this amazing story on Facebook with family and friends.