"I don't know who needs to hear this tonight, but hey:
Take your freaking pill.
(Your anti-depressant. Your SSRI. Your anti-anxiety med.)
You know, whatever pill you begrudge having to take?
Yah. That one.
Take it, please.
You deserve to be healthy.
You deserve to feel sunshine.
You deserve joy.
You deserve a brain that doesn't sucker punch you.
And yes, I know it's kind of a pain.
I also know some days you might feel strong enough to do without it.
But that little pill isn't for the good days, my love.
And don't you remember the bad days?
Those days when the storm clouds gather.
When energy leaks out of your body like someone pulled the drain.
When brushing your teeth feels like a marathon and sunshine is offensive and even the most joyful noises of your household sounds like a million bees in your head…
I remember those days.
And that's why *I* take the pill.
One day at a time, one refill at a time, one season at a time, I take the pill.
You see, sometimes sunshine tastes like sour chalk and has to be washed down with water.
Sometimes God's biggest miracles come in orange cylindrical bottles.
Sometimes your very salvation is written on a prescription pad, and there is absolutely nothing wrong with that.
Fight the good fight with me.
Stay in the sunshine.
Vulnerability is courageous as hell, and it takes so much courage to admit you need this.
Warrior on, my friend. You aren't alone.
Take your freaking pill.
I'm sure as heck taking mine.
*cheers*"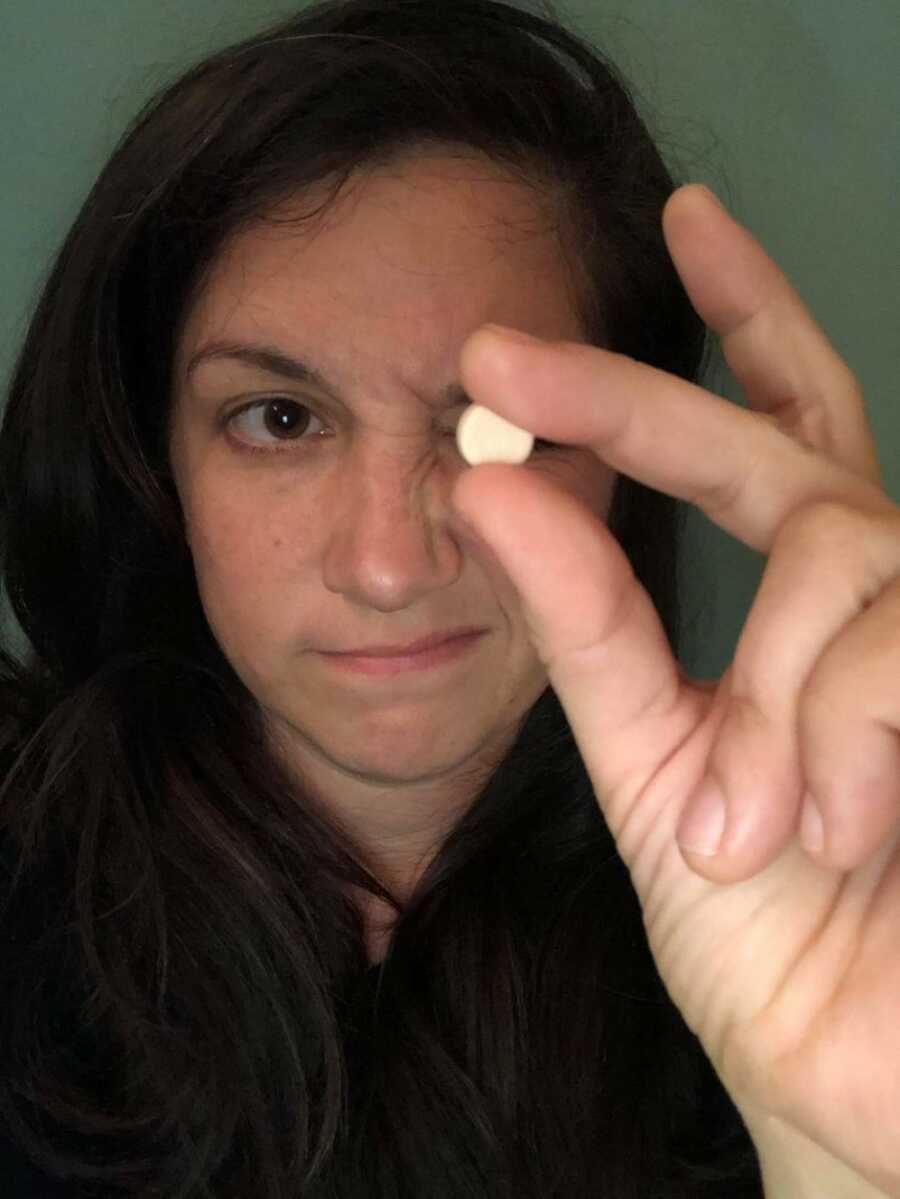 This story was submitted to Love What Matters by Mary Katherine Backstrom. Mary's new book Holy Hot Mess: Finding God in the Details of this Weird and Wonderful Life is available here. Follow Mary on Instagram here.  Submit your story here, and be sure to subscribe to our best stories here.
Read more from Mary Katherine here:
'My patient died,' he said with a sigh. 'The one I was so worried about.' The look on his face broke my heart.': Wife of healthcare worker applauds heroism, 'They always show up'
'Frankly, I was about to pull a Jesus at the Marketplace and send tables flying. Parents, we have to LOWER OUR STANDARDS.': Mom shares act of 'grace' while out with family, urges 'pay it forward'
'Thump-thump.' I was the only barrier between my children's precious snoozing and whatever horror awaited us downstairs.': Mom battling anxiety recounts hilarious story of 'intruder'
'I met a girl at a party last weekend. Funniest girl I've ever met. So I tried to be hilarious, too. And it made me feel tired.': Woman shares important journey to self-love, 'I'm my own bully'
Provide beauty and strength for others. SHARE this story on Facebook with your friends and family.