"I went jogging this morning, ran some errands, then stopped for a bite to eat. I was feeling so productive at that little cafe, editing my manuscript. I had exercised! I had planned the family menu! I was an adult—I was getting crap DONE.
The server dropped off my check, aaaaand that's when I realized my debit card was missing.
Thank God I had some tooth fairy cash in my purse. I threw it down on the check and left in a full-blown panic.
'Where is my card, where is my card, where is my card, where is my card?'
It's not in my pockets. Not in my car. Not on the kitchen counter. Not in my purse.
It's in none of my usual spots.
IAN IS GONNA KILL ME. I just got this card after canceling the last one!
As an hour went by, I felt my heart racing. My family's money was probably being drained from our account just because I am too stubborn to cancel a missing debit card. But I JUST memorized the numbers for this one, I can't get a replacement already!
I decided it was hopeless, and I resigned myself to the shower. For one thing, because I exercised a few hours ago and smelled like a preteen boy. But also, showers are where I go when the world is just too much.
So, I skivvy down for my sadness shower and…wait.
Oh.
THERE IS MY DEBIT CARD!
Stuck to my boob. Because OBVIOUSLY.
I forgot I tucked it into my bra this morning, just in case I needed money while running.
(Which is hilarious, because I'm so out of shape I barely run three miles. What am I going to need that badly in thirty minutes? A pizza?!)
JESUS TAKE THE WHEEL. I am not made for adulting!
But hey, at least I found my debit card?"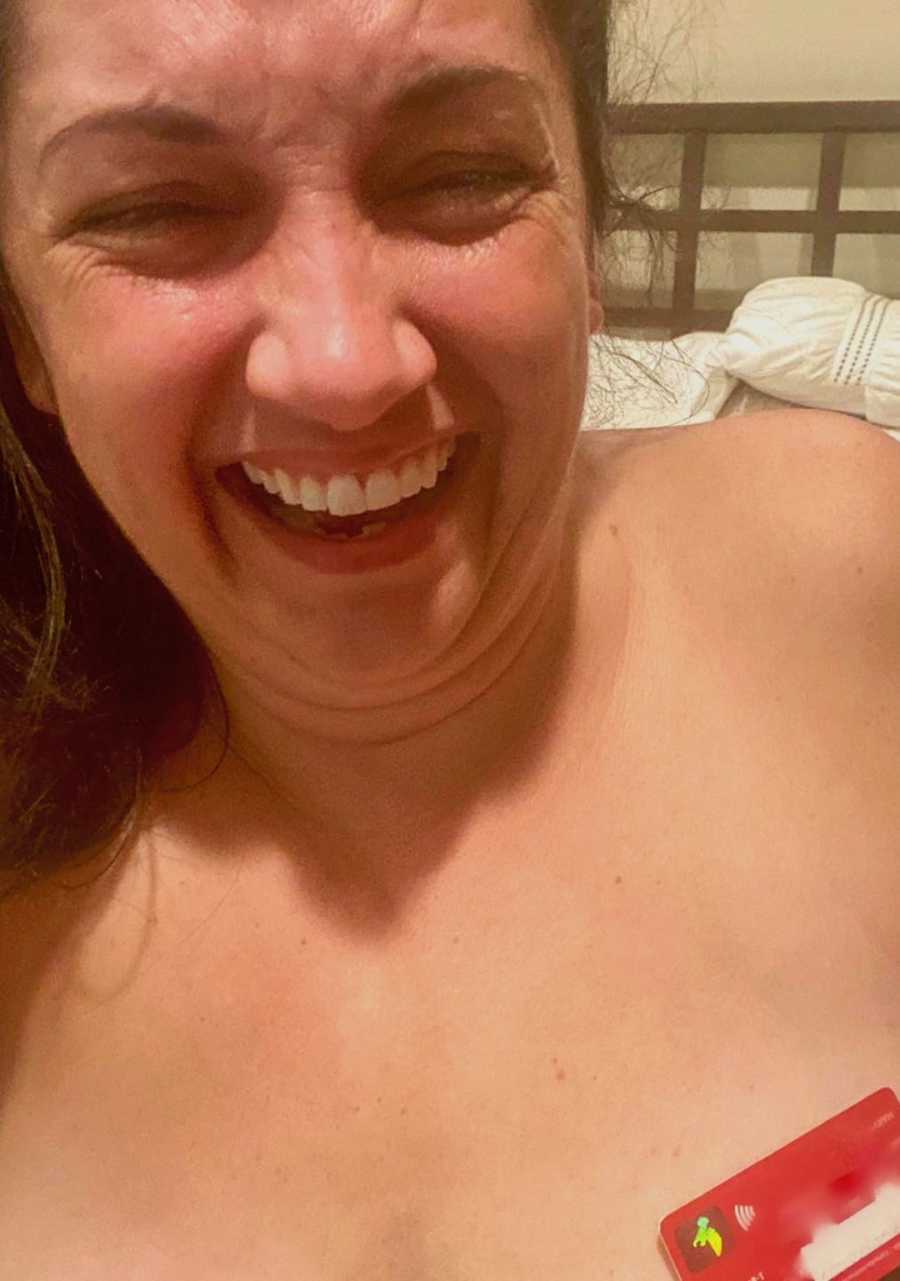 This story was submitted to Love What Matters by Mary Katherine Backstrom. Follow Mary on Instagram here. Submit your story here, and be sure to subscribe to our best stories here.
Read more stories from Mary:
'I have a loving husband. My life is a fairytale. I should be smiling. I have no sob story to garner support.': Mom suffering from depression gets real about mental health stigmas
'Frankly, I was about to pull a Jesus at the Marketplace and send tables flying. Parents, we have to LOWER OUR STANDARDS.': Mom shares act of 'grace' while out with family, urges 'pay it forward'
'I HAVE TO GET OUT OF HERE.' I was in fight or flight WHERE I least expected it. I felt so small.': Woman shares details of anxiety attack, 'I ENCOURAGE people to get help'
Does this remind you of one of your best friends? SHARE this story on Facebook to show them you miss them.