"As some know, I have gone through every mother's worst fear.
I was driving. I had pulled away from a gas station, checking each buckle, and I began to drive the curvy, mountainous road to my family's house. My son was notorious for doing everything he could to unbuckle in the car.
'The Flash doesn't wear a seat belt, and I'm The Flash, mama.'
We tried five point harness seats, boosters, I believe even zip ties at one point (probably not safe either) but he always viewed it as a superhero challenge. He was a superhero because he always succeeded.
On average, I would usually pull over three or four times on any given trip to firmly make him buckle up again. We were only five minutes out when a large rock rolled into my lane.
I had three choices: try to straddle the rock, move to the oncoming lane which was a double line large curve with an angry river at the other side. Rock, head on collision, river. I chose the rock. I chose wrong.  And yes, he had already unbuckled along with his 8-year-old brother. They were switching spots, and I didn't know.
The rock hit my axle, and sent us plummeting into the side of a cliff. Our 13-passenger van rolled and my son was instantly gone. Our lives were instantly ripped apart.
The little boy who had been my pride and joy was cruelly taken from me in a matter of seconds. I remember being smashed between my console (no airbag engaged) and our three-ton van. I had blood everywhere. I fought and fought and then blacked out.
When I awoke, I was unbuckling my baby from her car seat (she was upside down) and working to get each of my five children out of the van. When I came to Titus, I worked with all my might to lift the heavy van off his tiny body. My 8-year-old son was trying to help me. I could only see the lower half of his body. I rubbed his tummy and tried gentle compressions. But he was already gone.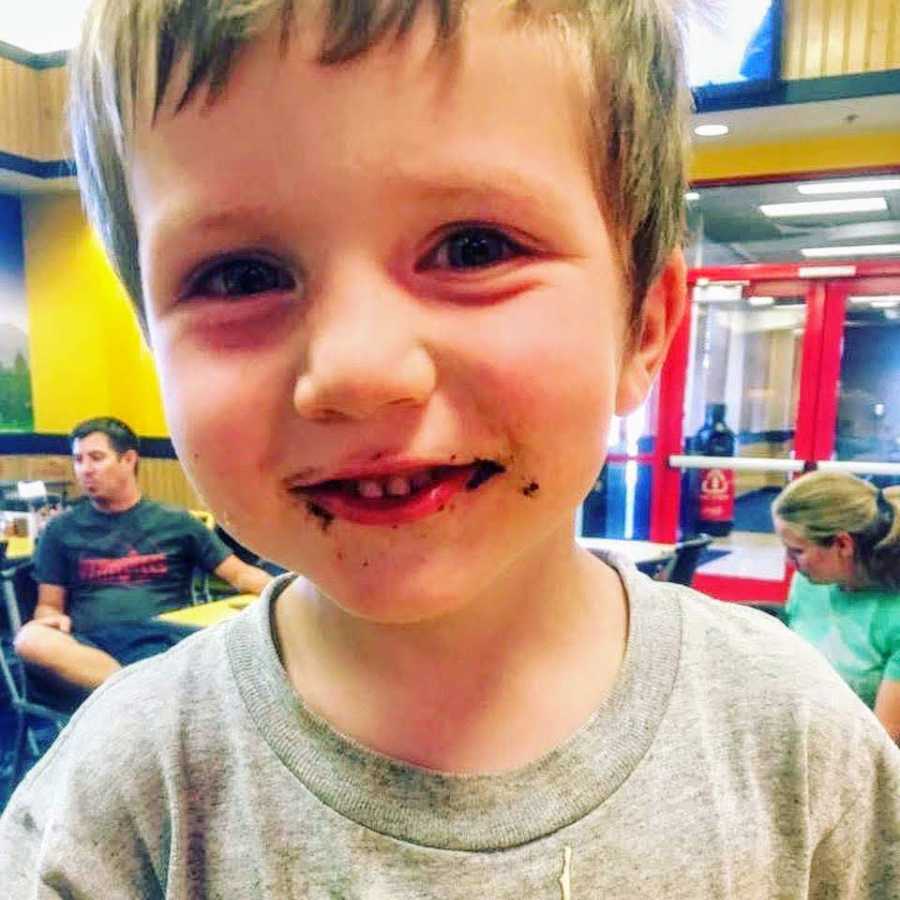 It was instantaneous, which only brings me comfort because I know he felt no pain. What followed was a blur. I refused treatment from the paramedics until they let me hold my dead son. All my children were whipped away and taken to an ambulance to be cared for. I was life-flighted and sedated, for the shock made me inconsolable.
It was two days later that I saw it all over Facebook. News channels reporting the death of my child as if they were simply reporting a change in weather, or a newly discovered planet. I was thankful they reported that no drugs or alcohol had been a factor. But that's not what hurt.
The readers commented the cruelest things about how horrible of a mother I was. How I deserved it. How my children should be taken from me. I wanted to punch them, shake them. Tell them how close we were, how hard I fought to keep him safe. How we had a special goodnight kiss and a designated McDonald's date each week. I wanted to scream that he always told me he wanted to marry me, that I was the best mama ever. That he built me Lego ships, took naps in my bed while holding my hand with his dimpled little fingers.
But no one would have listened anyway.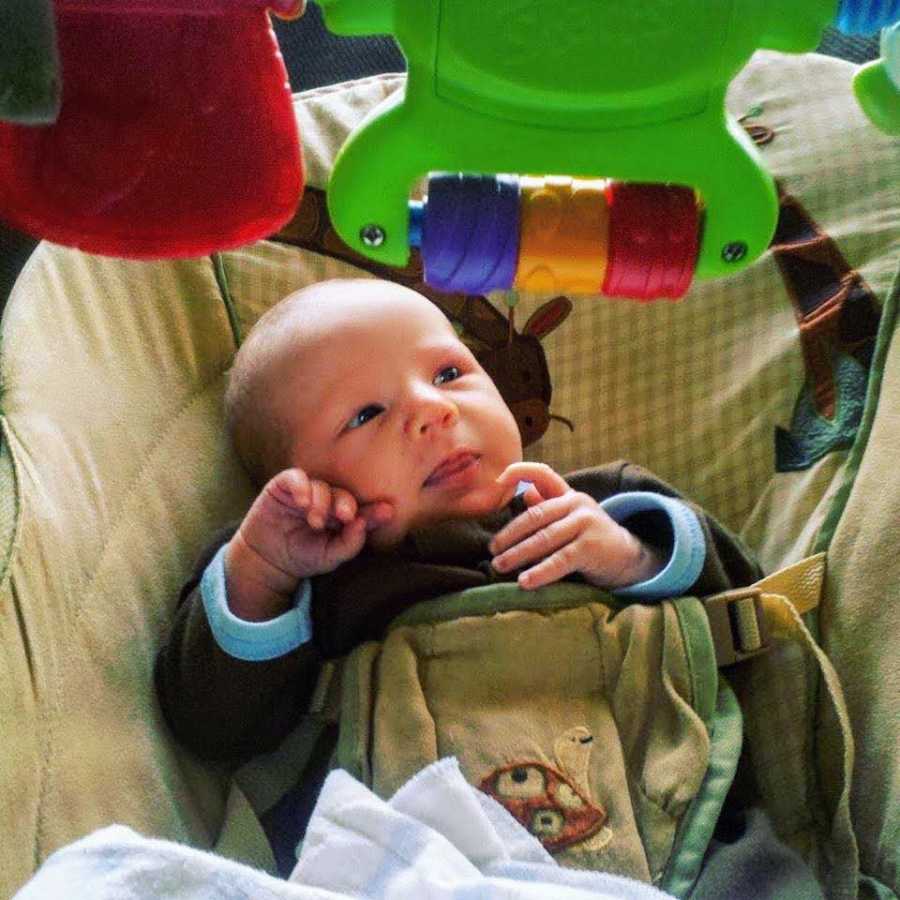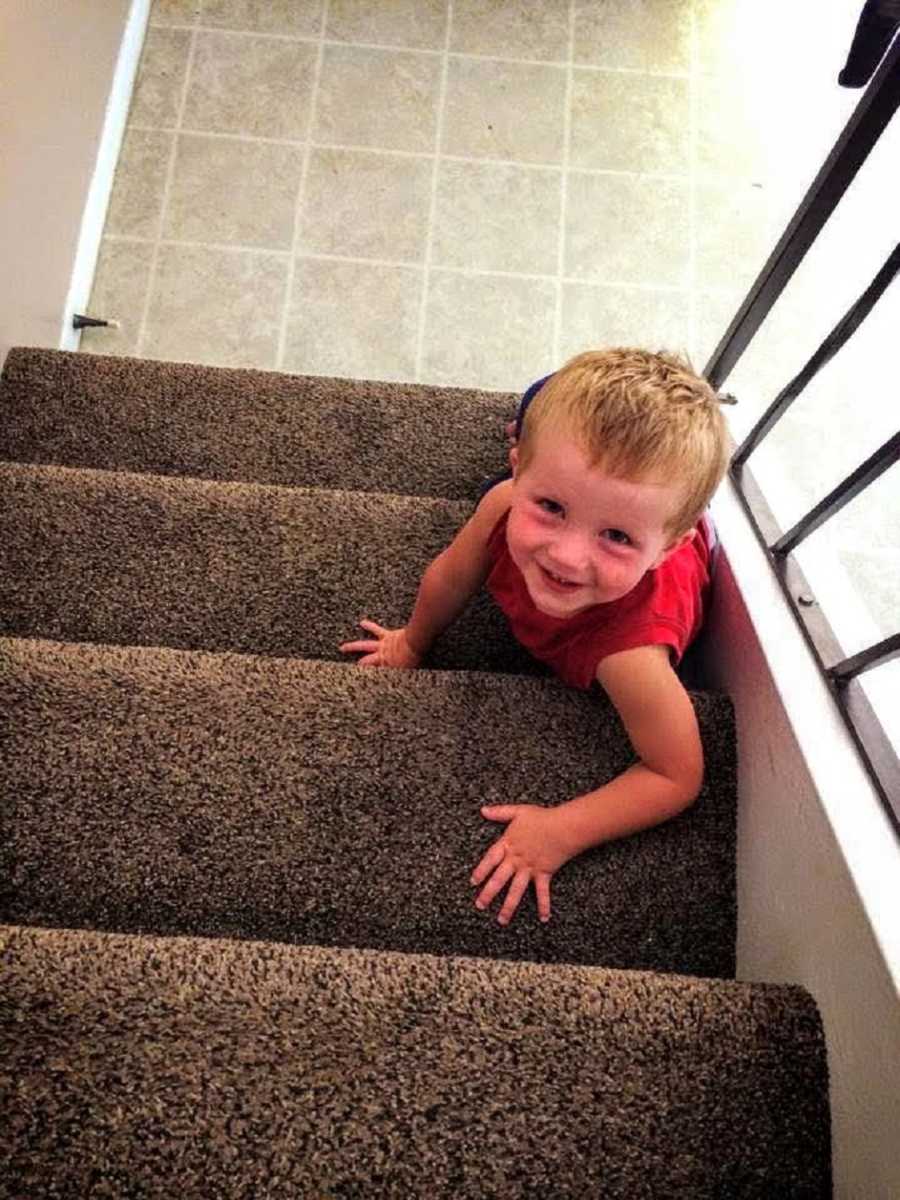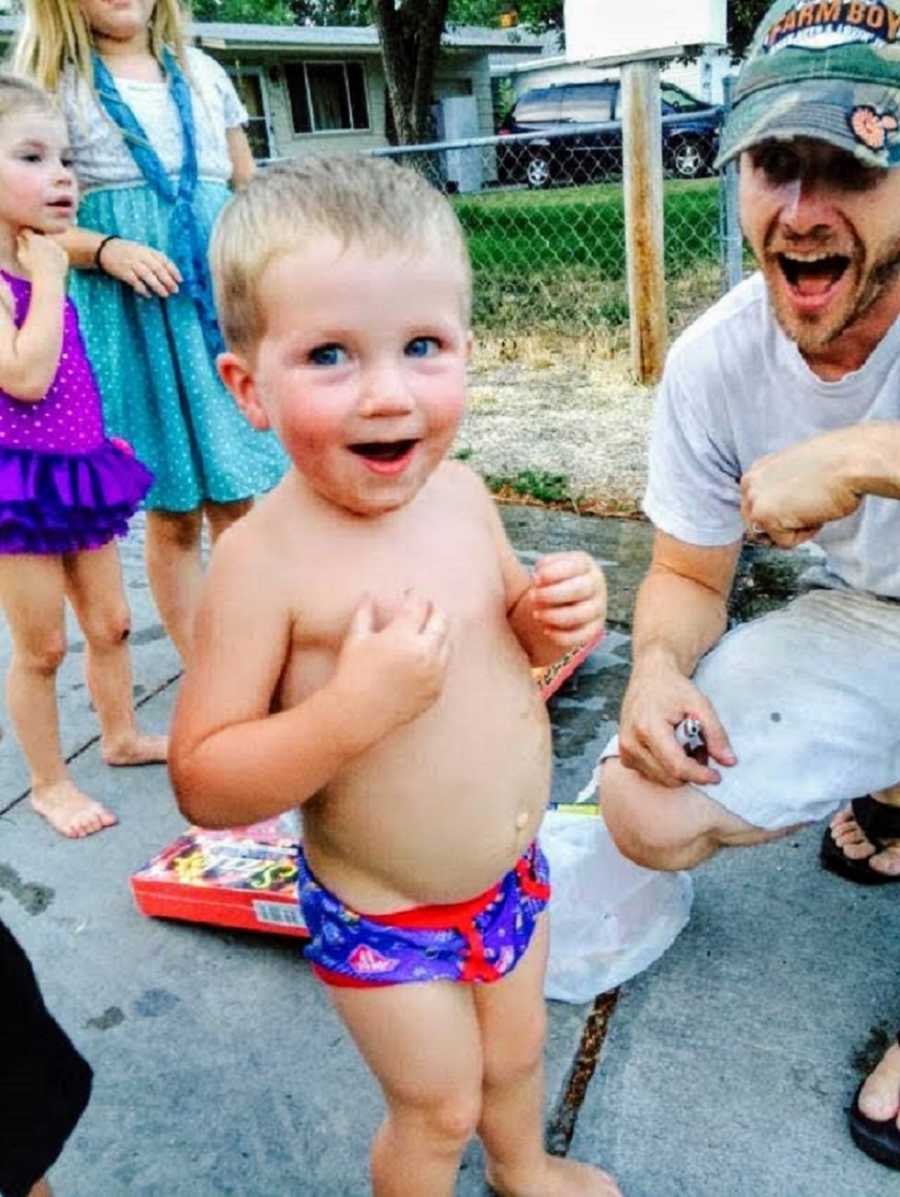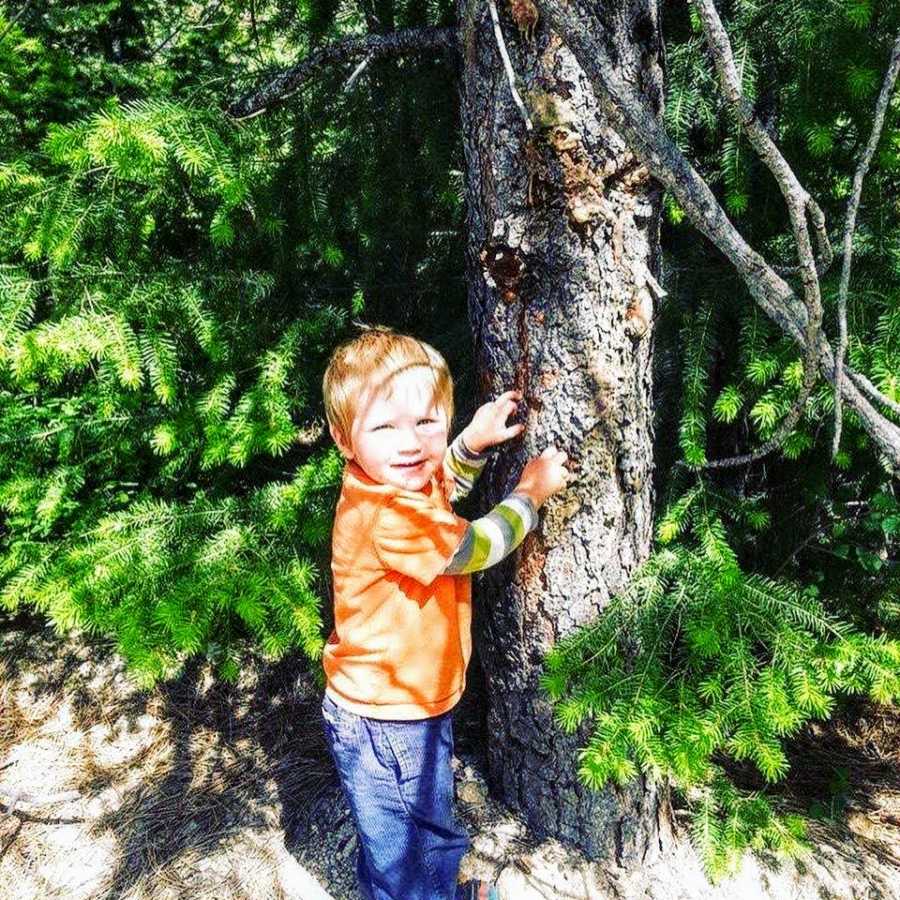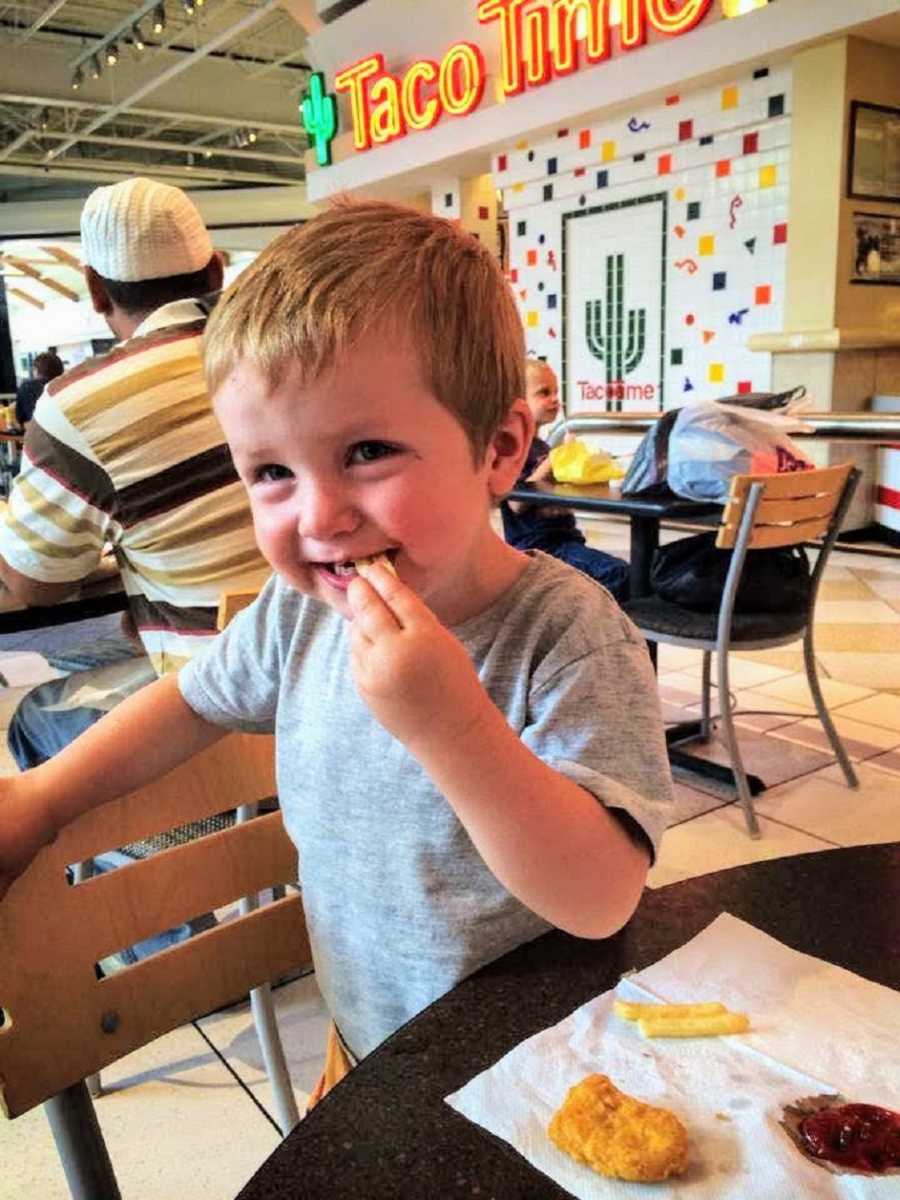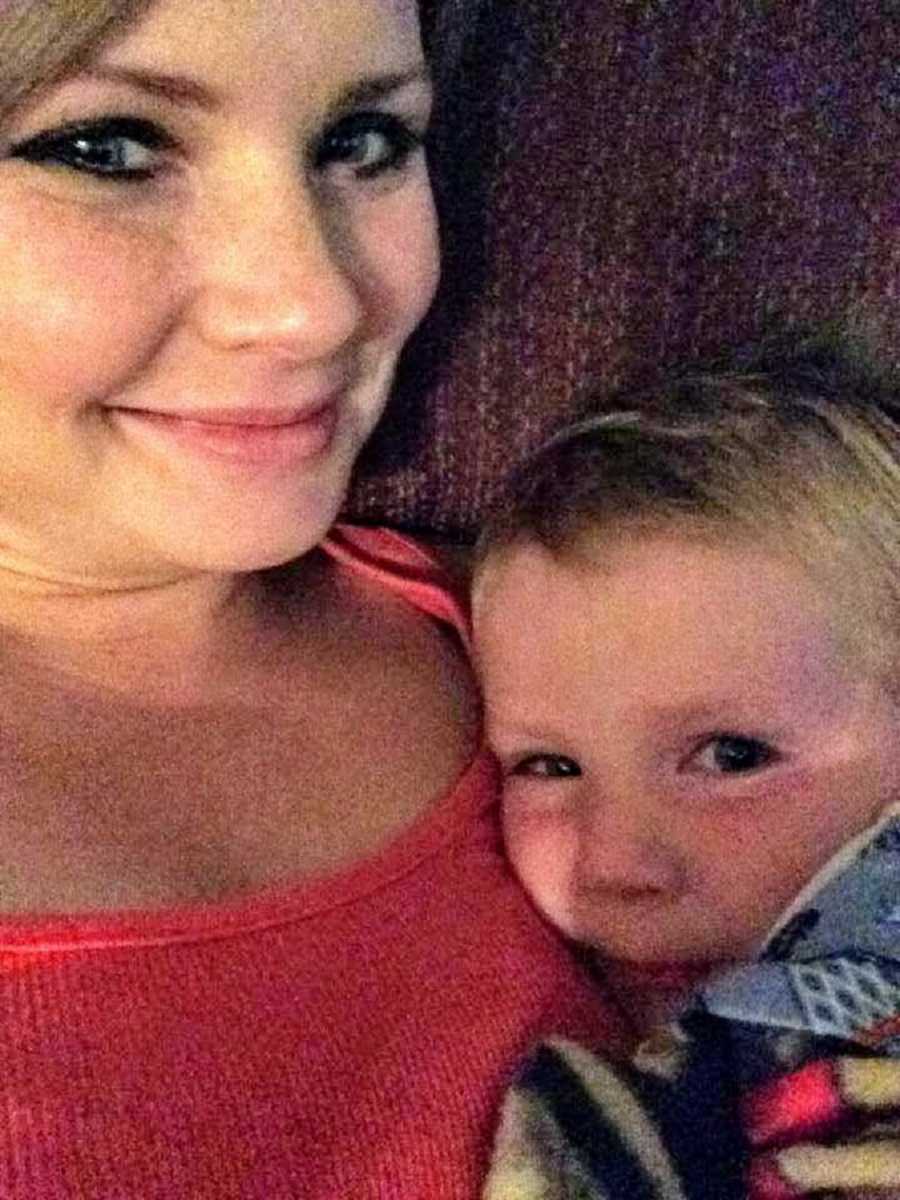 I feel led to write this to all you Mamas because I have a longing to look each of you in the eyes and tell you this:
Hold your babies tight.
That's all I want to shout to the world.
I'm not who I once was; death and loss changes a person from the inside out.
I have held my dead son's body in the middle of a highway while I rocked him and screamed, no ordered God to bring him back.
I have chosen a funeral plot for my four-year-old boy as I contemplated jumping from the cliff the cemetery overlooks just so I could be where he is.
I have purchased a 200-dollar superhero outfit for my son to wear as he decomposes in the earth.
I have kissed a corpse over and over and wept as I traced over every feature of his ice cold face and held his still dimpled, but lifeless hands.
I have slept in a cemetery just to try and take one more nap with him. I talk to the dirt. To the ground where he lies with his lovey blanket and his avengers outfit.
And what I want to say (if you've read this far, you're so patient and so kind) is this. And you can share it with any mama you know.
Maybe finishing broccoli at dinner isn't as important as we might think. Watch how your children eat, soak in their hatred for corn (oh, how Titus hated corn). Maybe they can still have ice cream, even just sometimes, while those veggies still sit on their plate.
Learn to pretend. Get into their world. Learn to play Xbox with them. Embrace their beautiful, fleeting imagination. Let them really believe they are Captain America or Queen Elsa. Get in their mind, see how they tick. The dishes will still be there.
Take every hug and kiss they bring you, even the twenty-fifth one they use just to get out of bed at night. And really squeeze them.
Stop and look at the bugs, the rocks, the sticks, the sunset. Slow down mama, slow down.
Tell them you love them. But look in their eyes and say it like you mean it. Tell them they can do anything, anything they set their mind to.
Yes, we must hold them accountable but sometimes maybe grace is the answer. Maybe, just maybe, they won't end up ruined if we let some things slide.
Never judge another mama. We don't know the whole story, we don't know. We just don't know.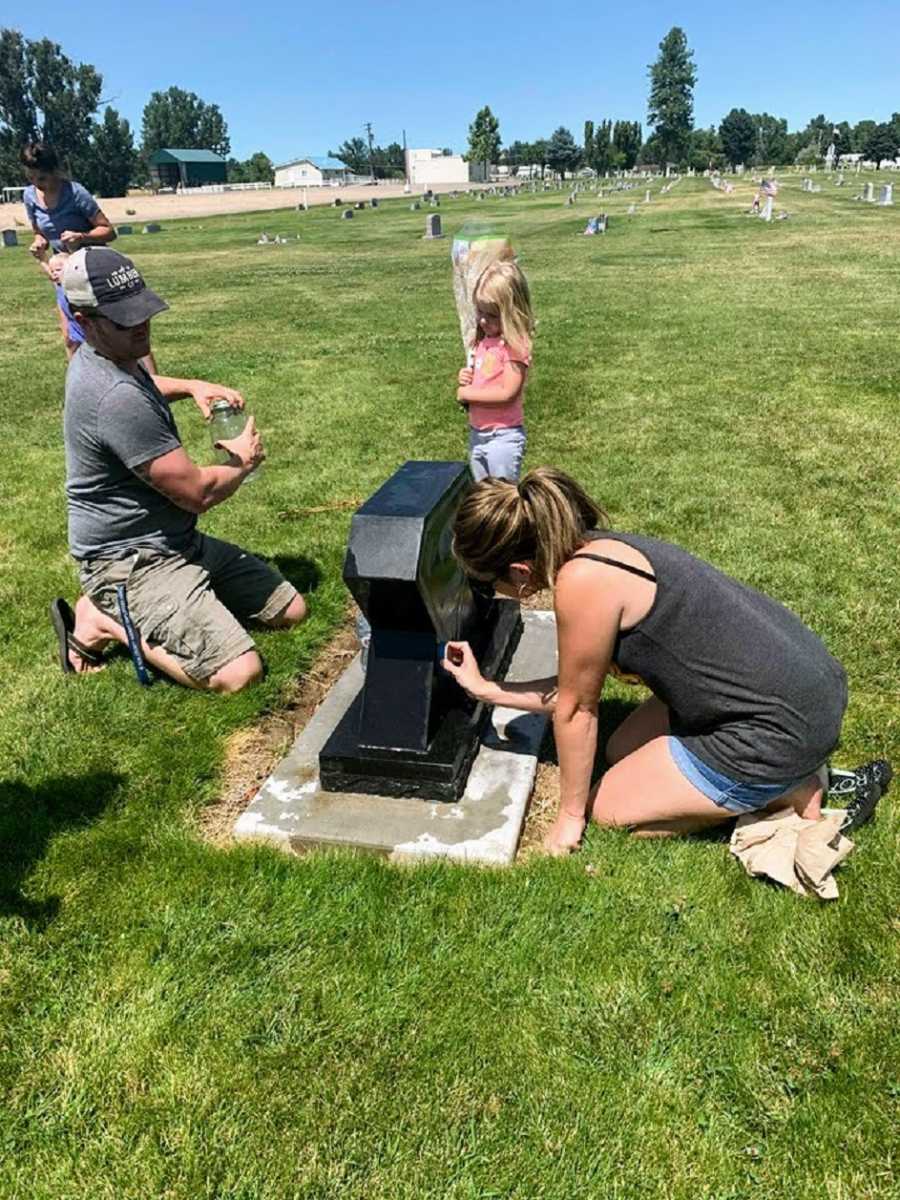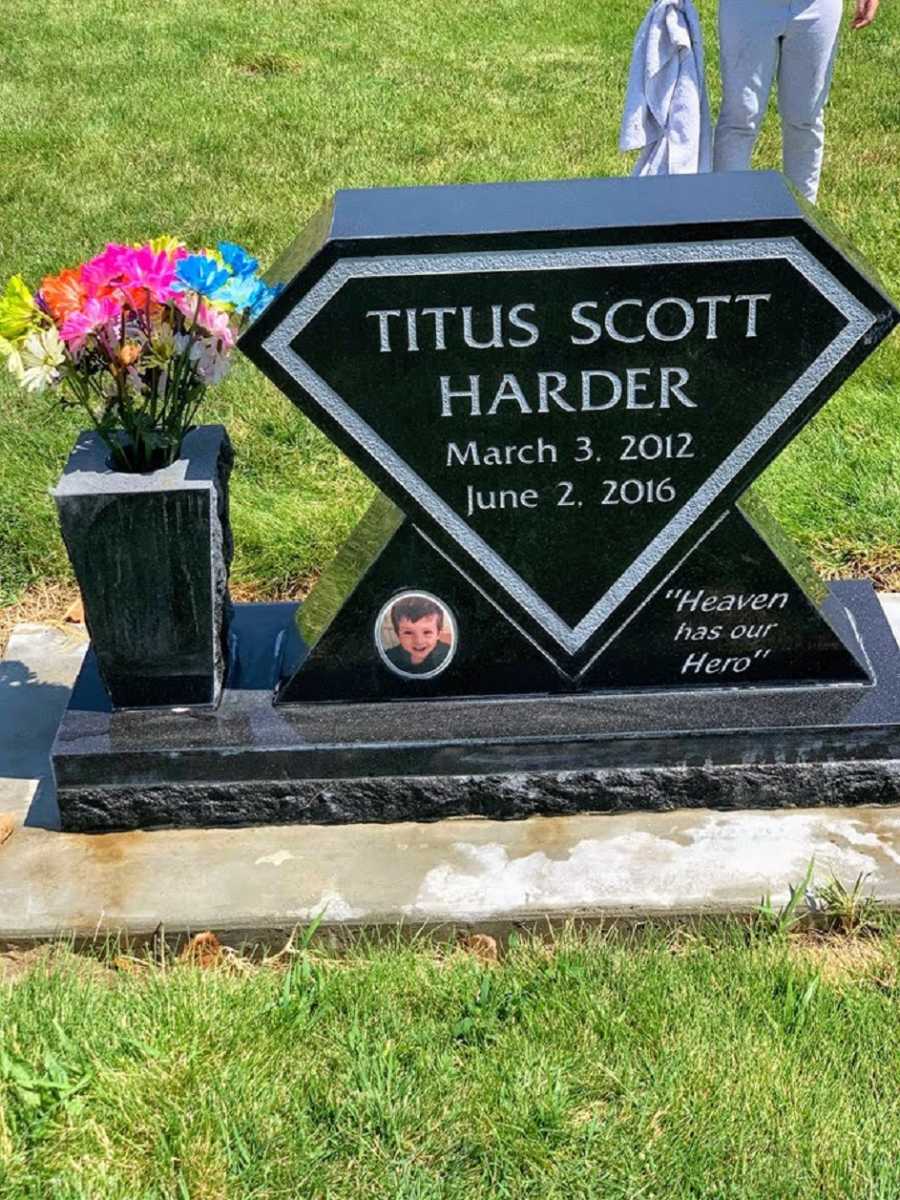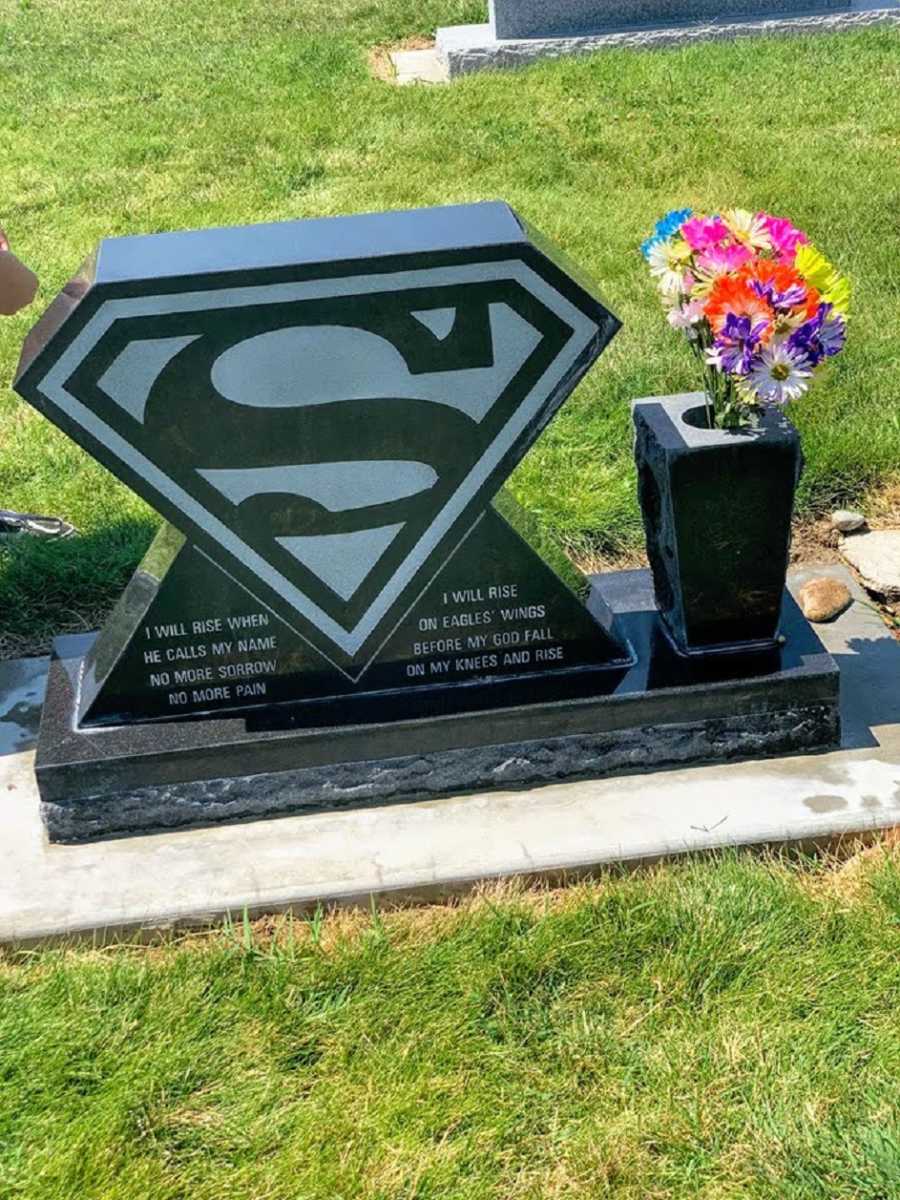 Go hug your babies right now. Soak in their smell, look at the innocent sparkle in their eyes that is lost somewhere between childhood and adulthood. Really feel how they squeeze you. Set down your phone and see them through the lens of your eyes, not only the lens of your camera. Remember the feeling of their head on your shoulder, their hand in yours, their sloppy kisses on your cheeks. Nurse them one more time. Sleep is overrated. Listen five minutes longer about Star Wars, Minecraft, and Disney princesses.
Mamas, hold your children tight. How blessed you are to have been entrusted with such unique, beautiful, tiny humans.
From my heart to yours."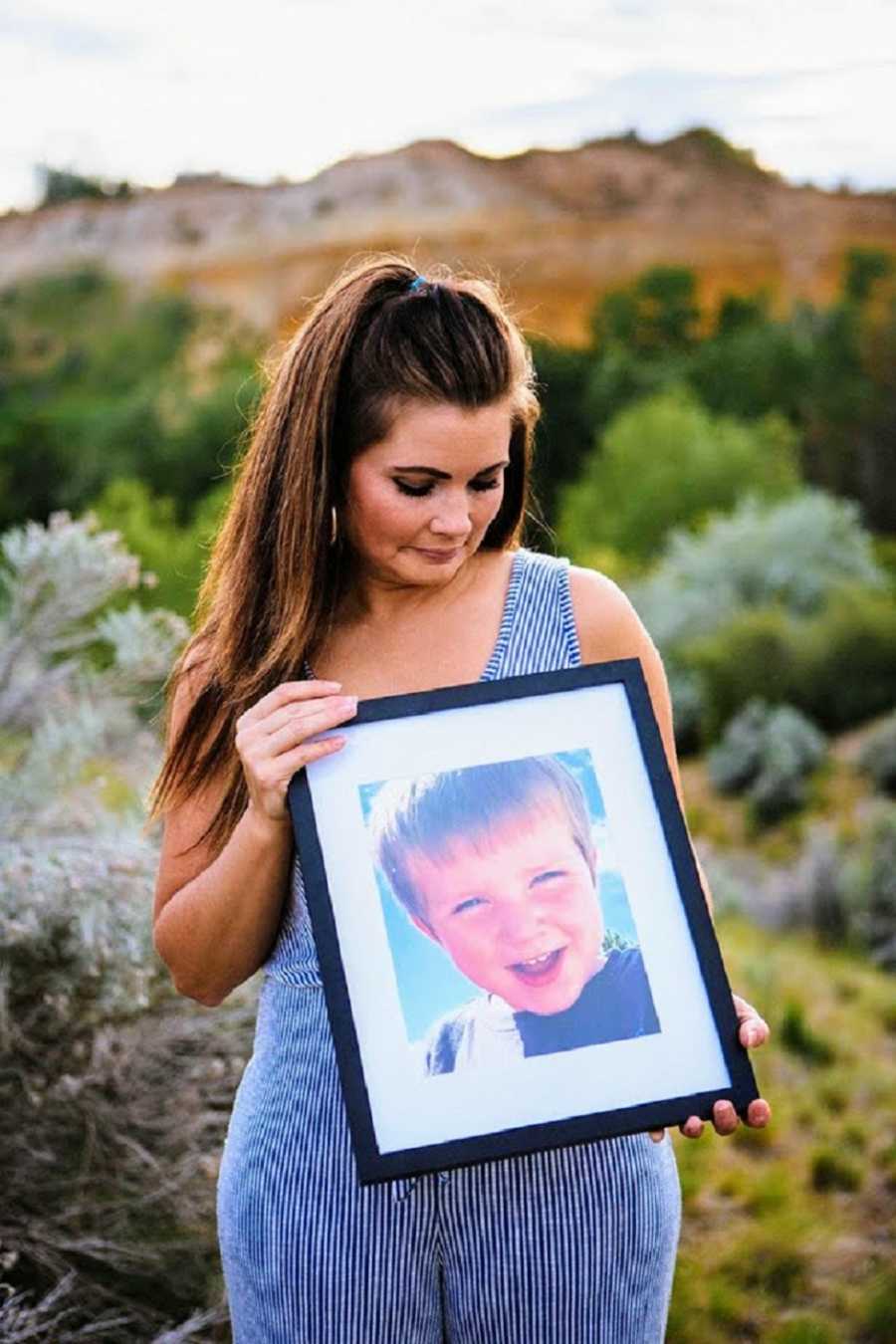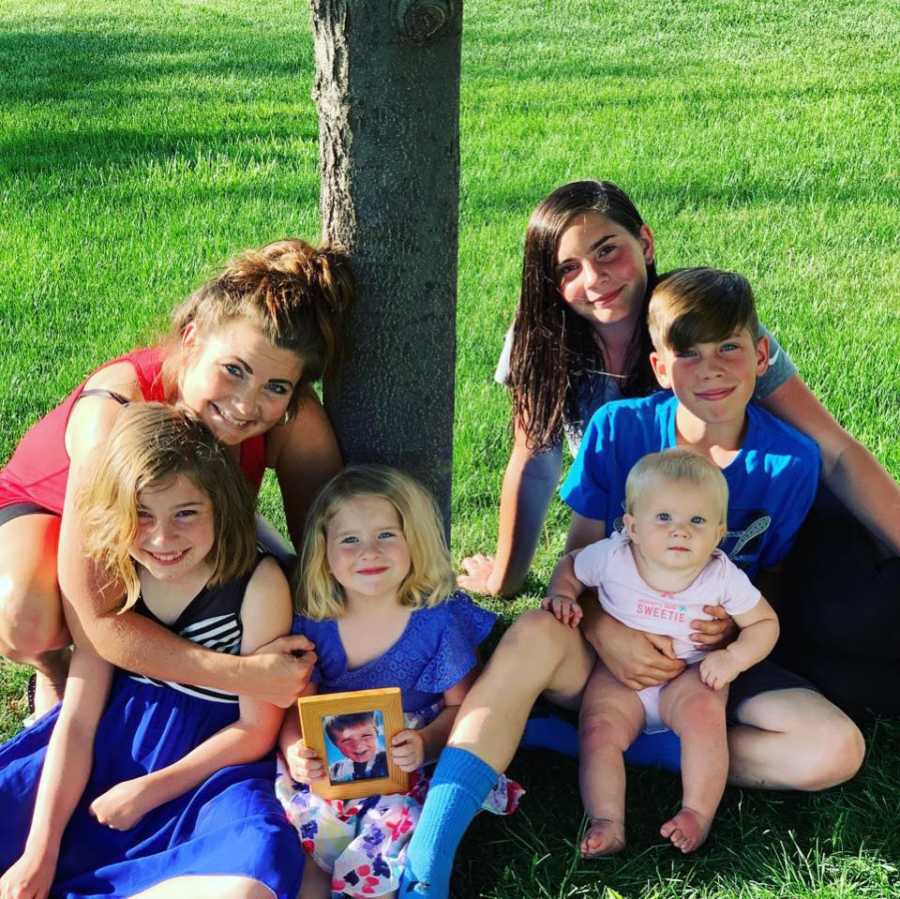 This story was submitted to Love What Matters by Ashley Grimm of Colorado Springs, Colorado. You can follow her journey on Facebook. Submit your own story here and be sure to subscribe to our free email newsletter for our best stories.
Read more stories like this:
'You promise you'll hang a wind chime for my son?' I felt each syllable. His shaky jaw dropped against my shoulder.': Nurse hangs wind chimes to honor each 'angel baby' she delivers
'I only bought 2 backpacks instead of 3. I naively thought I was ready. But grief proved me wrong.': Mom feels 'paralyzed' while back-to-school shopping after losing son to drowning accident
Do you know someone who could benefit from this? SHARE this story on Facebook with family and friends.