"'What's going to happen?' That was Jason's incredulous response as we argued.
I had qualified to compete in the 2018 Xterra Off Road Triathlon World Championships in Maui, Hawaii. And I really wanted to go. Like, really. But the competition was only a few weeks away and we had spent most of our savings on a family vacation to Disneyland. Jason was ever supportive, but also practical. He was confident in my ability to qualify again.
I, on the other hand, wanted to jump at the opportunity to compete at such a high level. I didn't want to miss my opportunity. Something as simple as a flat tire or maybe cramping up could keep me from qualifying again. It turns out, I should have been worried about much worse things.
I ended the discussion with these childish words: 'You know I'll resent you for the rest of my life if I don't get to go!'
'I know. We'll make it happen.' I hate that I said that. I hate that I fought with him. We almost never argued, but I took us there.
I met Jason straight out of high school at a church activity. I fell in love immediately. Due to my inept flirting, he didn't think I was interested in him. When he finally realized I was, we were married 18 months later.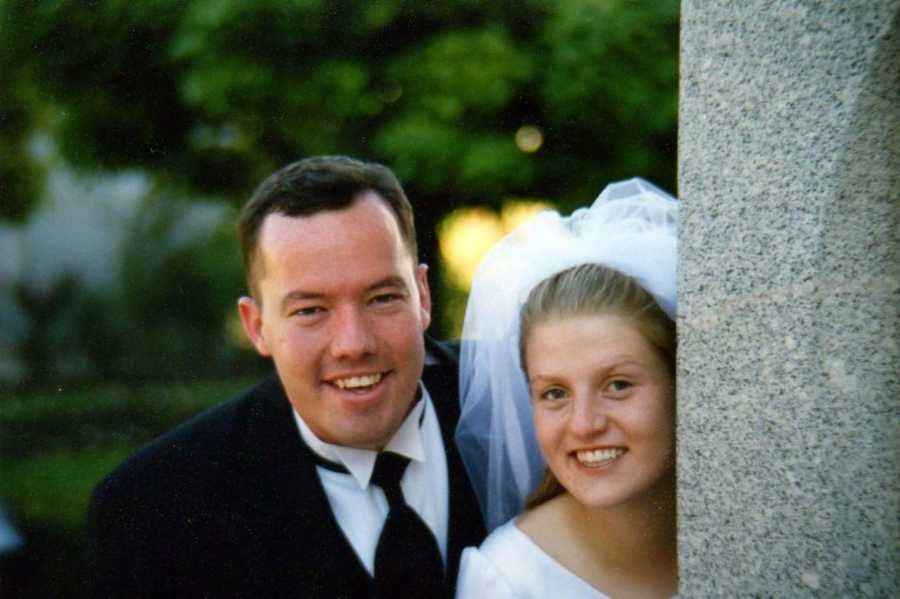 We lived a life of laughter, gratitude, silliness, and adventure. Jason was larger than life. He was loud. He was kind. Everyone who knew him, loved him. He never took life too seriously. And he adored me.
Being the parents of four kids is both a harrowing and joyful journey. We waded into the battles together and joked that we weren't a 'well-oiled machine,' but at least we were 'adequately lubricated.'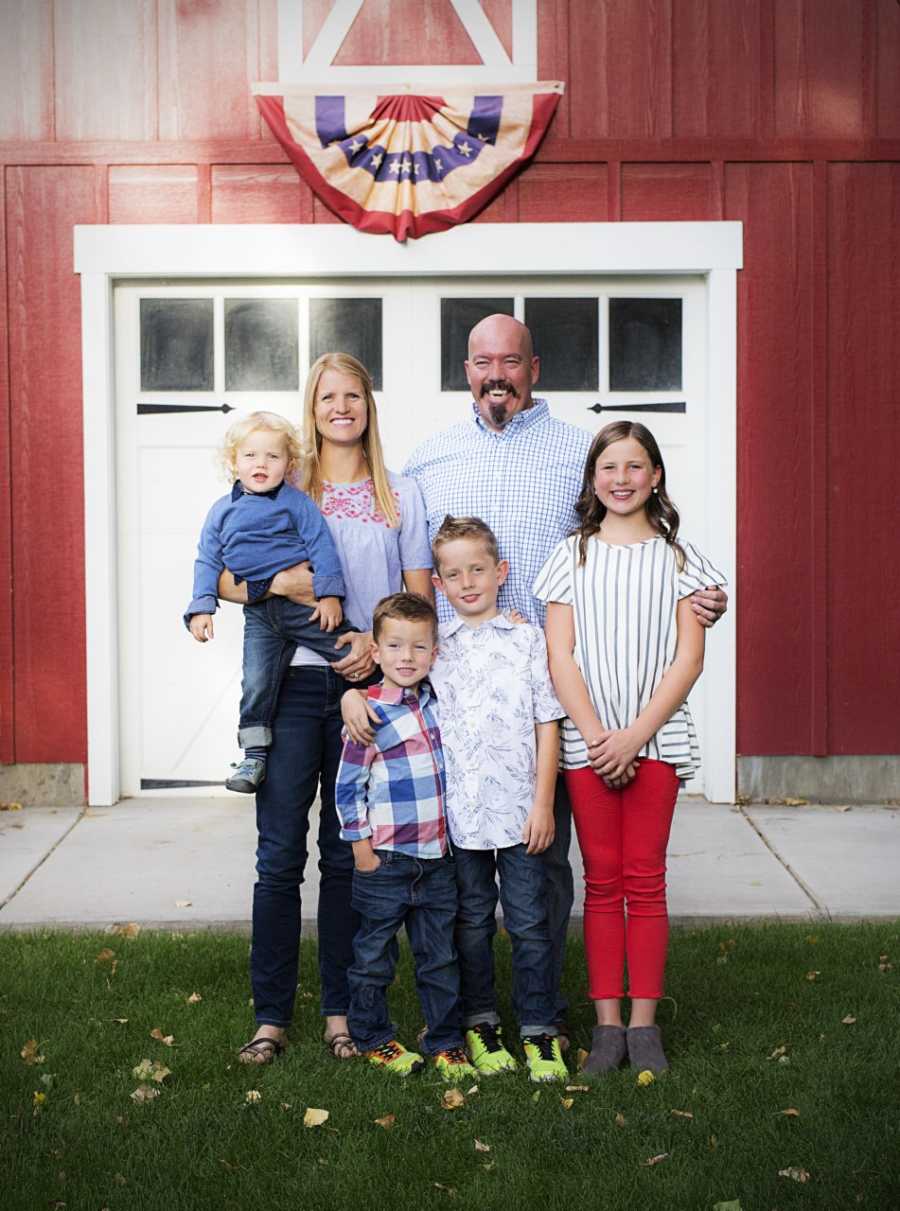 I started participating in triathlons while attending physical therapy school. It took me quite a while to actually compete, though. In 2015, I discovered off-road triathlons and was hooked.
Jason was also an athlete. He was a cyclist and a marathon swimmer. He routinely swam 6-10 miles across lakes, including the challenging (aka disgusting) waters of the Great Salt Lake. He had his sights set on swimming the English Channel. But he didn't need a race to validate him. And he didn't fully understand my need for race accomplishments to confirm my worth. He saw my innate value and he communicated it to me in so many ways.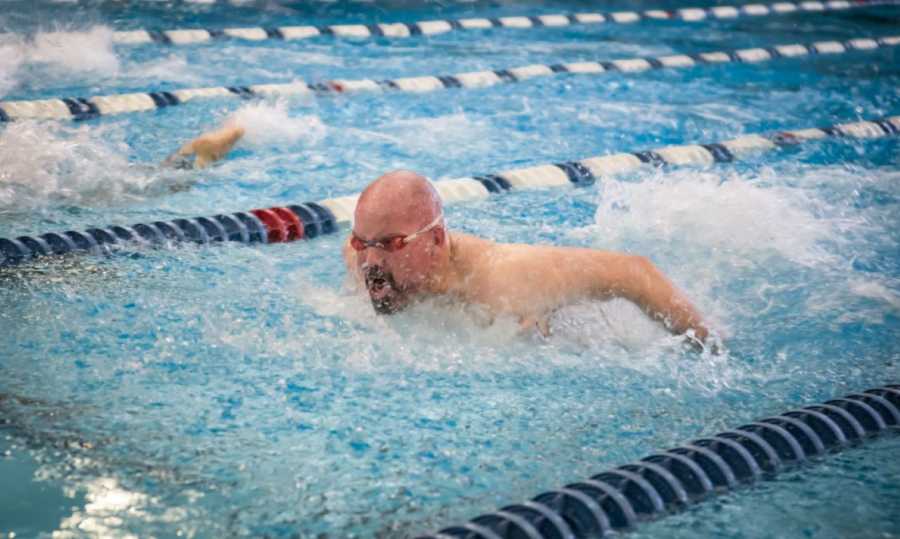 We settled on a compromise. 2019 would be the year. We would save money. I would train hard to qualify again and we would spend our 20th anniversary in Maui.
January 2, 2019, I underwent surgery to remove a large thyroid nodule. The mass had been declared benign, but was large enough to be problematic. I needed it out of the way, so I could get back to training.
Jason missed his morning Master's swim workout to be with me. It was a frigid morning and we bantered on the way to the hospital about whether old-time cowboys spent the winter in cabins or on the plains with their cattle. When the surgeon came to ask us if we had any final questions before I was taken to surgery, I responded, 'Yes! Did cowboys spend the winters in cabins or on the plains?' The surgeon paused, looked at me like I was crazy, and then agreed with my position. The surgery went well.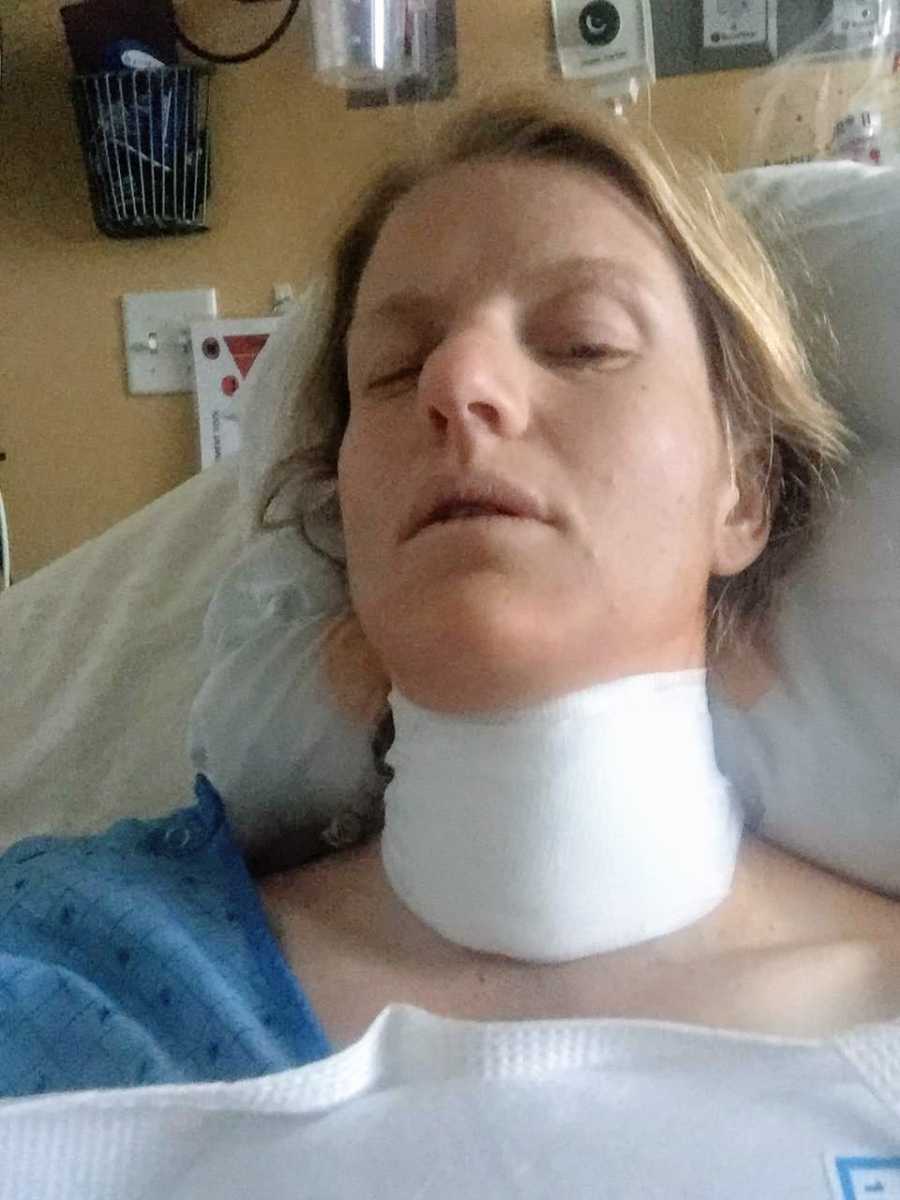 The next night, January 3, 2019, Jason decided to go swimming to make up for his missed workout. He came into my 2 year-old's bedroom, where I was snuggling him to sleep. He said, 'I love you' and leaned in to kiss me. I did not lean forward to meet his kiss because of my post surgical neck. Instead, I touched my fingers to my lips and then to his and said, 'I love you too.'
He left.
A police officer came to my house an hour and half later. He confirmed my identity and then said there had been an 'incident' at the pool. I was sent to the hospital, sure Jason had tripped and needed stitches. I did not expect to be met in the ER with police officers and a doctor. I absolutely did not expect a doctor to sit me down and say, 'I'm going to get right to the point, Jason died tonight.'
I have re-lived that moment over and over again. The moment when my world shattered into billions of tiny fragments.
We found out that Jason had an unknown heart defect that was making his heart work harder than normal. And he was asking a lot of his heart. That night, his heart stopped.
Jason had started his warm up, then stopped and complained of feeling 'funny.' He got out of the pool and collapsed in the locker room. The lifeguards used an AED. The paramedics and doctors tried to restart his heart, but it was not to be.
He was 42 years-old.
I returned home from the hospital to spend an endless night waiting to tell our four kids (12, 8, 5, & 2) that their strong and vibrant dad had died.
It was the worst thing I've ever had to do.
We sat in a circle on a bedroom floor. I said, 'I have something really sad to tell you. Last night daddy went swimming. Something went wrong and his heart stopped. His body died. He won't come home ever again.' They had various levels of understanding.
Jason's funeral was amazing. It was just the right balance of irreverent and inspirational. We received an unmatched outpouring of love and kindness.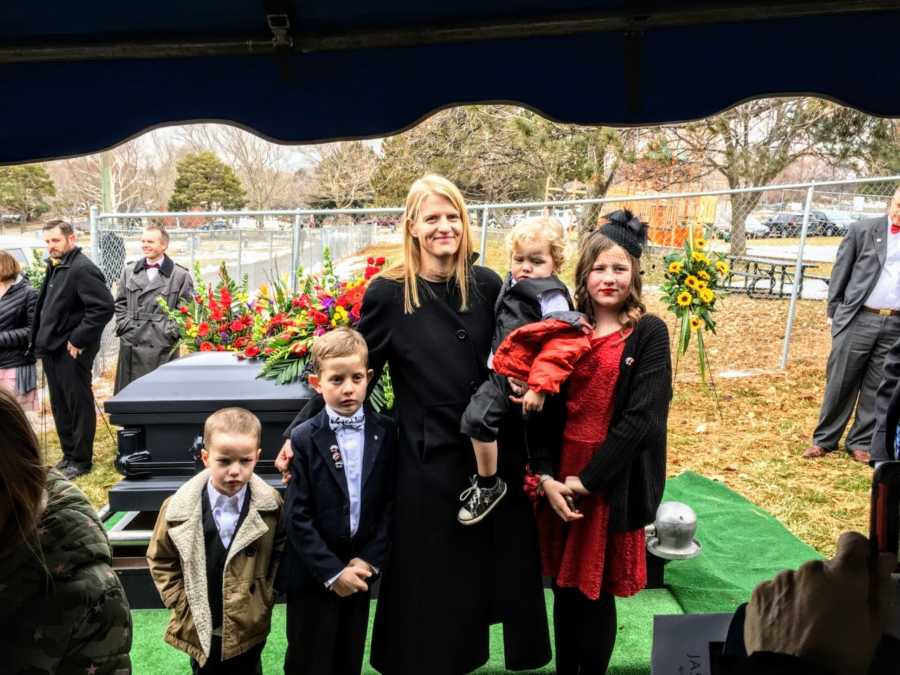 One week after the funeral, as I was trying to wrap my head around this new life, I received a phone call from my thyroid surgeon. He asked me to come into his office. I knew this was not a good sign, since I had already had my post-op appointment. He sat down and told me that the pathology of my mass had been sent to a specialist across the country and had returned with a cancer diagnosis. And not the run-of-the-mill thyroid cancer. Oncocytic follicular carcinoma with capsular invasion. A specialist explained, 'This cancer travels distantly, usually to the lungs or liver and doesn't always respond to the standard thyroid cancer treatments.'
The rubble of my life had just caught fire. I was scared. I spent hours consulting Dr. Google. I made plans for the care of my children. And the one person I desperately needed to talk to – he was gone. My plans for the Xterra race evaporated. My load was almost too heavy to bear.
I felt like my entire person had undergone a root canal. I looked normal on the outside, but there was nothing alive inside. And soon I found that the only time I felt any sort of hope or happiness was when I was out running or riding my bike. I even went back to the cursed pool. I remember the first run I went on after Jason died. I kept saying, 'This feels SO good.' It was the first time my head was clear. I breathed the fresh air into my lungs. It was cleansing and freeing. I felt alive.
As I continued with those lifesaving workouts, a thought began to creep into my mind. Maybe I CAN make it to Maui. Maybe. I discussed it with friends, family, my therapist, and clergy. Some of them told me it probably wasn't a good idea. I mean, I was the newly solo parent of 4 young kids. And I was trying to decide what course of treatment to take with my cancer diagnosis. But Jason's words echoed in my brain, 'What's going to happen?'
I decided I had to try. I imagined Jason shaking his head and smiling. He often accused me of being stubborn. I imagined his eyes twinkling as he said, 'If this doesn't stop her, nothing will.' I trained. Hard. It was incredibly helpful for me to have a tangible goal. It made me feel like I was actually alive, not just going through the motions of day-to-day life. Some days I would be ready to give up on everything. But I would run up a giant hill and think, 'Not everybody can do that! You are strong. You can keep going.' And I did.
My friends and family were amazingly supportive. Many people cared for my kids so that I could train. It gave me a needed break from the relentlessness of solo parenting. I narrowly missed qualifying at Beaver Creek, the first qualifying race. But I didn't give up hope. The next race was on my home turf. The Pan American Championships in Ogden, Utah. I improved my bike time by 20 minutes, but suffered terrible muscle cramps during the run. It was enough.
'Guess who qualified for Maui?' I wrote on Instagram with a picture of me, pointing to myself.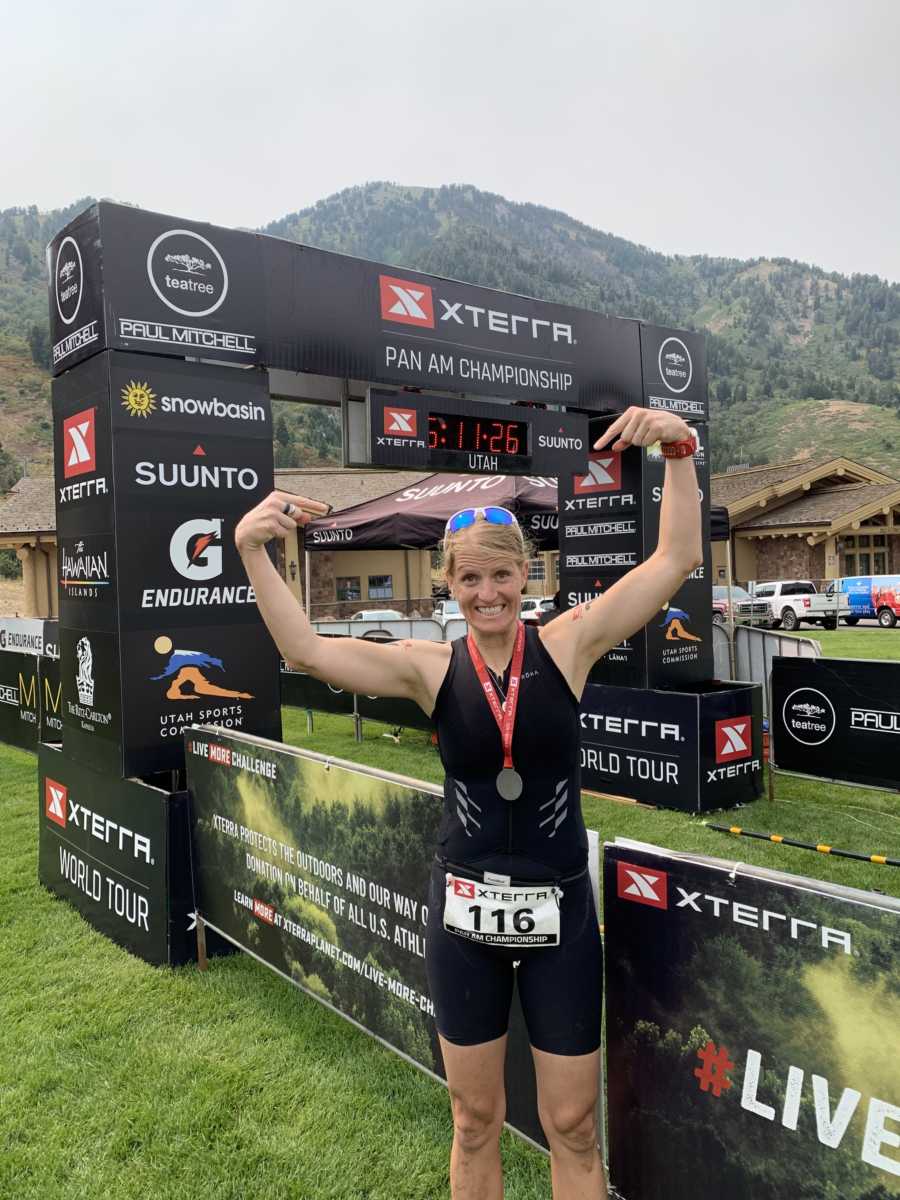 I took my two oldest kids with me to Maui, along with my little sister (who looks like my child) and a friend. Once we arrived, the race organizers held a clinic helping us learn how to safely swim in a rough ocean with breaking waves. During my first attempt navigating the surf, I did exactly the wrong thing and was pummeled into the ocean floor. I willfully ignored the pain in my back and the significant blood in my urine indicating that I had a bruised kidney. Nothing was going to keep me from racing!
The night before the race, they held a pre-race banquet. They quieted the rowdy room to present the Xterra Warrior Award. An award given to somebody who had overcome extra obstacles to make it to Maui. I was shocked when the tag line of my Instagram account flashed onto the screen: 'My world crumbled, and then the rubble caught fire. I'm racing from the ashes of my life.' I held my sisters hand and shook as they told my story. I stood in front of a crowd of elite racers from all around the world as they applauded me. It was so humbling.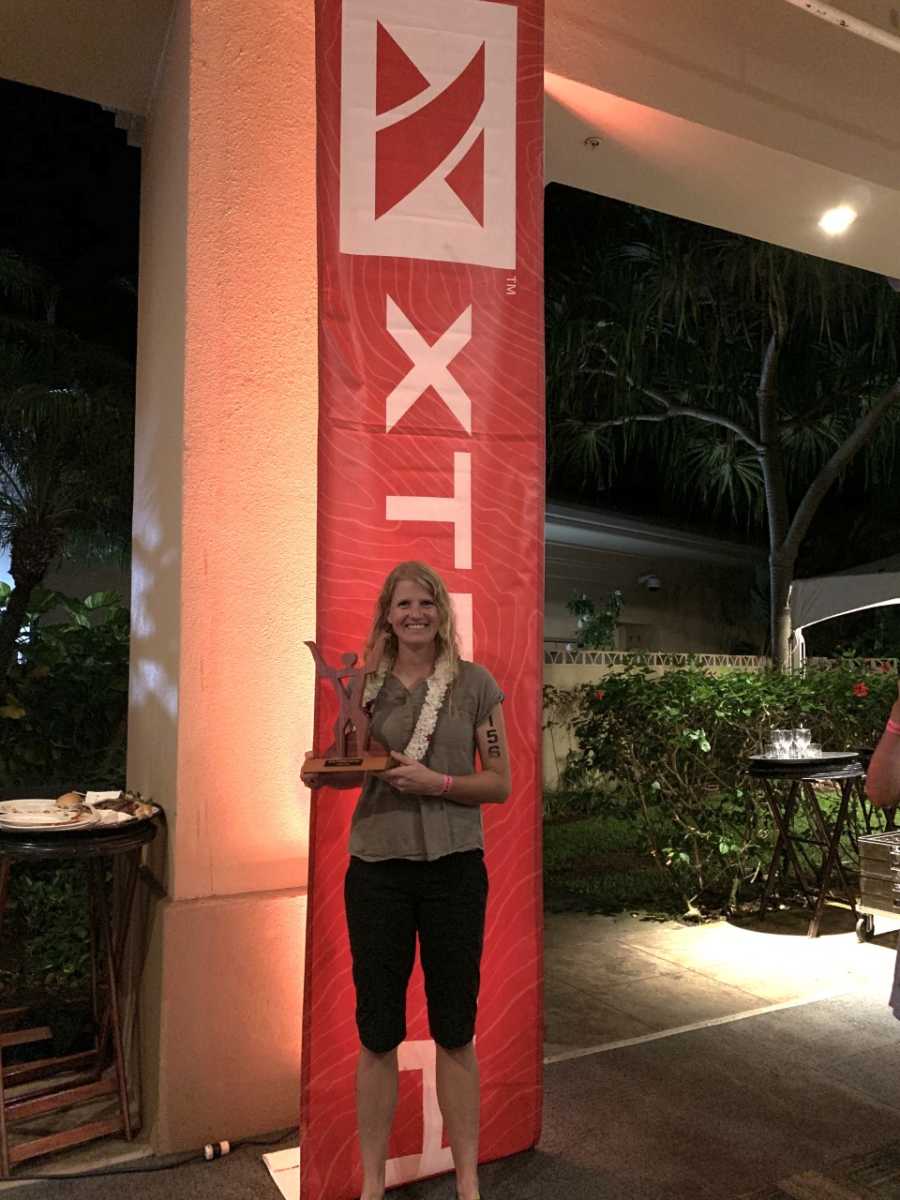 The World Championship the next day was grueling. The swim in the ocean was terrifying after my earlier experience. But I made it without getting pummeled again. The bike portion seemed eternal and the run was hot and humid. I didn't worry about placing. I only worried about finishing. I thought of Jason. I have a sticker representing him on my bike and a reminder of him on my running shoes. He was never far from my mind.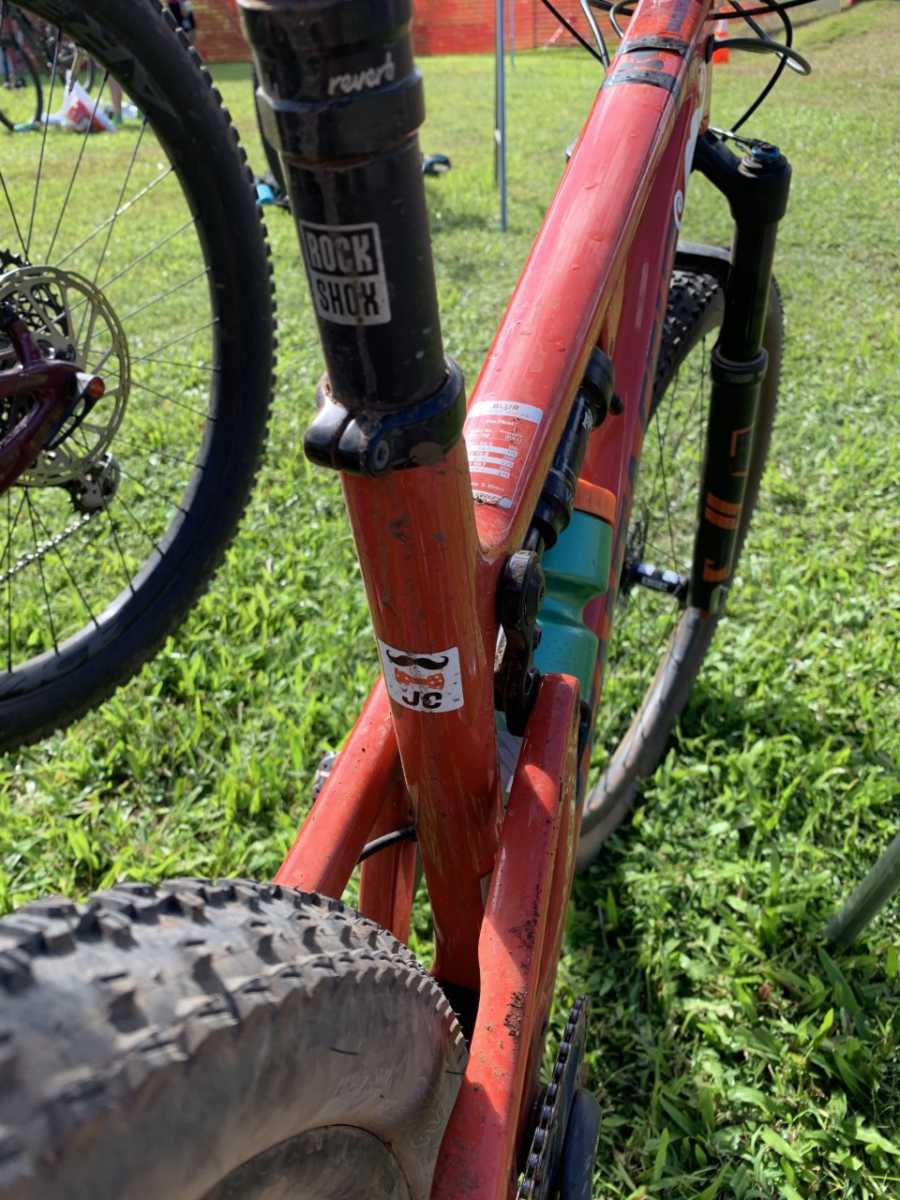 After 4 hours and 22 minutes of racing the announcer called out, 'You are an Xterra Warrior!' as I crossed the finish line, to the cheers of family and strangers alike.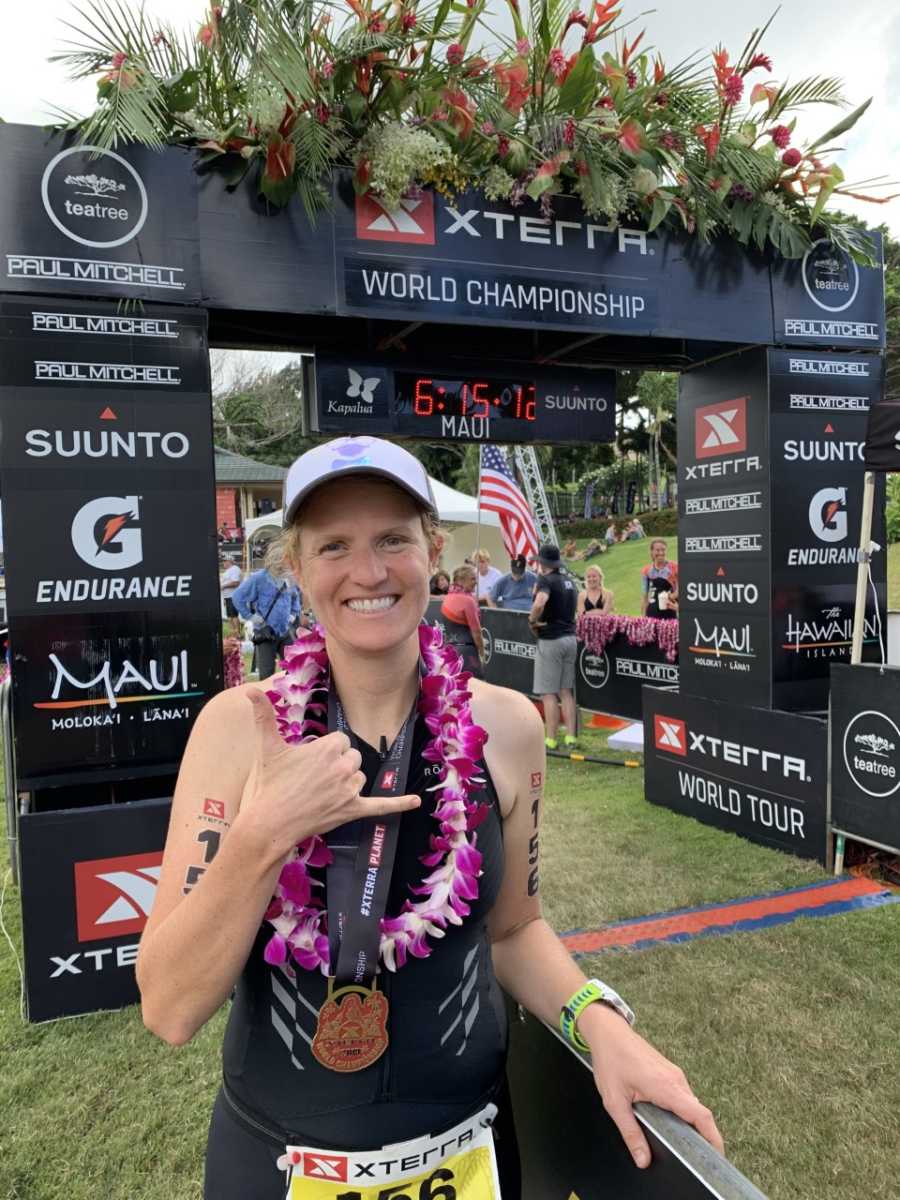 Then my sister drove me to the ER. The nurse called me 'hardcore' and I chuckled.  She had no idea what I'd been through to get to Hawaii.
Life without Jason has been a different kind of grueling. And unfortunately, it's a race without a finish line. But I rely on the race mentality of putting one foot in front of another. We've made it farther than I could have imagined 20 months ago. And after 18 months of tests and uncertainties, I have also been declared 'cancer free.'
I started documenting my everyday life on Instagram @racingfromtheashes. I jokingly approached it as a researcher dropped into an unknown tribe – there to dispassionately observe the four 'subjects.' I am honest about grief and the challenges of solo parenting. But I also share the victories and the laughter and our metamorphosis in this new life.
In 2020, Jason's question, 'What's going to happen?' was given new significance. COVID-19 struck. The world shut down and almost all the races, including the Xterra World Championships, were cancelled. If I hadn't taken the chance in 2019, I would have lost it. I miss Jason more than I could ever describe with words. Above all else, I hope I have made him proud in the way I'm choosing to LIVE."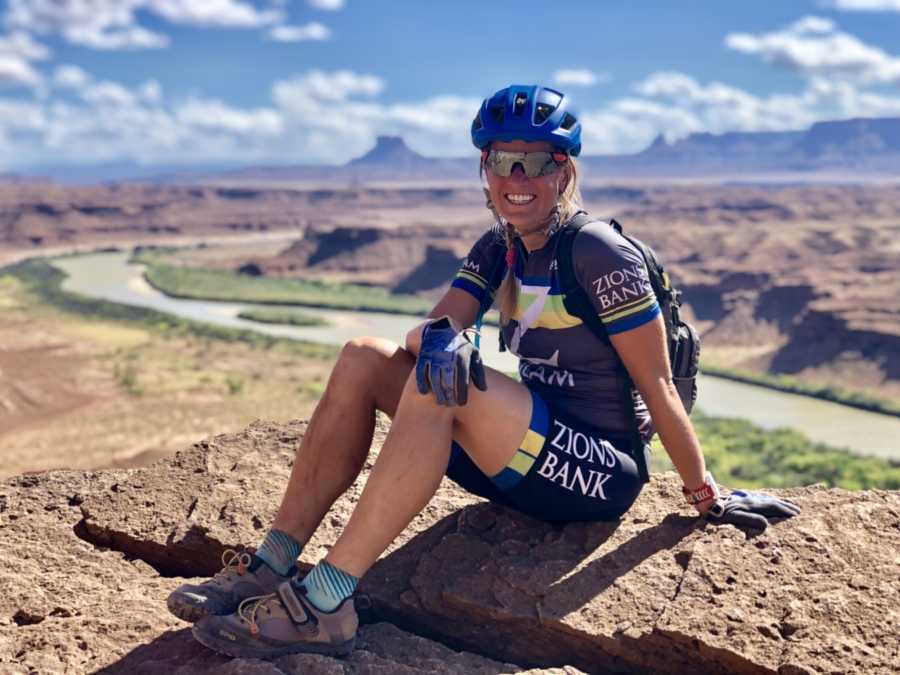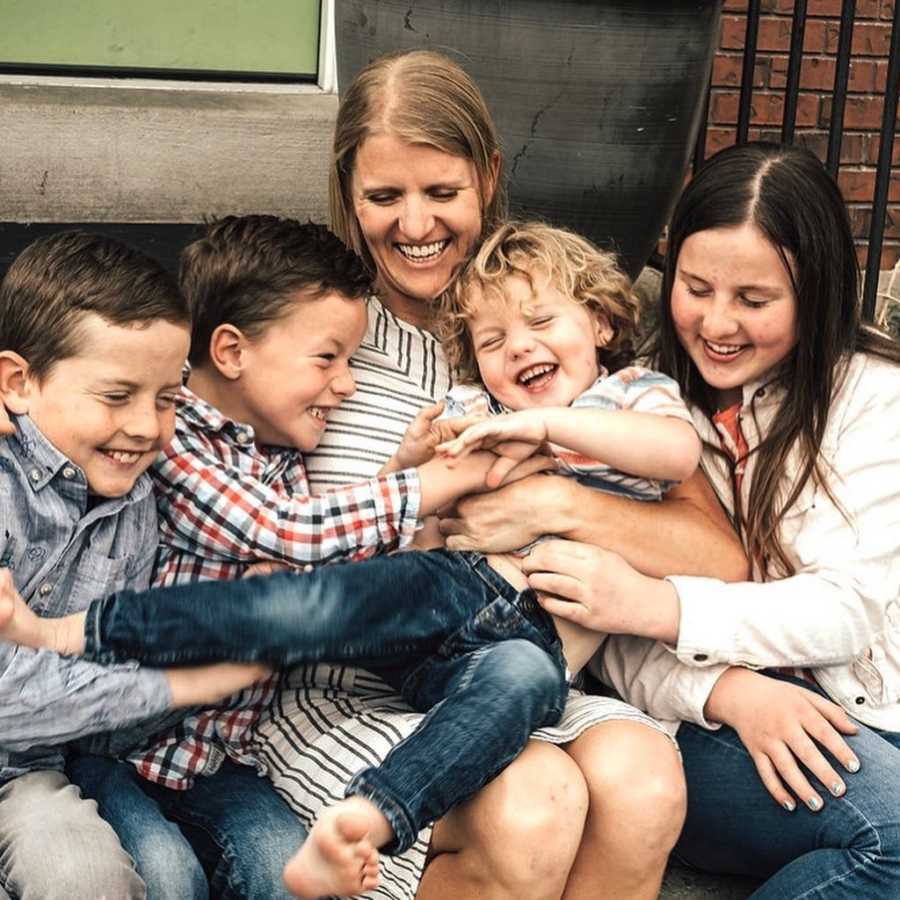 This story was submitted to Love What Matters by Anita Coyle of Farmington, UT. You can follow her journey on Instagram. Submit your own story here. Be sure to subscribe to our free email newsletter for our best stories, and YouTube for our best videos.
Read more inspiring stories like this:
'I was 32 when my husband suddenly died. I wanted to have children with him. Being without him is terrifying.': Widow finds the 'beautiful balance of life after loss' with 2-year-old son
'I woke up on my wedding day to the phone ringing. 'Come down right away!' It wasn't my fault. It wasn't fate.': Twice widowed woman recounts sudden losses of fiancés, 'There's no shame in grieving'
Please SHARE this story on Facebook to encourage others to live life to the fullest.