As the devastation from the Australian wildfires continues to be tallied, estimates of the number of animals killed by the fires are coming in close to one billion. As much as one-third of Australia's Kangaroo Island has burned so far and, with that, approximately 50,000 koalas have lost their lives.
As millions of dollars of donations pour in to help rehabilitate the injured animals, animal rescues have popped up all over to help those in need, but they rely heavily on the kindness of strangers and volunteers to help nurse the wildlife back to good health. Australian Army soldiers are one of those groups, using their days off to help care for koalas in need.
"#OurPeople from 16th Regiment Emergency Support Force have used their rest periods to lend a helping hand at the Cleland Wildlife Park, supporting our furry friends during feeding time and by building climbing mounts inside the park," the Australian Army wrote in a Facebook post, sharing a series of photos showing soldiers snuggling with the injured koalas and feeding them.
According to their Facebook page, in addition to defending the country, the 16th Regiment also provides "the Australian Government with the broadest range of military options to deliver humanitarian assistance and disaster relief; conduct peacekeeping and stabilisation; deter aggression, and defend our nation and its interests – where and when necessary."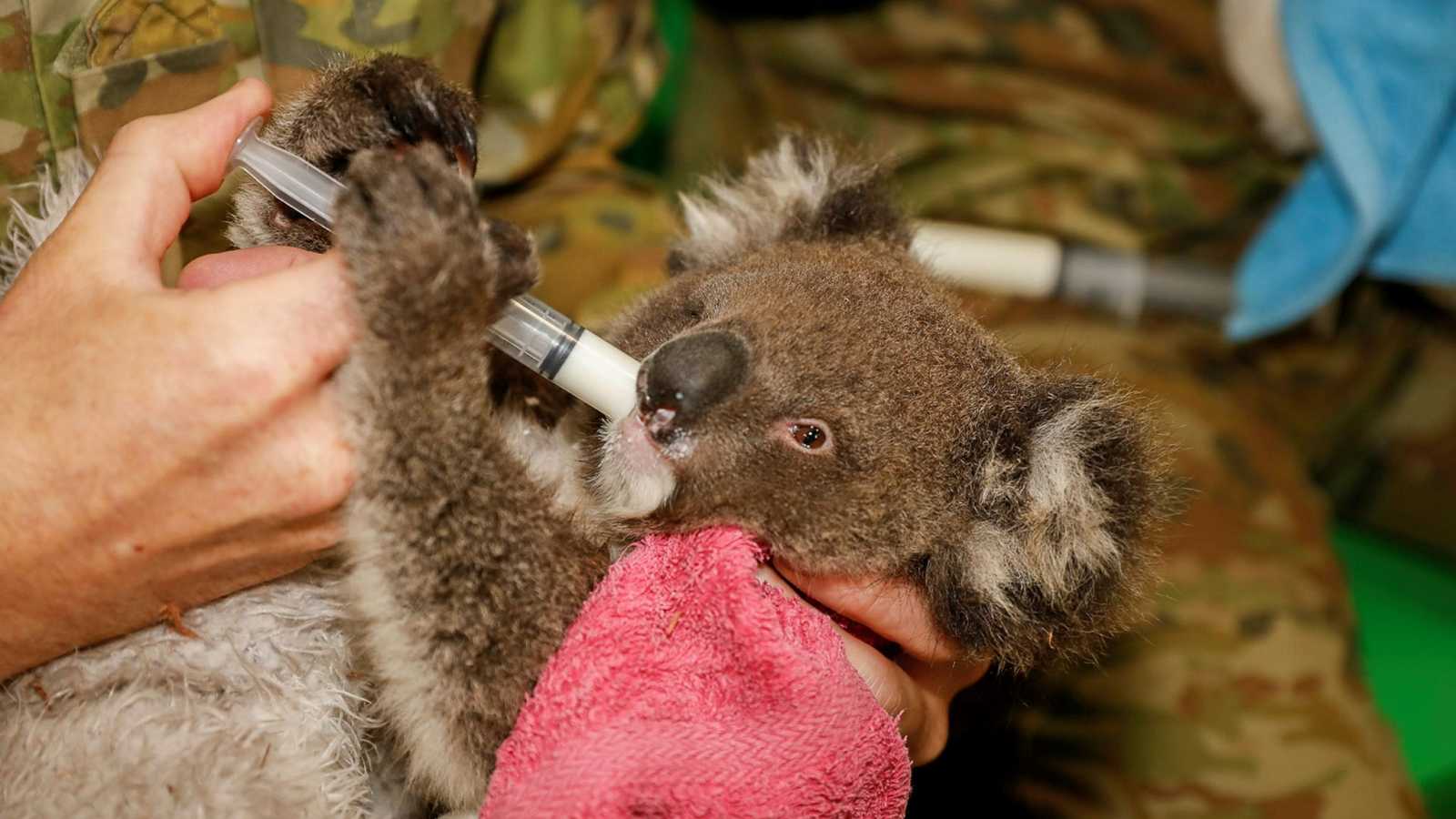 You can see the koalas swaddled in blankets, many with mittens on due to their paw burns, clearly loving the attention the soldiers are able to give at the Cleland Wildlife Park in Crafers, South Australia.
"Our vets are one of the many specialist reservists who have been deployed as part of the ADF Reserve Call Out," the group also shared on Instagram. "One of their many tasks is to assist the Kangaroo Island Wildlife Park with the large number of injured wildlife at the park."
Prior to the wildfires, populations of koalas were already in decline in the state by nearly a third over the last three decades due to climate change and over forestation, leaving many with little to no food sources. Given the vast devastation with the most recent fires, experts are concerned that those koalas that did survive in the wild may suffer due to a lack of food and water.
"They have been incinerated, and the ones lucky enough to escape then face death by starvation. It is a cruel situation that the species is facing," Council spokesperson James Tremain said.
For the ones who've been rescued, they have volunteers like the 16th Regiment Emergency Support Force to help nurse them back to health. For all the good work they do to help protect their citizens, the fact they would take time out of their days off to help care for these injured animals should be commended.
From podcasts to video shows, parenting resources to happy tears – join the Love What Matters community and subscribe on YouTube.
Read more powerful stories like this:
'Owen was upset by the fires, so we wanted to provide an outlet for him to help.': 6-year-old raises over $250,000 for Australian wildfires making clay koalas'
'What if they can't find me?' I was pressed into a deep ditch, the toes of my boots barely touching the driver's seat.': Woman vows to 'pay it forward' after strangers' acts of kindness during car accident'
Do you know someone who could benefit from this story? Please SHARE on Facebook to let them know a community of support is available.