Born and raised in Bruges, Belgium, Sarah Lescrauwaet-Beach took an interest in food from a young age. By age 12, she was already cooking family meals as a way to help her father after a long day of work. Annual family vacations to Portugal created a fascination with the world beyond Belgium, and after Sarah attended college, she spent 12 years abroad. Living in Australia, Cyprus, Egypt, and on both coasts of the United States, Sarah gained valuable insights into different cultures and their rich cuisines.
While travels abroad uncovered a world of wonders, it was not always easy to adapt to new ways of life. Since childhood, Sarah had a sensitive stomach, so her experience with foreign foods always had a common thread; simplicity of ingredients and limited fat. Whereas she first saw the necessity for a clean and simple diet as a limitation, Sarah soon learned meals could be as delicious as ever with simple ingredients and less salt, oil, and butter.
Back in Belgium with her husband and two young boys, Sarah wanted a way to make fruit and vegetables fun and creative. What started as simple plates to give her children a smile, soon became a creative way to unwind, bring her message to people around the world, and keep her kids coming back for more.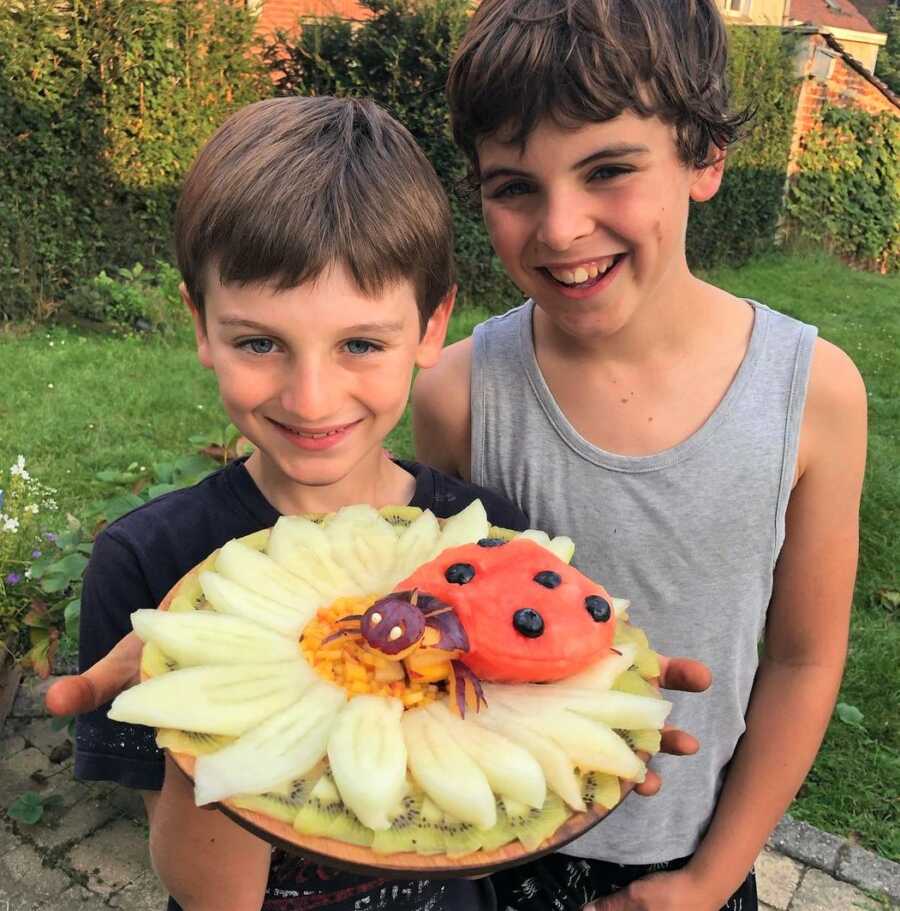 The busy mom has two jobs, working as a consultant and marketing for the chocolate company called MIA (Made In Africa), which she co-founded with her husband. For this reason, most of her food art designs are created after work or during the weekend.
"Any creations take between 30 minutes to two hours, depending on my mood and how crazy the boys are…" shares Sarah. But the masterpieces are gone within minutes! While you might think the kids in your house wouldn't gobble them up with the same enthusiasm, Sarah says she took some to her kids' classes (pre-Covid) and they were a hit.
Something about making the platters into their favorite animals and characters makes them more enjoyable to eat. Kids, including Sarah's own, often find it funny to be able to eat these characters, racing to claim different pieces. While some of the food artist's creations are prompted by suggestions from followers or pictures she likes, her children will often make the requests.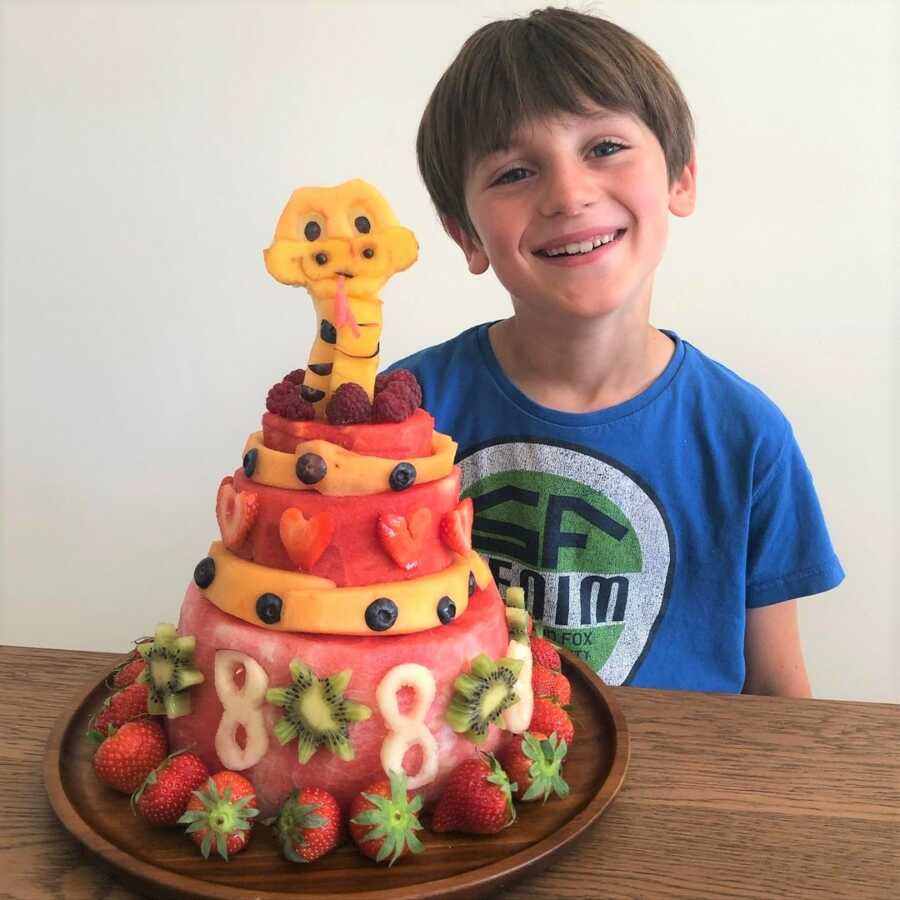 Sarah stays true to her purpose and keeps her edible food art simplistic and natural; only using fresh fruit, fresh vegetables, seeds, nuts, and occasionally a touch of their MIA chocolate. Her food art does not contain any mashed potatoes, pasta, food dye, or other additives.
"There is some beautiful food art that is amazing to look at, but it's hard to see how someone would want to eat it," Sarah says. "My message is all about getting kids (and parents) to have fun with fresh food. I think it would be a shame to make creations that go to the trash."
"My commitment to always use fresh fruit and vegetables encourages me to get the most of seasonal colors, textures, and flavors," shares Sarah. "To be honest, this is one of the challenges that makes my food art so rewarding and delicious." Melons are a frequent favorite in her designs, and MIA chocolate is the special touch.
Tired of setting a timer for your kids to eat their vegetables? Sick of saying they won't leave the table until they're gone? To parents who might be pulling their hair out, drumming their fingers in frustration as their children stubbornly refuse to eat their fruits and veggies, Sarah offers some friendly advice.
"Make it more fun! For young kids, you can make simple images. For older kids, use them in more recipes such as veggies and hummus, and dipping in yummy sauces. Introducing fruits and veggies at an early age is key. If you have a garden, you can grow some fruits and vegetables together with your kids. My boys love this! We have lots of berries (strawberries, blueberries, and raspberries) in our garden."
Whether you're thinking you might give the food art a go, or are just admiring the beautiful platters, you'll love scrolling through our 30 favorites of Sarah's food art photos.
#1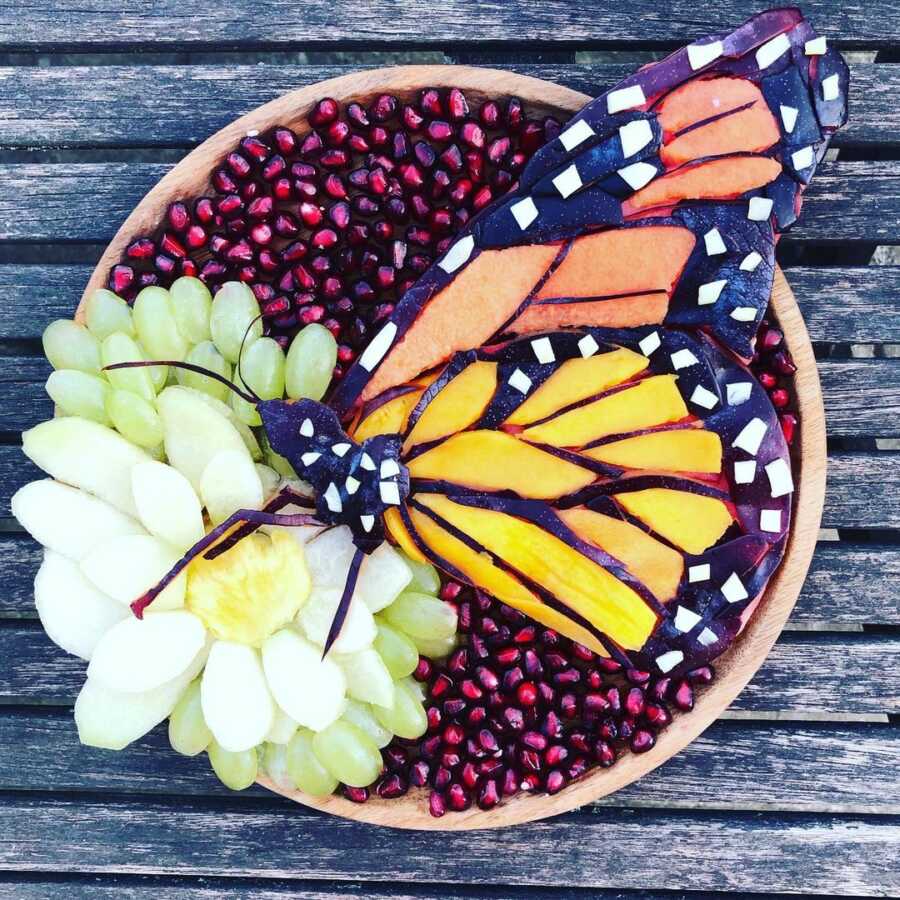 #2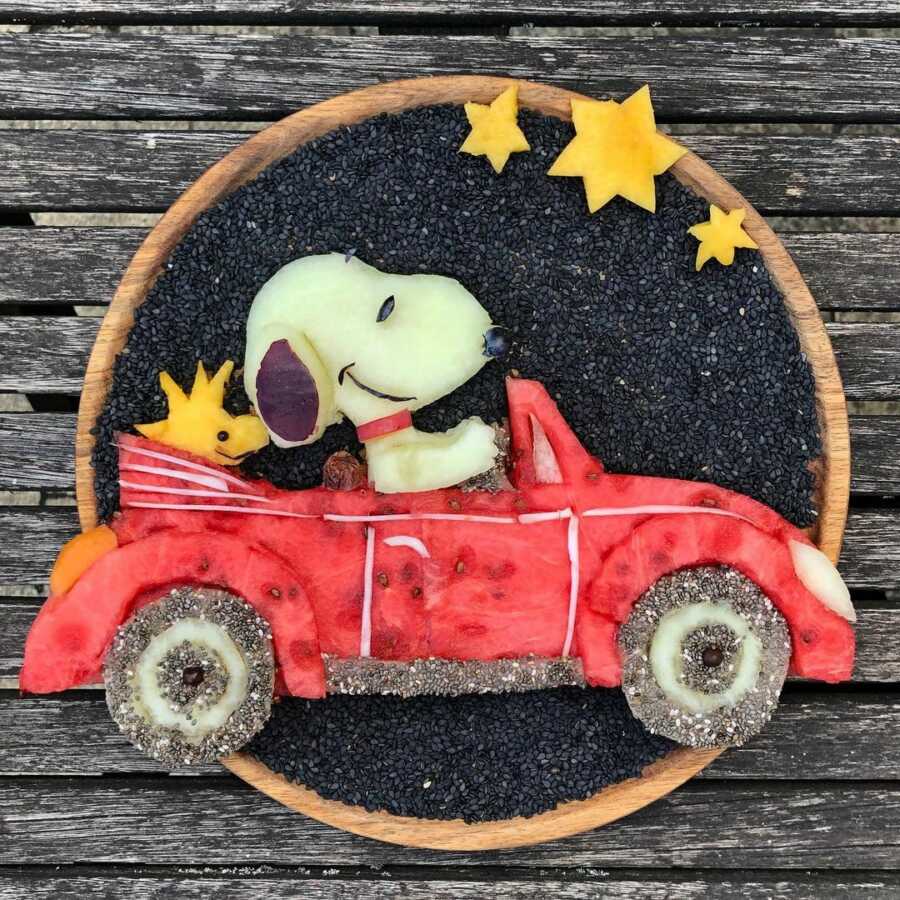 #3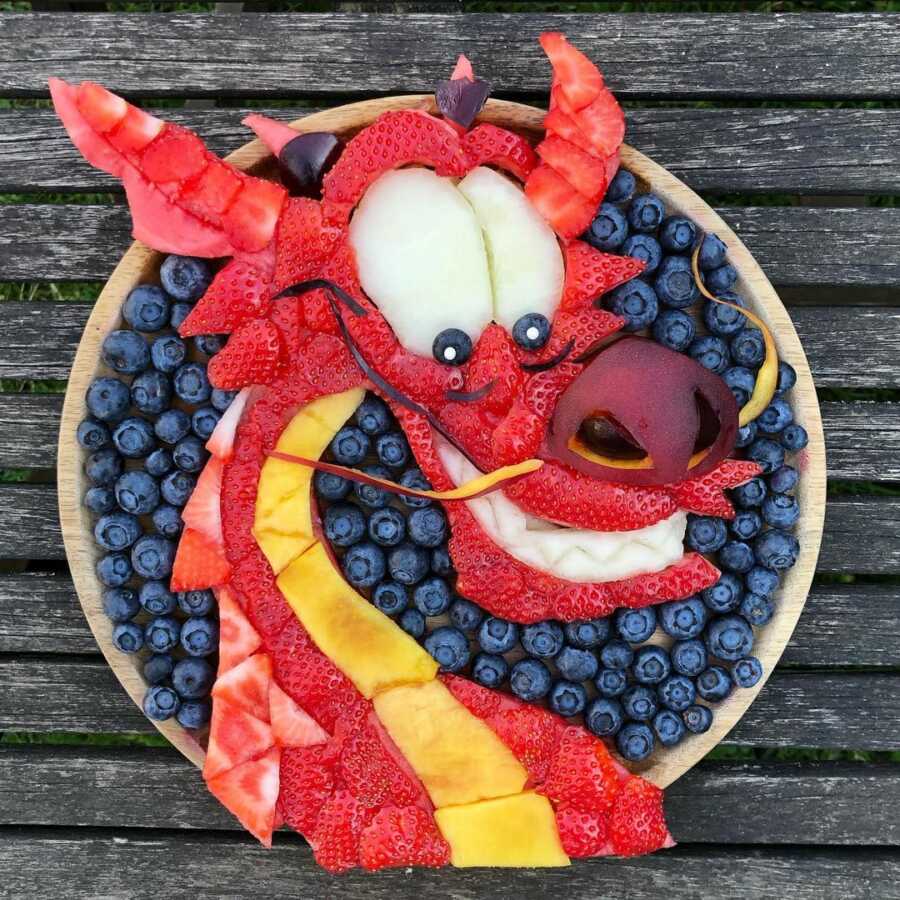 #4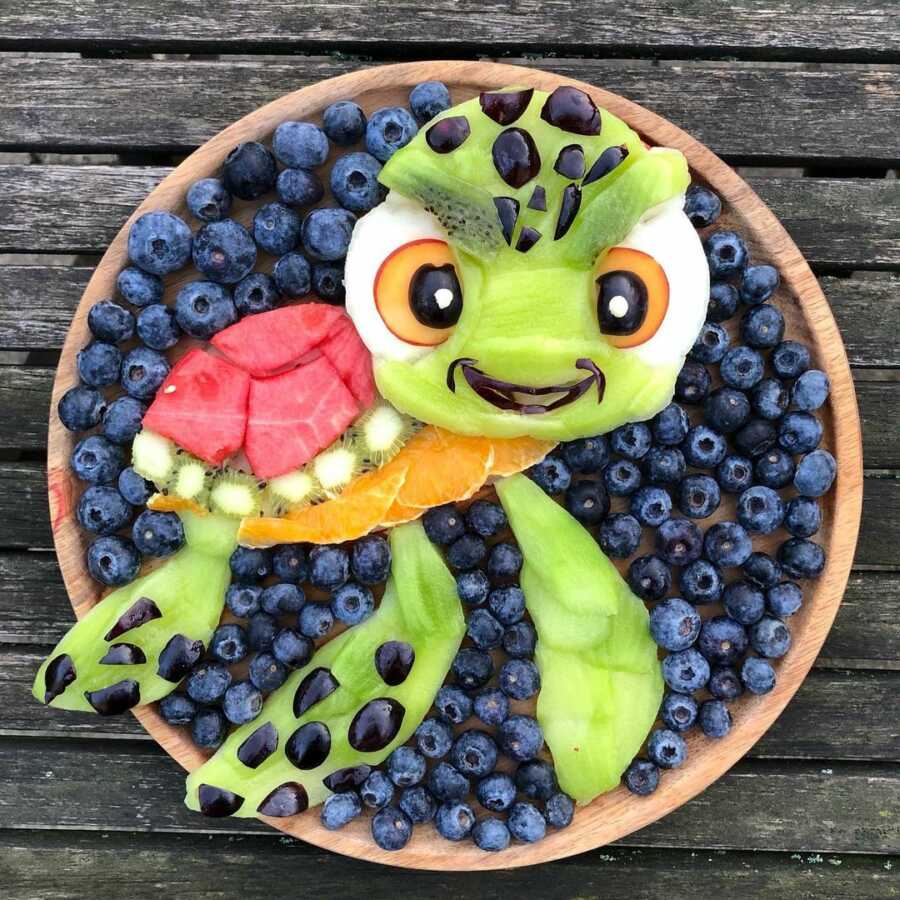 #5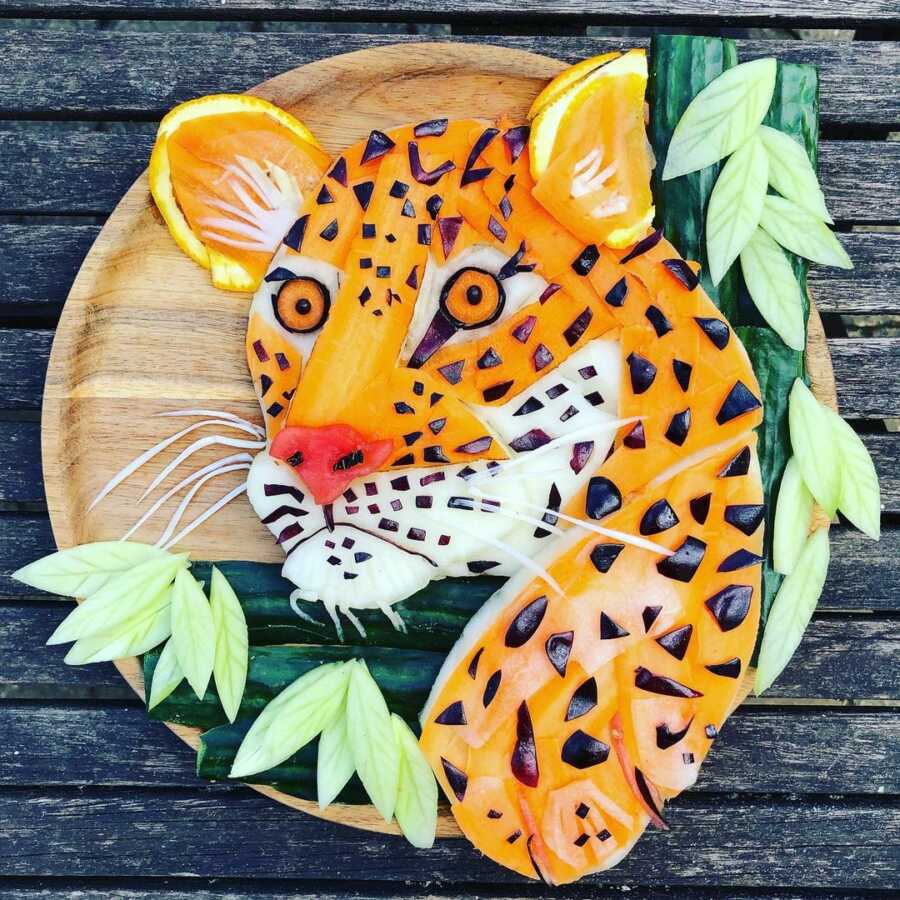 #6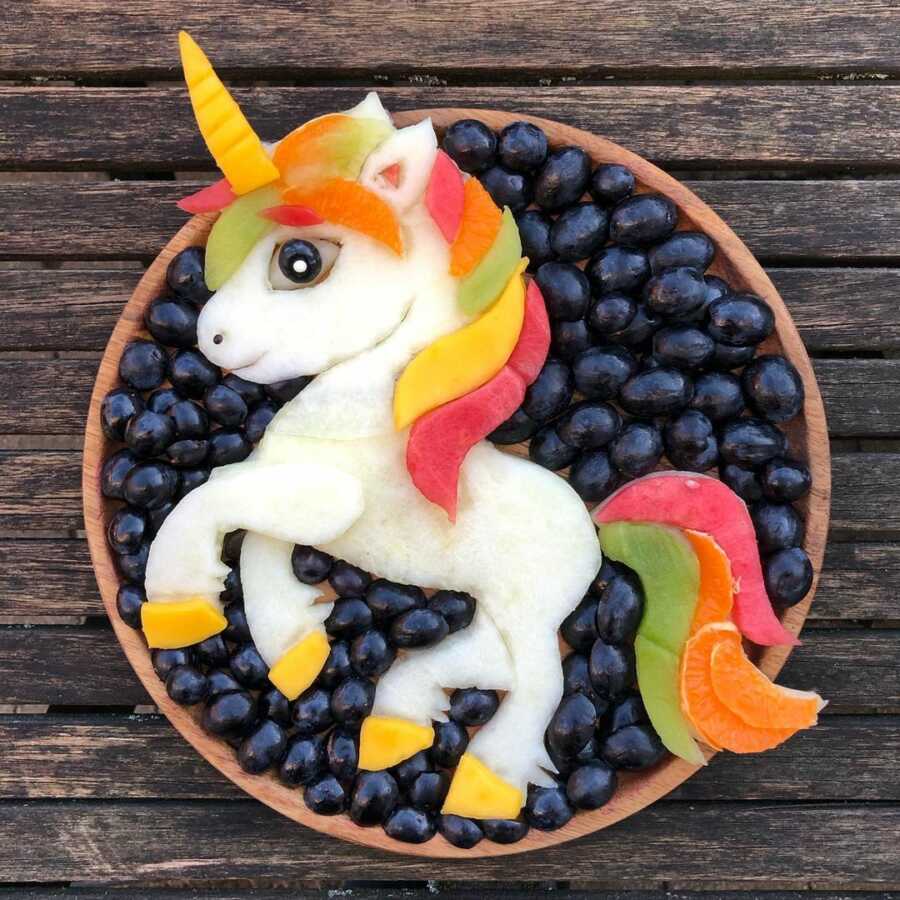 #7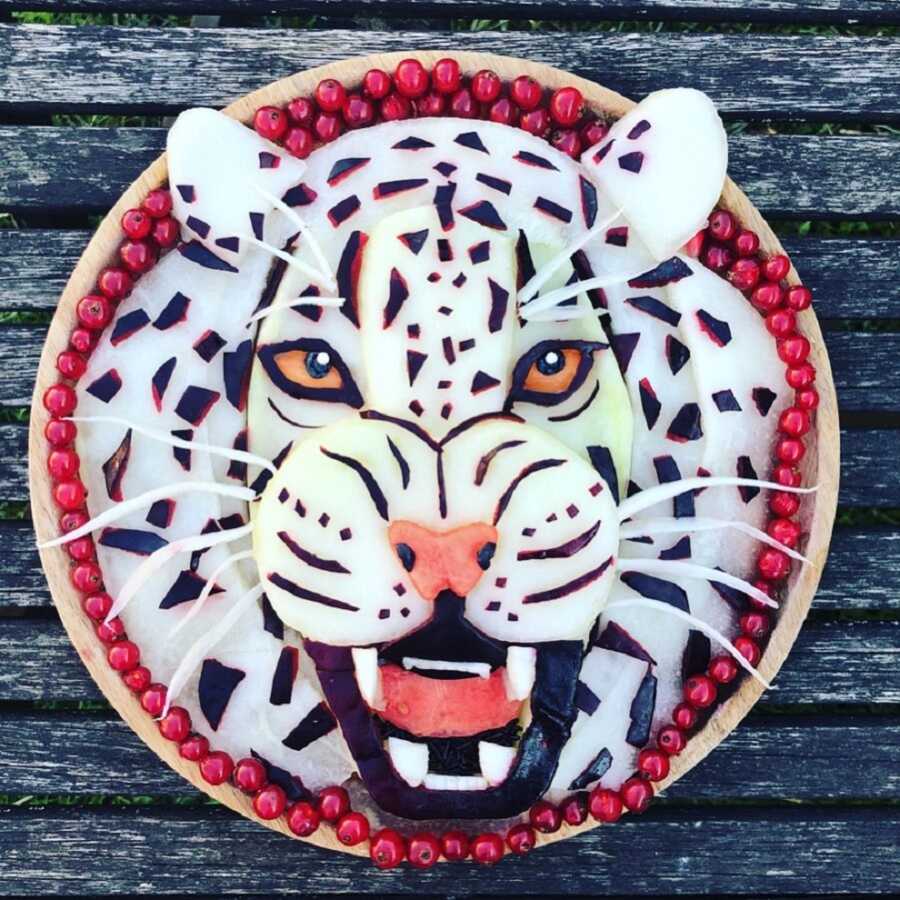 #8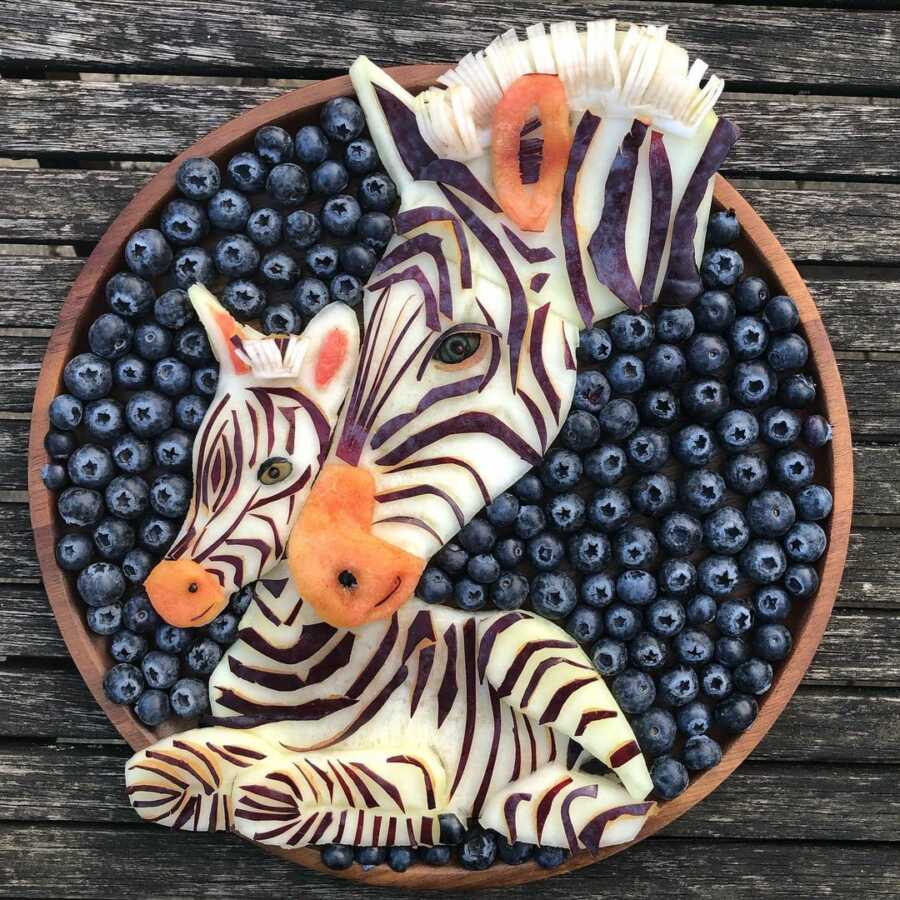 #9
#10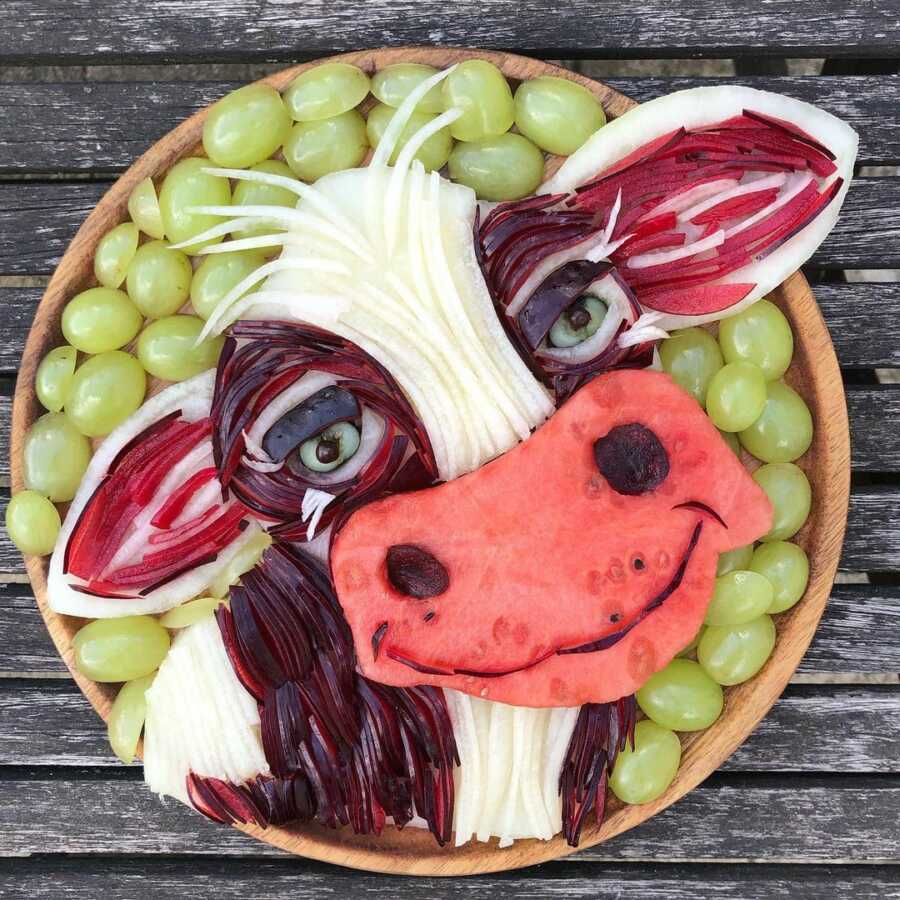 #11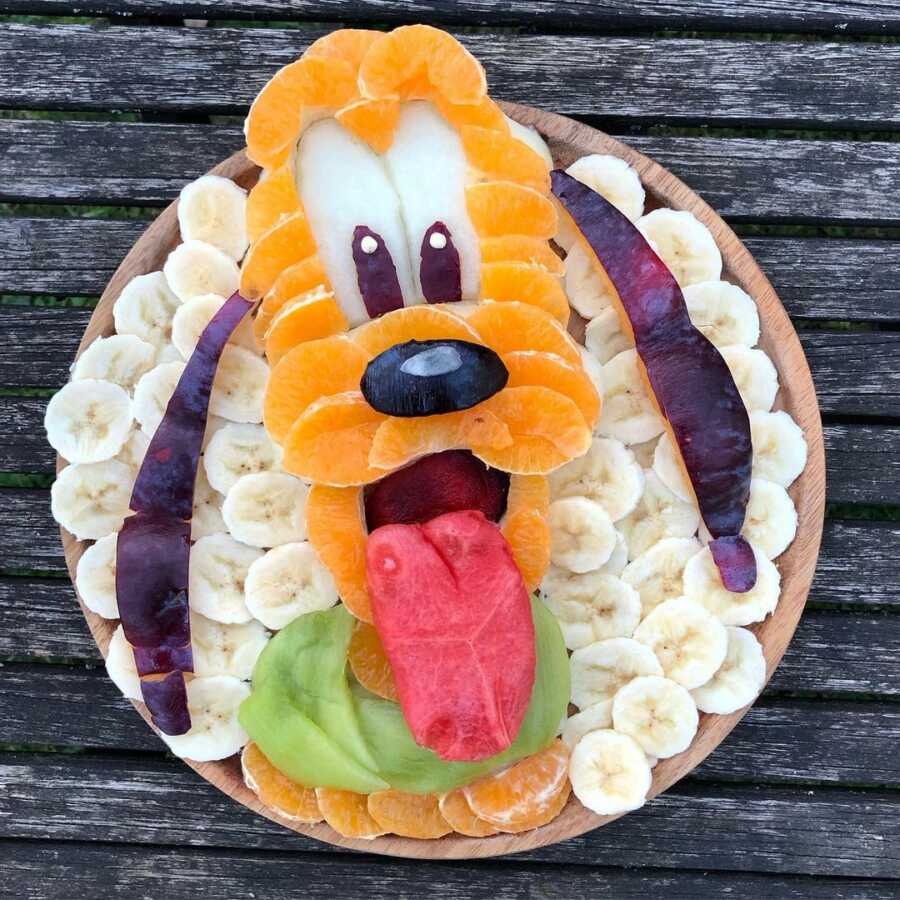 #12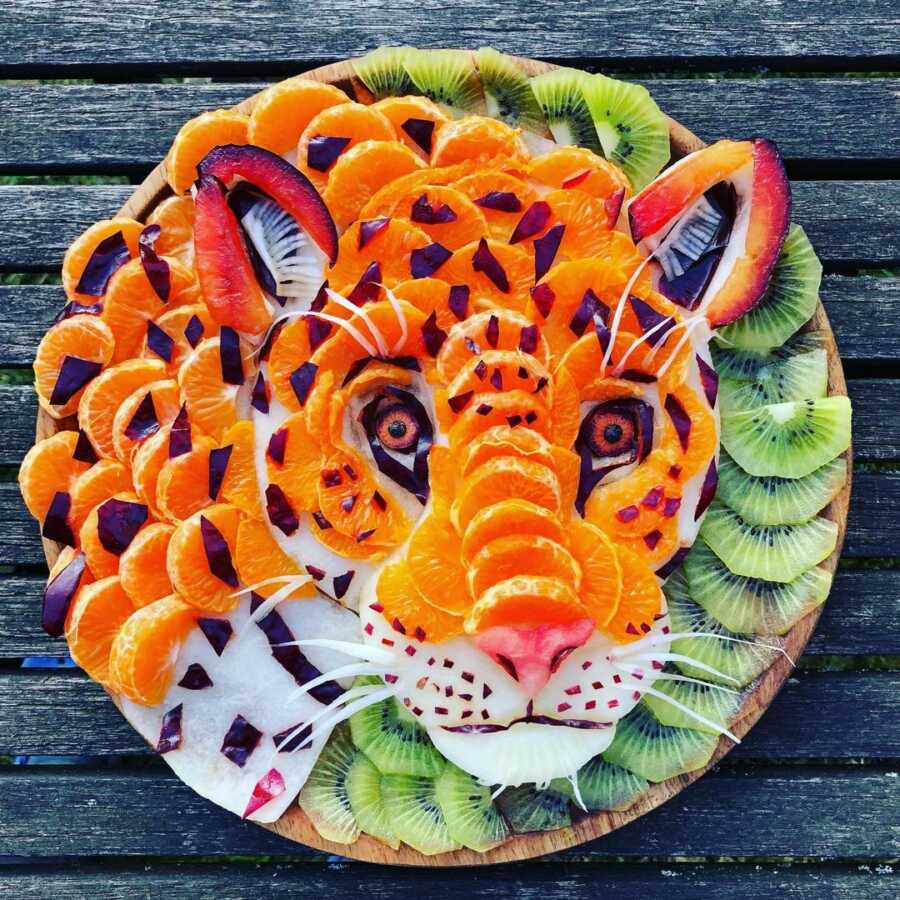 #13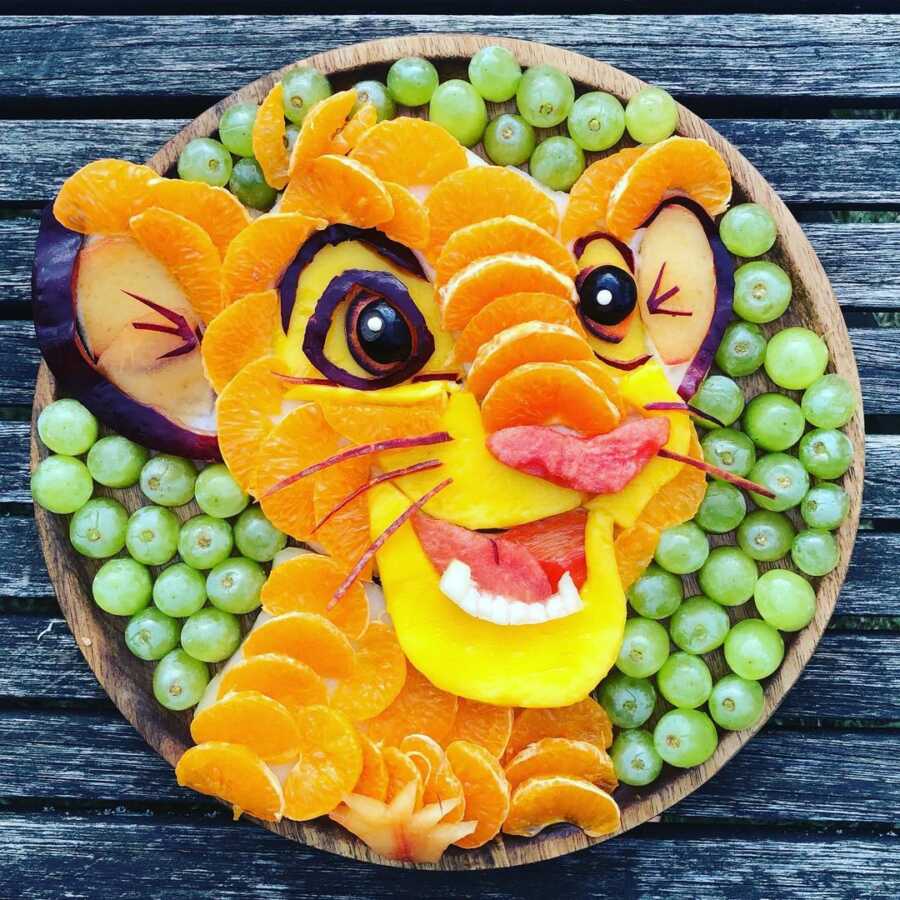 #14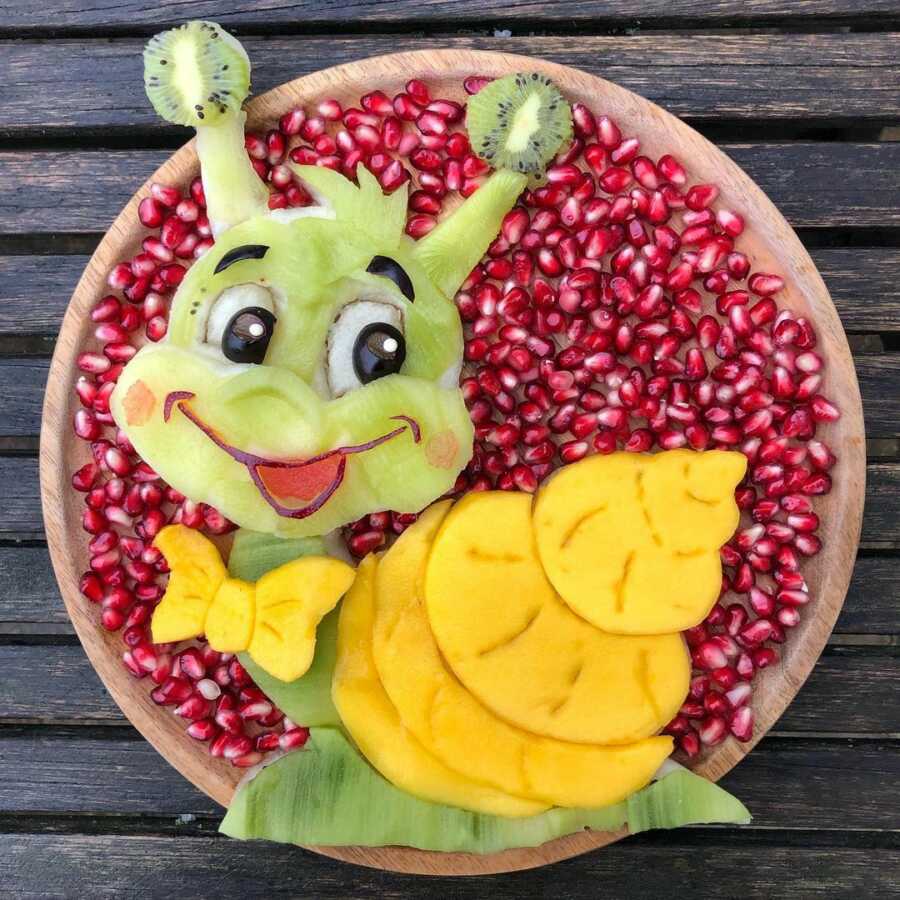 #15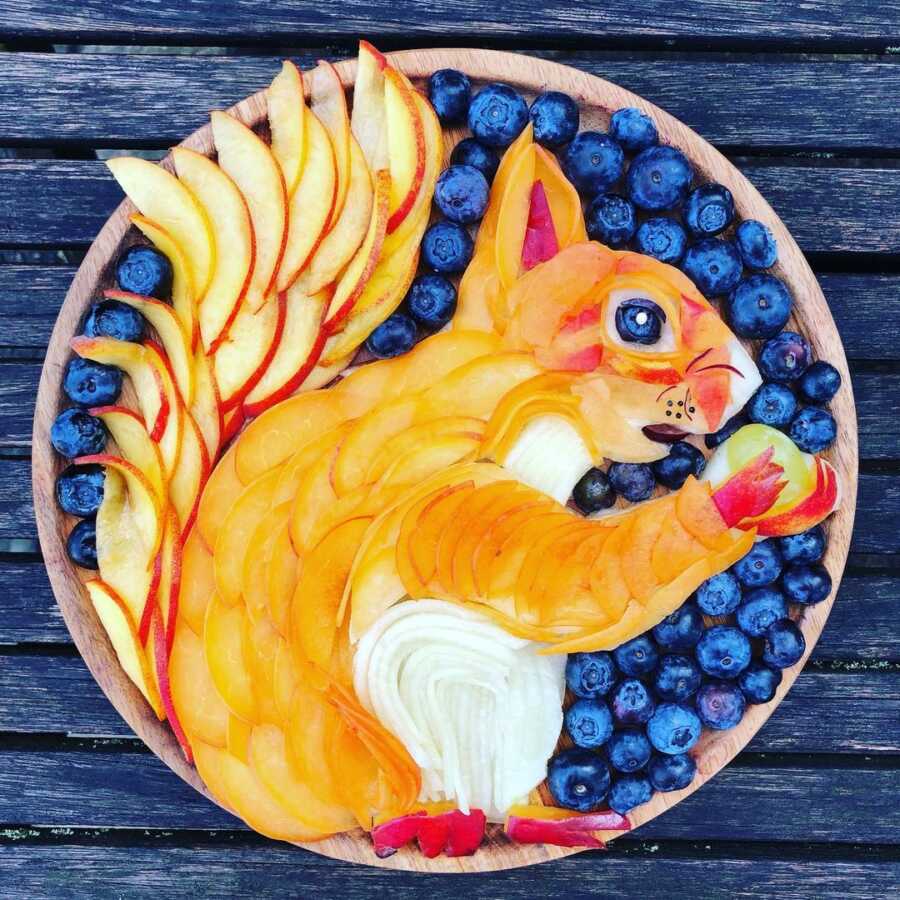 #16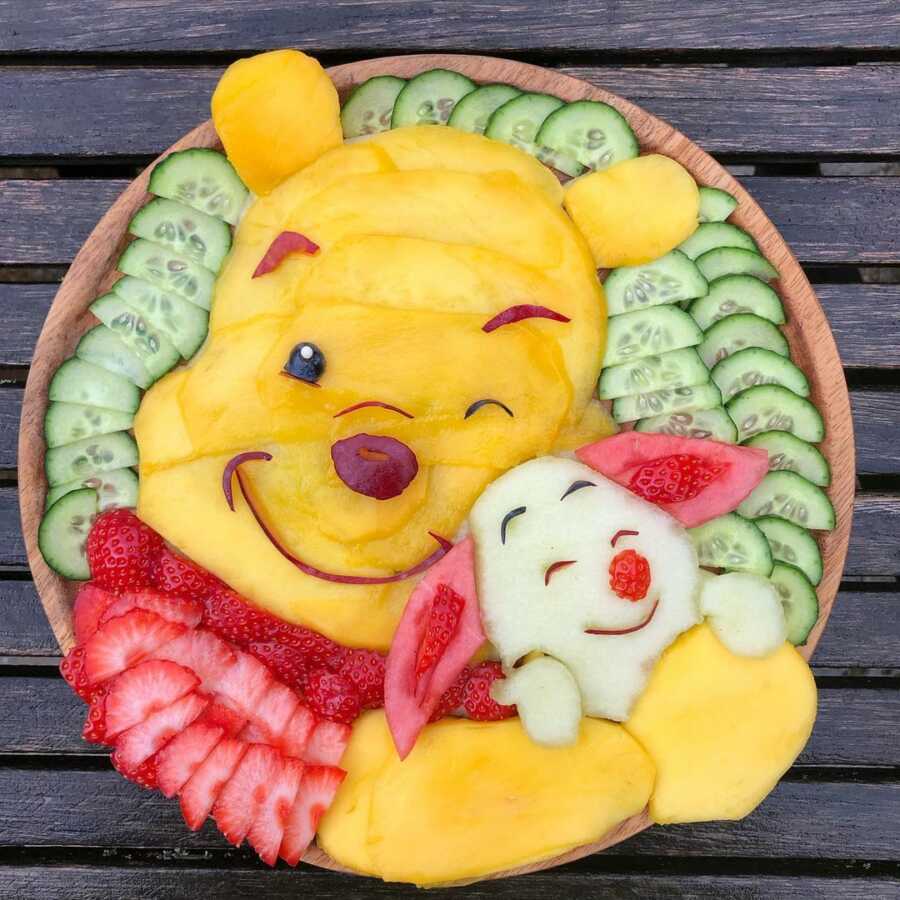 #17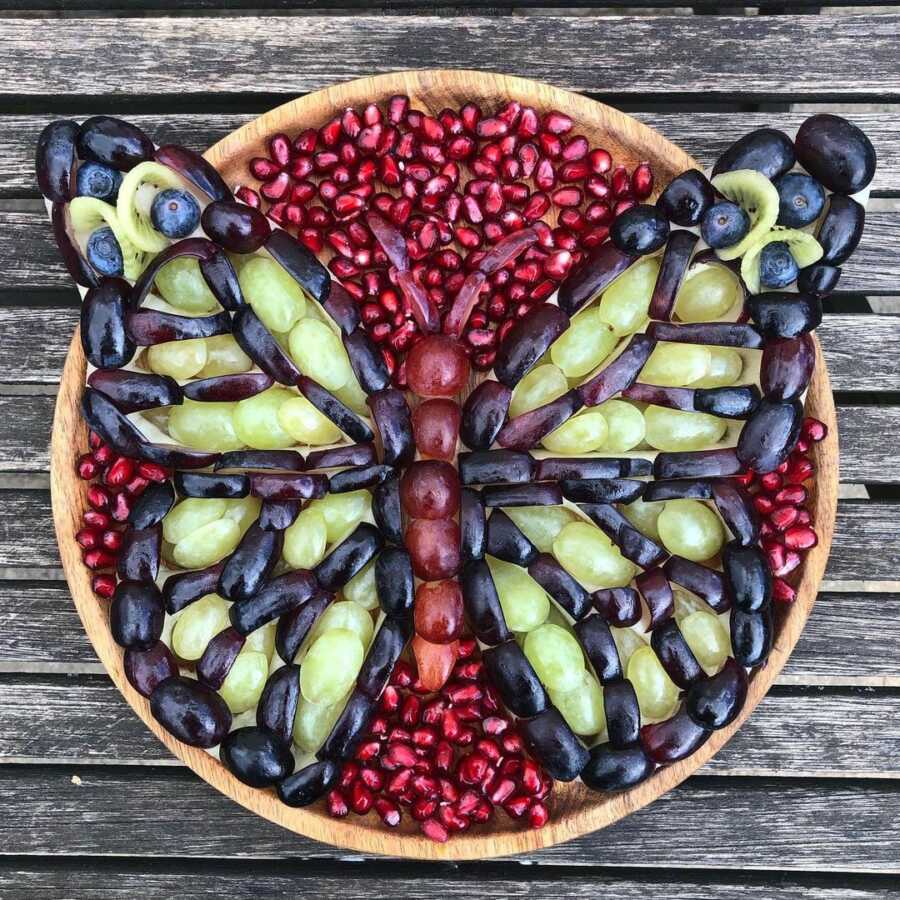 #18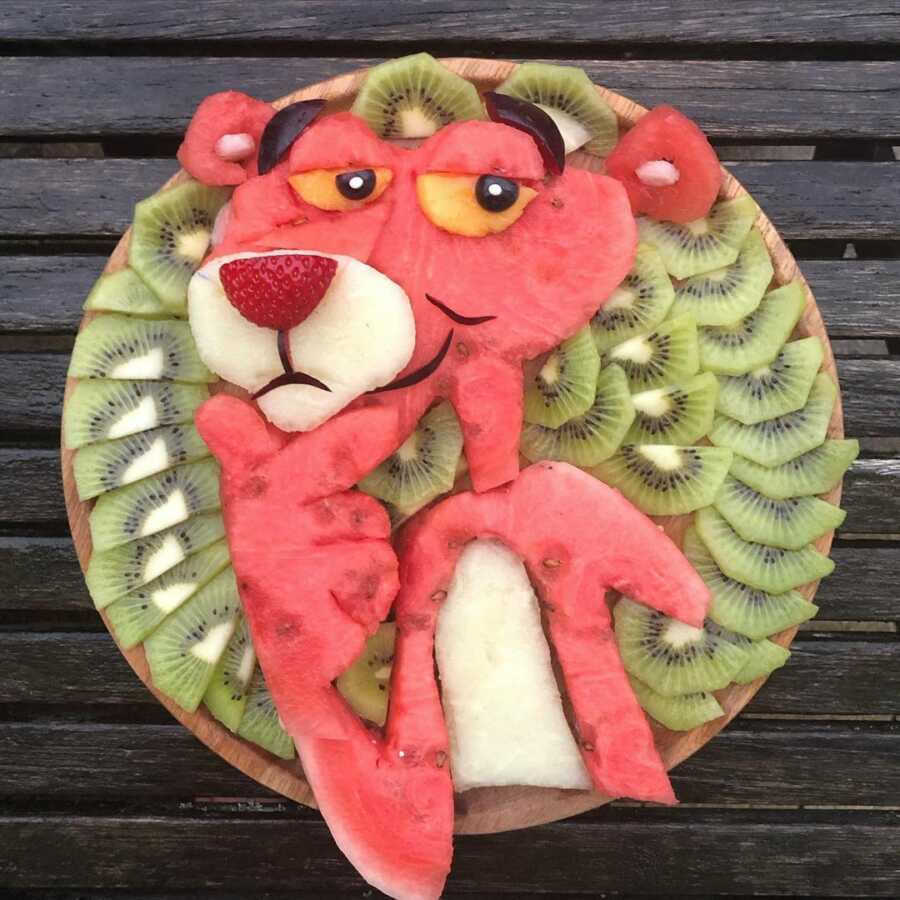 #19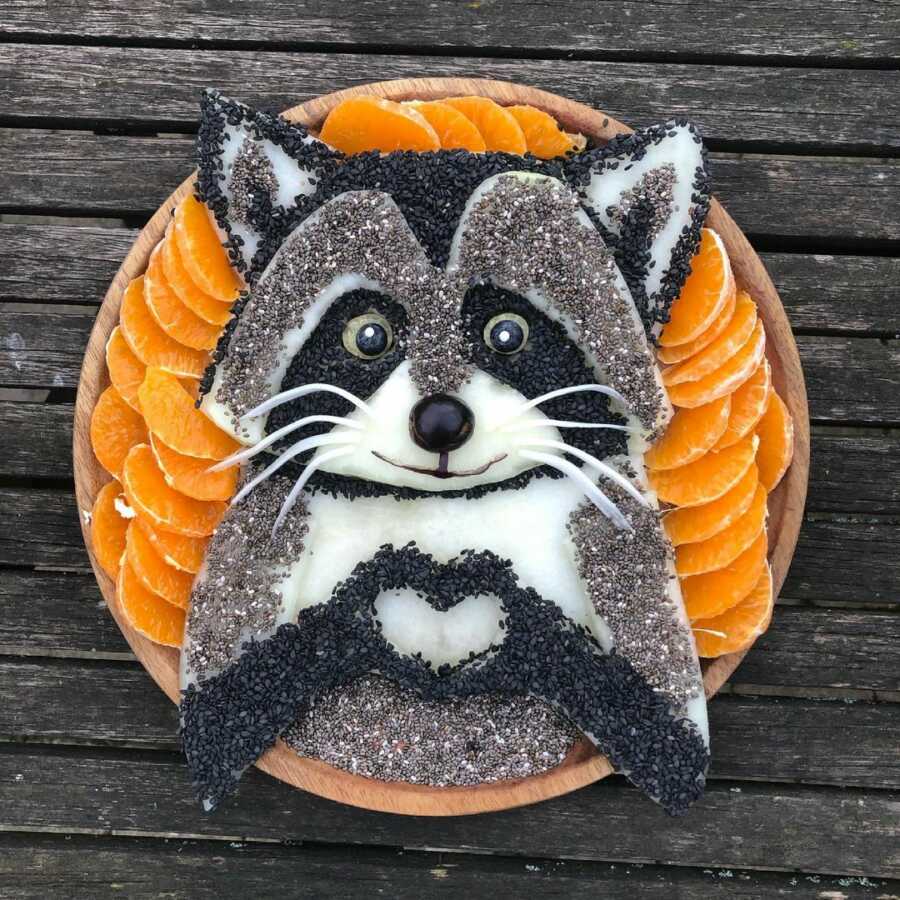 #20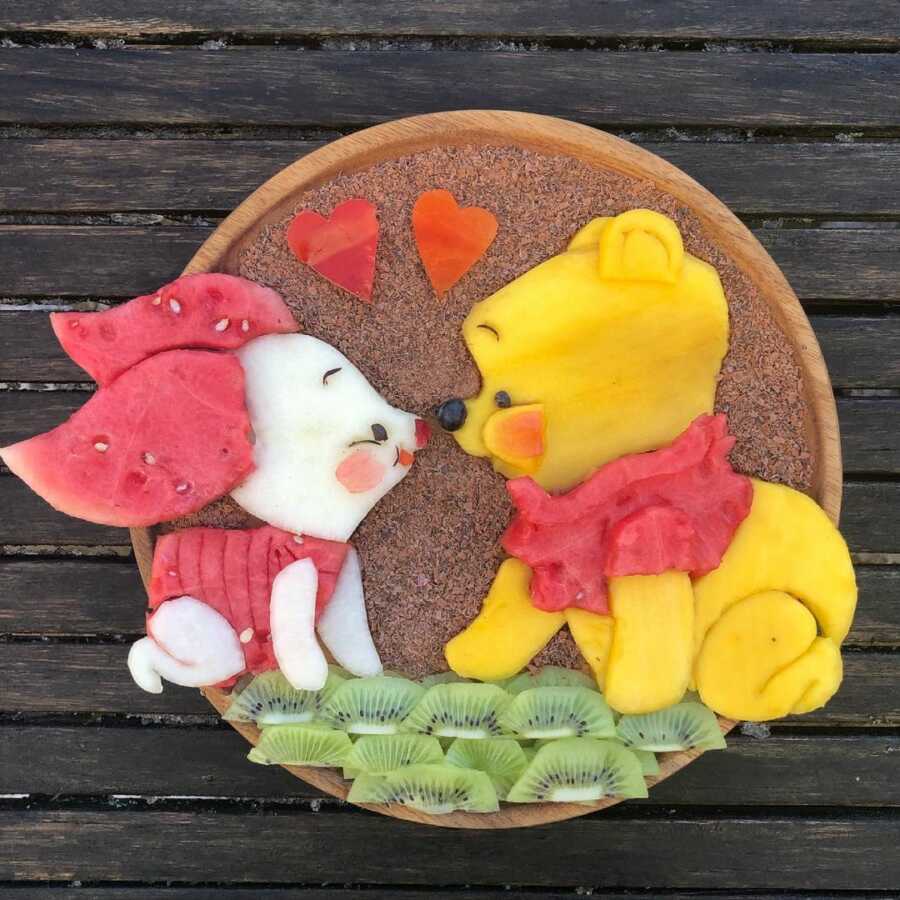 #21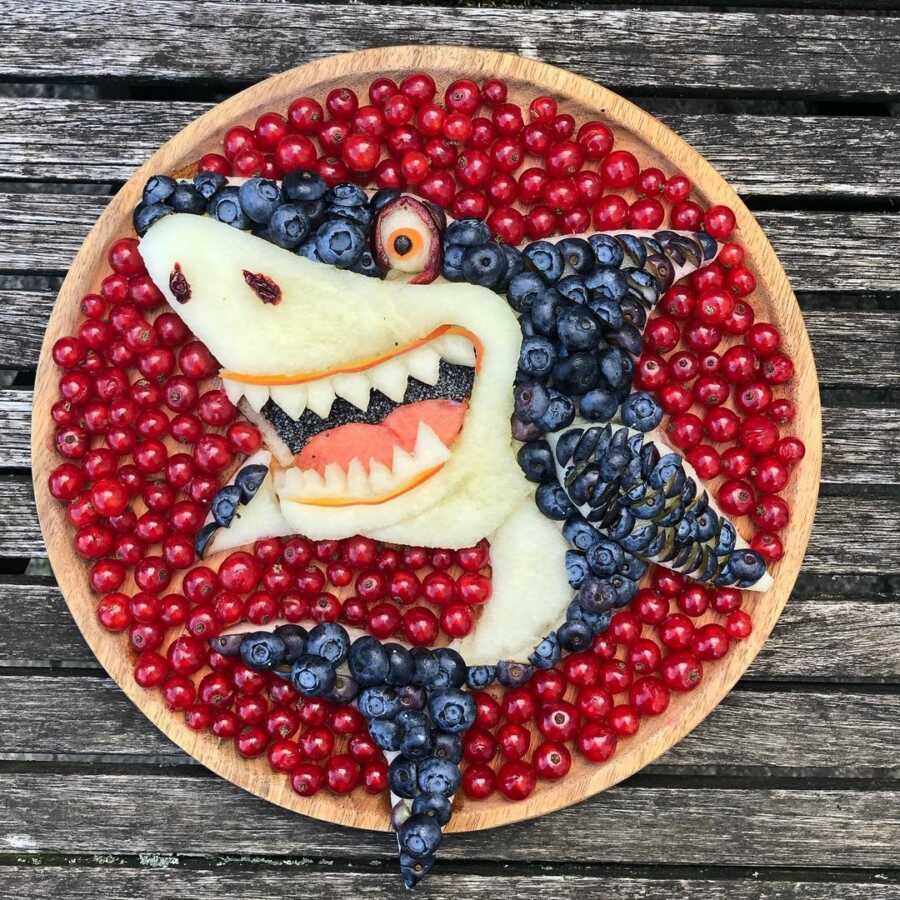 #22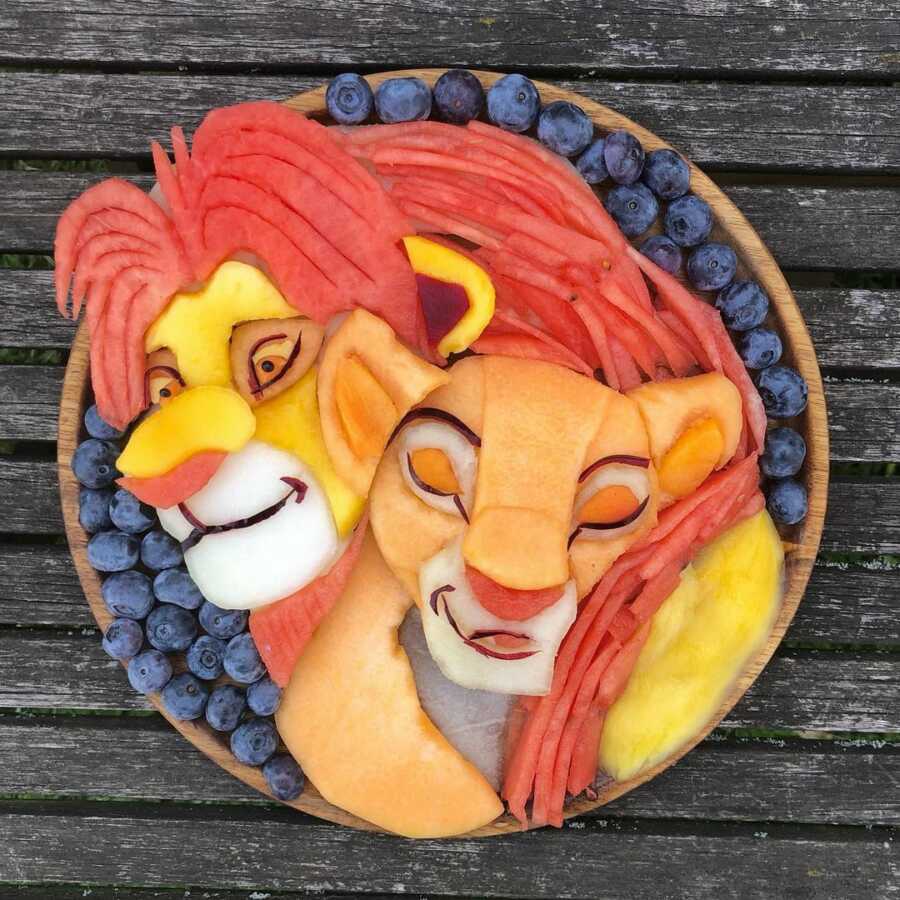 #23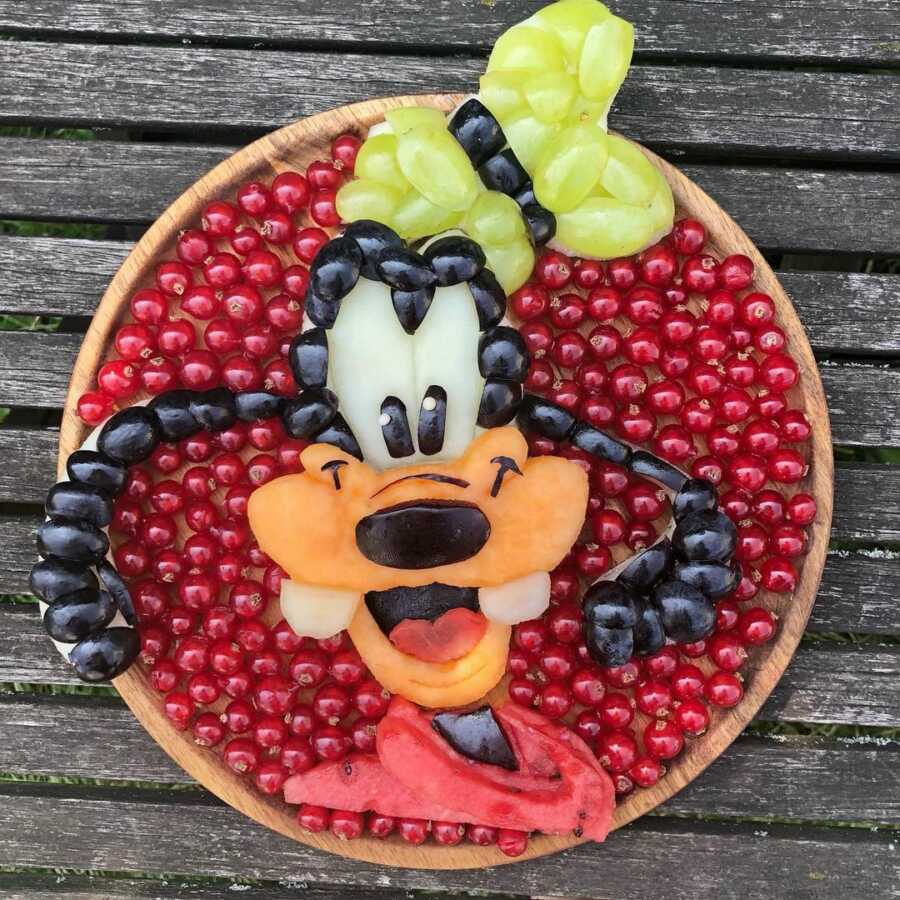 #24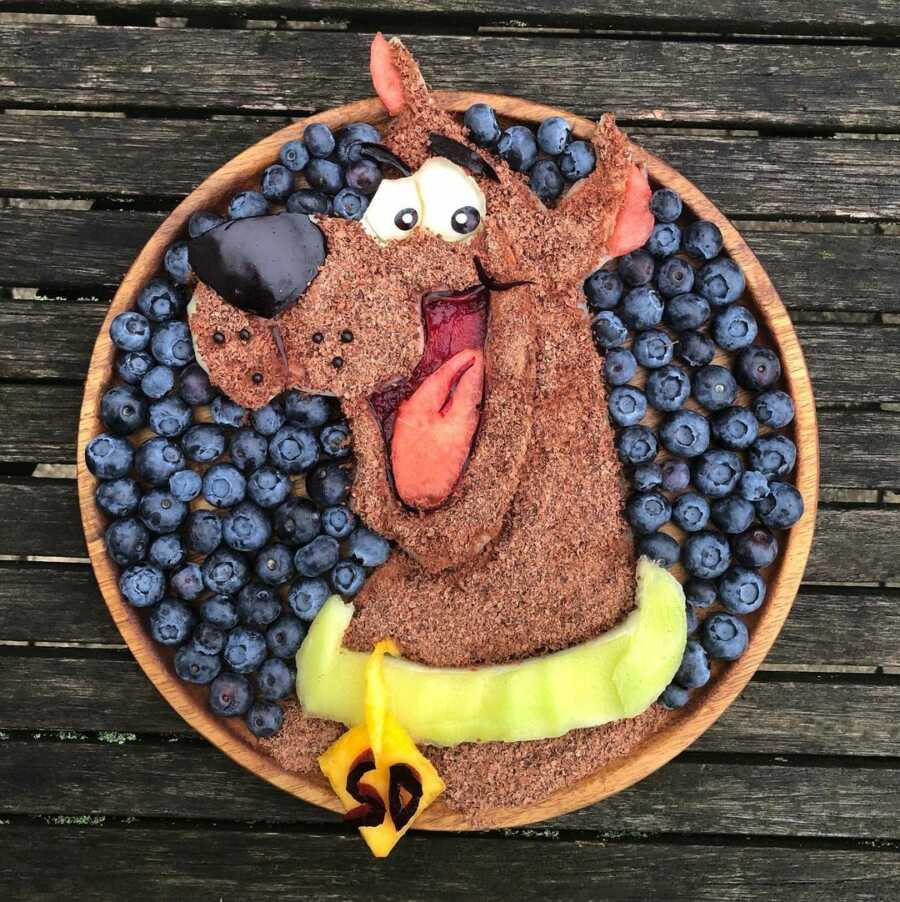 #25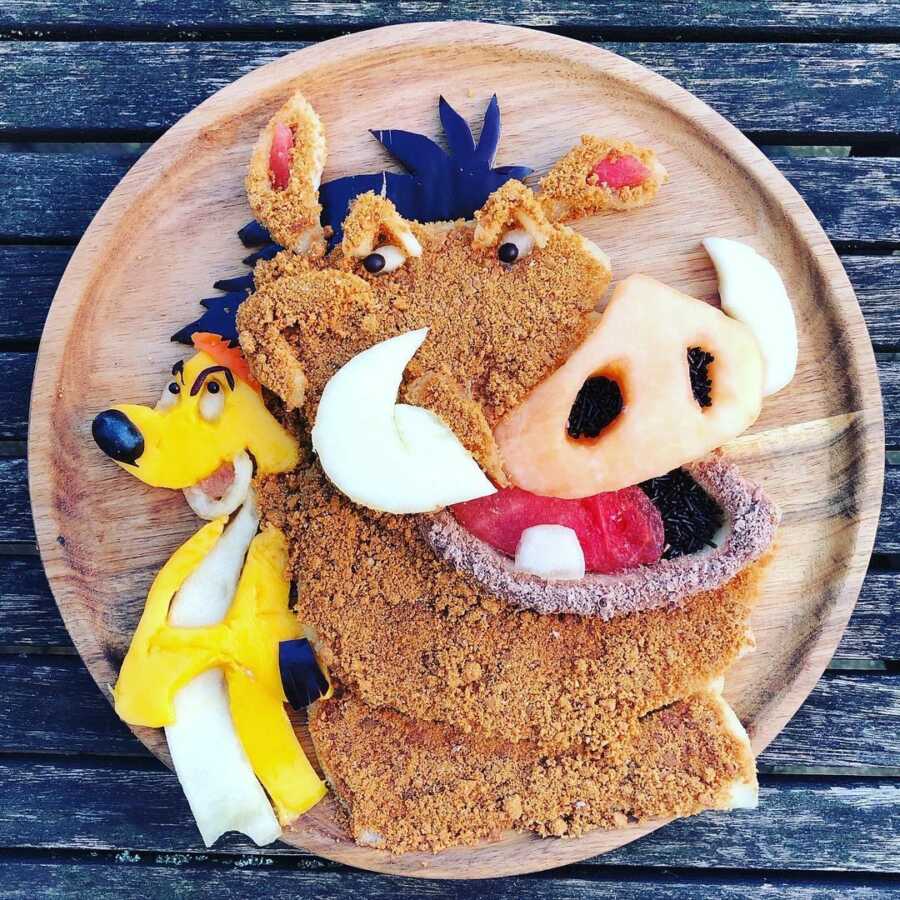 #26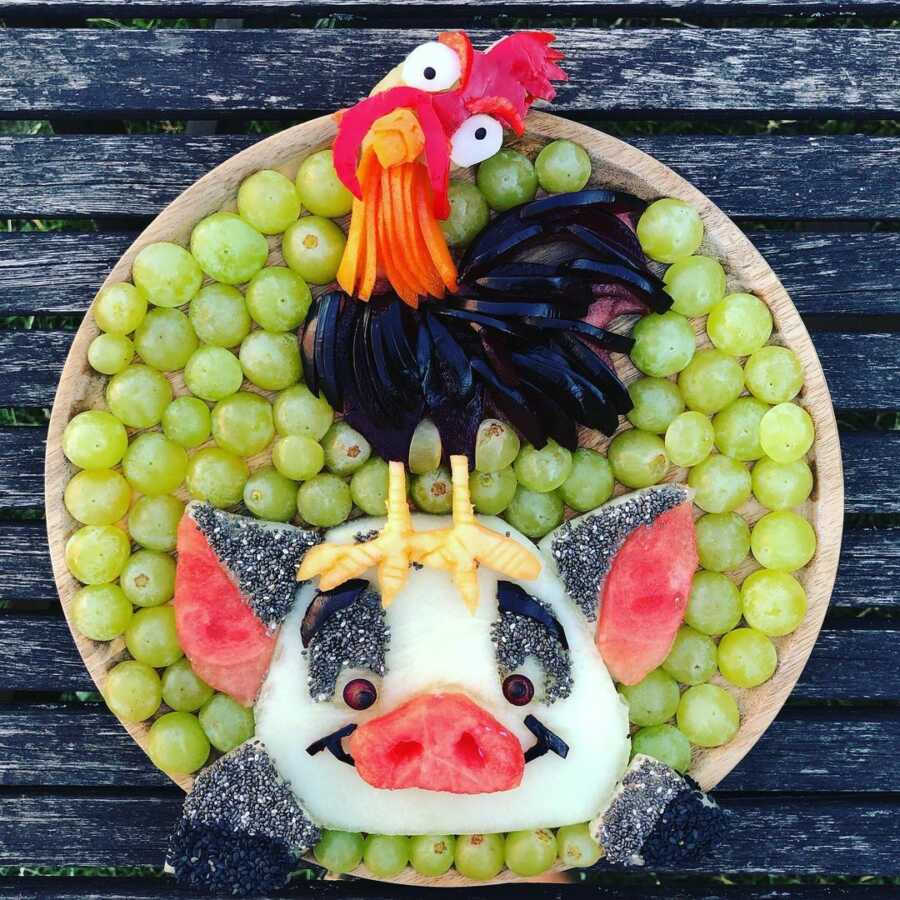 #27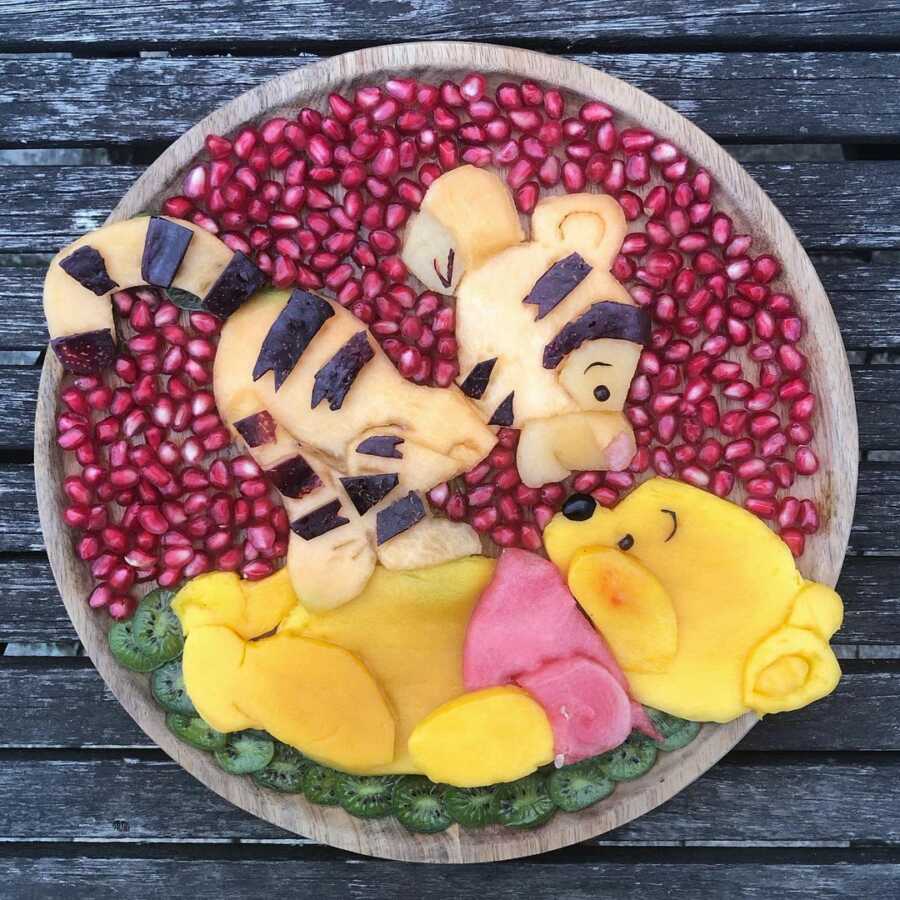 #28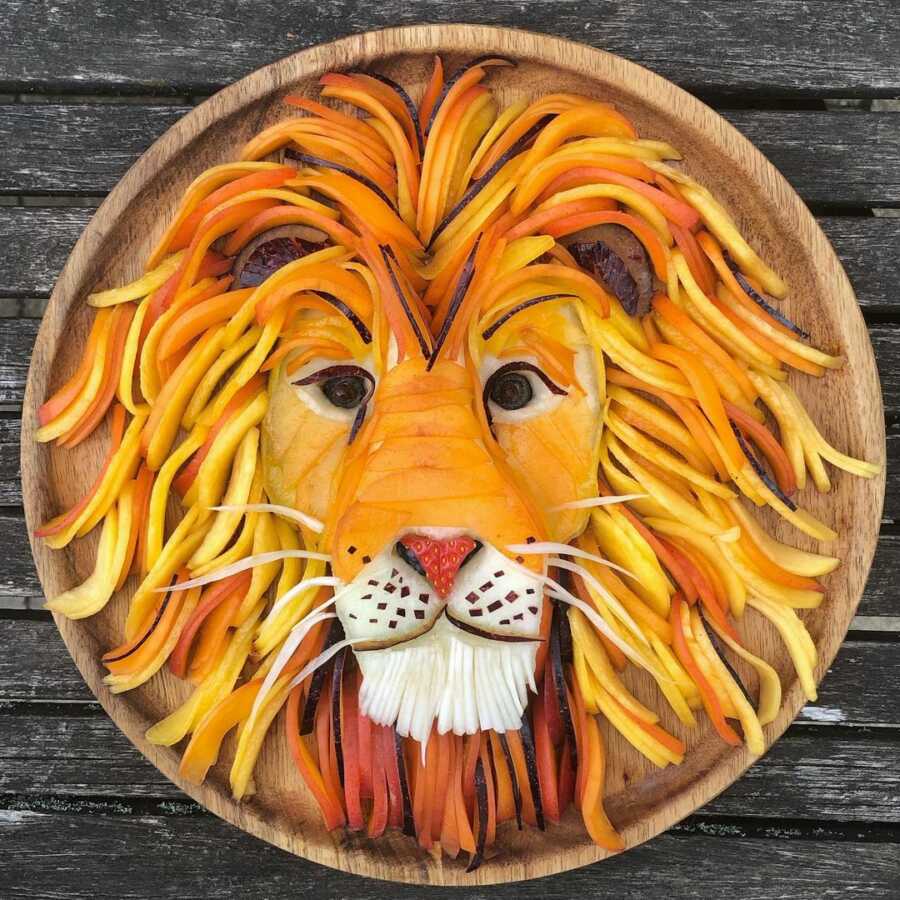 #29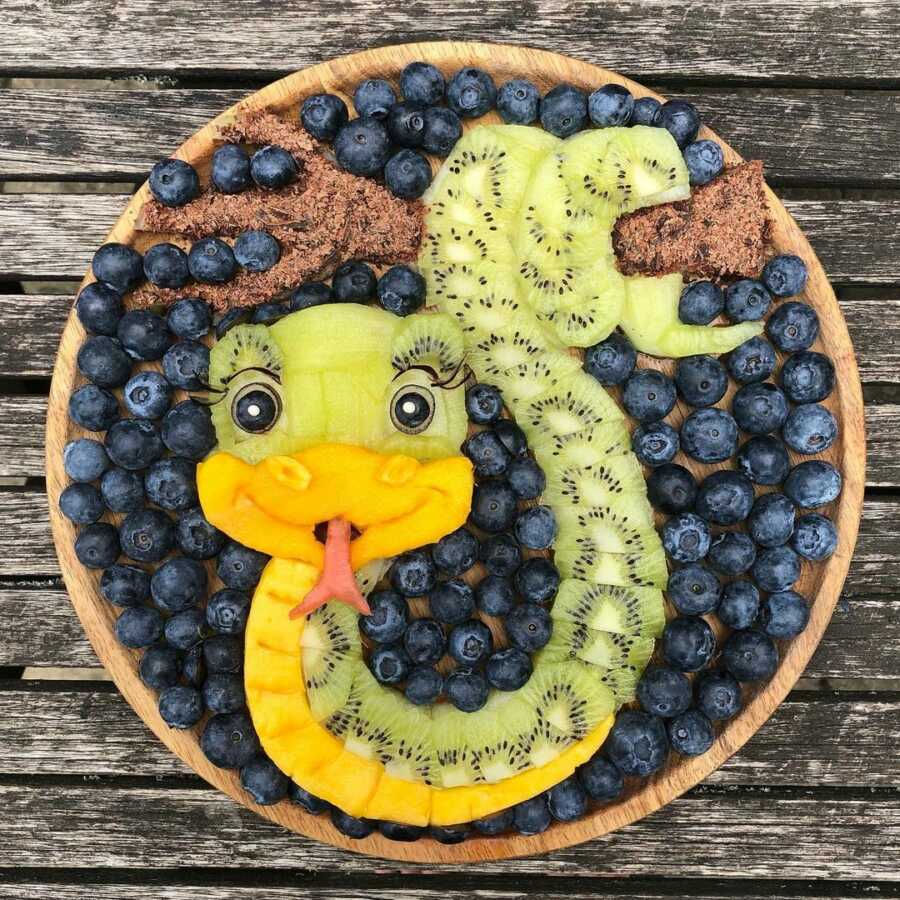 #30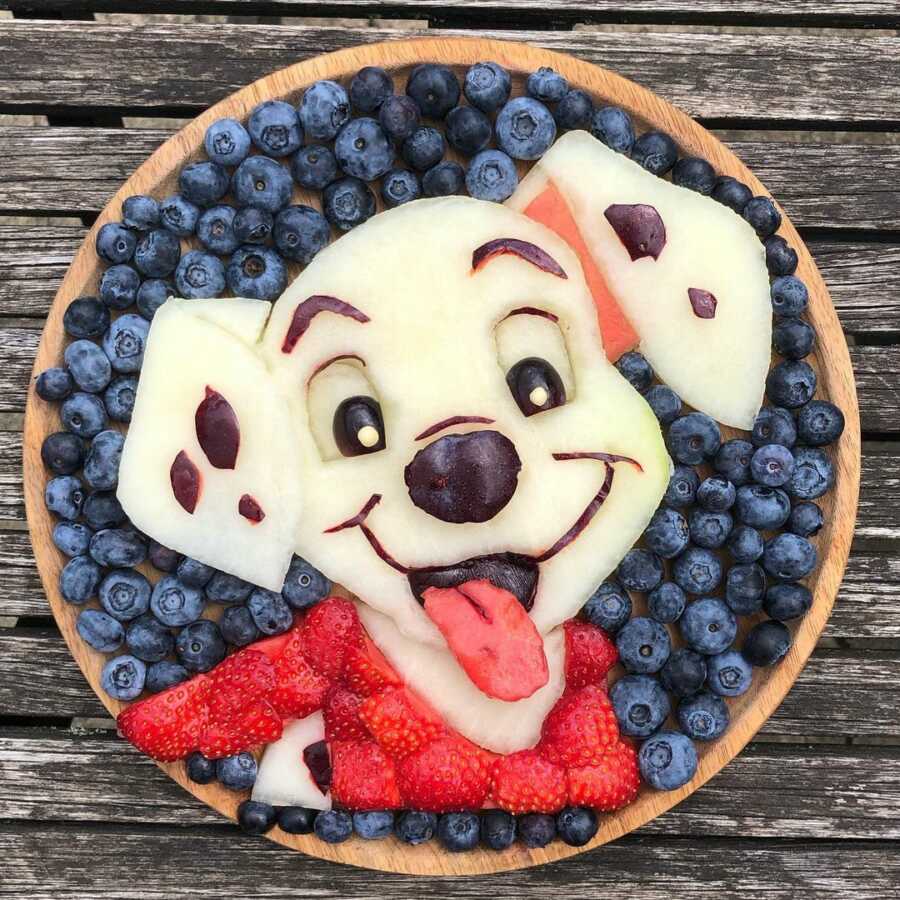 Inspired to create something cute for your kids to encourage their healthy eating? Most of us can't recreate something like this, so we're sharing our top picks for a little food art assistance.
This site contains affiliate links to products. We may receive a commission for purchases made through these links, at no additional cost to you.
This story was submitted to Love What Matters  by Sarah Lescrauwaet-Beach of Vossem, Belgium. You can follow her on Instagram and visit her website here. Submit your own story  here, and be sure to subscribe to our free email newsletter for our best stories, and YouTube for our best videos.
Read more helpful parenting stories:
'Here buddy, I can help you down.' The man I'd tried to wave around us couldn't hold it in any longer. He was obviously annoyed.': Mom urges importance of teaching kids lessons by letting them do things on their own
'I heard him say to his sister Ellie, 'I'm going to save these for you. We can all have chocolate for my birthday!' I swelled with pride.': Mom explains why teaching kids to share is a 'priority'
'I've been an educator for years. I work for an amazing district. Yet, I have no clue what to do for my own kids. I'm struggling.': Mom says, 'Let's teach kids lessons about life'
'You never buy me anything. You're always like this,' my daughter said. It was hard to hear, even harder to fight the overwhelming guilt.': How To Raise Grateful Kids Instead Of Entitled Ones
SHARE this story on Facebook with your friends and family!