This is a follow up story to Cyndi's on going grief journey. To read the full back story please click here.
"One year ago was the day our world started crashing down around us. We were in Colorado for treatment, and we found out Matt's cancer had spread 'all over.' We could not fly home. He was dying. They knew he was dying. I knew he was dying. Matt knew he was dying. Our daughter was scared to death. Enterprise rental car gave us a brand new Tahoe to drive from Albuquerque to Alabama. We promised him he could die at home and he did, it just took until August for that to happen.
This is a picture of him in Telluride a few days before we found out. He was so weak but obsessed over seeing it from the top of the mountain. We made that happen for him. He looked at the world with different eyes than we did, probably because he knew how close to heaven he really was.
Driving him home was an out of body experience. I have driven those interstates many times in the past, but never had I driven someone I love home to die. Every mile felt like 100. Every gasp felt like it could have been his last.  He was my protector, and in that moment I couldn't be his. I couldn't save him.
Survivor's guilt is real. I would've taken his place if it meant he got to spend the rest of his life with the people who loved him, especially our daughter. I would've gone to the ends of the earth to save him. Accepting I couldn't was impossible, but we drove state to state with him completely dependent on oxygen, and his condition continued to deteriorate. I live with the 'what ifs' every day of my life.
At the end of his life, all he longed for was home. He called out to his parents. Then, he started calling out to people who had gone to heaven before him. He started having vivid conversations with his Grampy, who had died when our daughter was just a baby. It was beautiful to watch him talk to his Grampy like he was right there in the room with us but also crushing to know he was preparing to cross over.
I held his hand and counted his breaths. I made him as comfortable as I could. He was in physical pain, and watching him suffer and knowing the cancer was the cause was unbearable. All we wanted to do was fix it, but we couldn't.
Losing Matt taught me a lot about life, but the biggest lesson it taught me was that all we have is today. It taught me to love hard, tell people you love how you feel about them, hug them big, and always be the last to let go.
Today, as you go through life, remember Matt. Remember his walk and his faith in God and the impact he made on so many lives. He knew his time on earth was limited, and he lived every day like it was his last right up until the very end.
He got to the top of the mountain. The view he has now is unlike anything any of us can ever imagine, and I know he is free of cancer, free of pain, and free in the arms of Jesus.
'From the ends of the earth I call to you, I call as my heart grows faint; Lead me to the rock that is higher than I.' – Psalms 61:2"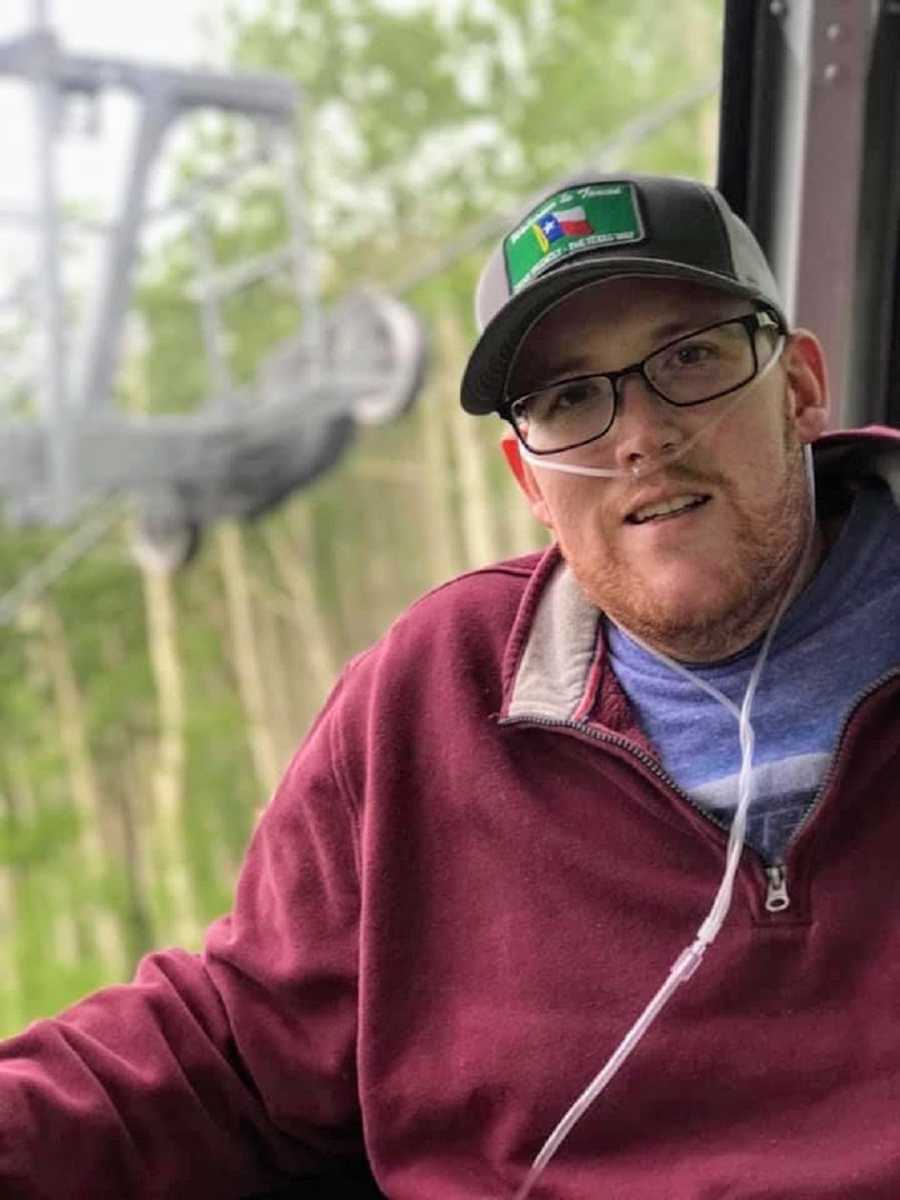 This story was submitted to Love What Matters by Cyndi Smith of Moody, Alabama. Follow her journey on her website here. Do you have a similar experience? We'd like to hear your important journey. Submit your own story here. Be sure to subscribe to our free email newsletter for our best stories, and YouTube for our best videos.
Read more stories from Cyndi:
'I feel like I'm dying.' He started going downhill. He was diagnosed with the flu, and sent home to rest.': Woman loses young husband to incurable colon cancer, 'I know how much he loved me'
'I carried his ashes. I carried them in a box all over the airport. I didn't want to put him on the floor. It didn't feel right.': Woman's journey to return her husband's ashes to his home
'Unprompted by any of us, she began drawing in the sand. 'I love you'. It took my breath away thinking about her leaving messages in the sand to her dad.': Widow and young daughter visit Wales to spread husband's ashes
'He quietly wrote, 'Before I die, I want to see my Quinn grow up.' We never thought for a second he wouldn't.': Widow shares how husband understood the value of a moment, always 'showed up'
Do you know someone who could benefit from reading this? SHARE this story on Facebook with family and friends.