"In church on Sunday, I wondered, 'what would we do if someone started shooting?' Where were the exits? How would I protect my kids? I hate that my mind was in a place of fear in church of all places… I could feel my heart racing. The only thing I knew to do in the moment was lift my hands and pray. And ask God to calm my heart and give my fears and my worries to Him. His love casts it all fear. And right now, fear is living and breathing amongst our nation.
The evil our country is facing is heartbreaking. Sometimes I find myself asking God, 'Where are you?' I know He has never left us, yet many times we feel abandoned by Him wondering where He is in the midst of all this darkness.
My heart grieves for the families who lost their loved ones, for the crisis our nation is in, and the fears many of us have about normal day to day things.
FEAR can be crippling. And many of us are walking in that fear.
Fear to go to the store.
To the movies.
To a concert.
To school.
To church.
Many times I run to the grocery store or Target to grab a few things with all three of my kids. I have often wondered how will I protect all of them if someone started shooting? What would I do? How can I keep them safe? How can I teach them to protect themselves? Are they too young to know why my heart is heavy and fearful? How do I have conversations about what is happening in our country to my kids? What am I supposed to say? How are they growing up in a nation where violent attacks take place at any given moment, any given place, any given time?
There will always be evil and darkness as long as we are on this earth. But there will also always be light. We can choose to love. We can choose to trust Him in our fears, loss, and pain. We can lay our hearts and burdens before him and trust what He is doing. He has not abandoned us. And He is always with us, always.
I will daily choose to release my fears and trust God. He is the light. He is goodness. He is our comforter. And in a world of so much pain, tragedy, and loss – I will cling to Him. I will trust Him. I will pray for wisdom, direction, and answers for our nation. I will pray for unity. I will declare God's peace over every person stepping foot into a normal day activity with fear. I will lift up the families of those affected by the tragedies in our nation and ask God to comfort their grieving hearts in a time of pain and loss. I will ask Him for wisdom and the right words when I share with my kids the pain and loss our nation is facing. And I will continue to trust Him and not allow the enemy to speak fears into my own heart about normal day things because He is love. He is peace. He is comfort."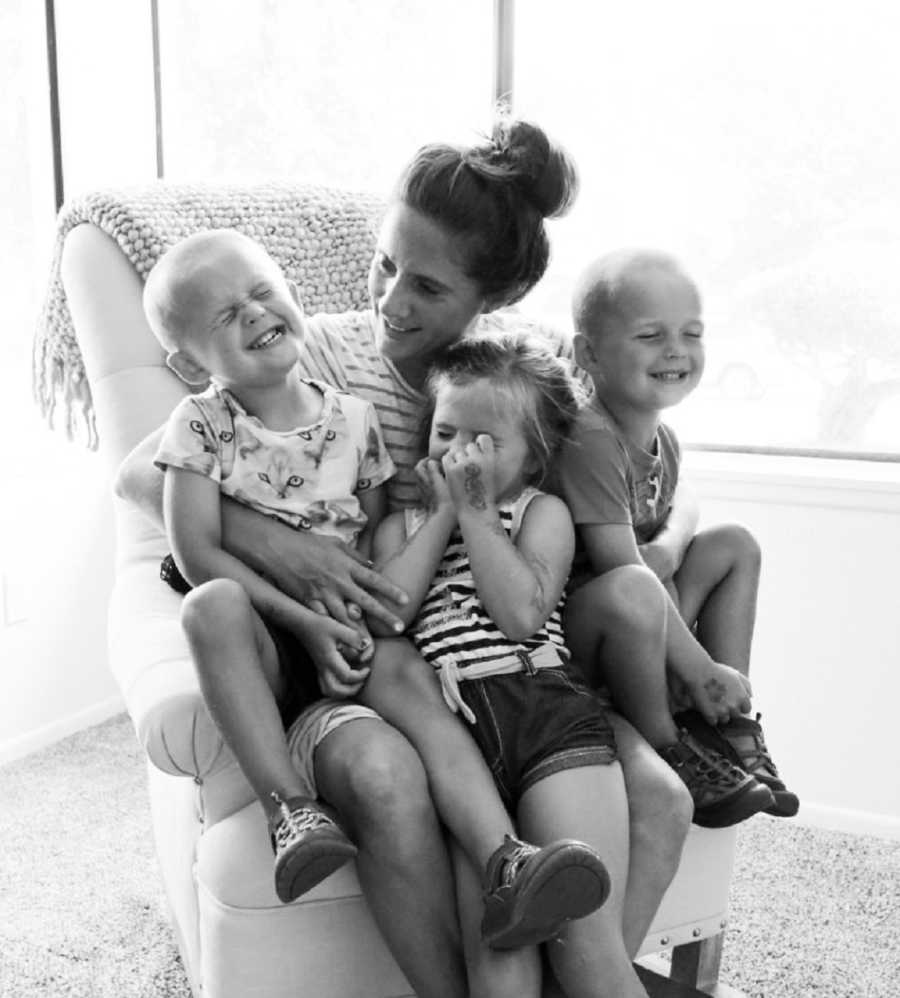 This story was submitted to Love What Matters by Desiree Fortin of California. You can follow her journey as a mom of triplets on Instagram. Do you have a similar experience? We'd like to hear your important journey. Submit your own story here, and be sure to subscribe to our free email newsletter for our best stories.
Read more stories like this:
Fifth grader puts life on the line for classmates during active shooter drill: 'I would rather be the one that died protecting my friends'
Mom's gripping open letter thanking teachers after school shooting: 'You now have to worry, and even prepare, to take a bullet for our kids'
'We are going to carry you': Students tell wheelchair-bound teacher their active shooter plan
Provide strength for others. SHARE this story on Facebook with your friends and family.